Thanks, Sarah Jessica Parker, For Reminding Us It's Time To Bust Out The Jean Jackets
The raw hem just made its way to the jean jacket and our style guru, Sarah Jessica Parker, debuted the look . Her Mother Pony Boy Denim Jacket ($275) looked pretty fab as she sauntered down the rainy streets of NYC with her two adorable twin daughters. Having the perfect jean jacket during all these in-between weather moments is fool-proof. Throw over everything. Shop it below! Mother Pony Boy Denim Jacket ($275) Shop Olivia Palermo's peacoat, Jessica Alba's sandals and  Jessica Biel's moto jacket [Photo: Splash News]
Right Now Is The Best Time To Get A Designer Jean Jacket For Seriously Cheap
Sure, it's only going to get colder and colder over the next few months, but that doesn't mean spring and summer aren't coming back. And when they do, you'll definitely need a cute jean jacket. So rather than wait until next March when they'll all be full price, why not treat yourself to a new one from Saks Fifth Avenue? Not only do they have great options from Theory, AG and Bella Dahl, but they're all on super sale. Click through the slideshow to see for yourself. SHOP THE SAKS JACKET & VEST SALE NOW! Be sure to check out Joie shoes, Kim Kardashian's coat and designer jeans on sale.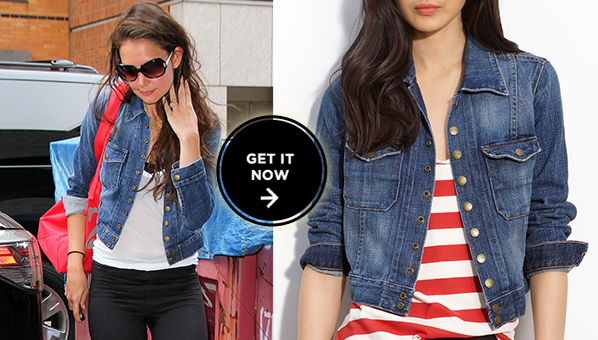 She May Have Given Up Scientology, But Katie Holmes Won't Let This Jean Jacket Go
She may be attempting to live inconspicuously in NYC with daughter Suri (and avoiding rumors of being chased down by Scientology madmen) but Katie Holmes still finds herself in the spotlight. Walking through Central Park, heading to SoulCycle classes, or shopping at Whole Foods, the paparazzi love to snap the tall, brunette. Lately she has been spotted in her Current/Elliott 'The Snap' Stretch Denim Jacket ($274) which gives off a casual, relaxed look without appearing like she may be going through a mid-life crisis (a la Brit Brit). Wear your denim jacket all year round - it literally goes with everything, including all your crazy, denim choices this fall. Shop below! [Photo Credit: Splash News] Shop more celebrity style such as Blake Lively's jacket, Kate Hudson's lingerie-in-public look and Lauren Conrad's bright dress.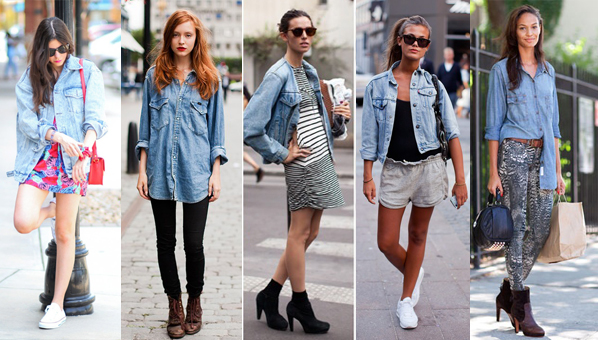 Whether You Prefer Chambray Or Full On Denim, Jean Jackets Are Where It's At
If patchwork denim just ain't your thing (and let's be honest, it's a sexy-ugly trend), then why not stick with the good ol' classic denim jackets and chambray shirts? Sidewalk cruisers seem to be loving the look - denim is breathable, goes with everything, and can take you from day to summer nights. The chambray and sequin combo is another great, street style-approved way to wear it -- or you could always go with neon skinny jeans or colorful maxi skirts. Be bold and wear them with blue jeans -- it's a denim-on-denim crime worth committing. MAKE JAMES DEAN PROUD Don't forget to shop our other style guides on scalloped clothing, neons and neutrals, and printed shorts