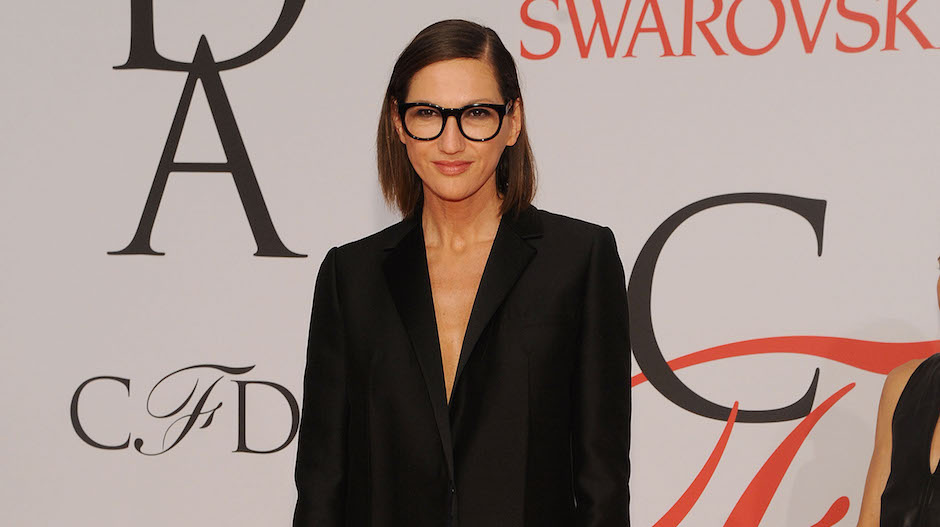 If You Want A Job At J.Crew This Is What You Shouldn't Do
When most people think of J.Crew they think of their classic and preppy clothes, and others think of Jenna Lyons. For those of you who don't know, Jenna Lyons is the executive creative director at J.Crew so she's kind of a big deal. As Glamour's September cover girl, Jenna discusses career advice and what it takes to get a job at J.Crew. When asked about advice for a woman who wants to work for her, Jenna responded, "Send me some of your work or a nice letter, and tell me why you're interested in working here. Don't send me an email.... You have to be old-school. Be professional." And if you want a promotion, just be you. "The person who makes herself indispensable, that's the person you want to promote. But when someone comes in and starts asking—it's such a disease. Demanding, "I've done all this and I want X," doesn't work for me so much. [Instead] ask questions: "I'm ready to take it to the next step. What is it that I can do better?" That, to me, is an engaged, collaborative way to get somebody to the next level. You're not going to get there just because you think you're ready or because someone else got promoted. We don't sit here and create a scale where we carefully ratchet everyone up evenly. Because if that were the case, we'd all be drones. No one is a drone.... You are you," Jenna said. It's nice to know some people still appreciate an old school way of applying to jobs. Read Jenna's full Glamour interview. Don't miss these Rag & Bone jeans for under $100 and shop the best shoes for commuting! [Photo: Splash News]
Mid-Day Catch Up: Kim Kardashian Is Divorcing Kris Humphries And Has Jenna Lyons Been Having An Affair Since 2009?
From left: Kim Kardashian and Kris Humphries are splitsville, Jenna Lyons may have been cheating on her husband for longer than expected Drama, drama, drama. (more…)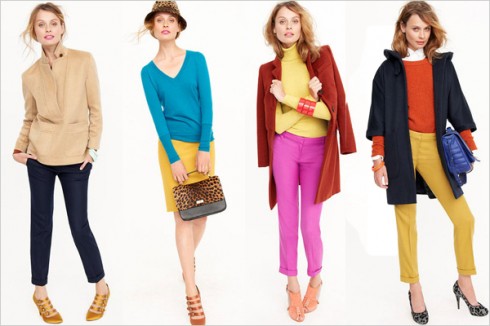 Don't Call It A Mall Store – J.Crew Is Coming To Fashion Week This Fall
Looks from the Fall 2011 J.Crew Collection Yesterday, J.Crew announced its New York Fashion Week debut, and while haute couture purists snobs might be upset or surprised about this mall-store's official entry into the world of high fashion - we sure aren't. (more…)
Week In Review: Jenna Lyons + The Pink Toenail Debacle, Matthew Williamson For Macy's & More
Sales & Deals: Score free shipping and 20% off Bobbi Brown with the friends and family sale. Get your favorite basics from ASOS at under $20. Black strappy sandals are 40% at Steve Madden - time to stock up. Piperlime's big spring sale has begun. Ready, set, go (!) Must-Reads: J.Crew exec Jenna Lyons is under fire for painting her sons toenails hot pink. Matthew Williamson for Macy*s is here, shop it now while it lasts. Can't make it to the beach? Get a first look at Calypso St. Barth for Target now. Jennifer Lopez is crowned as People Magazine's "Most Beautiful Cover Girl," but we had some other women in mind. Angelina Jolie's jewelry line for charity is finally on display, but you need an invitation to see it. (more…)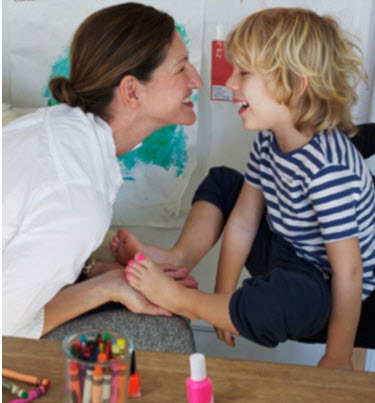 Jenna Lyons Is Blasted For Painting Her Son's Toenails Pink In A J.Crew Catalog
Our favorite creative director, J.Crew's Jenna Lyons, is under fire for a recently published J.Crew photo of herself and her son, Beckett,that was intended to be sweet...but has turned ugly. In the photo, her son's toenails are painted pink, sand some people have a real problem with it...so much that it's making international news. Who knew nail polish could be so political? "Lucky for me I ended up with a boy whose favorite color is pink. Toenail painting is way more fun in neon." So writes Jenna Lyons of the creative director's "Saturday with Jenna" feature. Find out the entire scoop here.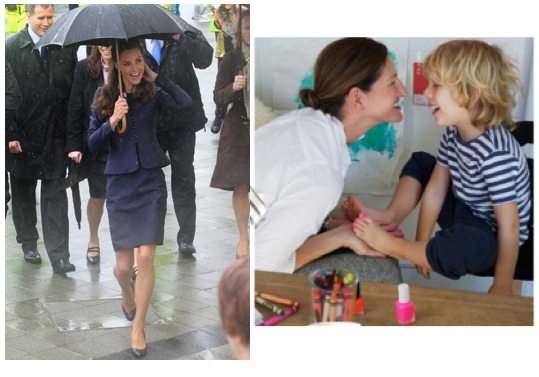 Midday Catch Up: Kate Middleton's Navy Suit And Jenna Lyons' Nail Polish Fiasco
Kate Middleton Stepped Out Wearing a Navy Suit In her last appearance before the Royal Wedding! J.Crew Creative Director Jenna Lyons Paints Son's Toenails Pink ...but whatever floats her boat, really. For more non-bridal, non-baby news: shop feather extensions, check out the first look at Calypso St. Barth's for Target, and get a whole wardrobe of new clothes in ASOS' under $20 sale.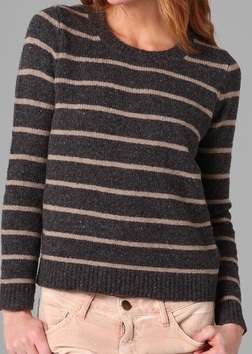 Keep It Classy With 30% Off Madewell Silk Tops & Preppy Sweaters At Shopbop
If you love everything Madewell - from the nautical striped tops to pretty feminine silk tops and dresses, you'll be please to learn that Shopbop has a ton of great Madewell finds for up to 50% off. Get involved: This Madewell Striped Cabin Crew Neck Sweater ($47.60, down from $68) is the perfect combination of pale pink and grey - making for a preppy-influenced sweater you will wear for cozy weekend days. Wear this Madewell Dancing Pleats Camisole ($89.60, down from $128) to work under a blue blazer and a statement necklace. (more…)
What Everybody Else Wears For Fashion Week: Street Style Edition
Sure we love seeing what celebrities wear to Fashion Week, but what about all the hard working stylish working women out there? The bloggers, photographers, and editors also have fashionable closets, so there's no reason not to highlight their best looks. See what we found of our favorite street styles during Fashion Week: Check out all of our coverage of Fashion Week. Shop our guides to the best military coats and the best heavy scarves. Subscribe to SHEFindsMail for exclusive updates.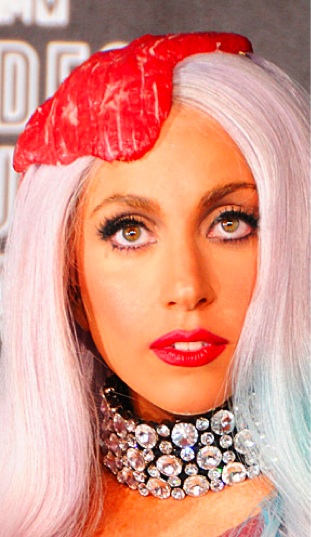 Good News, Bad News: La Prairie's Cellular Solution, Body Fluids By Gaga, More
Good News: La Prairie wants you to look 10 years younger. The Cellular Power Infusion launches Feb. 1 at Bloomingdales. @shefindseileen and I tried it last week at the launch - uh-mazing. A lipstick that looks good on everybody. Jenna Lyons says its orange-y red. Bad News: Lady Gaga wants her perfume to smell like "semen and blood." Inexplicably. Another pointless celebrity perfume. Third time's the charm for Halle Berry. Yellow eyeshadow is a thing now. Just ask Rachel McAdams. For more idiotic beauty news, check out our round-up of the 16 worst beauty names ever, Kate Walsh's perfume, and Lady Gaga's perfume announcement. For non-gross beauty, check out our guides to the best mascara, dry hair repair, and hair removal products. Follow the author of this post on Twitter @bridefinds.
Happy Hump Day: Madewell's Sale Is Full Of Gems
If you stalk Jenna Lyons, and love Alexa Chung, you're probably a fan of Madewell. The offshoot brand is like J.Crew's kid sister who lives downtown -  a little edgy, a little comfy, and just generally cool. I just hit up their sale and found many, many things I want: This Madewell fireworks skirt ($79.99, down from $98) is my Editor's Pick; I'm obsessed with the tie-dye-esque skirt, which is also monochromatic and serious enough to wear to work. This Madewell chunky chains cuff ($39.99, down from $55) looks exactly like DANNIJO's $300 version. I'll take the under-$40 one, thanks. Cross-body bucket bags are in high demand, and this Madewell cinched suede bucket bag ($99.99, down from $128) really nails the look. Get this Madewell Hazy Days Tank ($59.99, down from $88) and wear it under cardigans, then, come spring, pair it with skinny jeans and flat sandals. More sales and deals: It's a cold-weather intervention: 5 great sales The best MLK day sales J.Crew Online Factory Outlet: Take an additional 40% off with code MUSTHAVE + Free Shipping 70% off at The Outnet Piperlime's 65% off Final Tag sale Up to 50% off shoes at Zappos See all of this week's sales and deals, best find of the day favorites, online sample sales, and even more celebrity style for less. Follow the author of this post on Twitter @bridefinds.
J.Crew's Selling Tweezers, Thongs, And Thank You Notes Now
Because we love J. Crew for literally everything - skinny jeans, cardigans, sheath dresses, blazers - we're beyond enthused (and a little confused by) all the new little "necessary luxuries" they've added. But hey, we're always up for one-stop shopping: We're not talking jewelry or scarves, they've already mastered that. We're saying all those items you never knew you needed such as nail polish, detergent, stationery, and...tweezers. Not only is J. Crew our favorite place for fall trends, but now we also love it for the extra bonuses (not to mention 30% off sale and free shipping over $150). Because J.Crew VP Jenna Lyons didn't add unibrows to her list of  Jenna's picks, consider picking up thisSwarovski Crystal Tweezerman Tweezer Set ($100) at your next checkout. J. Crew's already mandating which colors you'll be wearing this year anyway (hello, military green!) so let 'em choose your beauty products as well. Try the perfect Essie Nail Polish ($8) and Bobbi Brown Lip Gloss ($20), both available in 2 colors, to finish off your outfits. Since visible panty lines are passe (especially with chino pants) slip into this Cosabella Cutie Low Rise Thong ($19), in 5 colors. If thongs aren't your style, check out the other Cosabella panties at J.Crew. You just spent a fortune on your J.Crew wardrobe--why leave it up to your washing machine to ruin everything? Laundress New York J. Crew Denim Detergent ($16) is specifically made for washing J. Crew jeans. There's also a detergent for swimwear, shirts, and shirt collars & cuffs. Don't forget to send Jenna (or your sugar daddy) a thank-you note, on this gorgeous Connor New York Stationery ($75),  for all of these wonderful little 'extras'. Read up on more fashion news. Shop our guides to the best bootcut jeans, the best evening tops, and the best oxfords. Sign up for SHEFindsMail and received exclusive e-mail updates.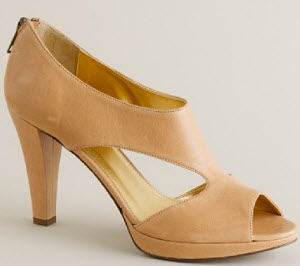 Oprah's Favorite J.Crew Shoes Are 60% Off
When J.Crew's creative director Jenna Lyons visited Oprah on her show last April, Oprah raved about these very shoes. She couldn't stop commenting on how comfortable they are. Months later, not only are they still on-trend and gorgeous, but they're also an extra 20% off with code TREAT (same goes for everything over $125 in the J.Crew final sale). Grab these Alecia heels ($103.99, from $275) and a pair of tights to go with them - wear 'em all through fall with boyfriend jeans and all of your dresses. Not your style? Check out all of Jenna's picks, and then get yourself some no-fail staples for fall: blazers, skinny jeans, clogs and leopard print shoes are on our list. Follow the author of this post on Twitter @shefindseileen.
Jenna Lyons Named President Of J.Crew; World Domination Continues
J.Crew has just named Jenna Lyons president of the clothing company, thus solidifying here status as the luckiest (and most powerful?) girl in the fashion world. You probably know the former creative director for her hugely popular Jenna's Picks, or her appearance on Oprah, when the talk show host touted her love of the line (see what shoes Oprah can't live with out). Congrats, Jenna! We'll celebrate for you, with a few of our favorite Jenna's Picks: Jenna loves sequins and the nautical trend - so its no wonder this Stripe sequin boatneck tee ($72) is one of her favorite J.Crew pieces. Wear the top with jeans or a white mini for a fun summer nighttime look. The playful print of these Esmé printed platform sandals ($250) make them more than your average work shoe. Wear them from the office (with a shift dress) straight to a cocktail party. Jenna loves chunky, boyish accents like this Studded leather belt ($68). She recommends pairing it with a feminine top or dress to give the girly look some edge. Check out more of our other favorite Oprah products, like CJ by Cookie Johnson Jeans, then check out our guides to the best belts, platform shoes, and tees for your shape.
3 Facebook Pages That You Should "Like" Now
Every brand and their mother have a Facebook page, and they want everyone to be their friends--but what's in it for us? Here are three Facebook pages that actually deserve a click of the "like" button: Tory Burch: We're sure that Tory Burch doesn't run her own Facebook page, but it sure does feel like she does. The designer's personal touch is all over the page, and there's tons of cool features like look book videos that Facebook fans can shop from, video of the designer chatting with Rachel Bilson about sunglasses, and a wall full of Tory Burch shoppers who give honest reviews on their purchases. J. Crew: If you, like us, adore all things J.Crew, it's time for you to hit their "like" button. You'll get 20% off coupon codes, you can send the cutest virtual J.Crew gifts to your friends (they're free), and who doesn't want to see Jenna Lyons' television appearances on your Facebook feed to distract you from stalking your ex-boyfriend? Louis Vuitton: Don't expect discount codes from Louis Vuitton, but do expect a LOT of access. The high-end brand streamed their fall 2010 fashion show for LV Facebook fans, and they document everything going on with the brand weekly. You can see video of Alexa Chung hosting the opening of their new London store (above), or behind the scenes photos from advertising campaigns. Don't forget to like SHEfinds on Facebook for exclusive deals and finds, and then see our guides to the best skinny jeans, the best white jeans, the best sunglasses, and the best summer dresses.
Get The Look Of Jenna Lyons' Favorite Striped J.Crew Tee Without The Wait
When J.Crew's Creative Director Jenna Lyons wore this striped Vintage bateau top ($36) on Oprah last month, we knew it would be our summer go-to.  Sadly, the top isn't expected to ship until August 23, and because our wardrobe can't wait three months, we scoured the web for a suitable alternative and found this: This Gap Body Nautical Tunic Top ($39.50) comes in olive green (above), coral, and blue, and is very versatile. You can wear it with skinny jeans, shorts, or even as a swimsuit cover-up while you lounge. The top has a bit of stretch and it's thin enough to tuck into a pair of jeans or skirt without adding on too much volume. We're getting it in every color. Check out the best tees for your shape, and then see our guides to the coolest sneakers, the best cheap swimsuits, and the best sunglasses.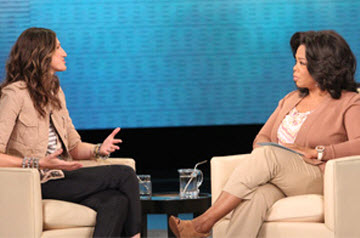 Dress Like J.Crew's Jenna Lyons in Three Easy Steps, Because Oprah Says So
If you're a fan of J.Crew's Jenna's Picks (we know you are) - we hope you set your TiVo today because Jenna Lyons, J.Crew's creative director, was on Oprah and dished out her essential fashion tips--while Oprah revealed her favorite J.Crew shoes: Oprah wore these Julienne Leather Heels ($198) in "bronzed avocado" - we suggest you get them before her employees at Harpo (and the free world) snap them up. We like the gray "flannel" color (pictured above) - it's a great neutral wardrobe option. Oprah also loves these Alecia Leather Platform Peep Toes ($275)--she raved about how comfortable they are--no doubt they'll be sold out soon if you don't grab a pair. Jenna gave us some tips: 1. Opposites Attract. Jenna rocked mixed prints look by pairing this timeless Vintage Bateau Top ($36) with sequin pants. And she made it work. 2. Make a statement with jewelry. No wonder J.Crew has some of the best chunky, sparkly, eye-catching jewelry - Jenna says she lives for statement pieces. We agree - and think the Crystal Glamour bracelet ($70) and FENTON/FALLON™ for J.Crew Carrington crystal chains necklace ($175) are just beautiful and edgy at the same time. 3. Borrow from the boys. If you're look is head to toe girly, Jenna says grab something from your boyfriend's closet. A military jacket, like the one she wore Oprah - the Solid Lieutenant Jacket ($98) is a great way to add texture and style to any feminine get-up. Get more great spring accessories by checking out our guide to the best chain strap bags, the best cage booties, and Oprah's favorite jeans, CJ by Cookie Johnson.
Jenna Lyons Takes Oprah Behind The Scenes Of J.Crew Today
Jenna Lyons will appear on Oprah today to talk about her dreamy job as J. Crew's executive creative director. Jenna is the one responsible for making us want to buy everything at J.Crew each season--in our opinion, she's wholeheartedly earned her $325,000 bonus everyone's buzzing about. Michelle Obama and Oprah (who are besties these days) wear J. Crew's preppy basics regularly.  Here are three of Jenna's spring picks that don't require a $1 million bonus to buy: A fedora like this Straw and grosgrain version ($34) is an easy solution to bad hair days and sun protection. These Reese back-zip gladiator sandals ($118) are well-made classics that will never go out of style. This J. Crew Basket-print silk camisole ($49.50) is great for layering under a cardigan or a denim jacket for spring. Go see how J.Crew's kids line fits petite adults, and get more great spring accessories by checking out our guide to the best chain strap bags, the best cage booties, and Oprah's favorite jeans, CJ by Cookie Johnson.