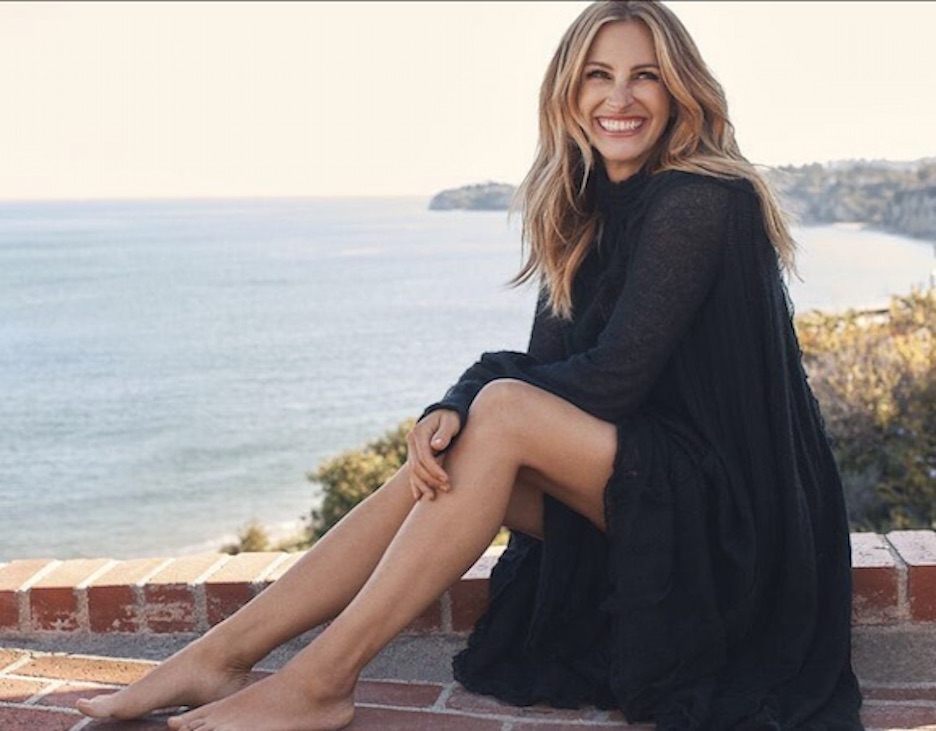 Is Julia Roberts Retiring From Hollywood For Good?! Find Out What She Said That Has Everyone Freaking Out!
l
VIDEO: George Clooney And Julia Roberts Join Gwen Stefani For Carpool Karaoke
This sh*t really is bananas. We all knew Gwen Stefani was joining James Corden for Carpool Karaoke, but, as if that wasn't enough, George Clooney and Julia Roberts got in on the fun too! The ride started with just Stefani and Corden belting out hits like "Don't Speak." "Used To Love You," "The Sweet Escape" and "Rich Girl." Of course, there was a "No Doubt" joke in the mix. Then, Corden needed two more passengers for the HOV carpool lane, so he called up George, who called up Julia and the next thing we know, the four are singing "Hollaback Girl." George Clooney singing along to these lyrics is the best thing you'll watch today. Like we said, this sh*t is bananas. [youtube]https://www.youtube.com/watch?v=F2SXmzk8ve4[/youtube] Don't forget to check out: Kim Kardashian vs. Bella Hadid fashion faceoff and what you should never do when shaping eyebrows [Photo: Youtube]
Theodora & Callum: One Of Julia Roberts' "Favorite Things" On Oprah (And Ours, Too)
The designers of Theodora & Callum (left) and one of their scarves (right) Although the brand is only in it's first season, Theodora & Callum is already making strides in the fashion world.  The brand was recently recognized for their adorable staple scarves (like the one featured above) on Julia Roberts' "Favorite Things" episode on Oprah. And the designers (pictured left) Stefani Greenfield of Scoop and Desiree Gruber couldn't have been more pleased. Says Greenfield [via WWD], "Does it get better than Julia Roberts on 'Oprah' with Tom Hanks? You think it's just that moment that day, but every hour there are orders and orders and orders and not only do you sell, but so many more people know about us. It's indescribable." Check out some of our favorite pieces from the brand below: (more…)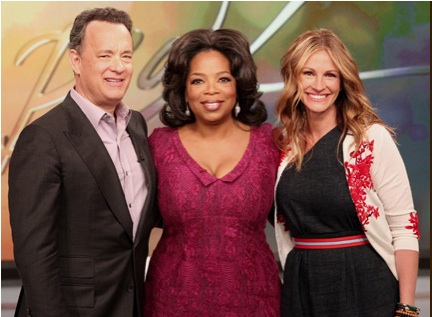 Julia Roberts' "Favorite Things" On The Oprah Show: Get Them Here Now
Oprah's "Favorite Things" episode this year featured picks from Tom Hanks and Julia Roberts. Julia Roberts was featured on Oprah's "Favorite Things" episode Friday afternoon. Although she didn't give the audience brand new cars, she did give everyone some of her favorite accessories (which by the way, for all you last-minute people out there, would make for some great Mother's Day presents). Check out her favorite picks below: Theodora & Callum scarves ("They make great sarongs," she said.) Melinda Maria Signature Bangles Lancome Juicy Tubes (Seems like Julia wasn't much of an early adapter here...) Lancome Definicils Mascara Coach cosmetic case Serge Normont Dry Shampoo Bonnie's Tasty Herb Rub Kathy Kaehler Fitness Video Sea-Thos Foundation Tote (more…)
The Bad & The Downright Ugly: Revisiting The Worst Of Golden Globes Dresses Past
As the 68th Annual Golden Globes approach us - yes, it is that time of year - we've decided to put together a phenomenal collection of beyond hideous dresses (or pantsuits, a la Julia) of previous years. So click through, reminisce on the good old days, and of course...laugh your ass off. Secretly love when celebs mess up? So do we - check out more red carpet re-dos. Then shop our guides to the best party dresses and the best evening tops for jeans. Don't forget to sign up for our e-mail list for exclusive SHEFinds updates.
October, Love SHEFinds.
Before the little ones trample down your doorway on Halloween, check out our October calendar for the month's hottest happenings - from an exciting Target collaboration release to yet another Fashion Week (find out where), we have you covered. Sexy costume not required. October 2: The iPad arrives at our favorite store: Target. While you're shopping around for your favorite Target collaborations like Mulberry, Tucker, and Cynthia Vincent, pick up an iPad. Then check out our favorite iPad apps and cases. October 6-10: Go green with your favorite fashions because it's Eco-Friendly Fashion Week. Show your love to Mother Nature by shopping our guides to the best eco-friendly shopping, the best eco-friendly shoes & handbags, and the best eco-friendly underwear. October 8: Katherine Heigl's newest flick, Life As We Know It, comes out today. Looks like she should have taken some motherly tips from MomFinds (when she's not drooling over Josh Duhammel, of course). October 11: Finally, the Mulberry for Target collection comes out today online and in stores. From the looks of it, this could be one of the best target collaborations yet. October 11: Tonight is the celebrity-infested premiere of Red, starring Bruce Willis and Morgan Freeman, which comes out on 15th. Rumor has it Helen Mirren kicks some ass, literally. October 13-20: It's fashion week for our sunny friends down in Los Angeles. Created in 2002, this year we can expect some fabulous looks and finds from Kitson, Trina Turk, J Brand, 7 For All Mankind, American Apparel, BCBG Max Azria, and more. October 14: Move over NYC and NJ, make room for The Real Housewives of Beverly Hills premiere tonight at 10pm. Expect palm trees, sunshine, summer dresses, wedges, tons of bling, and tons of drama of course. October 16: Since Rachel Zoe's QVC line has been so popular, Zoe is going on-air to show off her products. We're going bananas in hopes of new clothes and accessories. October 21: Happy 30th Birthday, Kim Kardashian! Soon enough, she'll be buying the same shapewear as us, to retain her voluptuous figure. But the real question: is 30 too old for Justin Bieber? October 25: Get your lungs ready to blow our more candles for Miss Katy Perry today. The "California Gurl" turns 26 today. Good thing she can make a new bra if there's any whipped cream left over. October 27: If you're in the NYC area, check out The Museum of the City of New York for "Glamour and High Style in New York City" where design experts get together and discuss how style icons have evolved over time. We're thinking a little Jackie O. and Audrey Hepburn. October 28: Hollywood's golden girl, Julia Roberts, turns 43 today. Be a pretty woman like her with our favorite eye creams and heavy moisturizers. October 31: Get your Halloween costume ready, whether it's Lady Gaga or something ridiculous, because tonight's the night where you can show as much skin as you'd like without being a slut. Well, that's what the rumor is... Stay up to date with all of our fashion news. Shop our guides to the best flat black boots, the best plaid shirts and the best fingerless gloves. Subscribe to SHEFindsMail for exclusive style updates.
Julia Roberts' Eat Pray Love Sheath Dress Is Much More Attainable Than A Flight To Bali
While Eat Pray Love predictably made me want to stuff my face with pizza while dreaming of Javier Bardem and a flight to Bali, I didn't expect to lust after this beautiful structured gray tweed sheath dress Julia Roberts wears to a cocktail party (above). Wasn't I supposed to be craving caftans and yoga pants? Not this New Yorker.  I couldn't stop thinking about it even days later, so I tracked down some similar versions for fall, since it's more attainable than that flight to Bali (and, arguably, Bardem). This gray sheath dress, by Michael Kors is just as lustworthy, especially for 70% off ($453.75, from $1,815). This dress proves tweed can actually be sexy, with its darted details and elegant v-neck.  Not in your size? Try this Banana Republic v-neck sheath dress ($150) but get 25% off of that tonight after 5pm and get the same look for less. Check out more Eat Pray Love styles, and then see more best find of the day posts, chic little black dress options, plus our best fitting jeans and all of the best thigh high boots and clogs for fall.
Week In Review: Jersey Shore Halloween Costumes, Gilt To Sell Target Collabs First, More
Must-Reads: Get your poof right - this year's must-have Halloween costume is The Snooki. Gilt Groupe and Target team up: Gilt will sell Target's collaborations before well they hit stores. We had the first photos of Temple St. Clair for Target jewelry first. We twitter-stalked the premiere of this summer's biggest movie. We taught you how to get sales and insider shopping info by following these 5 Facebook and Twitter accounts. Taste Tests: Can you tell which slashed leggings cost $40 less? Which cowboy boots cost $149 more than the other? Which zip-up cape costs $410 more? Sale Alert: Topshop shoes - including a sick pair of clogs - are 50% off. We found perfect-fit Madewell black jeans for 40% off. Holy vintage heaven: Pucci scarves are 50% off. Celebrity Style: Kelly Ripa looks like this coming out of the gym. See Madonna's major outfit misstep. Get the J.Brand jeans that Cameron, Victoria, and more love - on sale. Guides to Check Out: We scoured the web to bring you the very best in easy throw-on cardigans, waist-friendly belts, perfect-fit work pants, and chic travel bags.
Twitter Stalking The Eat Pray Love Premiere: Blue Suede Shoes, Dressy Shorts, And Lots Of Smiles
Maybe our invitation got lost in the mail. Regardless, we've found a way to the Eat Pray Love premiere, happening tonight at New York City's Ziegfeld Theatre, around the red tape--via Twitter, of course. Introducing, the latest installment of Twitter stalking, Eat Pray Love style: A closeup of Julia Roberts (in a Stella McCartney blazer Diane von Fursterberg shorts, Me&Ro jewelry, and Roger Vivier sandals) with Javier Bardem, enjoying the moment before they get attacked by reporters. Photo a la Fabiana Panacheo. The red carpet is prepped and ready for the A-listers. Photo courtesy of ShaunsSanctuary. Author, Elizabeth Gilbert, who got famous from her smash hit memoir, Eat Pray Love,  looks like she's kind of pissed off by whatever the question was. Thanks to SharonFJohnson who snapped this shot. A glimpse of the official Eat Pray Love premiere ticket we didn't receive. Thanks for rubbing it in, Patrick of STATravel. Julia Roberts, albiet quite blurry, looks chic in (what appears to be) dressy shorts and strappy platform heels, via MarieNArias. An inside look at the theatre...which has quite a few empty seats. What gives, STATravel? Javier Bardem shows off his suave suit...and blue suede shoes. Notes JanellVH1, "Navy loafers on men are rare." Amen. See more celebrity style, plus all the style news you can handle, plus our favorite blazers, shorts, and platform sandals to recreate Julia's look from tonight.
Get Julia Roberts' Eastern Eat, Pray, Love Looks Before The Movie Hits
When we learned that Julia Roberts would star in the movie adaption of the hugely popular Eat Pray Love - we were psyched. Not only is it a great book, but with Julia as star, we knew the film - and the clothes in it - would get A-List treatment. Stills from the movie just hit the web, and we're loving her effortless, Eastern-inspired looks. And unlike most Hollywood costumes, the pieces are totally wearable for real life: This is far and beyond our favorite look - the floppy hat, shirt dress and leather sandals (so Italian) make for the perfect tourist/weekend look. You can thank Julia later for how big the straw hat trend is going to be. Our pick is this Forever 21 Straw Cloche Hat ($10.80), the price is amazing and black tie makes it even chicer. You can never go wrong belting a shirt dress like this amazing Alloy Ella shirt dress ($29.90, down from $39.90). Even the Alloy model is styled with Eastern jewelry - its the perfect fit. What is more Italy than leather Prada sandals? Get in the Eat Pray Love mood with these discounted Prada burnt brown leather ankle strap flat sandals ($396). Julia looks stunning sipping red wine with this gold cowl neck sweater and gold hoop earings. A Sarah Jessica Parker-favorite, this Halston Heritage Oversized Cowl Sweater ($275) nails the look. Chanel Julia this fall by wearing it to dinner parties, dates or work (with black pants and pearl studs). How sexy and care-free does Julia look in this tie-dye wrap and classic aviators? If you're ever at an outside market in Bali (or Baltimore, for that matter) this is the perfect look. This Reincarnated tie-dye wrap in Nude/Beige ($145) by Sir Alistair Rai is perfection. Julia actually wears the line in real life, so you know she played a role in getting the Indian tunics and wraps on Eat Pray Love's set. Throughout the film, Julie rocks the aviator style and we love it. You can't go wrong with the classic Ray-Ban 'Bubble Wrap' Polarized Aviator sunglasses ($159). We wish we could take a bike ride through the Indian country side, but we'll settle for stealing Julia's cool blue paisley look instead. How pretty and hippie-esque is this Free People 'Sweet Poland' tunic ($98)? Pair it with skinny jeans or leggings for fall. Check out more of our celebrity style and get the look posts, then head over to our guides of the best summer hats and flat sandals.
Daily Links: Julia Roberts' Movie Mania, Tween Ferragamo Shoes, More
1. High end designer meets even higher end designer with the newest Balmain and Oliver Peoples sunglasses collaboration. They're reintroducing the aviator-for $595. [StyleFrizz] 2. Julia Roberts' new film, Eat, Pray, Love, has inspired designers like Sue Wong and Fred Segal to create clothing and home decor based off the destinations in the movie.  [The Frisky] 3. Ferragamo's new footwear line, My Ferragamo, appeals to the young shopper and features bright colored kitten heels and flats. [WWD] 4. In case you couldn't get enough of Kristin, Audrina, Lo and Stephanie on The Hills, you can now wear them on your Converse sneakers. We'd rather go barefoot. [Crushable] Don't be left out of the gossip-read all of our Daily Links. Shop our guides to the best flat shoes, the best cool sneakers and the best kitten heels. Subscribe to our newsletter for more fashion and style updates.
Buy Julia Roberts' Favorite Lancome Mascara Before It Sells Out
While you're anxiously awaiting for Eat Pray Love's August 13 release, we have a Julia Roberts endorsed product you need to get now: Lancome Definicils Precious Cells Mascara ($29). According to Stylelist, Définicils Precious Cells Mascara will be the product featured in spokesmodel Julia Robert's first campaign for the brand. This is Lancome's first mascara that promotes cell growth for longer and thicker lashes. The mascara also has plant-cell extract that conditions lashes and prevents lash fallout. We're buying this now. Shop like the celebrities with our guides to the best celebrity denim, the best celebrity beauty products, and the best celebrity dresses. Sign up for SheFinds in your inbox with our newsletter.