See Kate Middleton's Dress In Person This Summer (And Veil, And Shoes…)
Anglophiles and royal wedding stalkers rejoice: Kate Middleton's, er, Princess Catherine's, iconic Alexander McQueen dress is going on display this summer at Buckingham Palace. Take a tour from July 23 to Oct. 3 and feast your peepers on Kate's dress, the Cartier "Halo" tiara, veil, earrings and satin and lace shoes -- plus, something for the husbands: the Rolls-Royce Phantom VI and 1902 State Landau coach that she rode to Westminster Abbey in. If you're obsessed with Kate's look, but a European vacation is not in your future, get a much cheaper fix: a replica of the dress. (more…)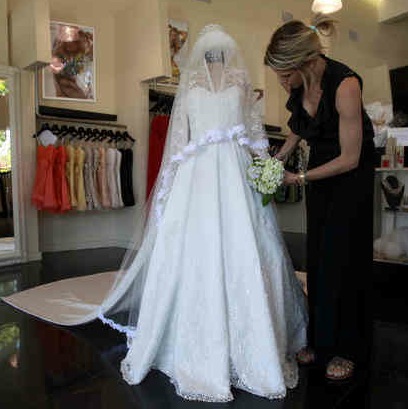 A.B.S Already Made A Knock-Off Of Kate's Dress – And This Is What It Looks Like
That was fast: the first Kate Middelton royal wedding replica dress is already on its way to production. Almost minutes after the Alexander McQueen gown was broadcasted around the world designer Allen Schwartz of A.B.S went to work on a replica, which hits in late June and will cost $900. "I'll clean up the train and it'll have the look and will be a lot more salable and a lot less pricey," he told WWD. Start saving now! If you're not settling for the anything but the real deal, check out our post on Alexander McQueen bridal. If that's not quite in your budget, shop our guides to inexpensive wedding dresses and strapless wedding dresses now.
"I Read In The New York Times This Week That I'm An Ice Queen…"
She's fierce, fearless, and probably terrifying to work for, but yesterday Anna Wintour stepped out of her comfort zone and did something that seemed to make even her a little nervous: late night television. Anna appeared on the Late Show with David Letterman wearing a black and white floral print dress, the necklace we discussed previously (she's a consistent one), and a bob so perfectly coiffed that it looked like a wig (it wasn't). Despite protesting the "ice queen" and "alien from district nine" labels, Ms. Wintour didn't do much to shake that impression. Her fleeting smiles seemed a bit strained, but I suppose that could be a side effect of her, err, beauty regimen as opposed to her disposition. Watch it here, and prep for your next late night interview with our celebrity sunglasses and jewelry guides. To get even more Anna, check out our full coverage of The September Issue.
Tuesday's Sample Sale Scoop: Bodhi Bags, Elie Tahari, Members Only, And More
Editor's Pick: Bodhi bags at Luxe Club One D & G jewelry and watches, James Perse tees, Elie Tahari shoes and handbags at Gilt Groupe Jane August handbags at Editors' Closet Designer handbag blowout sale at The Top Secret The Divine Tribe bags and Covet clothing at Beyond the Rack Linda Farrow sunglasses, Members Only jackets, and Ed Hardy bags at ideeli M Missoni clothing, Swiss Army timepieces, and Laurek K accessories at Hautelook Vera Bradley bags and Movado watches at Rue La La Try pairing that Bodhi bag with a leather jacket and a new pair of black jeans.  For more deals, check out our list of sample sales all week.