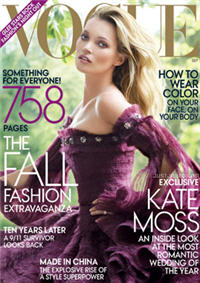 5 Reception Ideas I Got From Kate Moss' Wedding
The September Vogue cover story this year is "the most romantic wedding of the year," which, if you have any doubts, belongs to Kate Moss. The issue features a 15-page spread on her English countryside wedding to The Kills rocker Jamie Hince. I had already fawned over early media photos of whimsical bridal party, and this deeper look into her wedding day has provided other inspirations, as well. (more…)
Kate Moss' Honeymoon Destination Revealed (Plus Black Bikinis Just Like The Supermodel's)
Kate Moss and her brand-new hubby Jamie Hince were spotted on their honeymoon this week - it turns out the pair is romping around on Topshop CEO Sir Philip Green's yacht. The couple boarded the boat, called "Lionheart," in Monaco and are now making their way through a Mediterranean tour: Portofino, Italy, Cannes, Saint Tropez. Kate was spotted in a strapless black bikini that everyone is flipping for: Loving her look? We found 4 identical suits to stock up on for your own honeymoon. (more…)
More Kate Moss Wedding Photos Surface – Including The Dress & A Very Floral Bridal Party
Kate Moss is a stunning bride, it turns out. We just saw the first photos from her big day, and she looks stunning in an ivory, speckled veil. Her daughter, whose face has been blurred, is wearing an adorable floral wreath, which look very much like the ones the royal wedding flower girls wore. Shop our guides to the best wedding jewelry, lavender bridesmaid dresses, and outdoor wedding dresses.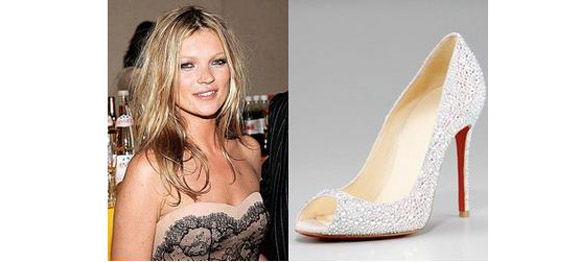 CONFIRMED: Kate Moss Is Wearing Christian Louboutins!
ELLE UK has just confirmed that Ms. Moss will be wearing Christian Louboutin pumps to her wedding today. No word on what the exact pair looks like (we're sure it's custom), but we do know that the Louboutin bridal collection contains baby blue in the interior of the shoe. So I guess we know how Kate is satisfying her "Something Blue." Personally, we'd go for these Christian Louboutin Crystal-Encrusted Suede Pump ($3,095). (more…)
Kate Moss' Wedding Dress Designer Revealed! (Hint: It's A Controversial Pick)
It's disgraced designer John Galliano! In March, long before the whole anti-semitic, booze-filled tirade, John Galliano was tapped to create Kate Moss' wedding dress - undoubtedly a dream for any designer. Then, alas, he got himself in hot water, got fired from Dior, faced criminal charges, and was effectively black-listed by the industry. It turns out that his girl Kate is sticking by him as multiple sources are confirming that he is, in fact, designing her gown for tomorrow's wedding, which has been dubbed Mosstock. Leave a comment: do you think Kate is condoning bad behavior, or is it time to forgive and forget? Shop our guide to the best strapless wedding dresses, white wedding shoes, and inexpensive wedding dresses.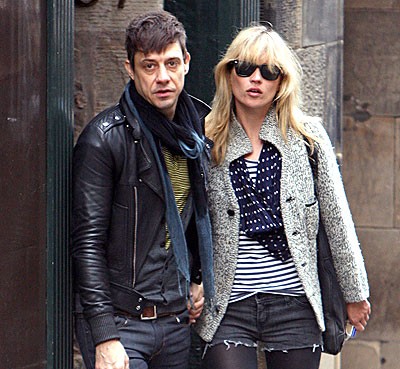 Rumors About Kate Moss's Festival-Style Wedding (AKA "Mosstock"): Include Snoop Dogg
A quick update about Kate Moss's upcoming wedding, because we know you're dying to know. Considering Moss has been setting trends consistently for decades, her wedding could become a template for future rocker brides. Details-slash-rumors about the three-day, rock festival wedding Kate Moss is planning to her beau Jamie Hince (in which news reporters have dubbed "Mosstock") have been swirling for some time, from the model's bachelorette party at the Aisle of Wright Festival, complete with pink hummer limousines and rock 'n roll-partying to the list of performers. Apparently everyone from The Rolling Stones to Snoop Dogg and Lady Gaga have been approached to join the roster. Anyone know where to score a ticket? For bridal picks even Kate would approve of, shop our guides on simple wedding dresses, designer wedding shoes, and bridal hair accessories. And don't miss the chance to see photos of a 17-year old Moss rocking a Laura Ashley wedding dress.
UPDATE: Will Kate Moss Keep John Galliano As Her Wedding Dress Designer?
Update: Now that John Galliano has been fired from Dior, the big question looms: will Kate Moss ditch him as her wedding dress designer? Kate, who weathered that whole blowing cocaine on camera scandal in 2005, is certainly no angel herself. What do you think? Leave a comment below. From 4/25: With style icon Kate Moss recently engaged, and Kate Middleton's royal wedding two months away, the battle is on for which British Kate we should care about more. I'm going to side with Moss - who's been our radar much longer than the future princess, and has far better taste. That's why news that she tapped John Galliano for her wedding dress is so major. The good news: he has plenty of experience designing couture dresses for Christian Dior and Givenchy. The bad news: those dresses made our worst haute couture list, and last night, John went to jail. You win some, you lose some. For more Kate Moss-approved wedding fashion, check our guides to simple bridesmaid dresses, long bridesmaid dresses, and satin wedding shoes.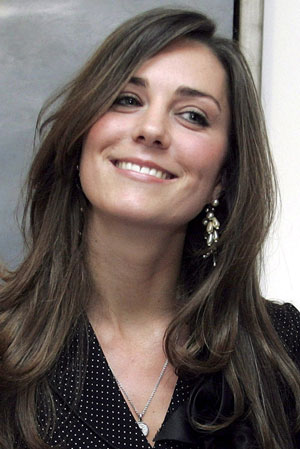 Must-Reads: Kate Middleton Wedding Details, Budgeting Tips, More
Obsessed with the royal wedding (to the point where it's scary?). We found 7 ways to Kate Middleton-ify your wedding, from cake to the clutches to the invites. Find your dream dress without blowing your budget - Real Simple has the scoop. Look at the sweetest, realest photos of couples in love on Honey Living. Price William and Kate Middleton's inspired wedding invitation and Free Custom Download by the Wedding Chicks. bWed Exclusive explains Something Old, New, Borrowed, and Blue. I'll give you a hint: there's reason behind it - or at least superstition. Every Last Detail has something that all brides (and vendors) need to read is on this week: what to keep in mind when communicating with your wedding vendors. Off-the-rack wedding gowns for under $1k abound on The Broke-Ass Bride this week. Gorgeous AND inexpensive? Yes please! Can't get enough bridal news? See who's designing Kates Moss' wedding dress, find out what to pack for that Safari honeymoon, and see how you can transform your wedding into the Secret Garden with these Etsy finds.
How To Wear Leather Gloves (And Not Look Like You're About To Rob A Bank)
Leather has certainly been everywhere as of late, and we like it. From jackets to vests and even pants, fashionable ladies are turning to this aggressive but elegant style for all of their tough-chic needs. Although we can appreciate the leather-clad biker thing, when it comes to cowhide, we think it looks best when warming up your hands. So, in light of the sudden cold weather, here's how to don chic leather gloves in a non-criminal way. Since black leather gloves can sometimes make you look like a creepy cab driver, we recommend that you choose a delicate looking pair in a lighter shade for a feminine feel. Next, slip on some flattering, skinny jeans in a seasonally dark wash and a comfy but sophisticated cowlneck sweater for a refined, winter look. To pull together the ensemble, we suggest a fitted velvet blazer and some gorgeous black booties to tuck your skinny pants into. J.Crew Leather Gloves, $49.50 J Brand Pencil Leg Stretch Jean, $159 Gap Cowlneck Sweater, $49.50 Theory Anorie Velvet Blazer, $375 Loeffler Randall Wendy Knit Slouch Bootie, $650 For more top picks, don't forget to check out our guides for the best in gloves, leather jackets, and faux fur.
News: Moschino Wants To Adorn Your Shoulder, Marie Claire Adds Regular Plus Size Column, And More
1. Moschino Jeans, rebranded as Moschino Love, is launching an accessories line this spring.  In case you just can't wait, keep up with fall handbag trends now.  [WWD] 2. Marie Claire added a regular column to its roster, "Big Girl In A Skinny World," written by a plus size fashion writer and stylist.  We're glad this is happening in the wake of all the fashion industry weight discussions that have been taking place.  [Jezebel] 3. Nanette Lepore, Betsey Johnson, and other designers are rallying tomorrow to save New York's garment district.  If you live in New York, grab your best designer handbag and join them.  [NYDN] 4. Speaking of New York, is its Mayor Bloomberg gunning to become the next Tim Gunn?  He's staging a competition to pick 12 up and coming designers to be part of a fashion "incubator" program, which we certainly hope produces some interesting new concepts.  [NYP]
Week In Review: Rachel Zoe Does QVC Line, We Know What's Good For September, And More
Must-Reads: Rachel Zoe dies so animals don't have to, with a new line she's created for QVC.  It features, among other items, many a faux fur vest. We've got a September calendar filled with movie releases, product launches, and fun show season premieres. Pants vs. not pants - the battle continues with new, particularly outre fall fashions. Sales and Deals: Save up to 50% off shoes at Urban Outfitters Take up to 60% off jackets at Bluefly Up to 60% off pretty tops from Saks Taste Tests: Which gray cardigan is the better deal? Which bolero's price can you shrug off more easily? Guides To Check Out: Get ready for fall with new leggings, boyfriend jeans, and an of-the-moment vest.
Up To 60% Off Designer Jackets at Bluefly
We've barely had the chance to take our fall shoes out for a test run and trendy outerwear is already on sale. Clearly, we're thrilled. After all, you can never have too many autumn jackets and blazers in rotation. This cute Marc Jacobs blazer in khaki ($158 from $328) is an easy way to dress up that white blouse you've just about worn out. A lightweight swing jacket like this comfy design from Generra ($85 from $185) is adaptable for fall's ever-changing weather – you can wear it solo on warmer days and over a heavy sweater when those cold winds kick in. Elegant and sophisticated, this fitted Elie Tahari jacket ($160 from $358) will look great with the fall denim and boots you've been waiting to whip out. For more fall outerwear, shop our guides for the best trenches, leather jackets, and rain gear. More Sales and Deals: Couture Candy: Save Up To 70% Off Of All Summer Items Ralph Lauren: Save Up To 70% On All Summer Items eDressme: Save Up To 90% On Designer Dresses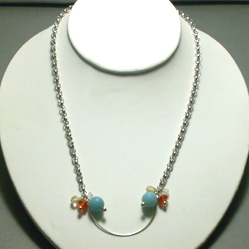 Count Me In: Alizabeth O
What: Bouquet For You Why: This fabulous necklace features vibrant blue faceted amazonite balls, pleasing orange/red faceted carnelian rondelles, soft faceted lemon citrine drops, and cloudy faceted moonstone rondelles. Dangling off a sterling silver rolo chain and featuring a wire "U" in the middle, it is sure to draw attention. Finished with a sterling silver clasp it hangs approx 22 inches. It's a great addition to your fall wardrobe. About the Designer: My lines have been described as playful, fun, bright, girly, fresh, feminine and youthful. I really like those descriptions, as they describe how I feel when I am designing and creating each piece. It's also the way I want people to feel wearing them. I hope each piece can brighten your day, make you feel a bit more cheery, feel extra sexy or playful, or simply add a bit of confidence. Who hasn't put on a piece of killer jewelry and instantly felt a bit brighter? My lines tend to have a modern yet simple feel to them with a touch of bohemian style (after all, I do have gypsy blood).  All lines are designed using colorful semi-precious and precious gemstones and .925 sterling silver. The subtly bold pieces might not follow current trends, but I have always felt that everyone really makes their own trends. So go ahead let your fun side show. Proceeds to be Donated: 20% Get Yours: http://www.alizabetho.com/pages/sfcmi.html Count Me In promotes the growth of women owned businesses and is the leading national not for profit provider of online business loans, resources, and community for women entrepreneurs. Beginning in September and continuing through Jan 1st, SheFinds will feature original pieces by independent designers. A portion of each sale will go to Count Me In. With each purchase, you are contributing to the development of women in business.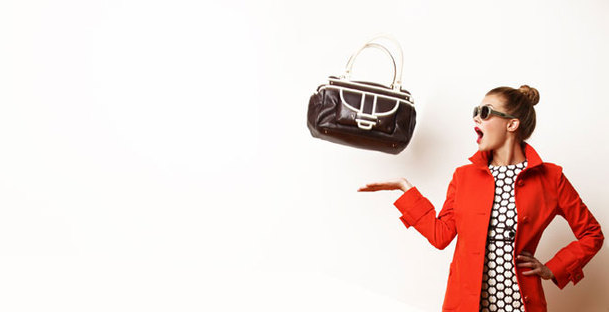 Wednesday's Sample Sale Scoop: Kate Spade, Via Spiga, Borba, And More
Editor's Pick: Kate Spade at Gilt Groupe Michael Aram jewelry, designer denim blowout sale, Greenbeads and Adina Reyter jewelry at Gilt Groupe Borba skincare and a multi designer blowout sale at Billion Dollar Babes Via Spiga handbags at Editors' Closet Matisse boots, Linq clothing, and ABS by Allen Schwartz jewelry at ideeli Gucci handbags at Portero, use code SHEFINDS French Connection watches and Jump footwear at Beyond the Rack Jenlari bracelets at The Top Secret Neil George haircare and Heather Hawkins bags at Hautelook James Perse clothing at Rue La La For more top affordable fashion, check out our guides to cheap shoes, cheap jewelry, and discount jeans.
Runway Recap: Who Thought Wearing A Saturn Could Be So Chic?
Here's the latest from SheFinds writer Casey: Aside from the blatant product placement for Saturn (nothing new: hello Bluefly accessory wall and Tresemme hair salon), this car parts challenge was a good one. Though very much like the grocery challenge, we were hoping the designers wouldn't all go for the easy materials. But alas, the seatbelts were all snatched up and appeared in nearly all of the creations. It was definitely less egregious than the tablecloths, though, as they have interesting sheen and texture while the tablecloths are just gingham travesties. We've noticed that the editing is getting pretty slick, like they are keeping secrets from us until runway time. Up until the runway we thought Korto's design was an absolute disaster, but on the catwalk it all made sense. It was a super chic, reflective, woven coat that we would all like to buy. We were a bit rubbed by the fact that it was 100% seatbelts though. LeAnne made a crazy structured leather minidress with frayed seatbelt fringe along the bustline and it was risky because if not constructed correctly, could make someone look like a big-hip monster. Instead it minimized the waist and looked spectacular. How in the world does something so chic come out of the brain of someone so frumpy? There was no question that it would be Keith and Stella in the bottom two. Both had two of the three Project Runway kisses of death in their creations: boring and poorly constructed. But it was ultimately Keith who HAD to go -- and by that I do not mean that he DID go (though he did, sorry for the early spoiler)... I mean there was no way he could survive after being such a baby and mouthing off to the judges for the second week in a row. And let's not forget his parting words to his model en route to the runway: "watch the breathing!" AND blaming his model for the skirt's construction issue. Nice fella. Good thing, though, because Stella is an entertaining character and we are glad she gets to stick around a while longer.Catch up on our coverage of previous episodes here.
Get Real Mint Claims To Be 'Soap With Bite' – A Little Intimidating, But It Works
What: BlueQ's Get Real Natural Soap in Mint, $5 Why: So many reasons! The chief one being cleansing and exfoliation in one step. Get Real Natural Mint has jojoba beads embedded throughout (down to the last sliver) to slough off dead skin as you lather up. No washcloth or poofy thing needed. And there's "No Fake Crap". It's made with essential oil, no artificial color, fresh mint, and avocado butter to moisturize. It's great for sensitive skin and excellent for traveling. One bar will last you a good long time. And once you've finished with the Mint you can try Lemon (with real bits of lemon replacing the jojoba beads) or the smooth-gliding and heavenly-smelling lavender. Get Yours: BlueQ.com
The Best Lip Balm Ever: BlueQ's Get Real
I'm a life-long sufferer of chapped lips, so I have been through a ton of balms, softeners, chapsticks, and the like. One thing I've discovered is that natural ingredients work better than petroleum-based stuff and a great balm needs two ingredients to combat even the most chapped lips: shea butter and beeswax. Not alone, but in combination. This is the only constant in the best products. Other ingredients to look out for are Vitamin E and natural oils (soybean, coconut, etc.). My current favorite balm includes all of these: BlueQ's Get Real line. As it says on the package: No Fake Crap. It soothes even painfully cracked lips and keeps my lips supple for hours. I like that the flavoring is subtle so I don't keep licking my lips. You can wear it alone or under lipstick and it still works. I never go anywhere without a stick of Get Real in my bag. Find it at BlueQ.com for only $3.99.
Taste Test: Which Turquoise Sandal Is The More Frugal Find?
Both of these snakeskin-embossed slingbacks will add a pop of color to your neutral summer ensembles, and will even work with black trousers well into fall. Which pair will let you get the most mileage for the least amount of cash? Click on the images to find out what they actually cost. Test your Fashion IQ with other Taste Tests.
How To Weather The Heat – Beauty Products To Keep You Looking Fresh
By the time I get to work these days, I need another shower. It's getting hot outside (not to mention underground for you public transportation takers) and the temperature is just going to keep on rising. I'm well aware of global warming – but this is borderline ridiculous. It's not even July. Not only do I need to change my top (I'm a sweaty girl), I need a fresh coat of makeup and something to defrizz my hair. But, with my tendency to run as late as I do, I need to do all this very quickly in order to have enough time to grab my coffee in the café and be seated promptly at my desk by 9 AM. I went to my Sephora on my lunch break today – enough is enough. I need products I can put on before work to fight the commute's harsh conditions and to keep at my desk to freshen myself when I get to the cubical. I'm adding a primer to my morning foundation routine. SmashBox's Photo Finish Foundation Primer, which won Best of Sephora 2007, helps keep my foundation firmly in place and smoothes any wrinkles already caused by the sun ($36 - $42. I picked up this Peter Thomas Roth Clinical Skin Care Instant Mineral SPF 30 ($30). It got rid of the shine caused by sweat and coated me with some additional sun protection. I don't exactly smell as fresh and floral as when I left my apartment 30 minutes earlier after sweating it out in a crowded semi-air conditioned subway car. Stella McCartney makes this great miniature roll on perfume called STELLA that smells of rose, peony flower, amber, mandarin, and rose absolute ($16). It's so yummy I picked up the full size version too. If a body spritzer is more your style, you'll love this Pink Sugar Body Spritzer from Aquolina ($20). My hair really takes the brunt of the heat. If it's humid and rainy hot, I frizz. If it's dry hot, it gets a bit oily. Ted Gibson makes these hair sheets ($25 for 10). They perform like a dryer sheet does to static on your chiffon skirt. They defrizz, prevent overdrying, eliminate odors, and give your hair protection from the sun. Not only are these great for commute repair, but they're also great to throw in your gym bag if there's no time for a shower after a workout. For those days when my melon looks like it was dipped in baby oil I have my Oscar Blandi Dry Shampoo To-Go ($11). It absorbs excess oil at the roots of my hair and even gives it a boost of volume.
Fiona Sports Bra For Big Busts
One of the most annoying things about getting in shape (beyond finding a gym, sweating, getting motivated, and dieting) is finding good workout wear. I'm a big person, yet most workout accoutrements are made for thin people. Irony - it's not just for Alanis Morrisette anymore. The biggest culprit is the sports bra, as some of you may know. A lot of them you have to pull over your head, but they're tight around the torso for support. Getting in one of them requires advanced contortionism. Getting out of it while sweaty? Hand me the scissors. This is why I was so glad to find the Fiona bra from Moving Comfort ($44). It's made for bigger women - sizes go up to 40DD. It snaps on like a traditional bra, has ultra-adjustable shoulder straps, and has a wide band around the back and sides to support without digging in. This bra is so comfortable I can wear it all day (and have) and not feel uncomfortable. It'll support you while you engage in high-impact sports like jogging. Don't let sports bra torture keep you from supporting yourself properly when you exercise. You'll keep the Fiona around even after you get to your goal weight. Find the Fiona at Paragon Sports. Looking for other sports bras for any shape and size? Check out our picks for Best Sports Bras.
What To Work For: Mike & Chris Dallas Leather Vest
What: Mike & Chris Dallas Leather Vest, $656 Why: It might be a challenge to even think about leather on the cusp of July (unless it's on your handbag), but when masters of the motorcycle jacket, Mike & Chris, come out with a sleek leather vest, you can't help but take notice. The buttery bark or rich cognac color is so versatile, you can potentially get away with wearing it on a cool summer night - hey, Shopbop styles it with a pair of oversized shorts and a casual tank. Sure, this trend du jour will set you back a pretty penny, but an authentic Mike & Chris will never really go out of style. Get Yours: shopbop.com, tobi.com
Deal Of The Day: Up To 40% Off Bikinis at YOOX
If you're like me and you hadn't noticed until now – beach season in full swing – that your swimwear wardrobe hasn't been updated in half a decade, not to worry. YOOX has you covered in the bikini department, with tons of cute two-pieces on sale so you can hit up the beach in (a new) style, and banish those faded bikinis to the back of your closet.This black-and-white Bikini by Christies ($72, was $90) has thicker side ties that won't pinch hips, and the halter top is substantial enough to offer enough support, even if you're not an A-cup.The beading on this Naory Bikini ($72, was $120) lends a bit of glamour to basic blue.Get into the patriotic spirit of the season – without going overboard – in this red, white, and blue Caractere Aria Bikini ($78, was $108). More Deals On The Web Today:Get an extra 10% off everything at Bluefly today. 50% off select plus-size styles at Old Navy. Up to 60% off designer skirts at Net-A-Porter's summer sale.Get 10% off cosmetics at blushcosmetics.com as advertised in our SheFinds Forum. Shop our Swimwear Guide for more great deals on swimsuits for your shape.
Solution: Pack Light And Take Flight Without Getting Charged A Steep Fee
So let me get this straight: tickets cost a fortune because of out-of-control fuel surcharges, I have to cram everything into a sandwich-sized Ziploc, they're not serving peanuts, and now I have to pay 15 bucks just to check my bag? Airlines, you have got to be kidding! Major airlines are announcing fees for checked bags now (here's a list of the 10 busiest airlines' policies ), with American and United leading the pack with a $15 charge for the first checked bag. Second checked bags can run you $25 or more, and you'd better not go over the 50 pound limit—that's when the real wallet-draining happens.With all this in mind, it's best to carry on whatever you can. But with hair dryers, brushes, toiletries, and all those extra shoes you need (yes, need), it's going to take some serious packing savvy to get all your goods on board on the cheap. The website OneBag.com has some great packing tips, including an intricate diagram of the Bundle Method of packing. Basically, you fold all your clothes, with the least wrinkle-prone pieces at the center, around one core object. Choose your core wisely: we like eBags Pack-it-Flat toiletry kit ($35) stuffed with your hairbrushes, makeup brushes, and other dry toiletries, or a small Packing Cube ($25 for 3) filled with little stuff like socks, underwear, and swimwear. All your garments get folded around the core (it helps if you've worked at The Gap!) and the whole bundle ends up taking up less room than individually folded or rolled clothes. As for the tiny toiletries you'll need to tote if you want to get it all onboard, we love Cargo's ColorCards ($24) and DailyGloss ($12) - itsy bitsy palettes of color that'll last at least the length of your trip. Find more airline-approved beauty loot at Sephora's handy travel-friendly shop. Store your shampoo, conditioner, liquid soap, moisturizer, and other liquids in spill-proof bottles from the 15-Piece Carry-On Kit ($10). All fifteen bottles, jars, and tubes come stacked in a reusable quart-sized bag, so you can be sure you'll be able to fit all your get-gorgeous goodies inside.
Summer Sandals You Should Probably Have By Now
Summer's pretty much in full swing, which means despite the occasional open-toe bootie sighting, sandals have taken over as the main shoe staple. Today on Better TV, SheFinds shows you the latest summer sandal trends, from retro throwbacks to old school classics to flip-flops that will kick your butt. For Chic Structure: Oh yeah, jellies are back. And we couldn't be more excited. These chain-link thong versions from Old Navy have a chic gladiator feel to them, and for only $10 a pop, you can snatch up all five colors. ECCO's Clear Water thong ($120) eliminates the need to stash a generous amount of band-aids in your bag while breaking these in. Not only are they instantly comfortable, but their eclectic strappy design can go with almost anything. The glitzy metallic of these Bernardo Milly sandals ($98) make them the perfect accessory to any simple summer dress. Paired with either the silver or gold, your LBD won't require anything else. (But act fast, because these sandals are selling out quickly - only larger sizes remain as of now.)For Comfort: An oldie but a goodie, Havaianas ($28) have been around forever, due to their unbelievable comfort level and laid-back sense of style. As a newer kid on the block, Gurkee's Rope sandals ($27) are giving competitors a run for their money by using softer rope materials that's comfy, stylish, and machine washable. For A Workout: The FitFlop ($50) has been touted as this season's must-have sandal, partially because of Oprah's endorsement, but mostly because it kicks your butt - literally. These sandals give your rear-end a mini-workout just by slipping them on and walking to the corner store. We're not saying you'll lose 20 pounds in one afternoon, but every little bit helps. We're also big fans of the Earth Breena sandals ($98), which have a Negative Heel Technology that helps tone your legs. These sandals look a bit less sporty, but they still get the job done when it comes to working your bod. Check out Better TV to see more about our summer sandal picks above, and be sure to peruse our SheFinds Comfy Shoes Guide for more options!