Kristin Cavallari Talks Her Chinese Laundry Line + The One Shoe Every Girl Needs This Fall
Kristin Cavallari has come a long way since Laguna Beach. Nowadays, she's designing shoes for Chinese Laundry, providing lifestyle and new parent tips on her namesake app and working on her upcoming book, Blancing In Heels, set to hit stores next March. And those are just some of her career highlights! She's married to Chicago Bears quarterback Jay Cutler and they have two sons with a daughter one the way. Oh, and did we mention she's only 28-years-old? We recently had the change to catch up with Kristin after an event for her latest Chinese Laundry collection. She dished on her fall must-haves, how she wears heels while pregnant and more! SHEfinds: Tell us about your new collection for Chinese Laundry. Kristin Cavallari: Fall is my favorite time for shoes because it's all about boots and booties! Every collection I do is on-trend and classic, and this collection is no exception. I have thigh-high boots, a fringe bootie, pointed-toe flats, and a wedge bootie, plus many more styles. SF: What's the first thing you buy for fall? KC: I'm such a hat girl, so I typically buy a new one once the weather starts changing. I think a simple outfit with a great pair of booties and a hat is incredibly chic and easy to put together. SF: What shoe style does every girl absolutely need in her closet this fall? KC: Thigh-high boots! They are trendy, flattering on every body type, and super sexy. SF: What's the most comfortable pair of shoes you own? KC: My Birkenstocks! I boycotted them for so long but finally caved and got a pair this past summer. My feet loved me. They were so comfortable; I would wear them all day around the house. SF: How often do you wear heels while pregnant? KC: It depends. I would say on average about once or twice a week--not much. When I'm home in Chicago, I'm usually in workout clothes and gym shoes, with the exception of date night or lunch with girlfriends. I wear heels when I travel to LA or NYC for work and I know I'm going to be photographed. SF: What's next for Kristen Cavallari x Chinese Laundry?! KC: I'm currently working on fall 2016 already. I just started pulling inspiration together for that collection and I'm waiting to see samples for spring 2016. Just moving right along and having a blast doing it! [Photo: Splash News]
Take A Cue From Kristin Cavallari & Embrace Spring's Hippie Trend In An Off-The-Shoulder Top
Nothing is sexier than a woman's décolletage which is why Kristin Cavallari's Stone Cold Fox Nate Blouse ($215) had us swooning all over Instagram. The young mom looked stunningly chic in her post featuring this gorgeous blouse and some serious bell bottoms. The 70s are back in the best way possible (see: every fashion ad this spring), so shop the flowy blouse below and feel sexy wherever you go. Stone Cold Fox Nate Blouse ($215) Shop more celebrity style like Jamie Chung's oxfords, Jessica Alba's sandals and Jessica Biel's moto jacket.  [Photo: Splash News]
We Want To Raid Kristin Cavallari's Shoe Collection Starting With These Tan Booties
Kristin Cavallari has an affordable shoe collection a girl could only dream of. Lucky girl, she designs most of them and she actually wears her own designs so we know they are solid. She recently wore these Chinese Laundry Raylin booties ($129.99, down from $159.99) in cognac (but they also come in black) and we love the flash of gold on the heel. As Kristin demonstrates they're great with leggings, but they'll also look killer with skinny jeans. Best of all? They're on sale! Get a pair below. Chinese Laundry Raylin booties ($129.99, down from $159.99) Don't forget to check out Khloe Kardashian's velvet bralette, Beyonce's sunglasses, and Margot Robbie's leather leggings. [Photo: Splash News]
If Your Feet Just Can't Take Being In Boots Any More, Try Kristin Cavallari's Trick
How do you feel about peep-toe booties? Because Kristin Cavallari is a huge fan of the look - she wears and designs the style for her own shoe line. She recently traveled in her Kristin Cavallari Laurel Peep-Toe Booties ($149) paired with shorts (lucky Cali girls) and layered white tops. While those of us suffering through the slush and snow may not love the look for now, anyone in warmer temps should take advantage of this naked toe look. Don't forget a pedicure! Snag her neutral booties below.  Kristin Cavallari Laurel Peep-Toe Booties ($149.95) Don't forget to shop Shay Mitchell's printed dress, Kristen Stewart's cropped sweater and celebrity winter style under $100. [Photo: Splash News]
Kristin Cavallari Has A New Hair Cut And $67 Ankle Booties We Want For Fall
We have to hand it to Kristin Cavallari; she is keeping herself relevant post her Laguna Beach mean girl days through her cool (and affordable) shoe designs. The football wife wore Chinese Laundry by Kristin Cavallari Allure Boots ($67) while showing off her fresh new hair cut and still flaunting her truly amazing post-baby bod (yes, it is important). The mixed media ankle booties come in a few color options and are incredibly affordable so we really like them. Snag the ideal fall bootie below! Chinese Laundry by Kristin Cavallari Allure Boots ($67) Don't miss Sofia Vergara's jeans, Beyonce's printed skirt set and Gisele Bundchen's Rebecca Minkoff bag [Photo: Splash News]
If We Had Kristin Cavallari's Post-Baby Body, We'd Show Off In A Bodycon Dress, Too
Motherhood is looking really good on Kristin Cavallari who recently flaunted her perfect post-baby bod in a Torn by Ronny Kobo Coco Dress ($388) with her Chinese Laundry Kristin Cavallari Copertina Pumps ($129). Now turquoise and leopard may not seem a likely pairing, but Kristin definitely pulled it off. We can't decide what we want more, her dress or her heels. Oh heck, who are we kidding? We want both! Torn by Ronny Kobo Coco Dress ($388) Chinese Laundry Kristin Cavallari Copertina Pumps ($129) PS: If Kristin's dress is sold out in your size at Shopbop, try here! Shop more great celebrity style such as Jessica Alba's leather track pants, Rihanna's hot pink dress and Beyonce's best under-$100 clothes. [Photo: Splash News]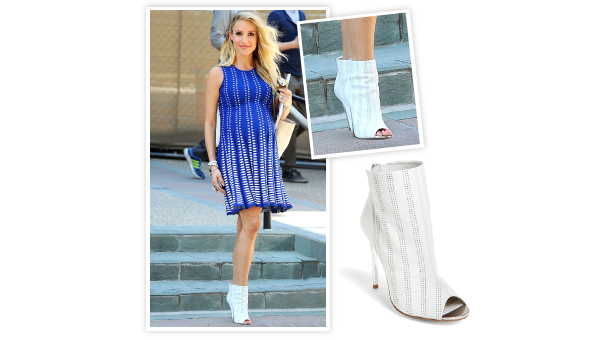 You Can Totally Wear Kristin Cavallari's White Booties Before Memorial Day
Pregnancy is not keeping Kristin Cavallari away from her heels, especially those she designed! The glowing mommy-to-be stepped out looking gorgeous (and still tiny) in a fitted blue dress and Chinese Laundry by Kristin Calavallari Leila Bootie ($159.95). So don't wait until Memorial Day to rock your whites - these booties are a perfect segway into a spring weather and will add some color to your not-so-tan legs. Plus, they will look great with all your pretty pastels you are finally rocking after a winter of grays and blacks. Shop them below! Chinese Laundry by Kristin Calavallari Leila Bootie ($159.95) White not your color? They also come in fiery red and classic black! Don't miss Zooey Deschanel's dress, Taylor Swift's sunglasses, Emmy Rossum's $51 dress, plus Jennifer Garner's rag + bone boots and Eva Mendes' printed dress. [Photo Credit: Splash News]
If Pregnant Kristin Cavallari Can Pull Off Skintight Leather Pants, So Can You
Sure, she may be pregnant and all, but that isn't stopping pseudo-celeb Kristin Cavallari from rocking skin tight leather pants and looking fabulous all the time. The reality star turned NFL QB wife turned shoe designer rocked Rag & Bone/JEAN The Reverse Jodhpur ($749, down from $990) with her ribbed, oversize black turtleneck and detoxing green juice (of course, even pregnant celebs don't eat real food). If you haven't splurged on a pair of leather pants, now is the time. Plus, these feautre a unique ribbed inset. Wow 'em in your riding pants! Score them below! Rag & Bone/JEAN The Reverse Jodhpur ($749, down from $990) Don't forget to browse and shop more great celeb style finds such as Nikki Reed's orinted dress, Rihanna's white dress, Jessica Alba's biker boots, and Miranda Kerr's biker jacket. [Photo: Splash News]
Kristin Cavallari's Cheap Black Booties Won't Even Make A Dent In Your Holiday Budget
While gearing up for baby #2, Kristin Cavallari shows no signs of slowing down, or dressing down. She showed off her small bump in her very own designed Chinese Laundry Kristin Cavallari Caylin Boot ($120.56, down from $179.95) with her casual outfit. Every good designer knows self promotion is the key (see: Nicole Richie, Rachel Zoe). Plus these little black booties won't break your bank and are simple and understated to pair with just about anything in your closet. Score the boots below! Chinese Laundry Kristin Cavallari Caylin Boot ($120.56, down from $179.95) Don't miss out on more A-lister style such as Kate Upton's sweater, Kim Kardashian's Jeans, Candice Swanepoel's dress and Kerry Washington's Vince Camuto dress. [Photo: Splash News]
Break Out Of Your Denim Rut And Try Kristin Cavallari's Paisley Print Pants
Kristin Cavallari has been out and about a lot recently (sans baby, although it's hard to believe this skinny b*tch even had one) and her style has been snapped, discussed, and copied. Her Cali-girl laid back fashion sense has all of us East Coasters taking note, especially when she rocked these Exclusive For Intermix Silk Paisley Print Pant ($188) with a loosely fitted white tank and nude pumps. We love these eye-popping printed trousers because they're the perfect alternative to simple denim, but just as comfortable. Did we mention Taylor Swift rocked the same pair? Score a pair for yourself below. Exclusive For Intermix Silk Paisley Print Pant ($188) Other celebs are into the printed pants too, like Heidi Klum's zebra-print jeans! Also steal Christina Ricci's Met Gala dress, or shop Isabel Marant boots celebs are loving, Jennifer Aniston's tie-dye dress, Hilary Duff's pretty ALC top and Kourtney Kardashian's gladiator sandals. [Photo: Splash News]
There's No Shame In Self-Promotion! Just Ask Reality Star/Designer Kristin Cavallari
If you're going to try to make a name for yourself as a designer, might as well be your own best model, right? We're guessing that's exactly what reality star turned designer Kristin Cavallari had in mind when she stepped in out the Leale Pump ($119.95), a shoe she designed as part of her collection with Chinese Laundry. And to prove they were comfortable enough, Kristin casually wore them as she walked through the airport! As for those amazing white jeans she's wearing, Kristin opted for Rag & Bone The Capri ($187). Score both items below. Rag & Bone The Capri ($187) Chinese Laundry Kristin Cavallari Leale Pump ($119.95) Score more celebrity looks right this way! Check out Ashley Tisdale's perfect summer dress, Elizabeth Banks' romper, and Olivia Palermo's Milly x Banana Republic shorts. [Photo: Splash News]
Kristin Cavallari's White Iro Jacket Is Pretty Much Perfection–Minus The Price Tag
Now that Kristin Cavallari has given up her mean-girl OC persona, we've got no shame coveting her California cool style. The new mom was recently snapped pushing her stroller in this Iro Aren Jacket in Ecru ($812) and we're downright obsessed. The quilted leather trim and frayed edges gives it some interesting texture and make it the perfect cover-up for cool spring days and nights. Plus, it's so versatile--it will look good with jeans, skirts and dresses. Heck it will probably even make leggings look better! Can afford the splurge? Shop Kristin's jacket below. Iro Aren Jacket in Ecru ($812) [Photo: Splash News] Looking for more A-list style? Check out looks like Diane Kruger's spring dress, Victoria Beckham's high waist jeans, Kate Middleton's Topshop dress and Rachel Bilson's flip flops.
Kristin Cavallari Got Her Pre-Baby Body Back And She's Ready To Show It Off
Kristin Cavallari may be a new mom, but that isn't stopping her from dressing like her teenage OC-days. The reality star stepped out wearing a Donna Mizani Theodore Cut Out Maxi Dress ($346), proving once and for all that she definitely has her pre-baby body back. But can you blame Kristin for falling for the dress? Cutouts are huge this spring, plus black and white is the color combo of the season. Add in Kristin's ridiculously flat stomach and overall svelte physique and this dress is a no-brainer. Love her look? Shop Kristin's maxi dress below. Donna Mizani Theodore Cut Out Maxi Dress ($346) [Photo: Splash News] Looking for more A-list style? Check out looks like Rosario Dawson's maxi dress, Blake Lively's leather dress, Olivia Munn's maxi dress, and Ashley Tisdale's eyelet dress.
New Mom Kristin Cavallari Taking Notes From Kourtney Kardashian?
We already tracked down new mom Kristin Cavallari's baby swing and now we know what baby stroller she uses. Kristin was recently spotted out and about in L.A. and she looked fab pushing her Orbit Baby G2 stroller. (more…)
You Asked, We Found… That Cool, Comfy Baby Swing Kristin Cavallari's Baby Boy, Camden Cutler, Is Sleeping In
Yesterday we shared the adorable pics new mom Kristin Cavallari posted of her baby boy, Camden Cutler, on Twitter. Everyone agreed Camden is beyond adorable, but one mom asked, "What is he sitting in? It looks like a 4moms but I can't find that pattern anywhere. Help?!" (more…)
New Mom Kristin Cavallari Shares Sweet New Snaps of Her Baby Boy, Camden Cutler
How adorable?! Is it any wonder new mom Kristin Cavallari couldn't resist sharing this snap of her baby boy, Camden, on Twitter earlier this week? He's so cute! (more…)
Meet Kristin Cavallari's Baby Boy! Plus, Tori Spelling Hospitalized and Baby #3 for Melissa Joan Hart
The day has finally come! Kristin Cavallari debuted her newborn son, Camden Jack Cutler, to People magazine and he's super cute. Click here to see the pic of Kristin Cavallari's baby boy. We're sending new mom Tori Spelling our get well wishes. She was recently hospitalized due to complications with her recent C-section. Congrats are in order. Actress Melissa Joan Hart welcomed her third son on Tuesday. Find out what she named him. Photo © Splash News
Spotted! New Mom Kristin Cavallari Makes Her Post-Baby Debut…
And surprise, surprise, she looks amazing. Believe it or not, Kristin gave birth just four weeks ago and yes, she looks that good after one month. The new mom stepped out with her girlfriends earlier this week and she tweeted the photo above along with the caption, "Girls night!! Yes at 6pm haha." (more…)
Congrats! Kristin Cavallari & Jay Cutler Welcome a Baby Boy
We're sending a huge congratulations out to new mom Kristin Cavallari. The Laguna Beach alum is the proud new mama of a baby boy! (more…)
She's Almost There… Mom-to-Be Kristin Cavallari Shows Off Her Fully-Blossomed Baby Bump Just Days Away From Giving Birth
Not only is Kristin Cavallari pregnant, but she's due to give birth any day now! The reality star is expecting her first child--a boy!--with Chicago Bears quarterback, Jay Cutler, and we've loved following Kristin's maternity style. From her sexy Isabella Oliver ruched dress to her gorgeous T-Bags baby shower dress, she's definitely been an inspiration for moms-to-be proving you can be pregnant and stylish. (more…)
Who Knew?! You Don't Have to Be Pregnant to Pull Off Mom-to-Be Kristin Cavallari's Summery Look
Mom-to-be Kristin Cavallari is nearing her due date, so we thought we'd pay one last (err, maybe not...) homage to her fabulous maternity style. (more…)
She May Be About to Give Birth Any Day Now, But That's Not Cramping Mom-to-Be Kristin Cavallari's Style…
She's in the home stretch! That's Kristin Cavallari--who's pregnant with her first child--and if it looks like she's about to give birth any second that's because she is! (more…)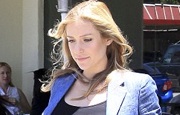 The Latest Isabella Oliver Convert? Mom-to-Be Kristin Cavallari!
Now that Kristin Cavallari is pregnant, we can't get enough of her. Her maternity style is so on point, she actually makes dressing a huge baby bump look easy. Need proof? Check her out in the iconic Isabella Oliver ruched tank dress. Now if it's looks familiar, that's probably because you've seen star moms like Angelina Jolie, Reese Witherspoon and Lindsay Price wear it. But Kristin puts her own spin on the classic by pairing with a cool chambray blazer and flat sandals. Love the look? Score the must-have maternity dress here: (more…)
Spotted! Mom-to-Be Kristin Cavallari Rocking a Red Hot Mini Dress
Kourtney Kardashian may get our award for most stylish mom-to-be of the year, but Kristin Cavallari is a close second. From her gorgeous black baby shower dress to this cute red number, we love that Kristin isn't afraid to show off her best asset: those legs! Even while pregnant, Kristin hasn't shied away from putting her pins of full display in short little dresses. (more…)
Finally! We Found Kristin Cavallari's Gorgeous Black Baby Shower Dress and It's Available for Pre-order!
We have been obsessed with Kristin Cavallari's black baby shower dress since the moment she tweeted the pic of it. That neckline. That hemline. It's magic! And finally, we found it! It's the T-Bags delphine hi-lo maxi dress and it's now available for pre-order. The dresses will start shipping in September, so if you're having a shower this fall or if you've got a wedding or black tie event to attend at the end of the year, get yours now! It will totally sell out. (more…)
Check Out What Mom-to-Be Kristin Cavallari Received at Her Baby Shower…
Last weekend expectant mom Kristin Cavallari stepped out for her baby shower, and while we were totally obsessing over her dress, we also couldn't help but notice one of the awesome gifts she received. That oddly shaped mattress thing the woman is holding in the pic above? It's a Nap Nanny Chill. (more…)
Kristin Cavallari May Be Onto Something… How About a Statement Maternity Dress for Your Baby Shower?
Having your baby shower this spring or summer like mom-to-be Kristin Cavallari? The expectant mom was feted at her baby shower last weekend and we're still swooning over that dress she wore. Maybe it's the maxi silhouette or the gorgeous neckline, but Kristin Cavallari's baby shower dress has left us inspired. Too bad we're not having a baby shower... But if you are, follow in Kristin's footsteps and make a statement at your baby shower in a maxi dress with something gorgeous going on up top. It's sure to take some of the attention away from that big bump, plus we selected a few non-maternity options you'll be able to wear when you're not pregnant. (more…)
Mom-to-Be Kristin Cavallari Proves Just How Slimming Black Can Be… Even On a Pregnant Person!
Mom-to-be Kristin Cavallari looks great. It probably has something to do with that green juice she's drinking, but we'd also like to think that cute black eyelet dress she's wearing helps, too. After all, it's a well known fact that black is slimming and in the pic above Kristin barely looks pregnant. So take a cue from pregnant Kristin Cavallari and invest in one of these cute black eyelet dresses for summer. (more…)
25 & Pregnant: A New Celebrity Trend?
Have you noticed that more and more younger celebrities are expecting babies these days? First, there was Hilary Duff who just welcomed her first child at 24. Then there was Kristin Cavallari, who announced she was pregnant at 25. Then came Snooki, who's 24 and pregnant. And now there are rumors that Megan Fox--who was born in 1986--is pregnant. (more…)
Kristin Cavallari Makes Her Baby Bump Look Good In A Faux Marabou Jacket
Remember when Kristin Cavallari was just a carefree teen on a little reality show called Laguna Beach? Now, eight years later, Team Kristin is a wife -- and mother-to-be! Time flies by but the girl still hasn't lost her breezy sense of style. Proof: a glam'ed up monochrome outfit topped with a floppy hat and a contrasting Leyendecker Boom Faux Fur Marabou Jacket ($196). It's a cool and boho look fit for both day dates and a night out with the girls. (more…)
Kristin Cavallari's Leather Mini: You Can Have The $400 Or $40 Version. Take Your Pick.
The Hills may be dead in its grave, but somehow star Kristin Cavallari has found life after the show, in the form of dating NFL players, doing DWTS, and most importantly, being photographed by the paparazzi in tres chic outfits. Her latest look involves this adorable Alice and Olivia Pleated Leather Skirt ($396) -- which is still available online (and on sale at Shopbop!). But don't worry, we also found an under-$50 option, too. (more…)
Mid-Day Catch Up: Kristin Cavallari's Returned Engagement Ring, Disney's Tween Line For Target, More
From left: Kristin Cavallari's ring, and a piece from Disney's "Shake It Up" Collection for Target (more…)
Mid-Day Catch Up: Kristin Cavallari Breaks Off Engagement, Shiloh Jolie-Pitt Channels Kanye, More
From left: Kristin Cavallari and her recent ex Jay Cutler, Shiloh Jolie-Pitt and Kanye West. (more…)
Kristin Cavallari's Broken Engagement And 10 Celebrity Couples Who Never Made It To The Aisle
This weekend, it was widely reported that Kristin Cavallari and Jay Cutler have broken off their engagement (Kristin even thanked fans for their support on Twitter). With the couple already registered and a big spring wedding planned, the news comes as somewhat of a surprise (although their 10-month courtship may have been a clue). This isn't the first time a celebrity has gotten cold-feet right before the big day; check out the 10 most shocking un-engagements: (more…)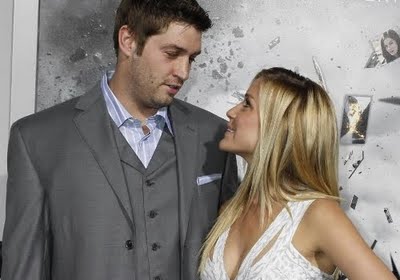 Kristin Cavallari Wants A Sausage Stuffer — And Other Surprising Registry Items
Honey, do you think we need another wine decanter? Kristin Cavallari and my fellow classmate Jay Cutler are the latest couple to go public with their wedding registry -- and whether you think it's tacky or not, they've got some actually-useful items on there. (more…)
The Silk Safari Top Is This Year's Chambray Shirt: Everybody's Wearing One!
Kristin Cavallari in her Naven Oversize Crop Blouse ($220, left); Katie Holmes and Khloe Kardashian in the Equipment Signature Blouse ($208, center & right) The silk safari blouse is dressier and more feminine than its chambray and cotton counterparts, but it's every bit as wearable. Dress it up like Kristin Cavallari (left) with swingy shorts - her's are Naven, $110 at Singer22 - and nude pumps, or complete the menswear-inspired look with a pair of fitted cargo pants like Khloe Kardashian (right). The best thing about this trend is that there are endless ways to incorporate this blouse into your existing wardrobe no matter your personal style...but once it's in your closet don't plan on it staying there too long because it will likely become one of your most rotated-in pieces. See our favorite silk safari blouses after the jump. (more…)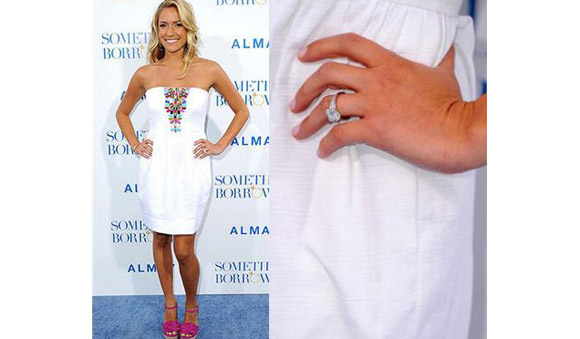 Kristin Cavallari Is Engaged — And Completely Orange; How To Self-Tan Without Similar Results
The Hills star Kristin Cavallari is engaged to Chicago Bears quarterback Jay Cutler, and apparently she wants to have a glowing complexion for her wedding because the chick looks like a GD traffic cone. And I'm not just saying that because I went to college with Jay and sat in front of him in Modern Civ and that could have been me... I'm just saying no one should have such a heavy hand when applying the self-tanner. (more…)
Kristin Cavallari's Old Navy Peacoat Is 35% Off (Plus More Styles)
Kristin Cavallari and AnnaLynne McCord turned heads when they stepped out in this ruffled Old Navy peacoat earlier this fall, and now so can you - because the coat is now marked down almost 40% at Old Navy. While Kristin's coat is sold out in red, we actually prefer this gorgeous purple-blue. Grab this Old Navy Women's Ruffled Wool-Blend Coats ($60, down from $89.50) before it sells out, too. Get this Old Navy Women's Wool-Blend Trench Coats ($69.50, down from $99.50) - the trench style is slimming, and the fur-trim neckline is extra warm. If you love the Anorak/military jacket trend, get this Old Navy Women's Faux-Fur Hooded Anoraks ($60, down from $79.50) for a toasty winter version. If you need an everyday option, this under-$50 Women's Ruffle-Collar Wool-Blend Jackets ($45, down from $69.50) is pretty much the best price you could find. Shop our other jackets and coats guides, from military jackets, to trench coats, and all kinds of faux fur.
Gwen Stefani And Sienna Miller Show How To Wear Red Without Looking Like A Fire Truck
Red is a tough color to pull off. You want to look sexy and vamp without resembling a lady of the night, and you want to make a statement and be bold, without sending strangers into cardiac arrest. Luckily, Sienna Miller, Jennifer Lopez, AnnaLynne McCord, Kristin Cavallari and Gwen Stefani are here to show how to wear the color without looking like Hester Prynne from The Scarlet Letter. Thanks, ladies: Red Pea Coat: AnnaLynne McCord and Kristin Cavallari show how to wear red this fall, by pairing a feminine, ruffled red coat with an otherwise black ensemble. For McCord, it was slimming black pants, a black scarf and flats. For Kristin, black booties and a mini dress did the trick. For the highest impact, go with this AK Anne Klein Double Breasted coat ($128.99, down from $265). The fitted, slimming style will stop traffic. If you're looking for a slightly more subdued hue, look no further than this J.Crew Double-cloth Colletta coat ($298). The waist ruching ads a super feminine touch to the wool style. Red Shift Dress: For a sexy nighttime look, try a red hot shift. Pair it with black tights and black blazer for work, like Alexis Bledel did, or sexy nude heels for play, like Jennifer Lopez. Get the look for much less with this BB Dakota Whitman Dress ($80). The flirty skirt detail is definitely red carpet-approved. For an even brighter, more bold style, try this Milly Nichole Bow Shift Red Dress ($350) Red lipstick: For a pretty pop of color like Sienna Miller, try this Yves Saint Laurent 'Rouge Pur Couture' Lip Color SPF 15 ($30) and go light on the eye makeup. A layer of red lipstick, some mascara and a shot of bronzer is all you need to nail the look. Red Accessories: Not ready for a full-blown red outfit? Try a small pop of the color in accessory form, like Gwen Stefani did. This Nordstrom Grosgrain Border Straw Fedora ($28) is perfect. Shop more fall must haves, such as flat boots, military jackets, off the shoulder tops and jeggings.
Kristin Cavallari Rings In Sweater Weather With A Preppy Cable Knit
Kristin Cavallari paid homage to fall this weekend with a super cute sweater (and with an actual pumpkin). Kristin's navy blue cable knit sweater and jeans look is the perfect get-up for crisp falls days, when you don't want to freeze your butt off, but don't want to look bulky either. As the weather drops, layer the look with cropped jackets and blazers and add scarves and gloves. Try her look here: Get the ever-preppy cable knit sweater look with this Rugby Woolen Button-Cuff Sweater ($79.50) which has a perfectly-placed row of gold buttons on the sleeve. To take the look from classic-preppy to on-trend, go with a pair of super soft jeggings like these you-won't-believe-their-note-jeans True Religion "Misty" Super Skinny Denim Leggings in Buckeye Dark ($189). A neutral leather belt is the perfect fall accessory - use it to pull any jeans-and-sweater outfit together (or to cinch a military jacket or bulky sweater). This MM6 Maison Martin Margiela Belt ($180) is perfect. Oversize gold men's style watches are still a huge trend, so try the expensive-looking style with this Michael Kors 'Runway' Crystal Index Watch ($180). If you're not on a The Hills-cast budget, get a barely-used second-hand designer bag on Portero, like this Louis Vuitton Speedy ($498.97, down from $665). Shop more fall essentials like fall boots, scarves, military jackets and blazers.
Daily Links: Kristin Cavallari Designs Shoes, A Betty White Clothing Line, Marc Jacobs' Jersey Shore Secret, More
1. Kristin Cavallari doesn't need The Hills drama to keep her busy anymore. The star reported that she is will now be designing a line of shoes. [People Stylewatch] 2. Marc Jacobs has a serious situation going on. The designer confessed that he watched MTV's Jersey Shore and enjoyed the 'brain vacation'. [Elle] 3. Everybody loves Betty White, including designer Jerry Leigh, who shows his affection with a line of Betty White t-shirts and hoodies. A portion of the proceeds will go to Betty's favorite animal charity. [Fashionista] 4. Lacoste has announced a jewelry collection of bracelets, necklaces, and cell phone charms due in stores and online by February. Look for a sneak peak here in September. [WWD] Stay up to date in the gossip world with all of our Daily Links. Shop our guides to the best wedges and the best party shoes. Sign up for SheFinds to receive exclusive fashion and style updates.