Celebrities Who Have Been Honest About Their Past Drug Addictions—So Brave!
We look at our favorite celebrities through a limited lens. We watch our favorite artists in music videos, our favorite actors on film and our favorite socialites on reality TV. The glitz and glamorous lifestyle of celebrities, however, can be quite deceiving. We tend to idolize our favorite celebrities, putting them on a pedestal and forgetting that they are human, just like us. Celebrities experience meltdowns, breakups and and typical life stresses just like we do. So, it's no surprise that many of our favorite celebrities have dabbled in and have struggled with drug addiction. Here are a four A-list celebrities who have bravely opened up about their experiences with drugs. 1. Fergie Just a couple days ago, Fergie sat down in an interview with Nick Levine for iNews. She admitted to Levine that she used crystal meth and had severe hallucinations. "At my lowest point, I was suffering from chemically induced psychosis and dementia. I was hallucinating on a daily basis. I'd just be sitting there, seeing a random bee or bunny," the former Black Eyed Peas singer told Levine. Fergie has since recovered from addiction and thanks her "guardian angels" for her recovery. 2. Demi Lovato Demi Lovato got very candid about her past drug addictions in her autobiographical documentary Simply Complicated, where she relived her road to recovery from cocaine with fans. "I would sneak out and get drugs, I would fake my drug tests with other people's pee. There was one night when I used a bunch of coke and I popped a few Xanax bars, and I began to choke a little bit. My heart started racing, and I thought to myself, 'Oh my God, I might be overdosing right now,'" the singer says in the film. "I've learned that the key to being happy is to tell your truth and be OK without all the answers." 3. Lady Gaga According to Cosmopolitan, Lady Gaga once struggled with marijuana addiction. She admitted to the magazine that she was smoking 15 to 20 marijuana cigarettes a day. "I was addicted to it," the singer said. "I just want young kids to know that you actually can become addicted to it, and it's ultimately...a form of self-medication." 4. Angelina Jolie In an interview with 60 Minutes, Angelina Jolie alluded to drug addition, stating that she had a "dark and heavy" past. "I am very lucky. There are other artists and people that didn't survive certain things ... people can imagine that I did the most dangerous, and I did the worst...for many reasons, I shouldn't be here," the actress and humanitarian says. "You just...too many times where you came close to too many dangerous things, too many chances taken too, too far." According to Cosmopolitan, Jolie's separated husband, Brad Pitt struggled with alcohol addiction. He admitted, "Truthfully, I could drink a Russian under the table with his own vodka. I was a ­professional. I was good." Celebrities are human too and many of them make mistakes. For celebrities, dealing with drug addiction while in the limelight 24/7 can be tough. These celebrities are so brave for opening up about their drug addiction. Check out these celebrities who have opened up about chronic illness at SheFinds.com [Photos: Splash]
You Can Get Lady Gaga's Pink Hat For Under $20 To Make The Perfect 'Joanne' Halloween Costume
When she's not busy receiving a standing ovation at the Toronto International Film Festival for her Netflix documentary Gaga: Five Foot Two, Lady Gaga tops the charts with her latest albums. Her one album in particular, Joanne, is honestly iconic thanks to its emotional hits, such as "Million Reasons." Not to mention, her most recent album's artwork is also so beautiful. Gaga's look has come a long way since her "Poker Face" days, and it's definitely one you want to steal style inspiration from. You actually can create your own Lady Gaga Joanne Halloween costume with super affordable pieces. If we're being honest, we all go goo goo for Gaga, let's admit that. For starters, let's talk hats. While fedoras can tend to not be the most fashionable of hats, Lady Gaga proves you can pull one off. We found a perfect Joanne hat dupe for you that you can wear time and time again even after Halloween is well over. This one from Lulus is the same light pink shade as Gaga's, and is the perfect size for showcasing the same long blonde hair. Lulus Top It Off Blush Pink Suede Fedora Hat ($19) Now, onto hair. Not all of us are blessed with the same frizz-free golden locks as Lady Gaga, right? Luckily, you can always turn to an inexpensive wig come Halloween night. This one from Party City will only cost you less than $20, and can easily give you the same Gaga vibes in no time. Party City Sunshine Day Blonde Wig ($19.99) Luckily, the hoop earrings Gaga wears in her album cover artwork are also super fashionable. In case you missed it, hoop earrings are so in right now. You can get a long-lasting yet affordable pair of gold hoops from Kohl's for just $25. They're nothing too crazy but they're the best wow factor touch to almost any outfit (even after Halloween)! Kohl's 14k Gold-Plated Hoop Earrings ($25.00) Now, we can't necessarily see what Lady Gaga is wearing on her body on the front of her Joanne album. However, we can be practical and realistic when it comes to choosing our own shirt option to achieve this Joanne look. You can opt for a nude or light pink tank or bodysuit to pair with the rest of your Gaga accessories. Going for this style won't distract anyone from the main gist of your costume and it will also still be super practical. You can't go wrong with that, can you? ASOS Cami With Skinny Straps in Rib ($13.00) Lady Gaga also has her own permanent accessory for any outfit. The Grammy winner has a whopping 19 tattoos (that we know of). And while you can't purchase a fake replica of Lady Gaga's shoulder tattoos, you can still recreate them with affordable makeup. Let's think of what you'll need. For a removable tattoo, you can simply use some waterproof long-lasting liquid black eyeliner to draw on Gaga's shoulder tattoos. Eyeliner is guaranteed to be safe for your skin and it will help you achieve the ultimate Lady Gaga Joanne Halloween costume. [Photo: Interscope/Streamline]
What Is Lady Gaga Wearing? She's Practically Naked!
Lady Gaga Worked At Starbucks for A Day!
VIDEO: Lady Gaga Sings Her Hits, James Corden Wears A Meat Dress On Carpool Karaoke
We got a sneak peek at Lady Gaga doing Carpool Karaoke yesterday, and now the full thing is here! The entire ride feels like you're at one of her concerts--she really goes all out with the dance moves and hitting those high notes! In between belting out her new single "Perfect Illusion" and hits like "Bad Romance," Born This Way," "Edge Of Glory" and "Poker Face," we learned some interesting facts about the singer. She told James Corden that she didn't get her driver's licenses until a few months ago, and then he let her take the wheel! "It was so embarrassing," she told The Late Late Show host about passing her road test. "My whole family came with me to the DMV. My father cried when I got my driver's license." We also found out that Gaga owns 400 pieces of Michael Jackson's clothing and that she wrote her first hit, "Just Dance," in 10 minutes. Casual. Corden then decided to tease Gaga by wearing some of her infamous outfits, including the meat dress. "I really think you should take that off," she told him after holding her nose and gagging. Yep, only Lady Gaga should be wearing cold cuts as fashion. Now it just needs to be 2017 so we can watch her slay the Super Bowl Halftime show. [youtube]https://www.youtube.com/watch?v=X5Cfi7U4eL4[/youtube] [Photo: Youtube]
VIDEO: Watch A Sneak Peek Of Lady Gaga On Carpool Karaoke!
Lady Gaga is going for a spin with James Corden! The singer will appear on Carpool Karaoke this Tuesday, October 25 and we have a sneak peek of the ride. So far, we know the two will be belting out "Bad Romance." Monster hand motions included, obvs. They also do a bit to Ludacris' "Move B*tch, Get Out the Way!" when someone is holding up their trip--classic New Yorker move from Gaga. Oh, and they reenact when the NFL asked Lady Gaga to perform at the 2017 Super Bowl Halftime Show. Should be a good time. [youtube]https://www.youtube.com/watch?v=CLww8tLcC-g[/youtube] Gaga oh-la-la! [Photo: Youtube]
VIDEO: Lady Gaga's Powerful Oscar Performance Brought The Audience To Tears
Last night, Lady Gaga performed her Oscar-nominated song "Til It Happens to You" from the documentary The Hunting Ground, which is about sexual assault on college campuses. Her performance was emotional, powerful and moving as she was joined onstage at the end by survivors. She received a standing ovation and tears from the audience. Best Actress winner Brie Larson was seen embracing the survivors just before a commercial break. [youtube]https://www.youtube.com/watch?v=sV9YyjlGhro[/youtube] Lady Gaga was introduced by Vice President Joe Biden who spoke about the White House's "It's On Us" campaign to end sexual assault on college campuses. Then best actress fave Brie Larson gets up, hugs each, every one. #Oscars pic.twitter.com/OI3cFZaLtl — Chris Gardner (@chrissgardner) February 29, 2016 Don't forget to check out: Reese Witherspoon's favorite jeans and watch Leo get his Oscar statue engraved [Photo: Splash News]
VIDEO: Watch Lady Gaga's Moving David Bowie Tribute At The Grammys
Lady Gaga's tribute to David Bowie at the Grammys was incredible. We could go on about her transformation into the late artist, or the fact that she absolutely nailed this performance, however, we will let it speak for itself. She covered some of Bowie's biggest hits including, "Space Oddity," Changes," "Ziggy Stardust," "Suffragette City," "Rebel, Rebel," "Fashion," "Fame," "Let's Dance" and "Heroes." Watch below: Don't forget to check out: Demi Lovato's Lionel Richie tribute and Taylor Swift's new hair [Photo: Splash News]
VIDEO: Lady Gaga Kicks Off Super Bowl 50 With A Chilling Rendition Of The National Anthem
This year's Super Bowl was full of amazing performances (sup, Beyoncé?), but Lady Gaga's rendition of the national Anthem is one for the books. Clad in a sparkling red Gucci jumpsuit and sky-high American flag heels, Gaga kicked off Super Bowl 50 with an emotional and beautiful performance. She completely blew the Internet away and has received nothing but an outpouring of praise. Here's how many celebrities reacted to her performance: https://twitter.com/khloekardashian/status/696482989341954048? https://twitter.com/GiGiHadid/status/696478257336737793? https://twitter.com/TheEllenShow/status/696479440902094848? https://twitter.com/lucyhale/status/696476939092127746? Watch Lady Gaga's entire performance below! Don't miss Rihanna's makeup-free Instagram selfie and watch Coldplay's new music video featuring Beyoncé! [Photo: Splash News]
Lady Gaga Revealed She's Releasing A New Album This Year
Lady Gaga is having quite a year! She joined the cast of American Horror Story and she just won her first-ever Golden Globe for Best Performance by an Actress in a Limited Series or Motion Picture Made for Television. Not to mention, this was also her first-ever Golden Globe nomination. That isn't the only exciting news, however. https://www.instagram.com/p/BAYq3iloKQr/?taken-by=goldenglobes Backstage, Gaga told reporters she is going to release a new album this year! "You know, I am putting out an album this year. I won't tell you when!" she said. This will be her first album since the release of her 2013 album Artpop. "That's a difficult thing to say as I don't know that you yet know what I will look like for my next album, as I'm still creating all of those things," she said when asked if her new style will be reflected in her music. "It's something that is a gradual change always with me. What was nice about playing The Countess is it reminded me that in my own life and in my music, I'm always — at times — playing a character, and I become them fully. And living inside of her was liberating, I'll tell you because she doesn't give a sh– about anything." Ahh, how exciting?! Don't miss Kate Winslet and Leonardo DiCaprio's sweet moment at the Golden Globes and see Adele's teaser clip for carpool karaoke! [Photo: Splash News]
VIDEO: Leonardo DiCaprio Has The Best Reaction To Lady Gaga At The Golden Globes
ICYMI, Leonardo DiCaprio and Lady Gaga created the best GIF of the Golden Globes. As Lady Gaga went up to accept her award for Best Actress in a Limited TV Series, she bumped into Leo. At first, he looked surprised. But then he had a second reaction that totally won the night. Watch the unbelievable moment below: MOMENT OF THE NIGHT #LEOVSGAGA #GIF911 #GOLDENGLOBES pic.twitter.com/hOMjjeSLQG — Michelle Collins (@michcoll) January 11, 2016 One more time, in GIF form: via GIPHY [Photo: Splash News]
Lady Gaga Named Billboard's 2015 Woman Of The Year And Reveals She Almost Quit The Industry
Lady Gaga, the iconic superstar and LGBTQ/anti-bullying/anti-harassment advocate, has been named Billboard's Woman Of The Year for 2015. What makes this choice so interesting is that Lady Gaga revealed in the interview how she almost quit the music industry entirely. https://twitter.com/billboard/status/672562993612353536 The moment Lady Gaga almost stepped out of the industry was exactly a year ago. Her latest album at the time, Artpop did not perform as well as her previous albums, and she was unexpectedly producing jazz music with Tony Bennett, too. Lady Gaga told Billboard, "My stylist asked, 'Do you even want to be a pop star anymore?' I looked at him and I go, 'You know, if I could just stop this train right now, today, I would. I just can't. [But] I need to get off now because I'm going to die.'" In what seemed like such a low and sure defeat, she found some security and faced a comeback. "When you're going so fast you don't feel safe anymore, you feel like you're being slapped around and you can't think straight. But then I felt hands lifting me. It was like everybody came together to try and put a star back in the sky, and they weren't going to let me down." She also talks about how she wants to change the way women are perceived in their 30s. "Why is it that we're disposing of people once they pass that mark? It's suddenly, 'You're an old woman.' I'm not f– king old. I'm more sexual and powerful and intelligent and on my shit than I've ever been. I've come a long way through a lot of heartache and pain, but none of it made me damaged goods. It made me a fighter. I want to show women they don't need to try to keep up with the 19-year-olds and the 21-year-olds in order to have a hit. Women in music, they feel like they need to f– king sell everything to be a star. It's so sad. I want to explode as I go into my thirties." If Lady Gaga wants to explode into her thirties, she will. This is one of the many reasons why she deserves the title of Billboard's Woman Of The Year. This is especially powerful since she admits this is the year she finally started doing music for herself, inside of producing music the industry told her she needed to do. https://twitter.com/ladygaga/status/672545471278149632 "It speaks volumes to me that I'm being recognized as Woman of the Year in 2015. This is the year I did what I wanted instead of trying to keep up with what I thought everyone else wanted from me." And don't forget to check out: VIDEO: HBO Just Released The First Trailer From Game Of Thrones Season 6, If You Have Oily Skin, Then Try This Face Primer, and Miley Cyrus Gave Britney Spears The BEST Birthday Gift [Photo: Splash News]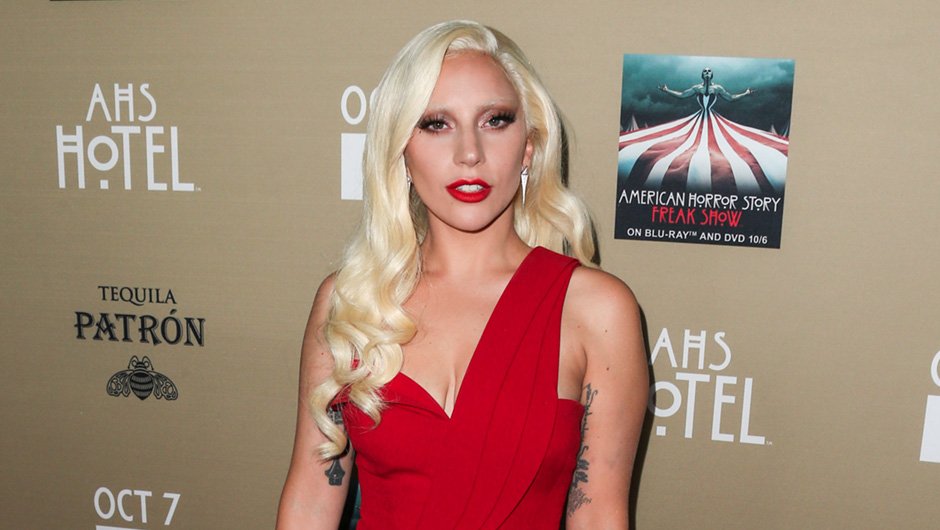 Lady Gaga Opens Up About Her Deep 'Isolation' And How AHS Saved Her
In honor of tonight's highly anticipated premiere of American Horror Story: Hotel, Lady Gaga sat down with E! News for an exclusive interview, highlighting her feeling of deep isolation and how AHS actually saved her. The main thing she wants people to know is that she's a real person with real emotions. Gaga started off by saying, "I do know isolation because I'm famous and it's hard to go be normal all the time." She continued, "And when you meet people in public, 99 percent of the time, people aren't that interested in really getting to know me. There's sort of a wall between us that they think something of me that I'm not. I'm really just a human being that makes this...stuff." "I'm happier than I've ever been now because the people that I work with really, really care that my life is different and really, really work to make sure that I feel as normal as possible—so that I can have a great time and just be a normal girl, and just be a woman for Ryan on film, or you know... [laughs] a hemophiliac." Gaga's character on AHS: Hotel is a 100-year-old woman called The Countess and she lives for intense group sex and blood, due to her hemophiliac "virus." It's no secret that Gaga will absolutely kill it in this role and she's been preparing nonstop to fully embody The Countess. She told E! News, "I was like, 'I'm just going to go to set and I'm going to know my lines perfectly, but not too perfectly that I can't keep it loose and live in it. And I'm going to really read the f--k out of these scripts, over and over and over, 10 times each at least.'" Don't forget to watch tonight's premiere episode and see Lady Gaga in the role of a lifetime. Don't miss the most revealing celebrity Halloween costumes and Rihanna disses Drake in her Vanity Fair interview! [Photo: Splash News]
Lady Gaga Just Slayed On The Emmys Red Carpet
I'll be the first to admit I'm not the biggest fan of Lady Gaga's fashion choices, but tonight at the 2015 Emmy Awards she completely shut down the red carpet. Wowza. Lady Gaga looked totally glamorous wearing a sleek and timeless black gown by designer Brandon Maxwell. https://twitter.com/Brandonmaxwell/status/645754852958584832 Here's a closer look at Lady Gaga's Hollywood glam ensemble: I mean...she seriously looks unreal. This is by far one of her best red carpet looks. Get it, girl! Don't miss the first trailer for American Horror Story and watch Beyoncé's underwater music video for her brand new song! [Photos: Splash News]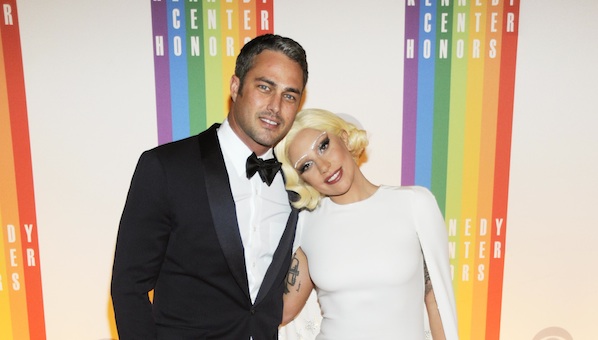 Lady Gaga & Taylor Kinney Are Engaged–See The Ring!
So, Lady Gaga had a good Valentine's Day. The singer got engaged to longtime boyfriend actor Taylor Kinney on Saturday. Gaga showed off her heart-shaped ring on Instagram earlier today with the caption, "He gave me his heart on Valentine's Day, and I said YES!" Congrats to the couple of four years! Now let's talk about that wedding dress... See photos of the happy couple in the slideshow! http://instagram.com/p/zLTE0fJFNd/?modal=true [Photo: Splash News]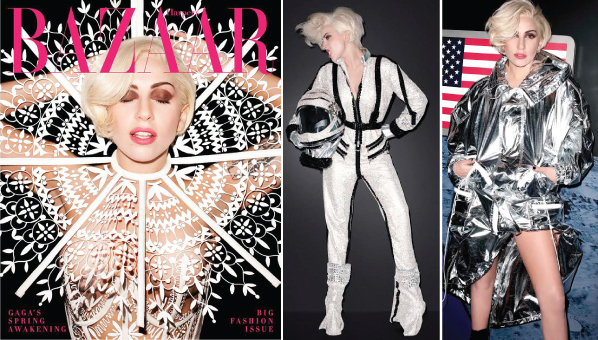 Bid On Lady Gaga's Space-Themed Looks From Her Harper's Bazaar Cover Shoot
We all know Lady Gaga wears some pretty insane outfits, like a Christmas tree on top of her head. So when you hear the words Lady Gaga and Harper's Bazaar, you're probably expecting something out of this world--and you're right. Literally. The singer takes on the cover AND her own spread inside the mag's March issue, and the theme is Lady Gaga's moon landing adventure, at least that's what we're calling it. But that's not even the craziest part. There's an eBay auction going on right now where you can bid on a selection of looks and accessories from the cover shoot. Yes, you can be the proud owner of this Versace Sequined Jumpsuit ($2,800), Emilio Pucci Silver Metallic Coat ($1,750), Alexis Bittar Metallic Space Helmut ($2,000) and more. All proceeds from the sale will benefit Gaga's charity, the youth-empowering Born This Way Foundation. Come on, how can you resist a Gaga-approved space helmet when it's for a good cause?! BID ON LADY GAGA'S WARDROBE NOW And don't forget to check out: Michelle Rodriguez and Cara Delevingne are officially together, the full MFW live stream schedule and pre-order Alexander Wang Fall 2014 [Photos: Harper's Bazaar]
Not Only Can You Afford Lady Gaga's Bracelet, But You'll Actually Want To Wear It
Lady Gaga is known for many things, but wearing clothes, shoes and jewelry that the rest of us actually have any desire to be seen in is not one of them. But perhaps that's all changing! The pop star was recently spotted wearing the DANNIJO Stanton Cuff ($270) and we're pretty much astounded by how tame and well, beautiful, it is. Even better, it's not astronomically expensive! Granted, $200+ is not exactly what we'd call cheap, but this is Gaga we're talking about. Looking to spice up an ordinary black holiday party dress or just wanted to freshen up your arm party? Make it happen below. DANNIJO Stanton Cuff ($270) Don't miss Reese Witherspoon's jeans, Candice Swanepoel's dress and Kerry Washington's Vince Camuto dress. [Photo: Splash News]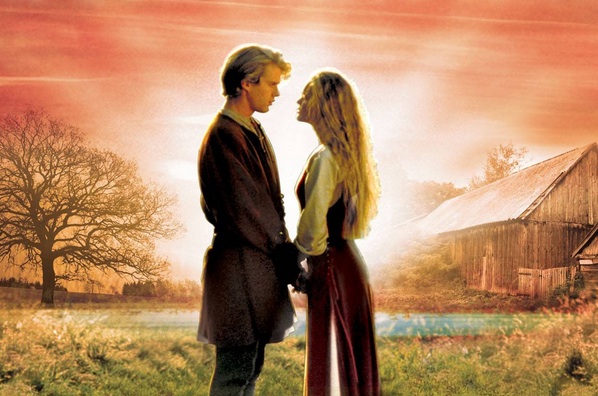 The Princess Bride Is Coming To Broadway!
As we wished for ever and ever, The Princess Bride is going to make it's Broadway debut thanks to Disney. [Entertainment Weekly] Lady Gaga will help H&M open up their new high tech store in Times Square, beginning at 12:01am on Thursday. [WWD] Meadham Kirchhoff is designing another line for Topshop, and it's called "The Cherrys." [Elle UK] If you're trying to get rid of a pimple quick, just throw some honey on it. [Huffington Post] Taylor Swift and Fall Out Boy are on board to perform at the Victoria's Secret fashion show. [Fashionista] Do you want your makeup to impress your guy? Then here are some looks that he'll love. [YourTango] Make your updo last all day with these simple tricks. Spoiler alert: there's a lot of tack and tease. [Real Simple] Celebrities like Julia Roberts and Cate Blanchett reveal their deepest and darkest beauty secrets. [Birchbox] Despite what you think, Isabel Marant's collex for H&M isn't the most expensive one. [Racked] And don't forget to sign up for our newsletter! [Photo Credit: Amazon]
Lady Gaga Promotes Her 'Artpop' Tour In Halloween-Ready Outfits, More News
Lady Gaga always leaves us speechless with her wardrobe choices, and some of them are perfect costumes for Halloween. [WWD] So there's going to be a new spinoff called "How I Met Your Father." #mindblown. [Refinery 29] These celebrity pumpkins are so spot-on it's scary. [PopSugar] Diesel's new "Tribute" ad campaign was shot entirely on an iPhone, and all the cred goes to Nicola Formichetti. [BuzzFeed] Want to look perfect for your next date? Learn how to get the best polished look here. [YourTango] Enter the Ostrich Pillow Light: it lets you nap in public without getting embarassed. [Refinery 29] This "Alpine Chic" collection will def get you in the mood for winter. [Mama's A Rolling Stone] 3-D printed jewelry exists, and you can buy it at Neiman Marcus. [Fashionista] No one likes day-old lipstick, so here's how to take it off completely. [Real Simple] Get brow grooming tips from real beauty experts (not us wannabes) at Benefit. [Birchbox] And don't forget to sign up for our newsletter! [Photo Credits: Splash News]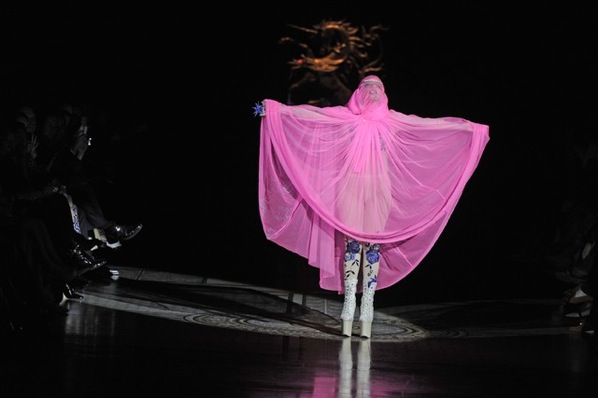 VIDEO: Lady Gaga Opened Philip Treacy's Michael Jackson Themed Show With A Jesus Pose
Lady Gaga isn't exactly a queen of the runway, but she certainly commanded attention at London Fashion Week. Donning a neon pink caped veil, Mother Monster opened Philip Treacy's spring 2013 runway show by striking a Jesus-like pose and introducing the Michael Jackson-inspired collection before clanking back to her front-row seat in 6-inch platforms. The venerable milliner hadn't shown during LFW in more than a decade, but his return to the runway, which included a full-blown choir and head-turning hats, was nothing short of mesmerizing. The collection featured headgear so outlandish that many models appeared as though they might collapse under their weight, including a pair of oversized Minnie Mouse-esque ears, a sequined medieval-style helmet and even an obscuring light-up clawed fascinator. But Lady Gaga's cray-cray opening (and, you know, those hats) may have overshadowed the fact that Treacy's runway show featured a cast of all black models. British-born model Jourdan Dunn, who walked with fellow black models Alek Wek, Leomie Anderson, Sessilee Lopez and Marihenny Rivera Pasible, tweeted her excitement for the progressive lineup before the show, calling the move "genius." Treacy has yet to comment on the move. Check out the video of Gaga's opening and some of the best looks from the show! [youtube]http://www.youtube.com/watch?v=XLT6ZCe9gQ0[/youtube] Want more fashion week news? Find out which London Fashion Week shows are live-streaming, check out which spring RTW dresses could double as wedding gowns, or get in the know about the spring fashion trends you can pull off now.
Lady Gaga's Fame Perfume Has Landed! Shop The 'Black Fluid' Now
When we say that there has been a lot of hype about Lady Gaga's first-ever perfume -- we're not kidding. First, the artist herself said that it would contain 'blood and semen' (don't worry she only meant that figuratively), then Gaga leaked to her fans that the perfume was black -- or "the first ever black eau de parfume" to be exact, followed by an ad in which the singer posed nude to promote it. Well, subtetly has never really been her thing. At long last, and after much ado, you can finally buy the stuff: LADY GAGA FAME Eau de Parfum (from $55) just hit Nordstrom. COME ON, LITTLE MONSTERS For more beauty news, check out Clarins x FEED bags, Snooki's 'Snookilicious' lipstick, and Scratch 'n' Sniff nails.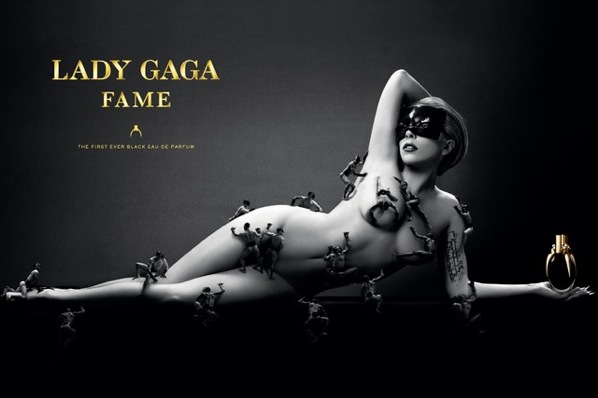 Lady Gaga's Fame Is The First-Ever 'Black' Perfume
Okay, so Lady Gaga's much-anticipated perfume won't smell like blood and semen, but, in true Gaga fashion, there is something else shocking about it. "Fame" touts itself as the "first ever black eau de parfume," in ads just released on the pop star's fan site. We're assuming she means that the "Black Liquid" is the first of its kind to have a black appearance in the bottle (it actually goes on clear), since Tom Ford's Black Orchid, Kenneth Cole Black, Marc Jacobs Daisy Black, etc., already exist. Lady Gaga 'Fame' perfume, which hits in September.  For more beauty news, see the first photos of Ciate's velvet polish, Deborah Lippmann's exclusive Nordstrom polish, and Kate Moss' latest Rimmel lipstick line.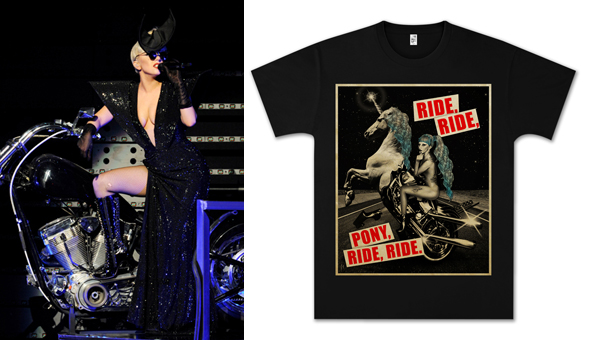 Lady Gaga Will Release An Exclusive Tour T-Shirt Each Week This Summer
I consider myself a "Little Monster." I've seen Lady Gaga twice in concert, and even bought a few t-shirts there. So you can imagine my delight to learn that she'll be releasing an exclusive t-shirt for her Born This Way Ball tour every week this summer. Tour merchandise serves as solid proof that you were there when your favorite musicians performed live, so perhaps this is cheating a bit, but Little Monsters who can't afford concert tix can finally get in on the Gaga paraphernalia action. In true Gaga fashion, the mega-pop star bended the rules a bit by offering the tour's merchandise at her online store. The first item is already available for pre-order—the Lady Gaga Pony Ride T-Shirt ($40)—which was designed by a Little Monster (that's a fan, in Gaga speak) and hand-picked by Mother Monster herself: Get it: Lady Gaga Pony Ride T-Shirt ($40) How bad ass is this design?! We love the green tints from when Gaga dyed her hair that very same color—and the fact that she's riding a half-unicorn-half-motorcycle. We're already looking forward to seeing what's in store next week... Want more Lady Gaga? Her workshop at Barneys, her "Judas" outfit in costume-form, and Gaga-inspired fashions. Read more fashion and beauty news: Topshop's bridal collection, Bess x Urban Outfitters, and Butter London's Olympic-themed collection.
12 Days Until Gaga's Workshop Arrives At Barneys NY (And We Got A Sneak Peek At The Goods)
A preview of what the exterior of Gaga's Workshop at Barneys Considering it was only August when we first heard about the holiday-themed 'Gaga's Workshop' at Barneys New York, we had trouble picturing what wintry surprises would be in store. But now, with the store opening only 12 days away, we're starting to get a better idea of how Lady Gaga will be playing Santa this season. Check out the first photos of the store and some of the Gaga-rific merch after the jump: (more…)
FOUND: The Black Peplum Dress Lady Gaga & Anna Faris Both Rocked
Don't worry, we also found some you can afford. Lucky Anna Faris: just in time for her new movie release, What's Your Number?, Lady Gaga stepped out wearing the same black Moschino peplum dress. Nothing garners publicity like a little Gaga! While we don't really care about "who wore it best" showdowns here, I would like to point out one very apparent thing... (more…)
Last Year's Hair Bow Is This Year's Bandana: The Lady Gaga "Judas" Halloween Costume
Now it's up to you to perfect that the Cleopatra under-eye. We have everything you'll need for 2011's take on the Lady Gaga Halloween costume---from the essential accessories to the "Judas" music video inspiration. (more…)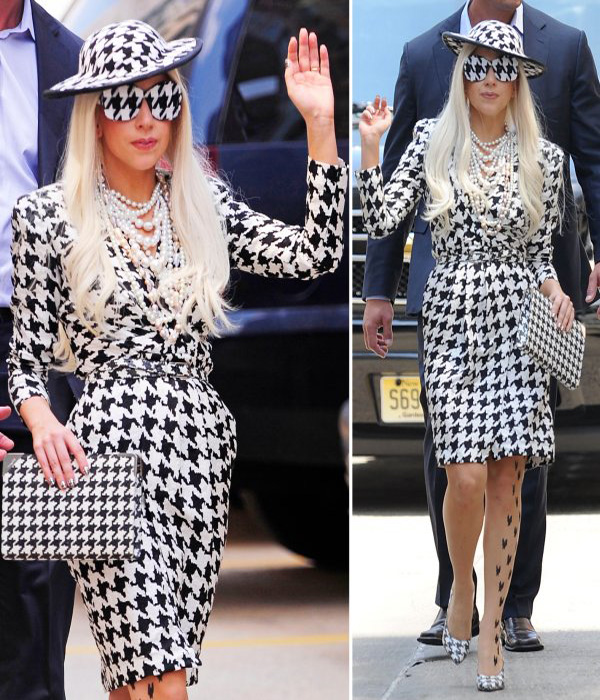 Houndstooth: The Hottest Trend For Fall (Just Ask Lady Gaga)
Lady Gaga showed she's ahead of the curve earlier this month in this head-to-toe houndstooth number when appearing on The View (she went on to sing into a houndstooth-covered microphone alongside a matching piano). And while we don't necessarily recommend mimicking Gaga on this one (...especially on the houndstooth leg tat situation), it's true that houndstooth is one of the hottest prints for fall. So as it goes with Gaga fashion, interpret it loosely---the adorable pieces below are meant to be worn separately. (more…)
Lady Gaga To Partner With Barneys New York This Holiday Season
Move over Santa, Gaga's Workshop is taking the stage this holiday season---at least at Barneys New York. The singer will develop a line of exclusive gifts with the help of her good friend, designer Nicola Formichetti. The line of small gifts will include rock candy jewelry, bright lipsticks, hand-painted chocolates and a limited edition Rubix Cube.  Lady Gaga will also curate a selection of CDs and books to be sold alongside her designs, in the store's Madison Avenue location. "Holiday is about joy, sharing and inclusiveness, and to me, Gaga really represents all of that," Barneys' CEO Mark Lee told WWD. And further adding to the 'Christmas spirit'? 25% of the sales from Gaga's workshop will benefit a charity of her choice.
Which Are Creepier: These Nails, Or These Nail EARRINGS?
What is going on here--is Lady Gaga designing jewelry? (more…)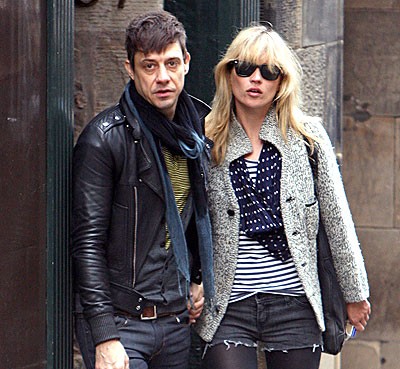 Rumors About Kate Moss's Festival-Style Wedding (AKA "Mosstock"): Include Snoop Dogg
A quick update about Kate Moss's upcoming wedding, because we know you're dying to know. Considering Moss has been setting trends consistently for decades, her wedding could become a template for future rocker brides. Details-slash-rumors about the three-day, rock festival wedding Kate Moss is planning to her beau Jamie Hince (in which news reporters have dubbed "Mosstock") have been swirling for some time, from the model's bachelorette party at the Aisle of Wright Festival, complete with pink hummer limousines and rock 'n roll-partying to the list of performers. Apparently everyone from The Rolling Stones to Snoop Dogg and Lady Gaga have been approached to join the roster. Anyone know where to score a ticket? For bridal picks even Kate would approve of, shop our guides on simple wedding dresses, designer wedding shoes, and bridal hair accessories. And don't miss the chance to see photos of a 17-year old Moss rocking a Laura Ashley wedding dress.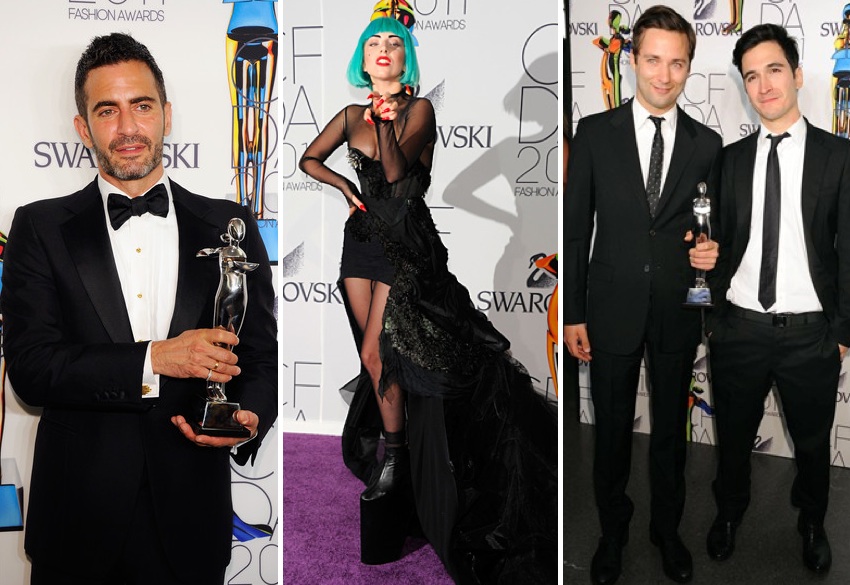 Marc Jacobs, Lady Gaga and Proenza Schouler Reign At CFDA Awards–Take A Guess Who Was Wearing The Studded Thong
From left: Marc Jacobs, Lady Gaga, and Jack McCollough and Lazaro Hernandez of Proenza Schouler Last night's CFDA Awards was a night full of celebration, humor, and of course, fashion. Sophia Coppola presented longtime friend Marc Jacobs (pictured above) with the Geoffrey Beene Lifetime Achievement Award, which she coined as the "Half-Lifetime Achievement Award." The Womenswear Designer of the Year Award, however, went to Proenza Schouler's Jack McCollough and Lazaro Hernandez, who told the Huffington Post the honor came as a complete "surprise." Lady Gaga, who wore stacked cut out platform heels and a turquoise bob, was presented with the CFDA Fashion Icon Award. In her acceptance speech, Gaga referenced a mini texting blunder she had with Anna Wintour, the Editor in Chief of Vogue: apparently when Wintour texted Gaga telling her she'd won the Fashion Icon award, Gaga mistook Wintour for a different Anna, and replied with "Yes, b*tch, we did it!" To which the fashion ice queen so fittingly responded, "How lovely." Shop Proenza Schouler at Net-a-Porter here now. Shop Marc Jacobs at Net-a-Porter here now. (more…)
First Came Little Red Riding Hood, Then Lady Gaga, And Now, BAM: The Unnecessary Hood Is Officially A Trend
From left: American Apparel's $48 Hooded Swimsuit and Nanarami's $149 Hooded Shrug I will be the first to say that I actually own this American Apparel Hooded Swimsuit (pictured left). And while I initially purchased it for my Lady Gaga Halloween costume, I decided to test out the waters---literally---by wearing it in Las Vegas last year (c'mon, it was Wet Republic, I expected things to get weird). The result was precisely as awkward as I expected: I didn't want to leave the hood down for fear of the creepy wet upper back feeling and weird tan lines, but yet I didn't want to put it on because, well, it made my hair both wet and seemingly dreadlocked. But then again, the whole experience did make me look at the bigger picture, in pondering one of the great life questions: what purpose do hoods really even serve? They hardly protect your 'do from the elements---as any girl will know, hood hair is right up there with hat hair. So in the spirit of futility, I present to you a collection of completely unnecessary hoods: (more…)
Week In Review: Nanette Lepore Launches Swimwear, Pamela Love's Topshop Collection Debuts, Kate Middleton Meets The Obamas Wearing Reiss, More
Use our genius trick to feel uber-confident in your swimsuit this summer. Must Reads: The scramble to purchase Kate Middleton's Reiss Shola bandage dress - the one she wore to meet the Obamas - crashed Reiss's website...but it is available on eBay! Your wallet will adore Pamela Love's collection for Topshop: Envy-worthy pieces at budget-friendly prices. Can't live without Spanx? Thank Oprah. Take a look back at the best products featured on the famous Oprah's Favorite Things List. Zebra-print bikinis aren't for everyone: Nanette Lepore and Whitney Port prove that our trick to feeling confident in your swimsuit is genius. Don't sport these trendy tops by Stella McCartney for Adidas to the new yoga-ballet fusion class at the barre - they're too cute! Save these hot little numbers for the real bar. Celebrity Style: Calling all little monsters (aka, Lady Gaga fans): In celebration of Born This Way's release, we took a look back at Lady Gaga-inspired trends. No longer are polka dots relegated to the wardrobes of kids and clowns - Cheryl Cole nails this season's polka dot trend in her Sonia Rykiel Polka Dot Dress. After seeing a certain Fifteen-Twenty floral tank on Hilary Duff, AnnaLynne McCord, and January Jones, we knew we had to have it - but like a lot of celeb's favorite pieces, it was sold out. Fear not: we found a floral tank that's a dead ringer for the celeb favorite. Sienna Miller proves that the Rag & Bone Classic Newbury booties can be worn with just about anything, and we found them in a tan shade that's perfect for Spring. This week, Net-A-Porter introduced a capsule collection of MiH (Made in Heaven) Jeans, and we're happily welcoming this Farrah Fawcett-endorsed brand back into our closets. Sales and Deals: Ready, set, shop (!) at Shopbop's 70% off sale. Are you so busy that you need a dress you can practically wear 24 hours? Enter: Rachel Roy's 24-hour dress. You'll wear it all the time, and at $73.99 - this one's a steal. Get that credit card out...it's time for Nordstrom's Half-Yearly Sale, going on right now. Less than $100 to spend on a dress? No need to fret - these 5 floral dresses under $100 are closet-ready and wallet-friendly. Taste Tests: Can you tell which printed tunic costs $653 more than the other? Can you tell which beaded sandals cost $238 more than the others? Guides to Check Out: Get Kate Middleton's demure look with our guide to sheath dresses, nude shoes, and pencil skirts. Stay up to date with our calendar of online sample sales. Join our e-mail list for exclusive updates.
This Little Monster Was Born With A Quirky Sense Of Style: 5 Lady Gaga-Inspired Trends
Lady Gaga sporting some of her signature looks. In October we showed you the accessories that would make your Lady Gaga Halloween costume pop, and today we're taking a look at 5 current trends inspired by The Fame Monster herself to celebrate the release of Lady Gaga's much-anticipated second album "Born This Way." 1. Leather: Photographed in leather boots, bows, and even bras, it's safe to say that leather is a go-to for Gaga. 2. Over-sized hair bows: Lady Gaga's hair bow made of hair (pictured above) became iconic instantly, making hair bows popular with more than just the elementary school set. 3. Geometric clothing: Geometry must have been Gaga's favorite high school subject, because she incorporates shaped pieces into nearly all of her ensembles, most notably by sporting jacket and blazers with structured shoulders. (more…)
We Think It's Safe To Say Vanessa Hudgens Is A Fan Of Cross Jewelry
From Lady Gaga's new "Judas" music video, to Vanessa Hudgens' daily uniform, it's clear that crosses are resurging into the fashion world in full force. While Madonna may have jump-started the ironic rosary trend back in the day (and is still toting her crucifix clutch around town), celebrities are now wearing cross jewelry like it were last season's infinity scarf.  Although Hudgens was allegedly raised Roman Catholic, many celebrities from varying religious backgrounds have been spotted rocking the look. What about you: regardless of affiliation, would you wear the trend? Either way, we think these cross rings are pretty cool from a fashion perspective: (more…)
Week In Review: Jil Sander's Chinese Takeout Bag, Spring Pierre Hardy For Gap Shoes, More
Must Reads: Corset one-piece bathing suits are the new Spanx swimsuits - be sure to get yours now. Gap released their newest line of Pierre Hardy shoes. Think colorblock and just the right amount of formal. Who ever though Chinese takeout bags would become the new 'It' bag? Jil Sander did. If you're celebrating cinco de mayo this weekend, jump on the Mexican embroidery bandwagon. Lady Gaga's newest music video is out, copy her cat-claw nails yourself. Celebrity Style: We're loving Kim & Bethenny's oversized hats and how they block the sun, perfect for the Kentucky Derby this weekend. Forget the tights, try a black jumpsuit instead like Anne Hathaway or Jessica Stroup. Jennifer Aniston and Beyonce let their chests literally peek out of their dresses. An easy, breezy trapeeze top is the ideal top for spring - just ask Ashley Tisdale or Gwen Stefani. Sales and Deals: Happy Friday - enjoy some of the best sales featuring Winter Kate at Nordstrom. Whether you keep it or give it to Mom for Mother's Day, this Tory Burch Free Gift is a great reason to shop. Grab some of spring's essentials for up to 70% off at Shopbop. Shop at APART's Mother's Day sale and make sure your mother stops brorrowing your clothes. (more…)
Lady Gaga's "Judas" Music Video Is Out: How To Get D.I.Y. Gaga Nails
[youtube width="450" height="286"]http://www.youtube.com/watch?v=wagn8Wrmzuc&feature=player_embedded[/youtube] Lady Gaga's "Judas" music video While I did sport a Lady Gaga Halloween Costume two years ago (last year I went as Ke$ha. Obviously), I still consider her to be a style icon, absurd as she may be. And once again in her newest music video, "Judas," she did not disappoint. Though her opulent crown and cross-adorned bra both were worthy of discussion, it was her nail art that truly stole the show. Check out screen shots from two of our favorite looks: Left, Gaga is pictured with alternating colored nails and 3D decals, and right she's sporting red and black nails with chain attachments. Her exact nail decals aren't available for purchase yet (c'mon, the video only came out yesterday), but luckily Etsy's got us covered with some very similar looks: (more…)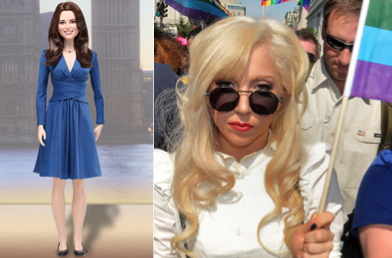 Juicy Conversation Topics For This Weekend: Kate Middleton Dolls, LiLo's Necklace, More
Happy Friday (!) Time to educate yourself on some of the hottest gossip from the week. Perfect for talking to new people or your best friends. Let's have a look: Lindsay Lohan might have been caught red-handed, but that's no reason not to not make a few dollars by putting the stolen necklace up for auction. Shop quick, there are only 5,000 Special Edition Kate Middleton dolls available worldwide. Creepy or flattering? Lady Gaga goes so far to protect those "Born This Way," she canceled her exclusive CD showcase at all Target locations. (more…)
5 Trends We Borrowed From Grandma That You Actually Can Wear Now
Last summer, Lady Gaga went gray for Vanity Fair, and earlier this week, Jean Paul Gaultier sent gray-bouffanted ladies down the Paris Fashion Week runways. Needless to say, "granny chic" is more on-trend than ever-- and also totally wearable for spring. Below, our five favorite items from grandma's closet (just don't wear them all at the same time): 1. Floral Prints One of the easiest ways to incorporate old-lady style into your closet is to add some sweet floral prints, like the one on Topshop's Nude Blossom Floral Print Sleeveless Dress ($60). For an LA cool vibe, throw on a leather jacket. (more…)
Week In Review: Derek Lam Announces Winners, Kelly Cutrone Does Clothing, Paris Fashion Week Live Streams, More
Must Reads: Need to make a great first impression? Buy one at the Bloomingdale's career shop. You voted, now see which Derek Lam for eBay dresses won the competition. Then bid on them, of course. Watch Paris Fashion Week unfold right before your eyes (and computer screen) with all of their livestreams. Find out where Kelly Cutrone got inspiration for her new line, The Electric Love Army. You'll never believe it. Score a sneak peek at Manolo Blahnik's jewelry collaboration with Tous. Happy March (!) Make sure you know what's happening with our March fashion calendar. Celebrity Style: Hilary Duff shows us the right way to dress when traveling, especially with Spring Break right around the corner. Be sure to spritz this 'expensive hooker' perfume on your body, which contains Lady Gaga's blood. But actually, don't. Michelle Obama has a book written about her sense of style. Grab your copy of the book...and her outfits. Leather jackets, a la Drew Barrymore, are the perfect transition jacket from winter to Spring. Or go back in time with Nicole Richie's House of Harlow 1960 cat-eye sunglasses. Sales and Deals: On-sale wide leg pants, printed tops and dresses just in time for Spring. (more…)
The Week's Must-Reads: A Lady Gaga Wedding, Shopbop Bridal Sneak Peek, More
You saw them here first: photos of Shopbop's Wedding Boutique - including gowns from Thread Social, Calvin Klein, Catherine Deane and more! Lauren of Every Last Detail answers some common questions about venues in the latest episode of ELD TV, Venue 101. What are your plans for wedding earrings? Honey Living is obsessed with pearls right now. So classic and so affordable too. A favorite wedding photographer is featured and giving out a chance to win on Ok, Now What Bride. bWed Exclusive was honored to share former Survivor cast member, Tanya Vance and fianceé, Joseph's love story, and their Hawaiian elopement or "weddingmoon." A little Lady Gaga wedding inspiration on the Wedding Chicks (Ashleigh Taylor Photography). The Broke-Ass Bride is featuring a deliciously adorable southern charm-filled DIY budget wedding, complete with a BBQ sauce fountain and a $6k wedding budget breakdown. Inspired? Shop our guides to the best wedding jewelry, lavender bridesmaid dresses, and outdoor wedding dresses.
Lady Gaga Will Walk In Thierry Mugler's Fall 2011 Fashion Show At 3pm Today
Paris Fashion Week kicks off today--and to make it even more buzz-worthy than it already is, Lady Gaga will model in Thierry Mugler's show, happening  at 3pm (!) Watch the live stream here, and tell us what you think in the comments. It's Nicola Formachetti's debut of his first women's collection so everyone will be talking about it, so don't miss out! Bonus: Lady Gaga reportedly directed the show's music, debuting her new song, "Government Hooker." Read up on all of the Fashion Week news, including Lady Gaga's perfume, and see more live streams, and then shop the best sales and deals from around the web.
Lady Gaga's Perfume Actually Contains Her Blood, Smells Like An 'Expensive Hooker'
In January, Lady Gaga revealed that her upcoming perfume would smell like "blood and semen," which was offensive enough, but it turns out she wasn't kidding. According to Gaga, the scent will actually contain her blood (and God knows whose semen) at a "molecular level," but that the fragrance will actually be "expensive hooker." For more non-disgusting beauty, check our guides to the best mascara, hair removal products and fragrances for ever season.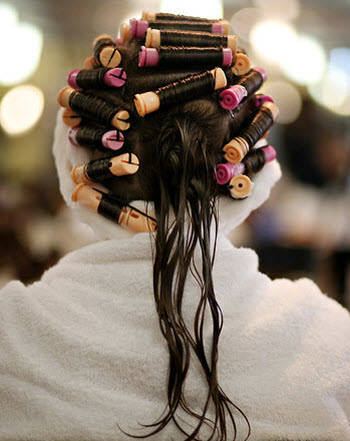 Combat Awkward Silences Over The Weekend: 8 Conversation Starters
It's the weekend, so make sure to catch up with your friends, and maybe even your mother. Just make sure the conversation doesn't lull by breaking out one of these news tidbits from this week: Don't call it a comeback: the perm is back, under the pseudonym of the body wave. As long as it stays loose and wavy, we're totally cool with it. This Superbowl Sunday, you can wow your girlfriends when you tell them neither team has a cheerleading squad. Hello, tryouts (!) Looks like regular gals aren't the only psychos when it comes to dating: check out Halle Berry's hate e-mail to her baby's father, Gabriel Aubry, where she thanks him for his sperm. If you haven't seen Kim Kardashian's tin man W Magazine pics, now is the time - she cried afterwards, and vowed to never pose nude again. Maybe it's because we can see everything. We have to hand it to Farrah Fawcett. Her notorious red bathing suit has landed itself a spot in the Smithsonian Museum. We all know Mariah Carey is having twins, but now we know the gender of the babies. Then take a peek at her newest line for HSN - from jewelry to fur booties. Hello, hello, baby...sound like Lady Gaga's song, Telephone? It is as well as a new children's book. What a better way to raise a child than with cigarette sunglasses. Feel like a red-carpet celebrity by scoring some one-of-a-kind Ann Taylor pieces for the CFDA only on eBay. Check out all of our conversation starters to fight the awkward silences. Shop our guides to the best and the best. Subscribe to our e-mail list for exclusive SHEFinds updates.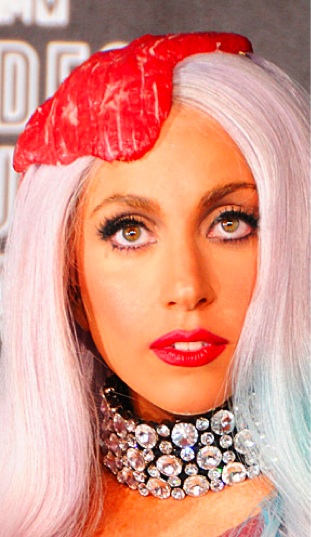 Good News, Bad News: La Prairie's Cellular Solution, Body Fluids By Gaga, More
Good News: La Prairie wants you to look 10 years younger. The Cellular Power Infusion launches Feb. 1 at Bloomingdales. @shefindseileen and I tried it last week at the launch - uh-mazing. A lipstick that looks good on everybody. Jenna Lyons says its orange-y red. Bad News: Lady Gaga wants her perfume to smell like "semen and blood." Inexplicably. Another pointless celebrity perfume. Third time's the charm for Halle Berry. Yellow eyeshadow is a thing now. Just ask Rachel McAdams. For more idiotic beauty news, check out our round-up of the 16 worst beauty names ever, Kate Walsh's perfume, and Lady Gaga's perfume announcement. For non-gross beauty, check out our guides to the best mascara, dry hair repair, and hair removal products. Follow the author of this post on Twitter @bridefinds.
Top 10 Of 2010: The Worst Dressed Celebs (GaGa, Lohan, More)
As much as we love to look back on the year's best dressed celebs, we figured we'd round-up the worst dressed ones too: Jessica Simpson: Repeat Offender Come on, Jess, printed tents and picnic blankets do not make maxi dresses. Too bad you didn't learn that the first time. Lady Gaga: Most Likely To Get Stopped In Security Whether its 7 inch platforms or a white lace bra, neither of which are quite airplane appropriate. Britney Spears: Lifetime Achievement Award Yikes - we think a Dr. Phil "What Were You Thinking?" intervention is the only cure for Britney's poor fashion choices. Madonna: Head-To-Toe Hot Mess The queen of pop really has no other excuse as to why she combined swishy pants, argyle socks, and a fedora. And if she does, she should lie. Dancing With The Stars: Worst Of Prime Time Although we love see Kate Gosselin make a fool or herself, these 16 worse DWTS outfits were hard to watch. Christina Aguilera: Worst Coffee Run It looks like Christina is hiding more than just a genie in a bottle under her extremely baggy sweats. Lindsay Lohan: Most In Need Of Fashion Rehab Lilo's beyond ugly outfits might have something to do with why she's isn't Hollwood's next It Girl. Miley Cyrus: You Can Take The Girl Out Of The Country... Miley, we get it - you have nice legs. Stop dressing like a hooker to show them off. Gossip Girls: When Good Girls Do Bad Things Blake and Leighton are going to start their own gossip in these dresses, which should have been left in the bedroom. Katherine Heigl: Worst Cupcake-Like Confection The brown hair aside, we'd rather see Heigl's ruffled cupcake dress at a birthday party than on the red carpet. For more holiday must-haves, check our Sold Out list, more Going Going Gone posts, and then head over to our guides of the best cocktail rings, party dresses, earrings, party shoes.
How To Wear A Faux Fur Coat Without Resembling Cruella De Vil
Now that it's November, the weather is just going to get colder by the day. If you're looking for something dressier than a puffy coat, a luxurious faux fur coat is perfect, and will keep you warm for years to come. Unfortunately, some spotted and furry styles conjure up images of Disney villain Cruella de Vil - which makes us weary about wearing them. So, before you head to the fur shop, check out our tops for wearing faux fur this season: Dress Up A Basic LBD A faux fur coat is the perfect accessory for a formal evening out. Start with this Juicy Couture Faux Rabbit Fur Coat ($360) over a simple little black dress, like this one from Lounge Lover ($150). Throw on some lace tights - we love the Spanx Bloom Tights ($28) that tuck us in too. And slip into a pair of simple black booties, such as these Fergie 'Ruckus' Booties ($99.95) and you'll be looking like a diva in no time at all. Classic Black = Laid Back Look The rumors are true - you can wear a faux fur coat as an everyday jacket, especially this Urban Reneal Vintage Faux Fur Coat ($88). Try it with a loose cashmere sweater, like this Slouchy Sweater from J. Crew ($98, down from $168). Add some super dark skinny jeans, such as thee J. Brand Slit Ankle in Ink ($50, down from $99) tucked into these Unisa Rosina boots ($85), aka the ideal tall black flat boots. Check out how to wear more risky trends. Shop our guides to the best faux fur, the best faux fur vests, and the best cashmere accessories. Subscribe to our online newsletter to receive instant fashion updates.
From Lady Gaga To Ladybug: One Leotard, 6 Halloween Costumes
Halloween is right around the corner and you're stuck - you don't have a costume. And if dressing like Lady Gaga or Heidi Montag isn't exactly your style, don't panic. Even if you haven't decided what your costume will be - we're 90% sure it will work with this black leotard: Get this French Connection Vita Viscose Bodysuit ($48, down from $68) and a costume kit and you're good to go in under 5 minutes. Don't panic, this bodysuit can be delivered either in time for the weekend. And for less than $6, they'll arrive byThursday: 1. For the less adventurous, go for the classic Black Cat Costume Kit ($14.99) in black and silver. A steady hand for perfect whiskers not included. 2. Be a thriller this Halloween and go as the king of pop himself, Michael Jackson. Grab this Performance Kit ($29.99, down $52.99)  and throw one the sequin glove, fedora, aviators, and of course the infamous wig. 3. Whether you're caught in a bad romance or not, this Lady Gaga Costume Kit ($26.99, down from $29.99) is ideal to live life glamorously. That is, of course, if you haven't already put together your Lady Gaga ensemble with these Etsy  finds. 4. If you're feeling sassy, try this Playboy Bunny costume. Just grab this Bunny Accessory Kit ($5.99) and grab your highest heels. Girls Next Door, eat your hearts out. 5. You'll have no problems finding someone to walk the plank with this Sexy Pirate Kit ($14.99, down from $17.99). The belt can even be worn over a baggy sweater when Halloween is over. 6. Forget the typical bumble bee costume and go for something even cuter, try this Ladybug Accessory Kit ($9.99, down from $12.99). It comes with the antennae headband and choker--just add the leotard and go. Still can't decide on a costume? Try a Mad Men character, Michelle Obama, or even Katy Perry. Shop our guides to the best shapewear, the best Spanx, and the best push up bras. Subscribe to SHEFindsMail for instant e-mail updates.
Kick Your Lady GaGa Halloween Costume Up A Notch With These Etsy Finds
Everyone and their mother is going to be Lady GaGa for Halloween this year - so set yourself apart from the pack with one of these Lady Gaga-inspired, handmade accessories from Etsy. This is what Etsy was made for - who else would hand bedazzle a pair of sunglasses to look exactly like the pair she wore on her Fame album cover? For more awesome Halloween ideas, see our Snooki Halloween costumes, the quirky Simon Doonan for Target costumes, how to be Katy Perry from the "California Gurls" video and the 10 stupidest sexy costumes (sexy Crayon anyone?). Follow the author of this post on Twitter @bridefinds.
Lady Gaga Signs Perfume Deal (Here's To Not Smelling Like Raw Meat)
After sweeping the MTV video music awards last night, Lady Gaga has more exciting news to celebrate this morning: a "long-term" perfume deal with Coty. We told you about rumors of the perfume deal back in July, which Coty denied, but are delighted/excited/intrigued to hear that the out-there pop star will have a scent. Here's to hoping that her recent all-raw-meat outfits on the cover of Hommes Japan and at the MTV awards will not serve as inspiration for the smell. If you can't wait for Gaga's perfume to hit in Spring 2012, check out fall's hottest perfumes (aka the easiest way to update your look): New from Philosophy, Eternal Grace ($40 for 2 oz)  is the perfect smell-like-you're-not-wearing-perfume scent for fall. Blending bright cirtus with light florals, it's a headturner and affordable enough to stock up on for all four seasons. A sparkling musky floral, Emilio Pucci's Miss Pucci ($74 for 1.7 oz) strikes a balance between woodsy and sensual with its cedar undertones and refreshing lemon and rose notes, and with a bottle that looks like this, who wouldn't feel good spraying it on? One of the fall's most hotly-anticipated fragrances, the just-released Peace, Love & Juicy Couture ($87 for 3.4 oz) is an intoxicating blend of warm florals and feminine wood notes with some meyer lemon and patchouli mixed in for a scent that is hippie chic and a treat to wear. Inspired by a walk through an orchard, Jo Malone's English Pear and Freesia Cologne ($55 for 1 oz) is as heavenly a scent ever bottled. Smelling like autumn air, you and anyone lucky enough to be near you on the train will catch notes of pear, freesia, garden roses and wood. Just be careful not to wander off into an orchard on your way to work. Shop our guides to the best skinny jeans, fragrances for every season and best lip balms.