Laura Mercier Just Dropped The Master Class Colour Essentials Palette And It Is Epic
My beauty routine is pretty straightforward and boring, so I don't often get excited about products that are out of my day-to-day wheelhouse. But when I came across Laura Mercier's brand new Master Class Colour Essentials Collection, I couldn't help but swoon. Ladies, this is not your average palette. With 12 eye colors, 3 cheek colors, 2 cake eyeliners, 1 Kohl eye pencil and 2 double-ended brushes, this palette pretty much puts all others to shame. It's basically all your makeup essentials in one compact kit, so you really don't need anything else in your beauty bag besides a lipstick. But here's the even more amazing news: individually, these products would set you back over $400, but the cost of the palette is just $125. Insane! There's no question this beauty gem is going to sell out--and fast--so consider yourself warned. Get yours now! BUY YOUR LAURA MERCIER MASTERCLASS COLOUR ESSENTIALS NOW! Be sure to check out the best skincare brands you've never heard of and why you should be using rosehip oil on your skin and hair.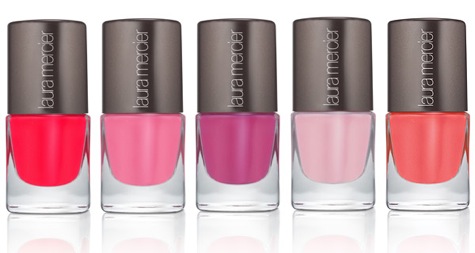 Laura Mercier Picks Valentine's Day To Get Back Into The Nail Polish Biz. (Good Choice.)
Laura Mercier is already known for lust-worthy makeup and beauty products, and now the famed beauty brand is introducing its first line of nail polish in quite some time — and conveniently chose Valentine's Day to do it.  (more…)
Don't Dry Out This Winter: Get Extra Moisture From Your Lip Gloss, Conditioner, More
As we enter January and the weather gets colder and drier, we know what we can look forward to: skin that turns into parchment paper and dry, lifeless hair. But it's important to know that these beauty crises can be easily combated: (almost) all your favorite products are available in a cold weather version, aka extra-moisturizing: Your Body: La Mer is known for its exceptional facial cream and La Mer's 'The Body Lotion' ($140) is no different. This indulgent lotion nourishes skin and relieves all those winter-induced dry, itchy patches. Worth the price tag. Your Face: Philosophy's Hope in a Jar ($38) is the gold standard when it comes to facial moisturizers, hydrating deeply into the skin while still managing to be lightweight and non-greasy. Translation: no clogged pores. Your Complexion: Anyone who has put foundation on dry skin knows the flakes that often start to appear, but not so with Laura Mercier Moisturizing Foundation ($42), which adds moisture to skin with buildable, smooth coverage. Your Lips: YSL Gloss Volupte Sheer Sensual Gloss Stick ($30) glides on like a dream and plumps up lips' moisture for hours after application. But what we love best just might be the sheer, bold colors and fruity (but not overly so) scent. Your Hands: Fight dry, rough hands with Neutrogena Norwegian Formula Hand Cream ($4.49). Just one tiny dab of this classic quickly softens chapped hands and forms a protective layer. And did we mention it's extremely wallet-friendly? Your Hair: Terax Original Crema Ultra Moisturzing Daily Conditioner ($48) is the holy grail of conditioners. Not only does it smell all kinds of great, but it transforms dull and dry hair into silky locks and repairs damage. Looking for more top beauty picks? Check out our guides to the best heavy moisturizers, dry hair repair, eye creams, and mascara.
Get 'Em And Go: No-Brainer Gift Sets That Take The Guesswork Out Of Giving
If you still have a laundry list of people to buy presents for, beauty gift sets are the perfect solution: they are visually pretty, usually come in free gift pouches or cool packaging, and most are under $100. Here's a second dose of the best beauty sets that will make everyone  happy-- from your wannabe makeup artist friend to the boyfriend who needs some grooming tips. NARS Beautiful Life Lip and Cheek Palette ($55) has everything she needs for a picture-perfect face, with four lip shades and two blushes that are flattering for all skin tones. Bliss Take-Away Spa Day ($45, a $62 value) is a visit to a spa in a box, featuring some of Bliss's bestselling products, from Fabulous Foaming Cleanser and--our personal favorite-- Lemon + Sage Body Butter. If she favors the rock-star look, tokidoki's Glitter Eyeliner Set ($25, a $49 value) will make the perfect present. These glittery liners pack a punch that's sure to draw attention to her peepers. Manicure-loving ladies will love this NARS Precious Mini 4-Piece Nail Set ($30), which has four, chip-resistant colors that she'll be sure to wear year-round. Laura Mercier's Travel Brush Set ($85, a $249 value) is a must-have for any true makeup devotee, with everything brush she'll ever need, wrapped up in a travel-friendly case. This Philosophy Peppermint Bark Duo ($15) , which features an ultra-shiny gloss and shampoo/body wash, smells so good (mint chocolate!) she will want to eat it. The perfect gift for your mom who loves to garden, this L'Occitane Moisturizing Hand Cream Trio ($25, a $30 value) comes in a colorful box and smells great. The Art of Shaving's "The 4 Elements of the Perfect Shave" Starter Kit ($25) is the ideal gift for the man in your life who could afford to step up his grooming routine. Check out more gifts – like our favorite gifts for your homebody friends, gifts for your reality TV obsessed friend, and gifts for your nudist friends.