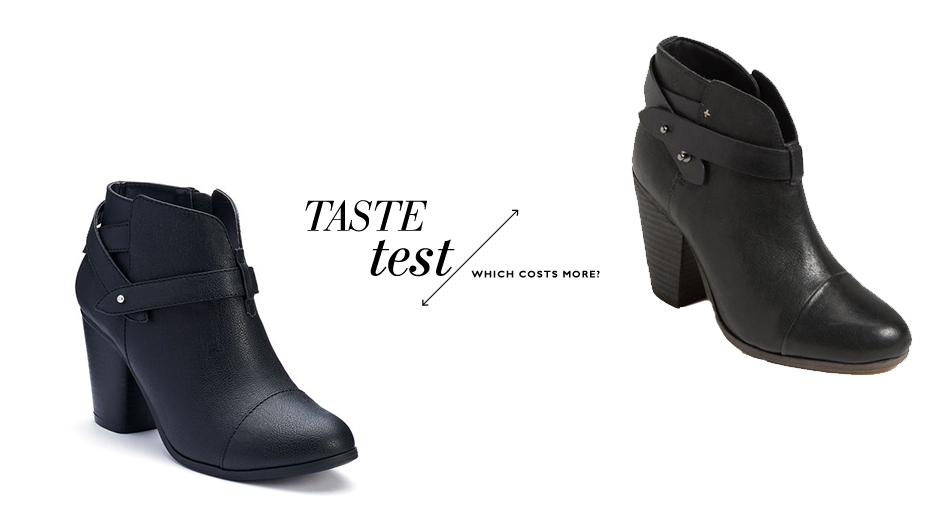 Can You Tell Which Black Booties Cost $435 More Than The Other?
rag & bone bootie knockoffs are nothing new. In fact, they are probably the shoe that's copied the most by other designers, which is totally a compliment. Who doesn't want a pair of rag & bone booties? The only problem is the price. If you're feeling like almost $500 is too much to spend on booties (fair!), that's when it might be time to look at less expensive options. I just came across this really, really good lookalike of the cult Harrow Leather Boot ($495). LC Lauren Conrad makes the Women's Slit Ankle Boot ($39.99, down from $69.99) that has the same wrap around strap design, as well we a stacked heel. Looking at these two side-by-side, it's hard to tell which is the real deal. Click below to find out which booties cost more than the other! Test your fashion savvy some more with velvet chokers and crop flare jeans Save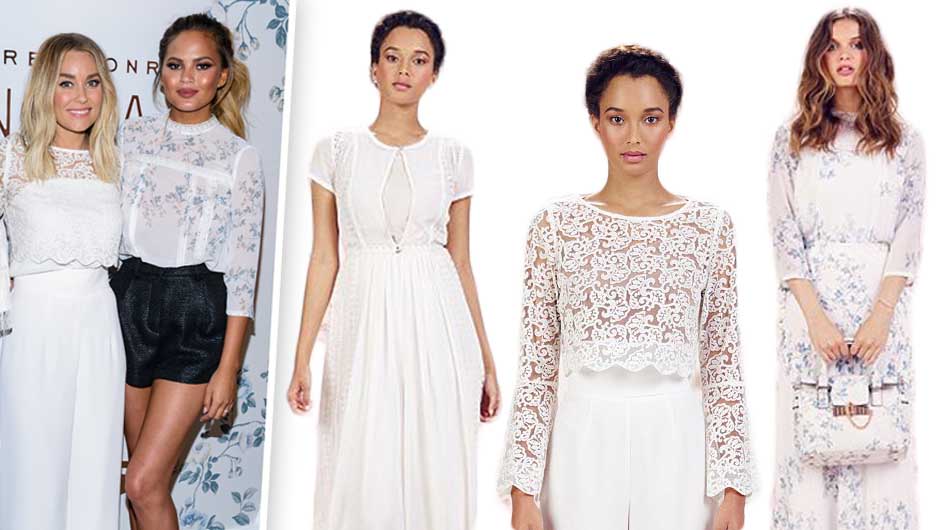 Everything Lauren Conrad & Chrissy Teigen Are Wearing In This Pic Is From Kohl's–Seriously
The girls came out to play during fashion week when our favorite O.C. gal, Lauren Conrad, showcased her fashion line. Chrissy Teigen supported LC by looking fabulous in LC Lauren Conrad Runway Collection Lace-Trim Blouse ($33, down from $44). However, the designer herself looked stunning as well in a LC Lauren Conrad Runway Collection Scallop Lace Crop Top ($45, down from $60) and LC Lauren Conrad Runway Collection Lace Maxi Duster ($60, down from $80). No, you don't need reading glasses those prices are correct. We have never been more excited to shop at Kohl's. Snag all the beautiful items below!  LC Lauren Conrad Runway Collection Lace-Trim Blouse ($33, down from $44) LC Lauren Conrad Runway Collection Scallop Lace Crop Top ($45, down from $60) LC Lauren Conrad Runway Collection Lace Maxi Duster ($60, down from $80) For more celebrity style, check out Jessica Alba's cute backpack and Jaime King's $25 Star Wars sweatshirt. [Photo: Splash News]
Do Jessica Simpson And Britney Spears Actually Wear The Cheap Clothes They're Hawking? Not Exactly.
This morning, WWD pondered whether celebrities - who lend their names to affordable lines for Wal-Mart, Kohl's and more - actually wear the affordable (read: cheap) clothes they are hawking. We did a little digging ourselves, and found that Jessica Simpson, Britney Spears and Lauren Conrad are all guilty of choosing high end brands when possible. The proof: Britney Spears Candies Collection vs. True Religion Denim Cut-Offs: Even though Britney has this a pair of $38 frayed denim shorts in her Candies Designed by Britney collection, the singer opts for this $171 True Religion pair. LC Lauren Conrad for Kohl's vs. Alice + Olivia Boyfriend Blazer: LC could have saved a pretty penny shopping her own line: instead of paying $385 for this Alice + Olivia Sateen Rolled Blazer, Lauren could have gone with the $60 boyfriend blazer in her Kohl's collection. It's perfect over little black dresses and summer dresses alike. The Jessica Simpson Collection vs. Swarovski Clutch: Jessica could have dipped into her own Jessica Simpson collection, snagging this Lilly clutch for $26.60 at Dillards to pair with her one shoulder cocktail dress. Alas, she went for Swarovski instead. Check out more of our favorite celebrity collaborations, like Shristian Siriano for Payless and CJ jeans by Cookie Johnson, then head over to our guides of the best clutches, boyfriend blazers and the best shorts for your shape.
Lauren Conrad For Kohl's Is Californian, Without The Laguna Beach Prices
You can't doubt the appeal of Lauren Conrad--and apparently Kohl's agrees, because they've signed on for another season of the LC Lauren Conrad clothing line.  Take a peek at some of the things we could actually see ourselves wearing--all of it is marked down to under $40. This sequin cardigan ($39.99, down from $60) can be worn at night with skinny jeans, or during the day with a pair of relaxed, distressed boyfriend jeans. You choose. For something a little more California, try this floral peasant blouse ($21.99, down from $34). Include a belt to punch up the edge factor or go without and still have a subtle sex appeal. Slip into these cuffed boyfriend jeans ($34.99, down from $54) with various distressed points and pair them with any of the adorable tops from her line. We like that this soft spring floral tee ($21.99, down from $34) isn't overly girly--the neutral colors let you pair it with anything--with jeans, tucked into a pencil skirt, or with shorts. Get a great pair of jeans to go with everything this spring. For another dose of reality star-turned designer, check out Nicole Richie's Winter Kate clothing, too. If you think LC Lauren Conrad stuff is a deal, wait until you check out the online sample sales happening today.