It's Here! Be The First To Shop The New Nike x Liberty Of London Collection
Sneaker-heads rejoice--the latest Nike x Liberty of London collab is here and it is good! Not only does the collection feature cute sneaks in signature Liberty prints, but there's apparel, too. And yes, it's floral! Nike and Liberty of London have been collaborating for years now, but this latest installation may just be our favorite. It's not super colorful like you'd expect from Liberty, but that kinda makes everything more wearable. We're definitely getting the shorts, but we're stumped when it comes to which sneakers to buy. They're all so freakin' awesome! Click through the slideshow to see--and shop!--for yourself. SHOP NIKE X LIBERTY OF LONDON NOW Can't get enough shoes? Check out 50 flat sandals under $50, plus Karl Lagerfeld's New Balance knockoffs and Ella Moss handbags.
We're Not Obsessed With The New Nike x Liberty Of London Line–Said No One Ever
We're pretty much a sucker for any fashion collaboration. Two cool designers coming together to make magic--what's not to love? But we're serious suckers for Nike x Liberty of London kicks. They've been collaborating for years now and every line seems better than the last. Here's the good news: it was just announced that they're coming back with yet another pretty printed collection that launches later this month. Obviously, the new sneakers and apparel feature Liberty's famous floral prints, but we're loving how subtle and subdued they are. No super bright patterns or loud prints--just wear-with-everything sneakers you'll live in all spring. Click through the slideshow to get your first look at the upcoming collection. READ MORE ABOUT THE NEW NIKE X LIBERTY OF LONDON COLLECTION HERE Don't miss the Bloomingdale's friends & family sale, what you need for spring and Lauren Conrad's purple hair. [Photo: Liberty of London]
Just What The Doc Ordered: Dr. Martens x Liberty Launches Stateside Today
Opposites do attract. Back in April, our favorite tough-boot company (and to my mother's disdain, my teen go-to brand), Dr. Martens, announced collaboration plans with Liberty London, UK brand known for their retro floral prints. While the Brits have been having all the fun wearing Dr. Martens x Liberty London accessories for the past month, we have been patiently waiting for the collaboration's arrival stateside. That is until today's U.S. launch. Available in the $130-$310 price range, the 14-piece collaboration collection includes floral-printed boots and satchels. The boots come in classic three-hole and eight-hole styles and the satchels in two different sizes. We can't wait to get our feet hands on the vibrant green "Strawberry Theif" pair which features the cutest little bird prints. Even my mother would approve of these floral bad boys! Shop Dr. Martens x Liberty collection here For more upcoming collaborations, check out Dr. Martens x Agyness Deyn, coming out in August, and Beth Ditto for M.A.C, launching next week.
Would Daria Approve Of These Floral Liberty London x Doc Martens? We Think Yes.
Nineties icon Daria Morgendorffer wouldn't be caught dead (but maybe a little deadpan) without her Doc Marten combat boots -- but how would the deliciously dry character feel about a collaboration with Liberty London, purveyor of the flower print? As devotees of the MTV series, we can say with absolute certainty that she would approve of these rugged, yet extremely-floral lace-ups, which hit stores May 1. And whether you remember Daria or not, this season, floral is having a moment. Wait! Hear us out! Unlike every spring, when we get a floral skirt here or a floral dress there, the print is showing up on literally every piece of clothing—blouses, jeans, pants, even blazers. The iconic eight-hole and three-hole boots and shoes will be covered in the Brit line's signature prints: "Strawberry Thief," the classic print designed by William Morris in 1883, ia a retro combination of flowers and birds, while "Martens Flower" is a modern take on the 1930s Carlino print. We're pretty sure this cool collaboration was inspired by the phrase, "April showers bring May flowers." Or, if you're Daria -- just more showers. For more shoes news, check out this Loeffler Randall sale, these colorful Nike Free Runs, or these Rebecca Minkoff pumps that are pure 'Bliss.'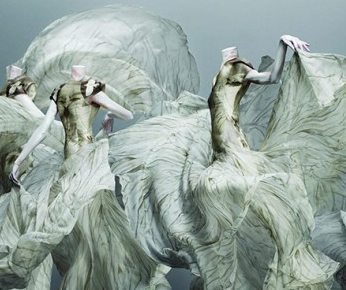 May. Love, SHEFinds.
Get yourself ready for summer with this month's happenings. May 4th: Calling all fashionistas - the Alexander McQueen exhibit today opens at the Metropolitan Museum of Art in New York City. May 7th: The Kentucky Derby begins so make sure you have your fanciest hat to accompany your favorite summer dress. May 8th: Don't forget to wish Mom a happy Mother's day and check out MOMFinds to find out which gifts she actually wants. May 10: You voted on the dresses, now the time has finally come for the officially Derek Lam for eBay debut. May 12: Vena Cava's next collaboration with Uniqlo launches today for a line of nautical basics at $29.99 a piece. (more…)
Nike Teams Up With Liberty Of London. The Outcome? Floral Sneakers, Of Course.
Design house Liberty of London is back with another floral-printed Nike collaboration--the first, in 2008, was so limited, it sold out nearly immediately. This time around, they're really hitting the pavement, with more styles and quantities. Launch date is April 1, but this is no April Fools joke. In the market for cool sneakers for spring? Check out the Bensimon pair Brigitte Bardot andJane Birkin made famous--they're under $20, plus more awesome sales and deals.