Interested In A Destination Wedding? Grand Palladium Resort & Spa In Jamaica Needs To Be On Your Radar
Destination weddings are one of the biggest trends right now and it's not hard to see why. I mean, who doesn't want to get married in far-flung, tropical destination with a gorgeous blue ocean as the backdrop?! If you're newly engaged and considering a destination wedding, The Grand Palladium Resort & Spa in Jamaica needs to be on your radar. I recently visited the property and it truly is a magical and special place to tie the knot. Located on the northern coast of Jamaica, the The Grand Palladium offers one-of-a-kind weddings thanks to the stunning packages designed by wedding pro Karen Bussen. The resort offers three different scenic ceremony locations, plus all seven packages are completely customizable. Once you've decided on what you like, Grand Palladium takes care of everything; from the floral arrangements to the food and entertainment (book the drums and dance performance!), they make it all happen. And get this: the special treatment isn't limited to your wedding day. You can treat yourself and your bridesmaids to a session in the spa the day before your nuptials and have a yummy breakfast delivered the morning after your wedding. Want to extend your stay for the honeymoon? You won't be disappointed! The Grand Palladium Resort & Spa boasts 17 bars and 10 restaurants, plus 5 pools. You can even embrace your adventurous side and try a water sport such as snorkeling or paddle boarding on the beach. Another reason to extend your stay? The incredible honeymoon bungalow where you'll have your own outdoor shower and private cabana by the beach. There are tons of reasons to jet-off to the sunny island of Jamaica for your wedding, but here's one of the most compelling: you don't have to worry about planning a wedding without being there. At the The Grand Palladium all couples are be assigned an amazing wedding coordinator that helps every step of the way. I mean, who doesn't want less stress while planning their most important day?! LEARN MORE ABOUT GRAND PALLADIUM NOW [Photos: Grand Palladium]
Drop Everything: All Threshold Bedding And Bath Items Are On Sale At Target Right Now!
If one of your resolutions is to revamp your home, here's some good news for you: all bed and bath items from Threshhold are currently on sale at Target. And when I say all, I mean all! Sheets, shams, quilts, towels, bath mats and more; this is your chance to stock up! If you're not familiar with Target's Threshhold line, where the heck have you been?! This is one of my favorite Target home collection's because the items are super high quality, the designs are classic and timeless and the prices are obviously amazing. I'll definitely be treating myself to a crisp new sheet set while they're all on sale, and you should, too. Here are a few more items you shouldn't miss while the prices are this good: Threshhold Blue Chambray Stitch Quilt ($62.99, down from $69.99) Threshhold Organic Cotton Solid Sheet Set 300 Thread Count ($38, down from $45.99) SHOP THE THRESHHOLD HOME SALE NOW Shop our favorite workout sneakers under $100. [Photo: Target]
Once And For All, This Is The Best Carry-On Suitcase Ever So You Can Stop Looking
I've never been especially particular about luggage, that is until I got a really good carry-on suitcase a few years back. I never knew how much I cared about swiveling wheels and a USB charger until my favorite travel bag started to deteriorate and I was faced with replacing it. I was going to take the easy way out and just buy the same exact bag I already owned, but then Travelpro came through and suggested I put one of their carry-ons to the test. As soon as I unboxed Travelpro's Crew™ 11 21" Hardside Spinner, I was giddy. It's such a good looking piece of luggage. I was even more excited when I lifted the bag out of the box; it's shockingly lightweight! I am one of those maniacal people that hates checking luggage, so I need to be able to lift my carry-on in and out of the overheard compartments with ease. I recently packed this suitcase full with a week's worth of clothes for a trip and I had no trouble whatsoever with the weight of the bag. The best feature of all, however, is definitely the mobility of this bag. The wheels are like a dream. They never get stuck and truly do move in every direction. Rolling this bag in one hand and my old carry-on in the other and there's no comparison. This bag just glides so easily in every different position. If you're like me and constantly rolling a carry-on around the airport, you have to experience these wheels. They'll blow your mind. As for other features, this carry-on has a USB port to charge devices and lots of internal compartments to keep things neat and organized. It also comes in five different colors including a cool silver tone that I love. If you're planning a trip in the near future, do yourself a favor and treat yourself to this suitcase. As soon as you take it for a spin, you'll know it was well worth the investment and you'll want to travel more than ever. Travelpro Crew™ 11 21" Hardside Spinner ($229.99) Be sure to check out our favorite winter sweaters under $40. [Photo: Travelpro]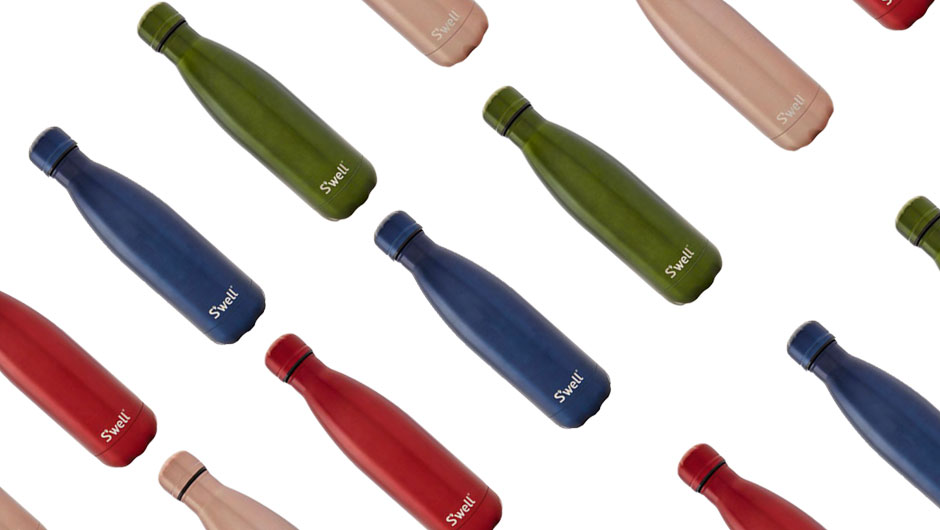 Here's Where To Grab A Brand New S'well Water Bottle For 20% Off Today
If you're like me and the millions of others that choose health goals as their New Year's resolution, then might I suggest you start small--like getting in your eight glasses of water each day. And what better way to keep hydrated and workout in style than with a fun S'well bottle?! Lucky for you, we've got a deal on tons of them at the SheFinds Shop! Whether you're using them around the house or carrying to the office or the gym, these lightweight, water bottles are great for everyday use. But their best feature? These bottles regulate temperature, so they keep drinks cold for 24 hours and hot for 12. No joke! And you can grab one of these S'well 'Gem Collection' bottles for just $33--that's 20 percent off the original price--by using the code SWELL20 at checkout. Hurry up and put one of these amazing water bottles in your cart ASAP because they will sell out! S'well 'Gem Collection' Water Bottle ($33.60, down from $40) S'well 'Gem Collection' Water Bottle ($33.60, down from $40) S'well 'Gem Collection' Water Bottle ($33.60, down from $40) S'well 'Gem Collection' Water Bottle ($33.60, down from $40) SNAG A SWELL BOTTLE ASAP SaveSave
Psst! Get A Monogrammed Anthropologie Mug For Just $4 Right Now
New year, new mug?! Why not?! Whether you're a devoted coffee or tea drinker or just want a pretty mug as a desk accessory, get over to Anthropologie right now because the prettiest monogrammed mug is on sale for less than $5 right now. Sale items are currently an additional 40% off, taking this gorgeous home item down from $10 to just $4. That's more than 50% off! Every letter is still available right now, but that will all change soon so grab yours ASAP! Gilded Shapes Monogram Mug ($4.17, down from $10) While you're at Anthropologie, be sure to do some digging in the sale section. With an additional 40% off, there are tons of great deals to be had. Here are a few we're eyeing: Panta Cabled Leggings ($11.97, down from $32) Edith Legging ($29.99, down from $88) Tie-Waist Dress ($53.97, down from $148) Be sure to check out these flattering $19 high waist leggings. [Photo: Anthropologie] SaveSave SaveSave SaveSave SaveSave SaveSave SaveSave SaveSave
The New Luxe Candle We're Loving? Natalie Fragrance's Natural Gardenia Candle
Calling all candle-lovers! While everyone else is swooning over Diptyque and Le Labo, here's an under-the-radar option that you need to know about. Inspired by iconic actress Natalie Wood and her love of gardenia, the Natalie scented candle is my new obsession. It's worth noting, I am not a pumpkin spice or salted caramel candle lover. Those scents are just too sweet for me. That's probably why I'm so in love the the natural gardenia scent of the Natalie candle. It's floral and feminine, but not overpowering  at all. I also love that these candles are carefully made in small batches from pure distilled essential oils and natural ingredients. You can truly smell the difference. Now before you balk at the price ($55, I know), can we just agree that a 60-hour burn time definitely makes this candle worth the investment? I've been burning mine for almost a week and it's still going strong. Now that the holiday shopping season is basically over, you can totally take some of that hard-earned cash and treat yourself to this heavenly candle. Run a bath, light this baby up and unwind to celebrate the end of one year and the start of another. SHOP THE NATALIE SCENTED CANDLE NOW Be sure to check out our favorite sweaters under $50. [Photo: Natalie Fragrance]
Kellogg's Just Opened A Cereal Cafe in New York City–Here's Everything You Need To Know About This Heaven On Earth
Guess what's back in NYC? The amazing Kellogg's cafe! And this time, it's even bigger than before--5,000 square feet of Kellogg's cereal goodness in Union Square. This unique space will not only allow you to eat a yummy creation, but also allow you to relax with your friends and family. Sit at one of the living room style spaces that have games and more or chill in a hanging chair with views of the park. Once you've picked a cozy spot to hang out, now it's time to decide what to eat. You can head to the cereal bar that has all the cult creations (Special K, Fruit Loops and more) and grab your jar of milk (yes, they have non-dairy options too!) for a classic bowl of cereal. Want to jazz it up some? Head to the topping stations for fun options to make your cereal snack even more delicious. If you are feeling a little more adventurous, try one of their exclusive items such as homemade Eggo waffles or a Pop-Tart ice cream sandwich. The really exciting part? Kellogg's teamed up with foodie and lifestyle expert Lauren Conrad to create some amazing menu items. We had the chance to speak with her about the inspo behind the dishes and she said that she wanted "nostalgic, homey flavors like apple pie!" We tried her Wake Me Up dish and yum! It's like fall in a bowl. My favorite part in the Kellogg's NYC space? The Instagram station! Yup, you read that correctly. Once you create your one of a kind dish, head over to the station that is full of props (including different napkins and spoons!) and the perfect lighting to capture the moment. If you are in the NYC area or plan on visiting, this is one destination you need to have on your list. LEARN MORE ABOUT KELLOGG'S NYC NOW [Photos: Kellogg's]
Need A Last-Minute Holiday Gift? Snag A $100 Credit To Collage.com For Just $24.99!
What's something that we all have tons of, but never do anything with? Photos! They're taking up all of the space in your phones--and cameras. So why not help out a friend or family member by giving them a way to do something cool with all of those memories this year?! And the SheFinds Shop has exactly what you're looking for: We're offering a $100 credit from Collage.com for just $24.99! From collages to albums to blankets to phone cases, go ahead and give someone the chance to design their own customized holiday gift. There are over 50 products to choose from that they can their own photos and text to. But the best part for the giver: since it's a store credit, you don't have to deal with wrapping or shipping and handling! You have less than two weeks until Christmas, so hurry up and grab this deal ASAP because we guarantee this perfect last-minute gift will sell out fast! Plus, check out some of the fun things they could pick. Collage.com Custom Holiday Gifting: Store Credit ($24.99, down from $100)   Collage.com Custom Holiday Gifting: Store Credit ($24.99, down from $100)  Collage.com Custom Holiday Gifting: Store Credit ($24.99, down from $100)  Collage.com Custom Holiday Gifting: Store Credit ($24.99, down from $100)  SNAG THIS FUN LAST-MINUTE GIFT ASAP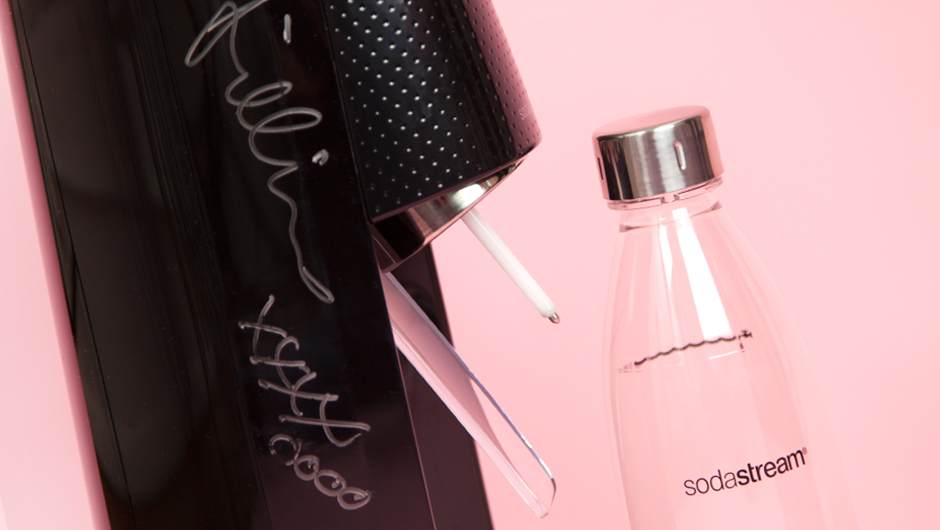 Don't Miss Your Chance To Win A SodaStream Fizzi Signed By Jillian Micheals!
We're nearing the end of the year, which means it's time to start thinking about those New Years resolutions--namely, your personal health goals. And let's get real, we all want to eat better and exercise more, but somehow most of us lose motivation around mid-February. So what do you do? Set goals that you can achieve each day, like drinking more water. That's where our friends at SodaStream come in. SodaStream helps turn you flat tap water into tasty sparkling water with ease. Endorsed by one of the best fitness experts in the industry, Jillian Michaels, this game-changing device has helped so many people curb that pesky soda habit by getting more water into their diets. Here's where things get good: we teamed up with SodaStream to give away not one, not two but five lucky SHEfinds their very own SodaStream prize packages. First up, three winners will receive the following: - A SodaStream Fizzi Starter Kit signed by Jillian Michael (valued at $79.99) - An additional 1L bottle - 3 fruit drop flavors But that's not all. Four additional winners will each receive: - 1 Fizzi Starter Kit (valued at $79.99) -An additional 1L bottle - 2 fruit drop flavors Ready to start hydrating with some tasty sparkling beverages? Hurry and enter to win one of these amazing prize packs ASAP. Good luck! (function(){ function loadScript(url, scriptId, callback) { if(document.getElementById(scriptId) != null) { return; } var script = document.createElement('script'); script.type = 'text/javascript'; if (script.readyState) { script.onreadystatechange = function() { if (script.readyState === 'loaded' || script.readyState === 'complete') { script.onreadystatechange = null; callback(); } }; } else { script.onload = function() { callback(); }; } var scriptIdAttr = document.createAttribute('id'); scriptIdAttr.value = scriptId; script.setAttributeNode(scriptIdAttr); script.src = url; document.getElementsByTagName('head')[0].appendChild(script); } function loadEmbed(){ var iframes = document.getElementsByClassName('campaign_embed'); for(var i = 0; i < iframes.length; i++) { iFrameResize({ enablePublicMethods: true }, iframes[i]); } } loadScript( '//d2xcq4qphg1ge9.cloudfront.net/javascript/responsive_embed/20150624/iframeResizer.min.js', 'campaignEmbedder', loadEmbed ); })(); [Photo: Shelby Rodriguez]
Facebook Just Launched Messenger Kids, A New Social App Designed Specifically For Children–Here's What You Need To Know
Whether we like it or not, children are exploring social media more and more these days. And who can blame them? When so many of kids see adults scrolling through Facebook and Instagram on the regular, it's only natural that they want to explore this exciting new social world, too. That's precisely why Facebook just launched Messenger Kids, an exciting new social app designed especially for children ages 6-12. Building off the success of Facebook Messenger, this new kid-friendly app gives parents the control they want and need when introducing their children to the world of social media while also allowing children to have fun, be silly while connecting with their friends and family. A few important points: - Children do not need a Facebook account to use Messenger Kids. Messenger Kids is its own independent app that parents set up with their Facebook account. And before you ask, no children will not have access to Facebook or their parents Facebook account via the Messenger Kids app. - Friend requests are controlled and monitored by parents in the Messenger Kids control panel of the main Facebook app. - Messenger Kids lets children have text and video conversations with approved contacts. - Most important, there are amazing filters! Many of the filters are actually exclusive to Messenger Kids. Facebook had a special design team create the filters and graphics just for this app. Here's a peek at what the app looks like: Messenger Kids is now available as a free download in the iTunes app store. LEARN MORE ABOUT MESSENGER KIDS NOW
Drop Everything–Kohl's Is Having A MAJOR Sale On Keurigs Right Now!
'Tis the season for holiday sales and deals! If you're looking for the perfect gift for that coffee lover in your life, look no further. Kohl's is having a sale on Keurig coffee makers right now! The Keurig K-Classic™ K55 Single-Serve K-Cup® Pod Coffee Maker originally retails for $139.99, but Kohl's sale price is $99.99. But it gets even better. On top of the sale, there's a discount code that will get you and additional 25% off. Type in "YOUGET25" at checkout and you will have a brand spanking new Keurig for only $74.99! The discount code can be used in-store and online through Wednesday, Dec. 6, 2017. The discount can be use multiple times but limit one offer per customer. That's it -- there's no catch! Head over to Kohls.com today (or tomorrow or Wednesday) to purchase. Just a heads up: Your discounted Keurig will ship in its original packaging. If intended as a gift, the packaging may reveal the contents. Excited to buy your new Keurig? Here's everything you need to know before you hit "Add To Cart" on Kohl's.com: The Keurig® K-Classic™ K55 Single-Serve K-Cup® Pod Coffee Maker comes in colors black and rhubarb (shown above). The coffee maker brews three different cup sizes (6, 8 and 10 ounce) and is perfect for your on-the-run morning coffee. Why stop at Dunkin' Donuts or Starbucks when you have quick (it brews a cup in just 1 minute) and easy access to a cup of joe straight from your own home? Keurig® K-Classic™ K55 Single-Serve K-Cup® Pod Coffee Maker (on sale for $99.99, $74.99 with discount code) Your Keurig includes a 4-pack of K-cups to start you off. But you'll obviously want to purchase more. Some of our favorite K-Cup flavors include Green Mountain Coffee Roasters® Breakfast Blend Coffee ($14.99), Newman's Special Blend Extra Bold Coffee ($14.99) and The Original Donut Shop® Coffee ($14.99). The coffee maker also comes with a 1-year manufacturer's limited warranty. Did you know that Keurig's brew more than just coffee? It also brews a variety of teas and hot chocolates! Some of our favorite non-coffee K-Cup flavors are Tazo® Awake™ Tea ($14.99), Snapple® Lemon Iced Tea ($14.99) and Swiss Miss® Peppermint Hot Cocoa ($14.99). Still not sold? Here's what people are saying about the coffee maker in Keurig's reviews: "Bought mine a year ago and love it. Perfect machine for me as I am the only coffee drinker in the house. Has been very reliable. I can survive one week without my K55." -ChuckZ "I am loving my Keurig. I am saving money too not going to Starbucks every day. I've already mastered how to make an iced caramel macchiato on my machine by buying espresso K-cups, vanilla syrup, caramel sauce, milk and ice. My whole family uses it too." -Jilee "Love this Keurig Coffee Maker. Simple, easy, quick. Easy to fill, easy to clean, easy to make a single cup of coffee, tea, hot cocoa, hot cider, whatever." - DebS65 After buying your Keurig, you'll need to clean it, and there's a very specific way of doing it. Find the most efficient way to clean your Keurig at SheFinds.com [Photos: Kohl's]
These $23 Earbuds Have Thousands of Rave Reviews–Score A Pair On Sale Before They Sell Out Again!
If you've been looking to invest in a quality pair of earbuds but don't want to spend tons of money, we have some amazing news: now is the time to snag a pair of FRESHeBUDS Pro Magnetic Bluetooth Earbuds for just $23 at our new SheFinds Shop! These crazy popular earbuds have thousands of positive reviews. Seriously! Why? The new Pro models have even better sound quality, battery life and are sweat and water resistant. But the most impressive feature of all? They're magnetic! They turn on when pulled apart and turn off when put back together. Plus, they automatically connect to your smartphone via Bluetooth. Still need more? You can answer phone calls directly from the buds. If you act fast, you'll be one of the lucky readers to score these amazing earbuds for a fraction of the cost at $23 (originally $119.95!). They've already sold out in one color, so get yours ASAP! You've been warned. FRESHeBUDS Pro Magnetic Bluetooth Earbuds ($23.95, down from $119.95) SHOP MORE FRESHeBUDS NEW EARBUDS NOW Be sure to check out our holiday gifting quiz!
Calling All Wine-Lovers! Treat Yourself To A Subscription From Macy's Wine Cellar ASAP
If you love wine (and let's be honest, who doesn't?!), we have some exciting news: Macy's Wine Cellar is now open for business! Chances are you already know and love Macy's for their extensive selection of the best quality products across loads of different categories, so it totally makes sense that they're bringing their expert curation skills to the world of wines. As the name suggests, Macy's Wine Cellar gives ordinary wine-lovers like you and me access to the most amazing, delicious wines from around the world. Red and whites straight from Tuscany? Yes, please! I actually had the pleasure of sampling a few of the different wines available from Macy's Wine Cellar, so I can attest: they are spectacular. My husband and I enjoy a glass (or two!) of wine with dinner just about every night, so we're always excited to try new brands and blends. We cracked open a bottle of Napa Merlot (my husband's all-time fave!) last week and when I tell you he couldn't stop talking about it, I'm not at all exaggerating. I'm personally more of a Rosé lover myself, but even I had to admit the Merlot was divine. We actually drank it with sushi which is somewhat of an odd pairing, I know, but it was still remarkably delicious. Given how yummy the Merlot was, we were obviously more than excited to taste the other two bottles that came with our delivery. The second bottle of red wine was incredible, but we really fell in love with the Prosecco. All I could think was how perfect it would be for a New Year's Eve party. As much as I liked the idea of sharing with friends, that bubbly was just too good to not finish off. #sorrynotsorry As luck would have it, Macy's Wine Cellar has a club you can join, which means you can enjoy a regular supply of their best wines delivered right to your door. All you have to do is select what types of wine you like (red, white, or mixed), input your billing information and voila! You'll start receiving 12 bottles of wine, hand-selected just for you every three months. But only if you want them – it's always completely up to you. The best part? Your first shipment gives you 12 wines worth over $190 for just $89.99 – with no additional shipping charges. Pretty amazing, right?! Whether you're a wine-loving family like us or you like having great wine on hand for parties you're hosting or attending, this is a no-brainer. Bonus: Sign up now and you'll receive three bonus bottles of a gold-medal-winning Super Tuscan red wine with your first shipment. That definitely calls for a toast! SHOP MACY'S WINE CELLAR NOW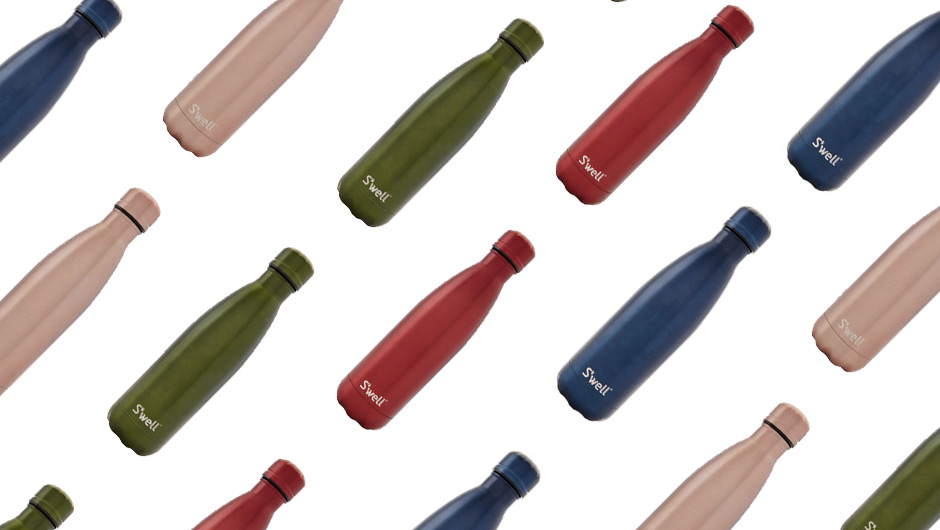 Today Only! Get A S'well Water Bottle For 50% Off (FYI, That's Just $21!)
My secret to drinking more than the daily recommended amount of water each day? A reusable water bottle! I keep one at my desk, one in my fridge and one in my bag at all times, so I can always take a swig whenever I'm even the least bit thirsty. Chances are you already know there are lots of great reusable bottle out there, but if you're looking for the best of the best, then S'well is where it's at. Not only do these cult bottles keep drinks cold and hot, but there are so many patterns and designs to choose from that they're kind of like a fashion accessory. I especially love their gem collection because the colors are so rich and pretty. Finally ready to splurge on a S'well for yourself or just need to replace your current one? You're in luck! Use code BFRIDAY50 through 11/26 at our SHEfinds Shop and you'll get one of the gorgeous S'well bottles below for 50% off! Yes, really, half off! Go now before they're all gone! S'well 'Gem Collection' Water Bottle ($21, down from $42) S'well 'Gem Collection' Water Bottle ($21, down from $42) S'well 'Gem Collection' Water Bottle ($21, down from $42) S'well 'Gem Collection' Water Bottle ($21, down from $42) SHOP 50% Off S'WELL WATER BOTTLES NOW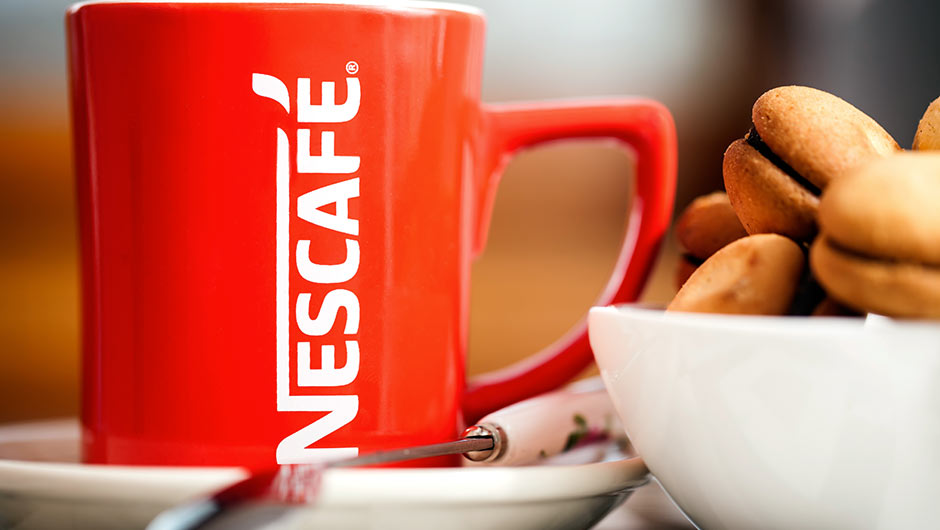 Snag A NESCAFÉ Dolce Gusto Coffee Maker For $50 Off With This Crazy Good Black Friday/Cyber Monday Sale
Coffee lovers, listen up! Your dream of having an endless flow of java brewed just the way you like it at home, can finally be a reality--if you act fast! Dolce Gusto is doing you a solid favor this Black Friday and Cyber Monday: they're having the best sale on their signature coffee makers! From now until November 27, you can get $50 off all of their machines and snag a free 20 count variety pack of NESCAFÉ goodies when you order online! That means you can score a gem like the Esperta 2 Coffee Machine By De'Longhi for just $99.99 (originally priced at $149.99!) or a more compact option like the Genio 2 Coffee Machine De'Longhi for $79.99 (valued at $129.99!) to make your morning cup of Joe with. All you have to do is fill the tank with water, pop a pod in, and switch the settings to your preference. And voila! You have your own customized cup. Seriously, these coffee makers are the perfect gift for yourself (or your coffee addict friend!), So put one in your cart ASAP before they run out of stock! Esperta 2 Coffee Machine By De'Longhi ($99.99, down from $149.99) Genio 2 Coffee Machine De'Longhi ($79.99, down from $129.99) SHOP MORE DOLCE GUSTO DEALS NOW [Photo: Shutterstock]
What To Do, See And Eat In Southampton, New York During The Fall
If you live in a busy city, then you know the feeling of wanting to get away for some peace and quiet all too well. The perfect destination during the fall if you're in the Northeast? The Hamptons! Southampton, to be specific. I know what you're probably thinking, 'That place is lame after Labor Day," but you're wrong. Though autumn is technically "off-season," there's still plenty to do and see. The added bonus, of course, is that it's way less crowded and the weather is gorgeous. We were able to get away with just wearing these cozy Patagonia Snap-T Pullovers (which are fair trade certified, FYI) for most of our trip. My colleague and I both live in the city and decided that we desperately needed a weekend trip for some serious R&R. We were lucky enough to have GMC hook us up with an amazing 2018 Sierra 1500 Denali for the weekend, so we hit the road, Southampton bound, at 8am on a Saturday morning. Before I tell about all the great things to see and do in the Hamptons, we have to pause and appreciate just how insane our ride was. For starters, it has heated seats, Apple Car Play, a sunroof, and WiFi. Yes you read that correctly... WIFI!! So not only did these features make the drive super easy, but the ride was so smooth. Did I mention that it was ridiculously good on gas?! If I'm being honest, I didn't want to give it back. This truck is great for trips for two or even the whole family since it is so spacious. And if you are interested in taking a trip during the winter season, you'll get there safe and sound. Now, onto our Southampton guide! Where To Stay: The Pondview This bed and breakfast is #goals. The beautiful house sits on an estate that includes a pool, basketball and tennis courts, a gym and a putting green. Even better? The owners are the sweetest people ever. When we checked in we were offered a glass of wine with cheese and crackers as we were lounging in the common area outside of our room before exploring the grounds. Each room also comes with its own bathroom with a double vanity, so it's great for couples or a girls getaway. In the morning we went downstairs for breakfast where there was coffee, juice, fresh fruit and homemade bread. Then we were served an omelette of our choice with bacon and choice of bread. This was my first time staying in a B&B and it didn't disappoint. I will definitely be returning in the summer. (PS: It's right across the street from Matt Lauer's horse farm!) What To Do: Parrish Art Museum  This 34,000 square foot gallery was filled with gorgeous art and installations. It also had a cute gift shop and a cafe with floor to ceiling windows. Special note for budget-friendly traveler: the entrance fee for two people is less than $25! The Milk Pail We stopped at this fresh market before heading back into the city and we are so glad we did. There are so many locally-sourced, homemade goods; I'm talking apple cider, donuts and pies. Yum! There is even a selection of local wine! If you go earlier in the fall, there is a U-Pick farm and flower shop as well. We brought a YETI cooler to keep everything fresh on the ride back to the city. Main Street You can't visit Southampton without taking a walk down Main Street. Honestly, it will make you feel like you're in a movie. It's so sweet and charming, plus there are so many great shops. Where To Eat: Hampton Coffee Company Order the breakfast burritos or tacos if you stop here; you won't regret it. Also, the service is great! The Coast Grill If you're a seafood lover, then this place is for you. We got the coconut shrimp to start with (the sweet mango chili sauce is to die for) and the lobster mac & cheese as an entree. No lie, it was the best I have ever had. If you are in or around NYC and looking for the perfect weekend trip that's a reasonable drive, this is it! It's the perfect two-day getaway during the fall. [Photo: Shelby Rodriguez]
This Is The One Brand Every Candle-Lover Needs To Know About…
If you're shopping for a candle-lover this holiday season, allow me to divert your attention (and dollars!) away from the usual suspects. Instead, if you really want a candle that will impress the connoisseur in your life, you need to purchase him/her a Homesick Candle. Never heard of them? I hadn't either and I legit love candles; I light three just about every night--one in the kitchen, one in my bedroom and one in the living room. I recently received two Homesick Candles to try out and full disclosure: they're my new faves. What makes them so special? Well as any candle-lover knows, it's all about the scents and these are divine. The candle is strong enough to permeate a good-size room, but it's not over powering. Because I'm a New Yorker, I got the New York and New York City candles and they're so good. The New York candle is woodsy and outdoorsy, like a campsite somewhere upstate. New York City, on the other hand, smells like a walk down 5th Ave, half Central Park, half luxury deliciousness. Speaking of, that's another thing that makes these candles better than so many others. Rather than having some cutesy or fancy name, Homesick's candles are all named after different states. And each scent is mixture of fragrances you'd find if you were to travel to that state. Genius, right? Not only are they great for people living away from their hometown, but they're also great for people who love to travel. If you can't buy them a plane ticket to the next destination on their bucket list, buy them the next best thing: a candle that smells like that place! Each Homesick Candle is hand-poured and made from soy wax right here in America. Best of all? All the candles are currently on sale for just $30! Stock up ASAP! SHOP HOMESICK CANDLES NOW Be sure to check out more great holiday gifts here. [Photo: Homesick Candles]
This Genius New Home Decor Delivery Service Is A Game-Changer…
If you live in Williamsburg, Brooklyn, here's some exciting news: Axent Home Goods is a genius new decor delivery service that brings gorgeous pieces from around the world right to you. I mean literally, right to you! Recognizing that so many of us are busy, but also want a stunning living space, Axent is making dressing up your digs easier than ever. All you do is browse their site (on your lunch break, of course!), note the products you'd love to see up close and personal, then set up a viewing. From there, the team at Axent will arrange a time to bring all the items you love directly to your home or office. Amazing, right? But it gets better. You ready for this? At your product viewing, there's no commitment to buy. If the pieces don't mesh with the vibe you're going for, no problem. If you do love just as much as you thought you would, then you can pay on the spot and keep the items. Doesn't get easier than that, does it?! Right now, this amazing service is only available to Williamsburg residents, but if you're loving Axent's selection, follow them on Facebook. Select items are available for US shipping on their Facebook shop! Check out a few of the items we're loving from Axent: BLUE ON WHITE WITH GOLD INLAY BONE CHINA BOWL ($30) COUNTRY BLUES 12″ X 18″ CUSHION ($60) TURBULENT INDIGO 10″ BROWN-CHERRY LEG OTTOMAN WITH SECRET STORAGE COMPARTMENT ($140) SHOP AXENT HOME GOODS NOW [Photo: Axent Home Goods]
Bath & Body Works Just Released A Bunch Of "Boozy Candles"–Add Them To Your Holiday Wish List ASAP
Exclusive! Here's How To Get $22 Worth Of Free Wine At Winc (Yes, You Read That Right–Free Wine!)
I don't know about you, but there's nothing that I love more than a nice, chilled glass of wine. Paired with dinner, brunch, or just a single glass to sip by itself, it's always wine o'clock somewhere! So fellow wine lovers, listen up. We've teamed up with our friends at Winc--the popular wine subscription service that sends you four bottles specifically tailored to your individual palette each month--to help you step up your wine game ASAP! For a limited time, SHEfinds readers can get a $22 credit towards your first Winc shipment with our exclusive promo code SHEFINDS. Did I mention that bottle prices start at just $13, and there's free delivery?! Plus, you can skip a month or cancel at any time. So grab a few discounted bottles of delectable reds and whites for yourself or gift some to a friend this season (after all, it's about time to start planning for Thanksgiving and holiday parties). What are you waiting for?! Snag this amazing offer now. It's literally as simple as answering a few questions to determine you faves. Then, just wait for your shipment to come in, and have a glass (or rather, a bottle) on us! STOCK UP AT WINC NOW
Don't Miss Your Chance To Win The Ultimate Fall Fitness Prize Package From QALO
It's fall, which means that most of us will start hibernating inside as the temps get cooler. Of course, that means maintaining an active social life and staying on top of your workout goals won't be so easy. That's where our friends at QALO come in! To help ensure you don't fall into a exercise rut, QALO is giving five lucky SHEfinds readers the ultimate fall fitness prize package. Are you ready for this? Here's what's up for grabs: - A set of QALO Stackable Rings (that's a total of 12 rings valued at $150)  Why choose when you can have it all? You'll receive the entire fall stackable sets collection from QALO to mix & match every day! - A one year membership to the Studio Tone It Up App (valued at over $155)  Designed by fitness stars Katrina Scott and Karena Dawn, The Studio Tone It Up app is your on-the-go fitness studio! With your membership, it's so easy to take workout classes wherever you are, make new connections, track your workout and goals, and receive endless support and encouragement! - A tumbler & canteen set from Corkcicle (valued at $50)  Fuel your fitness goals with a tumbler and canteen from Corkcicle, designed to keep your beverages cold for 9+ hours - even out in the sun!  - A $500 Visa gift card   Shop to your heart's content with $500 to spend! Yes, you're reading that correctly! Five lucky winners will each receive all that amazingness! So what are you waiting for?! Enter now for the chance to win below. Good luck! (function(){ function loadScript(url, scriptId, callback) { if(document.getElementById(scriptId) != null) { return; } var script = document.createElement('script'); script.type = 'text/javascript'; if (script.readyState) { script.onreadystatechange = function() { if (script.readyState === 'loaded' || script.readyState === 'complete') { script.onreadystatechange = null; callback(); } }; } else { script.onload = function() { callback(); }; } var scriptIdAttr = document.createAttribute('id'); scriptIdAttr.value = scriptId; script.setAttributeNode(scriptIdAttr); script.src = url; document.getElementsByTagName('head')[0].appendChild(script); } function loadEmbed(){ var iframes = document.getElementsByClassName('campaign_embed'); for(var i = 0; i < iframes.length; i++) { iFrameResize({ enablePublicMethods: true }, iframes[i]); } } loadScript( '//d2xcq4qphg1ge9.cloudfront.net/javascript/responsive_embed/20150624/iframeResizer.min.js', 'campaignEmbedder', loadEmbed ); })(); [Photo: Qalo]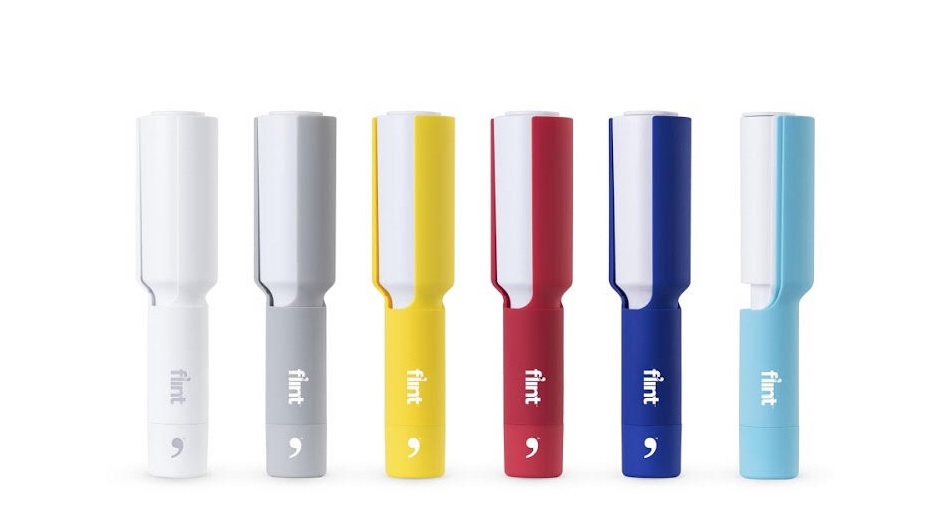 Flint Just Released New "Plus" Size Lint Rollers, Perfect For Keeping Your Coat Clean All Winter Long
It's coat season once again, and that only means one thing. Those stylish, statement jackets that keep you warm and toasty as the temps drop will undoubtedly get littered in lint. Luckily, the makers of the handy Flint lint rollers just launched the Flint Plus, and this brand new tool is about to become your daily go-to for fighting the fuzz. If you're not familiar with these lifesavers, let me introduce you. Flint produces the popular portable rollers that have made a splash in the market. Not only do they come in a string of vibrant color (and chic metallics!), they're also refillable and retractable--so they fit easily in you're purse. Well, the "Plus" is no less amazing. What makes this new addition such a must-have accessory? This model is a tad bigger than the originals, and it has twice as many sheets as the classic rollers! You can use them for larger items like coats, jackets, and sweaters. The Plus is also refillable and retractable, but it has an added shield to keep it from sticking to unwanted items. Basically, it's the perfect tool to keep in your desk drawer or on your bedside table, as you'll be reaching for it over and over again. So make sure to prep for the animal hair and other dander that is bound to pile up on your cold-weather gear by grabbing one of these genius lint rollers ASAP! SHOP FLINT LINT ROLLERS NOW Be sure to check out the best drugstore beauty products and this bestselling peacoat. [Photo: MeetFlint.com]
Once And For All, Here's How To Remove Makeup From Your Shirt Collar Without Changing Your Shirt #SHEfindsSolutions
How many times have you almost walked out the door and noticed a little lipstick stain or a smudge of foundation on your shirt collar? I'm guessing the answer is a bunch. But that doesn't mean that you have to change your shirt. Here are a few simple ways to remove those annoying makeup stains that won't take up too much time. 1.Invest in a portable stain remover. If you looking for a quick way to get rid of the most minimal stain, try pulling out a stain removing pen. These handy little tools are lifesavers! Though, make sure you test out a small area to make sure that it will work for the stain and the fabric that you're wearing. 2.Use your everyday makeup pads. If you've dealing with a power foundation spill on your collar, a makeup pad may do the trick. Try to remove as much makeup as you can by dabbing a paper towel over the area or brushing away power with a clean makeup brush. (Make sure you don't smear.) Then gently pat the stained area, and repeat to remove as you would your daily makeup. 3.Pull out grease-fighting household items. Dish washing liquid such as Dawn is a great tool to fight oily makeup stains like lipstick. Start by trying to remove any excess makeup with a paper towel. Put a little bit of water on the stain and rub it in and let the soap do it's job. After about 10 minutes, grab a wash cloth and gently rub away the stain. While these tips may offer a fix for the moment, don't forget that throwing your shirt in the wash is the only way to make sure that the stain is really gone. Be sure to check out how to untwist elastic under fabric and how to remove long-wear lipstick. [Photo Damsel in Dior]
bkr Just Released A $185 Reusable Water Bottle Featuring 500 Swarovski Crystals And All Proceeds Go To Charity
I'm fully on board the resuable water bottle bandwagon; I have tons because not only are they pretty, but they actually do help me drink more water. But here's another reason to finally invest in one of those cute glass bkr water bottles you see everyone carrying: bkr teamed up with Swarovski on a limited edition bottle featuring 500 shimmering crystals. The best part? All proceeds will go to Water For People, plus every 500 bkr sold helps provide a full month's supply of clean water to a person in need. Pretty amazing, right? bkr is one of my favorite reusable water bottle brands because their bottles are glass, which means they don't ever alter the taste of water and are totally BPA free. The looped handle is also perfect for hooking onto my bag, so I never have to buy a plastic water bottle. The fact that they also give back to those in need? The icing on the cake! SHOP bkr's NEW CRYSTAL WATER BOTTLES NOW Be sure to check out my favorite candle for fall.
Forget Pumpkin Spice, This Is The Best-Smelling Fall Candle You Need In Your Home
I know it may be sacrilege to some, but I can't lie: I kind of hate pumpkin. I don't enjoy the way it tastes and I don't find the smell enticing at all. So what's a girl to when she wants to create some fall ambiance in her home without resorting to pumpkin spice anything? Bath & Body Works to the rescue! Their Leaves scent is quintessential fall without having any pumpkin notes whatsoever. Instead, this fragrance has hints of Crisp Red Apple, Golden Nectar and Warm Clove Spice that are reminiscent of all things autumn. There was a slight chill in the air this weekend here in NYC, which inspired me to give this unusual candle a try and I'm so happy I did. It gently perfumed my whole apartment with a fall aroma that wasn't too sweet for my boyfriend, but also not too masculine for me. Win win, right?! Whether you're like me and not the biggest fan of pumpkin or just need a break, this is the candle to splurge on this season. I've been burning mine for three days straight and it's divine! SHOP BATH & BODY WORKS LEAVES CANDLES NOW Be sure to check out Bath & Body Works' relaunched Aromatherapy collection. [Photo: Bath & Body Works]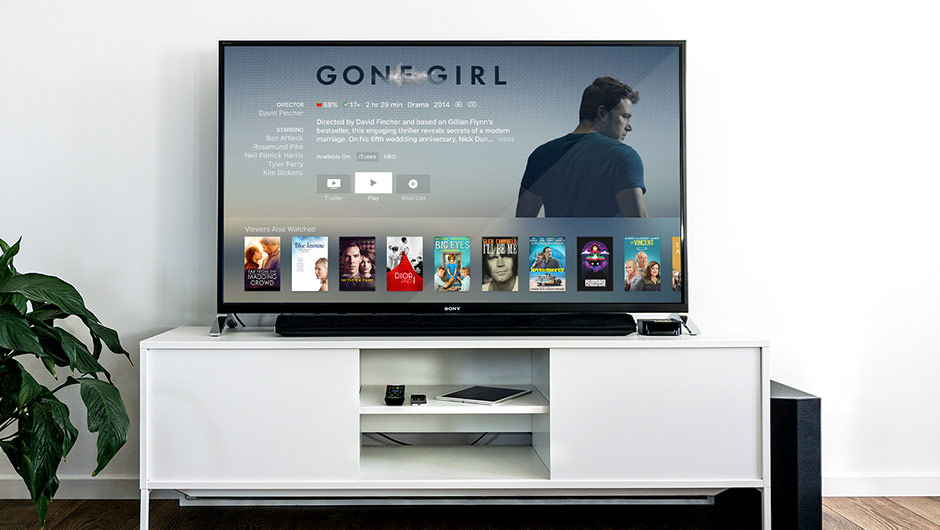 Here's What's Coming To Netflix This Month (It's Really Good!)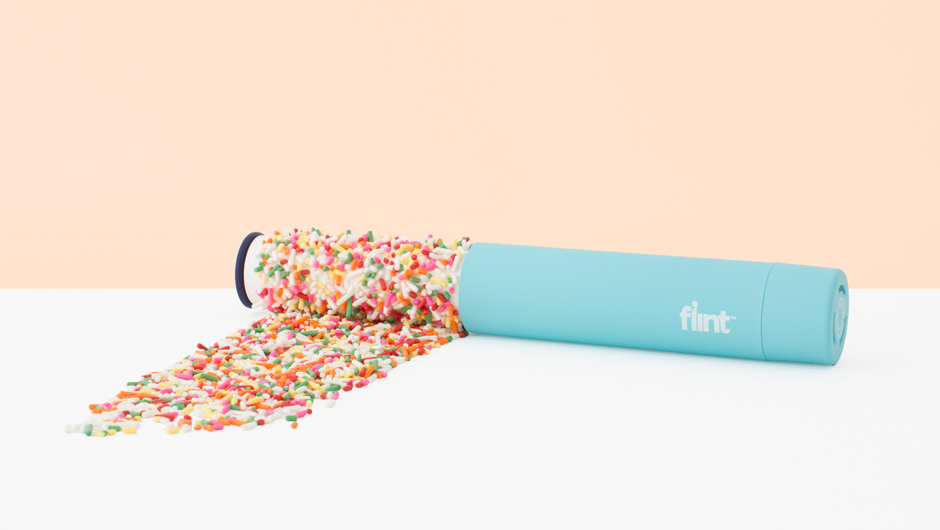 We're Giving Away 100 Stylish Flint Lint Rollers… Just In Time For Coat Season!
How many times have you gotten dressed and just when you're ready to leave, you realize that your favorite pair of black pants or your dark wool coat is covered in lint? And not a little bit; we're talking covered! Together with our friends at Flint, we want to make sure that you never get caught in this sticky situation again. We're giving 100 readers the chance to get their hands on Flint's game-changing classic lint rollers. Trust us--this stylish roller will soon be your biggest obsession! In case you missed our full rundown on Flint's lint rollers earlier this year, here's the quick and dirty. In addition to being pretty (check out the metallics!) and compact (they're lightweight and fit in almost any purse), these lint rollers are also super easy to use. They're retractable, so all you have to do is twist the bottom cap like it's your favorite tube of lipstick, swipe off the lint then push it closed. Simple as that. Even better? Flint lint rollers are refillable, so you can keep using them over and over again. Genius, right?! If you don't want to spend all fall and winter walking around with your coats and pants and dresses covered in fuzz and animal hair, enter below for a chance to own your very own Flint classic lint roller ASAP. Good luck! (function(){ function loadScript(url, scriptId, callback) { if(document.getElementById(scriptId) != null) { return; } var script = document.createElement('script'); script.type = 'text/javascript'; if (script.readyState) { script.onreadystatechange = function() { if (script.readyState === 'loaded' || script.readyState === 'complete') { script.onreadystatechange = null; callback(); } }; } else { script.onload = function() { callback(); }; } var scriptIdAttr = document.createAttribute('id'); scriptIdAttr.value = scriptId; script.setAttributeNode(scriptIdAttr); script.src = url; document.getElementsByTagName('head')[0].appendChild(script); } function loadEmbed(){ var iframes = document.getElementsByClassName('campaign_embed'); for(var i = 0; i < iframes.length; i++) { iFrameResize({ enablePublicMethods: true }, iframes[i]); } } loadScript( '//d2xcq4qphg1ge9.cloudfront.net/javascript/responsive_embed/20150624/iframeResizer.min.js', 'campaignEmbedder', loadEmbed ); })();
We're Giving Away 100 Portable Chargers From Toddy Gear #YoureWelcome
It's our favorite moment of the week: giveaway time! This week we partnered with our friends at Toddy Gear to giveaway an awesome prize that will keep your smartphone powered up in style, wherever life takes you: 100 Smart Charge Mini portable chargers! These days, a smartphone is so much more than just a way to talk to friends and family. In addition to helping us all stay plugged in socially, our phones are also maps, music players and so much more. Given how essential smartphones are in the course of everyday life, you're really not ready to leave the house without a portable charger. The last thing you want is for your battery to die and leave you powered down at the worst possible moment. That's why we love Toddy Gear. Not only do they offer reliable gadgets that keep your electronics working on the go, but they're also really, really pretty, too. Because who wants a boring black portable charger when you could have a pastel chevron one? Or one covered in hearts? We love brands that combine function and style, so we just couldn't pass up the opportunity to give 100 lucky SHEfinds readers the chance to experience Toddy Gear for themselves. If you could use a portable charger (and honestly, who couldn't?!), be sure to enter to win one below. Good luck! (function(){ function loadScript(url, scriptId, callback) { if(document.getElementById(scriptId) != null) { return; } var script = document.createElement('script'); script.type = 'text/javascript'; if (script.readyState) { script.onreadystatechange = function() { if (script.readyState === 'loaded' || script.readyState === 'complete') { script.onreadystatechange = null; callback(); } }; } else { script.onload = function() { callback(); }; } var scriptIdAttr = document.createAttribute('id'); scriptIdAttr.value = scriptId; script.setAttributeNode(scriptIdAttr); script.src = url; document.getElementsByTagName('head')[0].appendChild(script); } function loadEmbed(){ var iframes = document.getElementsByClassName('campaign_embed'); for(var i = 0; i < iframes.length; i++) { iFrameResize({ enablePublicMethods: true }, iframes[i]); } } loadScript( '//d2xcq4qphg1ge9.cloudfront.net/javascript/responsive_embed/20150624/iframeResizer.min.js', 'campaignEmbedder', loadEmbed ); })();
Three Easy Yoga Poses That Will Help You Get Flatter Abs #WellnessWednesday
Admit it: as the weather cools down, it gets harder and harder to motivate yourself to get to the gym. Luckily, you don't have to. Keep that summer body in check at home--and gain a little zen in the process--by adding some simple-yet effective yoga stretches to your daily routine. Here are a few of the best yoga poses to practice that'll help you get flatter abs in no time. 1. Chair Pose. Easy to do early in the morning or before bed, chair pose is your go-to work your abdominal muscles and strengthen the spine. Begin in the traditional mountain pose, then raise your arms upward at a 90 degree angle to the floor. Next, bend your knees so that they are parallel with the floor. Breathe in and out. Hold the stretch for about 30 seconds. Release and repeat. 2. Boat Pose. A great overall stretch for the abs as well as a full body workout, boat pose is a must to add into your regimen. For this stretch, grab your yoga mat. Start in a sitting position, and extend your arms forward and your legs out. From there, continue to lift your legs upward in a V or boat shape. Hold for a few breaths and repeat for five to 10 reps. But don't feel like you have to jump right in! Adjust this pose by letting your legs hover a bit lower for a half boat if you're not feeling the fully extended pose. 3. Plank Pose. Even if you're new to yoga, you've probably heard--or attempted--this pose in an exercise class or two. And there's a reason. If you're looking to tone your abs, plank pose is the way to do it. To get the benefits of this stretch, it requires you to start on all fours just like you are going to do a push up. Make sure your back is straight. Hold for up to one minute. If you want to up the intensity, try some more advanced plank poses for a deeper stretch. Be sure to check out this simple meditation trick and these easy ways to calm your nerves in five minutes or less. [Photo: Shelby Rodriguez]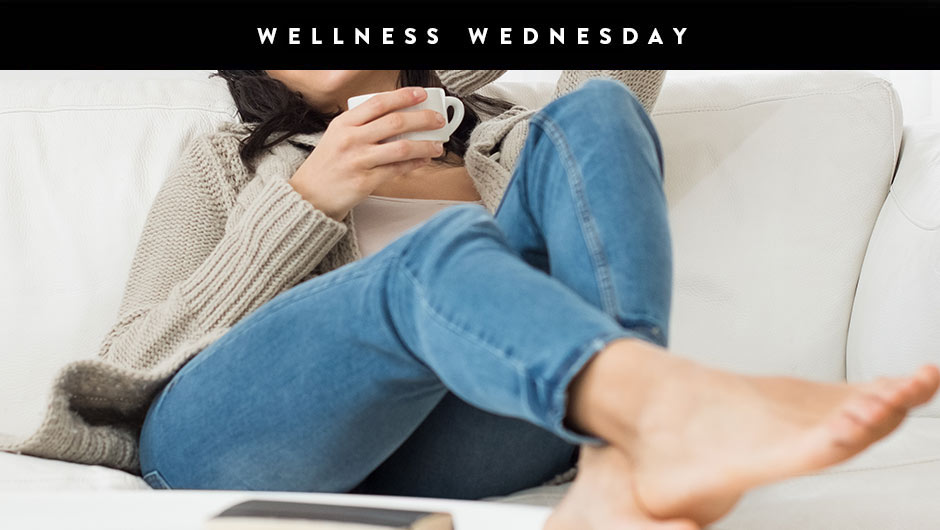 How To Calm Your Nerves In 5 Minutes Or Less #WellnessWednesday
Is a hectic day getting the best of you? Is that job interview giving you major butterflies before you get there? Feeling a little anxious and you have no clue why? Here are a few quick tricks to keep in mind when you want (or need!) to quickly calm your nerves. Use progressive relaxation. You can do this by consciously tensing up your muscles and then releasing them. You immediately feel the difference between your body super tense and more relaxed. Try to isolate certain muscles by tensing them up and slowly releasing. This will bring you into a quick state of calm, and is also proven to help with sleep. Create a distraction. Another thing that is vital to calming your nerves is distracting your mind from negative or stress-inducing thoughts with some quick techniques. One thing that I like to do is keep a hair tie on my wrist and play around with it whenever I am feeling anxious. My mind is focusing on something totally different, like the feeling of snapping the tie against my wrist or wiggling it around my arm. Meditate. Learning how to meditate and being able to get into that zone whenever you are feeling a little bit stressed or anxious is so important. Be sure to check out 3 before-bed habits you should adopt to sleep better at night and aromatherapy 101.
Start Your Morning Off Right With These Invigorating Stretches #WellnessWednesday
Looking to get your day off to a fantastic start? Wake up and stretch! Here are 3 super invigorating stretches you should commit to doing every morning as soon as you wake up. Upwards Stretch: Sit cross-legged on any flat surface like your bed or the floor, interlock your hands and stretch upwards as you look towards the ceiling. This will get your blood flowing and will release any tension that formed in your muscles during the night. Hamstring Stretch: Simply lay flat on the floor and lift one leg in the air as you grab the hamstring, pulling it back some. You should definitely feel it stretch nicely. Hold this for 60 seconds, or as long as possible for each leg. Lunge Stretch: Stretching in a lunge position will work out the glutes, quads, hamstrings and calf muscles. Your legs will feel limber and ready for what the day has in store. Be sure to check out 3 before-bed habits you should adopt to sleep better and aromatherapy 101.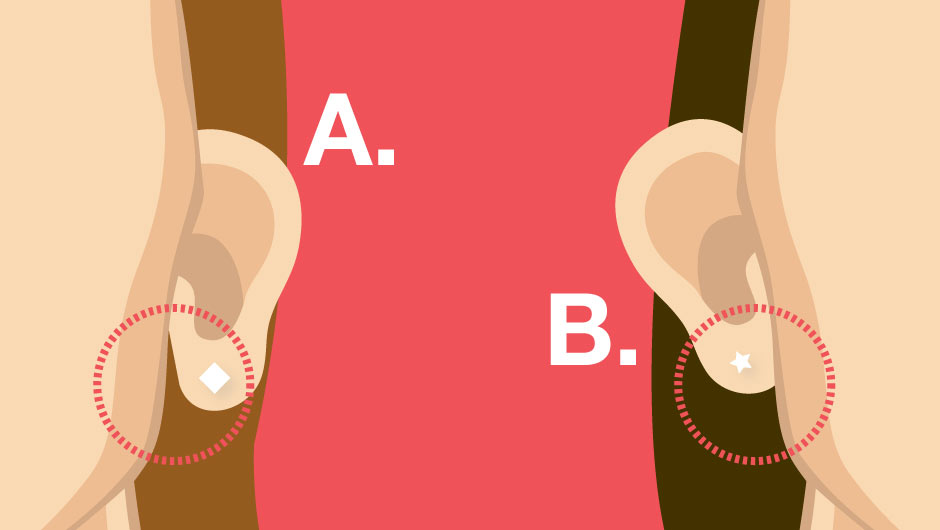 Find Out What It Means If Your Ears Are Attached Or Unattached
It's no surprise that everyone's bodies are shaped differently. You know you're unique based on your fingerprint, but have you ever thought about how different your earlobe is? Turns out, no one has the same exact earlobes as the next person. Kind of shocking, right? However, there are two different types that we can all identify with: attached and unattached earlobes. If you've never done it, feel the bottom of your earlobe--is it connected to the side of your head or not? Now look at the image below to see which earlobe looks most like your own, diagram A or B. RELATED: Find out what your ring finger length says about you Did you figure out your letter? Good. Here's what it means if you have unattached earlobes or attached earlobes: A) Independent and Generous If your earlobes are unattached, you are a free spirit—which means you yourself are a bit unattached and don't pay attention to what society expects of you. Free spirits let life take them wherever they're destined to be because they know that they'll be happy wherever they end up. And of course, happiness is key at the end of the day. While you're independent, you still have close relationships with others and think about how much you care about them. Those with unattached earlobes are devoted to the people and things that matter most, though, which is so important. You can certainly experience life to the beat of your own drum, but you're by no means greedy in the way you treat friends and family. You're always thinking about others, and are extremely giving if you're someone who has unattached earlobes. You can actually sometimes forget to put yourself first, but when you do, it always turns out for the better. RELATED: Find out if you need glasses from looking at this picture B) Secure and Motivated If your earlobes are attached, you are self-aware. You're understanding of your actions and how they may affect those around you. At times, you may be a little too self-aware. That's not a bad thing, though. Being self-aware means that you're sure of yourself and pay attention to the things that are going on around you—especially in your close circle of family and friends. You're confident in your decision making and are always looking toward the future. However, there is a slight red flag if you do have attached earlobes. You may have the tendency to think you're always right, but either way, you're able to quickly move past it when you're in the wrong. Try to listen to the opinions of others more often and think about how their views differ from you own. Although you always have it together, talking to someone who's a bit more unattached and free-spirited (say, someone with unattached earlobes) could really turn things around for you. RELATED: What your engagement ring shape says about you Don't forget to check out how to make your own detox tea, the one vitamin every woman should take daily, and HomeGoods' new sister store Homesense. [Photo: Shelby Rodriguez]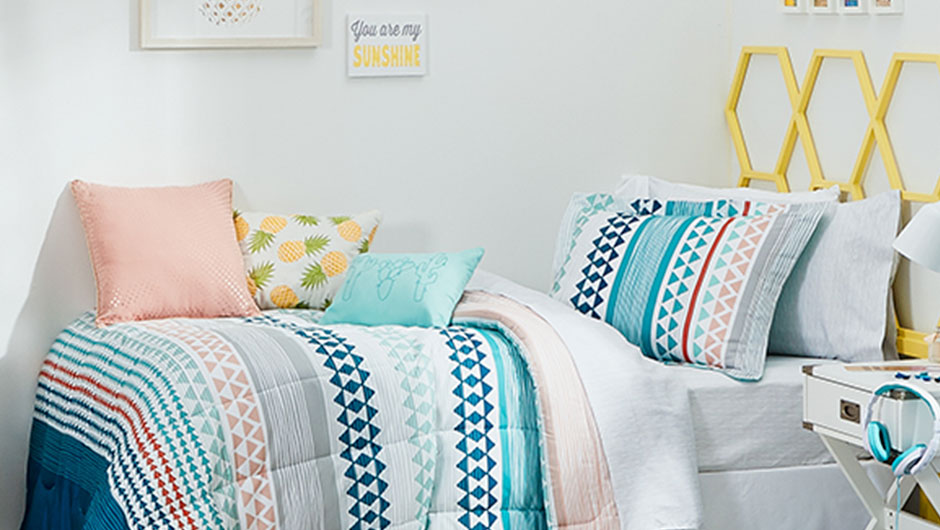 Walmart And Bright Bazaar Styled 3 Dorm Rooms And The Results Are Incredible #NextLevelDorm
One of the most exciting times of the year? Decorating your room at the start of fall. Will you go bright and bohemian or monochromatic and minimalist? The options are endless! If you're looking for inspo to make sure your room stands out this year, Walmart is here to help. They recently teamed up with design expert Will Taylor of Bright Bazaar to make over three dorm rooms and wowza! The results are nothing short of incredible. Featuring totally unique and trendy pieces from Walmart, these rooms are serious #goals. Take a peek: First, Will and Walmart created a glam oasis inspired by Reginae Carter. The black, white and gold color palette is not only super chic and fit for hip hop royalty, but also totally easy to personalize. Pick throw pillows and wall art that speak to you for a room that feels all your own. SHOP REGINAE'S GLAM GETAWAY NOW Next up, Will and Walmart collaborated on a gorgeously colorful space for Remi Ashten. Featuring shades of blue, green, red, yellow and white, this room exudes fun and happiness. Our favorite detail? That honeycomb headboard, of course! SHOP AMBER'S PASTEL PARADISE NOW For their final dorm makeover, Will and Walmart tackled a room for YouTube sensation Mikey Murphy. Rather than go with a completely neutral palette, Will incorporated navy blue details and striped patterns to make this room memorable. We love that the navy blue trunk isn't just an interesting looking piece, it offers plenty of storage, too. SHOP MIKE'S MOVIE MINIMALIST DECOR NOW Feeling inspired? Whether you're decorating a dorm room or just looking to breathe new life into your living space for the fall, be sure to check out Walmart's stunning home decor pieces at budget-friendly prices. [Photo: Walmart]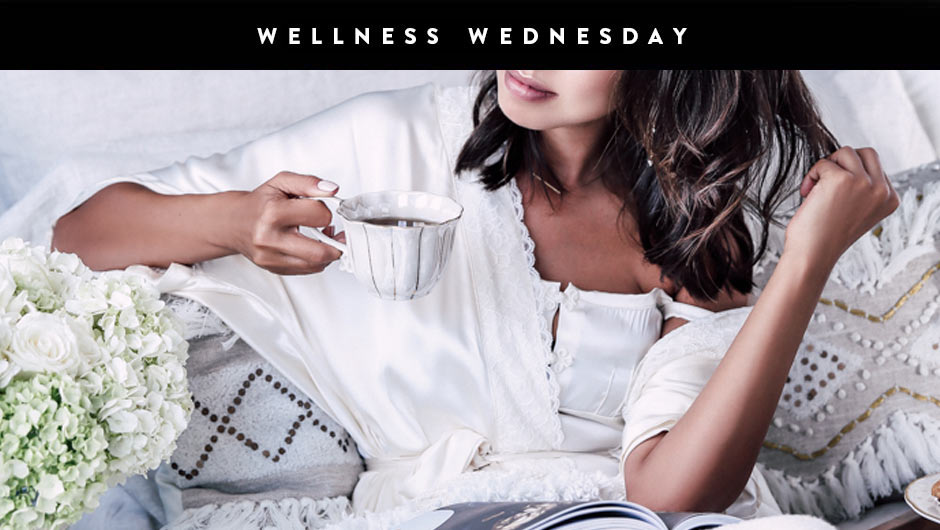 3 Before-Bed Habits You Should Adopt To Sleep Better At Night #WellnessWednesday
Having a regular bedtime routine is vital to getting a good night's sleep. Training your body to wind down in the same way each day really does impact how well you sleep. Need a little help making your before bed routine most effective? Here are three habits that you should adopt to sleep better every single night. 1. Set a bedtime. I know what you're thinking, "aren't bed times for 6 year olds?" Yes, but the fact is you should never outgrow a bedtime. Going to sleep at around the same time each night is super important; this is how your body knows it's time for bed and you won't have trouble falling asleep each night at totally random times. That being said, it's also important to wake up around the same time every morning, as well. Consistency is vital. 2. Make your bedroom a sanctuary for sleep. TV blasting? Scrolling on your phone? These are not the best ways to get yourself ready for sleep. Also, if your bedroom isn't in the condition for sleeping, you won't be either. Make sure the room is dark, at a temperature that you're comfortable sleeping in and that your bed and pillows actually make you feel comfortable. 3. Watch what you eat! Eating or drinking certain things too close to bedtime is definitely not something you should get in a habit of doing. Alcohol and coffee? No bueno. Obviously drinking caffeine too close to bedtime will not help you get any sleep and no matter how tired drinking alcohol makes you feel, it doesn't set you up for healthy sleep. You should also steer clear of fatty foods and other foods that you have trouble digesting is not good to consume before bed either. Be sure to check out aromatherapy 101 and 3 calm-down drinks that will help you wind down before bed. [Photo: The Viva Luxury]
This Is The One Vitamin Every Woman Should Take Daily
We're all busy. So much so that if you are like me, you find it impossible to consume the recommended amounts of vitamins and nutrients. Before you judge, think about it; who has the time to figure out what you actually need and how to get it all? Is it any wonder that so many of us rely on multivitamins? But think about this: have you ever really read what's on the ingredient labels for most multivitamins? Chances are if you did, you'd be surprised to find out it's not all good stuff you actually want inside your body. Fortunately, Ritual is here to shake up the vitamin world. Founded with an honest policy that applies to everything from ingredients to packaging, Ritual is removing all mystery surrounding multivitamins with their Essential for Women daily vitamins. Designed to help you feel great and give a much needed boost to your system, Ritual offers a monthly subscription of these clear (and vegetarian!) capsules containing the nine ingredients women lack the most--Vitamin B12, Folate, Vitamin D3, Vitamin K2 MK7, Vitamin E, Omega-3 Fatty Acids, Boron, Iron, and Magnesium. Getting your daily dose of vitamins has never been easier! Ready to swap out your old vitamins and try these? You're in luck! For a limited time you can get an extra $5 off with our exclusive promo code. Just use code SHEFINDS5 and checkout and you'll get a month's supply of Ritual's Essential for Women for just $25. SHOP RITUAL VITAMINS NOW Be sure to also check out these cute rain boots and these Anthropologie tops that are selling out fast. [Photo: Ritual]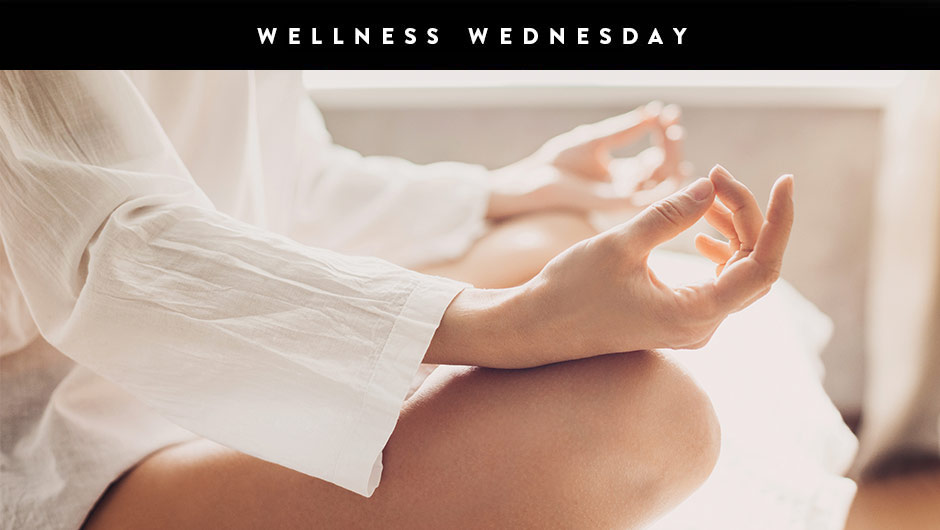 Try This Simple Meditation Technique Tonight #WellnessWednesday
Whether first thing in the morning, during your lunch break or before bed every night, meditation should definitely be a part of your daily routine. Meditating is not only good for your mental health, but it's been shown to positively impact your physical health as well. Now I know some of you may be thinking, "I don't have time to meditate!" But trust me: you do. Just take 10 minutes out of each day to do it. Here's how to get started. First, get into a position that's comfortable for you, either sitting up straight or laying down, in a quiet space. Next, focus on deep breaths. This is extremely important when you're meditating. You should also try to clear your head by focusing on the present; don't think about what went wrong that day or how many things you have to do. Once your mind is clear, focus on relaxing each muscle in your body. Now you're ready to meditate. If you're not sure how to guide your own meditation, you can easily find a 10-minute guided meditations on YouTube--there are a ton. Don't forget to check out 3 drinks that will help you wind down before bed and all-natural headache cures.
4 "Super Foods" You Need In Your Diet #WellnessWednesday
What are super foods? They're foods that are extremely rich in nutrients. Eating them not only means you have a better diet, but can help you achieve a better lifestyle, too. Want to start incorporating more of these super foods into your daily meals? Start with these four. They're not only easily accessible, but they all taste great and can be used lots of different ways. Sweet potatoes are not only yummy, but they are also a super food. Why? Although they're sweet, they boost your immune system and are packed with anti-inflammatory nutrients, Vitamins A and C. If you suffer from arthritis or asthma, this is the perfect food for you. Oh, and it can prevent or control diabetes because it is low on the glycemic index. I'm not going to lie, spinach is a major part of my diet and I'll tell you why. For one, I am iron-deficient and spinach contains so much iron to help me control my anemia. If you're not a big meat eater like me, spinach will still help get you your daily intake of iron. Spinach also contains tons of vitamin A (hello good immune system!) and calcium for healthy bones. And spinach doesn't have to be thought of as a boring, bland vegetable. It's easy to cook and there are so many ways to make it yummy to eat. Greek yogurt has been trending in health for a while now, and for good reason! Greek yogurt is full of probiotics which majorly improves digestion. Plus, it is chock full of calcium, protein, zinc, and vitamins B6 and B12 and creamier than regular yogurt. That's a win! What is an essential food for your diet, but also won't break the bank? That's right. Beans. Beans are easily accessible (and inexpensive!) at any grocery store and they're jam packed with health benefits. They contain tons of fiber, protein, iron and you really can find so many ways to make them. Hopefully, these 4 foods become a major part of your diet. Let us know your fave super foods! Be sure to check out calm-down drinks that will help you wind down before bed and simple stretches to try before bed.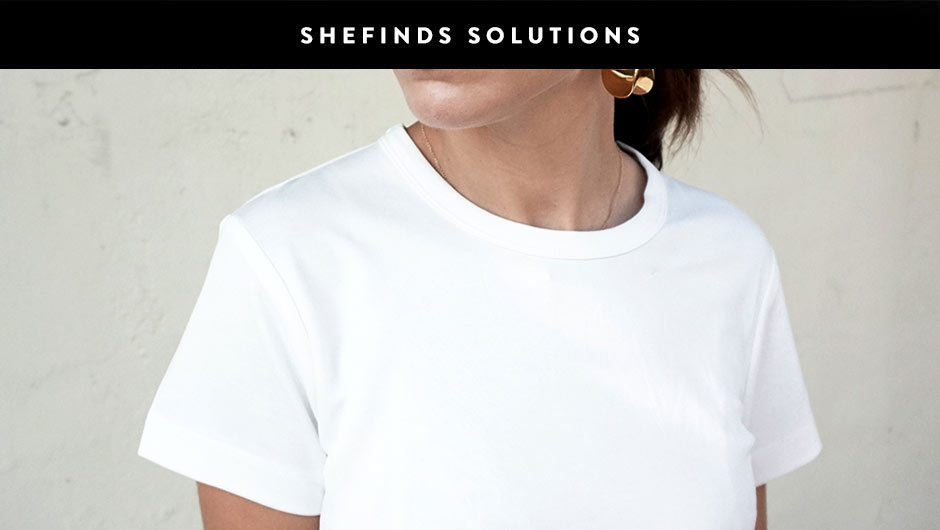 Once And For All, Here's How To Remove Yellow Stains From The Underarms Of White Shirts #SHEfindsSolutions
We've all been there: your favorite white shirt that fits so well and goes with everything starts to develop those unsightly yellow underarm stains. Ew! It may feel like tossing your beloved shirt in the garbage is the only option once those stains develop, but not so fast! You can actually remove those nasty yellow stains and have your white shirt looking as good as new. Here's how: Start with two simple ingredients: vinegar and water. Yup, it's that easy. Mix equal parts water and vinegar in a spray bottle. Generously spray this solution all over the stain so that it is saturated with your homemade stain remover. Let that sit and soak in for about 45 minutes to an hour. After your shirt has soaked, wash it in cold water. If you feel like it isn't completely clean before drying, repeat these steps once more and then dry. Be sure to check out how to stop a hangnail from getting worse and how to stop lipstick from sinking into the creases on your lips. [Photo: Always Judging]
Looking For A Fun Weekend Getaway Destination? Try The Mount Airy Resort In The Poconos
As a working mom, it's very rare that I ever get a child-free weekend. And a child-free weekend away from home? That basically never happens. So you know I was nothing short of stoked when I was given the chance to visit Mount Airy Resort & Casino in the Pocono Mountains earlier this month while my daughter was with her grandparents. My partner and I set out for our weekend getaway on Friday afternoon and the 90-minute drive from NYC was easily one of the most beautiful, scenic drives we've ever taken. The lush mountains are so stunning and the perfect setting for a relaxing weekend sans little ones. #views Once at the resort, I was immediately impressed by the stunning accommodations. The entryway is nothing short of spectacular and our room had a truly awe-inspiring view of the mountains. The highlights of our visit? First, the spa. I got the Signature Massage and wowza was it amazing. Not only is the spa itself absolutely gorgeous and so serene, but my masseuse (Ashley--ask for her, she's incredible!) gave me one of the best massages I've ever experienced. She used a rose-scented oil which totally helped to melt away all my stress. So excited for my massage! The next best part of our stay? The food! Mount Airy has a few different restaurants, but our faves were definitely Bistecca by Il Mulino, an Italian restaurant, Guy Fieri's restaurant and Lucky 8 Noodle Shop. My mouth still waters thinking about the yummy spiked iced tea and watermelon sangria we had at Guy Fieri's place. And the zeppoles at Il Mulino?! Heavenly! Yummy drinks! Even yummier zeppoles! Mount Airy also has incredible entertainment if you can hang late. Waka Flocka was the headliner during our stay, so imagine our surprise when we were seated next to him during lunch at Lucky 8! Paparazzi shot--#sorrynotsorry All in all, we had an unforgettable weekend in the gorgeous Pocono Mountains at Mount Airy. It's a super easy drive from the city and everything you need is right there, be it good food, amazing entertainment or stunning scenery. I'd definitely say this kid-free weekend was a major success.
Use Our Exclusive Promo Code To Get 30% Off The Allure x Case-Mate Selfie Case
If you're looking to take your selfies to the next level, this is the deal for you. For a limited time only, SHEfinds readers can get one of the coveted Allure x Case-Mate selfie cases for 30% off with code SHEFINDSCM30 at checkout. Never seen this selfie case in action? Well you're in for a treat! Not only does this case have an illuminated border so you can ensure your lighting is always perfect, but there's also a ring on the back so you have a secure grip no matter what angle you're shooting from. Best of all, the cases come in pretty rose gold and classic black for iPhones 7, 7 Plus, 6S, 6S Plus, 6 and 6 Plus. Our exclusive promo for 30% off is valid on all Allure x Case-Mate products and includes free shipping! The offer expires on August 21, so treat yourself to one of these amazing cases ASAP! SHOP THE ALLURE X CASE-MATE SELFIE CASE NOW Don't miss our exclusive Winky Lux promo code, too! [Photo: Shelby Rodriguez]
Ivory Ella's Leggings Are So Soft And Comfortable–Add A Pair To Your Collection ASAP
Sponsored by Ivory Ella Ella Denim Jacket ($69) Classic Fit Dark Navy Inverse Paisley Tee ($32) Pineapple Print Legging ($24.99) We'll be the first to admit it: leggings are the best. They're comfortable, look good all year round and can be dressed up or down for different occasions. If you're like most women, you already have lots of leggings in your wardrobe, but we're here to put one of our favorite brands on your radar. Found in 2015, Ivory Ella is an amazing brand that allows you to shop trendy items while also giving back. A portion of every order is donated to charitable organizations like Save The Elephants; they have donated over 1.1 million dollars to date! Philanthropic efforts aside, Ivory Ella also makes amazingly wonderful leggings. Not only are they soft and comfy, but they're super flattering. Oh, and did I mention they're affordable to boot! Here are a few of our current must-haves: Blue Acid Washed Legging ($19.99, down from $49) Grey Acid Washed Legging ($19.99, down from $49) Move Black Legging ($39) Cute, right? Even better, though? Ivory Ella has the perfect pieces to style and accessorize these leggings. Here are some outfit ideas to copy for no-fail style in a flash. Sporty: Wear this look to your morning yoga class or spin session, then get a bunch of errands checked off your to-do list. Move Black Legging ($39) White Zip Up Windbreaker ($59) Black Satin Baseball Cap ($32) Grey and Pink Yoga Mat ($49) Everyday: Whether you're meeting friends for lunch or kicking back at a summer BBQ, you'll look cute and feel comfy in this perfect ensemble. Grey Acid Washed Legging ($19.99, down from $49) Olive Bomber Jacket With Patches ($34.99) White Cropped Tee ($19.99) Back t0 School: Want a "first day" outfit that's sure to impress and turn heads? Pair this look with the blue acid wash leggings shown above. You can't go wrong with this stylish look. Classic Fit Vintage Rose Painted Chevron Tee ($24.99) Navy Varsity Backpack ($89) Tan Leather Rose Gold Watch ($49) Heather Oatmeal Embroidered Hoodie ($49.99) Beach Day: If leggings aren't your thing... Ivory Ella has you covered there as well. Check out their beach collection for a seriously stylish outfit on the last beach days of the season. You will want to stock up on these pieces ASAP. Navy Romper ($39) Coral Reef Beach Coverup ($19.99) Red & Navy Beach Tote ($39) Navy Flip Flops ($20) Blue & White Beach Towel ($39) SHOP MORE IVORY ELLA CLOTHING & ACCESSORIES NOW [Photo: Ivory Ella] The editors at SHEfinds wrote this blog post on behalf of Ivory Ella and received compensation as part of our agreement.
A Beginner's Guide To Aromatherapy & Essential Oils #WellnessWednesday
Aromatherapy is a bandwagon that you need to hop on. The aroma from essential oils can be incredibly helpful for your mind and body. Not sure where to begin? There are a ton of scents to choose from, but I'm here to fill you in on the 5 most popular options and how each scent can help. Take my word for it, essential oils will help improve your body, both mentally and physically; you'll feel like a new you in no time! Peppermint: If you suffer from headaches or migraines, peppermint is best. Peppermint contains menthol so it can relieve not just headaches, but congestion and achy muscles. Rub this essential oil on your temples for a headache, any sore muscles, or diffuse it into the air for the ultimate soothing effect. Lavender: Having trouble relaxing or getting to sleep? This scent has almost a magical calming effect. It's helped relieve stress on so many occasions and I almost can't fall asleep without it now! Eucalyptus: This scent is so refreshing to breathe in.Eucalyptus oil is an anti-inflammatory and is great for relieving congestion, stuffiness, or coughs when sick. Plus, it just smells so fresh that it is sure to wake you up! Lemon: Lemon increases mental awareness and basically just spreads #goodvibes. Jasmine: Need a confidence boost? Jasmine to the rescue! Jasmine is known as an antidepressant because the scent immediately uplifts and causes feelings of optimism. Let us know if you love aromatherapy as much as we do! Be sure to check out how to incorporate apple cider vinegar into your daily diet and simple stretches for a better night's sleep.
bkr Just Debuted A New 1 Liter Spiked Bottle And You Need To Order One Before They Sell Out
I have no shame about my love for amazing water bottles. I'm convinced drinking tons of water is the only reason my skin stays soft and smooth and as such, I invest in the best vessels for water consumption out there. bkr is one of my absolute favorite brands because their bottles are not only super stylish, but they're glass so they never change the taste of my water. Very important. But here's another reason to love bkr: they just launched a new 1 liter spiked bottle! It's everything I love about my old bkr, only bigger which means fewer trips to the water cooler. The bottles just launched today and if history is any indication, they're going to sell out fast. My advice? Order yourself one ASAP! But before you do, get to know bkr's amazing founders--Kate and Tal--below and why they're so committed to women drinking water. Why did you decide to create bkr? We always knew that the prescription for gorgeous skin is sleep and water but we found ourselves drinking from tons of plastic disposable water bottles. We were cultured, intelligent, fashionable women drinking out of trash. And, it's especially bad for women to drink out of plastic because of the effects of leaching chemicals and estrogenic activity. It didn't make sense. We couldn't find a reusable bottle we loved so we decided to make exactly the bottle we wanted--something beautiful, effortless and chic. We knew if we wanted it, other people did too. Talk to us about how important drink water is to you both personally? How much water you're drinking, how much sleep you get, what you're eating, whether you're working out, your stress levels – good or bad, it all shows on your face. When we're properly hydrated, our skin looks more toned, our lips are softer and our hair is shinier. We jokingly call it "cameling" when you somehow forget to drink enough water. It doesn't happen to us often and it's only happened when we've forgotten to bring our bkrs with us, but if it does we notice it immediately. You notice fine lines and wrinkles more, your lips look peely and you feel extremely low energy. How do you reach your water intake goals? We try to drink 96 oz (3L) a day no matter what because that's the amount of water at which we feel and look our best. We'll have one Big in the morning while we're getting ready for our day, two Littles in the afternoon as we run from meeting to meeting and one Big in the evening before bed, usually curled up with Netflix. GET YOUR 1 LITER BKR BOTTLE NOW [Photo: bkr]
The One Vitamin You Should Be Taking Before Bed For Weight Loss
Try These Simple Stretches Before Bed For A Better Night's Sleep #WellnessWednesday
Stretching before bed is proven to help relax your muscles, get you to sleep faster and ensure you have a restful night's of sleep. If you're having trouble falling asleep, staying asleep or calming your mind before bedtime, this is definitely something you should try ASAP. One easy stretch to start with is a seated forward stretch. Sit on the ground with your legs straight out in front of you and slowly bend forward as far as you can with your feet flexed. You should feel this targeting the muscles in your legs. As you hold the pose try to relax your thoughts and breathe deeply. Another great stretch for beginners? Sit cross legged either on your bed or on the floor and hold your back as straight as possible. Stretch your arms all the way up with your hands interlocked and your palms facing the ceiling. Make sure your back is elongated and you should feel the strect in your back and shoulders. This is a super relaxing stretch, so make sure you deep breathe. As an added relaxation benefit, listen to a guided meditation while you stretch. Be sure to check out how to incorporate apple cider vinegar into your daily diet and all-natural headache cures.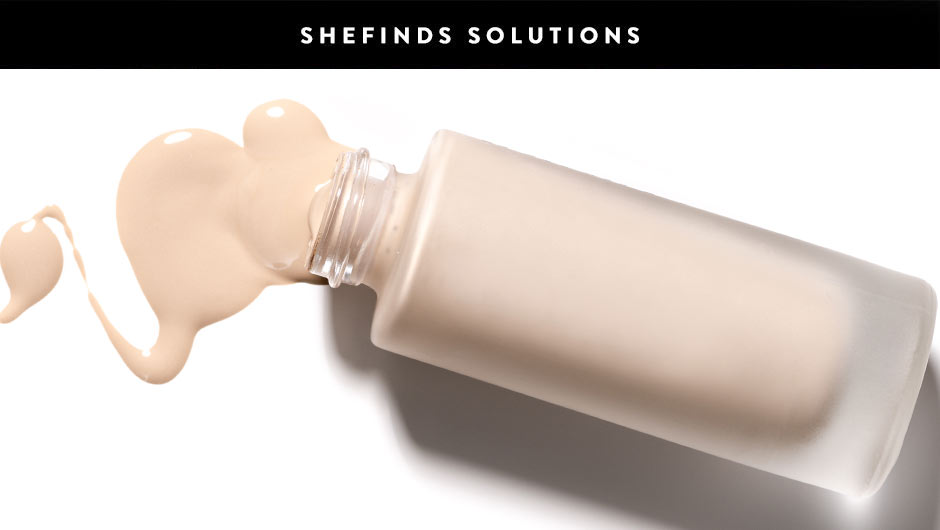 4 Ways To Remove Foundation Stains That Don't Involve A Washing Machine #SHEfindsSolutions
Ever do the perfect full face of makeup, only to slip on a blouse or dress and find you've transferred foundation onto your clothing? It's the worst! Especially if you don't want--or have time!--to change your entire outfit or sit around for an entire wash and dry cycle. Luckily, there are a few easy ways to remove foundation stains that don't require a lot of time or energy. Try the tips and tricks below the next time you're in a pinch. Tip 1: Use extra hold hairspray. Simply spray some on the stain, let it sit for a couple minutes then wipe away with a damp towel. Tip 2: If you catch the stain while it is fresh, try using a baby wipe or some makeup remover. If you use makeup remover, apply it to a cotton swab or towel first, then dab onto your clothing. Tip 3: If the foundation is oil-based, try using a Tide To Go pen. It works like a charm. Tip 4: Is the stain really stubborn? Try shaving cream. Apply to the stain, let it sit then rub the product into the stain and rinse with cold water. Repeat these steps, but rinse with warm water instead. You may have to let the water marks dry, but it's definitely better than a brown stain on your favorite top. Be sure to also check out the 9 Sephora collection products every woman should own and how to wear cropped flare jeans. [Photo: Shutterstock]
3 Super Easy Workouts You Can Do Right At Your Desk #WellnessWednesday
Worried that sitting at your desk all day is taking a toll on your health? Just moving around even a little bit can make a huge difference. Here are 3 super easy ways to get your blood circulating while you're sitting at your desk at work. Being on a computer or writing can make your hands and arms feel stiff,  so get your arms pumped by taking a few minutes to do 10-15 reps of bicep curls by holding a regular desk objects like a stapler or water bottle. With the item in your hand, hold your arm at a 90 degree angle while you curl your arm towards your chest. This will work out your arms and give them a break from all that computer work. Leg lifts are the perfect desk exercise to work out your leg and abdominal muscles. And the best part? No one will notice you're working out! Just sit up straight in your chair, and while tightening your core, straighten your leg up parallel to your hip. Repeat this 3-5 times for each leg and hold each rep for 5-10 seconds (or as long as you can!). To work out your back muscles, specifically your traps, simply shrug your shoulders up to your ears as far as possible, and hold that position for about 5-10 seconds before relaxing. Continue this 10-15 times and you'll feel the burn in your back muscles for sure! Don't forget to check out 3 all-natural headache cures and quick and easy morning workouts to start your day.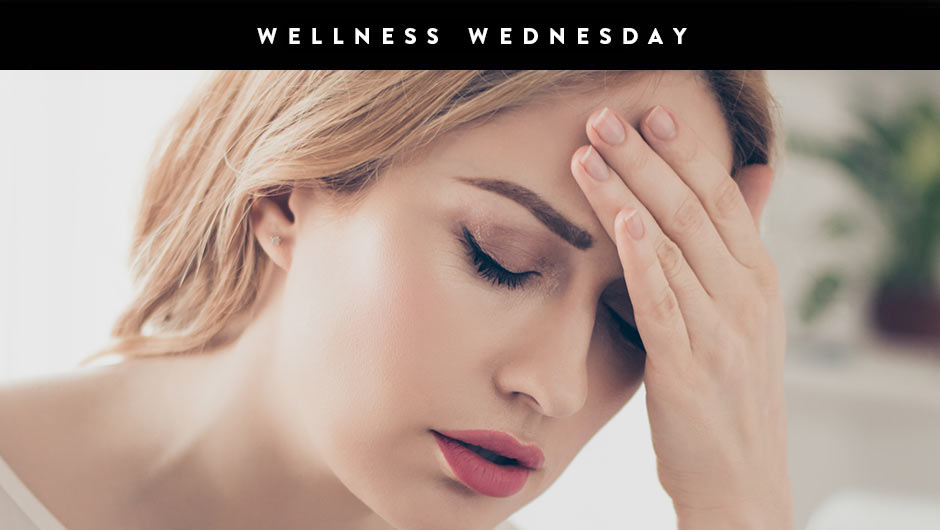 3 All-Natural Headache Cures That Work Almost Instantly #WellnessWednesday
Headaches are the worst. And if you suffer often, loading yourself up on medication probably doesn't feel so good every single time. Trust me, I know from firsthand experience. That's why I'm sharing three of my go-to ways to cure a headache. Not only are they all natural, but they work quickly! One of the best ways to cure a headache is to avoid it in the first place. After many grueling migraines, I realized a common theme: most of the time I felt a headache coming on, it's because I waited too long to eat in the morning or I am super dehydrated. Yikes. It almost goes without saying, but it's easy to get caught up in the bustle of every day life and forget to eat breakfast, accidentally skip lunch or not be conscious of drinking enough water throughout the day. Eating and drinking lots of water is an easy pre-emptive headache! Staying hydrated and regularly eating meals (especially breakfast) can help to avoid a headache or if you feel one slightly coming on eating a quick meal or drinking a ton of water might help reverse it or just stop it from getting any worse. If you have a full blown headache, I feel your pain. A simple way to reverse this headache is to massage your temples with an agent that is known to help headaches. One of the best things you can use is peppermint oil. Peppermint is known to promote blood flow, and is actually a very potent stress relieving scent. If your headache is being caused by stress, peppermint oil is the way to go. If you don't have peppermint oil, ice can be a quick replacement. Using ice cubes to massage your temples or placing a cold cloth on your head helps distract the horrible feeling in your head, but also cools down the lining of your brain that gets inflamed while you have a migraine or headache. Remember these things next time you have a migraine, so you don't suffer in silence. Don't forget to check out quick and easy workouts to start your morning and a super simple and delicious detox water recipe.
The One Morning Mistake Women Over 30 Make That Slows Their Weight Loss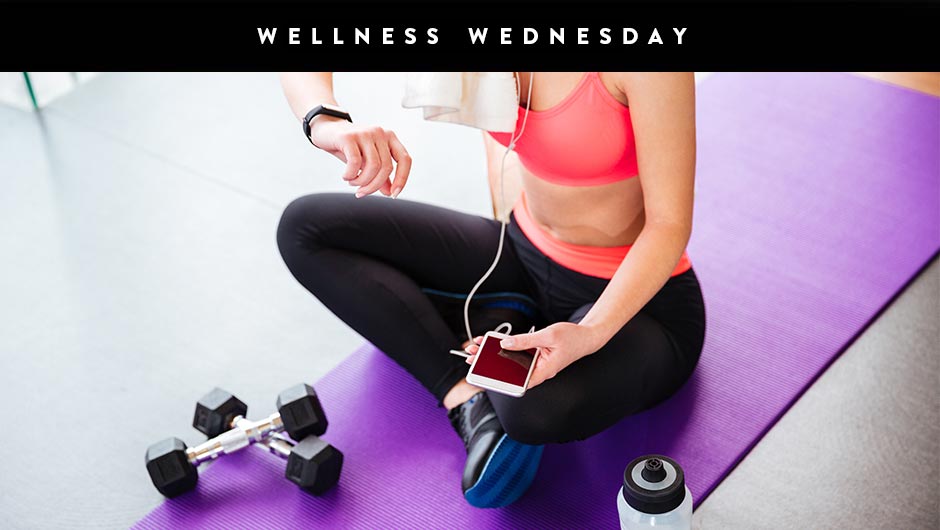 These Quick & Easy Morning Workouts Are The Best Way To Start Your Day #WellnessWednesday
Want to instantly boost your mood every morning? Begin your day with a quick and easy morning workout. Not only will it get you motivated and ready to start your day, but you'll feel accomplished and healthier as you head to work or school. If you're already thinking there's no way to fit a morning workout into your busy schedule, we hear you. Lots of women don't have tons of time for a long exercise routine at the gym. Getting in a quick 10 minute workout at home, however, is totally doable. Plus, it will get your blood circulating, your heart pumping and your body feeling better than ever. Start with these three simple exercises: First, start by stretching for a few minutes. This will increase your flexibility and prevent getting injury during the workouts that follow. This is also a generally good way to relax and relieve stress before your day. After stretching, do 30-50 jumping jacks. This is a super easy exercise that boosts your heart rate and is a great start for the rest of your workout (and day!). Next up, planks. Planks are an amazing exercise because they are so easy; all you need is your own body and they strengthen your core. Holding the plank position for as long as possible (ideally 2 minutes at a time!) and repeat 4-6 times. One last super easy workout is sort of a hack to using weights at the gym. If you don't have time to whip out your at-home gym equipment (or don't have any) getting something heavy like a water bottle or a can of soup can take the place of a weight. Work your arms out with shoulder press exercises while holding your bottles of water. End your workout with another quick stretch or deep breathing and be sure to stay hydrated! Be sure to check out the best candles for relieving stress and calming pillow mists to help you sleep like a baby.