Everything You Need To Know About Cryotherapy (AKA That Weird Thing Lindsay Lohan Instagrammed Last Week)
It takes a lot for us to describe something Lindsay Lohan does these days as unusual, but when the 28-year-old star recently posted a video on her Instagram showing her at a place called KryoLife, entering a chamber set at -256 degrees Fahrenheit, where she would spend three minutes freezing her nearly naked tush off, we thought: well, what the heck is this all about? Ladies, we give you cryotheraphy, a fairly unknown beauty and health treatment that has ancient roots and whose practitioners say it can help heal the body, increase energy, ward off aging, and, yes, make you look more beautiful... by making you really cold. Here's how it works: you book an appointment at a location like KryoLife in New York City, which is the only center on the East Coast (and one of few in the nation) that offers the treatment. A cryosauna operator instructs you to wear protection on your hands, feet, and private areas and then leads you to a cryosauna chamber, where you'll spend between one and three minutes hanging out in temperatures that range between -184 degrees F and -292 degrees F. The treatment is not painful, according to Joanna Fryben, CEO and co-founder of KryoLife, and clients quickly warm up afterwards, and are sometimes asked to perform a short cardiovascular exercise to help their bodies recover. The intense, but brief, burst of extreme cold is said to have health and beauty benefits galore. Some health experts say it can reduce inflammation, increase collagen production, which can help reduce cellulite and signs of aging, relieve joint and muscle pain, increase energy and improved mood, and even boost metabolism, though I should note none of these claims have been evaluated by the FDA. "Everything improves," Fryben said, adding that the treatments are particularly effective for women 35 and older, because they help balance hormone levels and reduce stress. "It's not only physical, but psychological--that's how it helps with overall appearance. You feel mentally and physically stronger over time." Athletes have long been privy to the benefits of cryotherapy, which they say help lessen recovery time between injuries and increase their overall stamina and well-being. And folks over in Europe, particularly in Switzerland and Fryben's native Poland, have been reaping what they say are the positive effects of cryotherapy for decades. But in recent years, American women and men who are not paid for their soccer skills, but are concerned about their appearances and aging (and, in the case of Lohan and other celebs and models, make a living off of their appearances) have turned to the therapy to see what all the hype is about. Fryben offers a cryotherapy facial--$45 per single three-minute treatment--which is different than the overall body treatment because it focuses on applying cold air to the face. In addition to producing collagen, the facial can help with certain skin conditions, including acne and psoriasis, Fryben said. One of Fryben's clients, who is a model, describes her skin after the facial treatment, saying it "looked like she slept all night and had a rejuvenating sleep," Fryben said. But, at the end of the day, is it all hot (or, rather, cold) air? A passing fad? That depends on who you ask. Some medical doctors who are unable to diagnose their client's mysterious aches and pains actually recommend cryotherapy, Fryben said, because it offers a safe, alternative way to possibly reduce pain and inflammation. "We are not doctors here," Fryben stressed. "Cryotherapy enhances what doctors are doing." She also noted that the treatment is not recommended for pregnant women or people who suffer from certain health issues, including untreated hypertension, recent cardiac surgery, and cold allergies. As far as beauty benefits go, some are critical of cryotherapy. Atelier Esthetique–trained Kim Laudati, who is famous for her anti-aging facials at Kim Laudati Skin Care, says she performs a lot of Coolsculpt by Zeltiq treatments, and that Coolsculpt is the only FDA approved permanent fat reduction method besides liposuction. "It's that effective when performed properly," Laudati said. "The science is exact. The fat cells are first to die and they die at 12 degrees Celsius. Any cooler and you do kill skin and muscle, which you definitely do not want to have happen! Coolsculpt is a body therapy specific for freezing fat cells in specific areas that have stubborn fat, such as a muffin top." Laudati argues that whatever skin tightening is occurring with cryotherapy is taking place because of the cellular death of tissues that you want to keep. "I just don't get it. Icing your face can leave a 'burn.' Skin can be irritated and you can actually kill healthy cells. That's why your doctor and physical therapists always tell you to wrap ice, never apply directly to skin! If you're lucky and nothing untoward happens, if the 'freeze' isn't created through machine technology, then your 'anti-aging' will only be very temporary. If it is machine applied, fat cells will die." Whether cryotherapy proves to have lasting anti-aging effects is up in the air. I've certainly heard of more unusual beauty treatments in my time. But the mere fact that Fryben has big plans to expand her business--she says she is slated to open at least three additional treatment centers on the East Coast--is proof that women and men are intrigued and keeping an open mind. And that they're more than willing to shiver a little for the sake of beauty. For more beauty tips, check out the best and worst ways to get rid of facial hair and 7 beauty habits every woman should master in her twenties. [Photo: Instagram]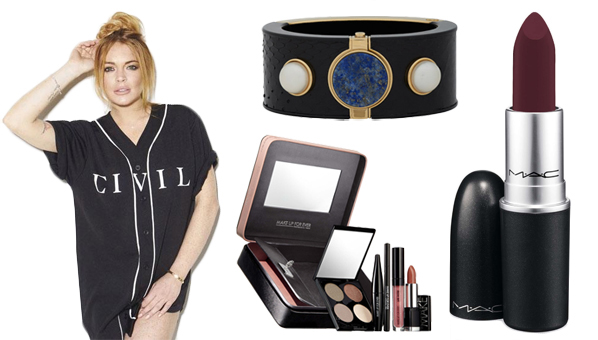 11 December Collaborations: Designers Really Do Save The Best For Holiday
If you're still on the hunt to find the best present for a few folks on your holiday shopping list, then this month's designer collaborations are sure to do the trick—especially if you're looking for beauty products. Nasty Gal, Fifty Shades of Grey, Victoria Beckham, BaubleBar, and Beyoncé have collab collections with major makeup and nail brands out this month. Bey's little sister Solange released a capsule collection of sneakers with Puma again. Opening Ceremony will finally release their wearable tech bracelet with Intel, which looks more like a luxe bangle. GQ is partnering with the Gap to offer some limited edition items that your guy will love this holiday.  Plus Lindsay Lohan teamed with the men's streetwear brand Civil on graphic T-shirts, sweatshirts, and jerseys featuring none other than LiLo herself.  But our favorite collaboration of all has to be  Japanese brand Commes des Garçon and everyone's favorite movie Frozen, which includes quirky printed T-shirts, totes, and scarves with your favorite princesses and snowman. So you can show off your love for "Let It Go" without looking like you walked out of the Disney store. Check out our slideshow to shop this season's collaborations now.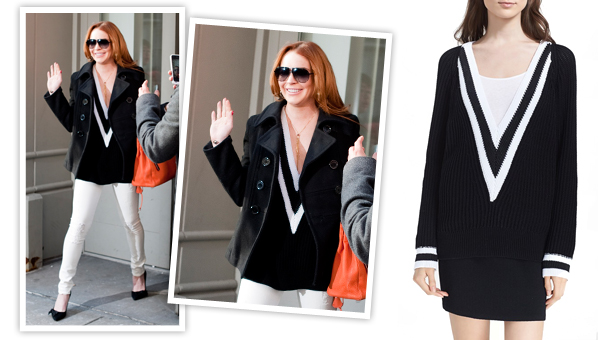 Forget Lindsay Lohan's Reality Show–All We Care About Is Her Rag & Bone Sweater
She may be a total D-list celeb now, but Lindsay Lohan can still dress like a star. Case in point: this rag & bone Talia V-Neck Sweater ($395). We're not even being sarcastic when we say, "Great choice, Linds!" We actually really love this sweater--so don't be alarmed, it's not just you who's already justifying buying a sweater when you should be splurging on spring things. Go ahead--get yours below! rag & bone Talia V-Neck Sweater ($395) Don;t forget to shop more A-list style such as Khloe Kardashian's sweatshirt, Nikki Reed's TOMS sunglasses and Cara Delevingne's fave tees. [Photo: Splash News]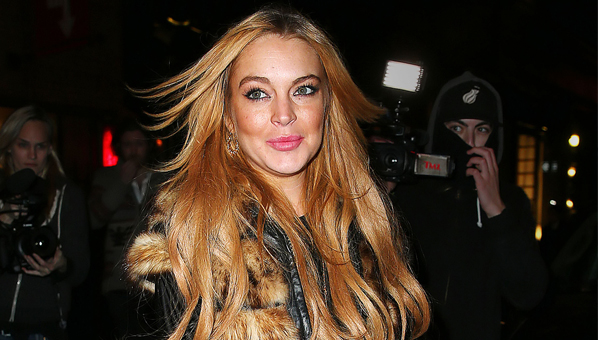 Lindsay Lohan's 'Comeback' Continues With A Tell-All Book We're Totally Reading
It seems as if Lindsay Lohan is steadily setting the stage for a comeback. Yesterday, she posted a snap of her sitting in a recording studio to Instagram. Today, we hear the Mean Girls actress is shopping a tell-all book about her life.  According to Crushable, Linsday's leafing through the diaries she kept in rehab to help inform this latest effort. TMZ says she's already sat down with publishing executives at Waxman Levall, and the meeting was filmed for her docu-series on OWN. Not gonna lie--we kinda missed LiLo and her less self-destructive antics. It's good to see her working and trying to move on from the past, but we wonder if it is too late for Lindsay to come back into the spotlight. Is this a desperate attempt for a washed-up "it" girl to return to her former glory? Either way, we will definitely be picking up this book if it ever gets published. Tell us what you think in the comments below! Want more Lindsay? Get into her courtroom outfits, gym gear, and find out what became of her Emmanuel Ungaro collaboration. [Photo Credit: Splash News]
Lindsay Lohan Wore 3.1 Phillip Lim Fall 2012 To Court Yesterday
The perp walk is the new step and repeat for Lindsay Lohan; as her scuffles with the law become become more and more frequent, her court outfit choices have eclipsed her red carpet ones. Last year, the Kimberly Ovitz dress she wore to a court appearance sold out immediately, yesterday she wowed courthouse onlookers in a white 3.1 Phillip Lim suit from his Fall 2012 collection. Her latest judicial style selection is a matchy-matchy top and bottom with a sheer neckline and sleeves, a slight peplum silhouette, and skirted trousers. As Fashionista pointed out, Lohan also accessorized with a rosary, which seemed to work for the Mean Girls star, who avoided jail time by cutting a plea deal in which she'll spend then next 90 days in rehab. So, this was also her "farewell" outfit, too. What do you think of it? SHOP 3.1 PHILLIP LIM NOW For more celebrity style--not in the courtroom--get Sienna Miller's printed pants, Jessica Alba's printed pants and Selena Gomez's accessories. [Photo: Splash News and Fashionista]
What Do LiLo, Miley Cyrus & Kate Moss Have In Common? These Siwy Short Shorts
What an interesting mix of gals to share a pair of Siwy Camilla Cut Off Shorts in Snowstorm ($165). First, Lindsay Lohan shows some skin with the super short shorts, while still trying to conceal herself from what is most likely a swarm of paparazzi. Then, Miley Cyrus (pre-gluten-free) is clearly at peace with her cut-off pair. And finally, we have ultimate style icon Kate Moss, who's perfected the look of cut off denim shorts with a pair of muddy wellies—as seen at many summer festivals by more stylish It girls than we can keep track of. What makes these shorts your top choice for summer is its bright white shade, which goes with just about anything in your wardrobe. Plus, Siwy claims these cut offs won't continue to fray or get any shorter. As if this tiny pair can get any shorter! Siwy Camilla Cut Off Shorts in Snowstorm ($165) Shop more celebrity style finds: Jessica Alba's TOMS shoes, Rachel Bilson's dress, and Reese Witherspoon's accessories.
Why Does LiLo Look So Good? We're Giving Credit To Genetic Denim And Court-Ordered Therapy
Refinery29 just scooped us to this photo of Lindsay Lohan looking unbelievably good -- we say "unbelievable" because the poor thing has looked pretty rough for months. From the stained, chipped teeth, to the over-done lips, our Lindsay has had a rough yea. I guess she's trying to end 2011 on a good note, because she just stepped out in L.A. looking like a bona fide movie star. Maybe it's because she's actually doing her court-ordered community service and therapy? Or maybe its just that pair of Genetic Denim Shane Cigarette Pants ($187) and a blow-out from Ken Paves... (more…)
Lindsay Lohan Shows Us How To Wear Spring Fringe (No, She Didn't Get Bangs)
Lindsay Lohan and her L*Space Fringe Monokini While fringe often reminds us of warm Minnetonka boots and leather jackets (ala Sloane Peterson in Ferris Beuller's Day Off), it obviously reminds Lindsay Lohan of the beach. And surprisingly, we think Lilo's fringe swimsuit may be one of the few good decisions she's made in recent history--so good, in fact, we want to integrate the fringe trend into our own spring and summer wardrobes. Lucky for you, this L*Space Fringe Monokini is on sale for $97.60 (down from $122.00) here at Zappos.com. Or, check out some of our favorite trends in spring fringe below: (more…)
Lindsay Lohan Cleans Up For Court Wearing…Sailor Pants?
Lilo kept it classy but casual at court on Friday Okay, so it's definitely a step up from the taupe minidress, but Lindsay Lohan's (final?!) courtroom look, which she displayed at her April 22nd preliminary hearing , seemed slightly more fit for a day of shopping in Santa Monica than it did negotiating her imminent jail time.  The 24-year-old actress wore a long-sleeved, black Wolford top, Lanvin sailor pants, and round sunglasses (which she allegedly wore INTO the courtroom). Lohan's Friday hearing resulted in less than 5 hours of jail time, which she got out of when she posted $75,000 in bail. For more celebrity news, be sure to check out our complete coverage of celebrity style or sign up for our newsletter.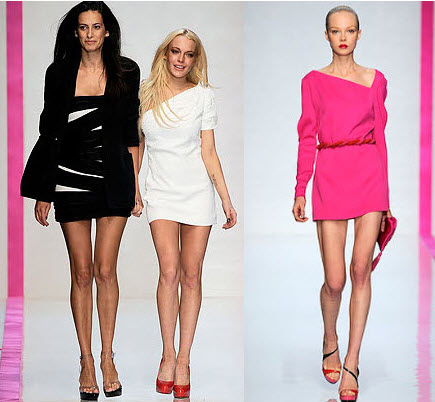 Lindsay Lohan's Never-Been-Sold Emanuel Ungaro Dresses Have Resurfaced On eBay
Well, this proves our theory that everything ends up on eBay sooner or later... Four dresses from Emanuel Ungaro's famously-failed spring 2010 collection, designed by Lindsay Lohan, and, according to ELLE, weren't sold in stores,  have popped up on eBay, and thanks to Imaginary Socialite's eagle eye, she caught them before they were scooped up. The pieces are being sold by an online vintage retailer, Style Bug. Get it now, then sell it on eBay again in a few years when it's novel again. And don't miss the best sales and deals, plus tons of best find of the day options to choose from.
Oops, She Did It Again: Add This Taupe Minidress To Lindsay Lohan's Rap Sheet
We know Lindsay Lohan needs to stop frequenting the courthouse, but we can't help but follow her there. This time, she rocks a $724 Raquel Allegra taupe leather mini dress with classy black tights and booties. Looks like LiLo learned how to keep herself (and her panties) under wraps for the judge, unlike last time in this number. Could this be a sign for things to come? Or should we just thank her evil eye jewelry for helping her dress conservatively? (more…)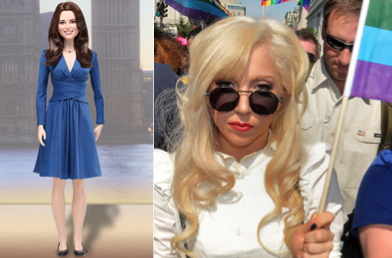 Juicy Conversation Topics For This Weekend: Kate Middleton Dolls, LiLo's Necklace, More
Happy Friday (!) Time to educate yourself on some of the hottest gossip from the week. Perfect for talking to new people or your best friends. Let's have a look: Lindsay Lohan might have been caught red-handed, but that's no reason not to not make a few dollars by putting the stolen necklace up for auction. Shop quick, there are only 5,000 Special Edition Kate Middleton dolls available worldwide. Creepy or flattering? Lady Gaga goes so far to protect those "Born This Way," she canceled her exclusive CD showcase at all Target locations. (more…)
Get Your Gossip On This Weekend With 7 Hot Messes Of The Week
Maybe you're traveling, maybe you're relaxing at home. But it's Friday and you need to be prepared for whatever conversation comes your way. Here are our top picks from the past week to make sure you don't encounter any awkward silences. Designer John Galliano got the boot from Dior for his rants and raves and ridiculous comments. Whoopi Goldberg blames the booze. The newest cast of Celebrity Rehab with Dr. Drew has been released with Lindsay Lohan's dad and the Real Housewives of DC party-crashing Salahis. Thought men didn't like Sex and The City? Think again. HBO announced a new show called '40' which is the male counterpart to Carrie, Samantha, Miranda, and Charlotte. (more…)
Week In Review: Juicy Couture Sues Over Fonts, Kim Kardashian Designs With House Of Harlow Guru, Target's New Dresses, More
Must Reads: Juicy Couture sues men's jacket company, Jesus Juice Couture, over stolen fonts and names, reported first on SHEFinds. Kim Kardashian borrowed Nicole Richie's jewelry designer in order to create Kim's new jewelry line, Belle Noel. Read up on our guide to Milan's Fashion Week, from the comfort of your home or office. We get a peek at Target's release of 34 dresses from 17 designers under $50 collection. (more…)
Lindsay Lohan's Warding Off Bad Vibes With A $3,000 Evil Eye Jewelry
We know how much Lindsay Lohan loves to make a courthouse statement (remember that white dress?), so we couldn't help but notice her good luck charm this time around. Lohan was seen with a $3000 evil eye necklace, which hopefully wasn't stolen. And since evil eyes, like the Kara Ross and Tory Burch jewelry, are suposed to be lucky, we hope it works on Lohan's behalf. (more…)
Lindsay Lohan's Arresting White Dress Sells Out Everywhere (But We Found It In Black)
White dresses are having quite a moment. First, everyone freaks out over Kate Middleton's white engagement dress and now, it's Lindsay Lohan. The white dress she wore to the courthouse, a Kimberly Ovitz white dress called the Camden Horton, sold out nearly immediately. We found it in black--and some similar versions, too: In our opinion, this is even sexier (though probably not exactly courthouse appropriate). Sorry, Lins. Grab the Kimberly Ovitz Camden Horton dress from Net-A-Porter now for $575. Still set on a white long sleeved dress like Lindsay Lohan's? Keep reading: This Elie Tahari dress is similar to Lindsay Lohan's Kimberly Ovitz dress--it's got texture, making you stand out, even if you're not a movie star. Get it for $285. This Jonathan Saunders colorblock dress is a great day-to-night option ($150, from $375). Check out all of our guides to dresses, plus the best pumps, jackets and bras to wear with it. Don't miss out on our hand-picked sales, either.
Former BFFs Nicole Richie And Lindsay Lohan Hit The Gym In Matching Nike Workout Pants
Nicole Richie and Lindsay Lohan may not be friends anymore, but both showed a newfound commitment to health by hitting the gym this week in matching Nike capris. (We're glad they don't look like this anymore.) Their fitness fashion routine is the same: printed scarf, oversize sunglasses and black handbag, black top and Nike leggings: See what else we're wearing this season with all of our winter trends. Shop our guides to the best coat trends, the best jackets, and the best military jackets. Subscribe to our online mailing list for SHEFinds in your inbox. Follow the author of this post on Twitter @bridefinds.
Top 10 Of 2010: The Worst Dressed Celebs (GaGa, Lohan, More)
As much as we love to look back on the year's best dressed celebs, we figured we'd round-up the worst dressed ones too: Jessica Simpson: Repeat Offender Come on, Jess, printed tents and picnic blankets do not make maxi dresses. Too bad you didn't learn that the first time. Lady Gaga: Most Likely To Get Stopped In Security Whether its 7 inch platforms or a white lace bra, neither of which are quite airplane appropriate. Britney Spears: Lifetime Achievement Award Yikes - we think a Dr. Phil "What Were You Thinking?" intervention is the only cure for Britney's poor fashion choices. Madonna: Head-To-Toe Hot Mess The queen of pop really has no other excuse as to why she combined swishy pants, argyle socks, and a fedora. And if she does, she should lie. Dancing With The Stars: Worst Of Prime Time Although we love see Kate Gosselin make a fool or herself, these 16 worse DWTS outfits were hard to watch. Christina Aguilera: Worst Coffee Run It looks like Christina is hiding more than just a genie in a bottle under her extremely baggy sweats. Lindsay Lohan: Most In Need Of Fashion Rehab Lilo's beyond ugly outfits might have something to do with why she's isn't Hollwood's next It Girl. Miley Cyrus: You Can Take The Girl Out Of The Country... Miley, we get it - you have nice legs. Stop dressing like a hooker to show them off. Gossip Girls: When Good Girls Do Bad Things Blake and Leighton are going to start their own gossip in these dresses, which should have been left in the bedroom. Katherine Heigl: Worst Cupcake-Like Confection The brown hair aside, we'd rather see Heigl's ruffled cupcake dress at a birthday party than on the red carpet. For more holiday must-haves, check our Sold Out list, more Going Going Gone posts, and then head over to our guides of the best cocktail rings, party dresses, earrings, party shoes.
The 9 Worst Celebrity Halloween Costumes, From Kim Kardashian To Lindsay Lohan
We normally love celebrity style--but we're not so keen on their choices of Halloween costumes. From Tony the Tiger to a pirate wench, we recommend branching out and creating your own costume - maybe Lady Gaga or Ke$ha or even Michelle Obama. Either way, check out these celebrities who take Halloween to a terrifying level: Feeling inspired? Check out all of our other Halloween costumes. Shop our guides to the best tights and the best black dresses. Subscribe to SHEFinds for exclusive fashion e-mails, and tell us what you're dressing up as for Halloween this year.
Lindsay Lohan Could Use Another Intervention – This Time On Her Closet
Linsday Lohan has a little bit more to worry about than her weekly drug test. Since leaving jail/rehab, her outfit choices have been questionable at best (leggings under shorts?). While we're happy she hasn't had any more legal mishaps since she got out of the big house, she's certainly had a view wardrobe ones, and this outfit is one of them: What She Did Wrong: If she's going to wear short shorts, she cannot wear thick leggings under them. She should have gone with sheer tights, if at all. Her oversized olive, bedazzled green hoodie seems a little out of place on this sunny day. Are those velcro shoes (?!). What She Should Have Done: LiLo needs to swap that sherpa fleece for something a little more flattering. We recommend this Jarbo Oversized Sweater ($216) to go over a pair of leggings or skinny jeans. Instead of trying to wear denim over spandex, she should have combined the two with a pair of jeggings. We recommend these black Paige Verdugo Jeggings ($148) - they're thicker than the average leggings, yet give you the chance to exhale. When Lindsay gives her grandma back those sneakers, she's going to need something for her feet. With leggings, these Charlotte Russe Slouchy Booties ($25.50) are perfect. They only come up to the ankle and are just as comfortable as a pair of sneakers - without looking so athletic. We do applaud her sunglasses choice since aviators look awesome on everyone so grab a pair in black, they're edgy and will replace your large round plastic frames. These AJ Morgan The Rope Sunglasses ($20) are available in 4 shades - one sexier than the next. Check out more wacky celebrity outfits with more of our Red Carpet Re-Dos. Shop our guides to the best leggings and the best sunglasses. Subscribe now for exclusive fashion updates.
Lindsay Lohan Fans Show Support By…Going Tanning
Sad but true, the $5 billion industry has seen a 22% increase nationwide as of late--so much for that tanning tax. But thanks to convict Lindsay Lohan and the notorious pumpkins of the Jersey Shore, indoor UV tanning is becoming more popular than ever. Rallies were  held to show support for LiLo ("We Miss You" signs included) at fake-and-bake place Beach Bum Tanning. We'd rather stick to self-tanners and enjoy a cancer-free life; check out our favorite faux tan creams we've tested. Show off your tan with our favorite white dresses for your shape. Make your tan last by shopping our guides for the best sweat fighters and the best skin care products. Sign up for SheFindsMail to receive exclusive fashion and style news stories.
Daily Links: Madonna Photographs Taylor Momsen, Essence's Fashion Director Drama, More
1. Madonna got on the other side of the camera to shoot spokesmodel Taylor Momsen for the Material Girl for Macys campaign. [Jezebel] 2. LiLo's royal jailtime treatment continues. The convicted celeb can keep her extensions in because they're not detachable, at least until someone yanks them out. [Stylelist] 3. African-American fashion mag Essence caused a controversy by hiring a Caucasian fashion director. See what the Editor-in-Chief had to say. [Glamazon] 4. Sports and fashion have mixed again (think: Armani for Rebook and Stella McCartney's Olympic uniforms). Now Dolce & Gabbana will be designing the Chelsea Soccer Club's formal attire: a 3 piece suit, button down shirt, and tie, all in team colors. [WWD] Don't miss a thing with all of our Daily News posts. Shop our guides to the best dry hair repair products and the best celebrity jeans. Sign up for exclusive fashion e-mails.
Daily Links: Pre-Jail Lindsay Lohan Speaks, Sales Up For Hermes, New Tommy Hilfiger Line, More
1. Lindsay Lohan gave an exclusive interview before heading to jail, in which she plugs her clothing line. Guess she's got legal bills to pay. [Stylelist] 2. Hermes reported a 23% increase in sales for the first half of 2010. Maybe it's because there's no wait list for the Birkin bag. [Bloomberg] 3. If you don't waist enough time shopping online already, create your own boutique with PopSugar's Retail Therapy game on Facebook. [FabSugar] 4. Get a blast from the past (specifically, middle school) with Tommy Hilfiger's newest line, Tommy. Expect feminine and flattering military and menswear styles. [Refinery 29] Stay up to date with all of our Daily Links. Shop our guides to the best designer handbags and the best really big tote bags. Subscribe to our newsletter for more fashion news.
Daily Links: Designers Cut Off Lindsay Lohan, Kate Moss' New Longchamp Handbags, More
1. Is there anything Kate Moss can't do? The model revealed her second line of Longchamp handbags for fall 2010, and they look pretty cute. See her Topshop collection, and then shop our favorite chain strap bags. [Stylefrizz] 2. According to The Cut, designers aren't letting Lindsay Lohan "borrow" clothes anymore. We're sure her alcohol-monitoring ankle bracelet has something to do with that. [The Cut] 3. Brands like Dolce & Gabbana, Emporio Armani, and Y-3 are designing clothes inspired by the World Cup field. [WWD] 4. Bridezillas, rejoice. Tiffany & Co. launched an iPhone app that lets you peruse engagement rings and wedding bands via your cell. Casually download the app to his phone if he hasn't gotten the hints yet. [The Frisky] Stay in the know with all of our daily links. Check out our guides to the best pencil skirts, the best blazers, and the best leggings. Receive updates in your e-mail with our newsletter.
Red Carpet Re-Do: Add This Horrendous Outfit to Lindsay Lohan's List of Woes
Lindsay Lohan is due in court today to sort out this whole probation-violation, lost passport thing - but it's probably easier to sort out her fashion woes, not her legal ones. While partying hard in Cannes last week, Lindsay wore this Hell's Angels meets hooker get-up. A good rule of thumb: get dressed before drinking, LiLo. What she did wrong: Lindsay has great legs, but if we've learned anything from Amanda Seyfried, there are much classier ways to wear shorts at night. It's almost June, and Lindsay is wearing winter trends head to toe: from the tuxedo jacket, to the black stockings and wool hat. She should definitely lighten up. There are only two appropriate places to wear a biker cap like Lindsay's: a theme party or a Village People reunion. What she should have done: Lindsay should have gone for a chain necklace like this Simply Vera by Vera Wang silver-tone chain-link ($22.40, down from $32) to satisfy her biker urge instead. Lindsay should try turning heads a better way - with pretty, understated pieces like this Ella Moss Parasol Tank ($78). We love the detail on the back - it's the start to a perfect summer outfit. Lindsay's shorts were a wee bit too short - let's leave something to the imagination. We absolutely love these BCBG MAX AZRIA Micro Sateen Shorts ($118). The satin is chic for nighttime and the length is just right. She should have skipped the stockings and gone with a bare leg and more seasonal-appropriate shoe - like a sexy neutral pump. We think these Steve Madden 'Caryssa' Pump ($89.95) are perfect - the high heel makes legs looked more toned. See what other stars have been off the fashion mark with all of our Red Carpet Re-Dos.  Find the best celebrity style with our star fashion guides, including the best celebrity jewelry, the best celebrity sunglasses, and the best celebrity denim.
Lindsay Lohan Expands Her 6126 Line To Include Handbags (And Everything Else)
Lindsay Lohan designing for Emanuel Ungaro was short-lived, but the actress turned "designer" continues to grow her 6126 line, which started with just leggings, and will expand to include apparel, swimwear, shoes, cosmetics, and handbags, according to WWD. The 6126 apparel, which will launch in 2011 (above) looks like a higher end version of club clothes from Forever 21, but the handbags (below)  are a bit more promising. Expect 12 styles from the line, priced from $165 to $395, to be in stores and online for holiday 2010.  Get a sneak peek of the bags below: Lohan will also launch a less expensive diffusion handbag line, 7286 (her birthday), that will be available in Dillard's nationwide for 2011. She must be doing something right. Check out our guide to the best chain strap bags, the best evening bags, and the best overnight bags.
Daily Links: Lindsay Lohan Hawks More Clothes, Katie Holmes In Sweatpants, More
1. Though Lindsay Lohan's gig for Emanuel Ungaro didn't work out, but that won't stop the falling starlet from expanding her 6126 line of leggings into a 280-piece fall collection that will include hoodies, cardigans, and mini dresses. [The Cut] 2. Katie Holmes looks super dowdy in a pair of sweatpants. We wonder if she would spend $1,000 on a pair from Michael Kors. [The Frisky] 3. Nylon showed us the pics from Rebecca Minkoff's fall 2010 look book. Is it a problem that we can only focus on the bags? [NylonMag.com] 4. Woody Allen's camp dispels rumors about his new movie to rest: he didn't axe Carla Bruni for Marion Cotillard. Instead, they'll both appear. We hope Carla takes our advice and wears a bra to rehearsal. [CNN.com] Check out more news, and then see our guide to the best skinny jeans, and the best blazers.
News: Proof Emanuel Ungaro Is Way Better Off Without Lindsay Lohan
WWD reported today that Lindsay Lohan, former Emanuel Ungaro "design consultant," wasn't present at the fall 2010 Ungaro presentation in Paris this morning, nor was she involved in design process-- and it shows. Ungaro designer Estrella Archs presented a collection of pretty clothes this morning that stuck to the Ungaro roots --bold prints and bold colors -- but that deviated away from last season's Lohan-influenced spring 2010 collection that was tacky and unwearable. Check out the drastic comparison shots--(on the left is Lindsay's collection and the right is sans Lindsay's input), plus similar pieces from the better runway show you can buy now. It's no surprise that Lindsay would suggest dayglo ruched leggings. While Lindsay lives in leggings, some of us have to work for a living. We much prefer the  pair of cropped slacks from the fall 2010 show. These J.Crew Stretch Wool Cropped Trouser ($118) can be dressed up with a bold top similar to the Ungaro look. Without Lindsay's input: Oh, Lindsay. A triangle cut-out in the center of a dress works for about one tenth of the population. The photo on the right, though, with its one-shoulder on this fall 2010 printed mini-dress presented today is covered up enough to make it wearable. This Alice & Olivia Elyse One Sleeve Dress ($231) has a similar shape to the Ungaro dress. The sheer sleeve makes the dress feminine and sexy. At left, is Lindsay's train wreck of a dress. We are big fans of a deep v neckline--it opens up your torso and makes you look slimmer--but if boob spillage can occur, it's too low. The neckline on the red satin dress, however, looks like something we'd actually wear--and looks wardrobe malfunction-free. This Aqua red corset dress ($50, on sale from $168) also has a sweetheart neckline and the same rich red color as the Ungaro dress. See more of our fashion week coverage, then a roundup of the best celebrity dresses and celebrity shoes we want to wear.
Red Carpet Re-Do: Lindsay Lohan Dresses Like Aladdin In Vegas
At an event for Milan Fashion Week, Lindsay Lohan was a head to toe hot mess (as Christian Sirano would say) leaving us confused, and frankly a little uncomfortable.  We know Linds has a house full of clothes, so why this particular combination? In this ugly edition of Red Carpet Re-Do, we show how Lindsay went desperately wrong--and how to make it better: What She Did Wrong: Sequins, prints and fur? We like mixing prints, but we're getting a headache. If a fashion genie could grant us one wish, we would ask that no one ever again be allowed to wear sequined, printed, drawstring genie pants. Big bangles or a chunky necklace, not both. Loose fitting clothes in dull colors like gray and brown are better suited as pajamas, not as red carpet attire. What She Should Have Done: Stick with simplicity on top if you're going bold on the bottom. Instead of Lindsay's furry vest, we recommend a more versatile tuxedo style.  This vest by J.Crew ($148) can be worn casually during the day or dressed up for work or an evening event.  Throw on a crushed silk tank top, like this one also by J.Crew ($65) and you've put together a classically chic look. Unlike Lindsay's heinous take on printed sequins, this DKNYC sequin mini skirt ($74.50) is seriously stylish.  We've been lusting over these L.A.M.B Z-Project heels ($303) for some time now, and we think the way your legs will look in them will be well worth the splurge. Metallic accessories tie together the different elements of the outfit This chain link necklace by Betsey Johnson ($88) plays off of the black metallics of the skirt and could be worn a completely different way with a simple t-shirt and jeans. CC SKYE chain link clutch can be worn across the body or held as a clutch. Get more evening wear ideas with our guides to party dresses.  Find out about all the best online bargains with our list of this week's online sample sales.
More News: Ungaro's President Leaves (But Lohan Stays), New Zealand Loves Leon Talley
1. French fashion house Emmanuel Ungaro has been in the news quite a lot lately, after stirring up publicity by naming Lindsay Lohan creative director. Today, WWD reports the mastermind behind the publicity stunt, president of Ungaro, Mounir Moufarrige, has resigned.But in a strange twist of fate, Lindsay Lohan will stay on as creative director. Are you as surprised as we are? Meantime, peruse our guide to celebrity dresses and get some awesome party shoes, too. [WWD] 2. In other fashion-meets-celebrity news, Andre Leon Talley will be a judge on America's Next Top Model for the entire next season. Currently filming in New Zealand, the native Kiwis are going crazy for the cast since apparently celebrities rarely frequent the country. By the way, have you taken a  Taste Test, or done any Fashion Math lately? [The Independent].