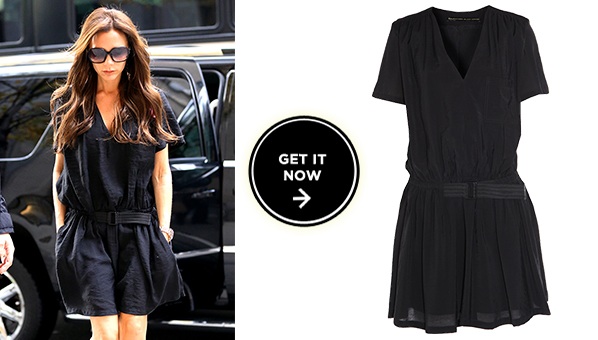 Victoria Beckham Knows LBDs Aren't Just For Night; Get Her Daytime-Worthy One
While out and about in New York City, Victoria Beckham strutted her stuff in the city's unofficial color (black, of course), sans baby daughter Harper who has been spotted front row at fashion shows and such. She may be a fashion mogul with her own designs (especially her lower-priced line on Net-A-Porter), but the wife of soccer stud David Beckham knows how to pay her compliments to fellow designers. She is donning a Balenciaga Belted V-Neck Dress ($1,795) which drapes beautifully across her slim frame. However, the dress seems to suit all body types, cinching in at the waist with a belt and soft pleats on the bottom. If you're in need of that simple, go-to LBD, this is your dress. Shop below. Balenciaga Belted V-Neck Dress ($1,795) [Photo Credit: Splash News] Shop more inspiring celebrity style such as Jessica Alba's outfit,Isla Fisher's sweater, and Rihanna's slick jeans.
The Sheerer, The Better When It Comes To LBD's These Days
The combination of sheer and black fabrics have set off a major trend in the LBD realm, which we've seen on Stephanie Pratt, Mila Kunis, Demi Lovato, and Megan Fox. It's a stylishly sly way of showing some skin without worrying about looking a bit off-putting, or in simpler terms, trashy. Placement of these sheer panels is key for designers, as they can flatter, accentuate, or create illusions depending on where they lie on the body. We decided to focus on the popular chest area, where if we were to remove this see-through material, then every girl in the photo above would look like they were pulling a J.Lo's Versace dress circa 2000 Grammy Awards (remember?!). So as a modest solution, these simple sheer details are everywhere when it comes to red carpet appearances and to be honest, we think the look is quite chic! SHOP SHEER PANEL DRESSES NOW Shop more celebrity style finds: Kim Kardashian's chain necklaces, Katie Holmes's $50 top, and Miranda Kerr's star-printed blouse.
If Olivia Munn Can Wear A $29 Dress On The Red Carpet, You Can Wear It On Your Next Date
We love Olivia Munn for her down-to-earth attitude when it comes to fame and dressing up. Our favorite example so far? The funny girl/actress showed up at Us Magazine's recent soiree in an ASOS Midi Tank Body-Conscious Dress ($29.09). Yup, you read that right. Her LBD costs as much as a mani/pedi, which you can simply sacrifice for this timeless purchase. Plus, you can style this soft jersey midi in more than a million ways. Take a note from Munn and add on a statement necklace. Or get totally vampy with a pair of cap-toe or neon stiletto heels. Or keep it casual and throw on a chambray shirt with a pair of Superga sneakers. The list goes on! ASOS Midi Tank Body-Conscious Dress ($29.09) Shop more celebrity style finds: Rachel Zoe's sunglasses, Beyonce's printed pants, and Miranda Kerr's gym outfit.
Johnny Weir Set To Launch A Line Of Little Black Dresses That Both Lady Gaga And Michelle Kwan Would Approve Of
Johnny Weir (left) and a sketch of one of his Little Black Dresses (right) Johnny Weir seemingly has it all: he's a major international figure skater and U.S. Olympian, friend of Rachel Zoe's, and, like another friend of Rachel Zoe's, Nicole Richie, Weir can now say he's a fashion muse turned designer. On April 30th, Weir will launch his first line of "Little Black Dresses" exclusively for edressme.com.  As the most stylish figure skater around, though, we can't say we're super surprised. Here are the details: according to WWD, the dresses will range in price from $198 to $298, and be fashioned from rich materials such as ostrich feathers, sequins, and silk taffeta. Lucky for us, sporting one of his gorgeous creations requires no former ice skating experience. For more news and celebrity style coverage, be sure to sign up for our newsletter.
Meet Your Best New Year's Dress EVER: It's Sparkly, Black And 70% Off
Every its the same old song and dance: New Years Eve rolls around and I'm standing in my closet scratching my head. Why didn't I buy something cute ahead of time, and how do I stand out in the see of little black dresses and bar tops at the club? I think there is an old Chinese proverb that says what you wear on New Years dictates your good luck for the rest of the year. Ok, that might not be entirely accurate, but I can tell you if you show up in this sexy Juicy Couture Sequined silk-chiffon dress ($105, down from $350) you'll at least get lucky that night. This sequin mini dress is 70% off to boot. Shop more festive attire, from party dresses and little black dresses, to cocktails rings and statement jewelry. See what else we're wearing this season with all of our winter trends. Shop our guides to the best coat trends, the best jackets, and the best military jackets. Subscribe to our online mailing list for SHEFinds in your inbox. Follow the author of this post on Twitter @bridefinds.
Can You Tell Which Ruffle-Sleeve Dress Is DVF And Which Is French Connection?
See if you can spot all the deals in our taste test archives, and then head on over to our guide to the best black dresses. Get the best sales and deals on our online sample sale page.
Can You Tell Which Little Black Dress Costs $900 More Than The Other?
For more sales and deal on little black dresses, check out our guide, then head over to our guides of celebrity dresses and black pants for your shape. Join our e-mail list for exclusive fashion updates right in your e-mail.
Can You Tell Which Black Lace Dress Is DVF and Which Is Topshop?
For more sales and deal on little black dresses, check out our guide, then head over to our guides of celebrity dresses and black pants for your shape. Join our e-mail list for exclusive fashion updates right in your e-mail.
Shop HSN And Lucky Magazine's Capsule Collection On Sale Today
With Rachel Zoe and Janie Bryant both having lines for QVC, it's safe to say that home shopping networks aren't what they used to be. Which is why we got pretty excited when we heard about the HSN capsule collection with Lucky Magazine, which includes pieces from Thread by Thread Social, Linea Pelle, and Matt Bernson and is being sold at discounted prices for a limited time on HSN today from 1pm to 3pm and 10pm to 12am. (If you miss the "event" today, don't fret, you can shop the full-priced line HSN): Linea Pelle There's no denying that the LP by Linea Pelle "Newport" Leather Satchel ($249.90 now, $219.90 at event) is the ultimate fall accessory. The rich caramel color, convertible straps, and the sheer size - need we say any more? There's something about studs and leather that is just so perfectly classic so this LP by Linea Pelle "Newport" Stud Leather Belt ($79.90) makes us oh-so-happy and oh-so-excited to snatch up more than one. Cross-body bags are the best going out pieces and with a classic cut and color like this LP by Linea Pelle "Catalina" Leather Crossbody ($149.90), you can't go wrong. Thread by Thread Social We love the way this Thread by Thread Social Long-Sleeve Sweater ($59.90 now, $49.90 at event) fits and the charmeuse bow makes it effortlessly chic. Wear it with skinny jeans for a night out with the girls. The basic drop-waist and looser fit of this Thread by Thread Social Knit Dress with Dolman Sleeves ($59.90) makes it super comfy and easy to dress up with a pair of peep-toe pumps or down with a pair of boots. Every girl needs an LBD and this Thread by Thread Social Ponte Dress ($79.90) is a perfect choice. Kick it up a notch with some sparkly bracelets and pumps. Matt Bernson If there's one shoe that screams 'fall,' it's this Matt Bernson Special Project "Bomber" Leather Boot ($199.90 now, $189.90 at event). We'd love to rock these this season with a faux fur vest. The metallic cap toe and comfy leather of this Matt Bernson Special Project "Waverly" Leather Flat ($89.90 now, $59.90 at event) will make you want to buy it in several different colors. A good boot transitions well from fall to winter and Matt Bernson Special Project "Tundra" Suede Motorcycle Boot ($199.90 now, $179.90 at event) is one of those boots. We absolutely love the soft fabric and edgy details. Check out our guides to find the best fall fashions like jeggings, off-the-shoulder tops, celebrity handbags, and military jackets. Subscribe to SHEFinds for fashion updates and exclusive newsletters.
Kate Winslet Shows How To Spite Your Ex In A Killer Little Black Dress
Since news of Kate Winslet's divorce from director Sam Mendes last year, we've been scratching our heads. Who would let a hot piece of actress like Kate Winslet get away? Now that we see who she's moved on to - a gorgeous male model - we understand. Kate, with the model in tow, wore the perfect make-your-ex-jealous little black dress to a Vanity Fair party last night, and we just need to try it ourselves (college reunion, anyone?). The banding on this Express Banded One Shoulder dress ($79.99) amps up the sexiness, and with an under-$80 price tag, who could say no? Sexy draping makes this Riller & Fount One Shoulder dress ($137) a hot number. At under $150 - it's also quite a steal. Genius ruching on this JS Boutique One Shoulder Matte Jersey Sheath dress ($118) will make you look (almost) as hot as Kate in an instant. All you need is a killer heel to seal the deal like these neutral Charles David Jocelyn pumps ($250) in the camel color. For more date night-worthy pieces, check out our guides to the best black dresses, sexy bras, and push-up bras. Follow the author of this post on Twitter @bridefinds.
Kelly Osbourne Looked Sexy & Skinny At Fashion Week In (What Else?) A Little Black Dress
It was very obvious that Kelly Osborne was enjoying herself at the Tracey Reese show at New York Fashion Week. And hats off to the slimmer, healthier Kelly 2.0, for glowing in this very fitted lace little black dress (no more hot pink hair streaks here). Let's just say it probably gave papa something to preach about. So whether you're sitting in the front row watching a fashion show or just looking to update your wardrobe a bit - we should all take a few tips from this LBD look: This ultra-flatting Topshop Lace Stripe Shift Dress ($100) is a great staple for any closet. It can be dressed up with funky heels a la Kelly or paired with a cardigan and boots for an edgy daytime look. Although Kelly's headband isn't exactly the highlight of her outfit, a headband, especially this lace one from Victoria Beckham ($10.11), is a totally fun accessory that we forget about. However, I do recommend pulling it behind my ears. Since Kelly's shoes literally complete her outfit and keep her from blending into the crowd (Ozzy would never stand for that), she pairs bright purple platforms with her all black look. Try the purple trend yourself with a pair of Miss Me Avaline Platform Pumps ($59.95). Kelly keeps her jewelry simple - a nice change from her hundreds of rubber bracelets back in 2001 - and adds one embellished cross to top her outfit off. We're loving Forever 21's Beaded Cross Necklace ($6.80) because it's cheap and chic and doesn't matter if you're religious or not. Check out more celebrity styles and get their looks. Shop our guides to the best platform pumps, the best black dresses, and the best necklaces. Sign up for SHEFinds to receive exclusive fashion e-mails.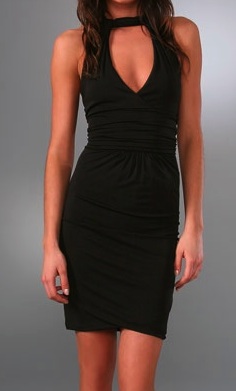 Going Going Gone: Smokin' Hot Designer Little Black Dresses Marked 70% Off On Shopbop
Little black dresses - or LBDs - are seasonless no-fails ways to look hot. And we mean, like, revenge-hot, seeing-your-ex-boyfriend-hot, college-reunion-hot... you get the picture. Whether you have someone to spite, or just need a hot new LBD for fall, act fast because these designer little black dresses are only left in 1 size: There is only 1 dress left (it's a large) of this super-hot DSQUARED2 Jersey Cross Back dress ($306, down from $1,020). You will love the plunging neckline - and so will your suitors. This dress should be renamed "high impact" because of the effect it will have on the room when you rock it. Don't miss out on an amazing price of this smokin' hot LaROK Luxe Sheer Impact dress ($89.40, down from $298) - there is only size left! If you're a size 4 - you're in luck. There is one dress left of this Re Collection Suit Tunic ($103.80, down from $346). Pair it with opaque black tights and booties for a nighttime look that kills this fall. For more sales and deal on little black dresses, check out our guide, then head over to our guides of celebrity dresses and black pants for your shape.
Buy A Swarovski Designer Collaboration Little Black Dress And Help Cure Cancer
On September 20th, Swarovski is fighting cancer - one custom couture dress at a time. Teaming up with 22 high-end designers, including Givenchy, Catherine Malandrino, and Fendi, Swarovski will auction off each black dress (like the ones pictured above by Alexis Mabille and Valentino, respectively) with the proceeds going to the American Cancer Society and La Ligue Contre le cancer in France. Check out their Facebook page for more information. And just in case you don't have an extra $7,000 lying around, check out these better-than-basic little black dresses: A long sleeved mini dress is a great staple for fall and winter. This Veronica M Sequin Waves Dress ($98) has the right amount of sequins to attract just enough attention. If you're more into the classic LBD, then look no further than this Theory Neptune Stretch Jersey Dress ($325). With a long necklace and platforms, you can go anywhere. This Riller & Fount Siren Open Back Dress ($168) is a total show-stopper. The super-flattering ruching will define your hourglass shape (or enhance what you already have). Stay up to date - check out more of our fashion news. Shop our guides to the best little black dresses and the best party dresses. Sign up for SHEFindsMail for exclusive fashion e-mails.
Can You Hear Me Now? The Little Black Dress With A Built-In Phone
Well, this eliminates the need for a purse. Thanks to London based company Cute Circuit, the world will see it's very first little black dress with a built-in mobile device. The M-Dress (mobile phone dress) has a slot for SIM cards (normal kinds) under the label. When the dress rings, you simply lift your hand to the ear which activates sensors in the dress and answers the call (put hand down to hang up). This could be tricky for those of us who talk with our hands. For more of our favorite sexy, software-free little black dresses, check out our guide, or our favorite on-sale Black Halo dresses. then head over to our guides for the best booties, and flat boots.