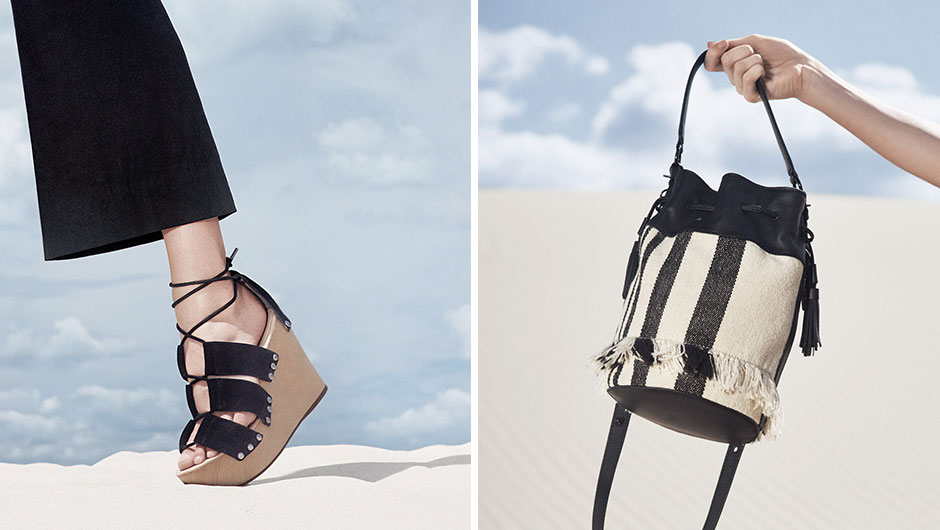 Loeffler Randall's Friends & Family Sale Is Here And Everything Is 20% Off!
The editors at SHEfinds wrote this blog post on behalf of Loeffler Randall and received compensation as part of our agreement. It's back! The Loeffler Randall sale every woman waits for is finally here and we only have one word for you: hurry! From now until April 19, everything--yes, everything!--at loefflerrandall.com is 20% off with code FRIENDS20 at checkout. Shoes, bags, outerwear--it's all on sale! Now if you're a Loeffler Randall friends and family sale newbie, here's how it works: the sale goes live, word starts to spread, sizes start selling out insanely fast, everything is gone in your size. Moral of the story? Stop whatever you're doing and get over to Loeffler Randall right now. We've included a few of our product recs below, but don't spend much longer here--this sale is too good to miss! Ines Lace-Up Clog ($316, down from $395) Zora Perforated Sneaker ($236, down from $295) Ulla Platform Espadrille ($180, down from $225) Tassel Backpack ($399, down from $495) SHOP LOEFFLER RANDALL'S FRIENDS & FAMILY SALE NOW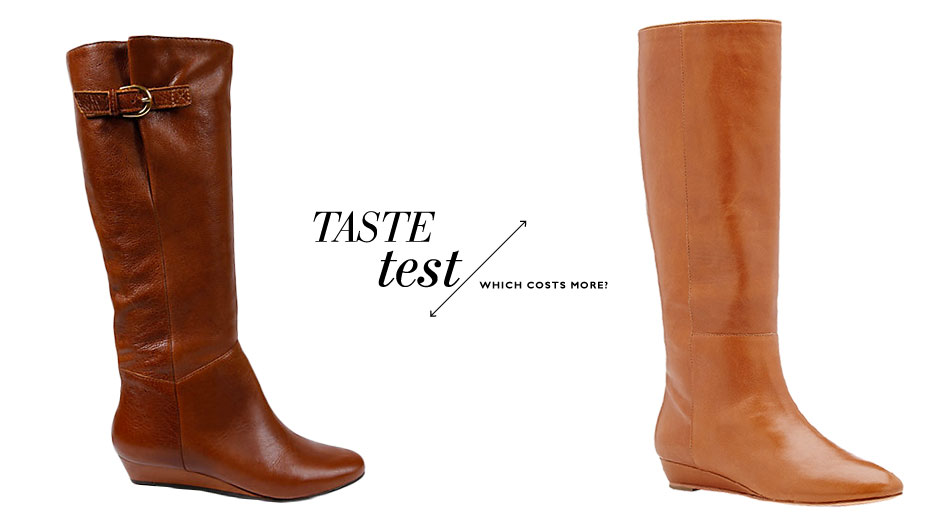 Can You Tell Which Sliver Wedge Boots Cost $544 More Than The Other?
If there is one thing Loeffler Randall is known for, it's their boots. When temps drop, you can pretty much bet on seeing celebs and cool girls wearing their trendy designs. One classic Loeffler Randall style that comes back season after season? The Matilde boot. Featuring a sliver wedge, it adds just enough height, but is still totally comfortable and walkable. The one drawback? The price. At almost $700, Loeffler Randall's Matilde boot isn't cheap by any standards. Luckily, we found a pretty good Loeffer Randall Matilde knock off should your bank account not be in a place to accommodate that hefty price tag. Below we've included a photo of Loeffer Randall's cult Matilde boot which retails for $695 while the other is Steve Madden's more affordable Intyce boot which is just $149.95. Can you tell which is which? Click on each image to reveal if you guessed right. Be sure to check out these amazing slimming leggings and how to wear duck boots.
The Cult Loeffler Randall Handbag Rachel Bilson & Lucy Hale Carry Is Super Cheap Right Now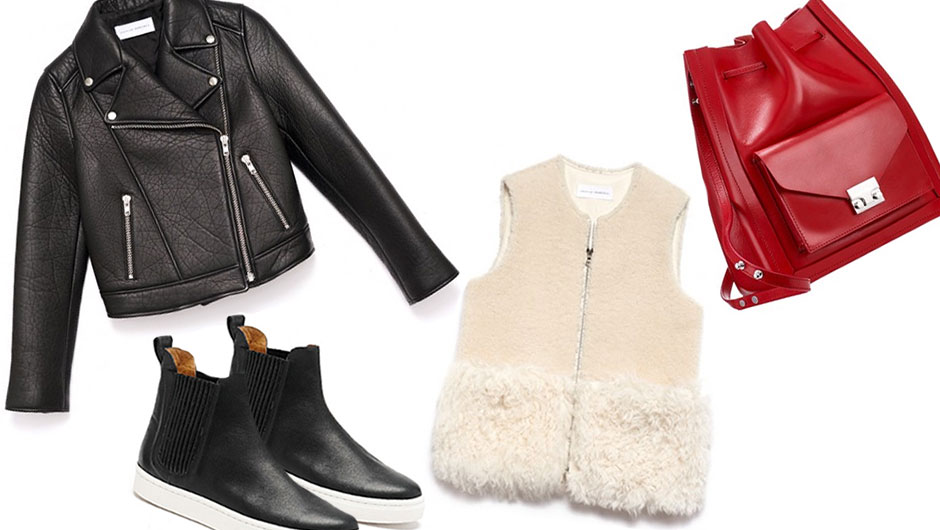 This Is Really Happening–Up To 50% Off At Loeffler Randall #SayWhat
How about a little hump day treat?! Right now at Loeffler Randall, there are tons and tons of items up to 50% off! There are huge savings on leather shoes, handbags and jackets. Plus, treat yourself to one of Loeffler Randall's must-have shearling coats. These items definitely won't last long! You've been warned. START SHOPPING Don't miss up to 60% off at Moda Operandi's fall sale and can you tell which bucket bag costs $465 more than the other? [Photo: Foam Moto Leather Jacket, Crosby Sneaker, Shearling Vest, Lock Drawstring Bag]
Shop Loeffler Randall's Fall Sale Now Before All The Good Styles Sell Out!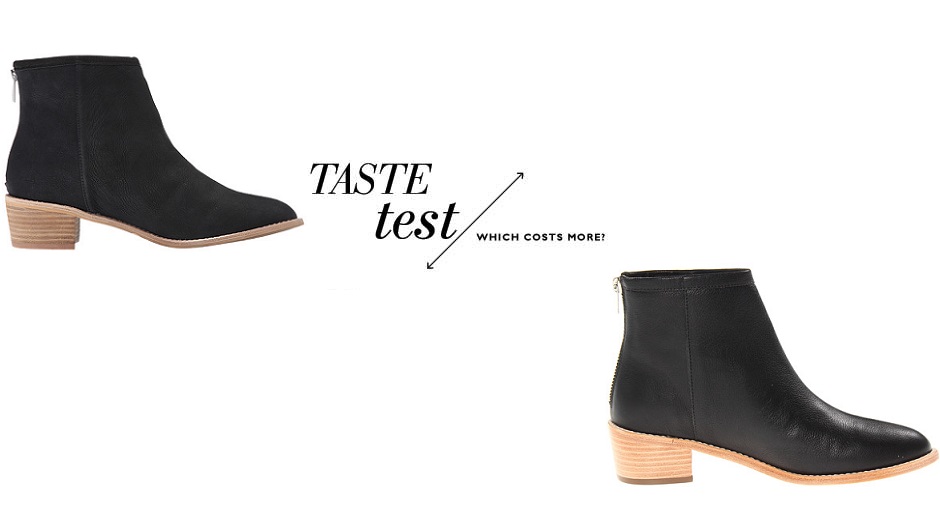 Can You Tell Which Black Ankle Boots Cost $255 More Than The Other?
Loeffler Randall is that effortlessly cool and edgy brand that celebs, style bloggers and real women all love. Their Felix boots ($395) are cult, but at almost $400 they're not exactly budget-friendly. So if you happen to be looking for Loeffler Randall Felix boot knock-offs, allow us to point you in the direction of these Chinese Laundry Kristin Cavallari Maddox boots ($139.95). They look almost identical, but are more than $250 cheaper. See if you can tell the difference below. For more taste test challenges, check out these identical plaid shirts and lookalike shearling boots.
Hurry! Kate Hudson's Fabulous Shearling Coat Is Only Available In One More Size
Tuesday is as good as any day for splurging so get that credit card out--it's time to snag THE shearling coat of the season. Kate Hudson wore this fabulous Loeffler Randall Blocked Shearling Coat ($1,650) with bell-bottom jeans and a tassel necklace seriously--could she be any cooler? The bad news about that fabulous coat she's wearing? There is only one left at Shopbop, which means no time to fret over the price because it is worth every single penny. Shop it below. Loeffler Randall Blocked Shearling Coat ($1,650)  Love Kate's coat, but can't find your size at Shopbop? Try Loeffler Randall! For more celebrity style, be sure to check out Kourtney Kardashian's cool fedora and Kate Upton's pretty blue scarf. [Photo: Splash News]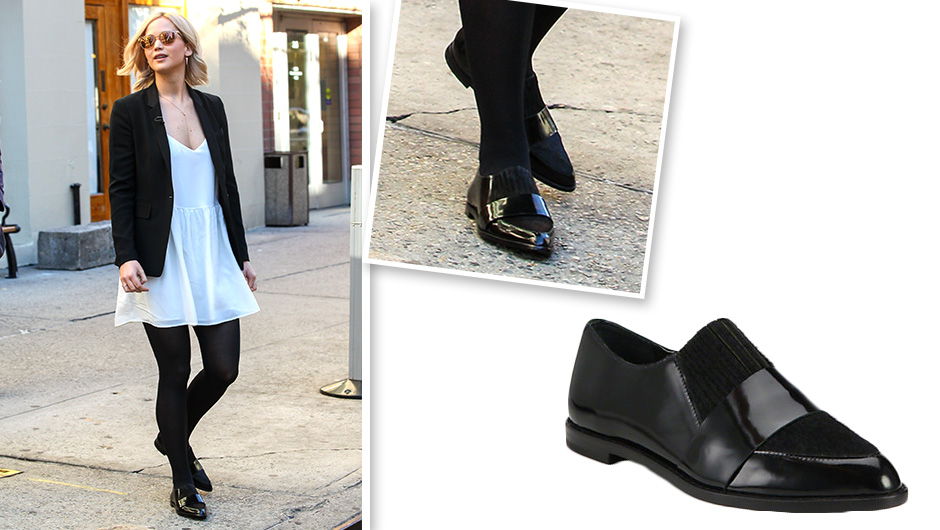 FYI, Jennifer Lawrence's Loeffler Randall Loafers Are Only Available In A Few More Sizes
Jennifer Lawrence arrived in NYC looking very laid-back chic in her white dress, black blazer, tights and these Loeffler Randall Rosa Felt Paneled Patent Leather Loafers ($375). The pointed-toe oxfords give a refined sophistication to any outfit, whether they are paired with dresses or pants. Plus, if J. Law is wearing them, you know they're perfection. Shop below!
Can You Tell Which Gold Kitten Heels Cost $226 More Than The Other?
I'm a sucker for anything that has scalloped detailing and metallic leather. When I came across these Loeffler Randall Reina Kitten Heel Sandals ($295) it was love at first sight. They have beautiful scalloped straps and an antique gold leather finish. However, there's another pair that looks almost identical to the Loeffler Randall pair. The Chinese Laundry Rubie Gold Kitten Heels ($69) also have scalloped straps and a gold finish. Can you tell which pair of kitten heels below costs $226 more than the other? Click the images to find out! Test your fashion knowledge with chambray dresses and colorblock ponchos!
Drop Everything! Loeffler Randall Handbags Are 40% Off For The Next 24 Hours With Our Exclusive Code
Whether you need a new fall handbag or are just a sucker for all things Loeffler Randall (me!), here's an exclusive sale you don't want to miss. For 24 hours only, select Loeffler Randall handbags are 40% off with code TREATYOURSELF. That's right, ladies--Loeffler's highly-coveted handbags on sale, just for SHEfinds readers! Even better, these aren't just any old bags that are on sale. You can use our coupon code on the bestselling Rider bag in gorgeous cobalt blue, plus the classic tote in three different colorways, two cute clutches and two amazing baby Rider bags. What more do we need to say?! Snatch up your new bag ASAP! CLICK HERE TO GET YOUR NEW HANDBAG! * Note: This offer expires on September 30, 2015 at 2pm EST.
Loeffler Randall Just Introduced An Outerwear Collection!
Today is a big day. Why? Because accessories retailer Loeffler Randall just introduced a beautiful outerwear collection. Loeffler Randall outerwear is comprised of moto jackets, vests, bombers and long coats. This collection is made from fine, luxurious leather and soft shearling. Get a head start on finding your new fall and winter coats by shopping Loeffler Randall's newest collection! Shearling Vest in Bone ($995) Foam Leather Moto Jacket in Lavender ($1,095) Shaved Shearling Bomber in Cheetah ($1,295) SHOP ALL LOEFFLER RANDALL OUTERWEAR Don't miss Nordstrom's 60% off shoe sale and shop the belt Kendall Jenner wears almost every day! [Photo: Loeffler Randall]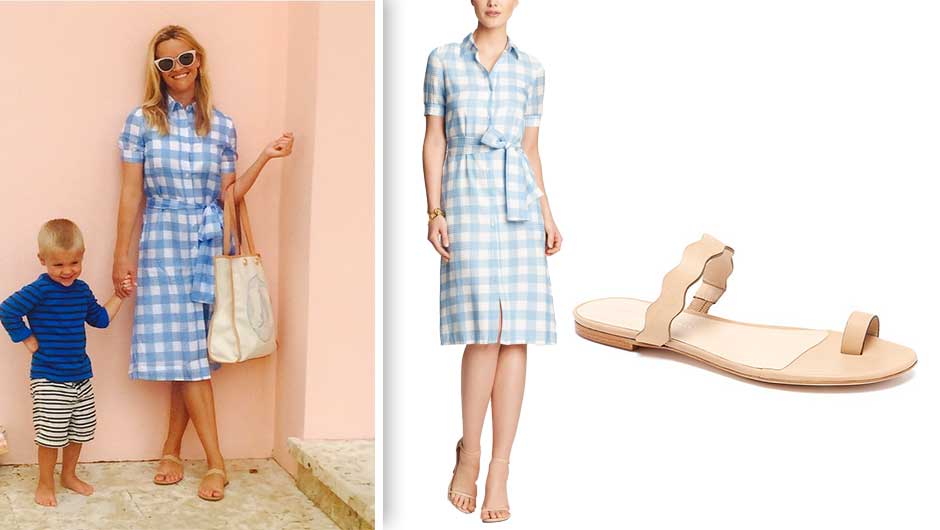 We Know Where To Get That Preppy Gingham Dress Reese Witherspoon Instagram'd
When you think of a true southern lady, Reese Witherspoon will usually cross your mind. The always classy mother showed off her style and charm in the Instagram post above with her adorable son wearing a Draper James Midi Shirtdress ($385) and Loeffler Randall Petal Slide Sandal ($225). Whether for garden parties, showers of all kinds, or just shopping for fresh flowers in the market, this dress is a must and will have all the classy broads smiling your way. Shop it below with her delicate, feminine slip-on sandals. Draper James Midi Shirtdress ($385) Loeffler Randall Petal Slide Sandal ($225)  Shop more great style such as Kourtney Kardashian's ripped jeans, Beyonce's white jeans, andRihanna's leather tank top. [Photo: Instagram]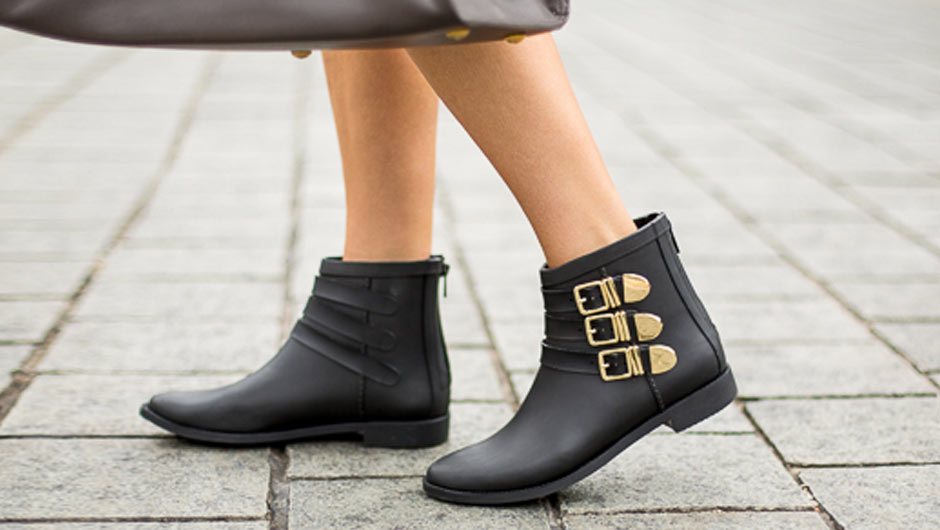 Here's The Secret Place I Get Loeffler Randall Shoes For Super Cheap…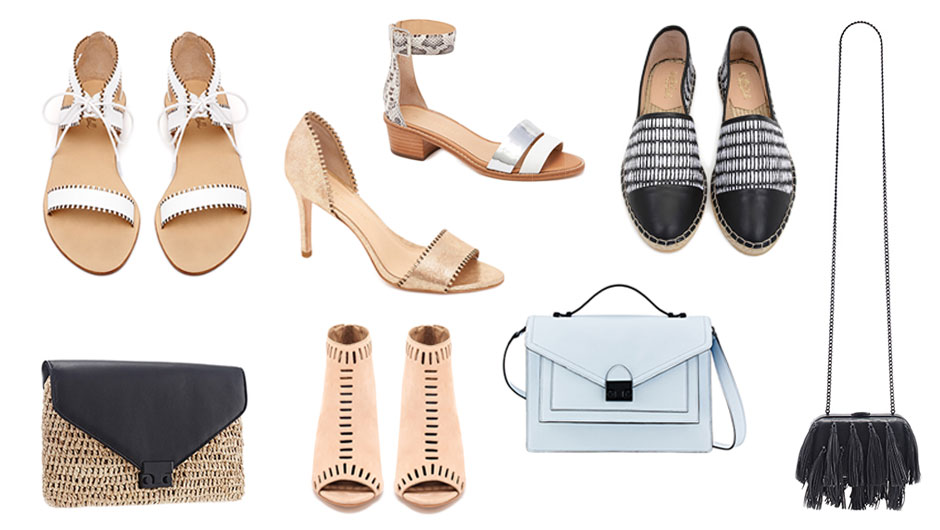 Loeffler Randall's Spring Sale Is So Good It Crashed Their Website
The good news: earlier today Loeffler Randall sent out an email announcing they'd taken 30% off a bunch of their spring styles. The bad news: when I tried to get to their website it was down. Eek! When I finally got on, I saw why the site was so slow--the prices are really good. Sadly, a lot of sizes were already sold out, but all hope isn't lost as there is some merch still in stock. We can't say for how long, though, so if you're a Loeffler diehard you'd better get over there ASAP. SHOP LOEFFLER RANDALL'S SPRING SALE NOW! Don't miss the Kate Spade surprise sale, plus Jessica Alba's cute overalls. [Photo: Sofia ankle-tie sandal; Henry stacked heel sandal; Leora d'orsay pump; Mara cap-toe espadrille; Lock Clutch; Sloane peep-toe bootie; Rider Bag; Minaudiere]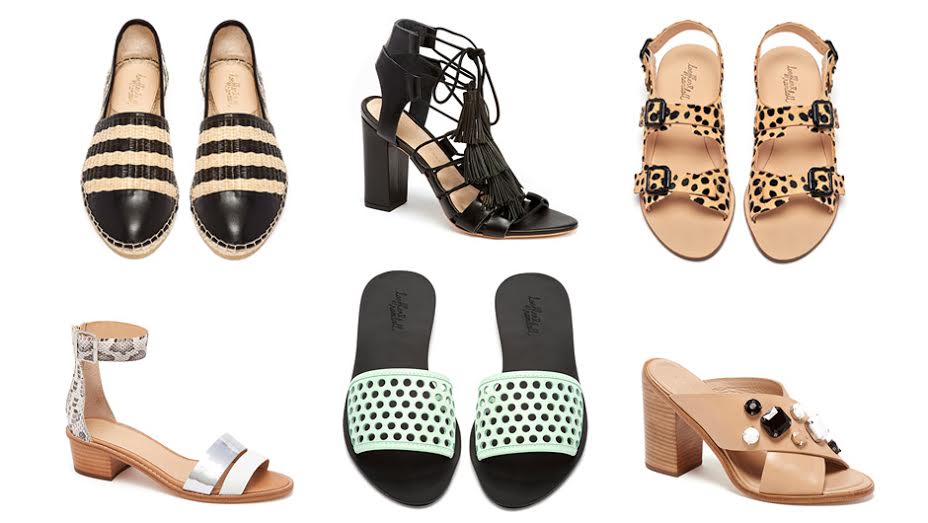 Get There First — Loeffler Randall's 20% Off Friends & Family Sale Starts Now
If there's one sale you absolutely, positively must shop this week, it's this one. Loeffler Randall just kicked off their friends and family sale and everything on the site it 20% off with code HEYFRIEND at checkout until April 20. Obviously that includes all of their killer shoes, sandals and boots, but this is also the time to snatch up one of their amazing handbags. Get there now before everyone else does! SHOP THE LOEFFLER RANDALL FRIENDS & FAMILY SALE NOW Be sure to check out pretty spring dresses at Nordstrom, how to look good in white jeans by Memorial Day and spring's best cap toe espadrilles. [Photo: Mara cap-toe espadrille; Luz tassel sandal; Sage buckle sandal; Henry stacked heel sandal; Sybil perforated slide sandal; Etta jeweled mule]
Emma Stone Continues To Be Cooler Than All Of Us In These Loeffler Randall Booties
Rain did not stop Andrew Garfield from taking out his gorgeous girlfriend, Emma Stone, for her birthday in NYC last week. The cutest Hollywood couple ducked under an awning before entering a French bistro to dine in private. And what did Ms. Stone wear on her special occasion? We couldn't help but notice her amazing, low-heeled Loeffler Randall Felix Leather Ankle Boots ($395) she paired with skinny jeans and a jacket. They are the perfect mix of comfy and cool so snag them below!   Loeffler Randall Felix Leather Ankle Boots ($395) Don't miss out on Jamie Chung's Star Gown, Jennifer Garner's jeans, and Jessica Alba's bucket bag. [Photo: Splash News]
Everything At The Forever 21 Mid-Season Sale Is So Stinkin' Cheap–Under $20
If you're looking for some new fall or winter clothes, Forever 21 is where it's at. Starting today, F21 is hosting an epic mid-season sale on their site and everything is under $20. Since everything is so stinkin' cheap (and cute), you don't even have to feel bad about dropping a bunch of cash at Forever 21 today, because you'll get so much for your money. From long sleeve tees to warm winter coats, this sale has everything you could ever want (or need) to stay stylish and warm this season. And if Forever 21 doesn't have what you're looking for, we found Loeffler Randall bags and boots, rag + bone jeans and Topshop sweaters at a discount too! Be sure to take a look at them in our slideshow. Don't forget to check out: SJP's jeans, shearling boots and the J.Crew sale.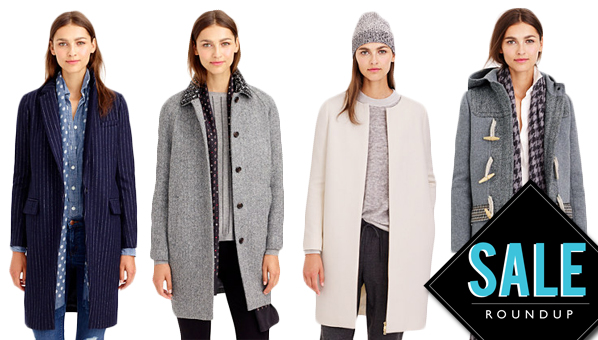 It's Getting Chilly Outside–Get Jackets & Coats For 25% Off At J.Crew Today
Temperatures dropped all over the country last night, especially here in New York (brrrr...). So, it's that time of the year when sweaters just won't cut it anymore. You're going to need more than that to keep your body warm, but don't worry, J.Crew has got you covered...literally. Right now, there are dozens of great coats on sale for 25% off in stores and at jcrew.com with the code TGIFALL. And if coats aren't your thing, you can also get jackets, sweaters and jeans at a discount. Just click through our slideshow to find out how. And don't forget to check out: 11 great sales, 20% off  at Loeffler Randall and 25% off at Rebecca Taylor.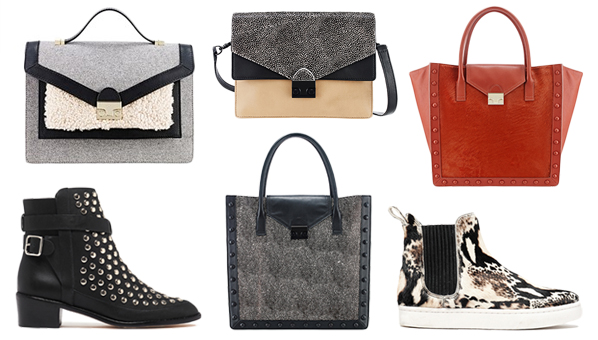 20% Off At Loeffler Randall Is The Perfect Way To Get This Weekend Started
We couldn't let this Friday pass without sharing one more epic sale--20% off everything at Loeffler Randall with code IMAFRIEND at checkout. This code include both epic shoes and handbags, so go do damage girl. It's the weekend! SHOP THE LOEFFLER RANDALL FRIENDS & FAMILY SALE NOW Don't forget to hit up Rebecca Taylor's 25%-off sale, Kate Spade's friends & family sale and the Coach shoe sale.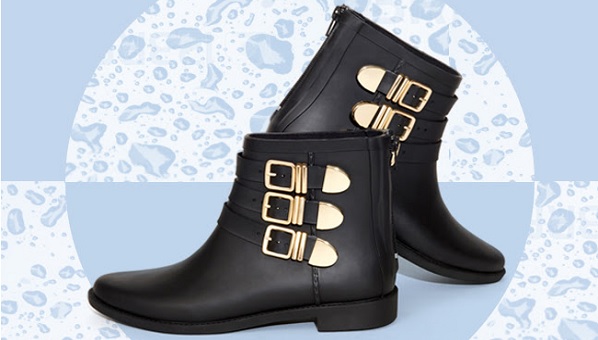 We're Calling It Now–Loeffler Randall's New Fenton Rain Boots Are Going To Sell Out
Loeffler Randall has had the rain boots market on lock for years now. For a while their sliver wedge rain boots were the only stylish waterproof option for women looking to keep their feet dry without resorting to horrific plastic galoshes, but not anymore. Loeffler just introduced a brand new rain boot and these are even better than the wedges. Check them out! Loeffler Randall Fenton Boots ($195) Now if you're a Loeffler diehard, you already know these are inspired by their wildly popular Fenton Buckle Booties. Except, of course, that these are rubber so you can wear them in the snow and rain without worrying about ruining them. Loves it! When Loeffler Randall first debuted their wedge rain boots, they sold out insanely fast so we have no doubt the same will happen with these. If you like them, you'd better order yours ASAP. Be sure to check out the Mansur Gavriel trunk show, Kristin Cavallari's leopard heels and 28 fashion sneakers. [Photo: Loeffler Randall]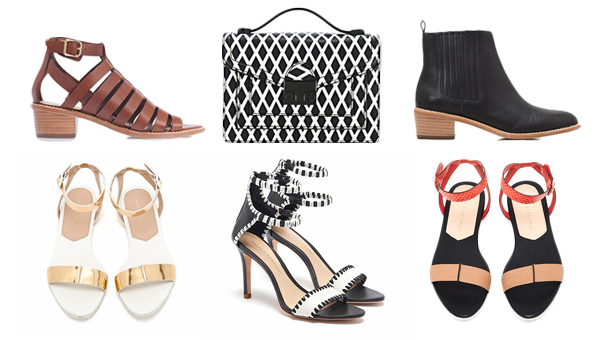 Everything Is 60% Off At Loeffler Randall's Summer Sale #BestDayEver
There is still plenty of summertime and warm weather left this season, and that means that you still have plenty of time to buy and wear sandals, cut-out booties, and flats before you're forced to switch to boots and closed toed shoes. If you're like us, you've probably been drooling over a pair of Loeffler Randall sandals like the Rooney Fisherman Sandals ($130, down from $395) since the spring when it was still too cold to wear them, but now that it's sandal season, they're all on sale for at least 60% off! And since you're going to need a new pair of booties for the fall anyways, you should probably just get them now considering this is the cheapest they'll ever be. Check out our footwear and handbag picks in the slideshow or click the link below to shop the entire sale, right now. Some of the best pairs and most popular sizes already have a waiting list, so you can't waste any time. GO! GO! GO! GET 60% OFF AT THE LOEFFLER RANDALL SALE NOW For more great sales, check out: 25% off at GAP, ASOS 70% off summer sale, and Nordstrom Anniversary Sale.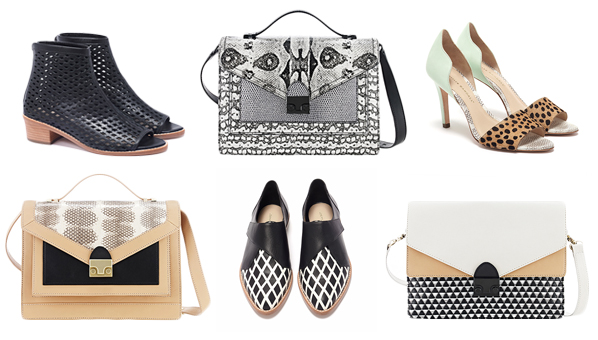 Be Prepared To Go Broke–Loeffler Randall's 30%-Off Spring Sale Is That Good
You've been putting if off long enough. The weather is warming up, spring is finally here and yes, you need some new sandals! And the one place you should get them? Loeffler Randall, of course. They just marked down tons of cute styles up to 30%, so get your credit card ready. But don't just check out the shoes. You'll need to replace that bulky black leather back for something lighter during spring and summer and Loeffler has tons of perfect picks. Get to it! SHOP THE LOEFFLER RANDALL SPRING SALE NOW! For more amazing sales, check out 25% off at Piperlime, 25% off at J. Crew and 25% off at ASOS.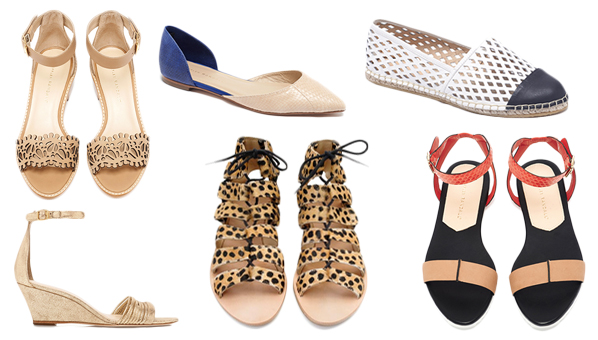 The Shoe Gods Have Smiled Upon Us–Everything At Loeffler Randall Is 20% Off
Because you can never really have too many amazing shoes, we're sharing another awesome sale with you today. Loeffler Randall is offering 20% off all orders with code FRIENDLY at checkout. What's the occasion? Their friends and family sale and hey, you're our friend! But this sale doesn't just include shoes--you can use the code to treat yourself to one of LR's classic handbags, as well. Whether you're looking for a cute crossbody or prefer satchel style, here's your chance to get it on sale. Just be quick--the sale ends Monday, April 21st, so get to it! SHOP THE LOEFFLER RANDALL FRIENDS & FAMILY SALE NOW! Check out the most popular jeans ever, score 20% off at BLANKNYC and shop Italia Independent sunglasses.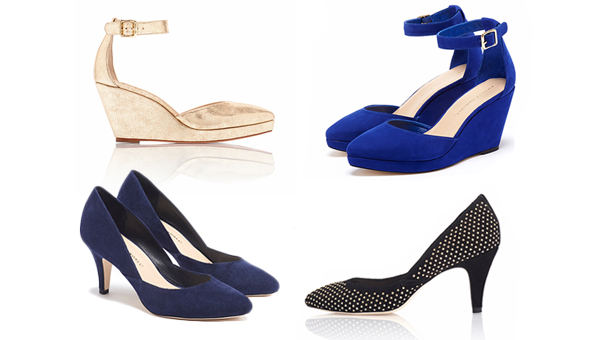 Loeffler Randall's First Online Sample Sale Will Include New Shoes Every Other Day
It seems like the holiday shopping never ends. After offering crazy Black Friday and Cyber Monday deals, Loeffler Randall completely outdid themselves by launching their first-ever online sample sale which features select items at 50% off! The sample sale styles include site exclusives, re-released faves and unworn overstock--and new shoes will be added to the sale every other day from now until December 13th. Best of all, you'll get a gift with your purchase if you spend $250 or more when you shop the sample sale. Your credit cards have had about a 12 hour break, so they're definitely ready to go, again. SHOP LOEFFLER RANDALL ONLINE SAMPLE SALE NOW Also make sure to check out The Outnet's clearance event, Black Friday best sellers, and the best coated jeans.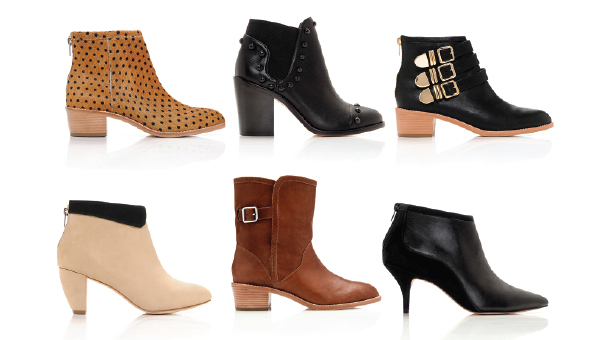 Score Fall's Best Shoes Trends With This $1,000 Loeffler Randall Shopping Spree
Been putting off boot shopping as your way of holding onto summer? Consider that your smartest decision of the season. No, not because it will actually make the warm weather last any longer--because we teamed up with Loeffler Randall on the most amazing fall shoe giveaway ever. One grand prize winner will receive a $1,000 Loeffler Randall shopping spree, plus three additional winners will each receive $200 Loeffler Randall gift cards. Pretty sweet, right? We first fell in love with Loeffler Randall when they pioneered the whole cute rain boots trend, but their leather styles are even more incredible. We're especially in love with their boots for fall. Whether you like wedges, ankles booties or tall boots, you're bound to swoon for Loeffler Randall's awesome autumn styles. Want a peek at what you could get with that $1,000 shopping spree? Check out our faves in the slideshow. And for your chance to win, like our Facebook page and enter below.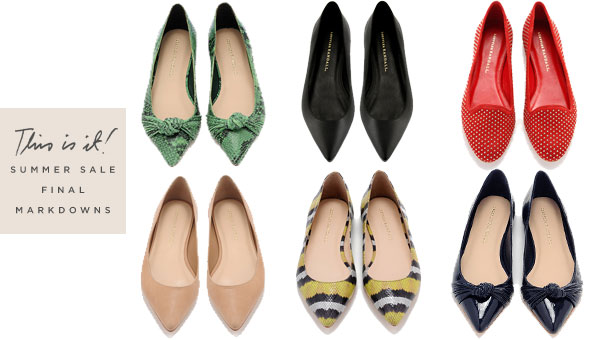 Loeffler Randall Knows Your Feet Are Aching Already: Shop The Flats Sale!
New season, new shoes, which means lots of blisters to go along with them. We propose giving your aching feet a break, post-Fashion Week. Get on trend with fall 2012's best flat shoe trend: pointed toe flats. Loeffler Randall must have heard us griping from our office, because now there's a whole slew of them on sale, from Loeffler Randall's Quinnie flats to a bunch of other styles that are classic and as close to perfect as you can get. Grab a pair before your size is gone! Shop more sales and deals, get in on fall's best trends with our comprehensive fall preview, and finish off your wardrobe with a new pair of skinny jeans, the best booties this year, and leather jackets that only get better with age.
Loeffler Randall's Debut Handbag Collection Has At Least 1 Home Run In It
We were super excited when we announced that our favorite footwear line Loeffler Randall was expanding to handbags this fall—and super impressed that a few pieces were already up for purchase during our announcement. Our favorite of the bunch, however, is The Rider Bag ($495). We love the structured satchel, which you can opt to wear as a crossbody bag or a cute mini-briefcase. Plus, the buckled straps that are on the back of the bag can be attached to your bike's handlebars (!!!). Consider this your go-to accessory during your daily rides to school or work this fall. Check out Lulu Frost's collection for J. Crew, stock up on fall trends (like doctor bags!), and shop all of this week's awesome sales and deals while you're at it.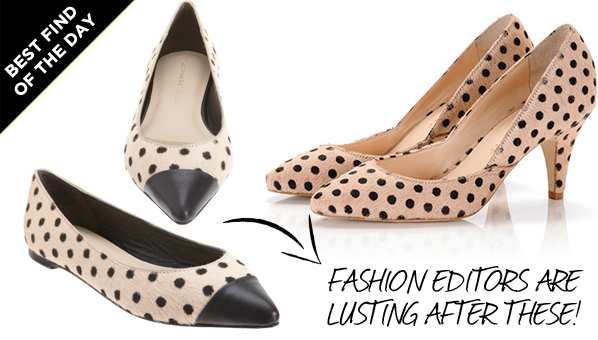 Loeffler Randall + Polka Dots = Fall's Most Wanted Shoes. Get Them Now.
From left: Loeffler Randall Natalie flats, $295 Tamsin pumps, $350 Each fall, there are shoes that get photographed like crazy, are in every magazine, at every major fashion week event and are on all of the holiday must-have lists, too. (Last year, it was all about the Miu Miu glitter booties.) Meet Fall 2012"s "It" shoes. Leoffler Randall hi the nail on the head with these whimsical polka dot beauties fashion editors have already scooped up. Better hurry! SHOP: GET THESE SHOES FROM LOEFFLER RANDALL NOW Check out more of our favorite trends, our extensive fall preview, plus all of this week's best sales and deals and online sample sales, and overnight bags. Catch up on the latest fashion news, too.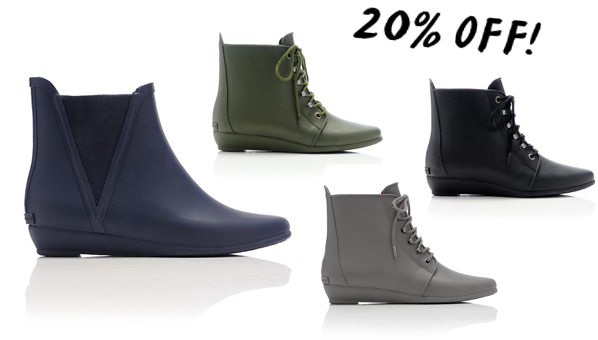 Loeffler Randall's Legendary Rain Booties Are On Sale #ThanksForThat
Loeffler Randall rain booties in black, grey and olive, $132 from $165 at Loeffler Randall It goes without saying we kind of hate rainy days...well at least we did until we discovered these cool Loeffler Randall rain booties--that are on SALE for 20% off today. They look like regular booties but they're waterproof and they actually improve your outfits instead of taking away from them. Warning: You're totally going to want to do rain dances after you get yours. Just saying! PS: If you're between sizes, order the size down as they run on the large end. SHOP THE LOEFFLER RANDALL SALE HERE Check out more stylish rain boots we love, additional sales and deals happening now and our summer hit list, like the best sunglasses, best bikinis and monokinis, plus summer hats and flat sandals.
Loeffler Randall's Heart LR Capsule Collection Of Neon & Metallic Clogs Is Here!
This morning Loeffler Randall's lower-priced 'Heart LR' capsule collection hit -- just in time for Valentine's Day and spring shoe shopping. The collaboration with Sven Clogs (a wooden-sole favorite), includes 9 styles perfect for spring. The high-heeled clog sandals come in the incredibly on-trend neon yellow and metallic that we are loving for spring. Priced $175 to $345, this affordable collection line is the perfect V-Day gift for a single girl to herself -- or, ahem, boys, in lieu of chocolates. Shop more awesome clogs: check out the Swedish Hasbeens for H&M collection of clogs and Loeffler Randall's last collaboration with Suno.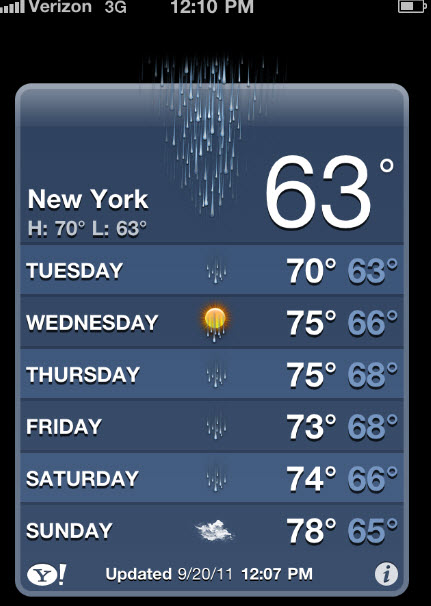 Just In Time For A Week Of Rain, Loeffler Randall Debuts New Rain Booties
Uh, This is what the weather report looks like in New York this week--rain, rain, and more rain. #Depressing Luckily, this season's new Loeffler Randall rain boot styles were just released today. Nice PR Strategy, Loeffler Randall! I've waxed poetic about why I love these rain boots before, but let me also stress that even though they're pricier than many other rain boots, they're actually worth it, and also the tall taupe boots are on super sale. If the weather report is any indication (it always is) you'll get a ton of use out of them. I even wore mine in the snow last winter. Plus, get free shipping. PS: Last year, sizes sold out really fast, so I highly suggest you buy a pair now. (more…)

Loeffler Randall's Fall Bridal Collection Just Hit Nordstrom — Shop The Bold Styles Now
Earlier this year we showed you a preview of the Loeffler Randall Fall Bridal collection, which featured bold statements like red rosette pumps and metallic lizard. Today, the first of the LR Bridal styles became available for pre-order on Nordstrom. (more…)
Going Going Gone: Loeffler Randall's "This Is It" Sale Is Up To 60% Off
Shoe therapy starts now. Loeffler Randall, the NYC-based brand which has quite the cult following among fashion editors, style bloggers and other fashionable ladies,  also happens to be a place where$655 shoes seems to be the norm. (But now they're having a sale--and they're calling the final prices at 60%. Stop procrastinating--you'll also get free shipping!) (more…)
Shop Loeffler Randall Bridal Shoes For 50% Off, So You Can Afford To Splurge On The Dress
Earlier this year Loeffler Randall, my ultimate favorite shoe designer, launched a bridal shoe collection. If you weren't able to swing a pair of these bad boys at full price, now's your chance to own a pair of these dreamy shoes at up to 50% off - no joke! And check out their fall collection preview while you're at it. Here are our favorite discounted picks below: (more…)
It's Going To Rain A Lot This Summer: Time For You To Grab Some New Rain Boots
April showers might bring May flowers, but according to the weather reports throughout summer, the only thing they're bringing are more rain storms. So don't ruin your new spring wedges--invest in a pair of quality rain boots like Hunter rain boots or these Loeffler Randall rain booties. If you don't know which ones are right for you, consult our Rain Boot Buying Guide - you can thank us later. Need help shopping online? Take a look at all of our buying guides & don't forget to sign up for our newsletter.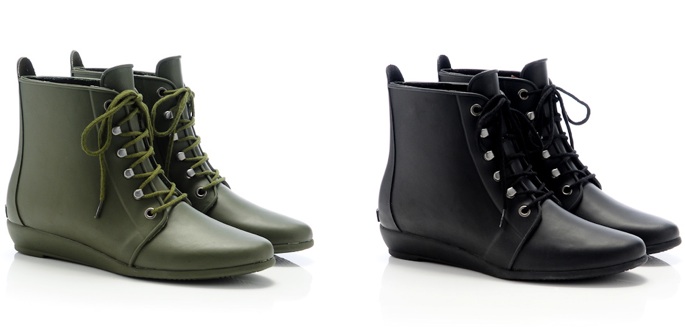 April Showers Got You Down? Introducing: Loeffler Randall Rain Booties (Now On Sale)
Loeffler Randall Rain Booties, $145, down from $165. If this week's bout of rainy weather had you as depressed as we were, worry not: we found the antidote: the rain bootie. We've been lusting after the above style by Loeffler Randall--and it's finally on sale!  But these shoes got us to thinking: what other kinds of rain boots make us a little less depressed about spring showers? It's all about the bootie! Part utilitarian, part fashion statement, there's something about these little kicks that don't damper your style. Check out some of our other favorites below (and guess what? They're all on sale!): (more…)

Loeffler Randall Sets Out To Change Wedding Shoes Forever With Metallic Lizard And More
From printed metallic lizard to satin stilettos with a perky rosette toe, Loeffler Randall's Fall Bridal collection is out to make you a very stylish bride. We just took a peek at the fall look book and the styles (which hit in September) are not for the fashion faint of heart. If you're in the mood to shop now, their debut bridal collection is still available: (more…)
Loeffler Randall Launches Bridal Shoes; Shop Now & Have A Very Stylish Wedding Later
If you love Loeffler Randall's wedge leather boots and non-rain boot rain boots, you're going to flip for their new Bridal shoe collection which just launched this week. Shop white mesh booties, ruffled flats, and my personal favorite - a criss-cross stiletto that comes in snakeskin. Timid brides need not apply. (more…)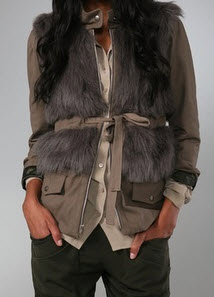 Two Trends In One: Loeffler Randall's Faux Fur Military Jacket
Finally, a faux fur vest that's functional, gorgeous, and 70% off at Shopbop. While we've seen faux fur adorn everything from Angelina Jolie and Kim Kardashian to stylish winter boots, this Loeffler Randall jacket ($157.50, from $525) takes it to a whole new level, mixing in the military trend for good measure. Let us count the reasons we love it: a) It isn't bulky b) It has pockets and a tie waist c) It looks cool combined with a military jacket d) And, oh yeah, it's on SALE for 70% off at Shopbop Not your style? No problem. Check out all of our celebrity style posts for inspiration, or our hand-picked editors' picks in the deal of the day section. Don't forget to peruse this week's sales and deals and online sample sales so you never miss out.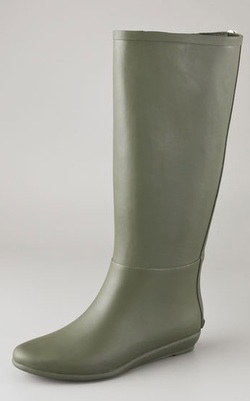 Going Going Gone: Only 3 Sizes Of Loeffler Randall Rain Boots Left
If you need winter or all-weather boots - and we know you do right now - why not opt for a pair of rain boots (cheaper than winter boots) and then put a warm fleece liner inside? If you like this idea, make a move on it today because there are only 3 sizes of these Loeffler Randall Back Zip Rubber Rain Boots ($195) left. We featured the boots on our Holiday Sold-Out list, and they continue to be hot sellers after Christmas and into the New Year. Grab a pair of these army green wedge boots today and you'll be equipped for all those slush puddles and inclement weather of January. Check out our guides to the best stylish rain boots and winter boots, then see all of our sales and deals, online sample sales, and best find of the day picks, too. Follow the author of this post on Twitter @bridefinds.
Calling All Sugar Daddies: Christmas Is The Most Wonderful Time…To Splurge
With Christmas right around the corner, it's time to think BIG. If you know someone for whom money is no object (lucky you), now's your chance to finally get the stuff with the hefty price tags. Check out the favorite over-the-top gifts truly worth the splurge. As if I needed to explain why these are on here. A classic patent leather pair of Christian Louboutin Pumps ($595) will forever remain prized jewels in your closet. This real fur Club Monaco Trapper hat ($279) will keep your ears and head warm for less than $5 per wear, conveniently justified for you in one simple fashion math equation. A vintage-inspired glam handbag is just what every woman needs her closet - it just so happens Marc Jacobs gets its totally right with his Framed Leather Shoulder Bag ($360). Why settle for a basic pair of flat black boots when these Tory Burch Patterson Riding Boots incorporate two luxe materials--both leather and suede? Another fashion math favorite, this Proenza Schouler PS1 Leather Satchel ($1,995). which nearly every celebrity owns, can be yours for just $5.47 per day. These Loeffler Randall Matilde Leather Boots ($347.50, down from $695)  may be on sale now, but if you still need help justifying your purchase, see how we did the fashion math. Bundle up with this Jane Post Faux Fur Trimmed Coat ($357, down from $595). Imagine guaranteed warmth while looking elegant, no matter how long you wait outside. Check out more of our favorite gifts like gifts for your man and gifts for your OCD friend. Shop out guides to the best platforms and the best chain strap bags. Join our e-mail list for exclusive updates.
Thank You, Loeffler Randall, For Rain Boots That Are Legitimately Cool
Rain boots have a nasty tendency to be either too manly and clunky, or too little kid-ish. This pair of Loeffler Randall Rain Boots ($195) defies those stereotypes and proves that rain boots can be sexy and sleek. These boots are on our Holiday Sold Out List because of the cute little wedge, the zippered back, and their overall ability to make us wish it would rain more often. Careful ladies, the rainy days are getting more and more plentiful so you'll want to snatch these up quick. For more gift ideas, check our holiday sold out list, then check out the perfect gifts for your party girl friends, gifts for your reality TV-obsessed friends, and passive aggressive gifts for your frenemy. If you're still stumped, hit up Part 1 of Oprah's Favorite Things for 2010. Then see all of our sales and deals, best find of the day posts, and online sample sales, too.
Fashion Math: Is A Pair Of Loeffler Randall Leather Boots Worth Almost $700?
It's boot season, ladies, and we're drooling over these Loeffler Randall Matilde Leather Boots ($695). There's just something about the cool goes-with-everything gray color, the rich leather, and the miniature wedge that just screams fall trend. Not to mention the fact that these high-quality leather boots will outlast your faux leather cheap ones by several seasons. So are these flat boots with a 3 digit price tag worth it? Let the fashion math speak for itself: If you wore these boots for 3 days of every week from now until April for the next two years, these almost $700 boots come out to less than $5 per wear. Let's face it, your lunch is probably more expensive. And you can't put a price on the hundreds of compliments you're going to get as well as all of the new outfits in your closet. We know you'll make the right decision. Justify all of our purchases with our fashion math equations. Then shop more fall boots with our guides to the best high heeled boots, the best over the knee boots, and the best flat boots. Join our e-mail list for exclusive fashion updates.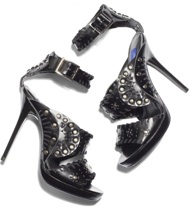 News: Choo's Coming To H&M, Calvin Klein Wants To Keep It Dirty, And More
1. Jimmy Choo is partnering with H&M for a one-off collection. Those are some shoes I can't wait to get my hands on, but I'll make do with these until the collection debuts in November. [WWD]2. Calvin Klein execs are standing by their racy billboards around Manhattan, even if some of the public thinks they're too explicit.  In case your own Calvin Klein Jeans days ended in the nineties, see our handy denim guide for a few new options. [NYmag] 3. Abercrombie & Fitch is closing its Ruehl stores, claiming the brand was pulling down earnings. Not to worry- they haven't pulled the plug on e-commerce just yet. [WSJ] 4. Retailer Eddie Bauer has filed for bankruptcy. If that leaves you stranded for a bucket hat to take camping this summer, you can always update your look.  [NYT]
Sponsored Post: What Would You Do With $300?
Levi's asked us to create an outfit around the sleek and surprisingly affordable Straight Leg 552 Jean ($59.50) for under $300. Which wasn't too difficult, considering the denim didn't devour the entire budget, like many designer pairs might have.  And in true SheFinds fashion, we'd wear this look to the office and straight out afterwards without changing a thing.   We paired the medium-wash jeans with a darker-blue ruffled tank ($38), topped with a crisp white blazer ($36) to sharpen up the tank's flowing lines. For relaxed-but-on-purpose proportions, make sure the top peeks out a bit below the hem of the blazer.   Bright yellow platform sandals ($110) add color and make legs look miles long with the flattering straight-leg jean. We'd top it all off with a long pendant necklace ($23). Looks like we'd have $33.50 left over - that's more than half of a second pair of jeans.
Find Denim You Can Actually Afford… And Then Buy Multiple Pairs
Jeans may be the most common element of the contempory uniform, but spending a ton of money on them shouldn't become the norm, too.  Why shell out for expensive jeans when there are so many well-priced options that make you look just as good? We checked out our favorite denim fits, from slouchy to skinny to bootcut, at prices you can afford, and put the best finds together into this handy Cheap Denim Guide. Hope you enjoy breaking in your new jeans. Don't forget to sign up for our newsletter and get the latest sales and deals delivered directly to your inbox.
Yes, Your Nails Get Old Too. But There's Something You Can Do About It
What: Dermelect Anti-Aging Nail Treatments, $16-$18 Why: When I first heard about Dermelect 's new line of anti-aging nail treatments, I thought, "Oh wonderful. Another body part to age-obsess about." Then I thought, "Wait—our nails age?" Prior to learning of these treatments, I never really focused my anti-aging efforts toward my nails. I am now. As we age, keratin diminishes in our nails, which lessens the nail bed's strength and moisture. Touted as the first nail treatments to stymie aging, Dermelect's High-Maintenance Instant Nail Thickener , Launchpad Nail Strengthener and Makeover Ridge Filler all help restore lost keratin proteins in nails, in turn slowing the aging process. I'm personally digging High-Maintenance , which purports to instantly thicken my nails by up to 50%. I can't tell if that's the case, but my naturally weak nails feel stronger and harder than ever. I'll report back in 20 years to let you know how fit-as-a-fiddle my nail beds are. Get Yours: skinstore.com
Deal Of The Day: Save Up To 30% On Pale Blazers From Bloomingdale's
It's time to pack away my cold-weather gear, which includes my standard black blazer.  As an alternative to denim this year, try a light-colored, summery new version of the jacket.    This white jersey blazer ($162.50, was $195) is so fresh-looking and comfortable I'll probably hate putting it away when fall rolls around. This Alice and Olivia blazer ($396, was $297) can actually be kept around for fall, even though it's definitely light enough for summer.    I like this blazer ($367.50, was $525) because the length is similar to that of a jacket you'd steal from a boyfriend, but the waist is still nipped in for a woman's body.   More Sales and Deals: Lord & Taylor: Save 20% off regularly-priced and clearance, and extra 10% with code SUMMER Shoes.com: Save an extra 20% on sale items with code SALE Couture Candy: Take 50% off Vix bathing suits and other swimwear
Fashion Top Five: Wear Your Wine (It Makes The Spills Less Obvious)
While red seems to rally during the holiday season, sometimes it can be a little too…red. Its deeper, mellower cousin – the makers of the products below call it "burgundy" and "spilled wine" – is quietly sophisticated, but not buttoned-up. See our party-ready picks below, all under $100. The exposed zipper at the back of this strapless dress ($40) is a simple but eye-catching detail. The brown tones in this croc-print pump ($91) bring down the brightness; the hidden platform means you can keep dancing a bit longer. The relaxed fit of this racer back tank ($47.60) would pair well with fitted denim, or even satiny black trousers.This satin and patent clutch ($12.50) would look just right with almost any evening outfit that incorporates black. This sequined chiffon tank ($23) has a flapper feel; go with the flowiness, or tuck it into a high-waist skirt for a sleeker look.
R.I.P. Hollywould. In Other News, FINAL SALE!
It pains me to report that Hollywould, the fabulous shoe and handbag line, is closing its doors after designing some seriously gorgeous accessories. A moment of attention should be paid. When I first moved to New York, I wanted to get myself a pair of really sexy, gorgeous evening shoes. I bought a pair of Hollywould sandals, silver and dripping with rhinestones. I had my first New York date in them; I went to Cipriani in those shoes, found and lost love in those gorgeous shoes. Hollywould, you will be missed. Now for the silver lining - this means that the shoes are on SALE, ladies! Get thee to Hollywould.com right now and stock up on some shoes and bags during their final sale. These Bronze Tristan Ballet Flats are now $150, down from $245 and these gorgeous Black Lucia Boots are now $350, down from $695. Rather have a handbag? Check out this adorable Multi Metallic Clutch or this Plum Tote Bag, both down to $150, from $295.Hollywould, I hate to say goodbye. On the other hand, I love a good sale, so stock up, girls!