The 5 Best At-Home Remedies To Treat Sunburn
After growing up with my mom constantly nagging me, "did you put on sunscreen?!" it's hard to believe that I still manage to get burnt during the summer. No matter how hard we try, sometimes the sun is just too strong, and we can't avoid getting a little too much color. We can all agree that we'd prefer sun-kissed skin rather than looking like a lobster. Here are some ways to soothe a sunburn with things you might already have at home OR can buy at the drugstore! Body Lotion. Find your favorite body lotion and lather up! If your lotion happens to have aloe vera in it, even better--the infusion of aloe will ease any stinging, and is also very helpful for peeling skin. Take a Bath. Adding certain elements to your bath can help soothe and eliminate the discomfort of your sunburn. Try adding apple cider vinegar to even out the pH balance of your skin, baking soda to eliminate irritation and redness, or some essential oils to relieve general pain. Hop in, and relax! Drink Water. When you're sunburnt, your skin is dry and dehydrated, so you need to replenish your body's water supply! Load up on water, juice or your favorite sports drink to rehydrate. Tea Bags. Apply freshly brewed tea to your sunburnt areas using a wash cloth. Black tea reportedly draws heat from sunburnt skin and also helps restore your skin's pH balance. Add some mint to your mixture for a cooling effect, and you've got yourself a soothing at-home fix. Cucumbers. Try using one of our favorite veggies for your sunburn. Mash up some cucumbers in a blender to make a paste, and apply to your burnt areas--including your face! Relax with a nice cucumber mask, and let your sunburn heal. If you want some more at-home remedies for your sunburn, check them out here. Also, make sure to check out 4 Genius Tricks to Fake Super Long Hair and How to Wear Sneakers to Work.
The Best-Smelling Drugstore Body Lotion Is… (Psst! It's Under $5!)
If you tend to feel overwhelmed when you're in the drugstore faced with all those body lotion options, here's a tip: St. Ives' Pear Nectar & Soy Body Lotion is the one you should buy. Why? Well for starters, it smells divine. I could go on and on about the slightly fruity, yet not-too-sweet smell, but rather than just take my word for it you should head over to target.com and read some of the 5 star reviews on the stuff. There are over 1700 rave reviews FYI, because yes, this lotion is the bomb. Of course, a delightful scent is just a small part of what a body lotion should do--it should also leave your skin super smooth and hydrated and luckily this lotion scores high marks in the moisture department as well. It's not as thick as some other lotions you've probably tried, but no matter--it absorbs into your skin quickly and leaves your skin crazy soft for hours on end. I apply it liberally in the mornings after I shower and when I'm getting ready for bed, my skin is still hydrated and vibrant and there's the perfect hint of pear scent. I love it. Obviously, the best part of this lotion is the price! A beauty product that not only works, but also smells great for under $5? If I could buy this stuff by the truckload I totally would! SHOP ST. IVES BODY LOTION NOW Be sure to check out why you need heat protectant on your hair and the new Madam C.J. Walker beauty line. [Photo: Target]
19 Beauty Products That Smell Like Christmas (In Other Words, Delicious)
The Best Hand Lotions For Severely Dry Skin #ThanksWinter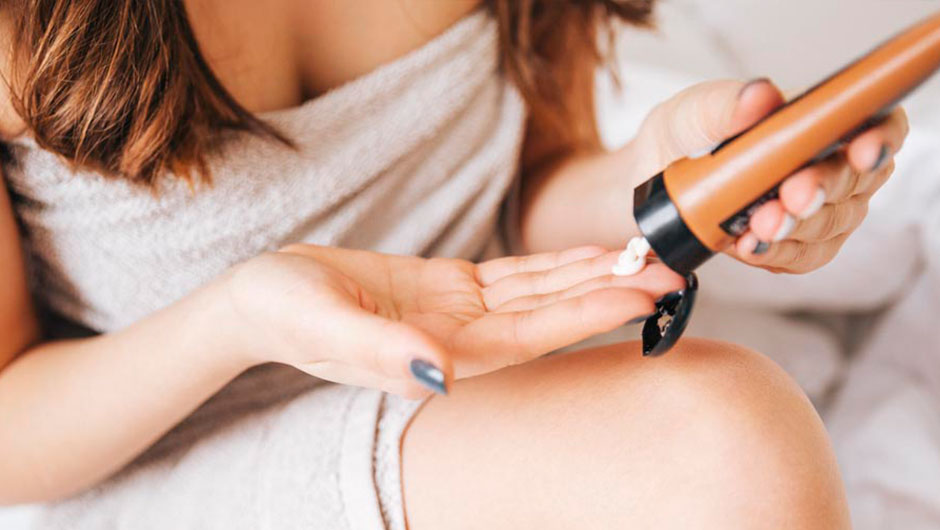 This Is The Best-Smelling Lotion We've Ever Tried
Sometimes perfume smells are way too overpowering for me, so I like to use scented body lotion instead. Plus, with winter on its way, a good hydrating lotion is already on my shopping list for the season. Instead of worrying about a scent for winter and a hydrating lotion, why not use something that serves both purposes?! That's when I came across a product that does just that. I am o-b-s-e-s-s-e-d with Tocca's Bianca Crema de Corpo Body Lotion. At $20, the lotion offers an invigorating, fresh lemon and green tea scent. The ingredients include honey and sweet almond oil, which are known to help nourish and hydrate skin. Like perfume, using this product will make you feel refreshed and the hints of lemon will remind you of those warm summer days even with the brisk winter cold to come. You can purchase Tocca's Bianca Crema de Corpo Body Lotion below! Tocca Bianca Crema de Corpo Body Lotion ($20) And don't forget to check out: Here Are 5 Fun Facts About Alex And Ani, Everything You Need To Know About The Upcoming Pamela Love For EBay Collection, and VIDEO: Donald Trump Dancing To 'Hotline Bling' Is The One Thing You Should Watch Today [Photo: Shutterstock]
The Best Drugstore Body Lotions Under $10 Are…
Everyone Is Buzzing About Jane Iredale's Golden Shimmer Face & Body Lotion–Here's Why
There's a fine line between products that provide subtle, sexy shimmer and those that make you look like a Vegas showgirl. The goal is to have Jennifer Lopez skin; maybe not her skin tone, which no amount of bronzer could do for my pale complexion, but definitely her glow. Enter Jane Iredale's Golden Shimmer Face and Body Lotion which defies all rules of lotion: it can be used on both the body and the face--a rarity, for sure--and provides a slight, sophisticated sheen that works on all skin tones and skin types. I kid you not--there's a reason why this lotion is earning 5-star reviews and quickly becoming a new cult classic: women claim it's hydrating, can be used year round, and gives a warm glow that makes it seem like you've been lit from within, ala Jennifer Aniston. Dying to learn more? Tricia Campbell, Jane Iredale's director of education, gave us the 411 on the lotion that's going to save your winter skin. SHEfinds: There aren't many moisturizers on the market that are ideal for both the body and face. Why is this one an exception? Tricia Campbell: The natural formula rejuvenates and hydrates with botanical extracts, so it is gentle enough to be used on the face or body.  It also has many skincare benefits--grapefruit and orange extracts brighten and illuminate the skin, elderflower and blackberry extracts cool and soften the skin and apple fruit extract rejuvenate the skin with its firming and smoothing benefits while restoring the skin's moisture balance and protecting from moisture loss. SF: Does the lotion work on all skin types? TC: Yes, this divine formula is infused with minerals that capture, diffuse and soften light creating a subtle veil of shimmer designed to warm and smooth the complexion. It is not designed to change the shade of your skin, but serves as a light-reflecting sheer lotion to create a shimmering luminosity on the skin. SF: The lotion contains "diamond dust." What, exactly, is diamond dust and how does it work in this product? Would you describe that as your secret ingredient? TC: The glorious shimmer you get comes from diamond dust, which is actually a unique mineral pigment derived from mica. Mica is the name of a group of natural occurring earth minerals. It is prized for its opalescent sheen, metallic shimmer and iridescence. It's the secret ingredient which creates the soft, elegant opalescent sheen. However, there are many other ingredients that work together with the diamond dust to  create a healthy glow for all skin types. SF: Why do you think this product is so incredibly popular and enjoys an outstanding number of 5-star reviews on Amazon? TC: I think this product has a 5-star rating because all skin types can use it.  It gives the skin just the right amount of shimmer, not overwhelming, but it also makes the skin look hydrated and healthy. So, how does it work? As I mentioned, I'm pale-skinned and not generally a fan of glittery lotions, so I am weary of anything that claims it will make me glow. I applied this lotion with a heavy hand to my entire arm and shoulder and quickly realized I was overdoing it. A teeny bit really does go a long way, and as Campbell mentioned, the formula captures the light and brings forth the sweetest shimmer, but you have to look very closely to actually see the mica particles. From afar, you'll just look a bit more angelic than you would on any given Friday afternoon. I was over the moon about the scent, which is clean and subtle when you apply it and then pretty much nonexistent on your skin. Warning: If you have a scrape or injury on your skin (because I'm really a clumsy 9-year-old at heart) do not apply to your scratch — it turned mine a pretty shade of neon violet. Lovely, but not exactly the look I'm trying to achieve. As for its hydrating properties, I could see it replacing a body lotion, but only if you're comfortable with an allover sheen. Jane Iredale's Golden Shimmer Face and Body Lotion lives up to its name. If you're a makeup minimalist, a dab on the shoulders, collarbone, cheekbones, and ankles is enough glow to make an impression. BUY JANE IREDALE'S GOLDEN SHIMMER FACE & BODY LOTION NOW! For more beauty tips, check out why you should drink water as soon as you wake up and everything you need to know about Pixi Glow Tonic.
Lotions 101: When Did We Get So Many Options And How The Heck Do You Choose One?
When did lotion become so complicated? The primary objective might be to keep your skin hydrated and smooth, but the number of options at your disposal--body lotions, face lotions, body butters--can be overwhelming. Variety, however, is the spice of life and when it comes to skincare these various lotions are there to help address specific skin concerns and ailments. So, let's celebrate the differences and get to the bottom of each lotion so you can determine which is right for you. Body Butter Vs. Body Lotion: What's The Difference? "Typically, body butters are much heavier and more emollient, giving them a more luxurious feel than lotions," explains Molly Leahy, bridal hair and makeup artist at Blushing Brides in Boston. "They also contain more oils (coconut, jojoba, etc.) which create a barrier on the skin to help keep moisture locked in. However, due to the higher oil content, a body butter or heavy cream is much more likely to cause a breakout on oily skin than a lotion. If you have dry skin then body butter can be an essential tool to help heal dry patches and rough skin." "Body lotions, on the other hand, are have a much lighter consistency and don't necessarily accommodate all skin types," Leahy says. "On the plus side, lotions are humectants and help to preserve the moisture that is already in the skin. If you have more acne-prone skin a lotion is definitely the way to go." "Facial lotions are for more targeted issues such as acne or wrinkles," explains beauty expert Julie Ricevuto at YouBeauty.com. "For example, you may have acne on your face, but not necessarily on your back, meaning you shouldn't be using acne lotions on skin that doesn't suffer from that specific condition." Can You Use Lotions Interchangeably? The short answer? Don't even think about it! "Unless you're in dire need of some facial hydration and you're completely out of options, you should never use body lotion on your face," Ricevuto says. "Body lotion is a lot thicker than facial lotion, so it can cause you to break out or even cause irritation on sensitive skin. Thick skin on the body can withstand much more especially in terms of harsher ingredients or fragrances, while delicate facial skin cannot. On the other hand, face lotion can technically be used on the body; however, it may be too light and not as effective on tougher skin." Leahy adds, "When you are looking at your face you want to help problems like wrinkles and acne. When it comes to your body you are dealing with thicker skin that has been exposed to harsher environmental elements (like washing your hands repeatedly in hot water or with hard soap) and are looking to moisturize and relieve cracks and dryness. This being said, most lotions and butters made for the body are too heavy for the face because they are meant to create a thicker topical barrier between your skin and the elements while retaining moisture." Which Lotion is Right For You? Before you shop, get to know your skin. Pay close attention to how it reacts at different times of the month and then proceed with caution when it comes to selecting a lotion or body butter. "No matter what your skin type, you should be using lotions and creams specific to that body part: face lotion for the face, body lotionsand butters below the neck," Leahy says. "If your body is on the drier side or during times of the year when the temperatures are more harsh (like winter) go for something heavier like a body butter to help soften and soothe your skin. For other times of the year when you are more active and sweating and prone to body breakouts, go for a more lightweight body lotion." Editor's Picks If you're in the market for a rich body butter that will instantly treat rough areas like knees and elbows, Clinique's Deep Comfort Body Butter is magical. An amazing thick and moisturizing drugstore option? Aveeno Active Naturals Positively Nourishing Comforting Whipped Souffle, which contains cocoa and shea butters. Are body lotions more up your alley? L'Occitane Lavender Certified Organic Lotion is sweet-smelling heaven in a bottle. For light coverage, Cetaphil Moisturizing Lotion is fragrance free and won't irritate your skin. I've always found face lotion preferences to be quite personal (and you really need to take your skin type into consideration here), but two that I've never found disappointing for my combination skin include Peter Thomas Roth Ultra-Lite Oil-Free Moisturizer and Nia24 Intensive Recovery Complex. For more beauty tips, check out how to shave your knees and the 7 most important makeup rules to follow when it's hot.
Sponsored Post: The Key to Soft, Smooth, and Younger-Looking Hands
Dry, cracked hands are ugly and a common trend of winter. And with all of these holiday parties coming up, who wants to shake hands with a scaly crocodile? Nobody. Luckily for us, HissyFit has answered our prayers with its newest lotion: Hissyfit® Handy Work. Break away from gross hands with HissyFit Handy Work Hand Cream. With an SPF of 30 as well as intensive moisturizers like Vitamin E and Aloe, this cream needs to be in your winter beauty supply. There's no oily residue and your hands will have that just manicured-softness feeling. But Handy Work doesn't just soothe and moisturize hands. It helps fight the visible signs of aging, such as brown spots, uneven color, wrinkles and dryness - all in one. Um hello, can you say miracle in a tube? And use it as often as you like, Handy Work never gets greasy or thick. Just soft, smooth (young) hands all day. You're welcome.