These Amazingly Soft And Comfy Lounge Pants Are Better Than Leggings–Yes, Really!
You may already have enough sweaters and leggings to brave the winter weather, but what about seriously cozy loungewear? When it's too cold to venture out, you need a few go-to pieces to cozy up on the couch with a book to read or TV show to binge watch. One of my absolute favorite pieces to get comfy in? These super soft French Terry Lounge Pants from Honeydew Intimates. And I'm not the only person who loves them. Nordstrom shoppers can't get enough of these lounge pants. They're just fitted enough so as not to not make you look like a total schlub, but not as tight and constricting as leggings. I especially love the soft knit fabric that keeps you warm when it's frigid outside and feels so nice against the skin. Seriously, you won't want to take these off. Get a pair before they sell out again. Honeydew Intimates French Terry Lounge Pants ($38) Honeydew Intimates French Terry Lounge Pants ($38) SHOP MORE NORDSTROM DEALS NOW Be sure to check out this amazing Topshop boot sale and the one tunic sweater you need to invest in ASAP! [Photo: Nordstrom]
Junk Food Loungewear Is Your New #WeekendGoals
You probably know Junk Food for their super soft graphic tees--maybe you've ganked one from your boyfriend's closet? they are seriously so good--but did you know that they just launched a line of loungewear? The collection will take your weekend life to the hashtag next level; I'm talking serious Saturday #goals. Shop our fav pieces from the line--or the entire thing here: Junk Food 'No Talking Before Coffee' Graphic Tank ($38) Junk Food 'Today Has Been Canceled' Raglan Tee ($38) Junk Food Arrow Graphic Jersey Lounge Pants ($54) Junk Food 'Coffee Is Always a Good Idea' Sleep Shirt ($54) [Photos: Junk Food, Nordstrom]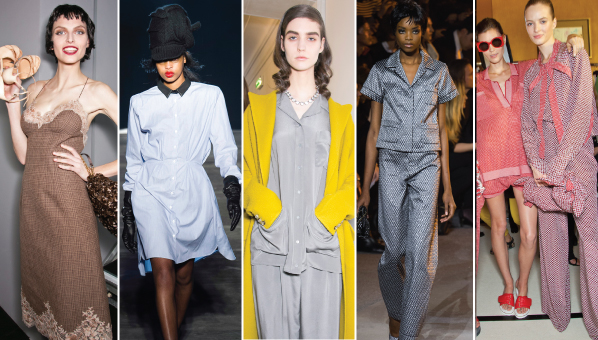 The Comfiest Fall Trends (You Can Even Wear Them To Work)
The old adage that beauty is pain is out of style this season. In place of skintight dresses that make you suck in and deep Vs that force you to push up, are loungewear pieces that are oversized, pajama-like and down right comfortable. They are so comfortable that you will want to live in them--but stylish enough that you can wear them to work. #WinWin Designer like Louis Vuitton, Marc Jacobs, Chanel, Rochas, Suno, Stella McCartney and Boy. by Band of Outsiders all showed the trend, which ranges from printed pajama pants, to lace-trimmed lingerie tops and embellished 'boyfriend tee" dresses and oversized jackets that look like bathrobes. You can even wear PJ top and bottom sets - just don't forget the polished finishes like pumps or statement jewelry. Click through the slideshow for the best comfy, cozy outfits you'll nearly be living in all fall long. [Photo: ImaxTree, L to R: Louis Vuitton, Boy. by Band of Outsiders, Rochas, Marc Jacobs, Stella McCartney]
Forget Footed PJs: Loungewear You'll WANT To Be Photographed In This Holiday
Just because you're staying home for the holidays doesn't mean you need to eschew your fashion sense and don a onsie - or worse, dowdy sweatpants and an oversized t-shirt! So what do you wear to stay comfy-cozy at home this season? We're glad you asked, because we've got just the ticket. If you're adventurous, slip on a pair of sweater leggings and if you're more classic (like myself) take a look at our roundup of cute and flattering loungewear in the slideshow below. For a look that's both comfortable and put-together, try a semi-fitted sweatshirt with dramatic detailing paired with a basic black legging and your favorite slippers. While you're thinking about all things cozy, read up on how vests got a makeover this season, the best cashmere sweater, and the camo jacket trend.
5 Presents To Send Yourself On V-Day (Flowers Don't Last Forever)
If you, like so many of us, don't have a beau (or so much as a date) lined up for V-Day, there's no reason for you to suffer the holiday alone. Accessories are a girl's best friend, so why not buy some to serve as your boyfriend this Valentine's Day? Our slideshow has some of our most coveted items from all over the web — gift one to yourself as a reminder that you, my lady, are special! (And thus deserve a cashmere scarf and yummy pajama set). Shop our guides to the best pajamas, designer wallets (splurge!), and bath products (if you're lucky enough to have a tub, this is the night for a bubble bath).
Fashion Math: Are Silk PJs Worth Putting a Dent in Your Purse?
When you go to bed most nights wearing a worn-out T-shirt and boy shorts, splurging on silk pajamas can seem a little extravagant. But not only is silk loungewear incredibly comfortable and non-irritating on sensitive skin, 100 percent silk PJs keep you comfortable in winter, but surprisingly cool in summer. So, are they really so out of reach? Let's do the Fashion Math: If you wear these Chi Silk Pajamas ($100) just one night a week for about a year, they will cost just $1.90 a wear. Wear them twice and you'll cut the cost per wear in half. With these savings you can save up and buy yourself some 500-count Egyptian cotton sheets while you're at it. And before you run off to bed, check out some flattering lingerie, cheap undwear and more luxurious alternatives to wear to bed.