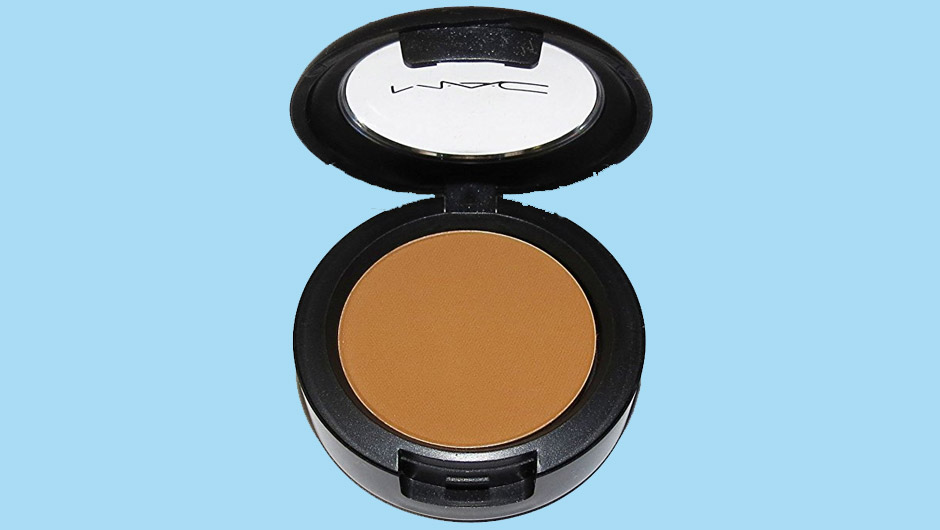 Here's Where To Buy MAC's Discontinued Uninterrupted Eye Shadow
Much to the sadness of beauty mavens, MAC discontinued its popular Uninterrupted Eyeshadow back in 2015. You may recall with fondness the product's deep camel color and creamy finish (which also proved perfect for contouring). But now you can dry your tears, because MAC is finally bringing back the versatile shade this year. Yep, you heard us right. The beige hue will be available in a new compact size for a limited time. Although MAC has not released an official launch date, PopSugar recently confirmed with the makeup brand that it won't be in March, as MakeupWorldNews had first suggested on its Instagram page. While you patiently await the release, we've uncovered some places where you can get the coveted eyeshadow first, since it's sure to sell out once it's back on shelves! Ebay The number of retailers that currently offer the discontinued item are very limited (even Amazon has already run out of its stock), so Ebay is likely your best bet to secure the eyeshadow. We found this brand new version for $69.99 on the site. That's obviously quite a bit more than the eyeshadow's original retail price of $21, but desperate times call for desperate measures - especially if you can't wait for the shadow's nebulous return. What's more, you'll also be getting the full size product with this version, rather than the miniature size that's set to hit stores. If you're not ready to drop $70 on a rare Mac Uninterrupted palette, though, you can always opt for a similar-looking product to get the job done. Below, we've rounded up our favorite dupes that are just as stunning as the original! Bobbi Brown Eye Shadow in Camel ($26) With its rich sandy color, Bobbi Brown Eyeshadow in Camel is almost a near replica of the Mac Uninterrupted shade. Although it comes in a powder rather than a cream, the Bobbi Brown option features a silky matte formula that glides on smooth and blends well. Mac Eyeshadow Pro Pallete Refill Pan in Omega ($6) Another Mac favorite, the Omega EyeShadow is a powder that comes in a muted beige-taupe color. For easy transport, this small $6 version fits perfectly in the Pro Palette case. Makeup Geek Eyeshadow Pan - Desert Sands ($6) Makeup Geek's Eyeshadow in Desert Pan is another great lookalike, with its medium-brown hue and warm yellow undertones. This high-pigmented option not only looks great on your lids but is easy on the wallet, too - and we always like the sound of that. For even more amazing dupes of your most coveted makeup products, check out Here Are The Best Dupes For Benefit's Gimme Brow and 3 Fenty Beauty Gloss Bomb Dupes That Are Just As Great As The Original. [Photo: Amazon]
MAC x Jade Jagger Is Almost Here–And We've Got Swatches!
Nordstrom Rack Is Having A Sale On MAC Cosmetics Right Now!
Guess what!? One of your favorite makeup brands has a ton of products on sale right now at your favorite department store! That's right, Nordstrom Rack is having a flash sale on MAC Cosmetics! From lipsticks and lip glosses, to foundations to concealers, Nordstrom Rack is selling some of MAC Cosmetics' best-selling products. Head over to NordstromRack.com and you will find over 227 MAC Cosmetics products on sale for up to 59% off! According to Allure, the sale is happening both in-stores and online. If for some reason you missed out on MAC's Black Friday and Cyber Monday deals, now is your time to stock up on discounted gifts for your makeup-loving friends and family for the holiday season! Here are a few highlights (no pun intended!) from the amazing makeup sale: For Face: MAC Cosmetics Studio Careblend/Pressed Powder ($14.97, originally $27.00) This powder foundation is soft, cream-like and perfect for matte coverage. Choose from 8 different shades. "This seems to be my only favorite powder foundation," Abigail O. tells Influenster. "I tend to use my MAC studio finish liquid foundation and use this over to set it. Love it. Definitely try it out." MAC Cosmetics Lightful C Tinted Cream SPF 30 With Radiance Booster ($19.97, originally $35.00) This tinted correcting cream comes in 8 shades. It's a beauty essential because it covers blemishes, controls shine and reduces the appearance of pores. "Gives a medium coverage and enough hydration for my skin," @isabelle_violet_mua says about this tinted cream. For Eyes: MAC Cosmetics Mineralize Eye Shadow X4 ($24.97, originally $46.00) A 4-color, mini eye shadow palette featuring shimmery hues that can be applied wet or dry. "I love these shadows. MAC rarely disappoints and this product is no exception," Taryn C. tells Influenster. "I love the colors, pigment, and it lasts long. I would recommend these eyeshadows and will buy again." MAC Cosmetics Pro Beyond Twisted Lash  ($12.97, originally $23.00) This mascara has a flexible wand to curl and add volume to your lashes with ease. Perfect for those stubborn corner lashes! For Lips: MAC Cosmetics Mineralize Rich Lipstick ($14.97, originally $25.00) A creamy lipstick that hydrates, softens and nourishes. It comes in 20 shades -- but act quick because they're selling out fast! "I love M.A.C lipsticks," Laura O. tells Influenster. "They are very rich in color. They last longer than many others after eating, drinking, etc. It's very soft to the lips and it doesn't dry out and crack like other brands." MAC Cosmetics Versicolour Stain ($14.97, originally $25.00) A perfect blend of stain and shine, this long-wear lip gloss comes in 16 different shades. @aparttimer left this review about the gloss on Instagram: "First time trying #maccosmetics #versicolourstain. Color is It's Never Ending. Felt good on, not sticky, it feels so nice that I am constantly rubbing my lips together." More good news! MAC Cosmetics is also having their very own "Goodbye" sale to get 2017 products off the rack and make room for 2018's new releases. Head to MACCosmetics.com and you will find over 20 items (completely different than the items at Nordstrom Rack) on sale for 40% off! MAC is also running an online promotion that'll get you a free makeup brush when you make a $35 purchase. Sales on sales on sales! Looking for more amazing makeup products to stock up on? Check out these new arrivals from Fenty Beauty and HUDA Beauty! [Photo: NordstromRack.com]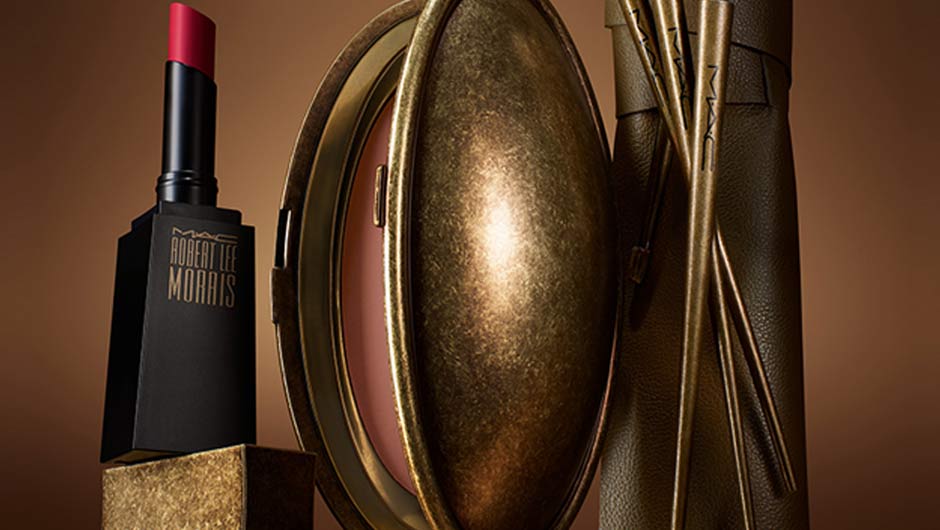 MAC x Robert Lee Morris Is Here–And We've Got The Swatches!
Get A Sneak Peek Of MAC's Holiday 2017 Collection (You're Going To Want It All!)
Drop Everything: MAC Is Now Selling Your Favorite Lipsticks For Only $10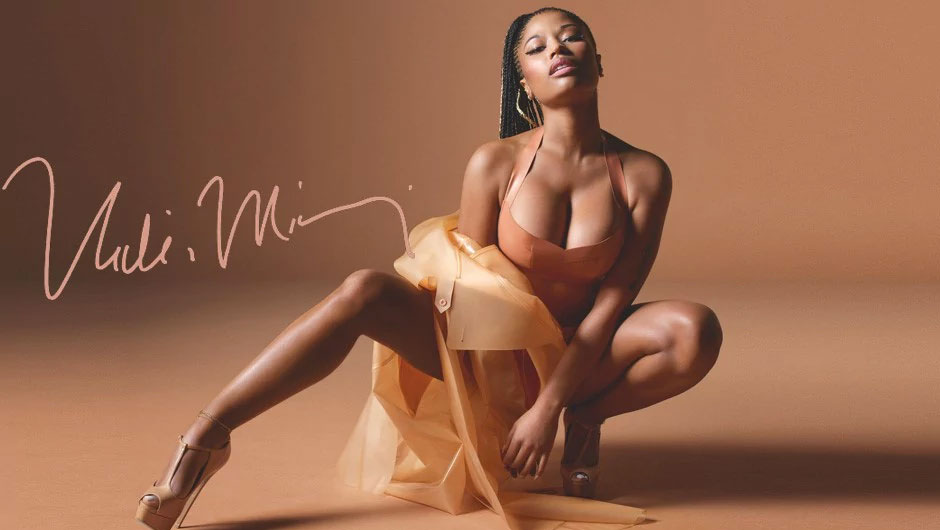 THIS IS NOT A DRILL: Nicki Minaj x MAC Is Here–Plus 24 Bonus Nudes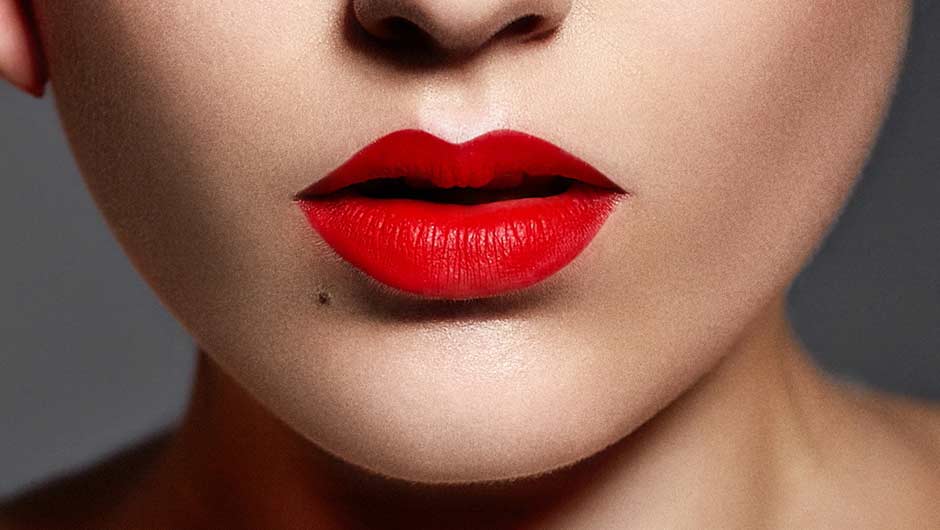 Once And For All, This Is the One Red Lipstick Every Woman Should Own
You'll Never Guess Which Cult Beauty Brand You Can Now Buy At Ulta
This $17 Nude Lipstick Is A Bestseller At Nordstrom With Over 1,800 Five Star Reviews–Here's Why
We all know MAC sells great makeup products, but you maybe surprised to find out that one of their bestsellers is actually just a simple nude lipstick. Really! So what makes this nude lipstick so great? Not only are there 37 different nude shades to choose--from, 37!--but there are also 7 different finishes to choose from. We're talking nude velvety satins, nude mattes and even nude shimmers. I actually own this nude lipstick from MAC in Blankety and I can attest that all 1,800 rave reviews on Nordstrom are completely true. I am obsessed with this lipstick! This lipstick goes on so smoothly and feels like I am not wearing lipstick at all. I just purchased it in Amplified Creme' and I will definitely be purchasing this shade in matte as well! Yes, it's really that good. If you don't want to take my word for it, just head over to nordstrom.com where this lipstick has a 4.7 out of 5 star rating! Some of the rave reviews include that it's long-lasting, perfectly pigmented and moisturizing. What else could you ask for?! SHOP MAC'S NUDE LIPSTICK NOW Be sure to check out the best drugstore beauty products and our favorite makeup sets under $25.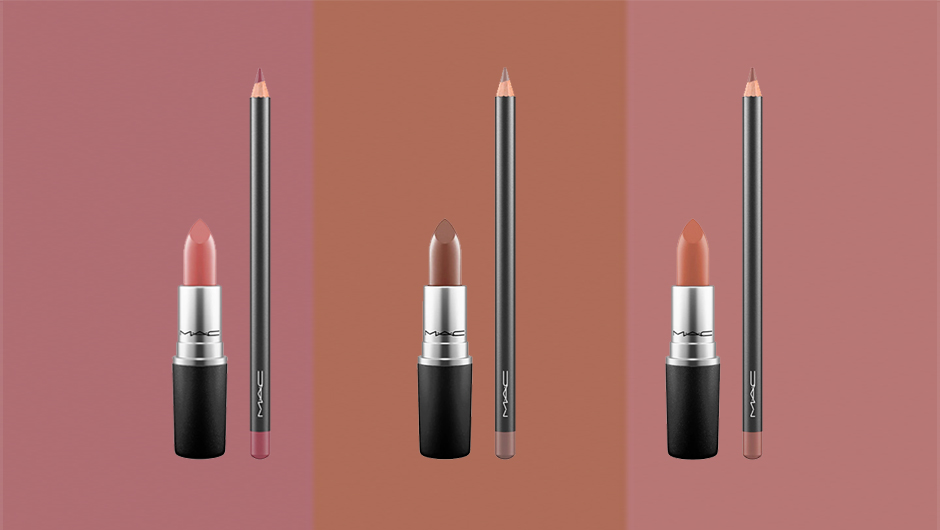 MAC Is Selling Lip Kits Now–And They're Not Sold Out Yet
The 12 MAC Products Every Diehard Fan Owns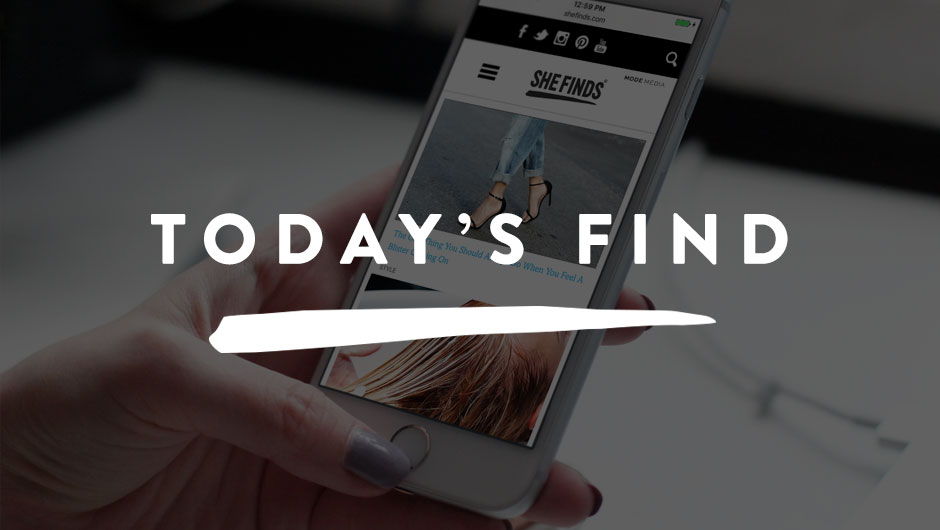 The Easy Way To Get A Free MAC Lipstick That You Probably Didn't Know About
MAC is definitely up there as one of our all-time favorite beauty brands, but not just because they make great makeup. MAC has awesome philanthropic programs that focus on four social initiatives: MAC Cruelty-Free Beauty, Back-to-MAC Recycling, MAC Kids Helping Kids and the MAC AIDS Fund. One thing you probably don't know about the Back-to-MAC program is that by participating in it, you can get a free lipstick. Yes, really. According to maccosmetics.com, here's how it works: Because we share your commitment to the environment, M·A·C accepts returns of its primary packaging through the Back-to-M·A·C Program. By returning six [6] M·A·C primary packaging containers to a M·A·C counter or M·A·C Cosmetics online, you'll receive a free M·A·C lipstick of your choice as our thanks to you. Please note, Lipsticks provided at no charge cannot be returned or exchanged. M·A·C Select Back-to-M·A·C Expanded is only available in stores at this time. It's that easy! All you have to do is return six used MAC makeup containers to a store and you can pick out a lipstick free of charge. Helping the environment with beauty perks? It doesn't get any better than that. Don't forget to check out: what to wear with slip-on sneakers and Reese Witherspoon's favorite workout sneakers are on sale [Photo: MAC]
MAC Is Finally Starting Up Its First Rewards Program!
Diehard MAC fans (aka, all of us), this is for you. The beauty brand is finally rolling out it's very first rewards program, MAC Selects (<---sign up!!). Here's how it works. There are three different tiers with specific benefits. The first is "Seduced," which costs nothing to join. You get perks like exclusive limited-edition products, anniversary gifting, complimentary online samples, free standard shipping and access to the Back-to-MAC program, which allows you to return six empty product containers, in-store or online, to received a free lipstick, lipglass or single eyeshadow that costs $17 or less. The next level of the program is "Devoted." You need to spend at least $150 a year to reach this status, which has perks like an even better anniversary gift, access to selected collections, enhanced online samples, one complimentary express makeup application and complimentary 2-Day shipping when you spend $50 or more. Now, for the total MAC fiend, the highest tier is "Obsessed." This level requires that you spend at least $500 a year. Perks include a deluxe anniversary gift, first access to selected collections, shop new products before anyone else, and two complimentary makeup applications. Now you have a legitimate excuse to stock up on Ruby Woo ($17) or spend your next paycheck on the new Ariana Grande for Viva Glam collection. It's, like, saving money, right?! Don't forget to check out: Chris Martin's carpool karaoke and Jessica Alba wearing Spanx [Photo: Instagram]
Ariana Grande Is MAC's New Viva Glam Girl
The Viva Glam MAC campaign is iconic. For the past 18 years, this campaign has donated all of their proceeds from Viva Glam merchandise to the men, women, and children affected by HIV/AIDS. What makes this campaign so iconic is the fact MAC has had the some of the top people in the entertainment industry represent the campaign as their spokesperson. Mary J. Blige, Christina Aguilera, Missy Elliott, Fergie, Rihanna and Miley Cyrus have all been the faces behind Viva Glam. Now, Ariana Grande is stepping up to the plate. https://instagram.com/p/9WiZw_IpT5/?taken-by=maccosmetics The Viva Glam collection in the past has consisted of pink and taupe brown hues, specifically for Cyrus and Rihanna. But Grande's collection is much more dark and fits perfectly to the pop princess herself. https://instagram.com/p/9WpX0JopRV/?taken-by=maccosmetics The lipstick practically looks black in the tube, but on Grande it shows as a vampy, deep plum shade. This collection is set to release in January 2016. https://instagram.com/p/9WkdXcyWQe/?taken-by=arianagrande Don't forget to check out: Ditch The Boring Black Leggings And Try Alessandra Ambrosio's Printed Pair, Wondering How The Heck To Really Wear A Poncho?, These Outfit Ideas Will Help, and 8 Starbucks Drinks That Don't Have Coffee [Photo: Instagram]
We've Never Seen MAC Do This…
Let's be real, most of us will spend any amount of money on a quality makeup set, so when these sets go on sale it's pretty much a done deal. You might not know, but Nordstrom has killer MAC beauty sets for an amazing value. What's more, all of these sets are limited edition so now is the ultimate time to stock up for the holidays. Get shopping because these MAC sets will not be available for long! SHOP NOW MAC 'Enchanted Eve - Basic' Brush Kit ($52.50, $140 value) MAC 'Enchanted Eve - Plum' Eye Bag ($42.50, $61 value) Don't miss 13 ankle boot outfit ideas that are perfect for fall and can you tell which trench coat costs $1,795 more than the other? [Photo: MAC 'Nordstrom's Finest' Eyeshadow Palette, MAC 'Enchanted Eve - Copper' Eye & Lip Bag]
Zac Posen For MAC Is Coming!
Fashion designer Zac Posen is launching his first-ever makeup collection with MAC. The collection is set to launch in February of 2016 and has an old Hollywood vibe. https://instagram.com/p/8x1rABIpbk/?taken-by=maccosmetics Posen said, "I have always wanted to create a makeup line to complement my designs and my brand and it was only natural to work with M.A.C. to create my first-ever signature collection." Not many details have been released about the collaboration. However, we know it's going to feature a liquid black liner and a bold red lipstick. https://instagram.com/p/8x6aG1G9LD/?taken-by=zac_posen "I wanted to keep it luxurious, a little mysterious and clean with a large dose of star wattage," he said. MAC senior vice president James Grager is excited about the collab as well, saying, "It's the perfect encapsulation of both of our worlds, with something sophisticated and sexy for every woman out there." Stay tuned for more... Don't miss Sephora's brand-new Korean beauty department and Who What Wear is collaborating with Target! [Photo: Instagram]
Mariah Carey And MAC Are Collaborating For A Holiday Collection
90s dreams are coming true everywhere! MAC just announced a new holiday collaboration with none other than Mariah Carey. This news is super exciting considering Mariah Carey basically encompasses the holiday spirit with her Christmas classic "All I Want For Christmas Is You." While her entire collection doesn't come out until 2016, MAC is releasing a 90s-inspired lipstick shade on December 3, according to PopSugar. The lipstick shade is called "All I Want" (because why not?) and it's a "beautiful champagne shimmer" color. https://twitter.com/MACcosmetics/status/648859786906365952 MAC creative director James Gager said, "Mariah is the over-the-top pop and beauty icon. Throughout the years we've all watched her with admiration and feel right now she is at her ultimate best. She exudes elegance, glamour, sophistication, and a sense of fun. Her 'All I Want' lipstick is the perfect frosty holiday shade and her Beauty Icon collection will be everything you think of when you think MAC and Mariah." https://instagram.com/p/8OCsX8rePH/?taken-by=mariahcarey "MAC has been my go-to makeup brand for as long as I can remember and I'm so thrilled to be collaborating with them on a lipstick debuting this December, just in time for the holiday season!" Carey said about the collaboration. "The champagne frosted 'All I Want' shade is elegant, sophisticated and glamorous. My MAC Beauty Icon collection will be launching in 2016 and is certain to not disappoint." As if the holidays couldn't get any better! Don't miss 5 super hydrating hair products you need to use before winter and here's how to fix a broken lipstick! [Photo: Instagram]
11 Facts You Never Knew About MAC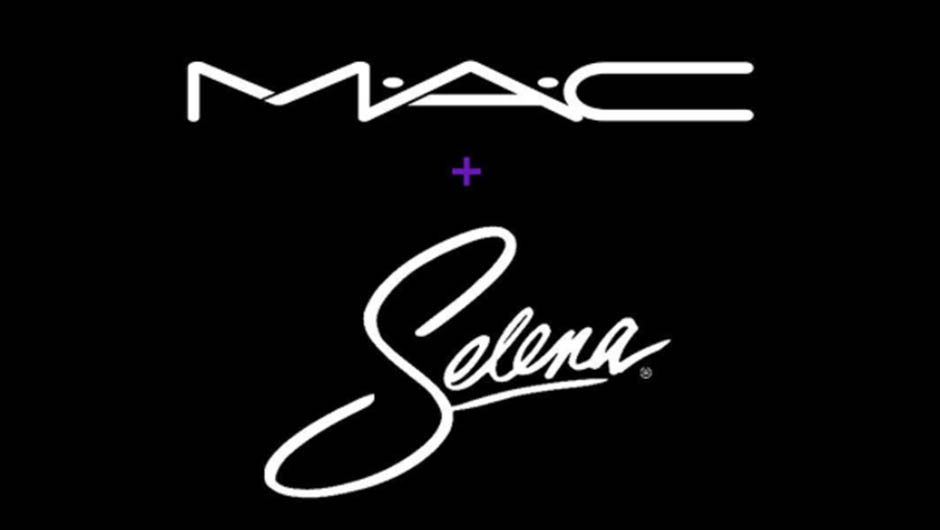 MAC Is Honoring Selena Quintanilla With A Makeup Collection
Back in February, a Change.org petition "to release a 'Selena Quintanilla for MAC' limited edition collection" made the internet rounds. It was so convincing that the folks over at M.A.C. decided to turn this idea into a reality. It was announced yesterday that the makeup brand is releasing a limited-edition collection honoring the late singer: https://instagram.com/p/5M_P7NIpei/ The line is expected to hit "in the latter part of 2016," according to M.A.C. Creative Director James Gager. We have no details yet on what types of products will be included in the collection, but we would bet money that a red lipstick is involved. Don't forget to check out: #multitasking beauty is trending and why women are dyeing their armpit hair [Photo: Instagram]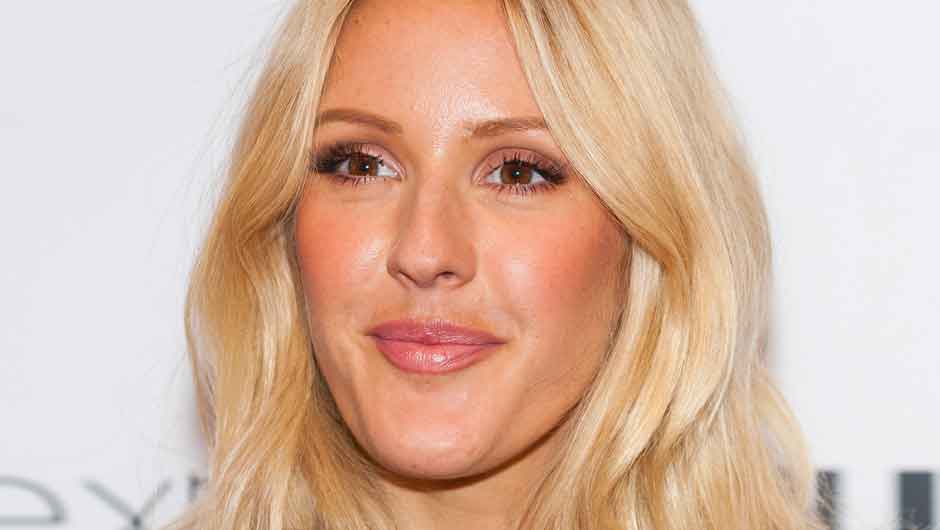 Ellie Goulding Just Landed Her Own MAC Collection
Ellie Goulding is teaming up with MAC! The singer is getting her own makeup collection with the beauty brand set to hit shelves this December. Both Ellie and MAC shared the news via Instagram yesterday: https://instagram.com/p/3gqfMHTfaC/?taken-by=elliegoulding https://instagram.com/p/3gm3uoopfL/?taken-by=maccosmetics Unlike previous celebrity MAC collaborations (Kelly Osbourne, Lorde, etc.), this one looks way more girly, featuring soft neutrals like pink, gold and bronze. It's definitely a welcome change from the bold and dark colors. Following rumors that Caitlyn Jenner would be the new face of MAC, the cosmetics company exclusively told E!, "M.A.C. Cosmetics is a brand that embraces ALL AGES, ALL RACES and ALL SEXES and is a longstanding supporter of the LGBT community. We are inspired by Caitlyn Jenner, her personal journey and we admire her courage and beauty. We have not signed Caitlyn as a spokesperson for M.A.C." Tell us what you think of the newest collab! Don't miss 14 actors and actresses who have good singing voices and 12 celebrity no makeup selfies [Photo: Splash News]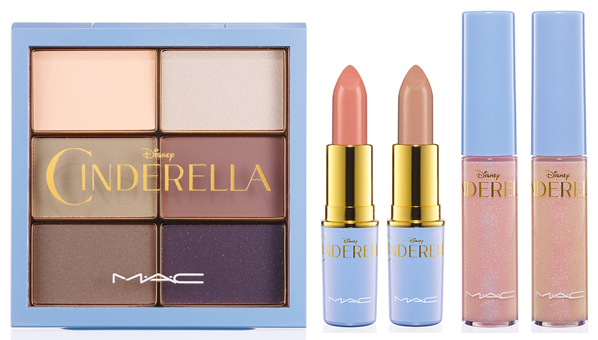 The Only Place You Can Still Buy MAC's Cinderella Collection Is…
Cinderella has been all over the place lately, thanks to the live-action movie coming out in theaters this Friday. Shoe designers like Jimmy Choo created their own versions of her iconic glass slipper, Hot Topic launched its own Cinderella clothing line and MAC released a limited edition collection inspired by the Disney character. The latter features tinted lipglasses in shades like Glass Slipper and Happily Ever After, eye shadow palettes like Stroke of Midnight, and even Cinderella glitter to give you a princess glow of your very own. Well, we have good news and bad news for all of you. The bad news: MAC's Cinderella collection is totally sold out, and since it's limited edition, they won't be replenishing the stock online or in stores. The good news: you can still buy select items from the collection on eBay! The items are all in perfect, unused condition, so if you're looking to get your hands on these high-demand products, get shopping. SHOP THE COLLECTION NOW And don't forget to check out: Etsy x American Museum of Natural History, how to make over your kitchen for less than $500 and cute raincoats for spring [Photo: Stroke Of Midnight Eye Shadow Palette, Royal Ball Lipstick, Free As A Butterfly Lipstick, Glass Slipper Tinted Lipglass, and Happily Ever After Tinted Lipglass]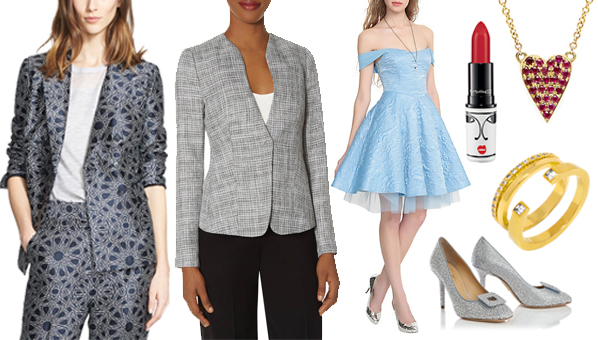 9 February Collaborations You Need To Know Now
This month's fashion and beauty collaborations might be slim, but it's only a sign that way more are in store for next month, when spring shopping officially hits. In the meantime, check out who teamed up with who for February's latest partnerships, including Caroline Issa's office-appropriate collection with Nordstrom, MAC's latest collaboration, and how Charlotte Olympia and Hot Topic used Disney's Cinderella as an inspiration for their newest offerings. Check out our slideshow to learn (and shop) more. Don't forget to check out: SNL's best moments, slide sandals to wear for spring and fuzzy sweaters that every celebrity is wearing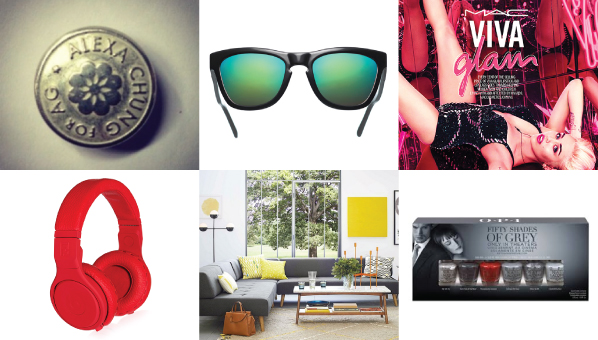 15 January Collaborations You Need To Know Now
With a New Year comes even newer things to shop, especially this month's latest designer collaborations for your fashion, home, and beauty needs. Seriously, the collabs to kick off 2015 run the gamut from Kate Spade Saturday's home decor for West Elm to Alexa Chung's latest partnership with AG Adriano Goldschmied, as well as Miley's two-piece collection for MAC Viva Glam. There's also new Beats by Dre designed by Fendi, an OPI nail polish collection inspired by Fifty Shades of Grey, and some Internet-friendly sunglasses from Westward Leaning. Check out our slideshow to learn more (and shop) January's most-wanted collaborations. Don't forget to check out: Jennifer Aniston's EF Collection ring, workout gear for your New Year's resolution, and bucket bags that look just like Mansur Gavriel's It bag.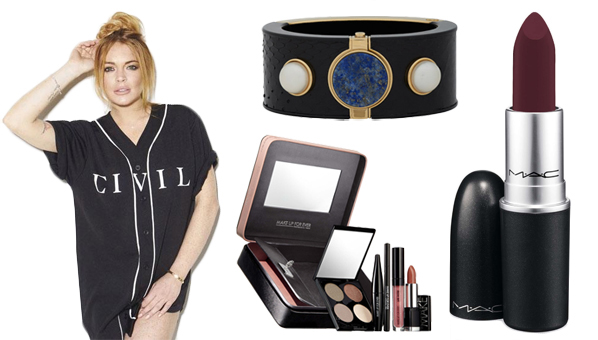 11 December Collaborations: Designers Really Do Save The Best For Holiday
If you're still on the hunt to find the best present for a few folks on your holiday shopping list, then this month's designer collaborations are sure to do the trick—especially if you're looking for beauty products. Nasty Gal, Fifty Shades of Grey, Victoria Beckham, BaubleBar, and Beyoncé have collab collections with major makeup and nail brands out this month. Bey's little sister Solange released a capsule collection of sneakers with Puma again. Opening Ceremony will finally release their wearable tech bracelet with Intel, which looks more like a luxe bangle. GQ is partnering with the Gap to offer some limited edition items that your guy will love this holiday.  Plus Lindsay Lohan teamed with the men's streetwear brand Civil on graphic T-shirts, sweatshirts, and jerseys featuring none other than LiLo herself.  But our favorite collaboration of all has to be  Japanese brand Commes des Garçon and everyone's favorite movie Frozen, which includes quirky printed T-shirts, totes, and scarves with your favorite princesses and snowman. So you can show off your love for "Let It Go" without looking like you walked out of the Disney store. Check out our slideshow to shop this season's collaborations now.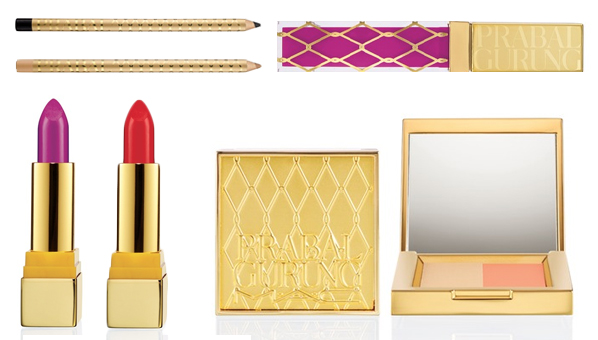 The MAC x Prabal Gurung Holiday Collection Is Here
It feels like we found out about MAC x Prabal Gurung ages ago and now it's here. The gorgeous collaboration not only features beautiful lippies, bronzing powders and eyeshadows, but it's surrounded by glamorous gold packaging that's a treat in itself. (So pretty, it's worth the more-expensive-than-usual costs if you ask us.) The collection is available online now, and will be in stores November 26-December 24, 2014. But who wants to risk fighting over the last Ultramarine Pink Lipglass ($30) when you can just place your orders online? SHOP MAC X PRABAL GURUNG NOW Check out: the best jewelry display gifts, the Rebecca Minkoff online sample sale and blow dryer hacks for things besides drying your hair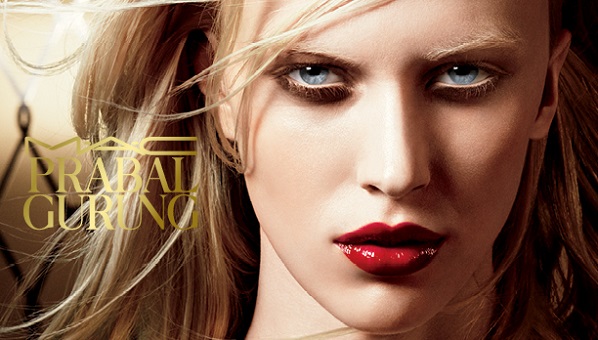 PHOTOS! See The MAC x Prabal Gurung Holiday Collection Now
Brace yourselves beauty junkies. The first official photos of the MAC x Prabal Gurung holiday collection are here, and yes, they are going to make you swoon. Now in case you missed the memo, MAC teamed up with fashion designer Prabal Gurung on a limited edition beauty collection launching online on November 20, 2014 and in stores onNovember 26, 2014 through December 24, 2014. So not only will you get the cult makeup MAC is beloved for, but you'll get it in gorgeous gold packaging. Here's a sneak peek: Click through the slideshow to see more photos of the MAC x Prabal Gurung collection and be sure to mark you calendar for the official launch on November 20. Don't miss the news about Urban Decay's new Naked palette, plus the best beauty gifts of the season.
Don't Worry You Won't Look Like An Oompa Loompa In RiRi's New Mac Line
We just love it when celebs give back to charity, and our girl, Ri Ri, is no exception. So when we found out that Rihanna's second MAC Viva Glam collection is coming out next month, we were pretty darn excited. But while we expected shades of red like her first Glam collex (which makes sense since every penny of the proceeds will benefit men, women and children affected by HIV/AIDS), we got the opposite. This time around, Rihanna and MAC decided to switch it up, but don't let the ads fool you. MAC and Ri lovers will not be walking around wearing bright green lipstick. (Thank goodness!) Instead, the duo opted for frosted mauve lipsticks and lipglass. Yes, Rihanna just brought frosty metallic lipstick back from the 90's and made it cool again. What can't this girl do? Oh and don't worry, if you're more of a traditional red lip kind of gal like T.Swift, the old hues will be available again too. The entire collab will hit MAC's online store on September 8 and brick and mortar stores on September 11th. So check back next month, we'll have more deets and products for you to shop. Remember, it's for a great cause! Viva Glam Rihanna II Lipstick 'Warm Mauve With Silver Frost' ($16) Viva Glam Rihanna II Lipglass 'Cool Mauve With Red Frost' ($15) While you're waiting for Viva Glam II to drop, shop for more MAC products, here. And don't forget to check out: National Underwear Day, the Bachelor In Paradise recap and fall jackets on sale. [Photo: MAC]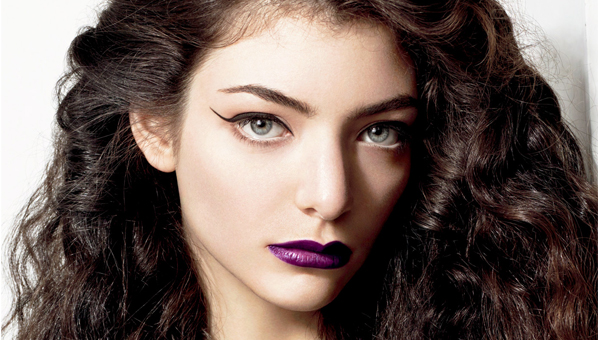 MAC x Lorde Is Here! Now Get That Purple Lipstick Before It Sells Out
We got word back in March that Lorde was teaming up with MAC on a limited-edition collection, and now it's here! Just like we expected, there's a vampy dark purple lipstick, similar to the shade the 17-year-old Grammy winner is notorious for wearing. The collab also includes a super black liquid eyeliner so you can nail her exaggerated cat eye look. Yes, only the coolest chick in the music game can get away with calling two pieces "a collection." But hopefully that means there's a ton of both in-stock? If the last MAC collaboration with a singing sensation is any indication (we're looking at you, Rihanna), the lipstick is probably sold out by the time you're reading this. If not, you should get on that ASAP. Can we get a show of hands--who else was hoping for some crazy dip dye nail polish?! May we suggest MAC x Lorde round 2? It only makes sense since RiRi did it not once, not twice, but THREE times. Pure Heroine ($16) RapidBlack ($19.50) And don't forget to check out: ASOS x Disney, how to dress up a t-shirt and watches that look like bracelets [Photo: MAC]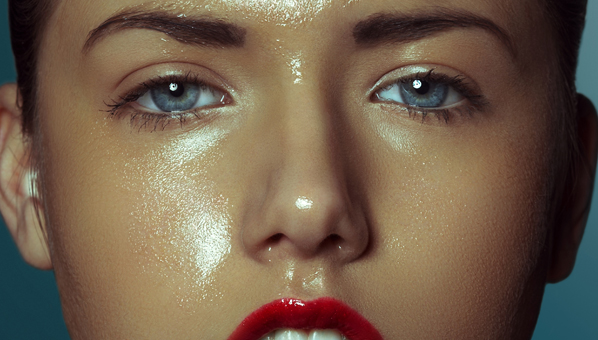 10 Sweatproof Beauty Products That You Need To Survive Summer's Hottest Days
It's June, and that means that it is about to get HOT. Really Hot. And while the heat might cause us to break out our sleeveless tops and shorts, it also causes us to break out in a sweat. Whether you're commuting, taking the dog for a walk, or sitting outside at brunch, you will be sweating during the upcoming months. We already know that sweat causes all kinds of crazy beauty problems like greasy, frizzy hair and nasty zits, but sweat also causes your makeup to run. I know you're thinking, "Great, just one more thing to worry about," but don't stress, runny makeup shouldn't be a huge problem. There are tons of products out there that will help to keep your makeup intact, even on the hottest days, and we've found ten of the best. So unless you want to be known as "the girl who's face is dripping off," you should definitely check out all of the sweatproof beauty products in our slideshow. Trust me, you're going to need them. For more beauty products, check out: Benefit eyeliner, eyeshadow and hair removal. [Photo: Shutterstock]
MAC's New Waterproof Eye Makeup Will Make Sure Your Brows Don't Slide Off
This morning, MAC released what could be their most useful product of all time, the Waterproof Brow Set. Available in both liquid and gel, this product is the answer to every makeup artist and brow-filler-inner's nightmare: losing your brows. (Yep, that's a thing.) According to MAC, the collection is made of a waterproof formula that is "sweat-proof, smudge-free, and humidity resistant." If you're one of those girls that likes to (or has to) fill in their eyebrows, I'm sure you understand the struggles. You go to the gym  and you're eyebrows slide off. You sweat a little bit on your morning commute, say goodbye to your brows. Humid day? Forget it. And you definitely can't touch your face, EVER. Oh, and don't even get me started on the pool. Now, girls who fill in their brows can jump in the water without their brows disappearing from their face, which is totally awesome. Let's face it, dripping eyebrows are just awkard. So props to MAC for helping us out. The MAC Pro Longwear Waterproof Brow Set ($16) comes in six different natural shades ranging from light blonde to a deep brown. There are also three Fluidline Brow Gelcreme's ($16) that can be applied with MAC's 208 Angled Brow Brush ($20). So if you want to eliminate your summer fears and have longlasting brows you should take a look at the entire collection in our slideshow then head over to MAC immediately to try it yourself. Trust us! It works and you won't be disappointed. SHOP MAC WATERPROOF BROW NOW Take a look at these other MAC products: MAC x Maleficent, Proenza Schouler x MAC, and Lorde's MAC collab.
MAC x Maleficent Isn't Makeup For Movie Villains (Aka You Can Actually Wear It)
Inspired by the dark untold tale of Disney's most notable villan, Maleficent, who tormented Princess Aurora in Sleeping Beauty, MAC launched a new beauty collection celebrating the movie's release in theaters on May 30th. When we first heard about this collection, we were excited, yet skeptical that it might be a repeat of the Maleficent products in MAC's Venomous Villans collection, but we were definitely wrong. With an image of the Disney cartoon in mind, we expected purple lip and eye colors, and maybe something green, but the evil Maleficient we know and love is much different in the new movie. Angelina Jolie's character wears a pale face, a bright red lip, and of course, a black robe. So, it is only fitting that MAC chose those as the three main colors in the collection. The 14 piece MAC x Maleficent collection includes lipstick, lip gloss, lip liner, eye shadow, eye liner, fake eye lashes, powder, nail polish, and more. So, whether you want to channel your inner villan or amp up your Friday night look with a bright red lip, you better check out the entire collection in our slideshow. If you don't we might cast a spell on you. SHOP MAC NOW For more MAC products, check out: Proenza Schouler x MAC, Lorde's MAC collab, and Kelly Osbourne x MAC. [Photo: MAC]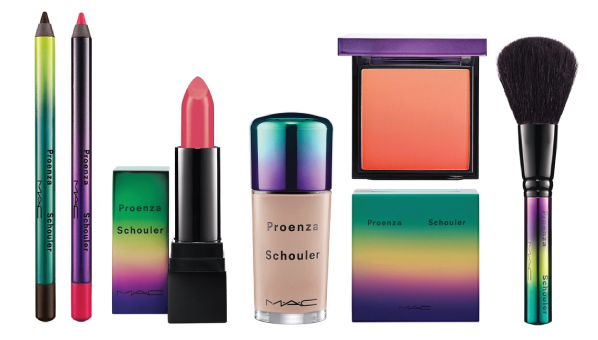 Proenza Schouler's New MAC Collection Is Here And For 'Cool' Girls Only
We've been waiting since October, but this morning, MAC finally launched their new 14 piece Proenza Schouler collection. This collaboration by Lazaro Hernandez and Jack McCollough is meant to be "cool," as explained in Allure magazine's April 2014 issue. And with bright summer shades and ombré metallic packaging, I think the duo accomplished just that. The cool Proenza girl is described as being "confident" and having: "Perfect skin with a lip color that's saturated and matte. Or a blank face and crazy nails. Or one bash of bright color on the cheeks," said Hernandez in his interview with the mag. The limited edition collection features a powder brush, creamy longwear eyeliner, pink and coral neon blush, plum, black, nude and coral nail polish, and poppy red and bubblegum lipsticks. So if you want to be a Proenza girl, check out MAC's newest collection in our slideshow. But HURRY, it won't be around for long! SHOP PROENZA SCHOULER FOR MAC NOW For more in beauty, don't forget to check out: 10 Spring Beauty Products, Violet Grey's Online Store and this At-Home Shellac Hack.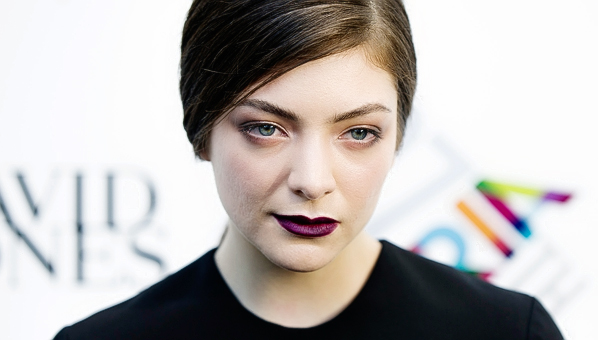 Lorde's Vampy Lipstick And Dip Dye Nails Land Her A MAC Collaboration
Alright, so Lorde is a 17 year old with a chart-topping album and two Grammys, so what's next? A beauty collab with MAC, #obvi. The singer is teaming up with the makeup brand on a limited-edition collection to debut this summer. We don't know anything yet about the products, but we can probably expect dip dye nails and vampy dark lipsticks--two looks the New Zealand native is totally owning these days. Apparently, the singer has loved the brand since she was a little kid (aka, yesterday). She tells The Cut, "I remember saving up to buy my very first MAC lipstick [Snob] at 14, and it was used by about 20 of my friends!" MAC senior artist Amber Dreadon is also responsible for Lorde's beauty looks on tour, so this collab makes more than enough sense. We can't wait to see what the two come up with! Because everything this chick puts her name on turns to gold, we mean, becomes royal. While you wait for Lorde's collection, check out the latest from MAC! For more collab news, check out: Chanel x Monster headphones, Peter Pilotto x Target is 30% off and Santigold x Smashbox [Photo: Splash News]
A Shopaholic's Guide To Giving Tuesday: 30 Gifts That Give Back
It's a good thing that today is Giving Tuesday because we could seriously use a break from all the Black Friday madness and shopping for ourselves. And before you start worrying about what to get all those people still left on your holiday shopping list, ALL of these items make great gifts. A ton of designer brands like Tommy Hilifiger, Michael Kors, MAC and Clinique have collaborated on beauty products, handmade jewelry, and more that help support different causes around the world. And the best part? You get to give two gifts in one--like the Alex + Ani Stand Up Charm Bangle ($28), which donates 20% of every purchase to Stand Up to Cancer, and this Lemlem Merino Wool Scarf ($159), which helps support economic independence for women in Ethiopia. So if you want to stay on Santa's nice list, you should probably click through the slideshow to check out 30 gifts that give back. Don't forget to check out our holiday gifts for her, gifts for him, and gifts for home.
Lauren Conrad Shows Off Her Engagement Ring On Instagram, More News
Instagram is the best way to share news, and that's how Lauren Conrad decided to announce her engagement. (Shop her diamond love ring here). [Instagram] MAC launches it's newest holiday collection Divine Night. [MAC] Victoria Beckham's fashion label is officially taking off: she's opening a flagship store in London. [Grazia Daily] If you think Miley Cyrus isn't talented, the charts say otherwise. Her new single and album are both at #1. [Elle UK] If you really want a purse that represents a fairy tale, check out Even After High's collaboration with Fashion East. [Vogue UK] You can shop Kelly Clarkson's nail polish from the Grammy's, and it's a limited edition made specifically for her. [InStyle] Instead of throwing out your old iPhone, donate it to the Music & Memory project to help people that suffer from Dementia and Alxheimer's. [InStyle] Thanks to an attachment that plugs into the headphone jack, now your iPhone can function as a pen too. [Daily Mail] And don't forget to sign up for our newsletter! [Photo Credit: Instagram]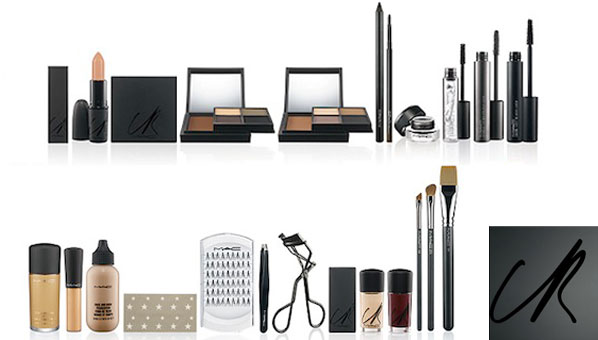 You Can Now Shop Carine Roitfeld x MAC In All Its Vampy, Tired-But-Sexy Glory
We knew when Carine Roitfeld left the helm of French Vogue that we'd find her dabbling from one high-fashion project to the next, but she just might be giving Karl Lagerfeld, King of Collaborations, a good run for his money. This time, the queen of the smoky eye is putting her encyclopedic beauty knowledge to work with her collection for MAC Cosmetics, which launches online today (!!). Complete with two five-color palettes, lipstick, mascara, foundation, concealer, polish and (of course), an eye pencil, the collection  — which ranges from $15 for a kohl eye pencil or a brow definer and $44 for the five-piece smokey eye color palette — epitomizes Carine's Parisian-gone-gothic style. The dark shades, neutral powders and — my favorite — the dark red vampy nail polish called Underfire Red are exactly what you'd expect from her. Ms. Roitfeld even advises you break the number two beauty rule (second only to wearing sunscreen, duh!) and sleep in your mascara to nab her tired-but-sexy-chic look. Can't wait to get your hands on that polish? Us either — snag free shipping when you use the code BALM at checkout until September 2, or if your favorite Roitfeld-branded product is sold out, don't fret: the entire line will be in stores on September 6. SHOP THE COLLECTION NOW [Photo: Glamour] Craving more beauty news? Get the deets on Oscar de la Renta's first-ever nail polish line, check out which pop star just collaborated with MAC, or find out if you've been using expired beauty products (ew!).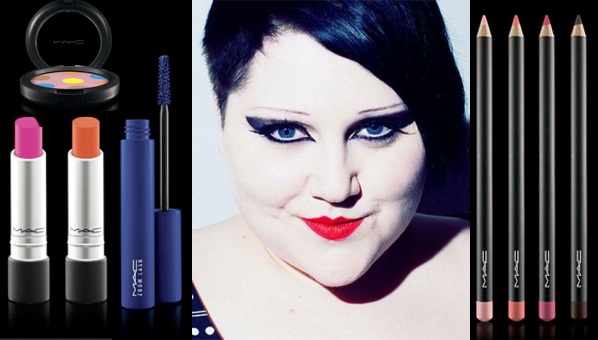 Beat Your Monday Blues: Beth Ditto For M.A.C Launched Early!
We've told you about the collaboration between Beth Ditto and M.A.C when it was first announced, showcased the collection when the photos were released, and are now excited to announce that the collaboration has finally launched online-- a few days earlier than it's set to arrive in stores. Get your hands on the fun polka dot face powder compact (that can also double up as eye shadow!), vibrant lip colors and colored mascaras. SHOP Beth Ditto for M.A.C collection here  For more beauty news, check out Sally Hansen's Magnetic Nail Polishes and Spongebob x Rescue Beauty Lounge.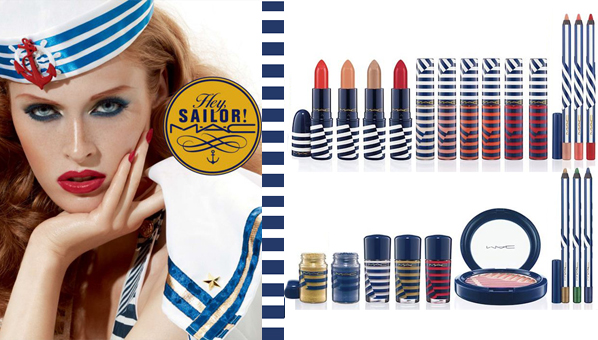 Ahoy Mate: M.A.C's Hey Sailor! Collection Has Launched
All hands on deck! M.A.C's Hey Sailor! collection, expected to come out in stores May 24, quietly launched online last week. Inspired by pin-up girls, the $15.50-$45 collection includes everything from eye and lip color to nail lacquer and bronzing powder. In addition to cosmetics, all packaged in adorable white and blue striped casings, the line includes a tote and a makeup bag to hold all your nautical goodies. See the slideshow above for our favorite products or SHOP the complete collection here Anchors aweigh! Shopping ahead. For more beauty news, check out Reed Krakoff Limited Edition Eau de Parfum and Chanel's secret limited edition polish shade is, and shop our Beauty Guide.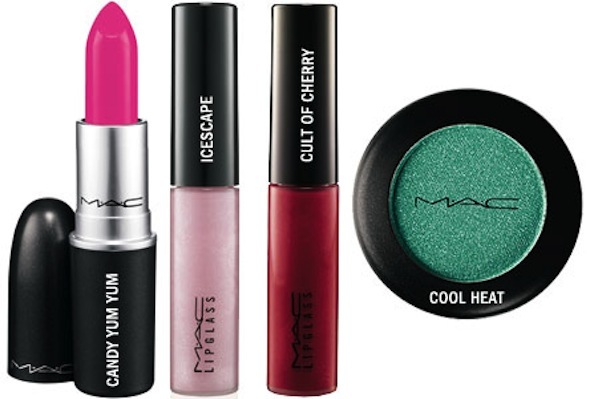 Moxie, Cult Of Cherry, Moth Brown: Your Favorite M.A.C. Products Are Back (By Request)
How depressing is it when it's time to restock your makeup and your favorite color or product has been discontinued? Well, if you dig M.A.C.'s high-pigment goods, you're in luck! The brand has opted to re-launch a selection of their most sought-after discontinued products and colors, based on your votes. If you're a fan of one of the styles in the list below, head over to M.A.C.'s facebook page between March 12 and 30 to vote for its return! The top products from each category will be released in a limited edition collection called M.A.C. by Request, out in July at M.A.C.'s web site. Check out some of M.A.C.'s products in our slideshow above, and shop our guides to the best mascara, eyeshadow, and eyeliner. LIPSTICK 3N (January 2008) Moxie (September 1999) Candy Yum Yum (April 2011) Shitaki (March 2001) Rocker (Red) (Fall 1999) Eden Rocks (May 2001) LIPGLASS Emancipation (February 2011) 2N (January 2008) Flash of Flesh (May 2005) Icescape (December 2009) Bait (June 2006) Cult of Cherry (September 2008) EYE SHADOW Moth Brown (March 2005) Guacamole (May 2005) Solar White (June 2008) Cool Heat (June 2008) Jeté (January 2006) Heavenly Bliss (May 2001)
Beth Ditto For M.A.C.: Our Latest Beauty Obsession (Check Out Those Lashes!)
Lovers of Beth Ditto's outsize personality and fashion sense have something to look forward to this summer: The Gossip singer is the latest celebrity tapped to create a line with M.A.C. cosmetics. (more…)
Today Is World AIDS Day, Show Your Support By Buying A Cool Charitable Gift
A variety of RED Products In honor of World AIDS Day today, why not buy a  holiday gift for a friend, boyfriend, or family member that also gives back. Although the Isabel Marant for Gap Tee (pictured center) is already sold out, there are plenty of other gifts on JoinRED.com that fit the bill nearly everyone on your roster. Or, shop Armani Exchange's Dance Tee and M.A.C.'s Viva Glam collection below, because every penny generated benefits a good cause. Who knew philanthropy could be so on-trend? (more…)
Wedding Day Makeup Tips You Cannes Steal From The Red Carpet (Sorry, We Couldn't Resist)
The glamour, the fashion, the movies -- the Cannes Film Festival is one hot ticket. Rachel McAdams has stunned all weekend with her flawless skin -- we heard it's thanks to MAC's Select/Sheer Pressed Powder ($23). For more celeb looks to mimic, check out our slideshow. (more…)
MAC And Noir Jewelry Prove Wonder Woman Is Not Just For Halloween
We're all about girl power, and so when the very retro Wonder Woman makes her way back into social relevancy, we rejoice. Not only is David E. Kelly shopping a remake of the television series around to the networks, but MAC just announced a new Wonder Woman collection for Spring. The line will include false lashes ($14), and a brush set with its own metallic utility belt ($49.50), as well as the standard ipsticks, mascaras, nail polishes and eyeliners. For those of you who can't wait, Noir jewelry has a kick-ass Wonder Woman collection out now: Channel your inner Superhero with this Noir Jewelry Wonder Woman Ring ($134) or this Wonder Woman Knuckle Ring ($134). Follow the author of this post on Twitter @bridefinds. Shop all of the best sales and deals, online sample sales and black dresses, faux fur vests, celebrity style and skinny jeans.
MAC's Tartan Eyeshadow Kinda Makes Us Want To Kiss A Scottishman
Calling all Scottish lassies. From the folks who brought you Disney villain eyeshadow and wildly popular Alice + Olivia for MAC comes our favorite themed collection yet: MAC's A Tartan Tale, a Gwen Stefani-esque plaid cosmetics collection. We predict that these hot compacts will make their way onto the Gossip Girl set (so preppy) next season, so grab one before they sell out online: These M·A·C 'A Tartan Tale - Twists of Tartan' Eye Kit ($36) and Beauties Play It Cool' Eye Kit ($36) are so cool, you won't want to If  you're in the market for an adorable plaid pouch and 3 cosmetic staples to put in it - this M·A·C 'A Tartan Tale - Vain & Glorious' Lip Bag ($36) comes with MAC lipstick, lipgloss and lip pencil. Shop more amazing beauty finds, from the best hair removal products, to mascara and eye cream.
16 Cosmetics Names That Horrify Us, From Mildew To Funeral Home
The recent drama over Rodarte's Mexico-inspired MAC line has us thinking. In case you missed it, there was an outrage over  the 'Juarez' and 'Factory' nail polishes, because as The Frisky puts it: "Juarez is an impoverished Mexican factory town notorious for the number of women who have been raped and murdered there." Not the best choice for  a shimmery pink. What's even more ridiculous is how many other ill-advised, offensive, and just plain gross beauty names are out there. Juarez is certainly not the first or last - check out some other atrocious names we found (and feel free to leave your own): Although OPI's own Mexico-inspired nail polish line is pretty clean, their Hong Kong Collection is questionable. The borderline stereotypical Chop-Sticking to My Story ($2.65) and A Good Man-Darin Is Hard to Find ($4.73) names leave us feeling like an elder relative just used an out-of-date term at the dinner table. Just awkward. In the sexually explicit category, Essie's After Sex , Over the Knee and Sugar Daddy are winners (or losers?). They're not horrible... until your boss or mother innocently ask what nail polish color you are wearing. Imagine someone asking you what scent you're wearing and confidently replying Funeral Home. Way to bring down the room. Or how about Turpentine or Condensed Milk - all actual scents by the demented folks at Demeter. Speaking of something fishy, Demeter's Lobster scent should go perfectly with Essie's Clam Bake - which conjures up images of stinky fish, not the ocean (if that's what they were going for). Would you like some drawn butter with your beauty regimen? The nastiest names we've heard come courtesy of Urban Decay (whose makeup I love, btw). There's something about applying an eyeshadow called  Roach (a mauve-brown) or Mildew (a puke green) or Stalker (pretty purple) that just seems wrong. Finish it off with a liner - Urban Decay's bright blue Deviant, and all that's left to do is spray a few squirts of Demeter's Dirt and you're ready for a night on the town. Read up on more beauty finds starting with our favorite waterproof makeup and our favorite drugstore makeup finds. Also check out our favorite scents for summer.