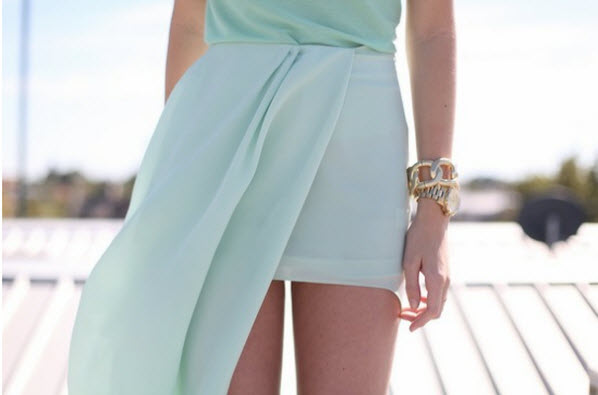 Stop Pinterest Stalking For 2 Seconds And Get This Mint ASOS Skirt From It Now
You already know that we are head-over-heels for this spring's mint green trend (shop the entire pastel trend here) and you MAY know about our obsession with Pinterest, too, and so it should come as relatively no surprise that we're having a moment over this look from style blogger Tuula (above). Not only did this stylista make us want to bathe in mint, but she also incorporated the mullet dress trend, which we've been dying to try, but didn't know how. Here's where it get's good: you can get Tuula's exact mint skirt on ASOS now: Get it: ASOS Maxi Skirt In High Low Hem ($80.57) This ASOS Maxi skirt, (loved, repinned, and added to many a boards on pinterest) is definitely an item worth investing in. Pair with some cork wedges and a pastel top and you're ready to be a street style icon. Prepare to be pinned (the ultimate goal!). [Photo Credit: Tuula] Shop our Spring 2012 trend report for more on pastels, neons, florals, and polka dots.
The Season's Mint Trend Hits Weddings — And We Love It #Mintspiration
Mint green is the freshest spring fashion trend - and like all fabulous trends, this one has made its way into the wedding world. We're a huge fan of this light n' airy hue. We were so inspired by the mint-themed collage on Revel, that we put together our own assemblage of "mintspiration". (more…)
Get Nicole Richie's Mint Proenza Schouler Sweater & House Of Harlow Accessories
Nicole Richie just stepped out in New York to promote her new NBC reality series Fashion Star (meet the contestants!), and the influencer of the year wore a leopard mint Proenza Schouler sweater ($545) that we're loving. For her early-morning VH1 'Morning Buzz' appearance (whatever that is), Nicole also piled on the House of Harlow 1960 accessories: her 'Callan' pumps ($250, available in purple suede and black), 'Riley' bag in yellow/cream ($225) and 'Carmen sunglasses ($138). SHOP HER ENTIRE LOOK Oh, p.s., did you hear that H&M is launching e-commerce just for Fashion Star?!
Trend Spotting: Black Lace Off The Red Carpet And Onto Main Street
Celebrities have been liking the black lace trend for a number of months now, each taking it to more and more adventurous levels than the last. But because the look is a hair short of walking out of the house in lingerie, it just never seemed incredibly approachable--until now. Out at dinner last night, I came across a woman wearing the trend just like the celebs: black lace top, black bra, nothing else. OK, so I'm not condoning you do the same, but black lace can be pretty without being tacky. Here are a few numbers that do the trend right without baring all. Wear this basic Free People Scandalous Lace Top ($48) over your favorite black cami and under a blazer for a sexy, yet functional day to night look. For a luxurious take on the trend, try topping off a pencil skirt and pumps with this Robbi & Nikki Ruffle Lace Halter ($165) with its delicate pattern and cascade of ruffles. Keep your look subtle by just wearing lace on your back--this is a great way to show off your time spent at the gym. The C&C California Lace Back Tank ($45) has a pretty cowl neck front, to boot. Lastly, consider this Diane von Furstenberg Hasina Top ($179) a trend with a twist in dark violet. It's less harsh than a jet black top and the classic scoop neck and lace sleeves give it just a touch of sex appeal. Want to integrate some lace into your wardrobe? Check out our advice on what goes with lace, how to wear lace tights, and accessorizing lace dresses. Plus, don't miss these new trends.