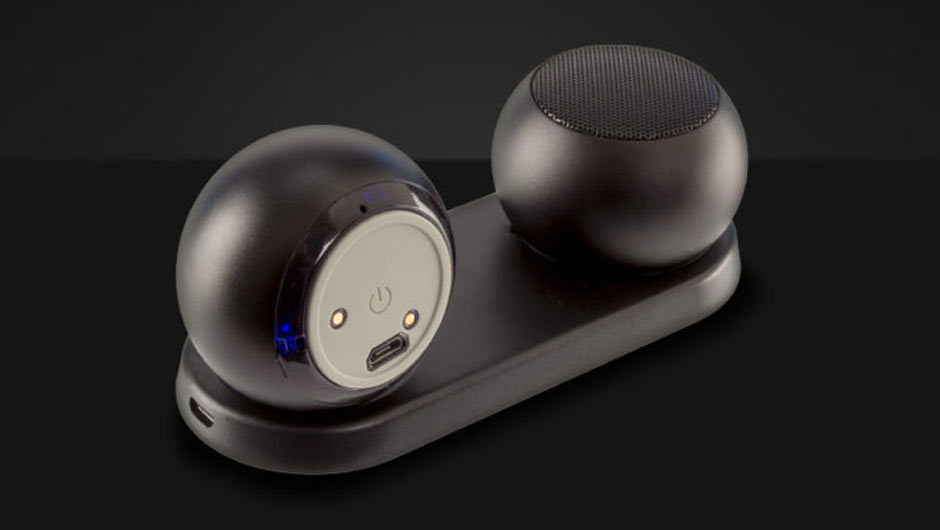 Grab These Amazing Bluetooth Speakers Shoppers Love For Just $29 Today
Ever sit down to listen to music and just couldn't enjoy yourself because the sound quality on your laptop, phone, or portable speaker was just not on point?! Well, you don't ever have to have that problem again because we've found the speaker that puts all the others to shame--the Sphereo X2 Speakers--and they're on sale for a steal at the SheFinds Shop! You're literally getting two for the price of one with these! These two portable Bluetooth speakers give you quality sound, so you'll never have to worry about volume again. And you don't have to worry about them taking up too much space, as they can literally sit in the palms of your hands. Plus, these speakers are compatible with most devices, and they come with a wireless charging dock and a charging adapter. The best part? You can get these amazing speakers for just $29.99 right now! Do not wait to put these must-haves in your cart because they will not stay in stock for long! Sphereo X2 Speakers ($29.99, down from $49.99) SHOP THESE AMAZING SPEAKERS NOW
5 Father-Daughter Dance Songs That Aren't Lame
What To Wear To A Concert: 8 Tips For An Impeccably Cool Outfit
Have a concert coming up this weekend or soon? If you Googled what to wear for it, then you're not alone. This  was one of the most-searched fashion questions, which means more than one of you wondered how to look effortlessly cool for a music event, while still comfortable enough to stand on your feet for several hours or dance all night. Dressing up to see Taylor Swift or Jay-Z and Beyonce requires more than just shopping for a new top. Every piece that makes up your look plays a key part in having the best experience ever. (You paid money for this after all.) So, we came up with some style tips on how to shop for that next live show you're planning to see. The key takeaway? Have fun! 1) Plan for the location. Most of your concerts will take place indoors. But for those music events taking place outside, you might want to check your weather app. Especially if it's a rain or shine show. Or if you find yourself outdoors at the peak of summer, you should probably think twice before putting on your favorite denim jacket. 2) Wear comfortable shoes and pants. Flats are key for concert goers. You'll be on your feet the majority of the time, so put on a pair of fashion sneakers, espadrilles, or d'Orsay flats, like this cute suede pair from J. Crew Factory for $79.50. And if you must wear sandals, go for a closed-toe style. A large crowd ups your chances of getting stepped on. Ouch! As for pants, now is not the time to break in those brand new skinny jeans. You'll be miserable the entire time. Opt for chic trousers or joggers, even printed wide leg pants. 3) Don't be afraid to make a statement. Graphic tees and sweatshirts are not only fun but functional. How else are you going to find your BFF in the bathroom line if she wasn't wearing her "Flawless" crew neck? You should also go bold when it comes to beauty. Channel the concert's creativity through makeup. Experiment with a cat eye look, bright lip shade, or nail art. Extra style points if your mani was inspired by the music. 4) Ditch your tote and go for a crossbody. You're going to be clapping, dancing, and maybe wiping the tears from your eyes during that heart-wrenching love song. A hands-free is purse is a must. And keep the size of your bag to a minimum. You'll only be out for a few hours, so all you really need is your wallet and phone. 5) No hats, please! Unless you're outside in a giant field for a music festival, keep the hats at home. The people behind you will thank you. 6) Lightly layer up. If you intend on wearing a jacket or extra shirt for your trip to the show, then go for moto jackets, flannels, or denim shirts. Basically, anything you can wrap around your waist if you need to shed a layer. 7) Go easy on the jewelry. You can still wear some bling, but keep it simple. Avoid layering or putting on bulky baubles that might be more bothersome than stylish. 8) Rompers are a music fan's best friend. The one-and-done outfit, you won't need much else if you've found the perfect one. We're loving this casual short sleeve romper from Gap. Don't forget to check out the five button downs every woman should own, how to choose a blouse that will flatter your figure, and how to stop your ripped jeans from ripping even more. [Photo: Always Judging]
VIDEO: Watch Victoria Beckham And Mel C Perform '2 Become 1' On New Year's Eve
They say the way you spend New Year's Eve is the same way you'll spend the rest of the year, and if that's true, then we might finally get that Spice Girls reunion we've all been waiting for since the group shut it down at the 2012 London Olympics closing ceremonies. On Saturday night, Mel C performed at Victoria Beckham's New Year's Eve party and invited her former groupmate on stage to sing "2 Become 1." Yes, Victoria Beckham, who is the reason all five Spices will never perform together again, looked like she thoroughly enjoyed singing her old '90s hit. https://www.instagram.com/p/BOtBYzJAZnw/?taken-by=djmikeypop Sporty Spice (resolution: we're going to start calling her that again) shared a sweet snap of the two with the caption, "Candle light and soul forever ❤ A wonderful start to 2017 xxx." Now about that reunion tour... https://www.instagram.com/p/BOtq9YPgSHk/ Don't forget to check out: see Taylor Swift's transformation over the years and the first thing Kim Kardashian eats every day [Photo: Splash News]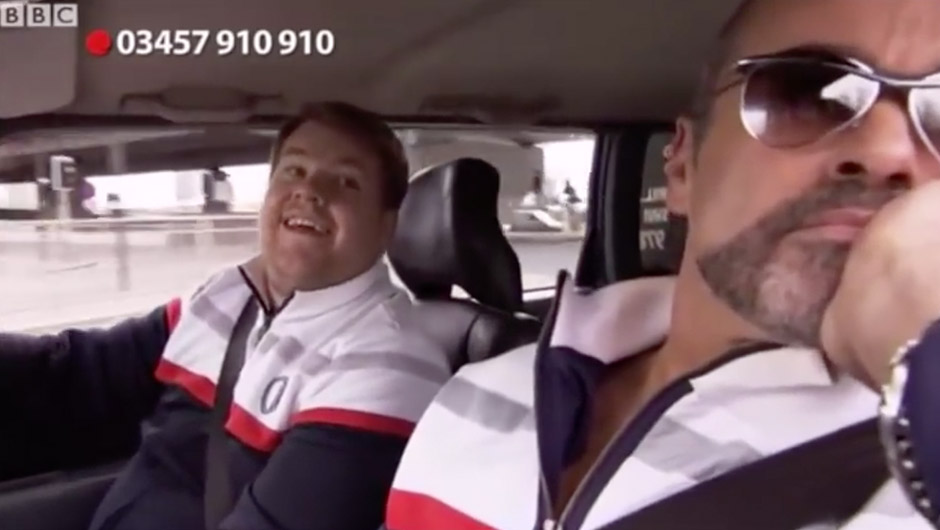 VIDEO: Watch George Michael In The First Ever Carpool Karaoke
Carpool Karaoke is one of the best sketches to come out of late-night television in recent years, and we can thank the late, great George Michael for that. The iconic British musician, who passed away at just 53 years old on Christmas Day, was the first guest to drive around with James Corden back in 2011. In a video for Comic Relief, Corden, who is in character as Smithy from the BBC series Gavin & Stacey, goes for a drive with his "mate" Michael where they belt out Wham! classics and also take a few friendly shots at one another. It's classic Carpool Karaoke. [youtube]https://www.youtube.com/watch?v=hvuENG3O9TM[/youtube] In June 2016, Corden told Howard Stern how that first musical ride started it all. "We couldn't put our finger on why is this so joyful? There's a joy in here. We couldn't really work out why." The Late Late Show host also paid tribute to the pop superstar following the news of his death. "I've loved George Michael for as long as I can remember," he wrote. "Always ahead of his time." https://twitter.com/JKCorden/status/813169352111329280 [Photo: Youtube]
VIDEO: Bruno Mars Has The Most Fun Doing Carpool Karaoke
Yesterday, we got a sneak peek of Bruno Mars on Carpool Karaoke and it totally lived up to the hype. In what might be the most feel-good ride ever, the singer and James Corden break it down to "24K Magic," "Locked Out of Heaven," "Grenade," "Versace on the Floor," and of course, "Uptown Funk." Mars even nails an Elvis "Jailhouse Rock" impression! [youtube]https://www.youtube.com/watch?v=AFxCO_DyzYM[/youtube] Don't forget to check out: this amazing photo of Ryan Reynolds and Ryan Gosling and Kendall Jenner's insane workout routine [Photo: Youtube]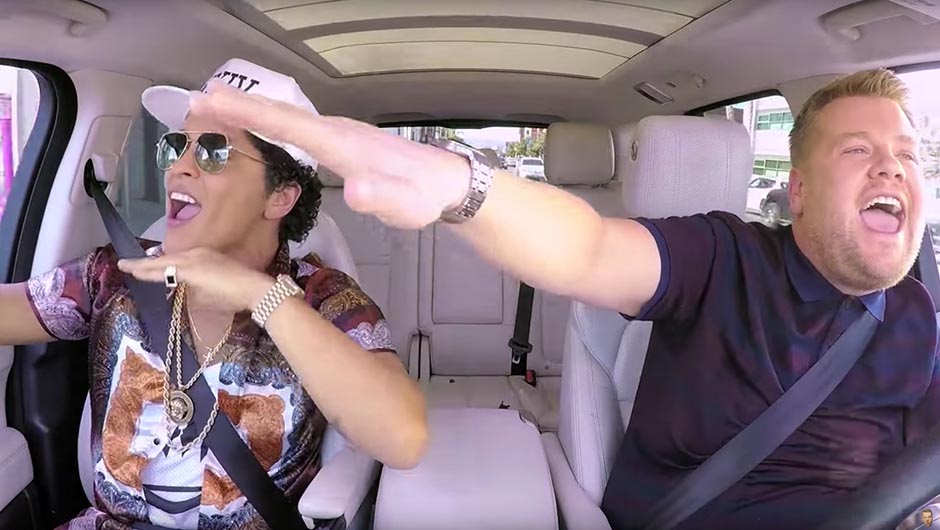 VIDEO: Watch A Sneak Peek Of Bruno Mars On Carpool Karaoke
James Corden must be in the holiday spirit because we're getting a second Carpool Karaoke this month! After riding with Madonna last week, The Late Late Show host is going for a drive with Bruno Mars, and it looks like the most feel-good thing ever. Blasting Bruno Mars tunes while driving around town makes so much sense, why didn't it happen sooner?? Watch the segment tonight or check back here tomorrow to see the whole thing! [youtube]https://www.youtube.com/watch?v=AYBzG3mk0YQ[/youtube] Don't forget to check out: the pettiest celeb feuds of 2016 and Kendall Jenner's insane daily workout routine [Photo: Youtube]
VIDEO: Madonna Twerks, Talks Michael Jackson And Sings Her Hits On Carpool Karaoke
Madonna made her Carpool Karaoke debut last night and it was just what you'd expect from the star. There was front-seat twerking, limbs hanging out of windows, a halfway British accent, and one major Michael Jackson revelation. "Of course. I mean, baby, I've been around," she tells James Corden when asked whether she kissed MJ. It was actually Madonna who made the first move after loosening him up with some chardonnay. The more you know! Oh, and for the singing, some of the tunes include "Vogue," "Papa Don't Preach," a wonderful acapella version of "Don't Cry for Me Argentina" from Evita, and "Express Yourself." Watch the wild ride below: [youtube]https://www.youtube.com/watch?v=Sx2PfL2ekTY[/youtube] Don't forget to check out: the most liked Instagrams of 2016 and the first thing Jessica Alba eats every morning [Photo: Youtube]
VIDEO: Watch A Sneak Peek Of Madonna On Carpool Karaoke
There are some very tame Carpool Karaokes rides--like when FLOTUS hoped in the car or Lin Manuel-Miranda led a Broadway-themed singalong--and then there's Madonna's ride. The best-selling female artist of all time joins James Corden for some front-seat twerking, Michael Jackson gossiping, and of course, some singing. Watch the preview below and tune in to The Late Late Show this Wednesday, December 7 to see the entire ride. [youtube]https://www.youtube.com/watch?v=GUcYFIMuhhQ[/youtube] Don't forget to check out: the 10 most liked Instagrams of 2016 and the worst Starbucks holiday drink for you [Photo: YouTube]
Kanye West Has Been Hospitalized After Canceling His Saint Pablo Tour
Over the past week, Kanye West has started feuds with his celebrity friends and made controversial remarks about the 2016 election that seemed out of character, even for the outspoken rapper. He told the audience at a recent San Jose, California concert that he did not vote in the 2016 election (despite being a Clinton supporter in the past), but that he would've voted for Trump "if I voted." A few days later, Kanye went off on Beyoncé, Jay Z, Hillary Clinton and more at a concert in Sacramento, California, claiming he was "on my Trump sh-t tonight." He performed only two songs and then abruptly ended the show. On Monday, November 21, the rapper's reps confirmed that the rest of the Saint Pablo Tour was canceled, leaving us all wondering what was going on with Ye? Later that same night, news broke that Kanye was "under observation" at a Los Angeles hospital for "his own health and safety". A source told NBC that Los Angeles police responded to a medical welfare call at about 1:20 p.m. PT. There was no criminal activity involved. TMZ reported that the star was at his trainer Harley Pasternak's home at the time and was "acting erratically." Sources close to Kanye said he was getting checked by one of his doctors for severe sleep deprivation when it was decided he needed to be hospitalized. He was taken to UCLA Medical Center by ambulance and put under "psychiatric evaluation." Kim Kardashian, who was supposed to at the Angel Ball honoring her late father in New York City on Monday Night, rushed to her husband's side. This story is developing. We wish Kanye and his family all the best during this time. [Photo: Splash News]
People Are Making Hilarious Memes For The Song 'Closer' By The Chainsmokers
Just a few weeks ago, The Chainsmokers and Halsey released a song called "Closer." I'll admit, I didn't like it at first, but damn, that song really grew on me. Now I find myself actually losing it when the song comes on my shuffle. Like, this is the best day of my life, thank you Spotify for blessing my ears with this noise. Anyways, people are so obsessed with this song that they are being extra and making memes about it. They usually are a video of what happens when "Closer" comes on and how your friend, who is not into the song, reacts. Check out the best ones below. https://twitter.com/SoDamnTrue/status/776188798766055424?ref_src=twsrc%5Etfw https://twitter.com/addisonreed17/status/774802353878765572?ref_src=twsrc%5Etfw https://twitter.com/Steven__Marquez/status/775037614046998528?ref_src=twsrc%5Etfw https://twitter.com/BananaJacket/status/776585803040448516 https://twitter.com/wthajar/status/776827245788794880 (Actual footage of me below) https://twitter.com/klleddy/status/775907303509856256?ref_src=twsrc%5Etfw Don't forget to check out: what Kim Kardashian keeps stocked in her fridge and how to dress up as Barb from Stranger Things for Halloween [Photo: MTV]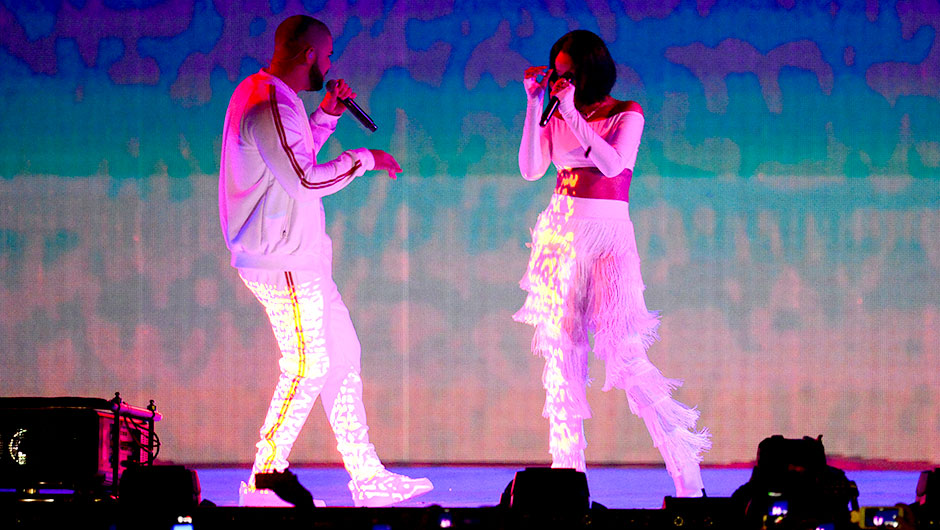 11 Popular Songs With Lyrics That Are Impossible To Understand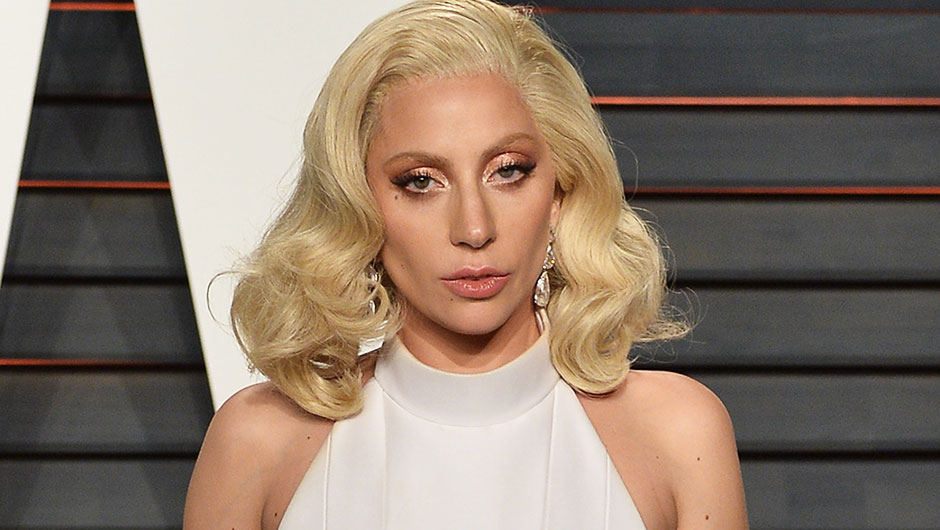 9 Musicians Who Were Shockingly Dropped From Their Record Labels
Beyoncé's Songwriter Finally Explains 'Becky With The Good Hair'
On the night that Beyoncé dropped Lemonade, the Internet started an FBI-level investigation to find out who exactly is "Becky with the good hair," which is a line from the song "Sorry" (and also potentially referring to Jay Z's mistress). Now, Diana Gordon, the main writer on the track, is finally explaining the meaning behind the lyric. She tells Entertainment Weekly that Becky is... NO ONE. "I laughed, like this is so silly. Where are we living? I was like, 'What day in age from that lyric do you get all of this information?' Is it really telling you all that much, accusing people?" She and Beyoncé didn't even expect the Internet to react they way it did. "I don't think she expected it. I saw her at her Formation tour. She had a pajama party; we laughed, we danced, we hugged it out. But I didn't say much about it at the time because I wanted to give her space. The idea started in my mind but it's not mine anymore. It was very funny and amusing to me to watch it spread over the world." You can put away the files on Rachel Roy and Rita Ora now. via GIPHY [youtube]https://www.youtube.com/watch?v=QxsmWxxouIM[/youtube] Don't forget to check out: Instagram's latest update and the worst things to wear on a really hot day [Photo: Splash News]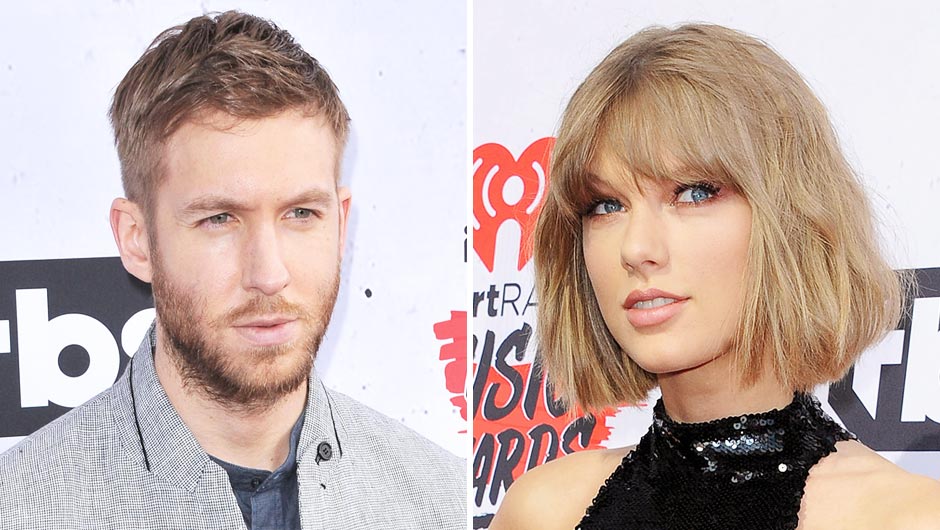 11 Celebrity Musical Collaborations That Made Headlines
10 Celebrity Couples Who Starred In Music Videos Together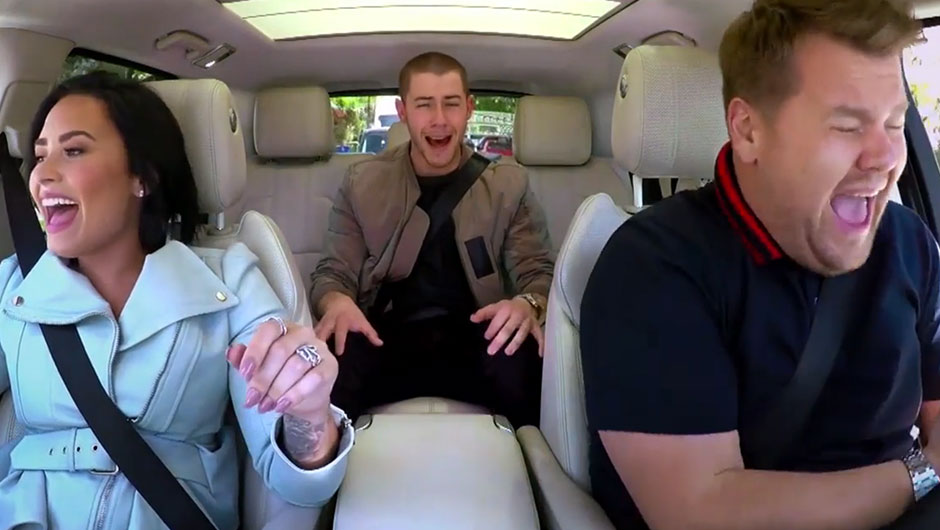 Demi Lovato & James Corden Grill Nick Jonas About His Love Life, Also Do Carpool Karaoke
Usually, when a guest hops into James Corden's magical musical mobile, he greets them and they get right into some carpool karaoke. That was not the case with Demi Lovato and Nick Jonas. The Late Late Show host took advantage of the fact that a heartthrob was sitting in the back of his car and immediately started grilling him on his love life. You could just tell how much joy this was bringing Demi--she couldn't resist getting in on the fun. "You dated Joe," Corden said to Demi. "You dated Selena Gomez," he then asked Nick. "You two never.....?" "Never!" they both replied. Then it was on to Nick's dating history. "It was Miley, then Selena, then back with Miley," Demi explained. Then, of course, Corden pressed Nick about his infamous purity ring. "When did you decide to ditch the ring?" he asked. "I had a real relationship with an adult, and I fell in love actually, and I decided it was time to take the purity ring off," Jonas replied. "Are we going to keep talking about my dating life?" Word, let's get to some singing. The trio performed hits from both artists, including, "Heart Attack" "Close" and even DNCE's "Cake By The Ocean." There was also an accapella rendition of "Jealous" that is second best to that time Nick performed it with a gospel choir. Now I will be watching that for the rest of the day. The segment ends with Demi, Nick and James performing "Confident" as their new "band" on the sidewalk. James takes the drums (aka, buckets), there is, of course, a casual guitar ready for Nick and Demi is on the vocals. This one was fun! Watch below: [youtube]https://www.youtube.com/watch?v=0HeJKcynrGI[/youtube] [Photo: Youtube]
Kylie Jenner Just Made Her Musical Debut–Listen Now
If you follow Ma G aka kylizzmynizzle aka Kylie Jenner on Snapchat, then you know the girl likes to sing, and she's actually not that bad! The reality star just made her official musical debut on a new track from producer Burberry Perry. Kylie and her besties, Jordyn Woods and Justine Skye (who's actually a singer), are featured on "Beautiful Day," which is a rap song inspired by the theme of Mister Rogers' Neighborhood. You know the one, "It's a beautiful day in the neighborhood." The girls don't come in until close to the end. First, you hear them laughing uncontrollably, not really taking this whole thing seriously, and then, once they finally "rap" they are heavily auto-tuned. At least they had fun, I guess. Listen for yourself below: Don't forget to check out: Gwen Stefani's Carpool Karaoke and Demi Lovato and Nicki Minaj's feud [Photo: Splash News]
Definitely Watch This Video Of Prince Kicking Kim Kardashian Off Stage
As we mourn music icon Prince, let us take a moment to remember that time he kicked Kim Kardashian off stage. Yes, this really happened and it is, and always will be, incredible. It was 2011, Kim was at Prince's Madison Square Garden show with BFF Jonathan Cheban and her then-fiance (now ex-husband) Kris Humphries. What a time. Next thing you know, Kim is being summoned on stage. https://twitter.com/KimKardashian/status/34795993396412416 Wait, is she on her phone during this once-in-a-lifetime moment?! OK, so Kim gets up on stage and can't even muster a twirl (really girl?!). When Prince bestows the honor upon you to join him on stage, you DANCE. Not whatever Kim K did. [youtube]https://www.youtube.com/watch?v=dZLP38moqC8[/youtube] Prince was unimpressed with the reality star's lack of movement, so he banished her with a simple "get off the stage." He was never one to care about what everyone else thought was cool, and this moment sums that up beautifully. [Photos: Splash News]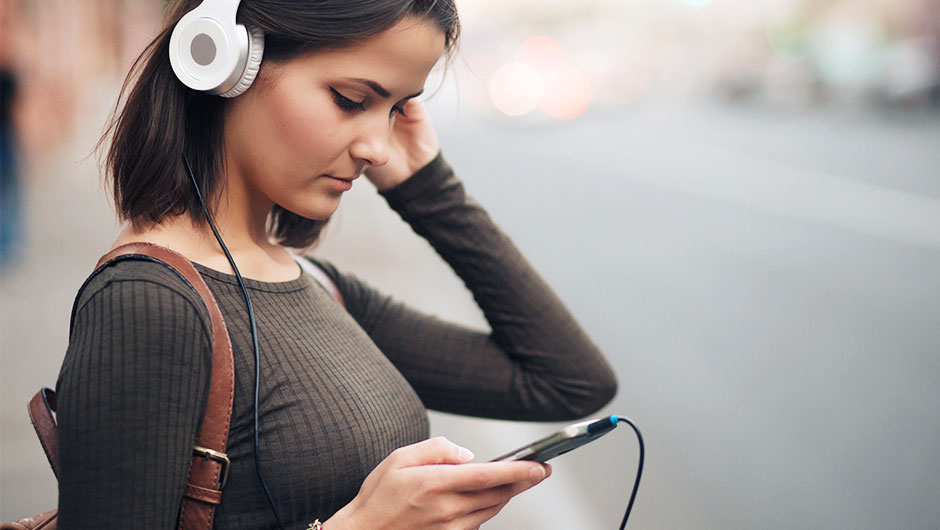 The Scientific Reason You Shouldn't Listen To Music While You Work
If you look around your office at your co-workers, it's probably accurate to say a majority of them is listening to music while working. I personally find that music disrupts my work, so I'm that person who goes headphone-free while typing away at my desk. However, my work method seems to be completely correct. According to a neuroscientist, listening to music while you work isn't the best habit. A writer at Business Insider sought the help of Daniel Levitin, a cognitive neuroscientist and the author of This is Your Brain on Music, to get to the bottom of this. Levitin says it's actually less productive to listen to music while working. He went on to say that in almost every case study performed in research tests, your performance while reading or writing "suffers considerably when you listen to music." Instead of listening to music while working, Levitin suggests listening to music 10-15 minutes before starting any type of work. The reason is because music puts you in a better, more positive mood. It also relaxes you and that leads to your brain releasing dopamine and serotonin, which will allow you to focus more. The exception to Levitin's advice? When you're performing monotonous tasks where it's easy to get bored. For example, a long road trip or working on an assembly line. Don't miss Taylor Swift's new music ad for Apple and 4 things to keep in mind when getting dressed for a music festival! [Photo: Shutterstock]
HACK: How To Get That Song Out Of Your Head When You Can't Stop Singing It
Do you ever get a song stuck in your head and just can't find a way to push it out? Of course, it's never the song you want to have stuck in your head... Usually the song that gets caught is something top 40 that only made it to the top of the chart because it's so catchy that it's stuck IN EVERYONE'S HEAD. But, lucky for us, there ARE ways to push those pesky one-hit-wonders right outttt. Here's how: Listen Past The Chorus Usually, it's the chorus that gets stuck in your head — playing over and over and over and... So listening to the song all the way through, including the not so catchy parts, can really help cure your mind of its fixation. Read Through The Lyrics Looking through the words can help re-set your mind's grasp of the song. Sometimes not knowing the lyrics word-by-word forces the song to stay in your head. If you learn the true words, you might just find that you're over it. The Weirdest Method Ever: Chew Gum Strangely, many people find that chewing gum helps block out whatever is running through their mind. They hear themselves chewing gum instead of the song playing in their head. Pretty weird, but whatever works! Don't forget to check out: Hacks For Saving Every Last Drop Of Your Favorite Makeup and HACK: The Best Way To Clean The Rubber Soles Of Your Sneakers [Photo: Shutterstock]
Which Headphones Are Better: In-Ear Or Over-Ear?
There are three basic types of headphones offered in the market: in-ear headphones that sit in your ear, 0ver-ear headphones that cover your entire ear and on-ear headphones that just sit on your ear. Most people choose either in-ear or over-ear headphones so let's stick to those two models. Which type is better? RELATED: Are Thongs Bad For Your Health? The Answer Might Surprise You In-Ear Headphones Getting the obvious out of the way, in-ear headphones are very convenient to carry around since they are compact and barely take up any space. If you're looking for noise-canceling headphones, in-ears might not be your best option. Also, if you are competing with "outside noise" you will be more inclined to raise the volume and that can be bad for your ears. If your ears over overly sensitive and you don't want an object sitting in your ear canal, these headphones definitely aren't for you. In terms of sound quality, in-ear headphones may be small but they can still produce a decent quality of sound. RELATED: Listen To Music At This Level If You Don't Want To Damage Your Ears Over-Ear Headphones Unlike in-ear headphones, over-ears are very bulky and can be annoying to travel with. These types of headphones are not only very comfortable (because of all the padding) but have the best quality of sound. They completely cancel out any outside noise because they cover your entire ear. Since over-ear headphones produce a better quality of sound and are physically larger, they usually tend to be more expensive. In the end, the choice is really up to you! Either type will provide you with sweet sounds. Don't miss how to prevent your headphones from fraying and 2 reasons why your cell phone doesn't belong in your bed! [Photo: Mind Body Swag]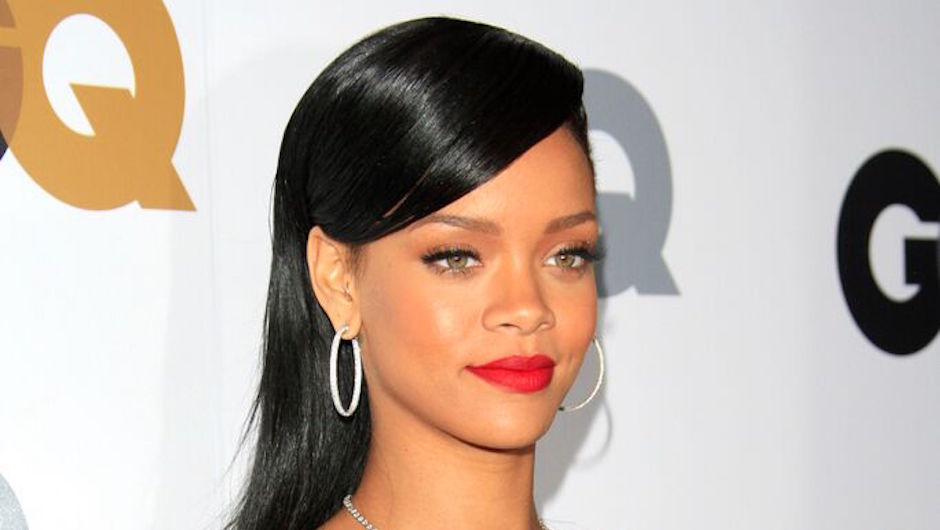 VIDEO: Rihanna Releases A New Music Video For 'Work'
Rihanna released a nearly eight-minute-long music video for her hit song "Work" featuring Drake. The video was filmed in Toronto and Los Angeles. It starts off with the duo dancing the night away. Once the party has ended and you think the video is over, it jumps right into another full video where Rihanna dances in a sheer top with Drake. Watch below! [youtube]https://www.youtube.com/watch?v=HL1UzIK-flA[/youtube] Don't miss the first baby photo of Saint West and the best celebrities to follow on Snapchat. [Photo: Splash News]
VIDEO: Zayn Debuts New Song 'It's You' About His Ex-Fiance
Zayn Malik, who now goes by ZAYN, made his TV debut as a solo artist last night on The Tonight Show. He also premiered a new song, "It's You," which is about his ex-fiance and Little Mix singer, Perrie Edwards. "I just felt like I needed to put myself out there on that just because it was a form of therapy for me and it did help get me through some s---," he said during an interview on Beats 1. Watch him perform the soulful ballad below: [youtube]https://www.youtube.com/watch?v=bhf8kA6VGE8[/youtube] The singer also revealed the cover art for his debut album. How cute is baby ZAYN?? Zayn's album cover! -L pic.twitter.com/QjKnC6T63G — 1D Updates (@the1dlocators) February 18, 2016 Mind of Mine drops March 25th, the one-year anniversary of his departure from One Direction. *All the feels* Don't forget to check out: Blake Lively's metallic sandals and Amy Schumer responds to Taylor Swift diss [Photo: Splash News]
PHOTOS: The Best Grammy Moments That Were Only On Instagram
There were plenty of amazing moments at the 2016 Grammys, like Lady Gaga's David Bowie tribute and Tori Kelly's made-to-be-memed unimpressed face. However, between the intense pre-show prep and outrageous after parties, there are certain moments you can only see on Instagram. Like, Justin Bieber showing love to his adorable six-year-old half-brother, Taylor Swift and Selena Gomez's reaction to winning Best Music Video for "Bad Blood" and so much more: https://www.instagram.com/p/BB1QbQeAvtk/?taken-by=justinbieber https://www.instagram.com/p/BB0vNHXjvKz/ https://www.instagram.com/p/BB1o38llf2U/ https://www.instagram.com/p/BB1CrgaIZiS/?taken-by=tyrese https://www.instagram.com/p/BB0yb_PpFD_/ https://www.instagram.com/p/BB0lpc9Lu9Q/ https://www.instagram.com/p/BB2LV2Xky7W/ https://www.instagram.com/p/BB1ngriwk8P/ https://www.instagram.com/p/BB1ZgOGrpar/ https://www.instagram.com/p/BBzTh39SHuo/ https://www.instagram.com/p/BB1NNCnLsHR/ https://www.instagram.com/p/BB1BvHCIZgm/ https://www.instagram.com/p/BB04mdUSWUw/ Don't forget to check out: The best-dressed celebs at the Grammys and Paul McCartney denied entry to Tyga's Grammy party [Photo: Instagram]
VIDEO: Demi Lovato, Ed Sheeran, More Hilariously Read 'Mean Tweets'
It's time for another music edition of Jimmy Kimmel's Mean Tweets! Demi Lovato, Ed Sheeran, One Direction, Lionel Richie and more musicians read aloud what Twitter users had to say about them. One Direction actually agreed with the comment written about them: "Don't understand the world's obsession with One Direction. What is attractive about little boys with gross hair and skinny jeans?" They all nodded and Harry Styles said, "Of course." Everyone was a good sport about it, though, and the results were awesome as per usual. Watch the video below! [youtube]https://www.youtube.com/watch?v=4Y8bUT8UXUA[/youtube] Don't miss Lady Gaga's tribute to David Bowie and Demi Lovato's amazing performance at the Grammys! [Photo: YouTube]
PHOTO: Tori Kelly Looked So Annoyed During Taylor Swift's Grammy Speech
The most meme-able, gif-tastic moment from the Grammys went to Tori Kelly. The Best New Artist nominee looked totally unimpressed while Taylor Swift was accepting the award for Album of the Year. The camera cut to the singer in the audience and her expression was priceless. Here are some reactions from Twitter: When you're not feeling #1989 and wanted #ToPimpAButterfly to win #AlbumOfTheYear #GRAMMYs https://t.co/j94W1QjuKh — Capital XTRA (@CapitalXTRA) February 16, 2016 When you're not feeling #1989 and wanted #ToPimpAButterfly to win #AlbumOfTheYear #GRAMMYs https://t.co/j94W1QjuKh — Capital XTRA (@CapitalXTRA) February 16, 2016 Tori Kelly watching Taylor Swift is me watching Taylor Swift pic.twitter.com/jskFytpX08 — Eefa (@aoifebrowne_) February 16, 2016 "TO THE ONLY WOMAN WHO WON ALBUM OF THE YEAR.......TWICE" pic.twitter.com/Zs2k4n1iD1 — SHOPJEEN.com (@SHOPJEEN) February 16, 2016 Perhaps she was rooting for Kendrick Lamar to win the gramophone for To Pimp a Butterfly? Or maybe she's Team Kanye? She certainly won't be joining the T-Swift squad any time soon... Don't forget to check out: Lady Gaga's David Bowie tribute and Demi Lovato slaying her Grammys performance [Photo: Splash News]
VIDEO: Watch Lady Gaga's Moving David Bowie Tribute At The Grammys
Lady Gaga's tribute to David Bowie at the Grammys was incredible. We could go on about her transformation into the late artist, or the fact that she absolutely nailed this performance, however, we will let it speak for itself. She covered some of Bowie's biggest hits including, "Space Oddity," Changes," "Ziggy Stardust," "Suffragette City," "Rebel, Rebel," "Fashion," "Fame," "Let's Dance" and "Heroes." Watch below: Don't forget to check out: Demi Lovato's Lionel Richie tribute and Taylor Swift's new hair [Photo: Splash News]
VIDEO: Demi Lovato Absolutely Killed It During Lionel Richie's Grammy Tribute
Demi Lovato shocked me not once, but twice tonight. First, she told Ryan Seacrest on the E! red carpet show that this was HER FIRST GRAMMYS EVER. UM, what? Then, the singer managed to steal the spotlight from the incredible John Legend, Best New Artist Meghan Trainor and a slew of other artists who all participated in the Lionel Richie tribute. Demi absolutely destroyed her cover of "Hello" (the one pre-Adele). Even Lionel in the audience was like "YAS GIRL, SANG!" At least that's what it looks like he's thinking. Lionel Richie's reaction to Demi singing 'Hello'. #GRAMMYs pic.twitter.com/859BbbxPHh — Lovatics WorldWide (@DemzWorldWide) February 16, 2016 Like, I am now a Demi fan. This girl has some serious pipes. How has she never been to the Grammys before... Don't forget to check out: Taylor Swift's new hair and Justin Bieber and James Corden carpool karaoke to the Grammys [Photo: Splash News]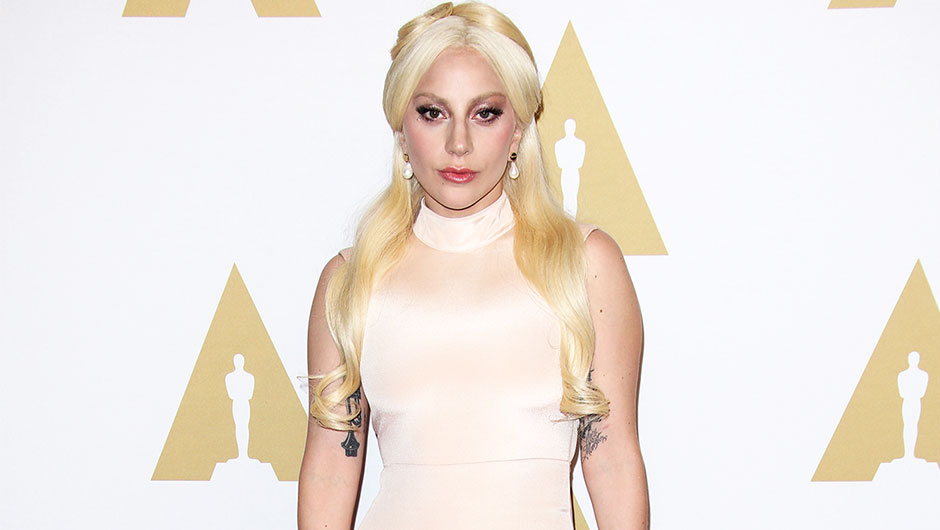 6 Reasons To Be Very Excited For The 2016 Grammy Awards
You guys, it's Grammy time! This is arguably the best award show of the season. There's crazy fashion, adorable kids and Taylor Swift dancing. This year's show promises to be a good time with performances by Adele, The Weeknd and Justin Bieber plus Kendrick Lamar and Carrie Underwood will be among the many, many stars in attendance. Here are 6 things to look out for at the 58th annual Grammy Awards, taking place Monday, February 15th at 8 pm EST on CBS! 1) Lady Gaga's David Bowie tribute Lady Gaga is set to perform a tribute to the late David Bowie. Not many details have been released about the performance. However, it will be directed by Nile Rodgers, a Bowie collaborator who produced that artist's best-selling album, Let's Dance. Also, Grammy producer Ken Ehlrich says the tribute will honor Bowie's musical contributions, as well as his "influence on fashion and pop culture in a broader way." 2) The T-Swift squad Love 'em or hate 'em, Taylor Swift's "squad" is likely to be in attendance since "Bad Blood" is nominated for Best Music Video. Selena Gomez is already confirmed to perform. We're placing bets that Gigi Hadid will also be there since you can't turn left without seeing her somewhere. 3) Gwen Stefani's live music video So, we're not really sure how this is going to work, but Gwen Stefani is filming a music video for her new song, "Make Me Like You," during the Grammys. According to Entertainment Weekly, the singer is "collaborating with Target to produce the first ever live music video during a commercial break from Monday's Grammy ceremony." So, we guess it won't air during the ceremony. However, fans will be able to follow along on Snapchat, Facebook and Periscope. The video will debut on Vevo late Monday night. We're sure more details on which specific accounts to follow will be announced during the show. 4) Earth, Wind & Fire and Run-DMC lifetime achievement award Two excellent musical acts are receiving lifetime achievement awards this year. Let's revisit some of their best songs: [youtube]https://www.youtube.com/watch?v=Gs069dndIYk[/youtube] [youtube]https://www.youtube.com/watch?v=4B_UYYPb-Gk[/youtube] 5) Rihanna performing 'Work' for the first time This is Rihanna's first performance from her new album ANTI, which was released last month! Ehlrich tells Entertainment Weekly, "There is certain news value to having an artist do something that's never been seen anywhere. You know, if I don't do Rihanna's new song, it'll be done 43 times before it comes up in the cue again next year. So, I'm open to things like that. This year there are a couple things that we are going do that do fit that mold." Smart move. Also, Drake is featured on this song. According to my Drake-sense (aka, after doing my daily catch-up on all things Drizzy), he is not expected to be at the Grammys. *Prays he will surprise us all* UPDATE: Rihanna cancelled her Grammys performance shortly before the show due to bronchitis. A rep for the singer told Us Weekly, "Based on Rihanna's examination, after Grammy rehearsal today, Rihanna's doctor put her on vocal rest for 48-hours because she was at risk of hemorrhaging her vocal chords." She was noticeably missing on the red carpet, and, as we all know, RiRi loves to make an entrance. We should've known something was up then. 6) The Hamilton cast appearance In case you live under a rock, the Broadway show Hamilton is a BFD. Tickets for the show are sold out through 2016. The cast is scheduled to perform the show's opening number live via satellite from the Richard Rodgers Theatre in New York City. If you have been living under a rock, the show features hip-hop music. Not what you expected, amirite? [Photo: Splash News]
VIDEO: Justin Bieber And James Corden Carpool Karaoke To The Grammys
We have been #blessed not once, not twice, but THREE times with Justin Bieber carpool karaoke. The singer joined James Corden in his musical mobile on the way to the Grammys. The segment, which aired during the CBS red carpet show, featured matching tuxes, Justin applying moisturizer to James' "T-zone" and a rendition of "Uptown Funk" that included their signature move: big box, little box, cardboard box. Watch below. [youtube]https://www.youtube.com/watch?time_continue=279&v=Kn0YDZ3wifU[/youtube] Don't forget to check out Taylor Swift's new hair! [Photo: Youtube]
4 Rules To Follow When Getting Dressed For A Music Festival
One day soon, we'll unearth those exorbitant music festival tickets we bought months prior. We'll feel the warmth of the sun against our skin. We'll groove to the beats of our favorite live performers. We'll try not to get a second hand high from the blaze of weed that fills the air. We'll be experiencing the glory that is Coachella, Gov Ball, or whatever festival you choose to embrace, and all will be right with the world. But wait, there's something missing.... Um, WHAT ARE WE WEARING? Don't fret, we've got you covered. Here are the absolute essentials for what to wear to a music festival: 1) Rain booties are a major key As wonderful as your music festival experience is sure to be, there are some potential hiccups to keep in mind, i.e.: MUD. A huge crowd and a grassy knoll... You know where this is heading. Rain boots won't help you relive your Woodstock fantasy, but they will help you stay sort of clean and dry — I mean, as clean and dry as you can possibly be at a music festival. Ugh, mud is such a grinch! Luckily, these rain booties are totally adorable — like I'd wear them regardless of the weather. So... you won't lose any of your music festival street cred by remaining cautiously waterproof — yippee! Jeffrey Campbell Stormy Rain Boot ($55) kate spade new york 'sedgewick' rubber rain boot ($175) 2) Loose-fitting crop tops help you stay cool The crop top is a music festival staple (duh), but it's important that you don't settle for just any crop top. A comfy, loose-fitting tank will improve your experience like no other. I mean, do you really want to be wearing a clingy, rayon top out in the scorching heat for an entire day? NOOOOOO. That's the stuff of nightmares! The loose fit is cuter anyway! Kiss The Sky Festival Crop Top With Pom Hem In Floral Print ($31) Elephant Print Crop Top White ($8.50, down from $17) Elizabeth and James Annaline cropped striped crepe top ($295) 3) Bring a badass backpack or tote bag If you're in it for the long haul, you'll have to invest in some sort of bag or pack. You need supplies! First priority, WATER BOTTLE. Dehydration is a serious prob at large-scale outdoor events, don't suffer the consequences just because you want to go hands-free. Cambridge Satchel Small Portrait Backpack ($215) Faux Leather Backpack ($28) Kipling Ravier Backpack ($114) 4) You can never have TOO many layers It's probably hot out, I know, but that is pretty much always subject to change. Not tryna sound like a mom, but you're seriously going to regret skipping that extra layer when day turns to night and that temp starts dropping harder than the BASS. Don't worry, layers can be cute and music festival appropriate. Plus, these will totally fit into your new backpack! Sun & Shadow Ombré Stripe Long Cardigan ($40.80, down from $68) BDG Parker Cardigan ($59) Lawrence Drape Front Fringe Cardigan Central Park West  ($173) Now you're totally ready to face the elements (and the music), girl! Don't forget to check out: What You Should & Shouldn't Pack For Your Trip To Vegas, What To Wear To Brunch With Your Girls and 5 Ways To Wear A Plaid Shirt (You Can't Go Wrong No Matter How You Do It) [Photo: Free People]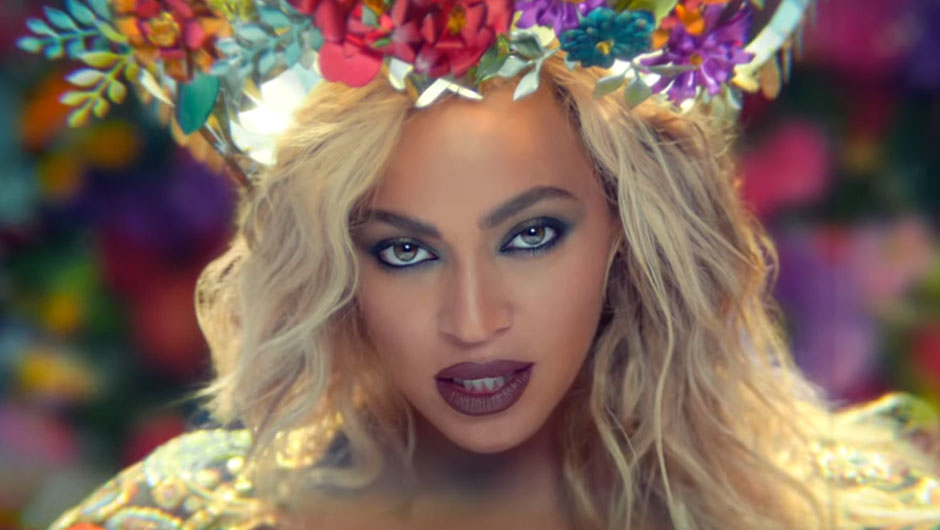 VIDEO: Beyonce & Coldplay Just Dropped The Video For Their New Duet!
We first heard the Coldplay song featuring Beyonce, "Hymn for the Weekend," last month and now, we have a video! The timing could not be better with the artists set to perform together at the Super Bowl next Sunday. The music video was shot in Mumbai during the Holi festival. There's lots of colorful shots and even a clip of the band performing in a neighborhood while getting sprayed with paint! Now for Queen B, she looks absolutely STUNNING, per usual, in a floral headdress, vibrant patterned clothes, and dark red lipstick. Interesting, Hollywood Life points out that Bey is only shown in the video from the chest up, which does fuel those pregnancy rumors. Could she possibly be pulling a stunt circa MTV VMAs 2011 and announce her pregnancy on stage at the Super Bowl?! If it happens, we so called it. [youtube]https://www.youtube.com/watch?v=0LsK1NQioHc[/youtube] Don't forget to check out: Kanye West responds to Amber Rose and Gigi Hadid's black skinny jeans [Photo: YouTube]
VIDEO: Gigi Hadid Stars In Zayn Malik's Trippy Music Video For His Debut Single 'Pillowtalk'
The moment has finally arrived! Zayn Malik just debuted his long-awaited debut single called "Pillowtalk" and a music video featuring none other than Gigi Hadid. This is his first major music moment since splitting from One Direction. The artsy (and trippy) video shows Malik and Hadid getting up close and personal, making out and touching each other's faces and lips.  After watching this video, I think it's safe to say Malik and Hadid are definitely dating. Check it out below! [youtube]https://www.youtube.com/watch?v=C_3d6GntKbk[/youtube] Don't miss Kristen Bell and Dax Shepard's adorable homemade music video and Rihanna finally released her new album! [Photo: YouTube]
Rihanna FINALLY Releases Her Highly-Anticipated Album, 'ANTI'
You guys, it's been four years since Rihanna's last album!!! She finally dropped the highly-anticipated ANTI last night after it was leaked early on TIDAL (whoops!). As of now, you can exclusively listen to the 13 tracks on Jay Z's streaming service until next week. Here's the track list: 1. "Consideration (feat. SZA)" 2. "James Joint" 3. "Kiss It Better" 4. "Work (feat. Drake)" 5. "Desperado" 6. "Woo" 7. "Needed Me" 8. "Yeah, I Said It" 9. "Same Ol' Mistakes" 10. "Never Ending" 11. "Love on the Brain" 12. "Higher" 13. "Close to You" On Friday, a 16-song deluxe version will also be released. It's SO good to have RiRi back in our lives! Don't forget to check out: TOMS 75% off sale and Julianne Hough's sunglasses [Photo: Splash News]
Rihanna Finally Released The First Single From Her Long-Awaited Album–And It Features Drake
Good news! Rihanna just shocked fans and released the first single off her highly anticipated album Anti, previously called #R8. What's more, the single, called "Work," features Drake!! The single is currently streaming on Tidal, which you can listen to here if you're a subscriber. If you aren't into Tidal, don't worry because "Work" is also available on iTunes. According to Billboard, Rihanna is set to release her entire album sometime this week. Ahhh! https://twitter.com/rihanna/status/692331285394624513?lang=en Don't miss Calvin Klein's newest ad campaign featuring Justin Bieber and 8 things you never know about Jennifer Lopez! [Photo: Splash News]
One Direction's Music Video For 'History' Will Give You All The Feels
The days of One Direction are coming to an end. The band announced back in August 2015 that they are taking a one-year hiatus starting March 2016... but we all know what that really means. Now, we have even more reason to believe that these are 1D's final days together. The just-released music video for "History" is basically a goodbye to the British boy band we know and love. Get the tissues ready. Trust. The video begins with black and white footage of the boys' X-Factor auditions. Then it cuts between the current members singing against a brick wall and flashes of the past, including rehearsing for tours, filming for the video "Best Song Ever" (remember THAT one?!) and even the recording their first album. And yes, Zayn is included in these clips. How could he not?? Brace yourselves for this emotional roller coaster and once you're ready (but will we ever be??), watch the video below: [youtube]https://www.youtube.com/watch?v=yjmp8CoZBIo[/youtube] Don't forget to check out: Karlie Kloss' boots and 75% off at the TOMS surprise sale [Photo: Splash News]
Lady Gaga Revealed She's Releasing A New Album This Year
Lady Gaga is having quite a year! She joined the cast of American Horror Story and she just won her first-ever Golden Globe for Best Performance by an Actress in a Limited Series or Motion Picture Made for Television. Not to mention, this was also her first-ever Golden Globe nomination. That isn't the only exciting news, however. https://www.instagram.com/p/BAYq3iloKQr/?taken-by=goldenglobes Backstage, Gaga told reporters she is going to release a new album this year! "You know, I am putting out an album this year. I won't tell you when!" she said. This will be her first album since the release of her 2013 album Artpop. "That's a difficult thing to say as I don't know that you yet know what I will look like for my next album, as I'm still creating all of those things," she said when asked if her new style will be reflected in her music. "It's something that is a gradual change always with me. What was nice about playing The Countess is it reminded me that in my own life and in my music, I'm always — at times — playing a character, and I become them fully. And living inside of her was liberating, I'll tell you because she doesn't give a sh– about anything." Ahh, how exciting?! Don't miss Kate Winslet and Leonardo DiCaprio's sweet moment at the Golden Globes and see Adele's teaser clip for carpool karaoke! [Photo: Splash News]
Listen To Music At This Level If You Don't Want To Damage Your Ears
Most people listen to music so loud that you can hear it through their headphones. Not only is this a huge pet peeve of mine, it's also not the best thing for your ears. Listening to music at such loud decibels can cause unnecessary damage. If you're a music lover, then here's what you need to know about listening to music through headphones. Shelly Chadha, a technical officer of the World Health Organization department for management of noncommunicable diseases, disability, violence and injury prevention, says the ideal volume is 80 decibels. At 80 decibels, you can safely listen to music for as long as desired. However, at 100 decibels, you should only be listening for 15 minutes. Researchers from a 2011 study discovered listening to an iPod at the maximum level with the white headphones it comes with would only be safe for five minutes. Why? The maximum volume is equal to 102 decibels. Brian Fligor, a Boston audiologist, recommends keeping the volume on a device at 80% of its capacity, and listening for a safe 90 minutes. He also says you can listen to music really loud, just for a short period of time. So it's totally fine to blast your favorite song, but just make sure to go back to a safe volume when it's over. Don't miss which colors might help you stick to your New Year's resolution and check out Forever21's new activewear line! [Photo: Instagram]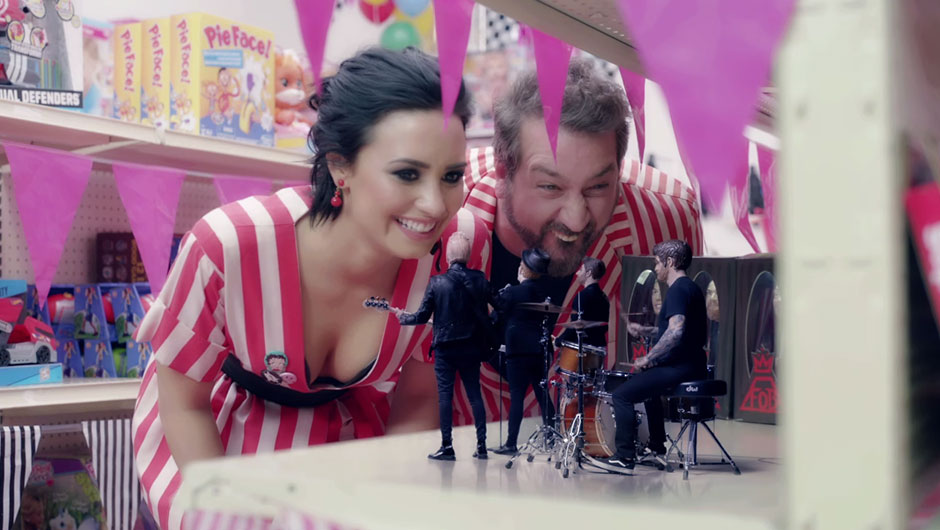 VIDEO: Fall Out Boy And Demi Lovato Parody *NSYNC Music Video
It's been sixteen years (say what?!) since we saw *NSYNC dolls come to life in the band's "It's Gonna Be Me" music video. Fall Out Boy and Demi Lovato recreated the epic music video with their own version for the song "Irresistible." To make this nostalgic video even better, *NSYNC's Joey Fatone and Chris Kirkpatrick make cameos! Watch the video below to watch FOB break out of their marionette boxes. [youtube]https://www.youtube.com/watch?v=2Lb2BiUC898[/youtube] Don't miss four grandmas trying Fireball whiskey for the first time and watch Kanye West audition for American Idol! [Photo: YouTube]
28 Songs That Are Guaranteed To Get Your Wedding Guests On The Dance Floor
If there was ever an occasion to curate a kick-ass playlist, it would be your wedding reception — am I right? This is no sweet 16, you're getting married, and there's a good chance that footage from *the most important party of your life* will find its way to the Internet, taunting you and your 200 tipsy guests for ALL TIME... So, please discard the "Cool Beatz" and "Party 2009" playlists you know I'd find in your iTunes library and listen up. To create the perfect upbeat wedding usic rotation, it's important that you balance an understanding of history with an appreciation of modern tastes and culture. Okay, sorry if that sounded like a passage from an old-time-y etiquette guide... What I mean to say is this: respect your guests, throw in some Top 40 classics, but make sure that you also account for the interest of your partner and yourself— it's your wedding, after all. Below, we compiled a playlist that's sure to get the party started on your special day! Listen to it, learn from it, steal from it... Don't forget to check out: 14 Wedding Trends That Will Be Huge In 2016 and 21 Bridesmaids Gifts That Aren't Lame [Photo: Brian Dorsey Studios]
VIDEO: Kanye West Raps 'Gold Digger' For American Idol Audition
Kanye West auditioned for American Idol (final season premiering on Jan. 6) and we are finally able to see the full video! Obviously, this was a completely staged audition for the show's farewell season. Kim Kardashian accompanied her husband and supported him while he wowed the judges. West decided to rap his hit song "Gold Digger" because Jennifer Lopez is mentioned in the song and she's a judge for the show. Watch below as he gets a golden ticket! Don't miss the 2016 lineup for Coachella and shop Kendall Jenner's white bikini! [Photo: Splash News]
The 2016 Coachella Lineup Has Been Announced!
Whoa, who's excited for Coachella 2016?! Well, you should be because the festival lineup was just released! It's time to get into the music festival mode — hard to do when it's 15 degrees out, I know — but tickets go on sale tomorrow and you're not going to want to miss your chance to listen to Joey Bada$$ while experimenting with psychedelics. (Make smart decisions, everyone!) Coachella 2016 will be rockin' through the weekend of April 15-17 and again from April 22-24. Headliners include LCD Soundsystem, Guns N' Roses (!!!), Calvin Harris, Ellie Goulding, Ice Cube, Halsey, Sufjan Stevens, A$AP Rocky, Sia, Major Lazer, CHVRCHES and a ton of other must-see acts. Check out the full line-up here! Don't forget to check out 36 Failproof Ways To Wear A Leather Jacket Like Cool Girl and This Under-$50 Zodiac Necklace Is Just What Your Jewelry Box Is Missing [Photo: Splash News]
VIDEO: Selena Gomez's 'Hands To Myself' Music Video Might Be Her Sexiest Ever
Selena Gomez has teased her new music video for "Hands to Myself" and the wait is finally over! In the video, Gomez strips down to her bra and underwear while in a mansion...that she broke into. The house belongs to a man played by model Christopher Mason and he ends up calling the cops on his, um, stalker. Watch the full video below! Don't miss Tina Fey and Amy Poehler's spoof on Taylor Swift's "Bad Blood" music video and see the first picture of Dwayne Johnson's baby girl! [Photo: Selena Gomez]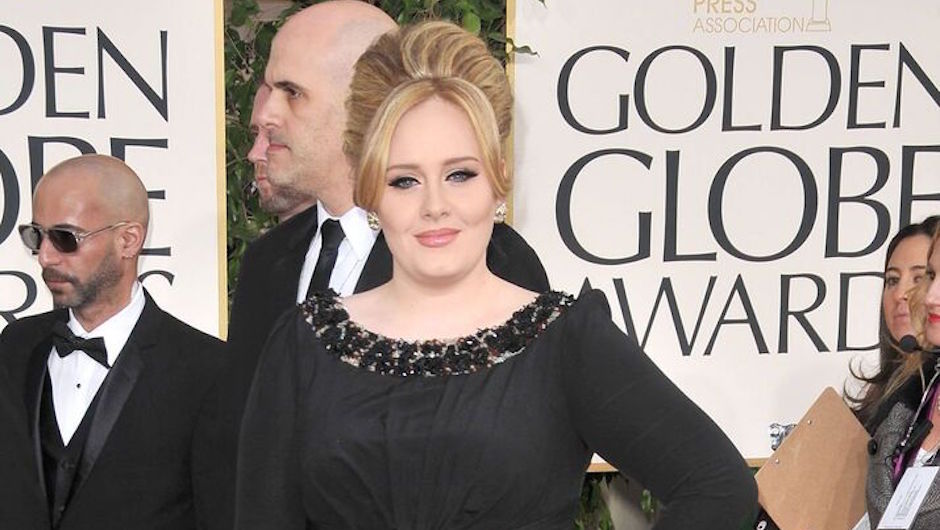 Brace Yourselves: Adele Just Announced North American Tour Dates
Dreams do come true! This morning, Adele announced the dates for her 2016 North American tour in a very sneaky way. After kicking off her European tour in February, Adele will be coming stateside in July starting in Minnesota. If you're worried you won't be able to make a show, don't worry because there are a lot of stops with multiple shows. Let's just say Adele will be at Madison Square Garden six nights in a row! Check out the full list of tour dates below and be sure to set a reminder for when tickets go on sale on December 17 at 10 am, EST. https://twitter.com/Adele/status/676371435611377664 July 5 St Paul, MN Xcel Energy Center July 6 St Paul, MN Xcel Energy Center July 10 Chicago, IL United Center July 11 Chicago, IL United Center July 13 Chicago, IL United Center July 16 Denver, CO Pepsi Center July 17 Denver, CO Pepsi Center July 20 Vancouver, BC Pepsi Live at Rogers Arena July 21 Vancouver, BC Pepsi Live at Rogers Arena July 25 Seattle, WA KeyArena July 26 Seattle, WA KeyArena July 30 San Jose, CA SAP Center at San Jose July 31 San Jose, CA SAP Center at San Jose August 2 Oakland, CA Oracle Arena August 5 Los Angeles, CA Staples Center August 6 Los Angeles, CA Staples Center August 9 Los Angeles, CA Staples Center August 10 Los Angeles, CA Staples Center August 12 Los Angeles, CA Staples Center August 13 Los Angeles, CA Staples Center August 16 Phoenix, AZ Talking Stick Resort Arena August 17 Phoenix, AZ Talking Stick Resort Arena September 6 Auburn Hills, MI The Palace of Auburn Hills September 7 Auburn Hills, MI The Palace of Auburn Hills September 9 Philadelphia, PA Wells Fargo Center September 10 Philadelphia, PA Wells Fargo Center September 14 Boston, MA TD Garden September 15 Boston, MA TD Garden September 19 New York, NY Madison Square Garden September 20 New York, NY Madison Square Garden September 22 New York, NY Madison Square Garden September 23 New York, NY Madison Square Garden September 25 New York, NY Madison Square Garden September 26 New York, NY Madison Square Garden September 30 Montreal, QC Bell Centre October 1 Montreal, QC Bell Centre October 3 Toronto, ON Air Canada Centre October 4 Toronto, ON Air Canada Centre October 6 Toronto, ON Air Canada Centre October 7 Toronto, ON Air Canada Centre October 10 Washington, DC Verizon Center October 11 Washington, DC Verizon Center October 15 Nashville, TN Bridgestone Arena October 16 Nashville, TN Bridgestone Arena October 25 Miami, FL AmericanAirlines Arena October 26 Miami, FL AmericanAirlines Arena October 28 Atlanta, GA Philips Arena October 29 Atlanta, GA Philips Arena November 1 Dallas, TX American Airlines Center November 2 Dallas, TX American Airlines Center November 4 Austin, TX Frank Erwin Center November 5 Austin, TX Frank Erwin Center November 8 Houston, TX Toyota Center November 9 Houston, TX Toyota Center November 14 Mexico City, DF Palacio de los Deportes November 15 Mexico City, DF Palacio de los Deportes Don't miss Justin Bieber's newest tattoo and 15 times Chrissy Teigen and John Legend gave us relationship goals in 2015! [Photo: Splash News]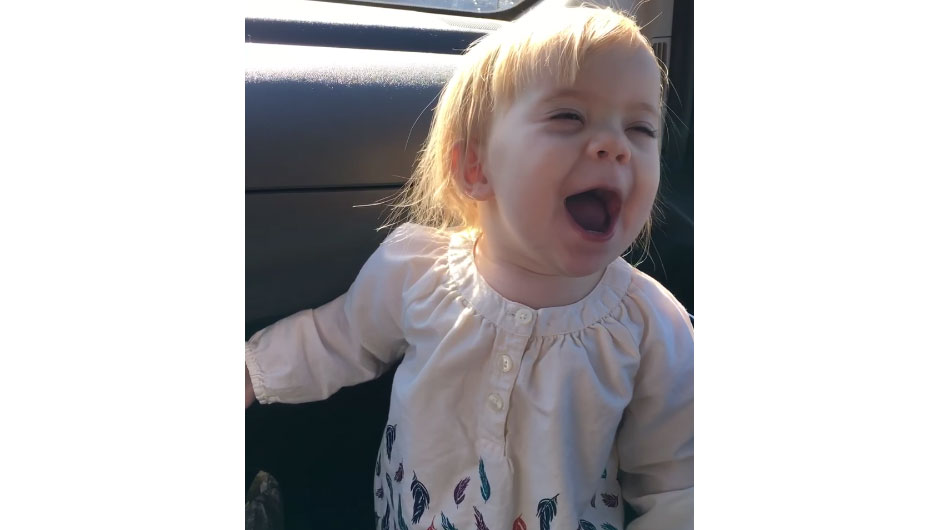 VIDEO: This Two-Year-Old Girl Just Became The Best Adele Impersonator
There are a lot of people out there who try to impersonate Adele. I mean, Adele even impersonated herself and it was magical. However, all Adele impersonators can go home now because this adorable two-year-old girl named Bexlee Marieel just won. Bexlee's version of "Hello" truly captures the raw emotion of the song. She really gets into it around the 25-second mark. Watch below! [youtube]https://www.youtube.com/watch?v=GXnu23ESbH0[/youtube] Don't miss Ryan Gosling giggling in an SNL skit and check out the 2016 Grammy nominations! [Photo: YouTube]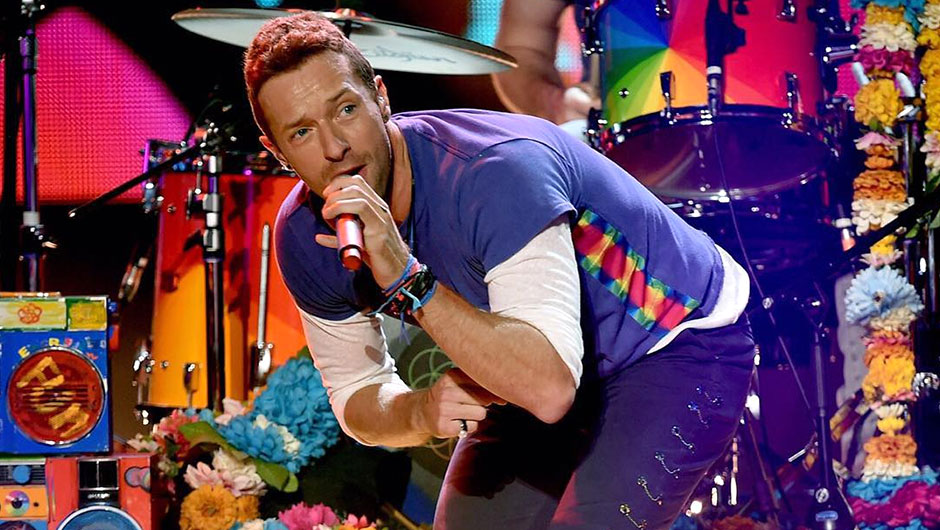 Coldplay Is Headlining The 2016 Super Bowl Halftime Show
Unfortunately, Left Shark isn't getting his own Super Bowl halftime show because Coldplay was just announced at this year's headliner. Since this is the 50th Super Bowl, the NFL said the show will be "honoring the past, recognizing the present and looking ahead to the next 50 years, including other special artists." https://twitter.com/coldplay/status/672612612618645505 A source also revealed that Bruno Mars could be making an appearance at this year's show. If his performance would be anything like the one from 2013, then no complaints here! Also, other "friends of the group" may also be performing. Well, this is exciting. Coldplay's seventh (and likely the last) studio album A Head Full of Dreams was released today. Don't miss Gwyneth Paltrow singing a new Coldplay song and Lady Gaga was named Billboard's 2015 Woman of the Year. [Photo: Instagram]
VIDEO: DJ Earworm's 2015 United States Of Pop Is Finally Here
I'll be the first to admit that I'm not super into music. I know, I know. Anyway, every year I look forward to DJ Earworm's epic mashup of the most popular songs from the year. This year's mashup is not a disappointment and it features your favorite hits (fifty to be exact) from Justin Bieber, The Weeknd, Drake, Rihanna and more! Take a listen to United States of Pop 2015, which is named 50 Shades of Pop. [youtube]https://www.youtube.com/watch?v=rfFEhd7mk7c[/youtube] Don't miss Sandra Bullock is a second-time mom and see what Kylie Jenner had to say about being bullied! [Photo: YouTube]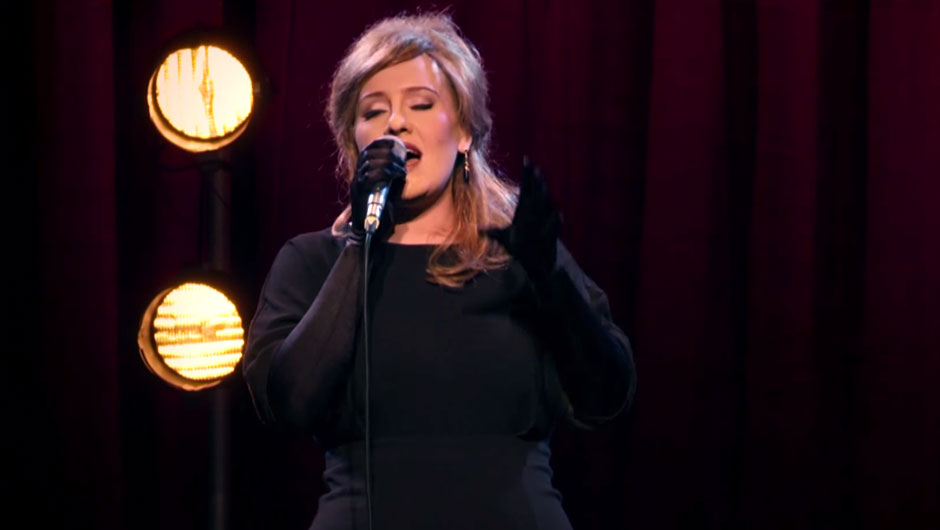 VIDEO: Adele Pulls Off An Epic Prank By Impersonating Herself In Front Of Adele Impersonators
For her Adele at the BBC special, Adele went undercover at an Adele impersonation contest. She wore a prosthetic chin and nose to hide her natural features and went by the name "Jenny" who spoke in a low, calming voice. She even wore black gloves to cover up her tattoos! Watch the video below to see how well Adele pulled off her prank. [youtube]https://www.youtube.com/watch?v=OHXjxWaQs9o[/youtube] Don't miss Sofia Vergara's wedding and Gigi Hadid's new haircut! [Photo: YouTube]
This Is What You Need To Know Before Adele's Album 25 Drops Tomorrow
Adele's album 25 may be the most talked about album of the year. With two singles already released, she has touched millions all over the world with her heartfelt, raw ballads. Each album has told a story in the singer's life. 19 showed us how she grew up and the ups and downs of a first love, 21 brought us to tears as she taught us what it feels like to mend a broken heart, but 25...this album may be her biggest stepping stone yet. This is what you need to know about the album before it drops tomorrow. This album is for one person in Adele's life. https://www.instagram.com/p/95u0UtgfJs/?taken-by=adele This would be her 3-year-old son, Angelo. Before this year, Adele hadn't released new music since 2011. The singer decided to produce this album because she wanted her son to see her someone "running a proper business. Being a boss again. Hopefully smashing it again." Well, her son will definitely see that in his mother if he doesn't already. This album will never be 21. https://www.instagram.com/p/9WHZxlgfHR/?taken-by=adele The albums written and sung about in this new album could not possibly replicate where Adele is in life now. She acknowledges that her last album was a "phenomena" and she can't "include it in any expectations of anything I ever do again." So what is 25? It's a make-up record. https://www.instagram.com/p/-PDH4nAfHA/?taken-by=adele This album won't be about shedding tears from an ex-boyfriend. This album will be about crying over a relationship with yourself, and what you've felt with in the past. That's why Adele is labeling this album as a "make-up record", since she is "making up with myself" and "making up for lost time." Adele sounds better than ever in this album, because she's expanded her range. https://www.instagram.com/p/9n_Mf1AfFd/?taken-by=adele As if her range didn't leave us taken aback before, she actually can hit four new notes now. This is the result of her surgery in 2011 to repair a vocal hemorrhage. She shared with Rolling Stone, "It does make your voice, like, brand-new, which I actually didn't like at first, because I used to have a bit of husk to my voice, and that wasn't there at first." We get to hear first-hand when Adele faced a turning point with her music and her romantic life. https://www.instagram.com/p/96NdhqgfNe/?taken-by=adele Adele considers the single 'Remedy' that she produced with Ryan Tedder (the same person who helped her write 'Rumour Has It') as a turning point for the album and her life, since the song restored her confidence. This came about when Tedder presented Adele with the word "remedy". This instantly reminded her of her child, which Tedder said "unlocked the whole lyric," and the song was "done, written and recorded that day." Whereas, her hit breakout single "Hello" definitely didn't happen overnight. https://www.instagram.com/p/9ltRZoAfJw/?taken-by=adele When Adele and co-writer/producer Greg Kurstin wrote 'Hello', they knocked out the verses first. However, it wasn't until six months later when they came back to the song and composed the chorus. Bruno Mars made her sing so hard. https://www.instagram.com/p/9LzpBDAfGQ/?taken-by=adele For Adele's song 'All I Ask',  she teamed up with no other than Bruno Mars and she claims that he pushed her vocals like she never has before saying how she's "never sung so hard in me whole life." This album may not be about heartbreak, and it may be dedicated to her son...but this is no soccer mom album. https://www.instagram.com/p/9WhsOugfGv/?taken-by=adele Instead of heartbreak, Adele is singing about sex. In her track 'I Miss You', she reveals that this particular song is "arguing, one of the most intimate moments in my life." However this album couldn't be complete without one more 'f–k you' song. https://www.instagram.com/p/9Qad9FgfGi/?taken-by=adele Adele has one more thing to say to her ex-boyfriend and she does it through her song 'Send My Love (To Your New Lover)'. Adele told The Guardian, "It sounds obvious, but I think you only learn to love again when you fall in love again. I'm in that place. My love is deep and true with my man, and that puts me in a position where I can finally reach out a hand to the ex. Let him know I'm over it." And don't forget to check out: VIDEO: Justin Bieber Joins James Corden For Carpool Karaoke...Again, Here's What All Your Favorite Early-2000s Actors Are Up To Now, and Hurry! Urban Decay's 16-Piece Urban Lip Vault Is Less Than $200 [Photo: Splash News]