$3 Nail Polish With Amazing Reviews And Reputations
How To Take Nail Polish Off Without Nail Polish Remover
There are a number of reasons why you may opt to find hacks that remove nail polish without nail polish remover. If you're traveling or find yourself about to enter a meeting with chipped nail polish, you probably won't have polish remover in your purse or back pocket. Perhaps you find nail polish remover drying and damaging to your nails and cuticles. Ingredients like acetone and methyl acetate, which smell pretty horrible, can also be damaging if you inhale them frequently. For all of these reasons and possibly others, it's worth taking note of these four nail polish remover hacks — none of which involve nail polish remover, and all of which require products you already have at home. 1) Spray Hairspray On Your Nails Products like hairspray, spray deodorant, body mist, perfume, and even sanitizer contain agents that act much in the same way as nail polish remover. They may take a little longer to work, but if you're persistent and keep at it, you'll notice your polish vanishing a bit at a time. Spray hairspray on a cotton square (which will stick less to your nails than a cotton ball). Work on one nail at a time, rubbing back and forth and adding more hairspray as needed. Try to keep these products, which contain alcohol, limited to your nail to prevent them from drying your cuticles and hands. 2) Soak Your Hands In Warm Soapy Water After applying an agent like hairspray to your nails, you'll likely still have a few chips of polish left on your nails — this is just one of the downsides of not using traditional nail polish remover. Luckily, soaking your hands in warm soapy water is the quickest way to loosen up stubborn polish so that you easily rub it off with a cotton square. Be prepared to spend about 10 minutes with your hands in water — patience will pay off. 3) Apply Fresh Nail Polish Or A Top Coat Over Your Nails It sounds counterintuitive: why would you add more nail polish to nails when your goal is to remove nail polish? But this hack is genius because it works quickly and effectively. Apply a fresh coat of nail polish or topcoat to your nail (your choice, though many prefer not to waste a more expensive top coat for this pursuit). Now, this is key: do not wait even a minute before cleaning your nail with a paper towel — the longer you wait, the drier the polish becomes and the more difficult it is to remove it. Both the fresh polish you applied and the old color should come off in one or two swipes. 4) Use A Nail File It is not recommended that you simply start filing your nail bed with a rough nail filer in order to remove old nail polish. Doing this can scratch your nails and weaken them. With that said, if you have an errant chip or two to deal with, a gentle fine-grit cushion file can be used to softly whisk away the chip.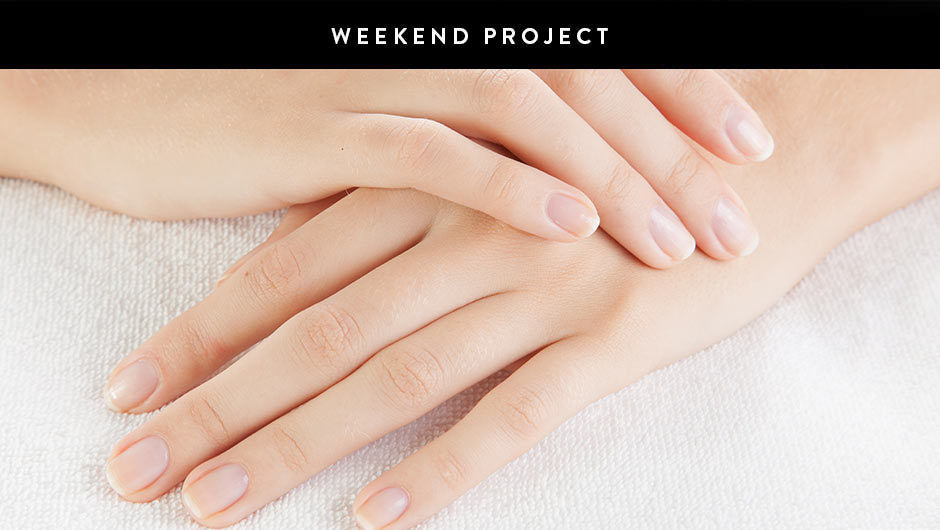 Weekend Project: Make Your Own Cuticle Moisturizer
Dry skin season is upon us, which means you should start taking extra care to ensure your skin stays super hydrated and glowy during the cooler months. One area of the body that gets dry so easily, yet we often neglect? Our cuticles. But as any nail expert will tell you, the key to a gorgeous manicure is soft, hydrated cuticles. One of the easiest ways to keep your cuticles moisturized so they never peel? Olive oil! Really! Simply take the olive oil you have in your kitchen and cover the cuticle surrounding your nails with it. Rub this in and you'll feel your cuticles instantly feeling soft and smooth. Leave this on for about 10-15 minutes so it can really soak in and then rinse gently with warm water. Repeat this a few times a week for maximum hydration. It's that easy! Be sure to check out how to make your own detox tea and how to make your own texturizing sea salt spray.
We Did The Shopping For You: Here's Everything You Need From Jamberry's New Catalog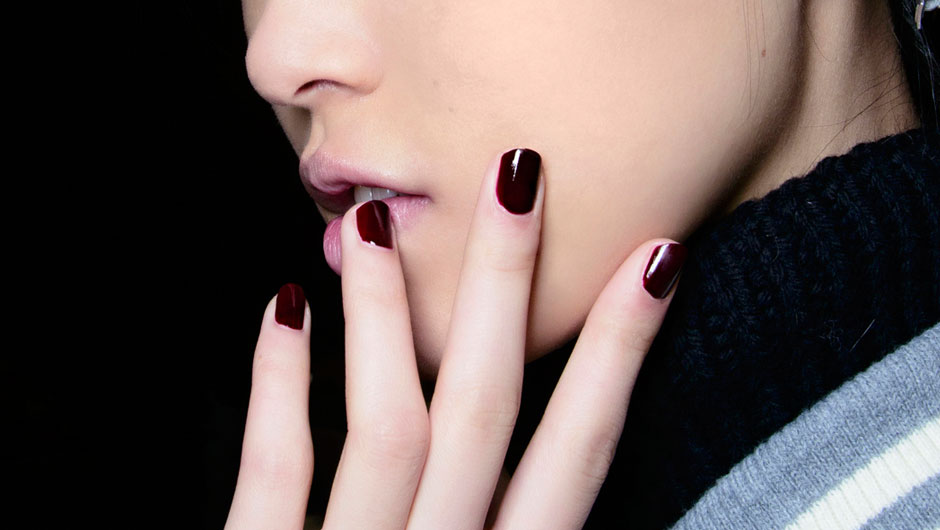 Everything You Need To Know About Trendy "Powder Gel Manicures"
After our initial love affair with gel manicures, many women began questioning whether the long-lasting nail treatment is more trouble that it's worth. In addition to using skin-damaging UV light to seal the polish, many are finding that their nails and cuticles are suffering big-time when they try to remove the polish and wind up peeling it off--along with parts of their nail. As an alternative, some nail salons started offering a treatment they call the "gel powder manicure," the "powder gel manicure" or the "acrylgel manicure." According to Nancy Reagan, CEO of Bella Reina Spa, the application technique typically goes something like this: one coat of a sticky gel polish is applied to the nails. Next, they're dipped in powder and, sometimes, cured under a UV or LED light. The technician may dip twice in the powder. Now we're all for alternatives, but upon further research, this new option may not be much better for your nails after all. Without the infamous "A" word being thrown around in the nail salon, because acrylic has a bad reputation for fungus, Reagan says you may simply be getting a fancier version of an acrylic manicure. Rather than a safer gel manicure, you may simply be paying for thin coats of gel with acrylic powder. "Some of the powders are extra fine, but the powder is acrylic," she says. "Some [technicians] will even tell clients that the powder is calcium, Vitamin E and good for the nails." The biggest problem with acrylic powders, Reagan says, is that if someone is chemically sensitive to them, the slightest amount of acrylic is going to cause their lymphatic system to go into overload. And, of course, aesthetically, they can do a number on nails, causing the same kind of dryness and breakage associated with gel manicures. Some brands, like NexGenNails, boast that their manicure is a healthy alternative to acrylic, but they still do use acrylic powder or methyl methacrylate. The difference, says Mike Le at NexGenNails, is that they don't use other chemicals that are found in the process of creating acrylic nails. "Nail primer, which is used for adhesion, is pretty much acid, and that is why it burns when applied," Le says. "Then, there is the liquid monomer which is used to shape the acrylic. That's the liquid that is usually blue in color and has a very strong odor--that is why most salons smell so bad. With the dipping process we have eliminated the two main bad ingredients in artificial nails." The powder gel nail manicure may not be a "true" acrylic or gel manicure in the traditional sense, but it's important to know that acrylic powder is still being used on your nails. Fortunately, some companies, including NexGenNails are striving to make theirs a healthier alternative. For more beauty tips, check out are gel manicures really that bad for your nails and how to chore-proof your manicure. And decide for yourself if that next trip to the salon is actually worth it. [Photo: Imaxtree]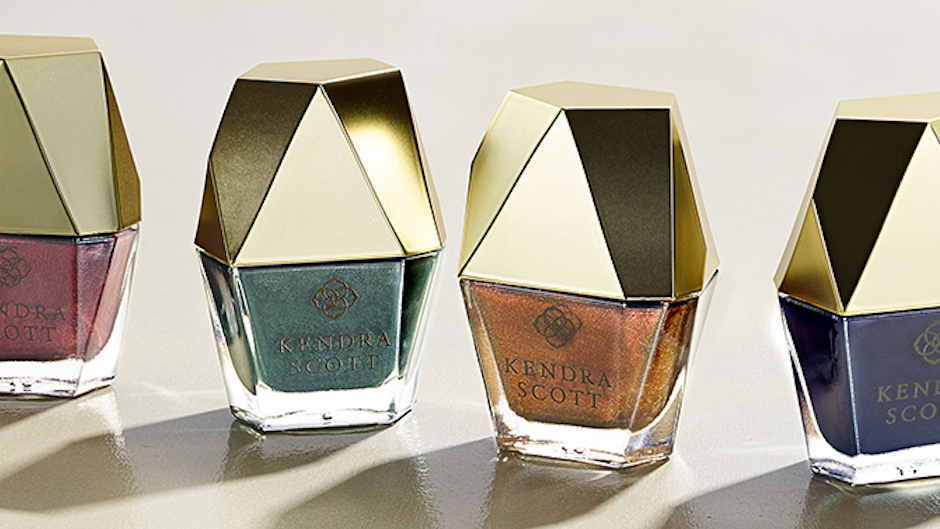 I Tried Kendra Scott's Fall Nail Lacquer Collection And It Is So. Good.
I'm not going to lie, I'm 100% in fall mode. Fall scented candles are burning, my sweaters are coming out of storage and my nail polish is dark. And let me tell you about my newest fall nail polish faves: Kendra Scott's autumn collection. First, let's talk about the packaging. So pretty, right?! The geometric bottles with golden tops are simply stunning. You won't want to hide these beauties in a drawer. They're totally gorgeous enough to show off on top of your vanity. Even better, what's inside these gorgeous bottles doesn't disappoint. The nail lacquer formula is thick and goes on super smooth. I wore my Kendra Scott mani for a week without any chipping and that's no small feat! The fall colors are especially standout. My favorite shade is Orange Goldstone, which just screams fall and is so flattering. You really can't go wrong with any color, though, so treat yourself to a few of these awesome polishes ASAP. SHOP KENDRA SCOTT NAIL LACQUER NOW Be sure to check out the under-the-radar leggings that are the best ever and the best face mask if your skin is in need of some TLC. [Photo: Kendra Scott]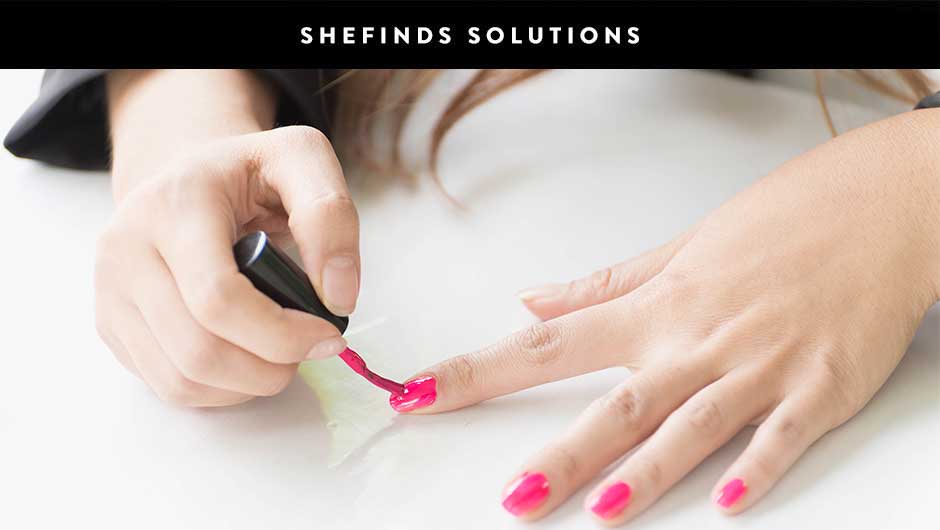 Use These Tricks To Make Your Nails Dry Faster #SHEfindsSolutions
I love painting my nails in fun colors each season, but the one thing I can't stand? Having to wait for the polish to dry. Sitting there waiting just feels like a huge waste of time. Luckily, there are a few ways to get your nails to dry faster when you're in a hurry. Try these tricks the next time you need your nails to dry in a flash. Tip 1: Switch up your top coat. Try using a quick dry top coat that is meant to dry your polish in no time. Tip 2: Soak your nails. After you are done painting your nails, allow them to air dry for at least one minute. Then, soak them in a bowl of cold water for a couple of minutes to speed up the drying process. Tip 3: Use a hair dryer. Just like the nail salon dryers, using warm air on your nails can help them dry faster than air-drying. Tip 4: This may sound weird, but try cooking oil spray. After you are done painting your nails, lightly spray the oil over your nails and allow it to sit for a couple of minutes. Then, wash off your hands to find completely dried nails. Be sure to also check out the perfect leggings for fall and the best foundation for every skin tone.
Once And For All, Here's How To Stop A Hangnail From Getting Worse #SHEfindsSolutions
Just thought of a peeling cuticle or hangnail send shivers down my spine. Even though it looks small, it isn't pretty and it definitely can cause pain. Ouch! If you have a hangnail, the most important thing is to avoid peeling it off all together because that could ultimately lead to the area hurting way more or even a nasty infection. Instead of peeling it, the best thing to way to treat a hangnail is to soak your fingers in warm water. This will soften the area around the hangnail. Next, use nail scissors or a nail clipper to cut off the hangnail. Once you've done that, you can cover the area with Vaseline or Neosporin and a band-aid if you want to make sure it heels the right way. And if you want to prevent hangnails, use cuticle oil religiously. Don't have cuticle oil? Even just using lotion regularly on your hands will prevent nasty hangnails. Be sure to check out how to remove foundations stains without a washing machine and how to instantly soften dry hair.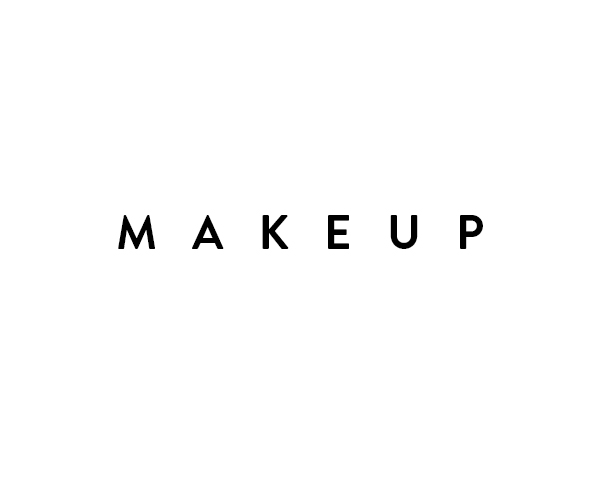 Drugstore Beauty Awards 2017
The One Morning Drink You Should Have For Your Hair, Skin, And Nails
4 Ingredients To Add To Your Water For Your Hair, Skin And Nails
The Best Natural Oils For Your Hair, Skin And Nails
The Best Natural Oils For Your Hair, Skin And Nails, According To Health Experts
The One Ingredient You Need To Eat For Better Hair, Skin & Nails
How To Fix Chipped Nail Polish Without Getting A Whole New Manicure #SHEfindsSolutions
There is nothing more frustrating than getting a manicure--or doing one yourself--and having it chip within a couple days. Ugh! The fact of the matter is, however, sometimes there's just no avoiding. But instead of going overboard and booking a whole new mani appointment for one small chip, get creative girl! Here are four quick and easy ways to fix chipped polish without having to start from scratch. Tip 1: If the chip is on the end of your nail, try clipping the nail down to remove the chip and re-filing. Tip 2: If the chip is in a different area, use a toothpick to dab a tiny amount of nail polish over the chip then let it dry. If needed, use a buffer to smooth it out. Tip 3: If the chip is small, use glitter polish to go over it and create an accent nail. Don't forget to paint the same nail on the other hand! Tip 4: If the chip is on the larger side, put some clear tape on the part of the nail that is fine and paint over the chip with the original color. Once that section is dry, remove the tape and cover your entire nail with a layer of top coat. Be sure to also check out how to do a smokey eye in less than 5 minutes and 8 ways to style a button down.
The One Thing You Should Eat In The Morning For Your Hair, Skin & Nails
The Worst Things In The Summer For Your Hair, Skin, and Nails, According To A Dermatologist
3 Vitamins For Hair, Skin And Nails That Dermatologists Swear By
No Plans This Weekend? Give Yourself A Salon-Like Pedicure At Home #YouCanDoIt
Why spend $40 on a pedicure when achieve the same results in the comfort of your own home? True, there probably won't be a massaging chair that makes you shake, but your feet will feel just as soft and your nails will look flawless. Follow the steps below to get a salon-like pedicure without leaving your home. Step 1: Soak your feet in warm water. Splurge a little and buy yourself a footbath. Step 2: After you've soaked your feet, remove dry skin or calluses with a foot file. I love using Amope's Pedi Perfect Wet and Dry Electronic Foot File. It really gets the job done. Step 3: To make yourself feel like you are at the spa, use a foot scrub that will exfoliate and soften your feet. Step 4: Rinse your feet and pat dry with a super soft towel. To make the experience even more luxurious, toss it in the dryer for a few minutes so it's warm when you're ready to use it. Once your feet are dry, apply lotion to moisturize. Look for something with lavender, which is super soothing and relaxing. Step 5: Cut and shape your toenails to your liking. Remember to file your nails in one direction! Step 6: Apply a base coat to your toenails and when dry, paint your nails your desired color. I love Essie's Bikini So Teeny for summer. Step 7: Once your polish is dry, apply a top coat so the nail color stays in place. Be sure to also check out how to make your own face mask and what to wear when it is really hot outside.
3 Ways To Use Tea Tree Oil For Your Hair, Skin And Nails
The Scary Downside To Nail Polish No One Tells You About
How To Make Your Manicure Chip-Proof #SHEfindsSolutions
There is nothing more frustrating than spending $20+ on a manicure or taking the time to do it yourself, just to have your nails chip within a couple of days. To help keep your mani long lasting, follow these steps for chip-proof nails: Step 1: Shape and file. Make sure you file your nails in the same direction. Going back and forth can actually cause breakage, which doesn't hold polish long. Step 2: Use nail polish remover or soap and water to make sure you got rid of all oils and residue on your nails before you add polish. Step 3: Add a base coat. This acts as a primer and allows for a smoother application of your nail color. Step 4: Paint your nails. Make sure you apply thin layers so the polish doesn't peel easily. Pro Tip: Wait at least 2 minutes between applying coats of polish. Once all your nails are painted, slide a thin layer horizontally across the tip of your nail. Step 5: Add your top coat. Deborah Lippman's top coat dries really fast and protects your nails for a long time! Caption Polish's top coat is also an editor favorite here at SHEfinds. Easy enough, right? Here's to chip-free manis for days on end! Be sure to check out the best drugstore beauty products.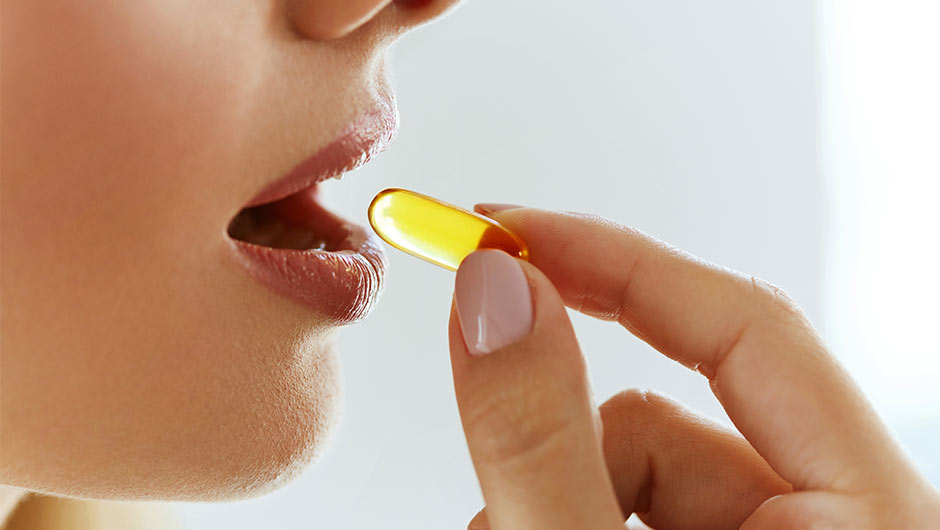 Are There Downsides Of Taking Biotin For Your Hair, Skin And Nails? We Asked The Experts.
3 Skin, Hair And Nail Mistakes You're Making
5 Products Every Woman Needs To Do An Easy At-Home Pedicure #WellnessWednesday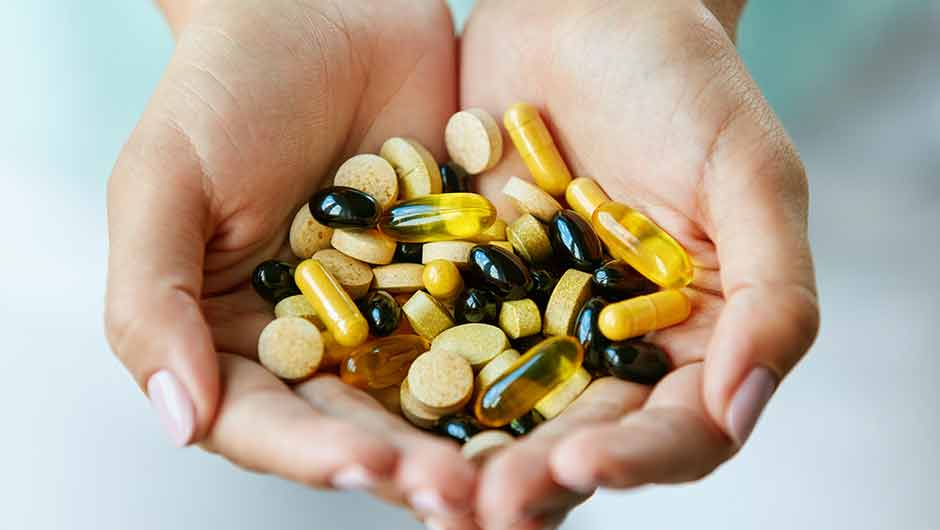 3 Supplements For Hair, Skin And Nails That Dermatologists Swear By
The Downside To Pedicures That No One Tells You About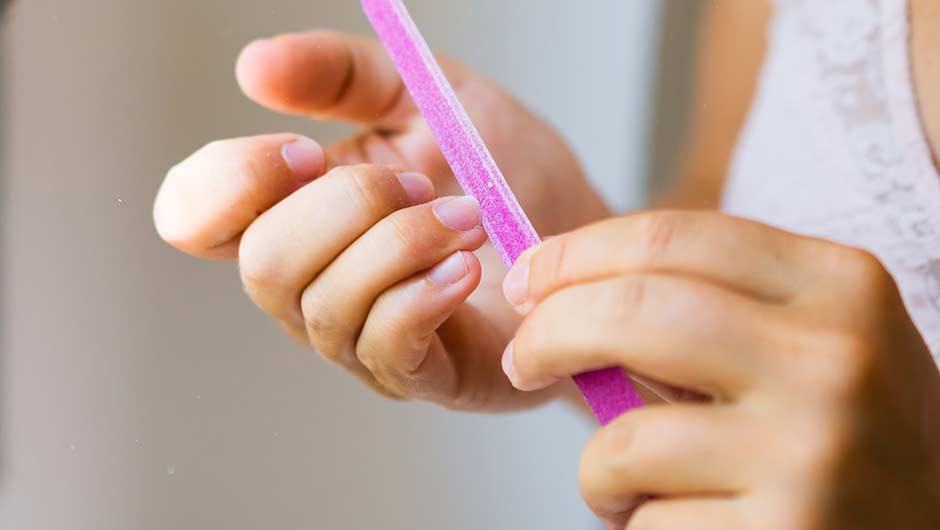 The One Thing You Should Never Do When Filing Your Nails, According To A Nail Pro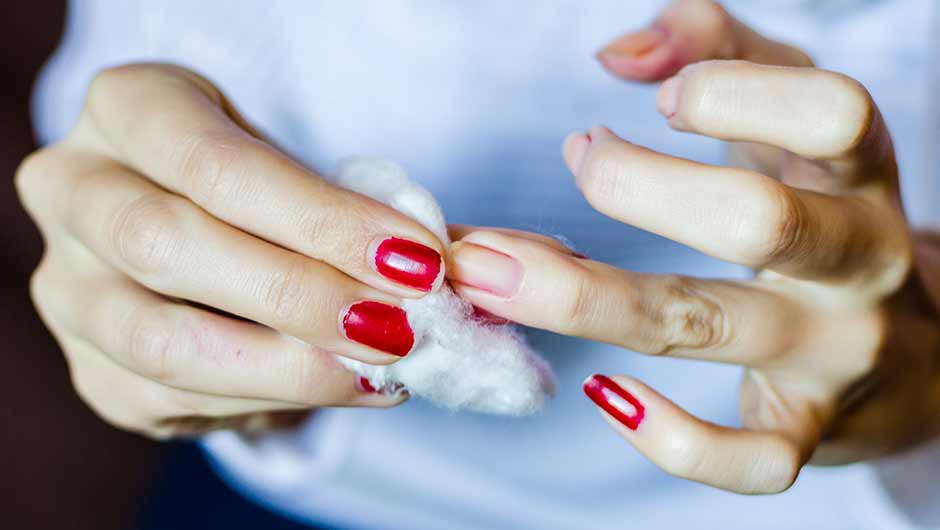 How To Remove Dark Nail Polish Without Staining The Skin Around Your Nails #SHEfindsSolutions
Is there anything worse than taking off dark or red nail polish and having all the skin around your nails turn the same color? By the time you are done getting it all of off, you're probably seriously reconsidering painting your nails another color at all. Luckily, there is a way to make this job a little easier. Follow the steps below so you can easily take off your dark or red nail polish without staining the skin around your nails. Step 1: Apply cuticle oil around your nail and under the tip of your nail. The oil will help keep the dark polish from running onto your skin, so this step is essential! Step 2: Soak a cotton ball into nail polish remover and press it down on your nails for around 10 seconds. This will help to start lift the nail polish off. Step 3: Begin to take the color off by push the cotton ball in upwards motion towards the tip of your nail. This is also important to ensure you are not smearing the color onto the skin around your nail. Step 4: Once you have the color off your nails, soak them in a bowl of warm, lemon water. The citrus will help to remove any stains that may have happened and will leave your hands super soft. Be sure to also check out the next big legging trend and the best all-natural products at Sephora.
These Are The 10 Nail Colors SHEfinds Editors Swear By
6 Products That Will Stop Your Nail Biting Habit
Here's How To Pull Off The Cuticle Art Trend In Two Easy Steps
There are always new nail trends popping up, but let's be honest: they're not all worthy of your attention. Cuticle art, however, will definitely make you do a double take. This nail trend is taking Insta by storm and it's easy to see why. The look is so cool! See for yourself: A post shared by Fat Mascara (@fatmascara) on Sep 13, 2016 at 4:54pm PDT A post shared by @mtvstyle_au on Feb 14, 2016 at 10:06pm PST This subtle detail really has a way of taking your mani to the next level and it's actually pretty simple to achieve at home. Rock the cuticle art trend by following these two easy steps: Step 1: Choose your main color. This is the shade that will go all over your nails just like a regular manicure. Once you have applied your desired color and it has dried, it's time for some cuticle art. Step 2: Choose a color or glitter that will be your cuticle color. Then, use a small amount of this color to trace the part of your nail near the cuticle. This simple look is perfect for spring. We recommend choosing a pastel pink main color, like the shade Angel Food from Essie, then use a gold glitter to line your cuticle. Be sure to also check out 3 affordable treatments to revive dry hair and the healthiest foods to eat for snacks!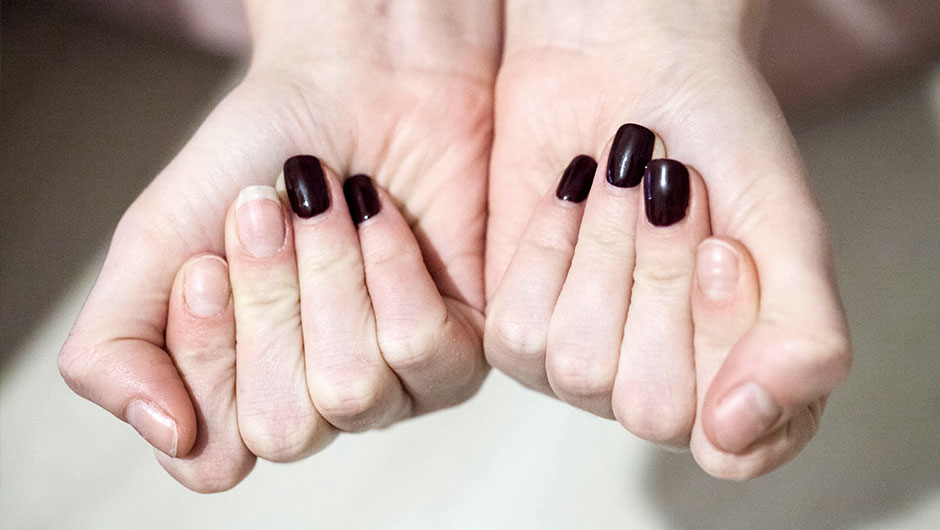 4 Mistakes That Are Ruining Your Nails, According To Manicurist
The Scary Downside To Gel Manicures That No One Tells You About, According To A Doctor
The Right Way To Get Rid Of Cuticles, According To A Celebrity Manicurist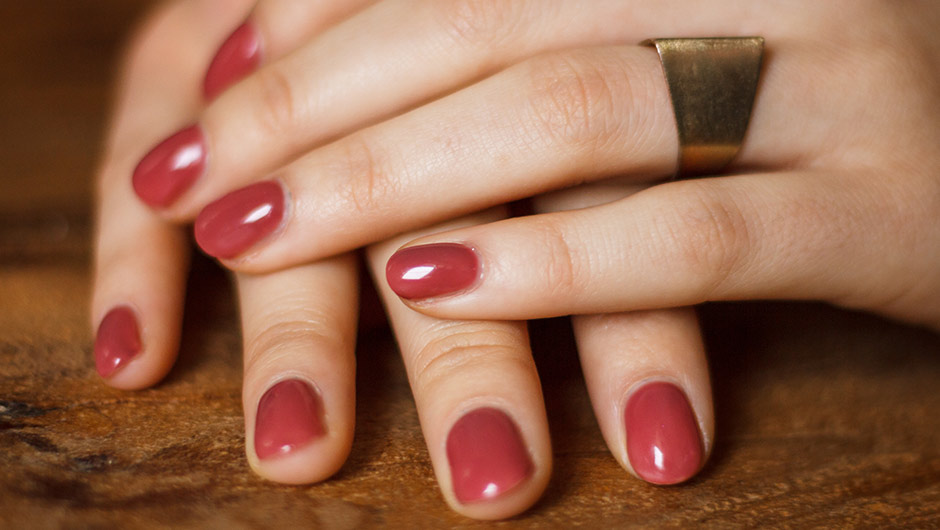 4 Amazon Tools For At-Home Manicures That Are Totally Genius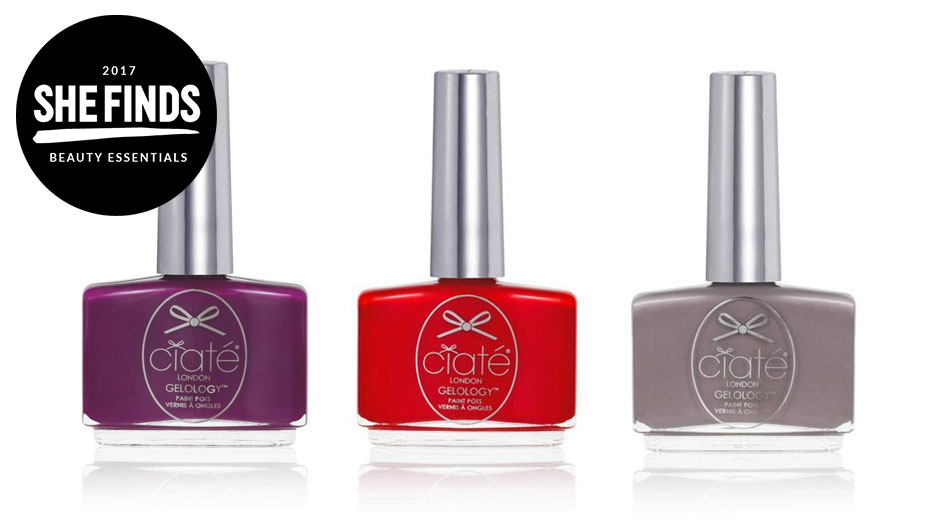 CIATÉ's Gelology Nail Polish Is Legit Better Than A Gel Manicure #Facts
Like most women, I love the long-lasting results of a gel manicure, but I hate how weak and brittle they leave my nails. Also, there's that whole sticking your hand under direct UV light. No thanks! I stopped getting gel manicures over a year ago, but I definitely miss having perfect nails without having to redo them every week. I recently raved about this amazing top coat, which definitely extends the life of regular nail polish. But I recently used that top coat over Ciaté's Gelology nail polish and holy long lasting manicure! I'm on week three of this paint job and the polish is still completely in tact. Despite the fact that I wash dishes without gloves (the horror!), the polish is still glossy, vibrant and un-chipped! I am hooked! Whether you paint your own nails or go to a salon, you need this polish in your life if you want a long-lasting mani. There are so many great colors and each bottle is less than $20. Do it! SHOP CIATÉ GELOLOGY NAIL POLISH NOW Don't miss the best drugstore beauty products and Supergas on sale for just $29. [Photo: Ciate]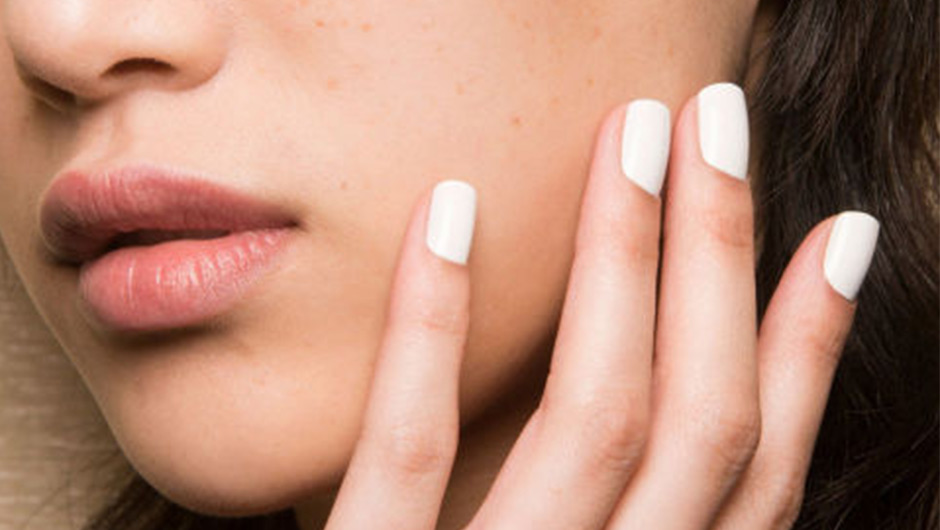 5 Spring Nail Colors That Need To Be On Your Radar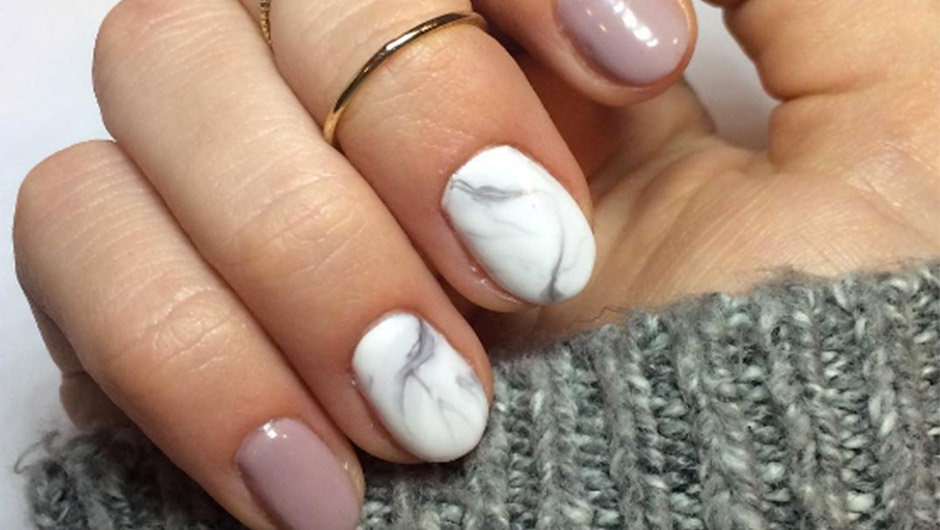 How To Recreate The New Marble Nail Trend At Home In 7 Simple Steps
You have probably seen all over social media that marble nails are the latest trend. If you like to save money and do your own manicure at home, no problem. Recreating this look is actually a lot easier than you may think. Here's how to do it: Step 1: Apply a base coat as you would a normal manicure. Step 2: Fill a shallow bowl with water and select the nail colors you want for the marble effect. Step 3: Using your desired colors, drop a small amount of each color into the water, allowing them to disperse. Step 4: Using a cocktail stick or something similar, gently drag the stick through the colors to create the marble pattern. Step 5: Once you have the pattern you want, place your nail into the water to soak up the colors. Step 6: After each nail has the pattern, use a Q-tip and some nail polish remover to get rid of any access nail polish that may have got on your fingers. Step 7: Once you have the look you want, apply a top coat so your marble nails stay in place. And just like that, you are done! Be sure to also check out the one product you should put on your face every morning and the best nude eyeshadow palettes under $15. [Photo: Instagram]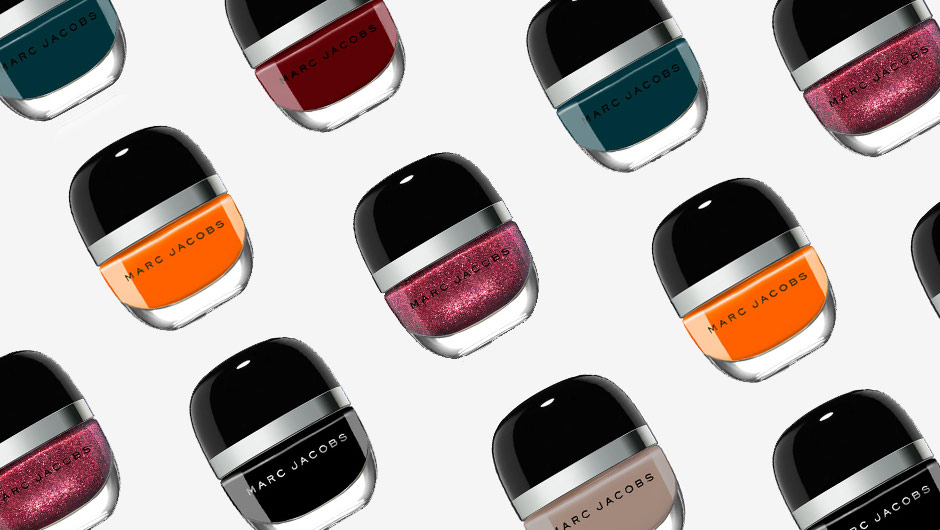 Marc Jacobs For The Price Of Essie?! Use This Secret Promo Code To Get A Marc Jacobs Nail Polish For Just $9 Today
Marc Jacobs nail polish for the price of Essie?! Yes, please! It's going down right now at Marc Jacobs beauty where all the hi-shine nail laqcuers are 50% off with code NAILIT at checkout. This is not a drill; colors are selling fast! Go stock up before they're all gone! Marc Jacobs Hi-Shine Nail Lacquer ($9, down from $18) SHOP MARC JACOBS NAIL LACQUER NOW Don't miss the best drugstore beauty products and Bobbi Brown's new skin Remedies. [Photo: Marc Jacobs Beauty]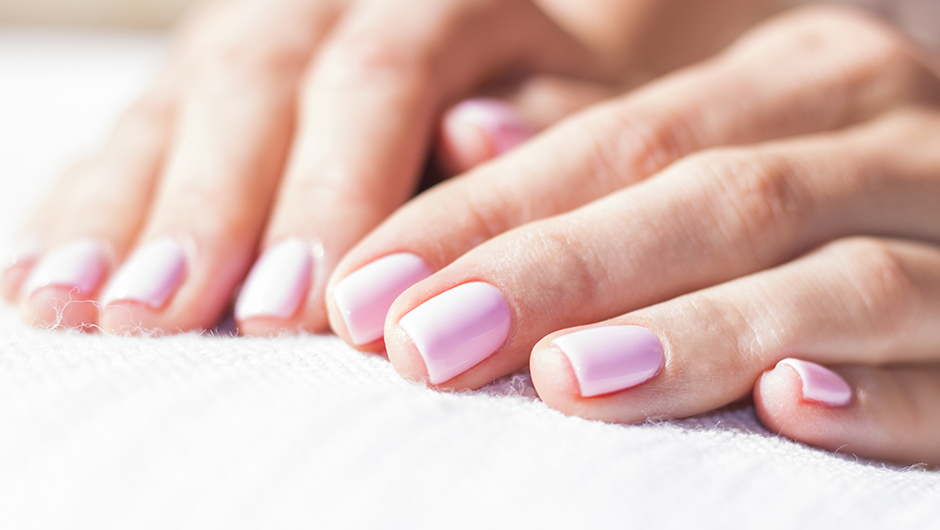 The One Item You Need To Achieve A Salon-Like Manicure At Home
If you're like me (and most women, for that matter), you love going to the salon and getting a mani with the works. I'm talking nails filed to perfection, hand massage, all that! But when those indulgent manicures cost upwards of $35, they can quickly take a toll on your bank account. That's why I spent the last few months testing tons of nail products to come up with the beauty-lovers guide to at-home mani essentials. The one product you absolutely, positively need for a salon-like at-home mani? Deborah Lippmann's Cuticle Lab Set, which is available at Nordstrom. In this set, you receive cuticle oil, non-drying cuticle exfoliant, cuticle repair cream, a pusher and most importantly, a step-by-step guide for using all of these products. Here's the secret that nail pros already know: a great manicure starts with healthy cuticles! This set is truly genius and a hands down must-have for anyone new to the at-home mani game. Some of my other essentials? Fresh's Seaberry Nourishing Hand Cream works wonders, especially during the dry winter months. Apply after you've finished tending to your cuticles. And I can't forget Essie's No Chip Ahead top coat, which, well, speaks for itself. Be sure to check out the best drugstore beauty products and the best beauty buys at Target.
The One Thing You Should Never Do To A Broken Nail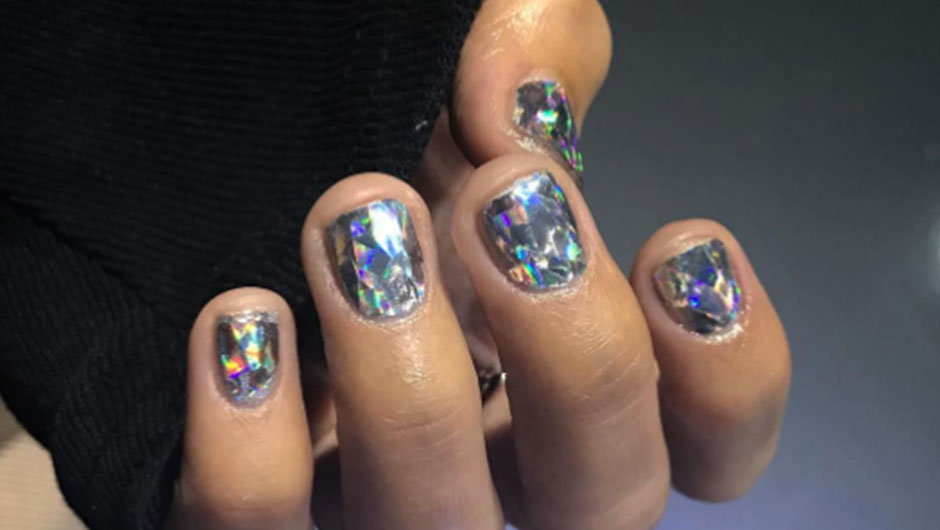 This New Korean Nail Art Trend Is Absolutely Mesmerizing
Remember the completely stunning shattered-glass mani that went viral in 2015? Well, now there's a new Korean nail art trend for us to stare at all day. South Korean manicurist Eunkyung Park, owner of Seoul's Unistella Salon and great Instagram feed, has created what is arguably the shiniest and most mesmerizing nail trend of them all: diamond nails. Yep, nothing can compete with that! While she has yet to explain how to create the look, it's probably similar to the cut-and-glue technique of glass nails. However, instead of using cellophane, Park likely goes for holographic oil to get that diamond-like shine. Check out your procrastination for the day below: https://www.instagram.com/p/BOWWDa6AVWQ/ https://www.instagram.com/p/BNS5uX6gP68/ https://www.instagram.com/p/BO09wB8ANS1/ Don't forget to check out: the one thing you should never do to a hangnail and weird Korean beauty skincare products that are totally genius [Photo: Instagram]
The One Thing You Should Never Do To A Hangnail, According To A Manicurist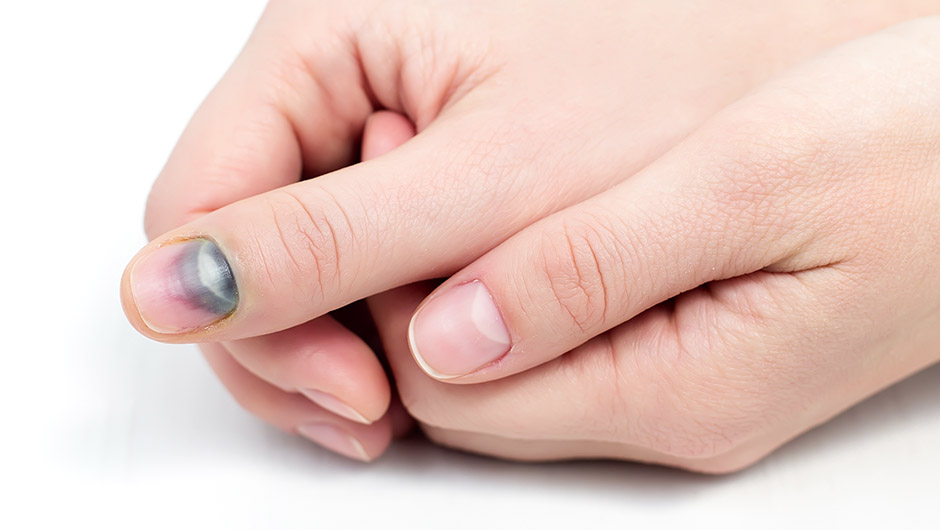 The One Thing You Should Never Put On A Bruised Nail
If you have ever jammed your fingernail in a door or dropped something heavy on your toe, you know what it's like to have a bruised nail and it isn't fun. Once the blood begins to collect under your nail bed, you know that you are in for a world of hurt. To prevent further damage to the nail, don't cover it before soaking in an anti-bacterial wash. Covering the nail before treating it can actually create an infection within the laceration. That sounds like just about the worst place you can get an infection, buried under your nail. If you are suffering from a bruised nail, make sure to ice the area, wash the germs away and apply a sterile bandage to the tear. It takes a while for the bruise to go away, which happens as your nail slowly grows out, but it will feet much better if you take these measures. Don't forget to check out the one thing you shouldn't put on a zit and the one thing you should never put on a cold sore. [Photo: Shutterstock]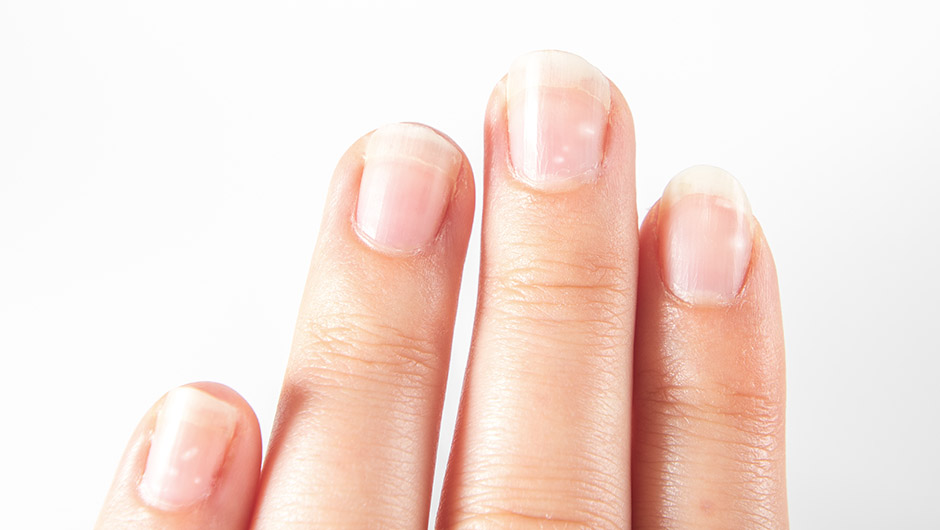 What Does It Mean If You Have White Spots On Your Nails?
We've all heard the rumor that white spots on your nails mean you have a calcium deficiency, but that couldn't be further from the truth. Even dermatologists agree that this is fiction. Jessica Krant, M.D., a board-certified dermatologist, tells Huffington Post, "Calcium deficiency causing white spots on nails is the most common myth, followed by zinc deficiency." If professionals are calling out this myth, then what exactly are those white spots anyways? "The truth is that white spots are common and harmless and don't indicate any specific vitamin deficiency at all," Krant explains. "Most likely they are signs of previous trauma to the nail plate (the hard part of the nail) or the matrix (the source of the nail plate, which is located underneath the cuticle under the skin). Just like folding or denting a piece of clear plastic leaves a white spot, so does pressure or trauma to the nail." That makes sense! White spots are temporary and will grow out as your nail grows. Again, makes sense. But the type of mark you should be concerned about is one that is dark. Dr. Marsha Gordon tells Good Housekeeping, "But watch out for dark marks. If you recently hurt your hand (say, in a car door), don't worry. But if not, and you see a black, brown, or purple band on your nail, it could be a sign of skin cancer. See a doctor right away." As always, consult your doctor if you have any concerns! Don't forget to check out: why you should put on chapstick before bed and the one thing you should never put on dark circles [Photo: Shutterstock]
Calling All Beauty-Lovers! Add These Beauty Gifts To Your Holiday Wish List ASAP
The 2-Second Trick For Making Your Manicure Last Longer
It doesn't matter if you painted your own nails or got them done at the salon, chipping your manicure sucks. Not only does a chipped manicure looks sloppy, but it's a waste of time and money. And once your manicure starts chipping, you're more likely to pick at your nails. However, there's a life-altering hack from YouTube will change the way you paint your nails. This 2-second trick will seriously decrease the likelihood of your nail polish chipping and make your manicure last much longer. READ MORE: How Not To Pick At Your Manicure When It Starts To Chip This easy trick is to seal your nail polish. It sounds confusing, but it's actually super simple. All you need to do is run the base coat, polish, and top coat over the "open edge" of your nail to assure that the nail polish sealed. The "open edge" of your  At the very least, make sure you cover the edge of your nail with the top coat. The tips of your nails take most of the abuse on a daily basis. By sealing the tip of your nail, you are providing extra protection from chipping. Another trick to making your manicure last longer is to avoid getting any polish on your cuticles. If the nail polish gets on your cuticles, you run the risk of lifting the paint from the nail which can lead to chipping. Prevent this by pushing back your cuticles (never cutting!) before painting your nails. For more tips, check out how to make your at-home manicure last longer and how to fix smudged nail polish. Save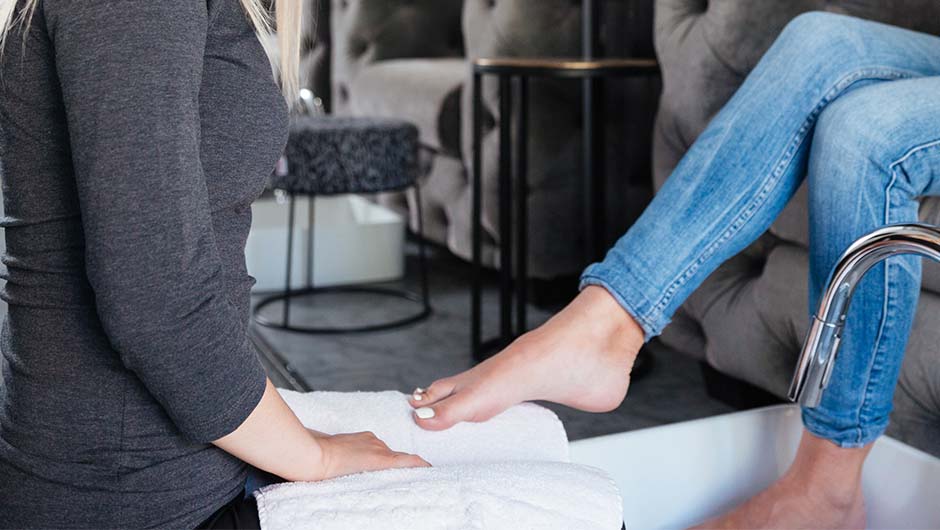 The 3 Biggest Rip-Offs At The Nail Salon
It's The Most Wonderful Time Of The Year! Shop The Best Holiday Beauty Gift Sets Now