The One Necklace Everyone Will Be Wearing Instead Of Chokers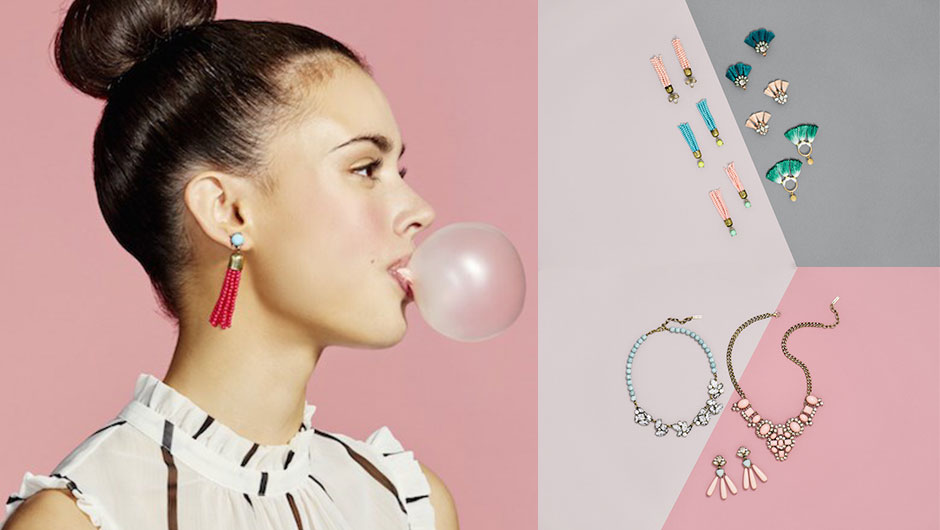 BaubleBar Just Launched A New, Even More Affordable Jewelry Line At Target–Shop SUGARFIX By BaubleBar Now!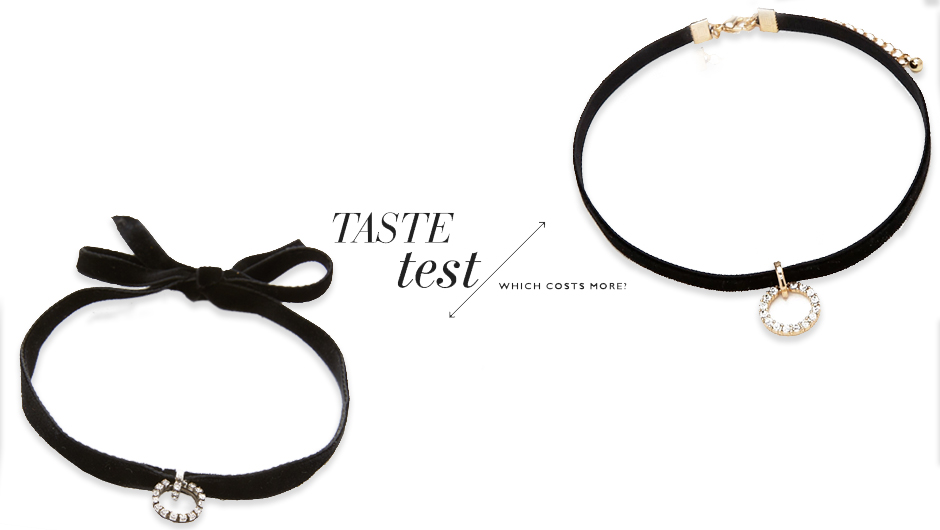 Can You Tell Which Velvet Choker Costs $94 More Than The Other?
Victoria's Secret Angel Josephine Skriver wore the DANNIJO Vix Choker ($98) to Coachella this year. When I saw it on Instagram, I was like, "I want that!" It's pretty tame for the jewelry brand, which is known for starting all the body part parties with Man Repeller back in the day. So I was pleasantly surprised to see their simple velvet ribbon with a touch of detail, the perfectly-sized rhinestone circle charm. Subtly different from every other girl's black choker. Score!! https://www.instagram.com/p/BGElocruWzu/ OK, so I still haven't bought the DANNIJO one yet--but I'm happy I waited! I was playing my favorite game of "What do I want from Forever 21's New Arrivals???" when I came across a $3.90 knockoff of the Vix Choker. Score again!! Can you tell which one costs more? Click below to find out, you might be surprised! Test your fashion savvy some more with crop flare jeans and emoji chokers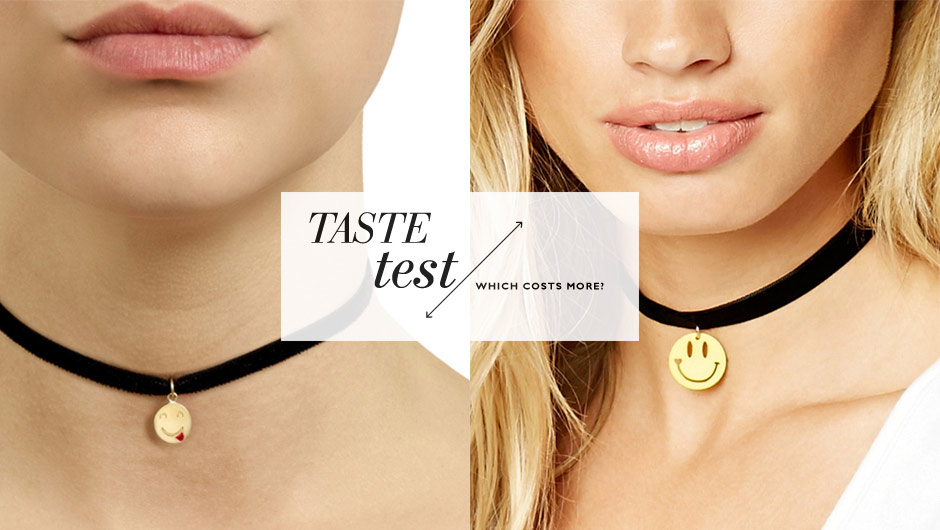 Can You Tell Which Emoji Choker Costs $246 More Than The Other?
When I spotted Alison Lou's emoji chokers on Instagram, I was obsessed--what millennial wouldn't be? https://www.instagram.com/p/BHkGielhWkp/ The only downside was when I went to go buy one and saw the price: $250. I was pretty bummed out. Don't get me wrong, if I had that money to drop on a ribbon and metal charm, I would, but it's just not in the cards for me right now. Luckily, when scrolling through the New Arrivals at Forever 21, I found a knockoff for just $3.90 that satisfied my emoji choker needs. Both of them are pretty much the same idea--can you tell which emoji choker costs more than the other? Click below to find out: Test your fashion savvy some more with lace-up ballet flats and crop flare jeans!
This Under-$50 Zodiac Necklace Is Just What Your Jewelry Box Is Missing
Despite the fact that we said sayonara to 2015, it's not quite time to retire one of last year's biggest trends. Personalized jewelry is definitely still having a moment this year, which means if you haven't added a picce to your collection there's still time. Our recommendation for a stunner that's both beautiful and budget-friendly? This Star Map necklace by Sequin. Available in all 12 zodiac signs, this dainty necklace is simple enough to wear every day, but will still catch people's attention. Best of all? It's less than $50. Get yours after watching the video below. Be sure to check out the best water bottles ever and a game-changing mascara. [Photo: Joyus]
25 Statement Necklaces Under $30 That Will Make Your Holiday Party Outfit
Treat Yourself To Taylor Swift's Under-$100 Pendant Necklace
Taylor Swift is having a great time down under hanging with Blake Lively and taking selfies with kangaroos. She was spotted wearing the Kendra Scott Elisa Pendant Necklace in Platinum Drusy ($65) while doing the latter. The platinum gold necklace is dainty and feminine, something T.Swift proves time and time again is a look that never goes out of style.  Lucky for us, this is one Taylor-approved item that we can all afford. No bad blood with that! Kendra Scott Elisa Pendant Necklace ($65) Shop more celebrity style like Heidi Klum's cool girl sneakers and Cindy Crawford's perfect chambray shirt. [Photo: Instagram]
These Cool Constellation Necklaces Take Personalized Jewelry To The #NextLevel
You don't have to be into astrology to admit these constellation necklaces by My Jewel Candy are seriously amazing. From initial necklaces to those latitude bracelets, personalized jewelry has been having a serious fashion moment and these super pretty constellation necklaces are just the latest way to get in on the trend. Available in both gold and silver for all 12 zodiac signs, there's no reason not to treat yourself to one of these statement pieces. Each one is only $25 for goodness sake! BUY YOUR CONSTELLATION NECKLACE NOW!  Be sure to check out Reese Witherspoon's cute cropped peacoat and the best cheap workout sneakers.
This Lariat Necklace Is The Only Accessory You Need For Every Occasion This Holiday Season
If you're one of those women who simply can't leave the house without accessories (me!), this post is for you. Just as big, chunky statement earrings have been replaced by dainty studs as of late, colorful, in-your-face necklaces are quickly on their way out thanks to the latest necklace trend, lariats. Now before you start thinking cowboys and Westerns, we're not going there. Instead, the lariat necklaces we're loving these days are a simple and delicate way to take any outfit from jeans and a tee to an LBD to the next level. This pull-through style from Ettika is especially beautiful in both gold and silver, so if you're looking to update your jewelry box for fall, you just found your score. Get one for yourself ASAP before they're gone! Be sure to check out this pretty personalized cuff bracelet and the miracle serum that will make your hair grow longer and thicker. [Photo: Joyus]
Stars Love: Carbon & Hyde Jewelry
Take A Break And Let Your Necklace Do All The Talking
Ribbon Chokers Are #Trending: 11 To Shop Now
40 Necklaces, Rings, Earrings, And Bracelets That You Can Wear With Everything
Our Latest Jewelry Obsession: Coin Necklaces
Who's Crazy Enough To Wear This Drug Jewelry?
You already know how we feel about inappropriate graphic tees and penis jewelry, so now it's time to explore the world of drug-inspired trinkets. We're not entirely sure who wears these, let alone how they even got made, but gone are the days of innocent heart jewelry. Now there are rings in the shape of Xanax pills and MDMA lockets. But if hard drugs aren't your thing (really, you don't say?!), then you can swap what you thought were your edgy earrings for a pair of weed leaf studs. Yes, all this jewelry is for real, and even big names like Chanel and British artist Damien Hirst (remember his pill backpack for The Row?) are in on this trend. But we want to know, are you crazy enough to walk around wearing this drug jewelry? Check out all the best pieces we found in the slideshow and let us know what you like in the comments below! For more WTF, check out: the fugliest Birkenstocks EVER, a shirt that tells you to run faster and yoga pants that are meant for going commando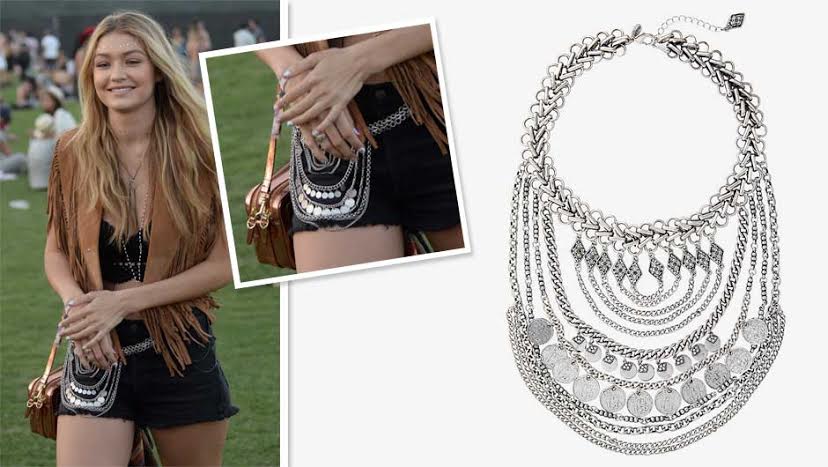 Gigi Hadid Turned A $49 Silver Bib Necklace Into A Belt At Coachella
She may be a world class model, but Gigi Hadid is just a concert-loving teen at heart. Well, Coachella is not just any old concert. It is the festival to be seen at and this style star waisted no time in making some fashion statements on the lawn. Like when she turned this Express Layered Coin and Chain Bib Necklace ($49.50) into a - wait for it - belt. Now not all of us have 24 inch waists to pull this off, but we should all try. Plus, this necklace would look pretty fab around your neck, an easy statement piece to spice up that LDB. Whatever you do with it, the options are endless. Snag it below! Express Layered Coin and Chain Bib Necklace ($49.50) Don't forget to check out Kate Hudson's short shorts, Beyoncé's black and white skirt, and Jessica Alba's studded sandals. [Photo: Splash News]
7 Ways To Master The Layered Necklace Look
One requirement of a fashion blogger is the ability to layer jewelry. Have you ever come across an Instagram photo from Always Judging or Sincerely Jules and wondered, "How the heck did they make all those chains look so good around their necks?" It's happened to us, which means it's likely crossed your mind at least once. So today, we are breaking down the different ways you can master the layered necklace look, with photo inspo from our fave bloggers, obvs. 1) Layer by length. Lay out all the necklaces you are attempting to wear and compare their lengths. You should have ones that fall just below one another. Start with a choker and continue to pile on from shortest to longest chain. http://instagram.com/p/x7I_KbhZCG/?modal=true 2) Use a collar as a length guideline. The more unbuttoned a collared shirt is, the more room you have for long necklaces. Use the exposed skin as a guideline for how low your necklaces can go. Once they hit the shirt, you've gone to far. Photo via Haute Inhabit 3) Play off similar styles. If you have necklaces with similar charms or pendants, pair them together. Even better if they fall in the same color family. http://instagram.com/p/s3Wvz6B3n5/?modal=true 4) Lariats add length. Lariat necklaces, the ones with a single drop strand, are an easy way to add extreme length to your #neckparty (is that a thing @leandramedine? We're asking you as the coiner of the phrase "arm party.") Photo via Always Judging 5) Pair a dainty necklace with a chunky one. Again, make sure the two are different lengths so the chunky necklace doesn't completely cover the dainty one.  Photo via A House In The Hills 6) Pile on plain chains. If you want a minimal look, layer necklaces with small or no charms in the same color family. http://instagram.com/p/t9h-cih3o4/?modal=true 7) Pile on chunky necklaces. For a more statement-making look, pair chunky necklaces that are the same, or similar, length and can rest on top of each other (trust me, they will all be seen). http://instagram.com/p/yKXoA1hZCw/?modal=true [Photo: Always Judging]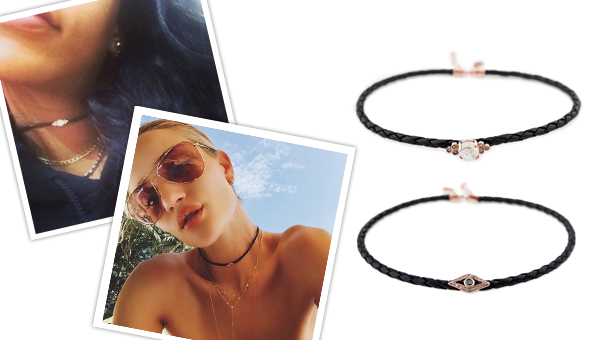 Rihanna And Rosie Huntington-Whiteley Both Just Wore Jacquie Aiche Chokers
Okay, I know I just told you about these 6 new jewelry designers you need to know--but I have another, very important one to add to the list: Jacquie Aiche. Her delicate gold jewelry (sold at Shopbop) is out-of-this-world cool, and she just added another instant-bestseller to her roster: these leather chokes that Rihanna and Rosie Huntington-Whiteley are already huge fans of (they also come in black, light pink, navy and maroon leather). SHOP JACQUIE AICHE JEWELRY--SO PRETTY Jacquie Aiche Leather Choker with Deco Steps ($1,250) Rosie's Jacquie Aiche Leather Choker with Blue Diamond Center Eye ($1,340) Rihanna's Jacquie Aiche Leather Choker with Moonstone and Diamond Clusters ($1,125) http://instagram.com/p/xoepz5muHY/?modal=true http://instagram.com/p/xsc-Tzo98N/?modal=true [Photos: Rihanna/Instagram, Rosie Huntington-Whitely/Instagram]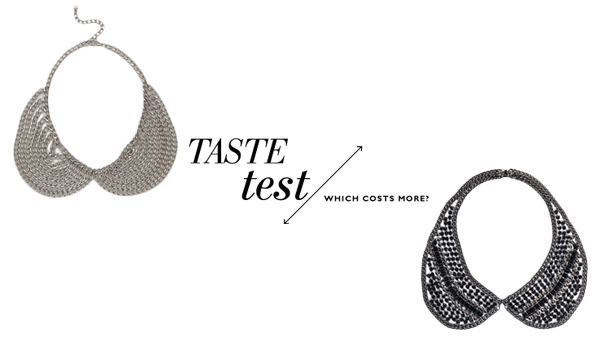 Can You Tell Which Collar Necklace Costs $676 More Than The Other?
DANNIJO does bold, statement-making jewelry like nobody else. Even now that fine, delicate pieces are having a moment, the brand is still sticking to what they do best. The latest iteration of their super popular collar necklace comes with Swarovski crystals. But besides that, it is almost identical to this Jules Smith necklace. Can you tell which collar necklace costs more than the other? Answer: The one on the left is Jules Smith's Tux Collar Necklace ($69), and the one on the right is DANNIJO's Silver Hilaria Crystal Collar Necklace ($745). Did you guess correctly? Which do you like more? Let us know in the comments below! Test your fashion savvy some more with: metallic moccasins, blanket ponchos and black booties
All You Really Need Is A Statement Necklace To Kick Your Outfit Up A Notch
Not in the mood to bounce on an entirely new outfit for that upcoming holiday party? Well good news for you, because if you invest in a big-ass necklace to wear, that's kind've all you'll need. And don't worry if your budget is on the tighter side, we found statement necklaces at all price points, including a few that are under $20 at Forever21. Obviously there are pricier versions that are pretty irresistible, like Ben-Amun's Silver Plated Crystal Necklace, but then there are also styles that are priced in the middle. So whatever your budget may be, I'm betting that there's something that'll work for you. [Photo: Damsel in Dior]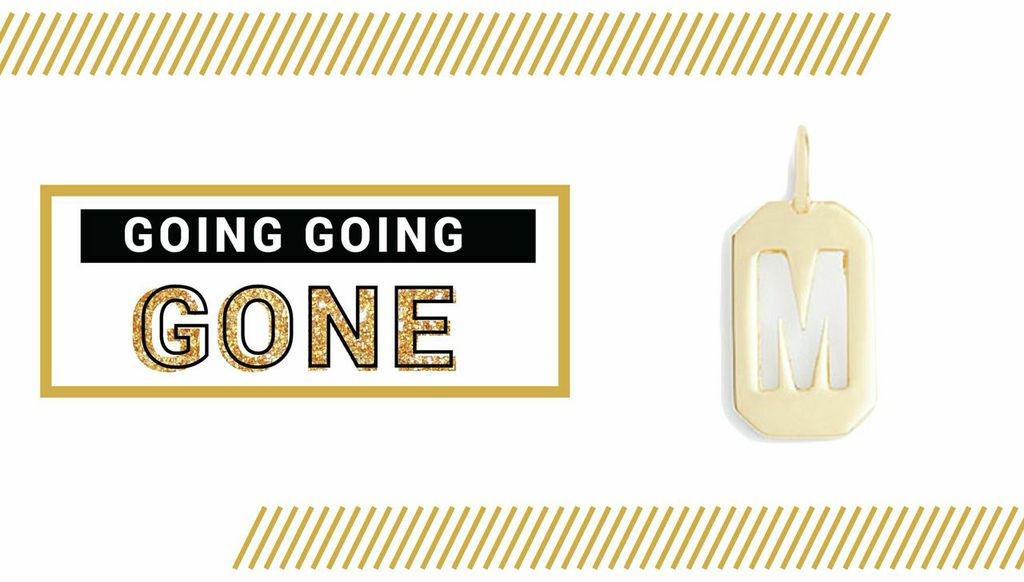 Finally! A Budget-Friendly Jennifer Fisher Tag Charm, Thanks To J. Crew
When Jennifer Fisher announced her collaboration with J. Crew, we couldn't hold our excitement that jewelry designer's signature charms and pendants were finally available to the masses. Now, we could finally add a piece of celebrity-coveted jewelry to our own collection. So when it comes to finding the perfect jewelry gift with a personal touch, we suggest the Jennifer Fisher for J. Crew Letter Tag ($345). After all, the entire collection by Fisher herself stemmed from the idea of making a chic dog tag to commemorate the birth of her first son. There are only a few lucky letters that are available (K, C, A, M, S, and J) from the collab, so we suggest you get yours now before they're all gone. GET THE JENNIFER FISHER FOR J. CREW LETTER TAG NOW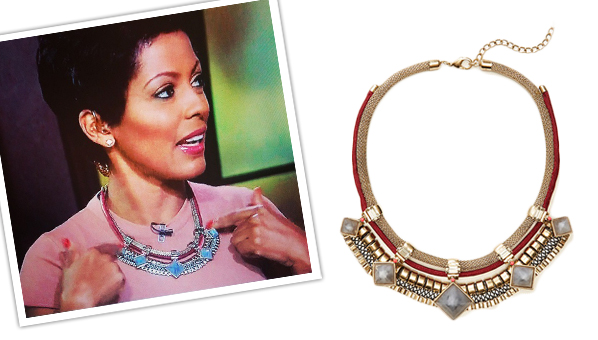 The Necklace Tamron Hall Wore On Today Benefits Breast Cancer Research
Last Friday, Tamron Hall wore this freakin' sweet necklace on the Today Show and we were dying to know where she got it. Turns out, it actually has a pretty awesome backstory. The necklace is part of a new collaboration with jewelry designer Holst + Lee and LOFT. The two teamed up on a limited edition collection in honor of Breast Cancer Awareness Month. For each piece you buy from the line, 70% of the proceeds will be donated to The Breast Cancer Research Foundation through November 15th. As Natalie Morales mentioned, "That's gonna sell out fast. You're gonna want to go get that now." Couldn't have said it any better ourselves! Get the Holst + Lee for LOFT necklace and earrings below: Holst + Lee For LOFT Necklace ($69.50) Holst + Lee for LOFT Earrings ($39.50) And don't forget to check out: 24 cozy scarves for fall, the best nail polish from LFW and the new celebrity-approved t-shirt brand to know [Photo: Instagram]
We Just Learned About Jennifer Fisher x J.Crew This Morning & It's Already Online
Jennifer Fisher's gold pendants, cuffs and rings are as beloved by celebrities as Louboutins or the Master Cleanse (the real question is, who hasn't worn her jewelry?) and now the designer is bringing her 10K charms to a line for J.Crew. Just announced this morning on Facebook and available the same day, Jennifer Fisher x J.Crew is made up entirely of 10K gold pendants and charms: "Love" and "Always" dog tags ($895-$975), letter pendants (her thing is personalization), stars, keys and lightening bolt charms ($220-$605) and even a skull with white diamond eyes. Grab one of her chains ($750, not a part of the collaboration, but sold on J.Crew just to make things a little easier for you) or stick them on a chain you already have. Voila! You're Iggy Azalea-approved. SHOP JENNIFER FISHER x J.CREW NOW [Photo: Photography by Bryan Derballa for J.Crew]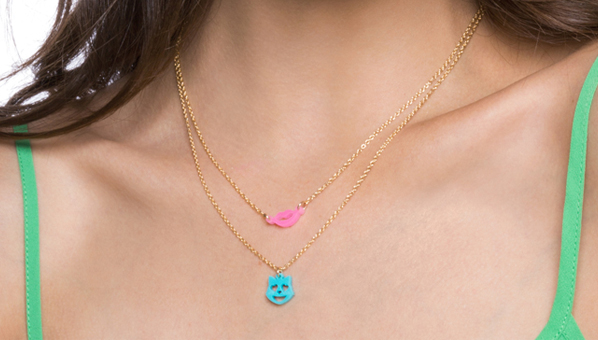 BaubleBar's Emoji Charms Are Here! 'A-Ok Hand' & 'Lovestruck Cat' Included
A few weeks ago, we told you BaubleBar was introducing emoji charm necklaces, and now you can shop them! The limited edition Emoticharms ($25) come in 12 of your favorite non-text speak symbols, like a-ok hand, thumbs up, monkeys hear no evil, lovestruck cat, sunnies and more. But besides choosing which emoji you want to wear around your neck, you can also pick out the chain length, metal and charm color, with options like antique gold, hot pink and translucent aqua. If there's anything we've learned from using emojis, it's the more the better. Same goes for these necklaces. At just $25 a pop, you can should layer 'em on. How cute would the "Monkey Hear," "Monkey See" and "Monkey Speak" charms look all together? Here's hoping we get even more BB charms once the 250 new emojis are released this month (when is THAT happening?!). Click the slideshow to shop all 12 charms now! For more jewelry we love, check out: Ariel Gordon's new collection, this crazy drug jewelry and the anklet trend all the celebs are wearing [Photo: BaubleBar]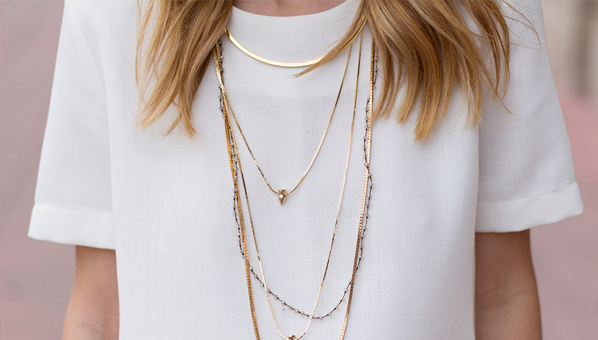 When It Comes To Wearing Necklaces, 2 Is Always Better Than 1
We would never put the words "layering" and "summer" in the same sentence, unless we're talking about wearing more than one necklace. BUT we're actually not. Confused? Let me explain how this trend works. Wearing multiple necklaces at a time isn't anything new. However, wearing one necklace that has multiple layers is. Whoever thought to connect a bunch chains with one clasp is a genius. You get the layered look in one piece and don't have to worry about finding a trillion necklaces that are just the right amount of space away from each other. Plus, it's like you're buying 2 for the price of 1. If that's not #winning, then I don't know what Charlie Sheen was talking about back in 2011 (jk, I do). Check out our favorites in the slideshow and (fake) layer it UP this summer. For more trends, check out: the best printed workout leggings, all-star-everything and pom pom clothing [Photo: Always Judging]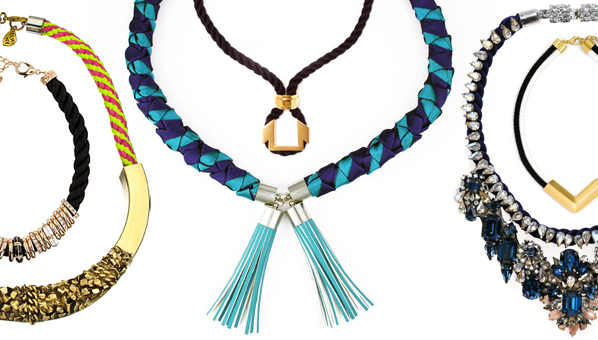 These Rope Necklaces Are Changing The Jewelry Game
If you're sick of wearing gold necklaces or can't see yourself in a string of pearls, then this new necklace trend might be the exact style you're looking for. What makes rope necklaces so interesting is its choice in material — part artisanal, part nautical. They're sometimes thick in size, too, making them a true statement piece, and usually contain hardware details or bright colors. Whether you're looking for an Art Deco-inspired style or an abstract conversation starter, check out our slideshow of rope necklaces to see which one suits your best. Check out more jewelry stories: chain rings, mix-and-match earrings, and layered necklaces.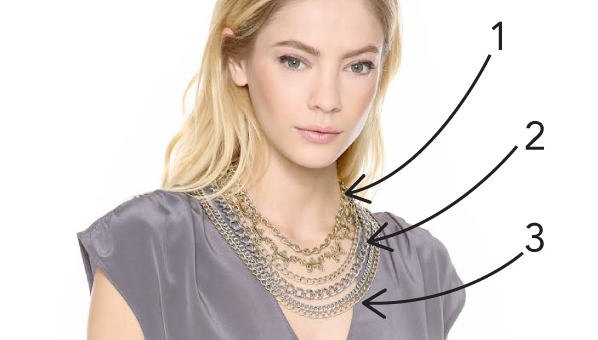 Layered Necklaces Are A Pretty Sweet Deal–They're Like 3 In 1
Layering necklaces is somewhat of an art. You have to have an eye for what works together for a stylish combination (proportion is key). It's a skill that requires practice but seriously, who has time for that? For some of you, it might be a fun fashion challenge but for those of you that just want to know what works and wear it, then these already-layered necklaces are a huge help. Whether you want to make a statement with studs or wear multiple chains like a pro, we've picked our favorite layered necklaces in the slideshow above. Check out more jewelry stories: chain rings, Three Jane's customizable map necklaces, and non-romantic Valentine's Day gifts.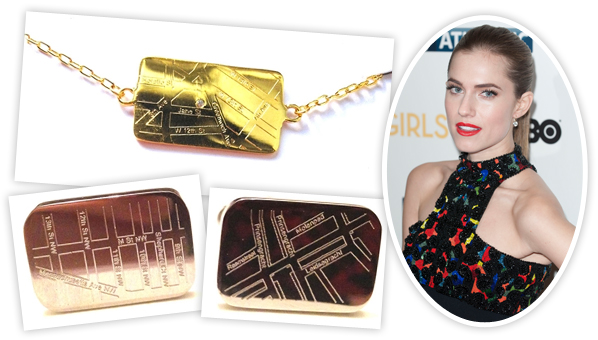 Three Jane's Customizable Map Necklace Is What This Girl Wants For Valentine's Day
If the phrase "He went to Jared" makes you cringe, we found a Valentine's-worthy piece of jewelry that you'll love. Three Jane's Map Necklace ($175) is a gold-plated map which uses a diamond to identify an important location--can be a street address, a neighborhood, your home town. The customizable piece, which is flying off shelves and earning a celebrity cult following, is sweet and clever--but, most importantly, something that none of your friends will have. Three Jane owner and designer Katie Schloss, who's earned a celeb following in Olivia Wilde and Anna Kendrick, came up with the concept when her "sister was studying abroad in Europe, and I was coming over to visit for her birthday. I couldn't think of a gift for the girl who has everything, so I made a Map Necklace of our house in Connecticut, that way she could have a little piece of home wherever she went." Love it! Allison Williams (Marnie Michaels on HBO's Girls) is a fan of the map necklace; hers marks a multi-generational family home in New Canaan, Connecticut where both her and her mother grew up. "I love that you can personalize these to mark an important place with a small diamond. They are just so special and I fell instantly in love with the concept," Williams told Stylist.com. But, if your parent's home isn't the same place you call "home," the Three Jane Map Necklace can be fashioned to any locale you want. They even come pre-made, if you want a popular location like a specific college, a well-known travel destination, the ending point of a special marathon or even a hospital where you or your child was born. "I'd say at least a quarter of customers email to say that the gift's recipient cried when the necklace was given, " says Schloss. "I've had customers whose homes were destroyed as a result of Sandy or another weather system, and they always say that this piece of jewelry actually brings them home again." It's the perfect gift for new moms, best friends, graduates or just as a reminder to yourself to appreciate your physical location or mark a milestone, click here to create your own.
Lariat, Lasso, Drop Necklace, Who Cares What It's Called? We Just Want One.
When we first spotted Kate Winslet in her diamond drop necklace, we didn't think it would be as common as those gorgeous engagement rings popping up all over the red carpet. Now we've seen celebrities Miranda Kerr, Britney Spears, and Olivia Wilde flaunting the comeback jewelry piece in a number of different styles. The drop necklace, aka the lariat (or "lasso") necklace, usually doesn't have a clasp and is pretty long in length, allowing the wearer to drape the piece over their neck or wrap it around. (Think of it as a glitzier version of a cowboy's bolo tie.) Chances are you haven't tried one on yet and now is the perfect time to give this unique jewelry style a try. From super simple drop necklaces in gold to silver lariats with star-shaped charms, we've picked 13 of our favorite necklaces in the slideshow above. Read more fashion stories and trends like embellished beanies, cases for the new iPad Air, and Christian Louboutin's new shearling boots.
Get Your Hands On The Crawley's Goods: Downton Abbey Jewelry Is Here!
All this British high-society stuff is making us jealous! Between the royal baby, Prince Harry getting engaged and then having to wait what seems like the length of time between the last Downton Abbey episode and present day to see how the heck [SPOILER ALERT] Mary copes is just so frustrating. Of course, we're only saying this because us Americans aren't a part of it. Our forefathers severed those ties for us and while that's cool and all (you know, freedom and stuff), British high-society is definitely very in right now. But don't worry your democratic soul too much, because even if you can't trade lives or literally transport to another time, you can stock up on jewelry pieces that would make even Mary swoon. That's right, intricate Downton Abbey-inspired necklaces, drop earrings and decorative brooches just hit Macy's, and they're all between $20 and $35! See, you don't need to be a member of the Crawley family (or the royal one for that matter) to get your hands on their fashionable goods. Better yet, you don't have to spend a fortune either! Click through the slideshow to see our favorite picks from the collection. SHOP DOWNTOWN ABBEY JEWELRY NOW Want more Downton Abbey-inspired goods? Check out the Downton Abbey beauty collection featuring soaps, lip gloss and nail polish. For more jewelry, check out: Kate Winslet's fave necklace, graphic jewelry and Richard Chai x JewelMint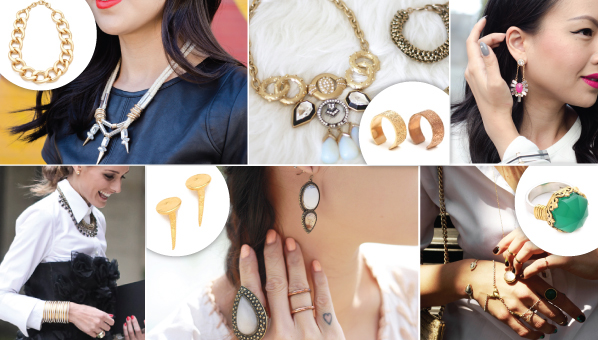 The 8 Most-Wanted Jewelry Pieces For Fall–And Their Under $100 Knock-Offs
Designers get detailed about the looks they send down the runways (for good reason!) and the jewelry touches from Fall 2013 fashion week were bold, layered and even a bit bizarre (read: ear cuffs). Like all trends, it's probable that this time next year, the jewelry pieces you fall in love with this fall will be obsolete. That's cool, though, because you don't need to spend a fortune to buy into the accessory trends of this season. These 8 "It" pieces were seen on runways by the likes of Versace, Chloe, Balmain, Donna Karan, and more. And though the designer look-alikes will cost you more than rent, these knock-offs are under $100 and ready to wear, right now. [Photos: It's Not Her It's Me, Lee Oliviera, The Glamourai]
DANNIJO's Anniversary Capsule Collection Includes Bestsellers From The Past 5 Years
Sisters Danielle and Jodie Snyder of DANNIJO have been cranking out crystal "masterpieces" for 5 years now, if you can believe it, and to celebrate this milestone, they've created a limited edition capsule collection of bestselling and most popular pieces from the company's short but sweet history. The necklaces, earrings and bracelets comprised of the #DJs5th line are all significant in some way; there's Etta, the "no fuss" bib necklace, Elena, a re-vamp of their signature Capucine necklace, and a perfect for "day to night" Lainey earrings. And as WWD pointed out, the line ranges for $295 to $425, just a wee bit lower than the brand's average price point. Happy anniversary indeed! Shop now.  For more jewelry finds, check out Giles & Brother x JewelMint, best friend jewelry, and spike jewelry.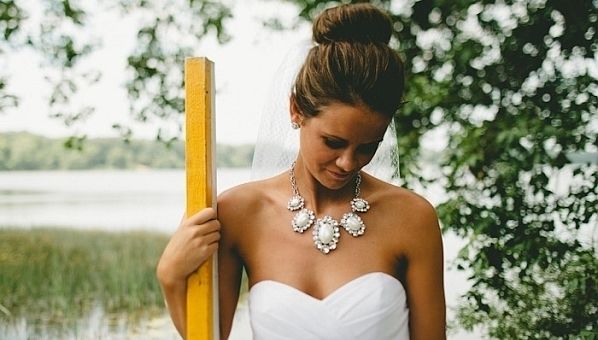 A Guide To Buying Your Wedding Accessories Online
We've written extensively on wedding dress shopping, but it's time to give wedding accessories their due. While the wedding dress is basically the focal point of your entire wedding day, bridal accessories can make or break your wedding look. If you're the type of bride who wants your wedding guests to see your unique, personal style shining through, and not just 18 layers of lace and tulle, we can certainly empathize. But before you give yourself permission to go on an epic, bauble-buying spree, take a breath, and get the answers to these 10 important questions. 1. How does it accent your dress and shoes? Unless you're planning your entire bridal ensemble around one statement-making necklace or headpiece, hold off on accessory shopping until the wedding dress and shoes are in the bag. 2. How big is it? A lot of wedding accessories are presented in pictures that don't actually provide any sense of scale. Make sure to look at a picture of the item on a model, or check out the measurements and find a comparable item in your own collection for comparison. 3. What's the item's ETA? Whether you're shopping for something made-to-order on Etsy, or you're having fancy baubles imported from overseas, it's important to know the timeline for receiving your accessories. A popular Etsy vendor will sometimes need a full month to even finish your items, so be sure to read the entire item listing, so you know what you're signing up for. 4. What's the return policy? A birdcage veil looked fab on the model, but on your actual head, not so much. If you got something custom-made, there's a strong possibility that returning it for a refund might not be an option. Even your favorite retailers won't accept a return if an item is on final sale or clearance - again, read the fine print! 5. What's it made of? Be sure to figure out whether the necklace you're eyeing is made of fine crystals or plexiglass before you hit "add to cart". Costume jewelry sometimes looks a lot better under studio lighting than it does in real life. It's your wedding day, splurge on something of a better make and higher quality than what you usually buy. (For a little high-end inspiration, check out our 5 latest bridal accessory obsessions.) 6. Does it play well with your wedding colors and design scheme? How will your accessories look against your wedding backdrop? Your reception tables? On the dancefloor? Will they pop in a good way, or in a garish way? 7. Did you budget for this? If this isn't something you've had your heart set on for a while, it might not be a great time for a few impulse buys. You are concurrently planning a wedding right now, after all. Unless... 8. Does it fit in to your something borrowed, something blue, something old, something new schematic? Keep in mind that people will probably lavish you wish small little gifts at your shower or bachelorette party that meet at least one (if not all) of these requirements. On that note... 9. Is this something that someone might like to buy for you? Now obviously, I'm not saying you should ask anyone to, because that's a little tacky. However, it's likely that at this very moment, your bridesmaids are all scrambling to find something to buy you as a wedding gift. Gushing over a wedding accessory or two on social media is a nice, somewhat subtle way to throw them a bone. The magic of "social shopping" makes gift hint-dropping easier than ever these days! 10. Is it soul-stirring? I realize this one's a little abstract, but seriously - does it speak to you on a deep, almost primeval level? The universe is full of shiny pretties, but you should love your wedding accessories almost as much as you love your future husband. I'm just kidding - but you should love it almost as much as you love your wedding dress. In the mood to shop? Check out 10 wedding shoes that will never go out of style and the 15 best polishes for a 'Something Blue' pedicure. [Photo: Ash & James Photography]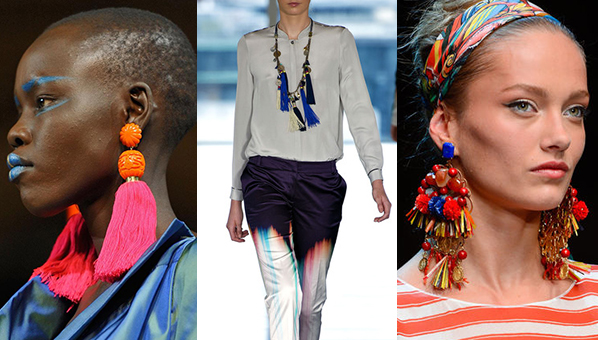 Tassels Are King For Spring: Just Ask Matthew Williamson, Duro Olowu & More
Though tassels have long been associated with burlesque dancers and the adorable flying carpet from Aladdin -- two very competing images -- we thought we'd remind you of their other purpose: as fun accessories. The swinging statement pieces have been seen on spring runways for the past 2 seasons (Vivienne Westwood, Matthew Williamson, D&G, just to name a few) and can also be found in Duro Olowu's upcoming collection for JCP: Duro Olowu for JCP (March 1). Bright, colorful tassels are reminiscent of summer camp friendship bracelets, and look fantastic stacked up and paired with a breezy maxi dress (see the street style below). Likewise, gold and silver chain tassels (like a serious shoulder-dusting pair) can easily glam up a plain tee and jeans on lazy days. Perk up your wardrobe ASAP and check out our favorite tassel picks in the slideshow below. How to wear tassels in an army party. Don't miss these other spring trends, like the long vest, mixed prints and peplum swim suits. [Photo: Byrdie and JCPenney]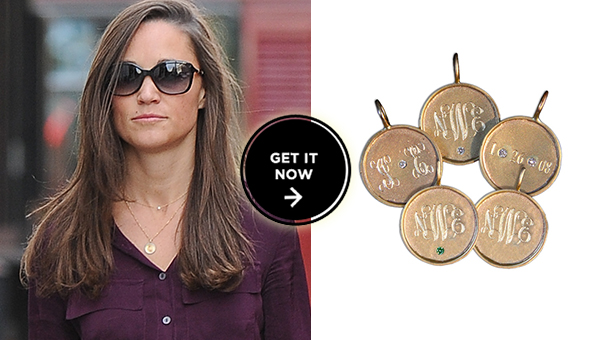 It May Not Be A Crown, But You Can Still Wear Pippa Middleton's Gold
Pippa Middelton strolled around London wearing an of-the-moment aubergine colored shirt and something shiny and delicate around her neck. She may be known for her bootylicious backside, but the sister of Princess Kate has a low-key style that has us plebeians scouring the web for her items (like hunter green jeans and Temperly dresses).  The royal-in-law may not have crown status (yet), but she certainly knows how step out in high-end style. Pippa wears a Framed Gold Disc necklace ($530) complete with her initials and a single diamond. Shop below and personalize your disc with initials, diamonds, or birthstone! [Photo Credit: Splash News] Shop more celebrity style such as Kate Hudson's lingerie, Katy Perry's jacket, and Jennifer Garner's super slimming dress.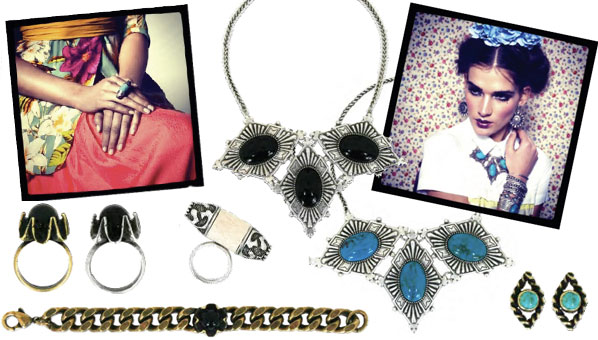 Marie Claire Accessories Editor Turns Designer And Dudine Jewelry Is Born: Shop Now!
Dudine may be the new kid on the block, but the Jen Kramer, jewelry brand's designer has had her hands busy handling all sorts of baubles for years. After years as an accessories editor  W, Marie Claire and InStyle, Jen Kramer ventured into a collection of wear-with-anything west coast-infused jewelry. The Dudine aesthetic is a healthy mix of charming Mexican flair (a weighty Bandera pendant necklace) with downtown grungy-chic rock 'n' roll sensibilities (a bullet ring!), which means most pieces are ready and waiting for regular rotation. "It was important to me that the pieces have a bold, but not overwhelming design. They're strong enough to wear on their own, and can be dramatic when worn together, but it's never excessive," Jen told us. "I wanted the collection to be comprised of pieces you want to wear every day and also have pieces for when you're looking to make a fashion-forward statement. I tend to be a jewelry junkie so I love to layer pieces together." Inspired by her travels from the wide-open beaches of Baja California and "the colorful history of colonial Mexico," as Jen said, the line is made from materials like antiqued metal, turquoise, glass and resin. They're certainly made to layer! With prices going from $30 for the "Mexican Vagabond multi-strand rope ring to $175 for the Bandera pendant necklace, Jen said she wanted the line to be well-crafted "affordable luxury." Even better? You can spend your paycheck guilt-free: 10% of all proceeds will benefit the Thousand Smiles Foundation, a charity in the very country that supplied her with enough inspiration to create her fall 2012 collection. Every season, Jen will pick a new charity to work with. Click through the slideshow to take a peek at our favorite picks from Dudine's inaugural line. Want to add to your jewelry box? Shop fall's most baddest trend (ear cuffs!) now, get your hands on wild animal-themed jewelry, or dress up even the most boring outfit with these statement necklaces.
9 Show-Stopping Bib Necklaces For When You Hate What's In Your Closet
This fall, it's all about making a serious statement, and what better way to do that than with some ice around your neck? Collar necklaces are not only the key to vamping up a boring, tired jeans-and-tee outfit, but they're the bread and butter of all street style mavens. It can be hard to crawl out of a sartorial rut, even with this week's constant flow of New York Fashion Week outfit ideas, but if you're sick of opening your closet and feeling, well, less than inspired, (or, if you're not brave enough to try out a stand-alone collar), opt for a spotlight-stealing bib necklace. It doesn't matter if you're heading to a weekend cocktail party or the office: get your fix in before you have to cover up your decolletage with a scarf! SHOP BIB NECKLACES FOR FALL Shop more fall trends: Check out the what's hot about high-slit skirts, get in the know about the best leather accents, and save your feet and invest in a pair of cap toe flats.
This Low Luv Cross Pendant Is The New "It" Necklace
In celebrity style, we're always talking about the latest "It" bag or pair of shoes. But after seeing Vanessa Hudgens, Rihanna, Shenae Grimes, Ashlee Simpson, and Kim Kardashian sporting the same Low Luv Cross Pendant ($120). It's safe to say that this gothic-style jewelry piece is a celebrity favorite. Shoppers take note, the charm is large, so if you're looking for an edgy statement piece, this is it. Layer it onto a simple outfit or with other necklaces for a cool look. Low Luv Cross Pendant ($120) Shop more celebrity style finds: Blake Lively's top and shoes, Jennifer Lopez's top, and Anna Paquin's dress.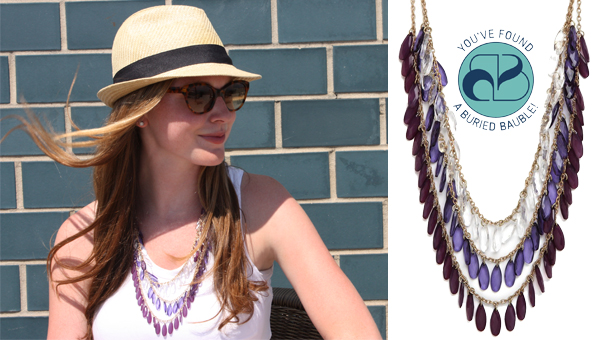 Behold, Four Cool Ways To Wear Our Buried Bauble From BaubleBar
Whoa, it's been quite a day- we teamed up with our favorite online jewelry retailer, BaubleBar, to curate this week's Buried Bauble, and it was a huge, smashing success! We got our graphic designer, Katie, to model four summer looks so you can see just how versatile our pick, the Ombre Fringe necklace really is--from BBQs to date night, work meetings and pool parties, you can wear it pretty much everywhere. The Ombre Fringe necklace, which for this promotion is only $10, is available in four colors - purple, black, orange, and pink, and sold out in just a few hours. BUT: Sign up here to get on the waiting list. CLICK THE SLIDESHOW TO SEE OUTFIT IDEAS FOR TODAY'S BURIED BAUBLE Check out more of our favorite jewelry, plus summer hats, the best bikinis and all of this week's sales and deals.
The Only Thing Selena Gomez Loves More Than Biebs Is This Necklace
Leaving her Disney days in the dust (did you SEE her on the cover of Elle?!), Selena Gomez has become quite the fashion icon lately with her beaded sunglasses and breezy, afforable flutter dress (just to name a few). Her outfits are adorable and youthful, so who wouldn't want to copycat some of her hot ticket items? She has been spotted wearing this Rebel Pendant Necklace from Stella & Dot numerous times this summer and for this price -- just $79! -- we say, grab yours while you can. Get It: stella & dot Rebel Pendant Necklace ($79) Shop more celebrity style finds: Miranda Kerr's outfit, Ashley Greene's polka dot top, and Kate Middleton's clutch.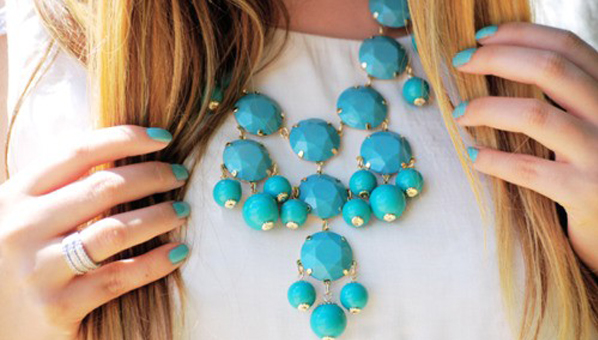 Colorful Statement Necklaces Are Just What The Doctor Ordered For Summer
So, you're getting ready for a girl's night out or a first date night with that cute guy from the beer garden (or any other social activity, for that matter) and you have your perfect little dress (you're welcome) but no jewelry to top off the look. A colorful statement necklace is the one and only piece that can pull it all together, and send your outfit over the edge. Hey, it can even be an ice breaker for that awkward first date. Even your basic T's and summer tanks could use a little oomph and with a place called Bauble Bar (most necklaces under $50), who can resist? Try a stoned bib type or go multi strands with colors. Find the one, or ten, that work with your wardrobe. SHOP NOW [Photo: Mademoiselle S] Don't forget to shop other great trends such as dressy summer shorts, more bib necklaces, and neon chokers.
Jennifer Aniston's Gold Wishbone Necklace Could Be Your Next Lucky Charm
Sorry to get sappy but there's a special place in our hearts for pendants and charms. We love the idea of layering these chic necklaces or wearing only one for a simple and timeless look. It's the perfect accessory to pull together any look without being too "statement-y." Our favorite celebrity who perfects this style tip is Jennifer Aniston, whose Jennifer Meyer Gold & Diamond Wishbone Pendant Necklace ($2,525) has been a wardrobe staple of hers for quite some time. Do you think this stylish amulet-like piece has been good juju for the lucky in love actress? Jennifer Meyer Gold & Diamond Wishbone Pendant Necklace ($2,525)  For those that prefer this wishbone pendant at a better price tag, check out a cheaper version courtesy of ASOS: Dogeared Gold Teeney Wishbone Necklace ($74.57) Shop more celebrity style finds: Kim Kardashian's chain necklaces, Katie Holmes's $50 top, and Miranda Kerr's star-printed blouse.
If You Can't Afford (Or Even Find) Kim's Celine Chain, Shop Cheap Look-Alikes Here
Kim Kardashian has been spotted numerous times sporting the coveted chain necklaces from Paris designer Celine's spring/summer collection, which come in a single heavy chain or with a ID tag detail. The thick linked accessory adds some major edge to any look and we love how badass it is! Can we say that this cool chain jewelry choice pays homage to Kardashian's new boyf Kanye? While it's definitely up his style alley, we'll be nice and give Kim the credit. For those of you that are drooling over this bling too, we rounded up some Celine-inspired chain link necklaces that'll do the trick. SHOP CHAIN NECKLACES NOW Shop more celebrity style finds: Kelly Ripa's shorts, Minka Kelly's skirt, and Jennifer Lawrence/Lopez's dress.
If You Like It, Then You Should Put A Bib On It: Statement Necklaces For The Lazy Chick
All of us have had those rushed mornings--or frenzied nights-when the last thing we've wanted to do is plan an outfit. Normally, for me, these occasions end in me standing amidst a mess of my garments, wearing a top I haven't seen since sophomore year of college but can't bear to throw away, and texting my friends or emailing my coworkers in hysterics and announcing that I'll probaaaably be running a few minutes late. An easy solution that won't end in tears and a closet that resembles a crime scene? Step 1: White Tee Shirt. Step 2: Fave Jeans. Step 3: Put A Bib On It. None of us want to show up for a dinner date or meeting wearing boring jeans and a tee, and luckily, with this season's statement necklaces, none of us have to. These necklaces add a bold pop of color and bling to your outfit, and the best part about them is that they not only require very little outfit planning, but they also let us lazy chicks recycle our favorite jeans and tee shirts over and over again. We've rounded up some of our favorite statement necklaces in the slideshow above to make getting dressed in the morning that much easier. Feeling daring? Add a bracelet, brooch, or pair of earrings! You're welcome, sista friend.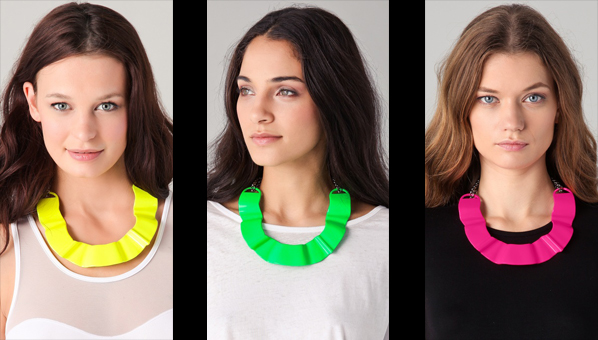 These Neon Chokers Are Selling Out Fast At Shopbop: Grab One!
Nothing says "I'm ready for spring/summer" better than injecting some neon into your life. The easiest way to do it is with accessories, and the most fun way, in our opinion, is with these One by T Cyia chokers ($245). We're not the only ones who think so, either, they're almost gone, so if you love 'em, you'd better grab one. GET 'EM HERE! They're an insta pick-me-up for days when you're feeling blah, or you just have no idea what to wear. Throw it over everything for casual Friday, weekend picnics and parties, music festivals...yep, pretty much you'll be wearing it all the time. You're welcome! Check out all of this week's best sales and deals, online sample sales and best find of the day picks, plus the best flat sandals, monokinis, skinny jeans, summer hats and swim coverups.
Lily Collins' Necklace From This Seventeen Cover Makes Us Want To Be A Teen Again
Phil Collins' model-slash-actress daughter Lily Collins just appeared on the cover of Seventeen this month, in an upside-down heart shaped statement necklace that we immediately wanted to own. Turns out it's the DANNIJO 'Sinatra' necklace ($318) and you can buy one for your pretty little self on their website. Get it: DANNIJO 'Sinatra' necklace ($318) For more swoon-worthy jewels, check out these gorgeous crystal necklaces that go with (literally) everything. Even denim!
Crystal Necklaces Go With Everything This Season — Even Denim & T-Shirts
SHOP THE SLIDESHOW ABOVE TO GET THE LOOK When it comes to statement necklaces, beaded baubles are stepping out of the spotlight and making room for clear-colored crystals in lattice-like patterns and sparkling finishes. We love how you can pair this new wave of jewelry with preppy pieces and downtown-style garments alike. The subtle hint of bling instantly adds glamour to any wardrobe, whether you're layering it onto a collared blouse or adding a feminine touch to your worn out, vintage t-shirt. It's the necklace's easy way to conform to your taste that makes this effortless look one of our newfound favorites. Check out our slideshow above of our dazzling picks. SHOP THE SLIDESHOW ABOVE TO GET THE LOOK Shop our guides on stylish weekend bags, bright blazers, and colored trench coats.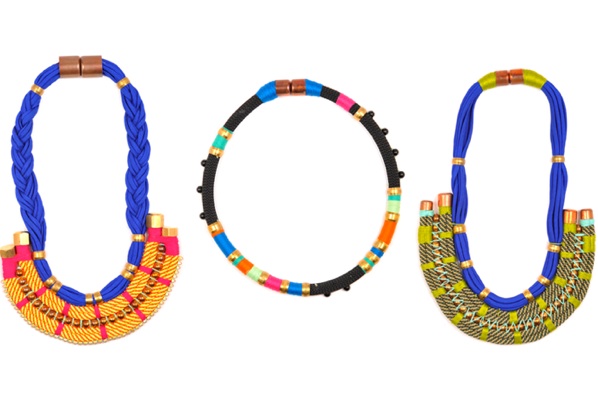 Holst + Lee Jewelry Is Now On Shopbop (Our Cart Just Filled Up!)
New York-based jewelry design duo Natalie Holst and Rochelle Lee have been sold on Yigal Azrouel's Cut25 store, and now their getting another online platform for their tribal designs: you can now shop, peruse and ogle Holst + Lee jewelry on Shopbop! Editors' picks: on my personal wishlish are the Short Colorblock Necklace ($220) and Single Strand Bracelet ($145) -- not pictured. Shop the entire collection (above).  [Racked] For more of our jewelry obsessions,
Our Favorite Cameo This Season? The Vintage Necklaces At Lanvin's Pre-Fall Show
Happy 10th anniversary, Lanvin! Alber Elbaz does it again by taking such an iconic fashion house to the next level and beyond. This year's pre-fall season, he experiments with fabric blends and strong silhouettes, while staying true to Lanvin's exquisite femininity (aka, ruffles in all the right places). But what we couldn't keep our eyes off of were the collection's bold and super sized cameo necklaces. This makes us want to get our hands on the vintage-inspired jewelry right this second, and instantly add a delicate touch to our wardrobes. Shop our guides to the best pendant necklaces, chain link necklaces, and yesterday's MLK 2012 sales.
The Bigger & Bolder The Better: Shop Neon Chain Link Necklaces For Spring
After you've pulled together another fabulous outfit, a girl is always searching for the perfect accessory to add that perfect finishing touch. Fret no more - chain link necklaces add a rich depth and serious statement power to any shirt or dress.  The polished chain necklace has been updated to quench your thirst for fashion power. Try a chunky gold necklace from Michael Kors or a resin pop color one from Tory Burch - all the fabulous fun choices are below. [Image: Late Afternoon] Don't forget to check out our shopping guides to what's hot in the fashion world: faux fur vests, leggings,and leopard print shoes.