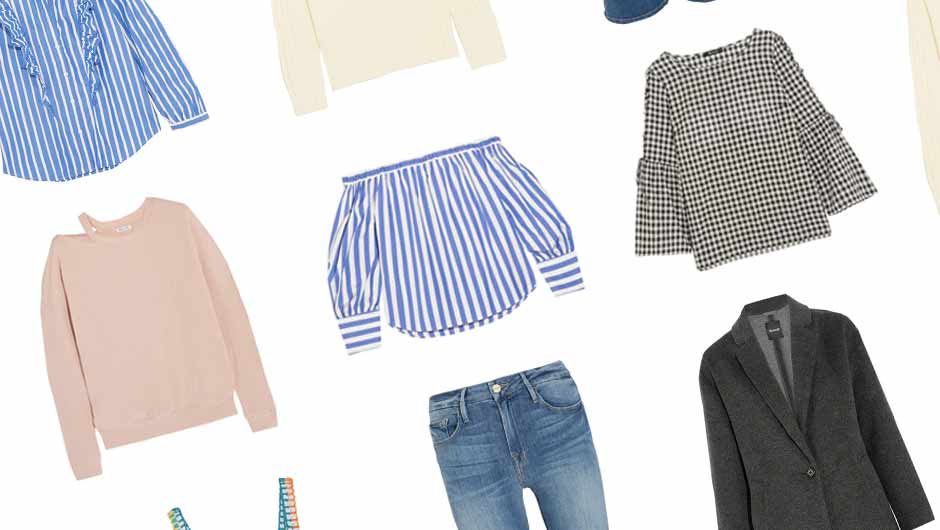 The Net-A-Porter Black Friday Sale 2017 Is Here–And It Is Everything!
Net-A-Porter Has So Much Cute J. Crew And Madwell Clothing On Sale For Crazy Cheap Right Now
Our secret place to score J. Crew and Madewell for crazy cheap right now? Net-A-Porter! I know it sounds odd, but Net-A-Porter is currently having one of their semi-annual sales, which means there's loads of goodness marked down up to 50% off. Including tons of cute J. Crew and Madewell scores! I'm talking shoes, tees, jeans and pretty tops starting at just $28. Snag some of this goodness ASAP before it's gone! J. Crew Everyday cotton shirt ($49, down from $70) J. Crew Off-the-shoulder striped cotton-jersey top ($56, down from $80) J. Crew Foster sequined gingham canvas ballet flats ($84, down from $140) Madewell Cold-shoulder cotton-piqué top ($49, down from $70) Madewell Cropped frayed mid-rise flared jeans ($91, down from $130) Don't miss our favorite colorblock swimsuits and Nordstrom's half-yearly sale. [Photo: Net-A-Porter]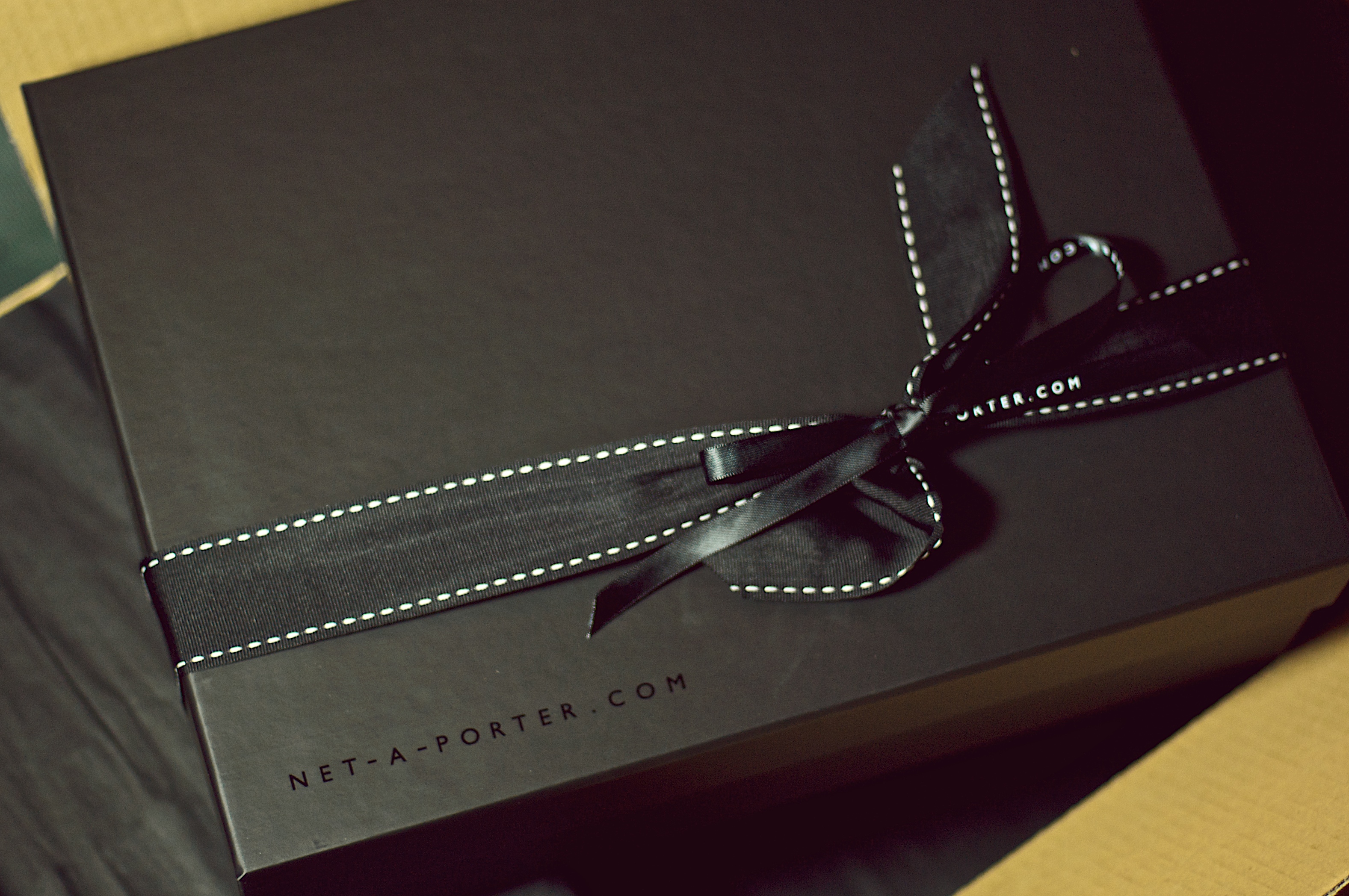 Peep All The Amazing Things You Can Get For $50 Or Less At Net-A-Porter's Semi-Annual Sale
If there's one sale we look forward to every year here at SHEfinds, it's Net-A-Porter's semi-annual sale. Because Net-A-Porter only does sales twice a year, it's usually pretty epic. And this year is no exception. Net-A-Porter's highly-anticipated sale just kicked off and there are so many incredible deals. I'm talking tons of good stuff under $50! From leggings and sneakers to tops and jewelry, you don't want to wait to start shopping. The really good deals will be gone by then! Nike Printed stretch cotton-jersey leggings ($28, down from $40) Converse Chuck Taylor All Star metallic snake-effect leather sneakers ($40, down from $80) Madewell Off-the-shoulder shirred gingham cotton blouse ($42, down from $70) Hanky Panky Signature stretch-lace soft-cup bra ($24, down from $40) Chan Luu Tasseled chiffon and silver-tone choker ($18, down from $35) Splendid Supima cotton-jersey T-shirt ($49, down from $70) SHOP NET-A-PORTER'S SEMI-ANNUAL SALE NOW Be sure to check out Hunter rain boots on sale and cute denim shorts under $35. [Photo: Flickr]
Isabel Marant Is Legit Only $30 At Net-A-Porter Right Now
You Cannot Miss This: Net-A-Porter's Final Clearance Sale Is Happening NOW
ALERT! ALERT! We're sounding the alarm for a final clearance call at Net-A-Porter. As if this sale couldn't get any better, it just did. You can now take an extra 20% off all sale items labeled "sale must-have!"  There are certainly tons of must-have items in this sale that you don't want to miss. Like a pair of Saint Laurent jeans or Stella McCartney's famous lips iPhone case, for instance. Enter code SALE20 at checkout for savings. Remember, the extra 20% is only eligible toward items labeled "sale must-have." SHOP FINAL CLEARANCE Don't miss your chance to shop these celebrities favorite sunglasses and leggings that make you look slimmer! [Photo: Rick Owens Blister-Washed Leather Biker Jacket, The Case Factory Python-Effect Leather iPhone 6 Case, Nike Blazer Perforated Suede High-Top Sneakers, Stella McCartney Lips Silicone iPhone Case, Saint Laurent High-Rise Skinny Jeans]
From Mara Hoffman To Madewell, Shop The Best Items Under $150 At The Net-A-Porter Sale
The NET-A-PORTER Sale Is Happening Right Now–Save Up To 50% Off Balmain, Chloé, More
This rarely happens...save up to 50% off designer clothing at NET-A-PORTER! All of your favorite designers are included like The Row, Isabel Marant, Balmain, Chloé and many more. These are some of the best prices of the year so I highly suggest shopping before it's too late. You've been warned. SHOP NET-A-PORTER NOW Don't miss the one holiday jumpsuit you need to own and shop over 25 pre-Black Friday deals! [Photo: Hervé Léger Elisha Bandage Mini Dress, Victoria, Victoria Beckham Two-Tone Silk Crepe De Chine Shirt, Jill Sander Brushed Wool And Cashmere-Blend Coat, Frame Denim Le High Flare High-Rise Jeans]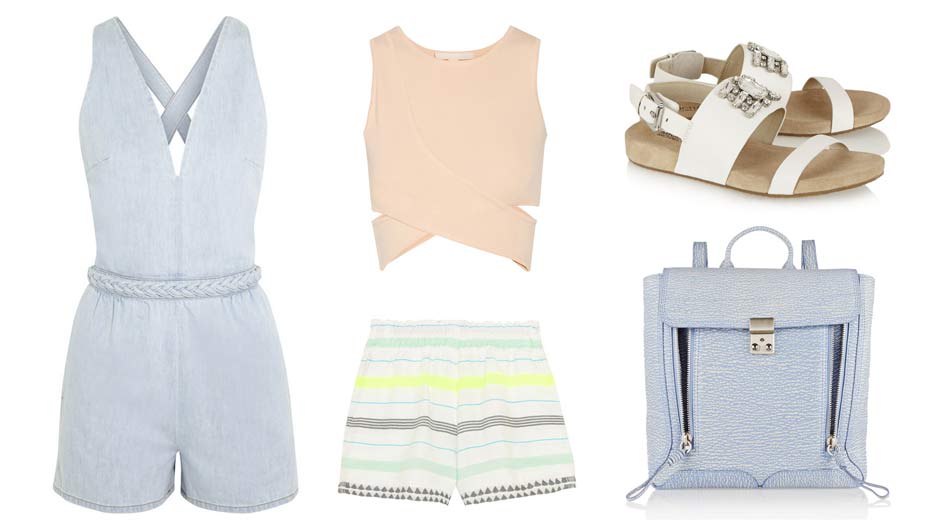 Net-A-Porter Just Did Another Round Of Markdowns–We're Talking 70% Off Baby!
Remember last week when we showcased all of the amazing goodness currently on sale at Net-A-Porter? Well it just got better. Because 50% off wasn't good enough, Net-A-Porter just upped the markdowns to 70%. That means designers like Isabel Marant, Phillip Lim, Alexander Wang, J Brand, Proenza Schouler and more are so seriously cheap regular people like you and me can finally afford them. Now because this sale only happens twice a year and 70% is so massive, the goods are going to go really fast now. Stop whatever you're doing and get over to Net ASAP. SHOP NET-A-PORTER'S SEMI-ANNUAL SALE NOW! Don't miss the best sunscreens for sensitive skin and the best wedge espadrilles. [Photo: Valentino Denim playsuit; Jonathan Simkhai Cropped cutout stretch-knit top; LemLem Lelaga striped cotton-blend gauze shorts; MICHAEL Michael Kors Luna crystal-embellished leather sandals; 3.1 Phillip Lim The Pashli textured-leather backpack]
The Best Of Net-A-Porter's Semi-Annual Sale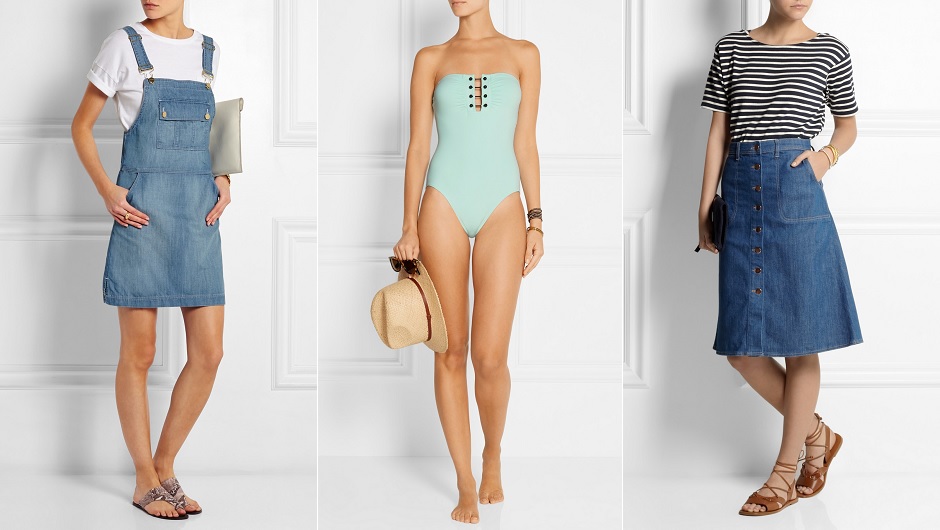 Get There First! Net-A-Porter's Semi-Annual Sale Is Going Down Now
If you're going through withdrawal after all those good Memorial Day sale, not to worry--Net-A-Porter just kicked off their semi-annual sale and we're talking 50% of designers like Proenza Schouler, Alexander Wang, Issa, Frame Denim, J. Crew and loads more. Now you should know, Net-A-Porter only does markdowns twice a year, so this is a sale event not to be missed. Yes, they'll do another round up markdowns in a few weeks, but the selection will be picked over and not as good then. If you're looking for the best deals in your size, now is the time to shop! SHOP THE NET-A-PORTER SALE NOW! Don't miss 70% off Loeffler Randall shoes and the best of the Nordstrom half-yearly sale. [Photo: Frame Denim Le Apron denim mini dress; Proenza Schouler Embellished bandeau swimsuit; MiH Jeans Striped cotton T-shirt]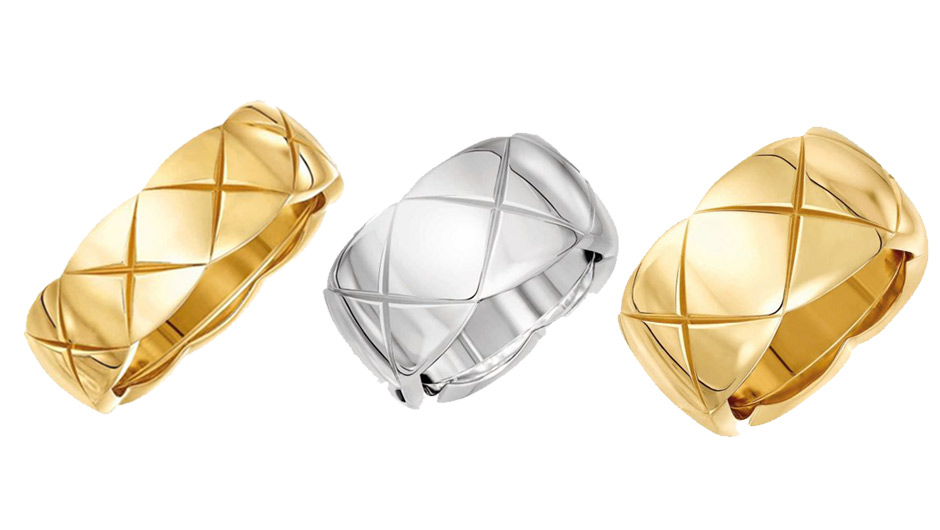 You Can Buy Chanel Jewelry At Net-A-Porter Today
We got word last month that Chanel is set to launch e-commerce before the end of 2016. However, it looks like the French brand is testing the online shopping waters now. For the next three weeks, you can buy Coco Crush, the new Chanel fine jewelry collection, exclusively at Net-A-Porter. The six-piece line includes five rings and a gold cuff (already sold out) in 18 karat white and yellow gold. The rings, with a quilting design (obvs!), come in sizes small, medium and large. Get one before they all sell out! SHOP CHANEL NOW Don't forget to check out: denim shirt dresses, this blogger-approved zebra dish and Gap's 50%-off sale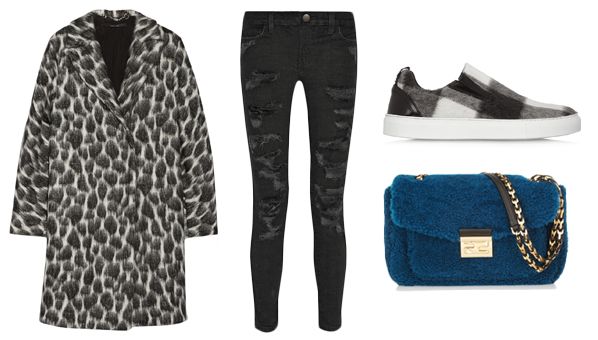 It's The Last Day To Get An Extra 20% Off Clearance At Net-A-Porter
We didn't think it was possible, but Net-A-Porter's Semi-Annual Sale just got even BETTER. You can now get an extra 20% off sale items already marked down up to 80% off. We can't stress enough how important it is you shop sooner rather than later--this extra percent off means the sale is ending any day. Wouldn't you be bummed to miss out on $50 J Brand jeans or the chance to buy this cult Chloe bag at a discount? Yeah, thought so. Get on over there now! Just make sure to enter the code 20SALE at checkout and your're good to go. PSA: the code doesn't work on items labeled final reduction, which in our book just means those are already ridiculously marked down. HIT THE SALE NOW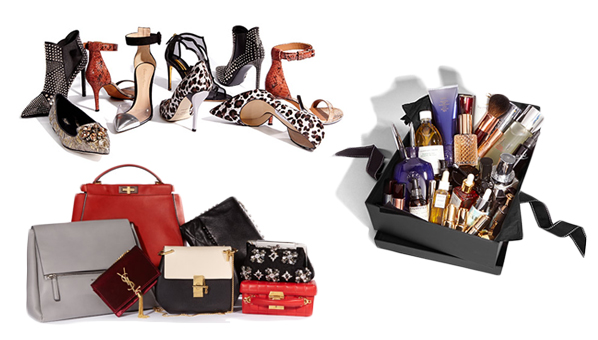 Net-A-Porter's Fantasy Gifts Includes Unlimited Store Credit For A Year
The Net-A-Porter gift guide features some not-so-practical items, like a $32,000 cocktail ring--but that's not even the craziest item on the list. The e-trailer just revealed five new fantasy gifts which includes shoes a week for a year, a bag a month for a year and unlimited store credit for a whole year. That's 365 days of free Saint Laurent, Isabel Marant, Valentino...you get the idea. Send this link to someone who loves you very, very much and pray they get the hint. SHOP NET-A-PORTER FANTASY GIFTS NOW For more gifts, check out: iPhone 6 cases, the one gift all wives want from their husbands (jewelry, obvs!) and Starbucks' Dot Collection mugs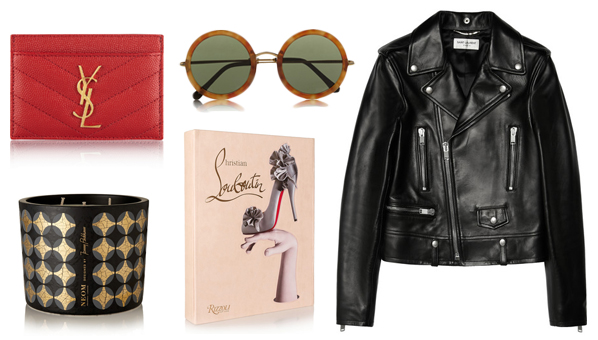 Net-A-Porter's Holiday Guide Includes Outfit Inspo And Over-The-Top Fantasy Gifts
Not to be outdone by Moda Operandi or Shopbop, Net-A-Porter just unveiled their annual holiday gift guide and not only does it have tons of gifting ideas, but it also has ready-made party outfits for all of your holiday festivities over the next two months. On the gifts sides, there are decadent ideas like a $32,000 David Webb cocktail ring, Givenchy leather gloves and a Saint Laurent card case as the perfect stocking stuffer. Need party look suggestions? No problem. Choose from this $14,000 Donna Karan halter gown or this more modest sequin turtleneck from By Malene Birger. It's all there and the only thing that's missing is your black card. Go splurge, girl! SHOP THE NET-A-PORTER HOLIDAY GUIDE NOW For more great gift ideas, check out Shopbop's gift guide, plus BaubleBar's jewelry gift sets.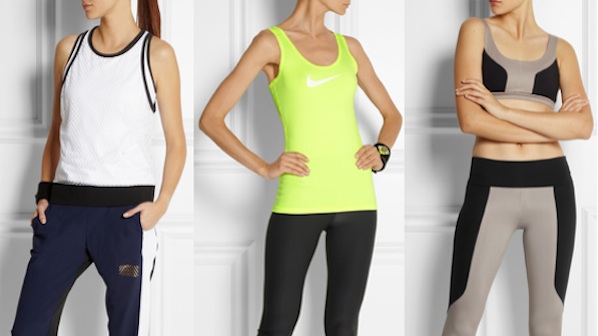 Net-A-Sporter Activewear Is Here! Now Get Your Butt To The Gym, Will Ya?
Right now, it seems like everyone is going health and workout crazy. Somewhere between all the SoulCycle, barre, and yoga classes going on, our friends at Net-A-Porter picked up on the workout trend and got gym-spired, too. Early this morning, the retailer launched a new section of their site, Net-A-Sporter (so clever!), which is solely dedicated to workout and activewear for all types of activities from tennis and golf to aerobics and dance. With 37 brands like Live The Process, Nike, Bodyism, and Monteal London, imagine how fly you'll look at the gym. Everything is so cute that this may be our new desintation for gym clothes, or at least some motivation to hit the treadmill. But don't worry if you aren't the athletic type, Net-A-Porter's new site has options for you too! After all, gym clothes that aren't actually for the gym are in right now. Check out our favorite picks from the site in our slideshow or click the link below to shop the whole site. Don't forget, summer is the best time to work on your fitness. #BikiniReady SHOP NET-A-SPORTER NOW For more workout gear, check out: printed leggings, cute sneakers, and inexpensive workout clothes.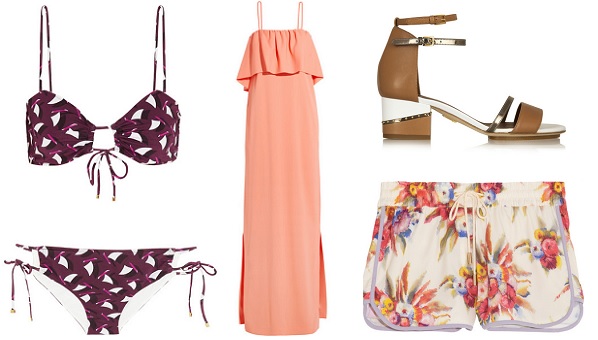 Don't Let Net-A-Porter's Clearance Sale Slip Away Without Buying Something
Whether you shopped a lot or not at all over the long weekend, here's a sale you simply can't miss--today is the last day of Net-A-Porter's clearance sale! Now if you're a serious shopper like us, you know Net-A-Porter rarely has sales and the next one won't pop up until after Thanksgiving. So rather than wallow in your case of the Mondays after an epic long weekend, shop your sorrows away at the sale of all sales. Now you'll notice tons of merch is already marked down, but use code SALE20 at checkout and you'll save an additional 20%. Get to it--this sale ends today! SHOP NET-A-PORTER'S CLEARANCE SALE BEFORE IT'S OVER! Be sure to check out these summer outfits you can copy now, summer's best white sandals and Kate Middleton's Zimmerman dress.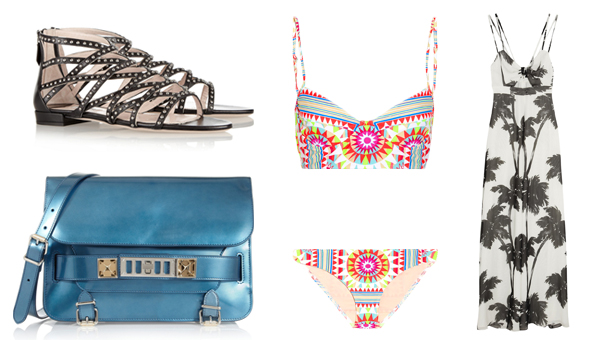 Net-A-Porter Is Practically Giving Everything Away With An Extra 20% Off Clearance
Remember when we told you everything at Net-A-Porter's annual sale went on clearance? Well, we didn't think it was possible but the sale just got even better. No joke. Now you can get an extra 20% off sale items up to 70% off with the code SALE20. I'm no mathematician, but I know a good deal when I see one. I'm about to go in and suggest you do the same before everything from the likes of Valentino, Marc Jacobs, Mara Hoffman and more gets snatched up. PSA: the code doesn't work on final sale items, but all that means is A) Those are already seriously marked down and B) The sale is probably ending any day, so you need to shop now! HIT THE SALE NOW And don't forget to check out: find out when these celebs lost their virginity, Rita Ora x Rimmel London nail polishes and easy packing hacks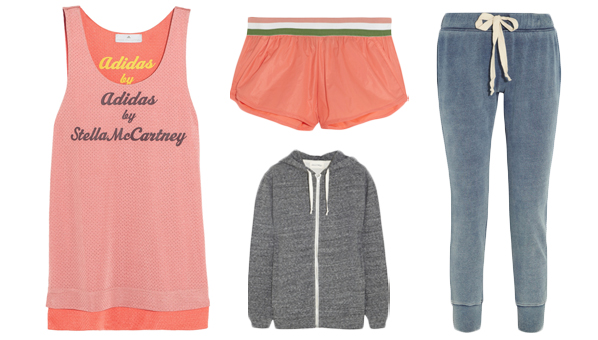 Net-A-Porter Is Stepping Up Its Athletic Game With Activewear Site, Net-A-Sporter
In a season where our bodies have to be in tip-top shape, our closets are filling up with bright neon sneakers and printed workout leggings. It seems that the 'it' thing to do these days is to exercise, and fashion labels are picking up on that. On July 9, Net-A-Porter is launching their new project, 'Net-A-Sporter;' activewear for women who want to look their best at either the gym or just walking the dog. President of Net-A-Porter, Alison Loehnis, told The Telegraph, "We already carry some great activewear brands...and we wanted to build on our offering and broaden our buy to create a category for sport." The new site will offer a combination of everyday and luxury sport brands, with many new and exclusive labels for the site. A total of 37 brands will be sold that cater to specific sports like tennis, yoga, dance, swim, golf and running. Besides the usuals like Nike and Adidas by Stella McCartney, look out for items from Weargrace (yoga), Bodyism (gym & cross fit) and more. While you countdown the days until N-A-S hits, check out what activewear you can shop from N-A-P in the slideshow. Check out the newest launch from Baublebar, Olivia Palermo's wedding photos, and perfect for summer white nail polish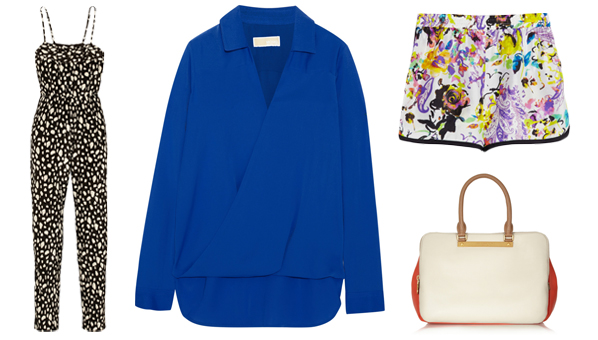 Everything At Net-A-Porter's Sale Is On Clearance, Aka Ridiculously Marked Down
Net-A-Porter's annual sale started last month with 50% off, then hit further reductions earlier in June and today is the grand finale. Everything just went on clearance. That means you can get up to 70% off (yes, 7-0) on designers like Michael Kors, Alice + Olivia, 3.1 Phillip Lim and Jimmy Choo. You have to understand how important it is to shop this sale ASAP. Sizes are extremely limited and going real fast. But don't think just because you're reading this 5 hours after the ridiculously marked down items went live means you already missed your chance. It's 100% worth it to see if those Isabel Marant shoes or Alexander McQueen dress is still available. This is truly the only time you will ever get designer items this good for prices this low. Click the slideshow for our picks and hustle on over to the sale! SHOP THE NET A PORTER SALE NOW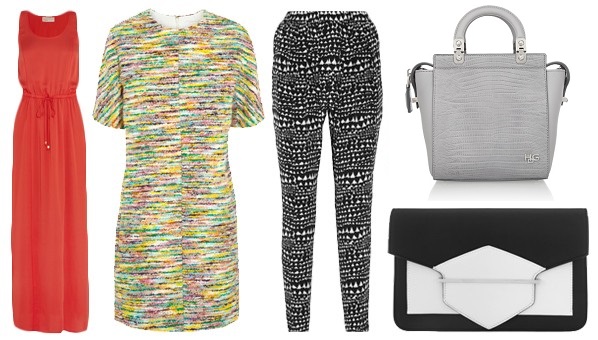 The Net-A-Porter Sale Just Got WAY Better: 70% Off Marc Jacobs, DVF & More
The annual Net-A-Porter sale kicked off two weeks ago, but today it got so.much.better. The retailer just marked down their sale section even more with discounts up to 70% off. If you think this means everything must be picked over and out of stock, you're wrong. Net has been adding new designers practically every day, so there's probably a ton you missed. Besides clothes, shoes and accessories from the likes of Marc Jacobs, DVF, Michael Kors and Missoni, now there's also designs from some of the biggest players in the fashion game, like Saint Laurent and Givenchy. Those brands NEVER go on sale. You better hurry over and raid the sale before it's all gone. Click the slideshow for our picks and go! SHOP NOW And don't forget to check out: Karlie Kloss x Warby Parker, the most perfect work flats ever and Kate Spade's surprise sale travel edition Psst! Be sure to let us know what you scored at the sale in the comments!
Tick, Tock! Net-A-Porter's Massive Designer Clearance Sale Ends This Thursday
Net-A-Porter kicked off their massive designer sale just after Thanksgiving and it's been the gift that keeps on giving ever since. We're talking major designers like Saint Laurent, Michael Kors and Alexander Wang for up to 70% off. If you haven't shopped it, you're seriously missing out--it's pretty much the sale of a lifetime. Fortunately, you still have 3 more days to get yourself a deal. Net-A-Porter just announced the sale is ending this Thursday which gives you just under 72 hours to treat yourself. Once you find something--or some things--you like, don't forget to use code GIFT20 at checkout so you can save an additional 20% on all sale items. Now go! GET YOUR DESIGNER DEAL AT NET-A-PORTER NOW! Don't miss the new jacket every celeb owns, Lena Dunham's un-retouched Vogue pics and Jessica Alba's under-$100 skirt.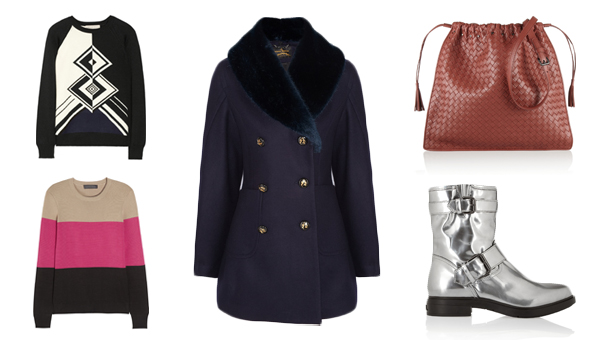 That Net-A-Porter Coupon Code You Thought Would Never Happen Is Here
The Net-A-Porter clearance sale has been chugging along for a little over two months now and while the deals have been good, we've secretly been waiting for them to mark things down even more. You, too? Well consider this your lucky day. For a limited time only, all items currently on clearance at Net-A-Porter are an additional 20% off with code GIFT20 at checkout. That means these Michael Kors booties that were originally $550 are now only $132. Now if you know anything about Net-A-Porter, you know they basically never have sales let alone coupon codes for extra savings. So let us be clear: no this is not a joke, and yes you should get your tail over to the sale stat! SAVE 20% AT NET-A-PORTER NOW Be sure to check out UGGs on sale, J. Crew coats on sale and Olivia Wilde's fave jeans.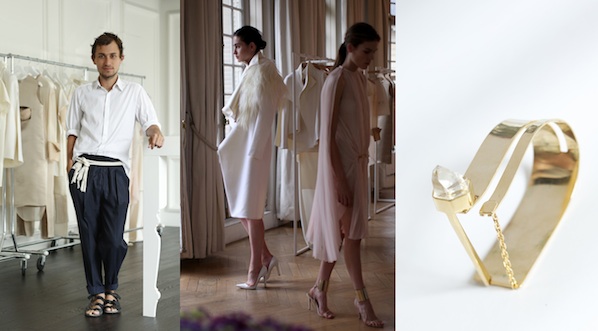 Esteban Cortazar x Net-A-Porter Hits Sept. 12 (Take That, Lindsay Lohan)
You may remember Esteban Cortazar, the insanely talented (and ballsy!) designer who broke ties with Emanuel Ungaro - the company who named him as their creative director at the age of 23 - after a Lindsay Lohan-related dispute. Now, the young-but-venerable designer is back on his own terms, relaunching his namesake collection for the first time since 2002 with a little help from Net-A-Porter. After working together closely on producing samples, nailing a price point and marketing efforts, WWD reports the e-tailer will exclusively stock his 30-piece collection starting Sept 12. Cortazar, a Columbian native, told WWD that the line boasts an on-trend neutral palette (both matte and shiny finishes in shades of ivory, blush and nude), and began as a "white canvas" with inspiration from Spanish architect Ricardo Bofill. With prices ranging from $270 for an oversize jersey t-shirt to $2,700 for an ivory cotton wool coat (with a goat-hair collar, obviously), we can expect a series of draped, modern gowns, trousers with hardware detailing on the hem and white quartz-detailed jewelry. No word on if Lindsay Lohan's involved this time, but my money's on definitely, absolutely not. Want more designer news? Check out Karl Lagerfeld's second collaboration with Net-a-Porter, find out what the must-have pattern for fall is, or peep Oscar de la Renta's first nail polish line!
Oh, KARL! Shop The Designer's Latest Lower-Priced Line For Net-A-Porter
The always anticipated collab collection by the great Karl Lagerfeld hit Net-A-Porter today with a brand new collection of the designer's taste and style. Unlike his usual signature black-and-white palette, this stock of apparel, footwear, and outerwear has some color in it with a printed long-sleeve dress and maroon-hued denim jeans. But for those vying for that iconic Karl look, be sure to check out the batch of geo-centric knits, a fut-trimmed coat, moto-style jumpsuit, and more. The only thing that's missing is a sweet graphic t-shirt with Choupette's face on it. You hear us, Karl? More collaborations to shop: Fleabags x J. Crew, Kenzo x Vans, and Louise Gray x Topshop.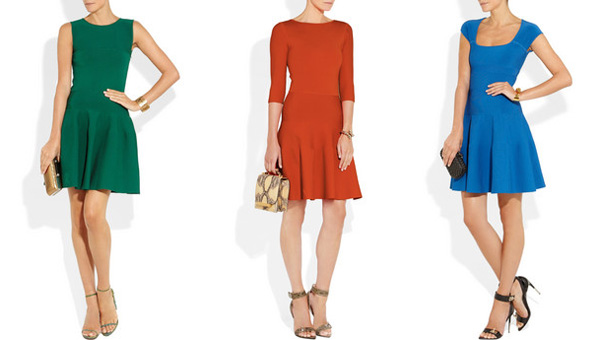 Issa's Exclusive Collection Of Dresses For Net-A-Porter Is Here, Kate-Lovers.
What's the saying? Anything that Kate Middleton touches wears turns to gold? Ever since Kate wore that infamous blue Issa dress to announce her engagement to Prince William back in 2010 (which is back in stock, by the way!), the London-by-way-of-Brazil designer has been on everyone's radar. We're sure the reason why the Duchess is such a fan of designer Daniella Helayel's dresses is for their perfectly flattering fit and easy-to-manage materials (Middleton's navy dress was made of silk jersey). Now the fashion line has created an exclusive collection of dresses for Net-A-Porter, which means that you, too, can look comfortably chic, just like the royal maven herself. The six dresses—ribbed and knitted—are in bold hues, not unlike a bag of royal jewels, and boast modestly short hems with a bouncy and breezy flared skirt. Some have cut-out details in the back, others have quarter-length sleeves, so you're bound to find a style that suits you. SHOP ISSA DRESSES NOW Read more fashion and beauty news: DL1961 Jeans x Bagsnob, Butter London's Olympics-themed collection, and Victoria by Victoria Beckham dresses on Net-A-Porter.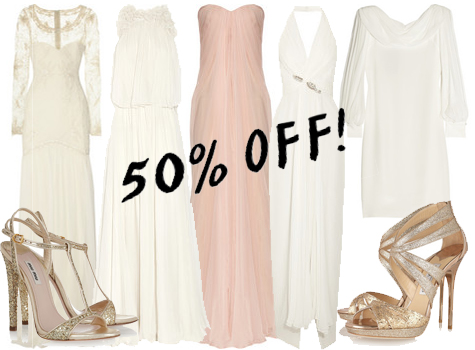 Net-A-Porter's Semi-Annual Sale Is Here! 50% Off Temperley, Jimmy Choo, Miu Miu & More
Don't ever rule out your designer dream dress - because mine is currently 50% off at Net-A-Porter's Semi-Annual Sale. I got married 4 months ago, but if I could turn back time (late 1980's Cher-style), I would buy this now-in-my-dress-budget lace Temperley gown and wear it. But since time travel is currently unavailable, I recommend that you plan your wedding date around Net-A-Porter's epic end-of-season sale. It's just that good. Right now, all the glittery Jimmy Choo pumps and ethereal Marchesa gowns a girl could ever need, want or dream of are 30-50% off. Get in there before your size sells out! (more…)
Last Chance To Be As Cute As Chloe Moretz In McQ (The Pre-Order Ends Today)
Although Chloe Moretz is just one year shy of celebrating her sweet sixteen, she sure doesn't dress like any typical teenager. Case in point: a McQ Alexander McQueen The Broderie Anglaise Velvet Bell Dress ($6,095) at the London premiere for her new film Dark Shadows. While this romantic piece of fashionable work is anything but teen girl-friendly, we think the bell-like silhouette is playful enough for Moretz to pull off. Her wardrobe choice serves as perfect timing, too, as McQ's fall 2012 collection recently became available for private orders on Net-A-Porter. But act fast because the collection is only available until the end of today! McQ Alexander McQueen The Broderie Anglaise Velvet Bell Dress ($6,095) Shop more celebrity style finds: Jessica Alba in Tory Burch, celebrity favorite Naven Blazer, and January Jones's Frye boots obsession.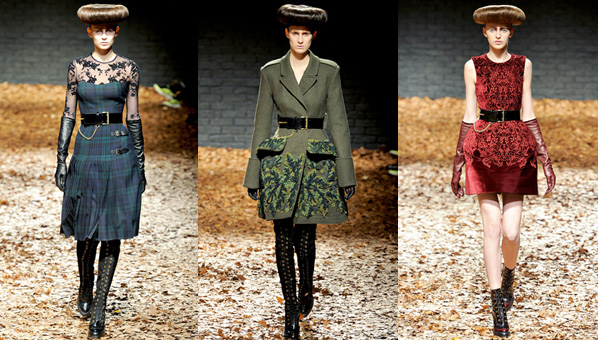 You Can Now Pre-Order McQ By Alexander McQueen's Fall 2012 Collection
Online luxury retailer Net-A-Porter has just teamed up with the folks at Alexander McQueen, specifically TIME's 100 Most Influential People Of 2012 recipient Sarah Burton, to release exclusive pieces from the lower-priced McQ Alexander McQueen collection. The Fall 2012 collection was just shown in February, but you can already make a "private order," of 1 of the 12 straight-off-the-runway pieces -- including plaid bustier dresses, chiffon-embellished coats, and fur-and-leather jackets. Which basically means that you won't be charged on your chosen items (prices start at $765) until these beautiful garments are ready to ship. While the younger and more modern McQ line has been in existence since 2006, this fall collection is the first to have an actual runway show, making these limited edition pieces way more special. PLACE YOUR PRIVATE ORDERS NOW Read more fashion and beauty shopping news: Soludos x Opening Ceremony, how to get beachy waves, and Kim Kardashian's clothes on eBay.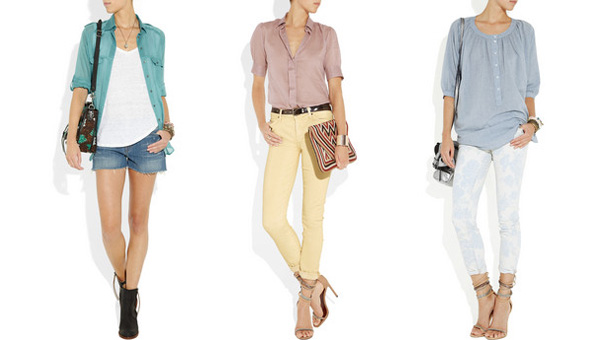 If MiH's Exclusive Net-A-Porter Blouses Fit Anything Like Their Jeans We Want In
The London-based 'Made in Heaven' denim collection, whose classic jeans have been found on the legs of every fashionable celebrity (Jessica Biel, Katie Holmes, Kate Bosworth, to name a few), has a knack for creating coveted apparel too (Jessica Alba loves their jackets). In fact, popular retailers are such fans of the brand, exclusive collections are a prized possesion, such as MiH's resort collection for Shopbop and another collection for J. Crew. Next up with an exclusive supply? Net-A-Porter. Perfect for summer, these five, one-of-a-kind MiH blouses are made of lush materials, like chambray, silk, and cotton-voile, which can pair well with any piece of denim, from cut-offs to floral-print jeans. SHOP NOW Read more fashion and beauty news: Lulu Guinness x UNIQLO,  streaming this year's Costume Institute Gala, and a new Deborah Lippman collection.
Gwyneth Paltrow Thinks You Should Spend $20K On Spring Clothes.
It's no surprise that Gwyneth Paltrow has expensive taste, and we can't say we blame her. What we do blame her for, however, is teasing us commoners with her ridiculously-out-of-our-price-range selects from Net-a-Porter's spring lines. That's right — you can wear what celebrities wear! (If you have coffers like Midas. Or like Gwyneth Paltrow). Paltrow's latest GOOP newsletter featured a collaboration with Net-a-Porter wherein she recommends 8 looks for spring -- all of which you can shop right away. Like a $1,500 Lanvin necklace! Or a $3,000 leather skirt by Chloé! These are things that every woman needs. We totaled up the barest selection of her recommendations (not even every item she suggests) and came up with a bill of $20,380. (That's without these $1,700 glossed python Loubs. A must have!). If you're super rich (or a shopping masochist), you can pick up some of Gwynnie's selects in our slideshow above. Shop some more reasonable finds: best black dresses, boyfriend jeans, and jackets for your shape.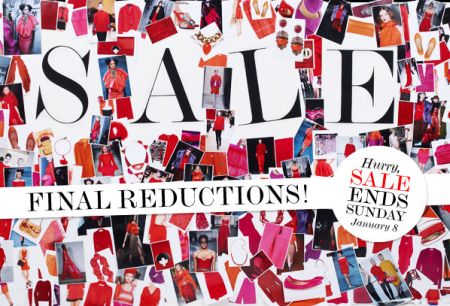 60% Off Designer Gowns At Net-A-Porter: Lela Rose, Alberta Ferretti, Marchesa, More
If you have your heart set on a designer wedding gown, now's your chance to grab one for a steal. Net-A-Porter just made their final reductions on designers like Marchesa, Temperley London, Lela Rose and Valentino. But you better hurry, these gorgeous gowns are on sale until January 8th, and then they're gone for good! (more…)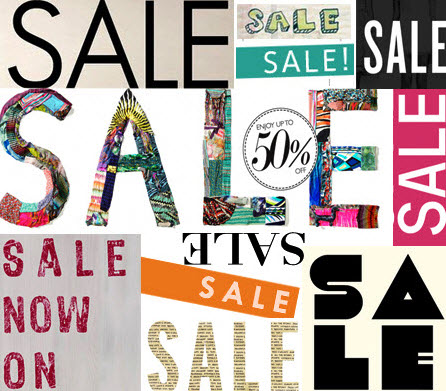 How Low Can They Go? J.Crew, Shopbop & Net-A-Porter's Sales Are On Sale
Yep, you read that right: the sales are on sale. This is the best time to shop--ever. Even better than the tons of After Christmas sales still happening, tons of retailers are having a free for all with their online merchandise, with up to 30% off stuff that was already marked down. Clearances have never been so cool. (more…)
Weird Net-A-Porter Find Of The Day: This $455 Lace Mask (From The Lingerie Section…)
Remember when they recycled leftover fabric scraps from Lanvin for H&M to make the "H&M Waste Collection"? Well this Carine Gilson Lace Mask has got to be some sort of re-purposed fashion statement of its own, because otherwise, it makes absolutely no sense. And even if it is fashioned from leftover scraps of lace from the designers' other lingerie collections, I still don't get what the mask is for---and from what I can tell, it doesn't even have eye holes. While I assumed it was supposed to be some sexy bedroom accessory (it is in Net-A-Porter's lingerie section, after all), the product description begs to differ: "Evoke Old Hollywood glamour and wear it to your next black tie event with swept-up hair and a flash of red lipstick." ....But once again: it doesn't have eye holes. So good luck with that.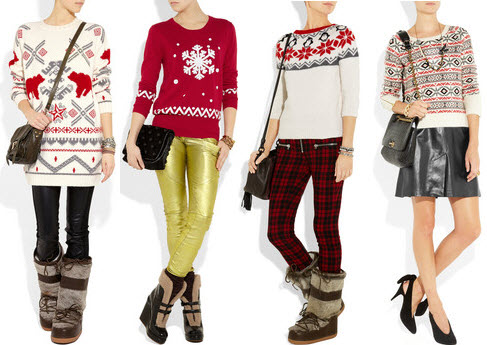 The Designer Ugly Christmas Sweater: According To Net-A-Porter, It's A Thing
How the cool girls get festive. Just last week we spotted the $20 Ugly Sweater Christmas Sweater Tee Shirt, but now it's the thousand dollar Ugly Christmas Sweater's turn in the limelight. Lately, Net-A-Porter has been featuring a whole slew of "ugly" (ok, they're pretty cute) holiday sweaters from designers like Moschino or French fav, Sandro. Can you guess which ones surpass the $1,000 mark? Find out for yourself after the jump: (more…)
Why Is One Site Selling The EXACT Same J Brands For $523 More Than Net-A-Porter?
When we first saw these J Brand Oxblood Leather Leggings, we kind of fell in love. So as the expert shoppers we are, we naturally started scouring the web to find them at the best price possible---they are leather, after all. But when we noticed that they were being sold on two different sites with a $500 price discrepancy, we knew something had to be up---especially because neither site is indicating that they're on sale. PS: J Brand's PR team confirmed they are indeed the exact same pants, in case you were sleuthing in that direction. While Net-a-Porter is selling them for $920, another retailer is selling them for $1,443.75 (a whopping $523.75 more).  So which site is guilty of the $500+ markup? (more…)
Watch Out Jessica Simpson: This Season's Victoria Beckham Handbag Line Features A $29,600 Bag
From left: Victoria Beckham and the $29,608 purse from her fall line Unlike celebrity designers like Kim Kardashian and Jessica Simpson, Victoria Beckham doesn't indicate cost effectiveness as a selling point for her products. Rather, the second collection of her Victoria Beckham handbag line ranges in price from $1,200 for a clutch purse to $29,608 for an alligator doctor's bag (pictured). But for the former Spice Girl, quality is everything---According to Vogue UK, "The entire collection has been handcrafted in Italy and boasts artisanal details such as nappa-lined interiors and French-bound seams." While the collection is now only available at Harrod's, certain pieces will soon be sold on Net-a-Porter.com---so start saving up now. For more news on celebrity designers, be sure to sign up for our newsletter.
Claudia Schiffer Talks About Her Knitwear Line–In The Creepiest Way Possible
Claudia Schiffer and her cashmere Claudia Schiffer is rarely a woman of many words, but now she's finally speaking out about her new knitwear line. Apparently, Schiffer was fascinated by spiders as a child, which explains the line's spider-adorned logo. "My inspiration is the forest and its dark side. It's not about the cute fox, more the fox eating its prey, and 'pebbles' lying on the forest floor that could turn out to be spiders," Schiffer told the Telegraph. ...What? However, the line is actually really cute, so we'll let her creepy references to preying foxes and pebble spiders slide. (more…)
Going On Vacation? Julianne Hough's Tank Top Can Help You Fit It All In A Carry-On
Julianne Hough in her Heartloom 'Bianca' Tank ($75, down from $125) and Shimmi bikini ($185) A trip to the pool is the perfect remedy for a heat wave, and we really like Julianne Hough's no-fuss cover-up style. Find out where you can get her exact Heartloom tank and Shimmi bikini after the jump (psst, the tank is on sale!). (more…)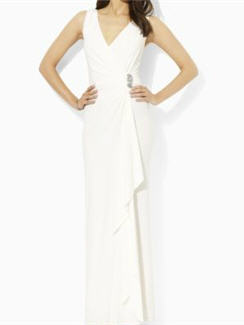 5 Fourth Of July Sales That Actually Include Bridal: Shop Now
Fourth of July is know for the fireworks, the barbecue, and of course the great sales, most of which are limited to flip flops and denim shorts, but we were able to track down 5 amazing sales that actually include bridal styles you need/want/love: Up to 70% off at Bloomingdales: Bloomies is having a major blowout... our pick: Lauren by Ralph Lauren Dress Cascade Flutter Gown with Brooch ($97.87, down from $174). 40% off at Banana Republic: Shipping is free, too! Use code BRSTARS, and grab a classic: genuine freshwater pearl choker necklace ($40, down from $98). Up to 50% off Net-A-Porter: Net-A-Porter's major bridal blowout is still happening. Grab some sexy bridal lingerie, like this La Perla New Venus underwired bra ($126.56, down from $226). Up to 60% off at Macy's: Get your reception dress: this Roberta One Shoulder Dress With Rosette Empire Chiffon A-Line ($44.99, down from $99) is under $50. Final sale at J.Crew: There are tons of bridesmaid dresses on sale - but if you're still looking for a stunning, flattering bridal gown this Silk chiffon Sophia long dress ($149.99, down from $425) is the winner. Shop our guides to the best strapless wedding dresses, white wedding shoes, and inexpensive wedding dresses.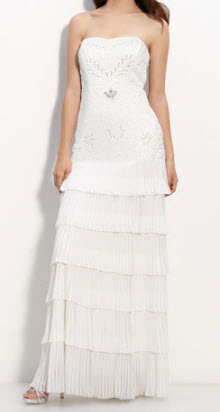 Can You Tell Which Tiered, Strapless Gown Costs $172 Less Than The Other?
Shop our guides to the best flat wedding shoes, inexpensive wedding dresses, customized wedding favors, and wedding bands.
Rachel Bilson's Red Lace Dress Is On-Trend And On Sale For $150
You can get Rachel Bilson's exact French Connection Dress at Zappos on sale for $150.40, down from $188 We adored Rachel Bilson as Summer on The O.C. (don't even try to pretend you didn't watch it!), and since then we've been obsessed with her style - we even named her one of our Top 10 of 2010 Best Dressed Celebs. Currently we're in love with the red, lace French Connection dress that she wore at a shoot for Sunglass Hut (she's their Style Director, didn't ya know?). Not only is this dress exceptionally sexy, it is also on sale at Zappos for $150.40 (down from $188), and it's delightfully reminiscent of  - and much cheaper than -  the no-longer-available Erdem lace dress that Alexa Chung wore on the cover of Net-A-Porter Magazine's Spring 2011 issue. What do you think? Do you like the colored lace dress trend, or do you prefer a classic white style à la Kate Middleton? Let us know your thoughts in the comments section.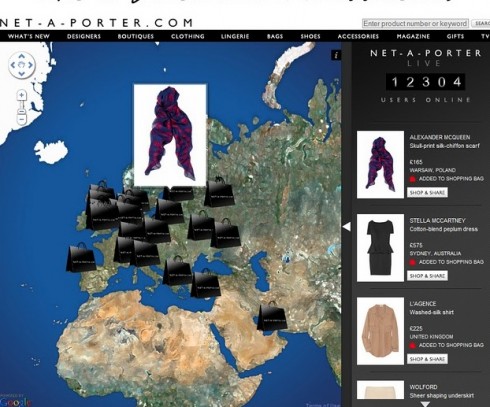 Net-A-Porter Live Is Like A More Addicting Google Earth For The Fashion-Conscious
Just when you thought Net-A-Porter couldn't be more any more addicting, they launch Net-A-Porter Live. The new feature, which went live an hour ago, allows you to basically spy on other shoppers from around the world, in realtime. In the few minutes we watched, awestruck, a customer is Seoul, Korea snapped up a pair of Jimmy Choos, and another in NYC just bought a Coach Classics handbag (she must have been reading the scoop on SHEfinds!). Check out Net-A-Porter Live for yourself--it just might inspire a mini shopping spree of your own. Good thing the Net-A-Porter 70% off sale is still happening! (more…)
Net-A-Porter's Sale Just Got Better: Now It's Up To 70% Off
Here's something that will totally make your day: Net a Porter's end of season sale--get up to 70% off high end brands you probably wouldn't want to pony up for at full price. Happy Tuesday, everybody. Check out all of our favorite sales and deals, white jeans, Spanx swimwear, flat sandals and nude shoes.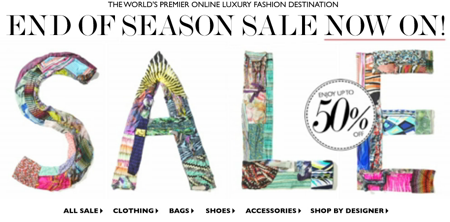 It's Your Last Chance To Indulge In Net-A-Porter's Designer Dress Sale
Shop like a celebrity without breaking the bank at Net-A-Porter's end of season sale now, and save up to 50% off on designer labels from Alice Temperley to Rachel Gilbert and more. There are plenty more gowns to choose from but we've already picked out our favorites below. (more…)

Can You Tell Which Chambray Shirt Is Chloe And Costs $577 More?
Keep yourself guessing with all of our Taste Tests, and join our e-mail list for exclusive updates.
MiH ("Made In Heaven") Jeans, A Favorite Of Farrah Fawcett, Launches Capsule Collection For Net-A-Porter
Farrah Fawcett, and MiH's New York Low-Rise Bootcut Jean ($185) MiH Jeans, which stands for "Made in Heaven" due to their impeccable fit, rose to its fame in the '60s and '70s---the era infamous for its denim---thanks to style icons like Farrah Fawcett (pictured above) and Jane Birkin. Well the retro-chic brand is back in full swing: last summer, the MiH for J.Crew collection came on the scene featuring relaxed boyfriend jeans and sandblasted skinny jeans, but today marks the first day of the MiH for Net-a-Porter capsule collection: a line more comprehensive than J.Crew's, featuring tailored 70's flairs and classic denim shirt dresses. Though Aquanet and Jordache may have fallen by the wayside, MiH is back in our closets, feeling anything but dated. Shop the entire MiH for Net-a-Porter Capsule Collection Here Now. If you're a fan of MiH, you'll also enjoy our Denim Buying Guides, featuring our guides to the best celebrity jeans and the best denim for your shape.
The Bride Wore 'Maniacs': Brian Atwood's Must-Have Satin Wedding Shoe
Louboutin, who? In the designer shoe world, there's no one more hot (or Worth It!) right now than Brian Atwood. He's a former model and Versace accessories designer, and the creator of this fabulous Maniac Silk-Satin Platform Pump ($480). The sky-high pumps have adorned the famous feet of Jennifer Lopez, Kate Hudson, and more, and now, Brian offers them in a silk-satin pearl pink --which means you can totally walk the aisle in them. Or do dishes in them for that matter -- you won't want to take these puppies off. If you splurge on the shoes, save on something else with our guides to cheap wedding invitations, inexpensive wedding dresses, and wedding jewelry sets.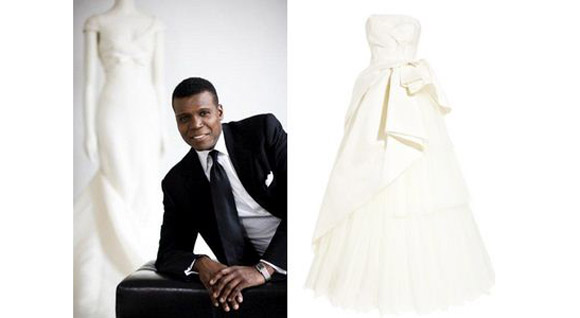 Find A Dress That Truly Flatters This Spring: Mark Ingram Helps Us Navigate The Trends
Mark Ingram's wedding dress expertise has made him a go-to personality for styling, trends, and flattering fit tips -- and with good reason. The man not only owns the gorgeous Mark Ingram Bridal Atelier in NYC, known for its cutting-edge collections, but also helped found the members-only luxury bridal shopping site The Aisle New York. Now he's offering words of wisdom to brides-to-be on the verge of heading down the aisle: (more…)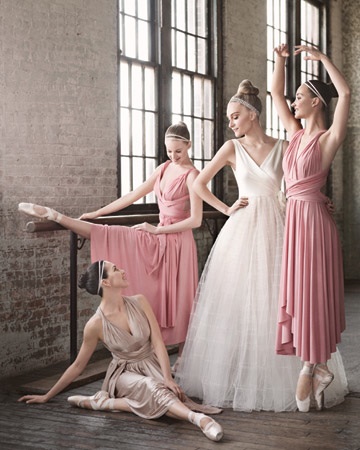 Ballet-Inspired Wedding Dresses And Accessories: Channel Black Swan – Sans The Crazy
Whether you've always loved the art of dance or are simply inspired by the Black Swan trend, there's no denying the elegance of the ballet. Want to work the theme into your wedding day? Here are a few staples to help you pull it together: (more…)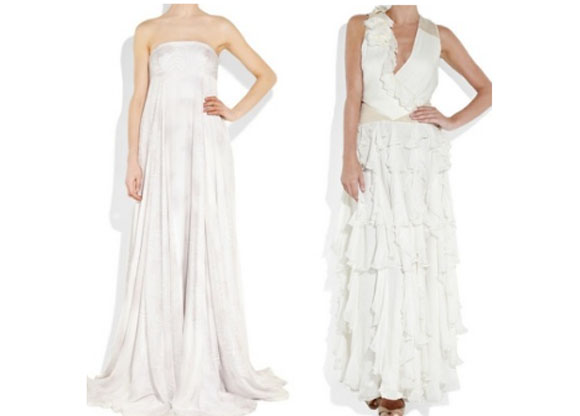 Shop Matthew Williamson Bridal On Net-A-Porter Now
Earlier this month, we gave you a sneak peek of the new Matthew Williamson bridal collection, and today we learned that Net-A-Porter is selling a few gorgeous styles already. This Matthew Williamson Printed silk-chiffon strapless gown ($2,350) takes the classic strapless gown to the next level, while this Waterfall silk-chiffon gown ($3,255) is like a piece of art. Perfect for winter brides, this Embellished rabbit shrug ($3,225) will keep you warm and chic all night long. Feeling inspired to shop more gorgeous bridal finds? Check out our guides to the best diamond wedding jewelry, designer wedding shoes, and strapless wedding dresses.