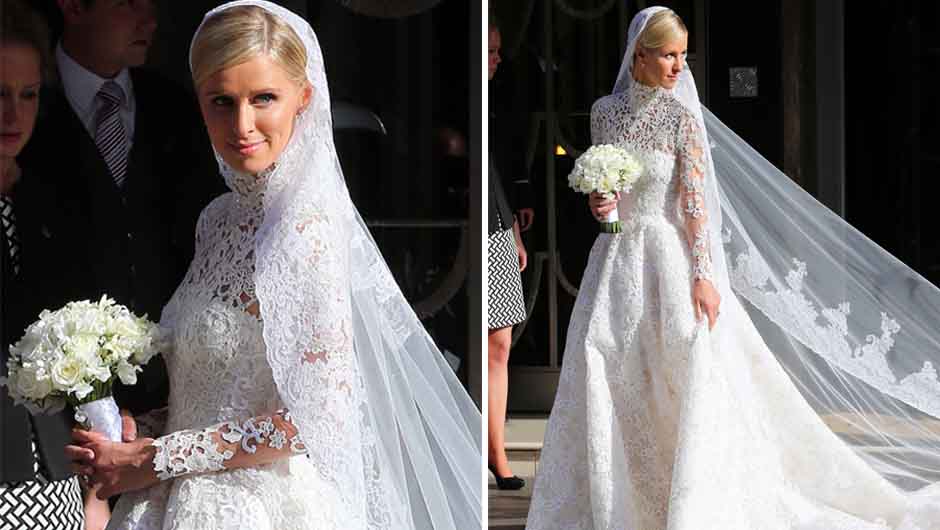 Nicky Hilton Stuns In Valentino On Her Wedding Day, Marries James Rothschild
Nicky Hilton got married today! The hotel heiress married England-based banker James Rothschild. Their wedding was held at the Orangery in Kensington Palace. Nicky wore an absolutely gorgeous long-sleeve lace Valentino gown, which had a dramatic train. The couple has been dating since 2011 and got engaged last summer. He proposed on a boating on Italy's Lake Como. Paris Hilton served as a bridesmaid and looked beautiful as well in her light blue, ruched gown. Mother-of-the-bride, Kathy, was also wearing light blue and was all smiles as they left the Claridge's Hotel. Paris later posted a picture to Instagram congratulating the happy couple. https://instagram.com/p/49T3eDqgFH/?taken-by=parishilton Don't miss Princess Charlotte's official christening photos and Tinder is now verifying celebrity accounts! [Photos: Splash News]
This Weekend You'd Be 'Lost' Without Nicole Richie's Adorable Cut-Out Party Dress
If you were at a loss for what to wear this weekend, don't worry, style influencerNicole Richie has it all planned out. Wear the super-popular Keepsake Lost Without You cut-out dress ($143) she wore in yellow, or the teal color fellow partygirl Nicky Hilton wore it in. Some person named Sarah Carroll also wore the dress in pink, which we love -- so you can get that color here. It's the perfect party dress -- wear it over opaque tights or under a fitted blazer for a pop of color in the winter, or with nude pumps all spring. Shop our guides to the best sweater dresses, sexy bras, and winter fashion.
Piperlime's Final Sale: Elizabeth and James, Rag and Bone, And More…Because Paying Full Price Really Sucks
Cameron Diaz, Nicky Hilton and Blake Lively all in James Jeans Twiggy jeans--get your pair on the cheap While it's true summer is almost here, don't forget when the sun goes down, you're going to need a great pair of jeans and a light sweater or jacket--especially if you're going on vacation--don't make this crucial mistake in forgetting these pieces. No worries, though, no need to splurge--Piperlime's final sale has got you covered--quite literally. (more…)
Printed Silk Mini Dresses from $31.20 At Bloomingdale's
Summer, spring or fall: Nicky Hilton, Alexis Bledel, and Liv Tyler prove printed silk minis work for all seasons. It's official: printed silk mini dresses could be perhaps the most versatile dresses known to man.  They're loose, flattering, and as evidenced by the above photo, can be worn in virtually any season. That's why there's absolutely no reason NOT to indulge in Bloomingdales' sale on these key pieces--pair with sandals like Nicky Hilton (left) for a beachy look, a clutch and pumps like Alexis Bledel (center) for a night out, or with tights and a blazer like Liv Tyler (right) for chillier weather. Shop Bloomingdales' Sale on Printed Silk Mini Dresses Now (more…)
Week In Review: The Airbag Bra Exists, Penny Auction Site Goes Broke, Payless' Newest Designer, More
The Airbag Bra. We're serious. Sales and Deals: Dainty gold necklaces are up to 40% off. Carrie Bradshaw would be proud. Quick(!) Shop your favorite Topshop styles at 50% off during their flash sale. Nordstrom Rack is practically throwing the clothes at us - for under $40. If you love Etsy, you'll love Heartsy - a group coupon site for Etsy brands. Must Reads: Feast your eyes on this: the airbag bra. Makes padding and push up bras look weak. Penny auction site OohILove filed for bankruptcy. Ironic. Payless Shoes add another designer collaboration to their list. This time it's with Silvia Tcherassi. Get a sneak peek at the 6 Loeffler Randall for Suno shoes coming out this fall right here. Shopping for a great cause always leaves us with a feel-good feeling, and Net-A-Porter's Runway To Green is a great way to do it. Celebrity Style: Victoria Beckham, Nicky Hilton and Whitney Port have been tweeting about their craziest fashion finds and we're intrigued. Looks like these Jersey girls still don't know how to dress, so we helped out the ladies of the Jersey Shore with a few fashion tips. Lily Allen adds designer to her resume as she teams up with Shopbop and we got a sneak peek at her sketches. Get Anne Hathaway's exact floral tunic now. Or opt for Eva Longoria's gunmental ensemble. (more…)
Victoria Beckham, Whitney Port And Nicky Hilton Tweet Their Craziest Fashion Finds
Smartphones: like pacifiers for grown-ups Though we were top of our Twitter stalking game during the Oscars, the Eat Pray Love Premiere, and the CDFA Awards, we decided to take our virtual stalking skills to the next level: now, each week, we will bring you the highlights from the most fashionable people on Twitter.  And for our first post, why not start with Miley Cyrus's personal favorite form of media--TwitPics! From Nicky Hilton's pint-sized Chanel purse to the Yves St. Laurent-inspired necklace worn by Kylie Minogue's stuffed animal, these are all the pictures you missed during the Twitter dark age--when Charlie Sheen and Rebecca Black had the hashtag monopoly on lock. Be sure to check out the best of celebrity style, sales and deals, and sign up for our newsletter to get the first word on all your favorite shopping finds.
Ugg And Jimmy Choo Make A Shoe Only A Hilton Sister Could Love
Nicky Hilton Tweeted this photo over the weekend, with the caption "Love my new Jimmy Choo Uggs!" Yes, you read correctly: as we told you back in January, Jimmy Choo actually collaborated with the Australian sheepskiner on this $795 boot. At that price, and with cheesy star studding, this gaudy leisure boot is truly one that only a Hilton sister could love. Nicky's been a fashion victim before, and with this ugly pair in her arsenal, she's sure to be a subject of our red carpet re-do's all fall. Now check out some black flat boots for fall that we can get behind: Over the knee boots are hands-down our favorite fall shoe trend this year, and these Jeffrey Campbell Lubbock Black Suede ($156, down from $240) are super sexy and already marked. You cannot beat that. Pair these Cole Haan 'Air Liberty' Flat Boot ($298) with skinny jeans and you are good to go for outdoor events, shopping, brunch - you name it. These Steve Madden Bonanza ($79.95) slip on easily, are made of a super-soft slouchy suede, and have a rounded toe and heel that make them super comfortable and all-day wearable. If you can't tell, I have a pair and live in them. For more tips on what to wear (and what not to wear) this fall on your feet, check out our guides to the best booties, clogs, over the knee boots and flat boots.