Have You Seen Nicole Richie's New Hair?
Another day, another new hair color for Nicole Richie. Okay, so she doesn't change her color that often, but it never stays the same for too long. So what does her hair look like these days? She just debuted a turquoise bob on Instagram. We think it's probably a wig since her natural hair isn't that thick. What do you think of Nicole's new look? Let us know in the comments below! Check out the slideshow for some more of her crazy colorful hair styles. [Photo: Splash News, Instagram]
Nicole Richie's Collar Necklace Is Just What Your LBD Needs For Holiday Party Season
Nicole Richie not only designs a jewelry line, but she wears it. All the time. Her latest obsession? This House of Harlow 1960 Azure Mosiac Collar Necklace ($150) which she has worn to red-carpet events, TV premieres, and with her everyday street style looks. Why? It is interesting, funky, and makes a statement without being too bold. Pair with your cocktail dresses or sweaters for some insta-bling. Oh, and the price is not so bad either. Shop it below! House of Harlow 1960 Azure Mosiac Collar Necklace ($150) Don't forget to check out Julianne Hough's favorite warm-weather hat, Rihanna and Cara Delevingne's favorite jeans, and Beyonce's $100 topshop heels. [Photo: Splash News]
No One Loves Nicole Richie's Jewelry Line More Than Nicole Richie Herself
Not gonna lie--we're still on the fence about Nicole Richie's new show, but that's not stopping us from hunting down just about everything she wears. Recently, Ms. Richie has been rocking this House of Harlow 1960 Jewelry ID Necklace ($298) with her changing hair colors (blue, purple...) and she's convinced us that it needs to be at the top of our jewelry wish list. And really, who doesn't love a designer who actually wears their own stuff? Shop the statement piece below. House of Harlow ID Necklace ($298) Don't forget to shop Julianne Hough's black bag, Taylor Swift's H&M set and Olivia Palermo's statement necklace. [Photo: Splash News]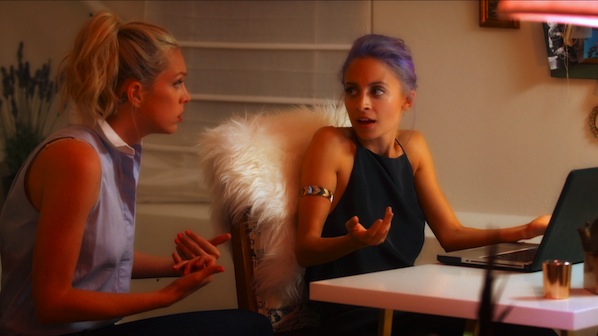 Get The Black Halter Dress Nicole Richie Wore On The Premiere Of Her New Show
Nicole Richie, lover of halter tops and dresses, just debuted her new show Candidly Nicole on VH1 (it's based off her Twitter feed, more on that later) and unsurprisingly she wore not 1 but 2 halter-top styles in the first episode - including this very cool "Portia" maxi dress from Carmella ($574) which is shoppable online: Nicole wore this Carmella Portia Maxi Dress in a scene where she helps her friend Erin set up and execute an online dating profile. Hilarity ensues.  More on Candidly Nicole: the show is as quirky as you'd expect a Nicole Richie show to be--it's silly fun. It's definitely staged and not a reality show in any way, but that's okay. Remember, the show that put her on the map, Simple Life, wasn't reality either (in real life, heiresses don't get dumped on to dairy farms). She kind of thrives in contrived, outlandish situations where she can just run her mouth. Girls got quips for days. Don't worry about setting your DVR, the show is available on VH1's On Demand programming for most cable networks. Enjoy!
Nicole Richie Brings Back The High-Waisted Jean And We Approve
Who knew high-waisted jeans were cool again? Just goes to show, hold on to all your 'out-of-style' duds. Nicole Richie wore Citizens of Humanity Rocket High Rise Skinny Jean ($238) with a tres chic white blouse, black and white pumps, and an oversize black bag. Looking extremely polished but with a little grunge in the ripped knees and indie wash proves these jeans will compliment any top you throw over them. Like you needed an excuse to buy more jeans, pshhhh. Score them below! Citizens of Humanity Rocket High Rise Skinny Jean ($238) Don't miss out on Julianne Hough's overalls, Jessica Alba's floral prints, Gwen Stefani's leather pants, and Gwyneth Paltrow's flare jeans. [Photo Credit: Splash News]
Nicole Richie Never Met A Red Carpet That Wasn't Right For One Of Her Clutches
Nicole Richie rarely makes a red carpet appearance without one of her House of Harlow clutches and can you blame her? The clutches are ideal for party hopping, small enough to carry on the dance floor and hide a long strap for when you wish to go hands-free. Most recently she accessorized her all-black cat outfit with this House of Harlow 1960 Wynn Clutch ($225), which features an edgy skull closure at the top to balance out the prettiness of the color. Planning to hit up a few holiday parties this season? A neutral clutch like Nicole's will be your best investment. House of Harlow 1960 Wynn Clutch ($225) Celebrity style on your mind? We have plenty to shop! Check out Gisele's embellished sweatshirt, Olivia Palermo's suede heels, Emma Watson's moto jacket, and the celeb-adored necklace. [Photo: Splash News]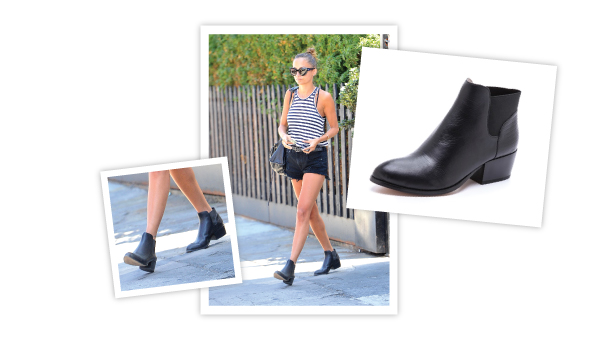 Nicole Richie Proves She's Her Own Best Model In These House Of Harlow Booties
The end of summer may be sad, but there's no denying the excitement surrounding fall fashion. Some celebs are so stoked for autumn that they're already pairing fall staples with summer outfits. Take Nicole Richie, for example. The fashion-forward mother and designer mixed her black cut-off shorts and Alexander Wang racer-back tank with her very own  House of Harlow 1960 Warner Boots ($275). We say snag the low booties for your shorts (while there's still time), and then pair them with skinnies and dresses and tights for fall and winter. Score a pair below. House of Harlow 1960 Warner Boots ($275) Shop more celebrity style such as Jessica Alba's army shirt, Olivia Palermo's camo flats, Amanda Seyfried's Tibi dress, Kourtney Kardashian's casual look, and Jennifer Aniston's khakis. [Photo: Splash News]
Nicole Richie's Balmain Pants Are Sold Out, But You Can Still Get Her Cute A.L.C. Top
Nicole Richie is kind of obsessed with these burglar stripe Balmain pants. She Instagram'd a pic of herself wearing them not too long ago and then she wore them again for a recent appearance on Extra!. What do you think? Are the pants cool or too crazy? We're on the fence about them, but we're pretty sure Nicole is one of the few people who could actually pull them off. Her printed top, on the other hand, now that's something we can get behind. Whether with jeans or a black pencil skirt, Nicole's A.L.C. Huntley Top ($340) is super cute. Score Nicole's printed tank along with her classic Ray-Ban Original Aviator Sunglasses below. A.L.C. Huntley Top ($340) Ray-Ban Original Aviator Sunglasses ($145) Be sure to check out  Alessandra Ambrosio's jumpsuit, Julianne Hough's Topshop maxi skirt and Rashida Jones' Stella McCartney outfit. [Photo: Splash News]
Never One To Be Outdone, Nicole Richie Rocks Grey Hair To The #MetGala
Anne Hathaway may have debuted blonde locks at tonight's Met Gala, but the hair everyone's talking about belongs to Nicole Richie. Girlfriend went balls to the wall punk with a slicked up gray mane and we can't decide if we love it or are kinda terrified by it. Of course, the color is even more jarring against Nicole's super tan skin, but we must say we appreciate her taking the theme and running with it. What do you think? Is Nicole's hair too much or just punk enough? Share in the comments. [Photo: Splash News]
OMG, We Are Obsessed With Nicole Richie's #MetGala Nails!
Nicole Richie always brings it, but can we just take a minute to obsess over her 2013 Met Gala manicure. Wet 'N Wild just posted a photo of Nicole's nails and we're freakin' swooning! Of course, this is just what we needed to get even more excited about Nicole's look. We can't wait to see what she's wearing! We'll share the pic as soon as she walks the red carpet. In the meantime, check out Rooney Mara and Anna Wintour at the 2013 Met Gala. [Photo: Instagram]
Who Better To Model These Cool House Of Harlow Sunglasses Than Nicole Richie?
Nicole Richie has a real thing for sunglasses, and in particular, her own brand. In fact, I don't think I have ever seen her step outside without a pair on. Then again, if you were designing hip shades in all sorts of funky styles, you'd probably do the same. And hey, why pay a model when you can do it yourself?! Most recently, Nicole wore the House of Harlow Dreamer Sunglasses ($154) which take the rimless look to a new level. At first glance, they're a bit unusual, but then they grow on you. Soon enough, they're likely to become your favorite sunnies. Give Nicole a run for her money and score yourself a pair below! House of Harlow 1960 Dreamer Sunglasses ($154) [Photo: Splash News] Don't forget to shop more celebrity style such as Julianne Hough's summer kicks, Kim Kardashian's $42 dress, Rachel McAdams' Peter Som dress and Sienna Miller's printed pants.
Peace Out, Puffer Jacket! Nicole Richie Makes A Case For The Statement Coat
The weather has been nice here in N.Y.C., but nowhere near warm enough to venture out without a jacket. So if you're just going to cover up your outfit anyway, shouldn't your coat be the piece with all the wow factor? We're guessing that was Nicole Richie's train of thought when she recently stepped out for the Valentino show during Paris Fashion Week. The socialite turned fashion entrepreneur looked stunning in a ruffled statement coat by Valentino that was so breathtaking, it didn't even matter what she was wearing underneath. With a few more weeks of cool weather ahead of us, we say take a lesson from Nicole and invest in a gorgeous topper because everything else, well, it just doesn't matter if no one can see it. Try this lookalike Valentino R.E.D. Midnight Blue Ruffled Wool-Blend Coat ($955) and pair it with the same VALENTINO GARAVANI 'Va Va Voom' clutch ($1,600.40) Nicole is carrying. Valentino R.E.D. Midnight Blue Ruffled Wool-Blend Coat ($955) VALENTINO GARAVANI 'Va Va Voom' clutch ($1,600.40) [Photo: Splash News] Don't forget to shop more celebrity style such as Beyonce's matching printed outfit, Kristin Cavallari's warm weather leather, and Solange's flower suit.
You Can Now Pre-Order Nicole Richie's Golden Globes Clutch
Nicole Richie stepped out on the red carpet of the Golden Globes wearing a sparkling blue Naeem Khan gown and in her hands, her own House of Harlow designed clutch. The House of Harlow 1960 Jude Snake Clutch with Gunmetal Fringe ($275) is available for pre-order now and we suggest you get your manicured hands on this hot little item before it sells out. Nicole also wowed the critics with her matching blue eyeshadow (which we warn you to try at your own risk), her retro romantic hair, and her gorgeous Instagramed engagement ring. While we aren't totally positive how she snagged this golden ticket invite, we are always happy to see this House of Harlow designer strutting it out on the red carpet, clutching her own designs. Pre-order it below or snag some of her other newly released House of Harlow bags!   House of Harlow 1960 Jude Snake Clutch with Gunmetal Fringe ($275) [Photo Credit: Splash News] Shop more celebrity style such as Nicki Minaj's dress, Hilary Duff's tiger sweater, or Ashley Tisdale's workout gear!
Holy Smokes! Can We Please Discuss Nicole Richie's Engagement Ring?!
Can you tell we're more than a little obsessed with Nicole Richie? But after she Instagram'd this pic, we just had to pass along. I mean, do you see the size of her engagement ring?? Nicole shared the snap while getting ready for the 2013 Golden Globes, and while everything she's wearing/carrying is amazing, nothing even comes close to the amazing-ness that is her engagement ring. But in case you're wondering about that clutch, it's from the House of Harlow Spring 2013 collection, which means it should be in stores and online soon. Check out Nicole's complete Golden Globes look, plus a close-up of her hair. Photo: Instagram
Twitter Stalking! Check Out Nicole Richie's Glam Golden Globes Look
Who's excited for the Golden Globes 2013? We're watching the pre-red carpet festivities, waiting with bated breath for all the amazing looks. We've actually been stalking Twitter and Instagram for sneak peeks and we couldn't help but share this amazing photo of Nicole Richie. The trendsetter will be at the Globes representing her NBC show Fashion Star and we're really feeling her old Hollywood glam look. Can't wait to see how it all comes together! Check out Heidi Klum's Golden Globes jewels, plus Kerry Washington's Miu Miu dress. And stay tuned for more of our fave snaps from the Golden Globes! Photo: Nicole Richie's Instagram
Nicole Richie Wears Yellow Leather To The Gym (Sure, Why Not?)
Nicole Richie is a busy bee these days,  managing her two adorable children and her multiple designer lines (House of Harlow, Macy's Impulse Collection, a QVC line). Yet she always manages to find time to work out - in style, of course. Spotted in her hometown leaving the gym, Nicole wears a Balenciaga Biker Jacket ($2,650) and a pair of House of Harlow 1960 Chelsea sunglasses ($124 down from $138). We love a designer that actually wears her own creations and Nicole has to be the biggest fan of House of Harlow, spotted in shoes and carrying the clutches. Lucky for you,the Chelsea cat-eye sunglasses are on sale! Plus, colorful moto jackets are a must-have of the season. Shop below! Balenciaga Biker Jacket ($2,650) House of Harlow 1960 Chelsea ($124 down from $138) [Photo Credit: Splash News] Shop more celebrity style such as Kristin Cavallari's hot pink shorts, Lauren Conrad's (not ugly!) Holiday sweater, and Nicole Scherzinger's under $100 party look.
Gwyneth Paltrow Teams With House of Harlow On A "Badass" Jaguar-Head Bag
Gwyneth Paltrow may not be in touch with the common man, per say, but she sure knows how to get our blood flowing. Just days after she revealed the $1000-combined results of her collaboration with knitwear label Chianti & Parker on her site, goop.com, the 40-year-old actress (happy belated!) teamed with Nicole Richie of House of Harlow, 1960 on a perfectly chic (and kind of ferocious!) clutch. The Addison handbag, priced at a reasonable $225, is constructed from deep oxblood leather with subtle undertones of turquoise with a "badass jaguar head clasp," as Ms. Paltrow puts it, finished with a brushed gold trim. The snakeskin-designed clutch, which is sized similarly to a minaudiere, is sold exclusively on goop. We're also pretty surprised Nicole Richie found the time to create a collab with Gwynie, especially considering she has her hands busy selling fall collections with both Macy's Impulse and QVC. Want to know what else Gwyneth's been up to lately? Check out the $20K wardrobe she thinks you should have invested in for spring, take a look at those two $500 sweaters she designed with Chianti & Parker, or check out her recent collaboration with Rag & Bone.
Nicole Richie's T-Strap Pumps Are House Of Harlow 1960 (Obvi)
It's no surprise that Nicole Richie was seen wearing the House of Harlow 1960 Women's Mikola P T-Strap Pump ($295) from her very own fashion line. After all, if you could get create your own wardrobe and get paid for it then why not? We love the high ankle of this heel and the textured details like grommets and lace. Plus, the heel isn't sky-high, so consider these pretties your staple going out pumps for late nights and beyond. And if you're concerned about the peep-toe and the colder temps, simply slip into a pair of wooly or opaque tights for tippy-toe coverage. Shop more celebrity style: Pippa Middleton's purse, Sara Jessica Parker's camo-print jeans, and Rachel Bilson's outfit. [Photo: Splash News]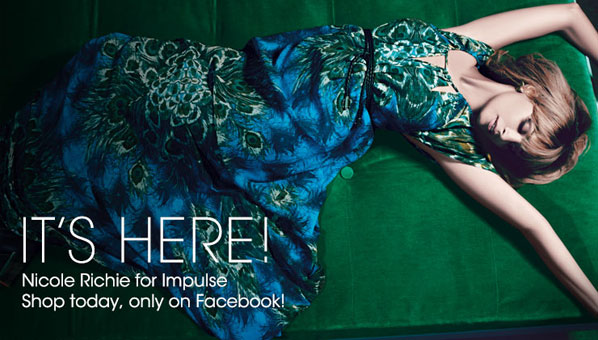 Nicole Richie x Macy's Impulse Hit A Day Early!! Shop The Boho-Bold Collection Now
After Nicole Richie teased us with a preview of her Macy's Impulse collab, we've been impatiently waiting with credit cards in hand to get our paws on a piece of the boho-chic pie. And now, the fashion darling surprised us by quietly releasing the goods one day early on Facebook. Get your claws out, ladies! Just as the preview suggested, each limited-edition piece boasts Richie's rock and roll sensibility without weighing too heavily on the wallet: prices range from $39 for a scoop-necked geometric cutout blouse (in our have, cobalt blue, no less!) and $129 for a long faux-fur-sleeved faux-leather jacket, though there's everything from a peacock-print hankerchief-hem maxi dress to long-sleeved velvet mini dress in between. Very Winter Kate-chic, no? The entire collection will hit Macy's stores tomorrow, but before words gets out that it's on sale early, scoop up as many goods as you can! SHOP NICOLE RICHIE X MACY'S IMPULSE NOW Want more collaboration news? Check out the newest installment of The Shops at Target, find out who Rag & Bone commissioned for their newest collab, or shop Nina Garcia's collection for BaubleBar.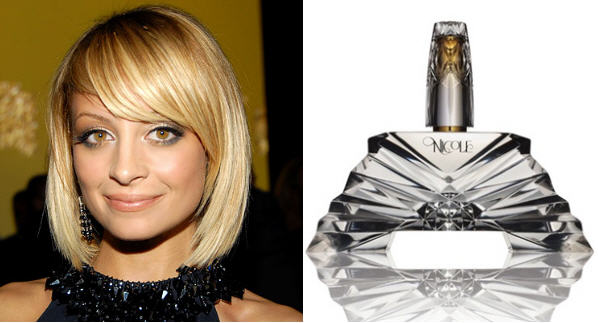 Nicole Richie's First Perfume Hit Stores! And Other News From Today…
Nicole Richie's first perfume just hit stores! Find out where you can buy it. [Mama's A Rolling Stone] Our friends at Fashionista are launching a cooking show - details in here. [Fashionista] Y'all, Pippa Middleton's party planning book is almost here!! Read on for the launch date. [Racked] Bill and Guiliana Rancic welcomed a baby boy today! Get the details. [MOMfinds] Nars just launched an Andy Warhol collection: art history majors rejoice! [Teen Vogue] How to make the boots & skirts look work for you. [Lucky] For more fashion news, read about the leather skirt trend, the animal accessories trend, and the newest Keds collaboration!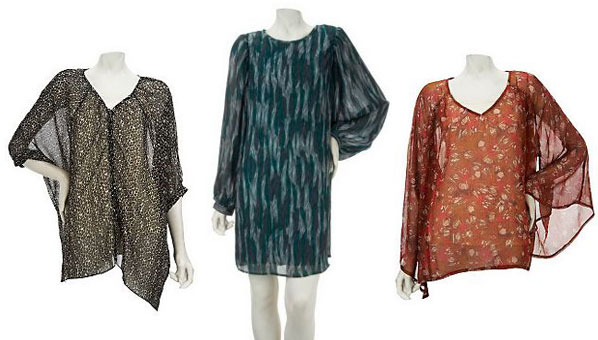 Nicole Richie's Latest QVC Line Just Hit: How Does It Compare To Her Macy's One?
On the eve of her massive Macy's Impulse line, Nicole Richie just quietly launched a second season of her QVC capsule collection yesterday. And while there's been a lot of pomp and circumstance around her Macy's collab (leaked sketches! lookbook images! a video!), her QVC line sort of snuck up on us. The collection itself -- which includes flow-y, boho-printed tops, dresses and scarves -- is already marked down 20% (like last time). Presumably, because that's just how QVC does pricing -- but it is a far cry from all the hype that is sure to follow her Macy's capsule collection. What do you think? For more Nicole Richie-related goodness, get her exact House of Harlow 1960 Cat-Eye sunglasses, the 10 reasons she was named 'Style Influencer' of the year (as if you needed more), and the entire Macy's Impulse collection.
Are We Human Or Are We 'Dancer' In Nicole Richie's Cat-Eye Sunglasses?
Long gone are the days of simple aviator shades or wayfarers. Lately, it's all about how funny your sunnies can be. Nicole Richie's House of Harlow 1960 Dancer Sunglasses ($143) from her Fall 2012 collection are a perfect pair for this trend. An extreme cat-eye version of her line's signature "Chelsea" sunglasses, this pair boasts cool scalloped edges, which follow the shape of butterfly wings rather than cat eyes. They're fun and unique and more likely to shield your eyes from harmful rays—in style, of course. House of Harlow 1960 Dancer Sunglasses ($143)  Shop more celebrity style finds: Blake Lively's top and shoes, Jennifer Lopez's top, and Anna Paquin's dress.
Nicole Richie Gives Us A Sneak Peek Of Her Upcoming Macy's Impulse Line
Ever since we  heard about Nicole Richie's Macy's Impulse line, due in stores by September, we've been chomping at the bit, wondering what it will look like and trying to figure out how we can get our hands on it first. Well now we have a little bit of a hint: Richie celebrated the upcoming launch at the swank Daniel on Wednesday night while wearing one of her Macy's Impulse blouses. Her limited edition designs, comprised of 25 pieces, are inspired by music--which makes total sense considering she's been surrounded by musicians her entire life. Expect lots of chiffon, faux leather and another rock star staple, faux leather. Prices will range from $49 to $149. SHOP: WINTER KATE IS ON SALE AT SHOPBOP Stay tuned for more details on our fave upcoming collaborations, see all of our celebrity style coverage and shop this week's best sales and deals. Don't forget to grab some cheap swimwear for the beach and a summer hat to boot.
Nicole Richie Is Launching Her First Fragrance This Fall!
It's no secret that we have recurring day dreams about being Nicole Richie. I, for one, would like to be wearing head-to-toe House of Harlow 1960 accessories at all times. And now I, and the rest of the Simple Life/Fashion Star fan base, can also drench ourselves in her scent (that's not creepy at all, right?): Nicole is launching her first-ever fragrance this September! The Nicole by Nicole Richie fragrance (above) was inspired by the scent her mother wore as a child, which was a result of mixing lotions and oils on her skin. Nicole's version, which comes in an Art Deco-inspired bottle, has notes of succulent blackberry and Seville orange, golden amber, Moroccan rose, lily of the valley and papyrus, and cashmere woods, sandalwood, sugared patchouli and vanilla absolute, according to WWD. The fragrance will come in 2 sizes: 1.7 oz. ($55) and 3.4 oz. ($69), plus a 6.7-oz. body lotion ($35) and 6.7-oz. bath and shower gel ($28). For more Nicole Richie madness, get her beloved M2F skinny jeans, 10 looks of hers that you can shop NOW, and Nicole Richie for QVC.
Introducing M2F, An Eco-Friendly Denim Brand That The Celebs Already Love
Another colored jeans post, we know! But it looks like celebrities can't get enough of them. Instead of the usual primary color or neon selection (Jessica Alba's a major offendor), Nicole Richie and Whitney Port opt for pastels when it comes to colored jeans. And not just any pastel—but a pair of M2F pastel jeans. The brand, which stands for 'Made to Fade', already has a major celebrity following, thanks to their eco-friendly values: its yarns are free of health-harming substances and its toxic-free dyes require 50% less energy and water. Get Nicole and Whitney's pretty pairs now: M2f Pastel Skinny Jeans in Lilac ($157.42) M2F Colored Skinny Jeans in Pale Pink ($157.42) Shop more celebrity style finds: Kristen Bell's top, Reese Witherspoon's sandals, and January Jones's green jeans.
Girl Is On A Roll: 10 Recent Nicole Richie Looks You Can Shop NOW
We're already aware that Nicole Richie can pretty much fill her entire wardrobe with her very own designs. It's a given to find out that whenever the reality star-turned-designer makes an appearance, she will indeed be sporting accessories from House of Harlow 1960 or apparel by Winter Kate.  But then again, if you were making clothes per your style and taste, wouldn't you wear it 24/7 too? Luckily, she's not the only one that can wear her trendy creations. We've compiled Richie's latest worn items that you can order this very second. Take a look and try to decide between her supersized cat-eye sunglasses, petite clutch, paisley-printed maxi skirt, and more. SHOP THE SLIDESHOW NOW Shop more celebrity style finds: Beyonce's printed bikini, Dianna Agron's purse, and tie dye jeans.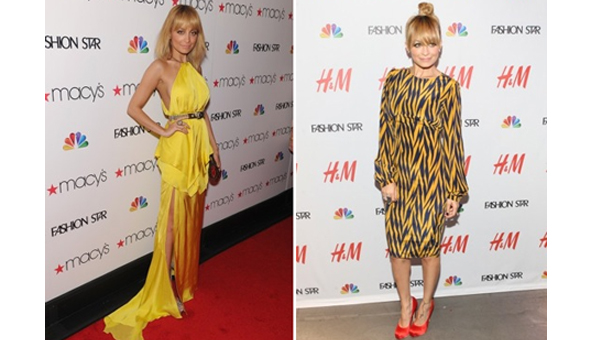 Nicole Richie For Impulse at Macy's, Bringing West Coast Cool Even More Mainstream
Nicole Richie is a force to be reckoned with! This girl has it all: she's a mommy of two, a judge on NBC's Fashion Star and runs two mega-successful brands, House of Harlow 1960 and Winter Kate. She also doubles as our personal fashion crush. While we die for this girl's style, it's not always in our price range. So when WWD announced today that Richie's slated to design a Macy's Impulse capsule collection (with everything from $49 to $149), we were super stoked. Look for it in September! She'll join the ranks of past Macy's co-consipirators Karl Lagerfeld and Alberta Ferretti: a pretty sweet spot to be. Said Richie to WWD: "This collection has a strong mix of masculine and feminine: printed chiffon mixed with faux leathers. I focused on the details, from the zipper pulls to the buttons." For past Macy's Impulse collaborations shop Alberta Ferretti for Impulse--it's still available at Macy's! And if you just can't wait, check out the Francisco Costa for Macy's collaboration debuting next week, dubbed Francisco Costa for Calvin Klein.
Nicole Richie For QVC Is Here A Day Early — And Already 30% Off
We've had our calendars marked for the launch of Nicole Richie for QVC, since the first photos of the line hit. Well, today she caught us off guard by releasing the line a day before her schedule on-air appearance (9-12pm ET). You can shop her printed maxi dresses, kimono wraps and hobo bags NOW - and guess what: they're already 30% off. Yes way! Speaking of collaborations... you've got to check out the latest Marni for H&M photos, DVF for Current/Elliot, and Wes Gordon for Jones New York.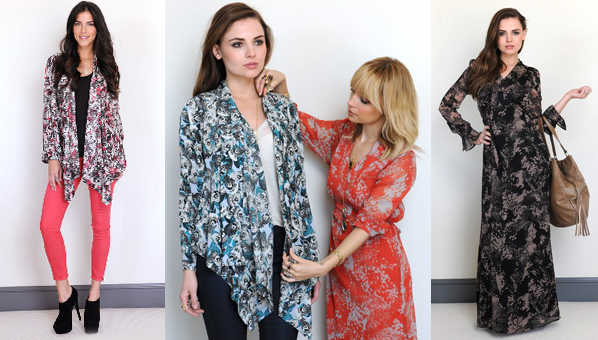 See The First Photos Of Nicole Richie For QVC Just Days Before The Line Hits!
Fans of Nicole Richie's glam hippie aesthetic have something new to look forward to: the designer is launching a capsule collaboration with QVC. Richie has said that she was drawn to work with the home shopping network because of the "opportunity to design for a much broader range of women" — with prices between $75 and $257, the Nicole Richie Collection for QVC is a major step down in price point from Richie's Winter Kate collection (around $300 for a printed dress). The line will debut on February 24 during QVC's "The Buzz on the Red Carpet — Live From L.A." show. So far we've only seen three items from the collection (a maxi dress, kimono jacket, and leather hobo), but WWD reports that more dresses and printed tops are soon to come. Check out the goods in the slideshow above, and shop our guides to the best maxi dresses, summer dresses, and handbags.
Self-Promotion At Its Best: Get Nicole Richie's 'Marley' Clutch From The Golden Globes
Shameless self-promotion never looked so good. Nicole Richie has been effortlessly rocking pieces from her House of Harlow 1960 line since it debuted a few years ago, and this season, she's making her statement with the House of Harlow 1960 'Marley' Clutch ($195) in yellow and gold croc. It seems to be attached to the reality-star-turned-designer's hip, from red carpet appearances for her new show Fashion Star, to the Golden Globes this weekend. Get her 'Marley' clutch in Mustard Croco ($195) or in Gold Snake ($195) like the one she wore to the Globes. Shop our guides to evening bags, cameo necklaces, and celebrity style.
This Weekend You'd Be 'Lost' Without Nicole Richie's Adorable Cut-Out Party Dress
If you were at a loss for what to wear this weekend, don't worry, style influencerNicole Richie has it all planned out. Wear the super-popular Keepsake Lost Without You cut-out dress ($143) she wore in yellow, or the teal color fellow partygirl Nicky Hilton wore it in. Some person named Sarah Carroll also wore the dress in pink, which we love -- so you can get that color here. It's the perfect party dress -- wear it over opaque tights or under a fitted blazer for a pop of color in the winter, or with nude pumps all spring. Shop our guides to the best sweater dresses, sexy bras, and winter fashion.
Your Preemptive Strike Against Holiday Weight Gain: Nike's Celeb-Approved Workout Pants
so far this week, celebs like Nicole Kidman and Nicole Richie (above) have gotten a jump start on their New Year's resolutions by getting their gym-sweat-laundry on. Nicole was photographed in NYC running around the block, and back in L.A. Nicole Richie headed to her favorite gym in her fav Nike Capri pants and a denim jacket (?!). Take a cue from these skinny-mini's, and stock up on Nike Tight Dri-Fit Cotton Capri ($35.99, down from $40) before all the other fatties snatch them up in January. (more…)
Nicole Richie Rocks House Of Harlow 1960 (Without Looking Like A Walking Ad Campaign)
Nicole Richie wearing a House of Harlow 1960 necklace and clutch While some celebrities have been known to shamelessly hawk their shoe or accessories lines (*cough* Jessica Simpson), Nicole Richie manages to wear multiple pieces from her House of Harlow 1960 line at a time---without looking like a walking product placement for the brand. And now you can too: (more…)
Nicole Richie Was Definitely The Chicest Person To De-Plane An Aircraft This Week
Was this LAX or the Red Carpet? Yes, so Nicole Richie may be the Creative Director and founder of House of Harlow 1960, but that doesn't mean she still can't be the brand's number one fan, too. Earlier this week, Ms. Richie brought her all-black NYC look to the west coast, wearing HOH 1960 shoes and cat-eye sunglasses... (more…)
Wear It Now, Wear It Later: Nicole Richie's Winter Kate Maxi Skirt
Mina Kelly (left) and Nicole Richie (center) in the Winter Kate Health Maxi Skirt Maxi skirts are a great summer-to-fall transition piece, and we can't get enough of this Winter Kate Health Maxi Skirt ($225) that Nicole Richie (above, center) and Mina Kelly (above, left) have been seen sporting. The fabric is lightweight without being flimsy, and the pattern is season-neutral, making it the perfect "wear it now, wear it later" skirt. Lucky for you, their exact maxi skirt is still available at Shopbop - so what are you waiting for? Fall is just around the corner, start shopping now! And while you're daydreaming of cool, fall days, take a look at our carefully curated guides to fall shoe trends and pleated skirts.
Nicole Richie's House Of Harlow 1960 Handbags Have Arrived: Buy Them Here Now
Nicole Richie and her House of Harlow 1960 handbag line Nicole Richie's House of Harlow 1960 handbag line has quietly slipped into stores and online retailers. But not everyone is offering the same merch---lucky for you, we've rounded up all of the handbags we can find for sale right now: (more…)
Here's Your Chance To Get Nicole Richie's Enviable Style – On Sale!
Nicole Richie is always wearing pieces from her Winter Kate line, but rarely are her favorites on sale. This is the exception - her exact peach Winter Kate Iris vest (above left, $82.90) is 50% off...find out where after the jump. (more…)
July. Love, SHEfinds
Before you nosh at all those Fourth of July cook-outs, get yourself acquainted with this month's happenings. July 1: Princess Diana would be turning 50 today...we think she'd be pretty proud of Kate Middleton. July 2: It doesn't seem possible, but Ashley Tisdale is turning 26! July 4: Baby, you're a firework! Celebrate the 4th of July by looking extra-patriotic: we show you the right way...and the wrong way. July 5: Mac OS X Lion is set to be released later this month...better wear some animal prints. July 6: What do George W. Bush and the Dalai Lama have in common? Their birthdays! Celebrate with cowboy boots and yoga pants. (more…)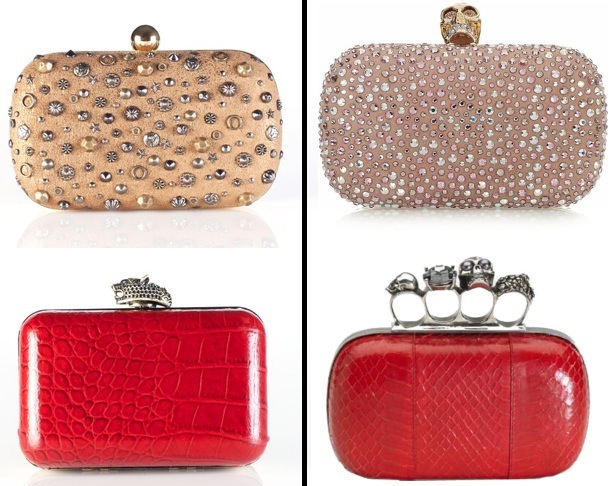 Nicole Richie's New House Of Harlow 1960 Purses Look Conspicuously Like Alexander McQueen's
Left: House of Harlow 1960. Right: Alexander McQueen Though I'm a huge fan of House of Harlow 1960 jewelry and sunglasses (hello, Nicole Richie is the designer--why wouldn't they be amazing?!), but I couldn't help but notice the striking similarities between the line's début handbag collection, and Alexander McQueen's iconic clutches. However, the House of Harlow 1960 clutches (pictured on the left) are only two of the three styles that have been released on WWD from the 14-piece line, so for all I know, they're the only copycats of the bunch. And to their credit, they are a whole lot cheaper than McQueen (For example, the red crocodile clutch, bottom left, will retail for $150). These pieces, as well as the rest of the collection, will be available next month in select department stores and on Shopbop.com. Follow the author of this post on Twitter @shefindschar. Be sure to check out our shopping guides on evening purses, handbags under $250, and the best designer wallets.
Nicole Richie's Studded Wedges: Infinitely More Wearable Than Lady Gaga's Studded Thong
You can get Nicole Richie's exact House of Harlow Valery Wedges ($240) at Singer22 right now. In spite of the studded thong Lady Gaga sported to this year's CFDA Awards, we still dig the studded trend. And after seeing Nicole Richie in her House of Harlow 1960 Valery Wedges (pictured above), we can't get enough of them. Studded wedges lend just the right amount of edginess to any ensemble, and because studs are so on-trend, donning a pair of these babies is a great way to update your look. Bonus: Wedges in general (but especially wedge booties like the ones picture above) transition seamlessly from spring to summer to fall. Check out the slideshow of our favorite studded wedges after the jump. (more…)
Midday Catch Up: Kim Kardashian Bridesmaid Rumors, Nicole Richie And Kids Opt For Monochrome Look, More
From left: Kim Kardashian and fiancé Kris Humphries, Nicole Richie on a walk with her children Kim Kardashian Spotted Picking Out Bridesmaids' Dress Colors She and her fiancé Kris Humphries were spotted with a light blue swatch of fabric (pictured near Kim's elbow): could this be her bridesmaids' dress color of choice? Nicole Richie And Children Opt For Gothic Look Richie and her daughter Harlow and son Sparrow, all dressed in head-to-toe black. Quite the style statement! For non-bridal, non-baby news, be sure to check out Snooki's new flip flop line, this questionable dreamcatcher body harness, or Hunter boots' new sandals line.
Week In Review: Missoni For Target Photos Leaked, Net-A-Porter's End Of Season Sale, 5 Flat Sandals Under $50, More
Must-Reads: Photos from the hush-hush Missoni for Target Collection were leaked on Tuesday. Sorry we're not sorry, Target. We finally got our hands on photos of Mary Kate and Ashley Olsen's collection of The Row Handbags. It's safe to say that we're obsessed with what the Olsen's have described as an "Anti-It" line. Has your pedicure seen better days? Fear not, there's a pair of closed-toed shoes that can help...and we're not talking about the ballet flat. Try a pair of oxfords like these Steve Madden Trouser Oxfords for an edgier (and more comfortable) look. Is this Jeremy Scott leather biker backpack a case of a designer on crack, or is it a genius grunge-chic accessory? You're barefoot most of the summer, so why spend a small fortune on sandals? Take a look at these 5 Flat Sandals Under $50. Celebrity Style: Alexa Chung (and a whole host of other celebrities) love their Topshop Jamie Jeans. Priced at just $80, these babies are a steal. Nicole Richie loves to wear items from her Winter Kate line. But we can't help but think she loves these black and white floral Winter Kate blouses the most. The Alexander Wang Marti Backpack (now on sale) is a throwback to the mini backpacks of the 90s, except it's seriously chic and Kate Bosworth-approved. Sales and Deals: Ready, set, shop (!) at Piperlime's Final Sale. 4 Bangles for $51: These Gerard Yosca Riviera Bangles make accessorizing in a pinch, a cinch! Net-A-Porter is having a sale. Yes, this is our personal version of heaven. These 10 coveted designer bags are less than $500. But really, we're not kidding. Taste Tests: Can you tell which eyelet top costs $165 more than the other? Can you tell which colorblock platforms cost $537 more than the others? Guides to Check Out: Get ready for summer with our guides to the best swimsuits for your shape, swim cover ups, and summer fashion. Stay up to date with our calendar of online sample sales. Join our e-mail list for exclusive updates.
Channel Nicole Richie In A Black and White Floral Chiffon Winter Kate Blouse
Nicole Richie rocking black and white floral Winter Kate blouses. Nicole Richie is often seen sporting pieces from her very own Winter Kate collection. But, we can't help but notice that this socialite-turned-fashion designer tends to favor black and white floral chiffon Winter Kate blouses. Flirty and flowy, these tops are perfect for summer when paired with shorts, and you can get Nicole's exact look (the three blouses pictured above are still in stock!) right now at Singer22. (more…)
Nicole Richie's House Of Harlow Line Is Introducing Fine Jewelry Starting At $50K
Perez Hilton just leaked a piece of news that jewelry fanatics will freak for: Nicole Richie 's awesome House of Harlow line will introduce fine jewelry soon. The new line will contain real diamonds and gems (prices start at $50,000) and will be made by special request. Nicole wetted our appetite by wearing a gray diamond sunburst ring from the new collection to the Met Ball, but doesn't that price point seem a bit high, Nic? (more…)
Nicole Richie Is Auctioning Off Her Winter Kate Met Ball Gown On eBay
Ever look at something a celebrity is wearing and wish you could have it? Um, yes, welcome to my life. Well, if you were as obsessed with the Met Ball photos as we were, you'll love this. Nicole Richie, who created a custom Winter Kate dress (made of a silk velvet blend with a low back), for model Britt Maren (far left) to wear to the Met Ball, will auction the exact dress off to the highest bidder on eBay on Thursday at 12pm EST to benefit the Richie Madden Children's Foundation. Bids start at $500--get your credit card ready! What do you think? Would you bid on the dress? Or would you rather just shop Winter Kate on sale now?
Week In Review: Alice + Olivia Makes Shoes For Shopbop, Jane Birkin Donates Her Hermes Bag For Japan Relief, More
[youtube]http://www.youtube.com/watch?v=pNyfzlbMGiA[/youtube] Must Reads: Calling all shoe hoarders, Alice + Olivia for Shopbop's shoe collection has been released. Get a sneak peek at Net-A-Porter's newest collaboration with Issa for lace dresses and more. Miu Miu goes virtual with their newest introduction of an e-commerce site. Oh, thank heavens. In case you were worried about cleavage wrinkles (yes, they exist), try on this bra for some prevention. Donate to Japan and receive Jane Birkin's Hermes bag - sounds like a win-win situation to us. Celebrity Style: Sienna Miller has been rocking her tailored harem pants lately and we can't wait to get our hands on a pair. Take a lot at Zappos' newest product - inspired by Reese Witherspoon's newest movie. Celebrities have been toting their iPads around and we found some stylish designer cases for your electronics too. Ladies, rejoice. It's time we can wear white whenever we can, a la Gabrielle Union. Think Astrology is tacky? Think again with this Kim Kardashian t-shirt. Sales and Deals: Get Nicole Richie's House of Harlow 1960 Watches and Jewelry for 50% off. Kate Middleton's Aquatalia booties are on sale - grab them now before they sell out. Ready, set, go (!) with Shopbop's 70% off sale. Spring's essential printed silk mini dresses start at $31, only at Bloomingdale's. (more…)
50% Off House of Harlow 1960 Jewelry, Embellished Watches, And More At Living Social Today
Get Nicole Richie's boho-chic style for half price. While Living Social usually has great deals on obscurely located Thai restaurants and pole dancing classes, we were shocked and pleased by today's deal: $25 for $50 or $50 for $100 of merchandise from StyleTryst.com--the amazing jewelry and accessories site we never knew about. From studded two-finger rings to hamsa charm necklaces to Nicole Richie's House of Harlow 1960 cocktail rings, this deal is too good to pass up. Now only if we could get our hands on Nicole Richie's sunglasses collection, we'd be set. Shop 50% of jewelry via Living Social now. Be sure to check out our daily roundup of sales and deals and online sample sales, or sign up for our newsletter.
Havaiana Launches A Bridal Collection Fit For Destination Weddings & Bridesmaid Gifts
Havaiana Bridal is here, and although there aren't aisle-friendly styles, this collection is perfect for bridal party gifts and getting ready. If your "Team Bride" is getting decked out - hook them up with these slim crystal styles, like Ivanka Trump and Nicole Richie did. (more…)
Week In Review: Derek Lam Announces Winners, Kelly Cutrone Does Clothing, Paris Fashion Week Live Streams, More
Must Reads: Need to make a great first impression? Buy one at the Bloomingdale's career shop. You voted, now see which Derek Lam for eBay dresses won the competition. Then bid on them, of course. Watch Paris Fashion Week unfold right before your eyes (and computer screen) with all of their livestreams. Find out where Kelly Cutrone got inspiration for her new line, The Electric Love Army. You'll never believe it. Score a sneak peek at Manolo Blahnik's jewelry collaboration with Tous. Happy March (!) Make sure you know what's happening with our March fashion calendar. Celebrity Style: Hilary Duff shows us the right way to dress when traveling, especially with Spring Break right around the corner. Be sure to spritz this 'expensive hooker' perfume on your body, which contains Lady Gaga's blood. But actually, don't. Michelle Obama has a book written about her sense of style. Grab your copy of the book...and her outfits. Leather jackets, a la Drew Barrymore, are the perfect transition jacket from winter to Spring. Or go back in time with Nicole Richie's House of Harlow 1960 cat-eye sunglasses. Sales and Deals: On-sale wide leg pants, printed tops and dresses just in time for Spring. (more…)
Channel Nicole Richie In Her Line Of House of Harlow 1960 Sunglasses
Cat eye sunglasses are sure to be everywhere this spring, but we have to admit we've already picked a favorite: the oversized House of Harlow 1960 Chelsea Cat Eye Sunglasses that their designer, Nicole Richie, wears everywhere. She's a pretty good advertisement for them, no? (more…)