17 Romantic Engagement Rings You'll Want To Say Yes To
Having Celebrity Wedding Envy? Get Reese And Kate's Engagement Rings For Less
If you've been having celebrity wedding envy, it's understandable. It seems like everyone and their mother has gotten engaged this Christmas - from Reese Witherspoon, to Kate Middleton, LeAnn Rimes and more. Luckily, we got the 411 on their engagement rings, so you can get a piece of the celebrity wedding action for less: Still in the market for more jewelry? Check out our guides to the best wedding jewelry, the best wedding bands, the best wedding jewelry sets and the best wedding earrings.
What To Wear With: Denim Shorts (So You Won't Look Like Daisy Duke)
Perhaps it's because of Rebekah's Florida tan that I now have summer on the brain. So even though we can't bust out the warm-weather attire quite yet, it's helpful to know what to pair with those denim shorts once the temperature finally breaks 75. Celebs from Holmes to Lohan are showing up in these summer of love throwbacks, but that doesn't mean they're pulling them off in the most flattering way. In order to do it right, you should find a pair that's a little distressed, and not too tight or too short (translation: pockets hanging out = tacky). Wear with a loose-fitting button-down for a casual yet grown-up vibe. Go flat in the footwear department with some simple, embellished sandals - high heels will cause the Daisy Duke effect.  Accessorize with a silk scarf that you can either tie over your hair or on the handle of a roomy canvas tote. Grab a pair of Ray-Bans (or any of the trendy sunglasses out now) and a sporty watch and you're perfectly dressed for a lazy day.   
Beauty Find: Rosy Red Without the Stain
When Benefit Cosmetics put out their runaway favorite Benetint, the average makeup consumer went nuts. "Now I can have gorgeous red lips just like the girls on Friends," we all said. And then we tried it—gorgeous red, yes, but sometimes very hard to work with, given the liquid tint's habit of drying too fast for proper blending. But Benefit listened and responded, and now they have me firmly back in their product pocket. Their Benetint Lip Balm is a dream—soft, emollient, vitamin-drenched rosy tint for my lips, which are now juicy and kissable 24/7! And I can't wait to try their Pocket Pal, a mini original Benetint on one end (with handy sponge applicator for ease) and sheer, shiny gloss on the other. Find it at BenefitCosmetics.com.
Just In: iTunes & Banana
Banana Republic and iTunes have hooked up as Fashion Week Daily exclusively reported. Banana Republic's runway show (April 21st, Fall 2006 Preview) is available for download on iTunes today, Monday May 8th. You know you can always get the latest trends first right here on our blog but it can't hurt to take a sneak peek at the Fall '06 tweeds and burnt autumn colors. Besides a visit to iTunes is overdue, they just added the season passes for LOST and Desperate Housewives. Did I mention that Banana's runway download is FREE? Check it out on iTunes.com.
Eco-Chic: Bambella
People put a lot of crazy things on their bodies, but bamboo? [url=http://www.bambella.com]Bambella[/url], a clothing line based in Atlanta, Georgia, has taken panda food to a whole new level. Why bamboo? Firstly, it has the same characterisitics as cotton, but it is more breathable and has a more luxurious feel. Secondly, it's processed naturally from bamboo cellulose with no chemical additives. Bamboo is naturally anti-microbial (laymen's terms: it inhibits body odor). Essentially, it feels like silk, but looks like high-end cotton (is there such a thing?) My favorite is the [url=http://www.bambella.com/BR02%20detail.aspx]Breezybella Pink Strapless Dress[/url]. This Shoshanna-esque number will look great over a bikini. Even better, 10% of the proceeds of this dress will be donated to Breast Cancer research. Now you can be stylish and philanthropic, just like your favorite socialite.
News: Luxe Bags for Cheap
Costco. Designer bags. What could the two possibly have in common? As it turns out, the superstore known for its megapacks of toilet paper also offers sweet deals on bags from Burberry, Celine, Kate Spade, Prada, YSL, Fendi, and the like. And yes, they are 100% real. Take the Kate Spade Chesterfield/West Vanessa bag: only $240, about 37% less than the original price. Do keep in mind, however, that if you're on the hunt for right-off-the-runway styles, chances of finding them here are pretty slim since the store stocks only a few of such high-end items—but who knows, you might get lucky. If you're looking for classics, though, like the Prada Barrel Bag ($850 at Costco), the superstore's site may become your new favorite bookmark. SmartBargains.com, Overstock.com, Bluefly, and, of course, eBay.com are other great places to shop designers for less. Bluefly.com is the best option for its wide range of styles and brands. Dubious about the authenticity of your bag after buying it from one of these sites? Counterfeitchic.com might have the answer.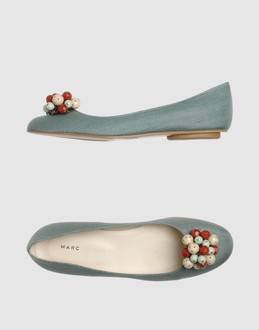 A Find: Marc by Marc Jacobs Flats
What: Marc by Marc Jacobs Flats Why: At first glance, I didn't know whether to categorize these as heinous or super-cute. After staring for a long five minutes, I decided it was the latter, especially for this season. Girly-girl fashion is on today's hot-style sheets. Shoes that can bring any simple outfit to life are always winners. These springy/summery pastel-blue MARC by Marc Jacobs ballet flats do exactly that with the colorful bead-cluster accent. Worn with jeans, capris, khakis, a billowy skirt, a daytime dress—practically anything outside of formalwear—these are sure to bring on the gushing and squealing: "Those are so adorable!" Just make sure the beads are visible. Price: $198 Find It: YOOX.com