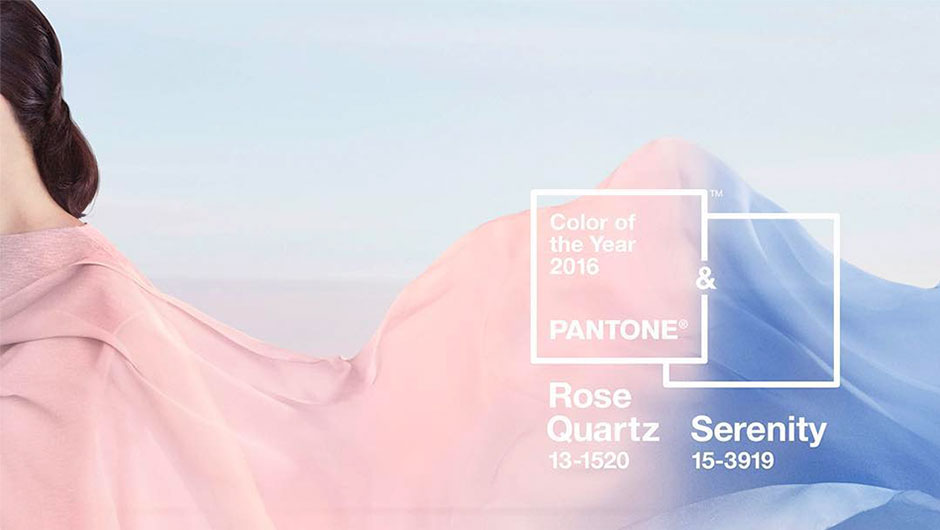 Pantone's 2016 Color Of The Year Is Rose Quartz And Serenity
Pantone just released their 2016 Color of the Year and for the first time, two colors made the cut! Expect to see plenty of Rose Quartz (pale pink) and Serenity (baby blue) this upcoming year. Pantone was influenced to blend two colors together due to recent societal changes with gender equality. https://twitter.com/pantone/status/672279885201596416?ref_src=twsrc%5Etfw "In many parts of the world we are experiencing a gender blur as it relates to fashion, which has in turn impacted color trends throughout all other areas of design," Pantone's website states. "This more unilateral approach to color is coinciding with societal movements toward gender equality and fluidity, the consumer's increased comfort with using color as a form of expression, a generation that has less concern about being typecast or judged and an open exchange of digital information that has opened our eyes to different approaches to color usage." https://www.instagram.com/p/-1RfJkRHrR/?taken-by=pantone "Rose Quartz is a persuasive yet gentle tone that conveys compassion and a sense of composure. Serenity is weightless and airy, like the expanse of the blue sky above us, bringing feelings of respite and relaxation even in turbulent times." In case you don't know what to pair with Rose Quartz and Serenity, Pantone suggests silver or hot brights for more "splash and sparkle." Don't miss DJ Earworm's 2015 United States of Pop and shop The Outnet's jewelry section for some holiday sparkle! [Photo: Instagram]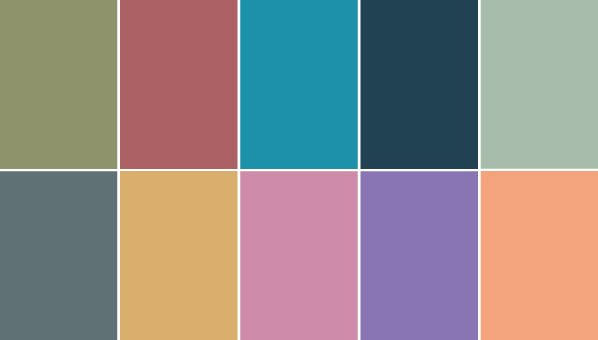 Pantone's Top Colors For Fall 2015 Are Throwing It Back To The Seventies
Just a few months after announcing Marsala as the color of the year for 2015, Pantone has released its list of the Top 10 Fall Colors for this year. The colors give off a decidedly earthy vibe, mixed with somewhat muted pastels, and, as WWD has suggested, looks like a color wheel straight out of the '70s. Rounding out the top three are Dried Herb (a mossy green), Marsala, and Biscay Bay (a teal blue).  Pantone Color Institute executive director Leatrice Eiseman said that they chose to go this route, not out of nostalgia, but rather because they saw similarities between that decade and the present, namely "financial unrest, international strife and climate change." She also suggests that these colors have a grounding quality, offering a sense of balance in our often hectic and over-scheduled world. With New York Fashion Week fast approaching (it's tomorrow, people!), we should all be on the lookout for these colors. You can find the women's colors here, and the men's here. And don't forget to check out: La Mer's new bracelets, Cinderella's glass slippers re-designed for real life and Uma Thurman's new face.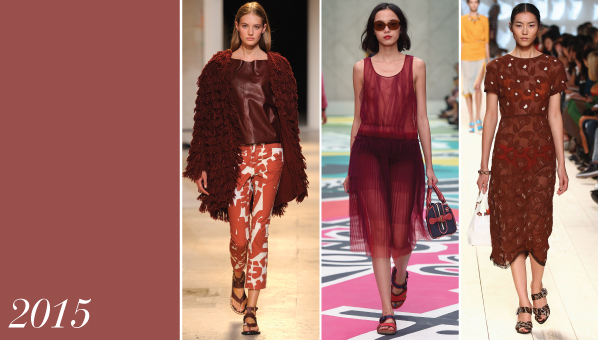 Pantone's Color Of The Year For 2015 Is…
Pantone just announced the color of the year for 2015: Marsala. The reddish-brown earth tone is definitely a change from last year's soft Radiant Orchard and 2013's bold Emerald. This year's choice "enriches our minds, bodies and souls" and is said to "translate easily to fashion, beauty, industrial design, home furnishings and interior." We already saw the fashion part on the runways for Spring 2015. Burberry, Isabel Marant, Tommy Hilfiger and Nina Ricci are just a handful of designers who used the color in their collections. Expect to see lots of Marsala at the mall next year. For more information on the color, see Pantone's dedicated page. image via Hyatts And don't forget to check out: hair dryer hacks, Alexander Wang's debut denim collection and Phillip Lim bags on sale [Photos: Isabel Marant SS15, Burberry Prorsum SS15 RTW, Nina Ricci SS15]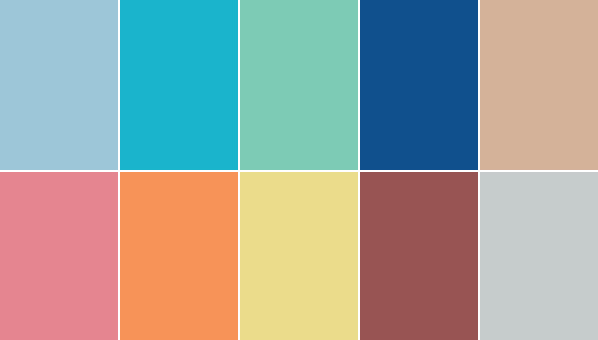 Pantone's Top Colors For Spring 2015 Are All About The Blues
It's 'bout that time of year. NYFW kicked off today (watch the shows here!) and Pantone just announced the top 10 colors for spring 2015. So, it's basically what we can expect to see on the runways over the next 30 days. Designers will be showing cooler and softer tones, with shades of blue and green dominating the list. Aquamarine ranks number one, followed by Scuba Blue and Lucite Green. The theme of the colors is "En Plein Air," but it's actually more about unplugging. Pantone Color Institute executive director Leatrice Eiseman tells WWD, "Being constantly barraged by text messages, cell phones, e-mail and all of this technology 24/7, cooler colors speak to creating a kind of a quiet zone. They are a place to get away from it all, an escape button that, literally, we can push. It's also kind of a freeing, open air. It's just a natural aftermath for a crazy world." So stop updating/Tweeting/Instagramming for a second and take a look at the new spring 2015 designs, will ya?! And don't forget to check out: Barbie x Forever 21--human-sized clothes!, Peace Love Shea x Steve Madden and our fall shopping list [Image: Pantone]
Pantone's Color Of The Year Is…
Pantone just announced THE color of the year for 2014 and the winner is...Radiant Orchid! Last year we saw Emerald take the crown and the year before that was Tangerine Tango, both pretty bold and vibrant colors. But this years choice is a bit more subdued. The soft purple-y pink is said to "inspire confidence" and "emanate great joy, love and health". The color also is part of a larger pink trend that swept the runways for Spring 2014. Designers like Dior, Versace and Prabal Gurung incorporated the color into their spring collection. Expect to see Radiant Orchid all over both the men's and women's clothing departments early next year. For more information on the color, see Pantone's dedicated page. And don't forget to check out: Urban Decay is retsocking the Naked3 palette, how to care for your hair in winter and shop Taylor Swift's heart sweater [Photo Credit: Burberry, Dior, Prabal Gurung]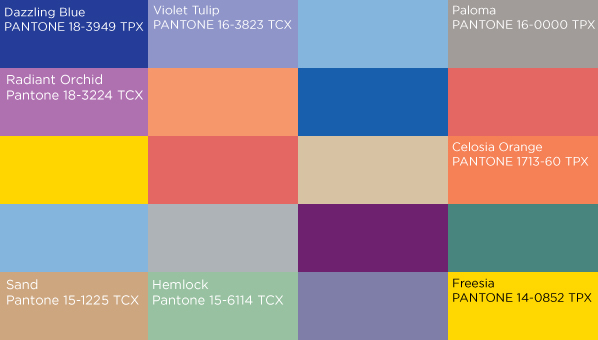 Pantone Announces Top Colors For Spring 2014 And Blue Is The New Neutral
With New York Fashion Week just a day away, Pantone is giving us a glimpse into the dominating colors we'll see on the runway. Designers have moved away from the bright hues and switched to a more balanced color palette. You'll find many shades of blue on the list, including Dazzling Blue, which ranks number one. Violet Tulip came in second, and Radiant Orchid landed third. Leatrice Eiseman, Pantone Color Institute's executive director, tells WWD that the season's colors are all about maintaining equilibrium. "The world still needs the stability of soft neutrals but we're not just talking about gray, beige, and taupe." All you have to do to reach this perfect color balance is mix your favorite bold colors with a little gray and tan. Don't hesitate to redefine what neutral means to you. If Placid Blue is the same as wearing black, white and beige, then we're all about the new neutrals for spring. In other news, check out next month's nail polish shades, Target's Phillip Lim line, new workout gear from Kate Hudson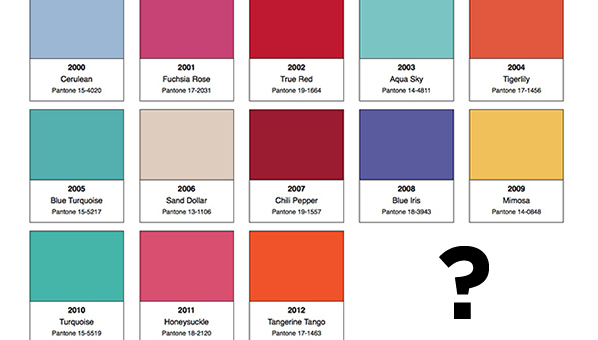 Pantone's Color Of The Year Is…
Pantone just announced their 2013 color of the year, and, drumroll please, the winner is... Emerald! Preceded by bold colors like Tangerine Tango (2012) and Mimosa (2009), the jewel-tone green color is part of a bigger blue-green trend which swept the runways for Spring 2013. Designers like Burberry, Vera Wang, Michael Kors paid homage to the color with silky gowns, wool separates and laser cut lace. For more information on the color, see Pantone's dedicated page. For more trends, check out velvet blazers, backwards necklaces and leather-accent sweaters.
Pantone's 2013 Color Report Is In: Shop Spring's Hottest Hues Now
Sure, winter hasn't even officially started, but that's not stopping us from thinking ahead to spring. Especially because Pantone recently released their spring 2013 color report and the forecast looks bright! Now if you love basic black, we hate to break it to you but color is here to stay. Come spring 2013, fall's warm oranges and purples will be replaced by softer greens and vibrant blues and red. Can't wait? Neither could we, which is why we rounded up a few closet essentials in the hottest shades for spring 2013. Click through the slideshow and snatch up your faves now. And since we're talking spring, here are 5 spring 2013 trends you can shop now, plus scoop up these nail colors from the spring 2013 runways and weigh in on the ear cuff trend.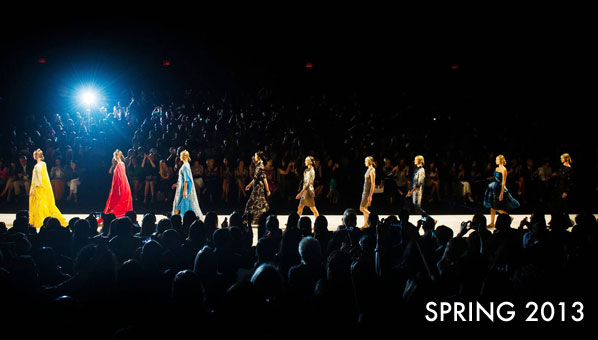 5 Spring 2013 Trends You Can Shop (And Wear!) Right Now
While our fall wardrobes are just getting started, we studied the spring 2013 shows from New York Fashion Week and came up with the top five trends that you can shop for right now. So for those that are still hoping for an endless summer, at least you can get a head start on next year's outfits. From tropical prints to overalls (yes, it's a thing!), check out our slideshow for some fashion forward trends. Read more trend stories on Spring 2013, from beauty trends and shopping Topshop Unique's new collection to fall trend re-runs and leather and tweed. [Photo: NYMag]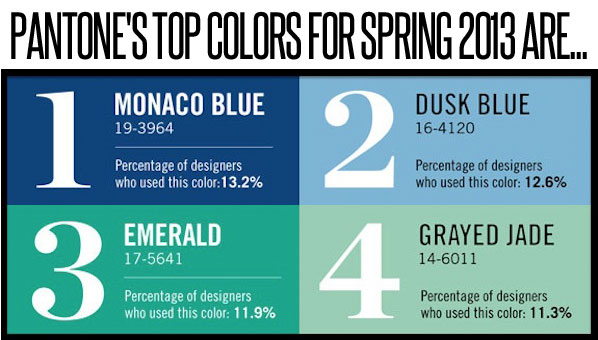 Pantone Announces Top Colors For 2013 (Hint: It's All About The Blues–And Greens)
Move over, Tangerine Tango. You served us well this year, but it's time for a new range of colors. Next season, we've got our collective eye on the other side of the color spectrum (or at least Pantone says so). The Color Institute today announced the new color spectrum for spring 2013 . The hues, Monaco Blue, Dusk Blue, Emerald and Grayed Jade, are aquatic and calming, and they conveniently look ahh-mazing alongside the camels, linens and eggshell whites of summer. Win-win! Get ready to see a LOT of this color. "It speaks to the practicality that we are seeing in society," Pantone's Executive Director, Leatrice Eiseman, told WWD. "You have to realize there is still concern out there for the economy," adding, "people want dependably stable colors." We agree, plus, these colors are worlds easier to work into your closet than Honeysuckle, the ultra-girly top color of 2011. To get a head start on rocking the shade ahead of the trend curve, work them into your wardrobe ever-so-subtly, like with a pair of ballet flats or on your fingertips. Kill two trends with one stone and invest in separates like an Emerald or Grayed Jade peplum top or a contrasting detachable collar. If you're ready to go head-to-toe, just think how amazing an orange lip would pair with a flowy dress in Monaco Blue come spring! Stay up on this seasons trends! Check out how to pull of fall's top beauty looks, shop seven (wearable!) fall denim trends, or find out how models perfect their off-duty style in the cooler months.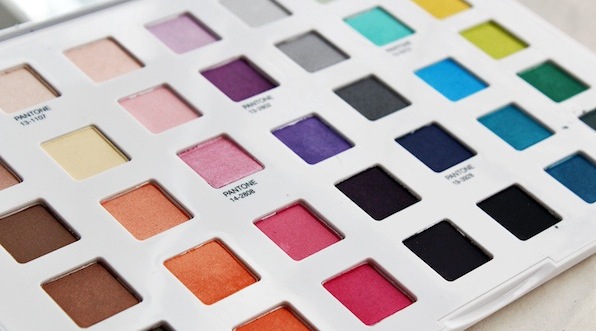 Sephora x Pantone's 35-Color 'Shades of Nature' Palette Is Inspired By Summer
Back in March, Pantone partnered with Sephora to create a line of Tangerine Tango-hued beauty products. But now that the color-of-the-year buzz has died down, Sephora and Pantone has a whole new color set to fawn over. The 35-shade 'Shades of Nature' eye shadow palette ($55) includes 7 Pantone colors, and is meant to pay homage to the "beauty of summer," including "vivid sunsets, cool blue waters, and bright flowers." This set is perfect for flower children, beauty enthusiasts or folks just obsessed with color swatches. You know who you are. Get it: Shades of Nature Eye Shadow Palette ($55) For more beauty finds, shop mirrored nail polish, the SHEfinds Summer Nail Polish Awards, and Fergie's new nail polish line.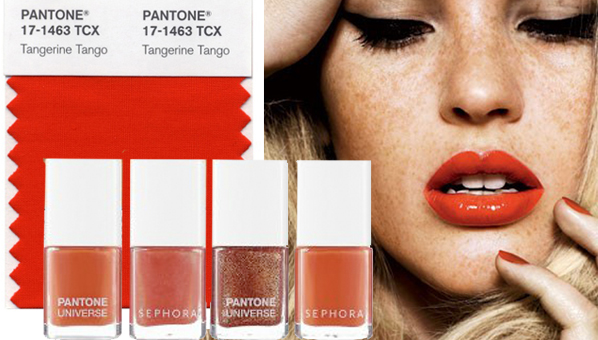 Sephora's Pantone Collection Is Here! Shop Tangerine Lipstick, Polish, Pencils & More
Well, sort of. Today, Sephora secretly launched this landing page for their new collaboration with Pantone Universe: a line of Tangerine Tango (the color of the year!) cosmetics. I say secretly, because I'm signed up for notifications about the line, and haven't received an official notice from the company. Also, all the items are listed as "Not In Stock." So for now, you can add the poppy lipsticks, polishes and more to your Shopping List (you'll need to create a log-in), or just ogle over them in the meantime. And we'll let you know when they're available (for real) the SECOND we find out. Promise! For more beauty
Pantone's Color Of The Year Is… (Plus, Bridesmaid Dresses In That Hue!)
Pantone has declared "Tangerine Tango" the hottest new hue for 2012! Want to outfit your bridesmaids in this bright citrus shade? We're one step ahead of you - check out this extra fresh selection of tango-riffic dress picks! (more…)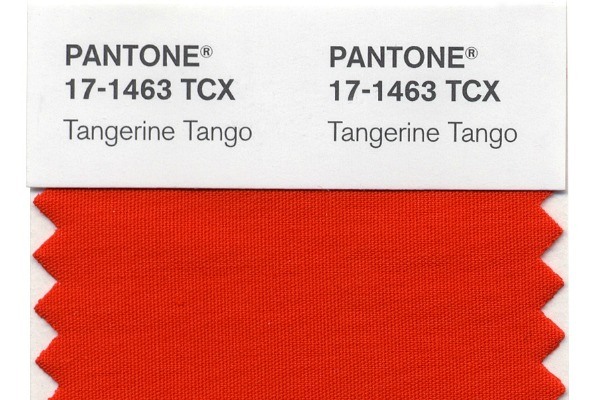 Pantone Names 'Tangerine Tango' As 2012's Top Color: Shop The Citrus Hue Now
The Pantone Color Institute has named "Tangerine Tango" (above), the bright reddish-orange hue, to be 2012's top color. Experts are hoping the color will "provide the energy boost we need to recharge and move forward," according to Time. And while I'm skeptical that one color has the ability to transform the global economic climate, I'm definitely down to rock my favorite orange lipstick in the coming year. And you can too--Sephora will be launching an exclusive line of Tangerine Tango makeup products with Pantone in March, according to WWD. In the meantime, shop my favorite citrus-hued products after the jump: (more…)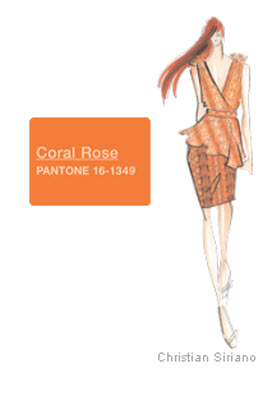 Cash In On Coral Rose For A Punchy Bridesmaid Color Your Girls Will Actually Like
Pantone has spoken and Coral Rose is one of the hottest colors this spring. You're going to start seeing it everywhere, so get ahead of the curve and point your girls towards hues inspired by this cheerful, fashion forward color. In every length and style, you seriously can't go wrong with this on-trend choice. (more…)
Deep Teal Is THE Color For Fall '11: Stay Ahead Of The Game With Shopbop's Sale
Yesterday, WWD announced the most-requested fabric color from Pantone among designers this  Fashion Week. It's teal--a color that conveniently looks amazing with the camels, grays and blacks so prevalent in fall. So let's get started...with teal pieces on sale at Shopbop. Bonus: get next day delivery during the entire month of February. Under-$100 Urban Outfitters dresses 30% off Kara Ross, Kenneth Jay Lane, More 50% off Foley + Corinna 50% off tons of great stuff at Apart Style 65% off at Piperlime 30% off designer dresses at Shopbop 30% off Hanky Panky underwear 70% off long sleeve dresses at The Outnet Wondering about this spring's most popular color? It's honeysuckle--BRIDEfinds has the whole scoop. Check out all of our favorite dresses, plus the best booties, skinny jeans and pumps.