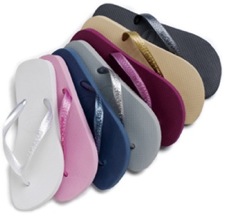 50% Off Havaianas And Personalized Guest Favors At The Knot Wedding Shop
The Knot Wedding Shop has an ongoing selection of sale and clearance items, but today they have an item I wish I'd seen for my wedding: 50% off Havaiana flip-flops in a ton of great colors. Other favors - like personalized candy bars and crystal "Team Bride" tanks - are also marked down. (more…)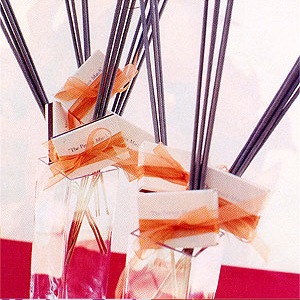 Under-$2, No-Brainer Favors: Because, Honestly, Who Has The Time
Don't buy boring party favors just because you feel the need to. We want AWESOME favors that sparkle and are edible, or at least re-usable. After-all, we've purchased a dress that we probably can't afford to wear to your wedding, and don't forget that extremely nice gift from your registry! Check out these sweet (and affordable) favors: For more favor ideas, shop our guides to customized wedding favors, eco-friendly wedding favors and themed wedding favors now.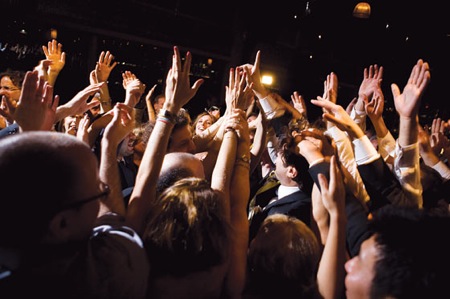 Booze-Themed Guest Favors: Because The Party Doesn't Have To End When The Wedding Does
If your crowd is a hard-partying one, why not send guests home with a booze-y reminder of your special day? Whether it's a pair of monogrammed shot glasses or a cocktail mix packet, your guests will be happy to re-live your wedding every time they throw back a cold one. It sure beats a mini picture frame they'll throw out before they even get home. (more…)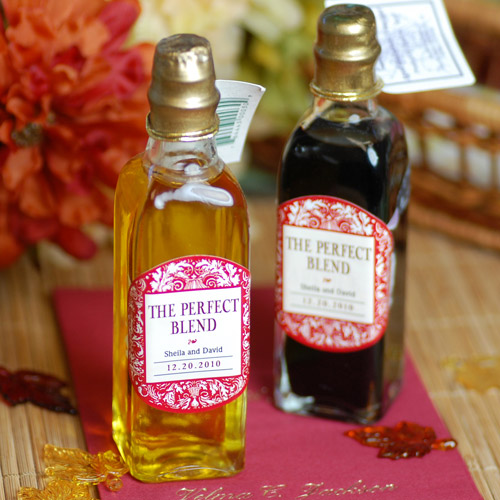 Actually-Cool And Useful Monogram Wedding Favors (No Cheese Factor Here)
How many times have you walked out of wedding with a throw-away favor that ended up in the trash or junk drawer? Don't skimp your guests with monogrammed mint tins or tissues: give them something more substantial, usable, and well, cool.  These quirky finds may be a tad bit pricier, but what better way to say thanks? I use oil and vinegar practically everyday, so why not send your favorite friends away with these adorable mini oil & vinegar bottles with personalized labels ($5.25 per bottle). They'll surely reminisce your fabulous wedding day over meal after meal. Give everyone a taste of "that little blue box" to walk away with. This Old Naples Chocolate Truffle Set ($5.50) includes two delicious truffles (choose from many flavor options) and allows you to print your monogram, wedding date and more! The Illume Monogram Candle ($10) burns the scent of red cedar for 20 hours and will remind them of all all the fun memories each time they light it. Chocolate never gets old.  These Hershey's Personalized Chocolate bars ($2.65 each) are printed with "HERE THEY ARE," along with the bride's and groom's first names and last name. Mini's also available ($.75 each). Pass around these Mini Wine/Champagne Favors ($149.95 for 24) for the champagne toast, or leave them on the exit tables for a take-away toast. Either way, these mini's will be an ultimate crowd pleaser. Champagne, red and white wine available. Cherish your wedding day memories AND wine with this Personalized Heart Wine Bottle Stopper ($14.95 each). Personalize it with your names and wedding date - a gift that will be reused quite often (especially for wine lovers). Looking for more wedding day gift ideas? Check out these guides for Winter Wedding Favors, Customized  Wedding Favors, and Designer Bridesmaid Gifts. Follow the author of this post on Twitter @primpandproper

Runway's Designers Take a Shine to Working With Sparkle
This week's episode saw the designers blinging out over-the-top stage costumes for pop star and guest judge Christina Aguilera. We had legendary costumer Bob Mackie extolling the virtues of the diamond-encrusted crotch and we got to hear the words "super sexy slut" come out of Tim Gunn's mouth. Nicholas, the self-named Feather Prince, was all in a tizzy for this challenge. His top-three look—a white feathered ultra-minidress— was perfect for on-stage hip shaking. Get the same effect with Sue Wong's ostrich feather party dress. Althea ramped up the glamor with a long-trained sequined gown. Her chevron pattern was praised for being super flattering; you can get similar waist and booty accentuation with Alexia Admor's sequined dress. This week's winner, Carol Hannah, played with texture, layering sequins, feathers, and varying panels of shiny and matte fabric on an elegant black gown. Choose depth and dimension over wow-factor color with a textured sequin and tulle gown from Badgley Mischka. Shirin's stuffy, ruffly "upscale witch costume" earned her a "boring" critique and got her a one-way ticket home. Christopher, who's on a surprising losing streak, redid Christina's Moulin Rouge look, complete with a sorry-looking bustier and sparkle panties. If you haven't had your Lady Marmalade moment yet and have been longing for shinier knickers, try out American Retro's sequin shorts. For more dressy looks, shop for a cocktail dress, and then top it off with a swipe of the best mascara and eyeliner.
Rachel McAdams' Coats Stand the Test of Time
There are sure to be heated discussions on the movie version of The Time Traveler's Wife, centered around whether it was faithful enough to the book. Having never read the bestseller by Audrey Niffenegger, the film seemed perfectly entertaining if lacking in tension. The same can also be said about Rachel McAdams' bohemian wardrobe in her role as the titular wife. As an artist, you'd expect her clothing to be a little funky - maybe mixing pieces and eras to create something unique. Yes, there were some prairie skirts and flutter blouses early in the film, but as much of the action takes place in Chicago, the weather lends itself to coats and long sweater jackets. She wears them well, but I just expected more from a successful, creative woman than a standard white sweater. The cowl neck/convertible hoodie on the Alice + Olivia Wool Pom-Pom Poncho ($367) would have been a more fashionable choice for a chilly winter evening. Where she did go right was the long winter coat topped by a Mongolian (or Persian or Tibetan) lamb fur collar. Sitting in the heat and humidity makes this sound downright treacherous, but if you've never experienced a Chicago winter, count yourself lucky. It's perhaps a little early for coat shopping, but to get a similar look, your best bet is going the vintage route or trying a faux version like the Michael Kors Faux-Fur Collar Cardigan ($249.50). For more top picks to keep you clad like Rachel McAdams in The Time Traveler's Wife, check out our guides to cardigans.  And for more fashionable movie reviews, take a look at The September Issue and 500 Days of Summer.
Thanksgiving Sale: Save 20% at AzaleaOnline.com
What: Tangerine/Calendula Night Cream is a great "starter" night cream for ladies still struggling with combination skin. "I'm not a girl, not yet a woman" (courtesy of Ms. Spears). When: today through November 26th Don't forget: Enter coupon code "TURKEY" at checkout
Holiday Sale: Max&Chloe
A Find: Tie one on this holiday season
What: Sephora.com Give your gifts a little something extra with these cute wrapping ideas!
TODAY ONLY: DESIGNER SALE + FREE SHIPPING
What: Saks.com. Today only, save 25 to 40% off on A-list designers such as Burberry, Michael Kors and Theory. Boot up before the hordes of gift-hungry online shoppers descend and snatch up all the good stuff. Make someone feel really special this holiday season, and get them something you never would have bought them at full price. It'll be our little secret. Deal Alert: Get free shipping through 12.20, when you enter promo code "HOLIDAY6" at checkout! For more great deals, check out SheFinds picks for best online bargains!