What Is Pippa Middleton Wearing? She's Practically Naked!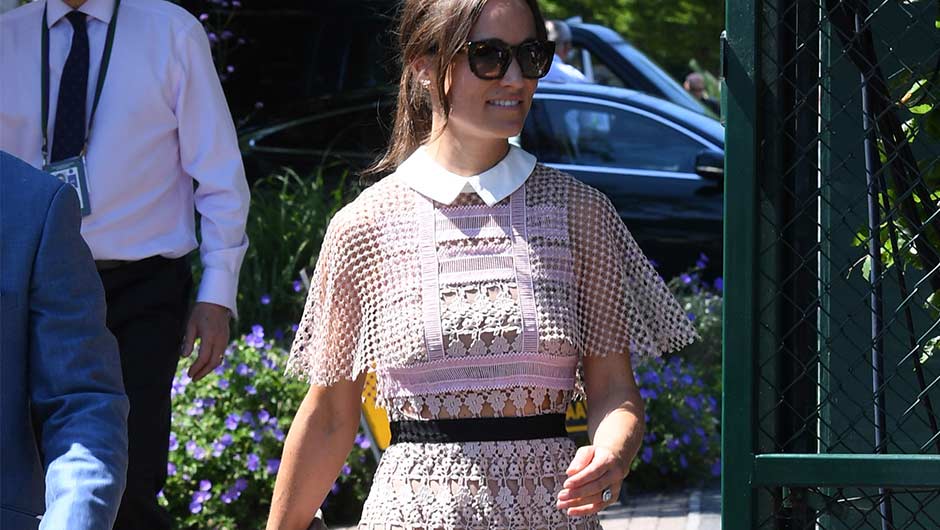 Pippa Middleton Wore A See-Through Dress To Wimbledon!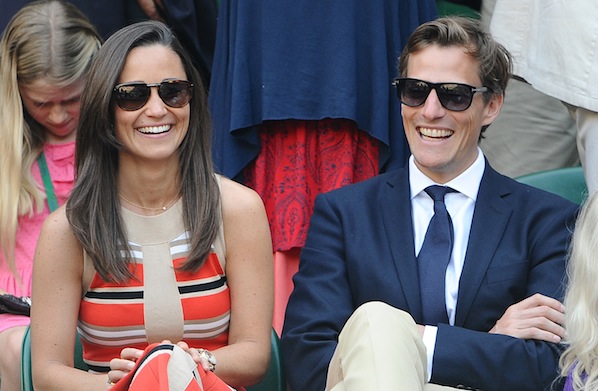 Pippa Middleton Is Engaged! Now We Get To See That A$$ In A Wedding Dress
Pippa Middleton has been in the spotlight ever since Kate entered the royal family, and we've been waiting what feels like FOREVER for the little sis to have a wedding of her own. And now US Weekly is reporting that Pippa is finally engaged to her boyfriend Nico Jackson. Apparently the dude has been planning to pop the question for awhile (remember when rumors flew about an engagement in September?). He followed through with the deed during the couples trip to India in early December, and sources say it was exactly how he planned it. They've been together for 15 months, and some PDA pics have shown that they're completely in love. Awwww. Supposedly the wedding will be in 2014, and we're already taking bets on who's going to design her gown! Alexander McQueen? Temperley London? All we know is that she looked gorge in her maid of honor dress by McQueen designer Sarah Burton, so she has a lot to live up to. Who do you think will design her dress? Let us know in the comment section below! Don't forget to check out free shipping day, Katy Perry's dress, and great small gifts [Photo Credit: Splash News]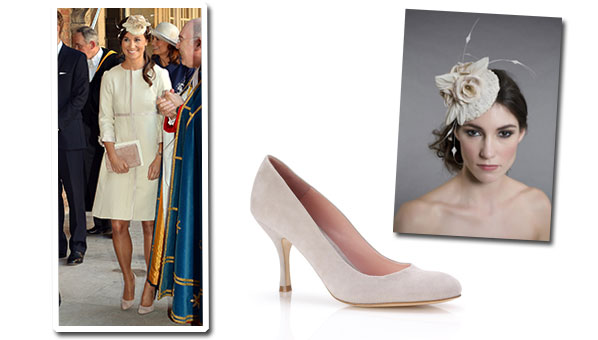 Pippa's Christening Accessories Include A Beaded Hat And A Bunny Clasp Clutch
We already know that Pippa Middleton went with British designer Suzannah Crabb for her christening outfit, but now we got the scoop on all her accessories: shoes, bag and of course, hat. K.Midd's little sister rocked a pair of Emmy London Poppy Vapour pumps ($468) and carried a blush suede Wilbur & Gussie bunny clasp clutch. This style isn't available to shop but the Lily Black Velvet bag ($460) is, and it's just as good because it also has a bunny clasp. #win Finally, Pippa topped off her look with a beaded fascinator by Edwina Ibbtson. Who do you guys think had better style at the christening? Kate or Pippa? Let us know in the comments below! Emmy London Poppy Vapour pumps ($468)  Wilbur & Gussie Lily Black Velvet ($460) Edwina Ibbtson Beaded Fascinator And don't forget to check out: Kate Middleton's christening shoes, shop the Nordstrom sale and Michelle Obama's Tracy Reese dress [Photo Credit: Splash]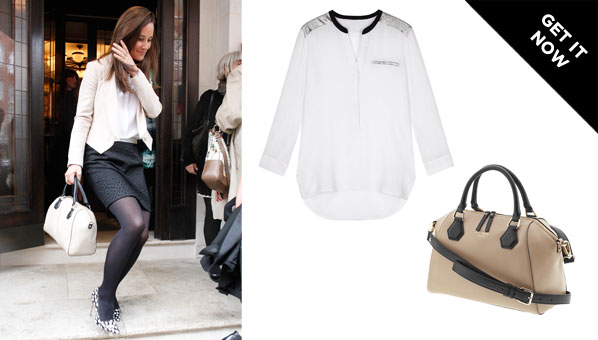 Pippa Middleton's Go-To Spring Handbag? Kate Spade's Pippa Satchel, #Obvi
Kate Spade gave Pippa Middleton the royal treatment by naming a classic bag after her. In return, Pippa is toting the Kate Spade New York Catherine Street Pippa ($398) all over London. Pippa's always been a huge fan of the brand (remember the wicker basket bag?), so it only makes sense that she get a namesake bag. For one of her most recently outings, Pippa paired her Kate Spade satchel with this classic white Sandro Shirt Eldorado Silk ($320) with contrast trim. Black and white is one of spring's most popular pairings and this top is great for work or for weekends. Love Pippa's picks? Shop her bag and blouse below. Sandro Shirt Eldorado Silk ($320) Kate Spade New York Catherine Street Pippa ($398) [Photo Credit: Splash News]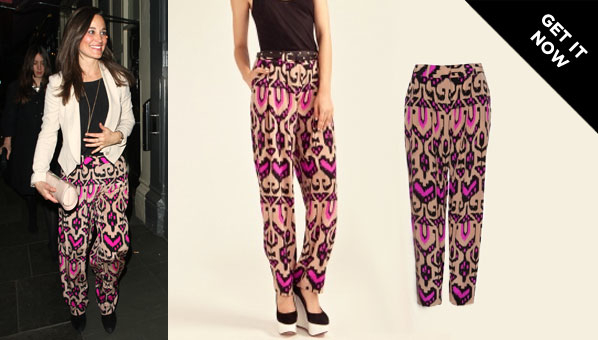 Pippa's Printed Pants Prove She's The Middleton We Want To Party With
Last week, Pippa Middleton was spotted club hopping in London. The younger Middleton was all smiles as she left the nightclub in a pair of Alice by Temperley London Sovereign Silk Trousers ($395). We are kind of obsessed with the hot pink, nude, and black tribal-print pants. If you weren't' sure how to wear this season's pajama pants trend before, take a lesson from Pippa. The silk trousers look perfect with her plain black top and classic tan blazer. We love Kate's style, but we'd die to see her in something more adventurous. Maybe the Duchess should start shopping in Pippa's closet more often. Which Middleton is your style sister? Check out these outfits to help you decide: Kate's famous clutches, Pippa's hunter green jeans and her Kate Spade coat.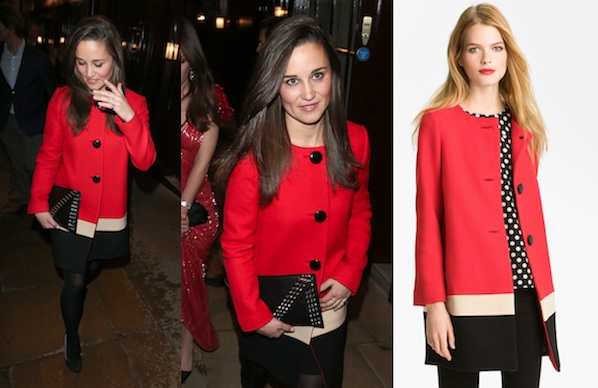 Pippa Middleton's Doesn't Let Her Royal Status Change Her Clubbing Habits
As the spare Middleton (her big sis Kate being the heir), Pippa can still get away with going to clubs until 3am. But instead of bar tops and skimpy dresses, the royal relative does it wearing more prim, ladylike attire. Like this Kate Spade New York 'Garby' wool coat ($698) she wore recently while spilling out of a private "members only" London club in the wee hours of the morning. The incident took place on Thursday, and while the paps did catch her looking a little glass-y eyed, her outfit was nothing short of pulled-together. Kate Spade New York 'Garby' wool coat ($698) Pippa has her pick of pretty much any designer, and like her sister, could wear Alexander McQueen or Stella McCartney on the daily. So it's a small wonder that she keeps choosing American ready-to-wear designers like Kate Spade and Tory Burch. But we're not complaining that Pippa's best looks can be found in a mall near you. Get it now! For more celebrity style, get Sarah Jessica Parker's fishnet jeans, Jessica Alba's "biker mama" look and Taylor Swift's revenge coat.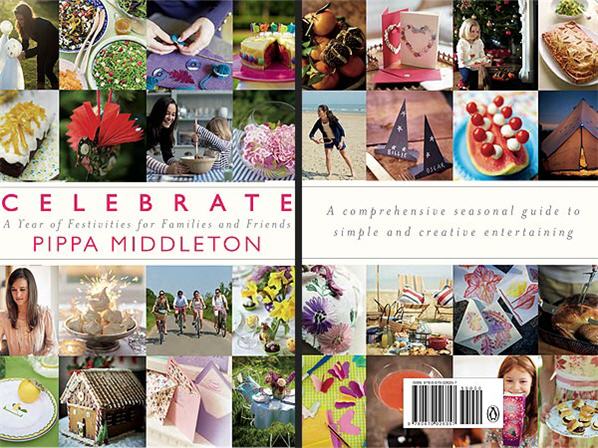 Pippa Middleton's Party Planning Book Is Here (And Already Marked Down)
Kate Middleton's little sister has been up to more than just looking great in skinny jeans: Pippa has penned a party planning book that's about to hit (virtual) book shelves near you. Celebrate: A Year of Festivities for Families and Friends ($31.50, down from $50) is now available for pre-order on Amazon, and according to the product details, in it she, "reveals the secrets to hosting a successful party," including "recipes, tips and detailed instructions on how to throw a memorable event." Please tell me there's a recipe in there for Get Engaged To A Prince Chicken. For more Middleton memorabilia, get Pippa's Kate Spade picnic basket bag (or her Tory Burch bag if you fancy that one better).
Hunter Green Jeans Like Pippa Middleton's Should Replace Your Pastel Pairs For Fall
In case you were wondering, colorful jeans are absolutely still "in" for fall -- just replace your neon and pastel ones from summer with jewel-tone pairs (but you already knew to do that). Her big sister wrote the book on colorful skinnies, and now Pippa Middleton is proving she's a fan, too. The heir and the spare have collectively worn pretty much every color of the rainbow; most recently, Pippa in a hunter green hue (that is also incredibly on-trend). Ditch your boring blues and go for green in these slimming Tory Burch 'Ivy' Skinny Stretch Jeans ($195). Tory Burch 'Ivy' Skinny Stretch Jeans ($195) Shop more celebrity style: Kelly Osbourne's $38 sunglasses, Miranda Kerr's skirt and sunnies, Beyonce's Brooklyn t-shirt, and Carly Rae Jepsen's clutch.
Life's A Picnic For Pippa Middleton, Thanks To Her Kate Spade Wicker Basket Bag
Pippa Middleton was spotted in New York City with an adorable Kate Spade New York Delavan Terrace Little Nadine Shoulder Bag ($398). (Rumor has it she was possibly, just maybe, apartment hunting!) We love how this petite bag's wicker-made structure resembles a picnic basket, juxtaposed with clean white leather with silver metal details. It seems like Pippa's is a major fan of American designer handbags, as we've seen her sporting a Tory Burch bag too. Kate Spade New York Delavan Terrace Little Nadine Shoulder Bag ($398) Shop more celebrity style: Jennifer Aniston's jeans, Eva Longoria's red dress and shoes, and Rachel Bilson's outfit. [Photo: Splash News]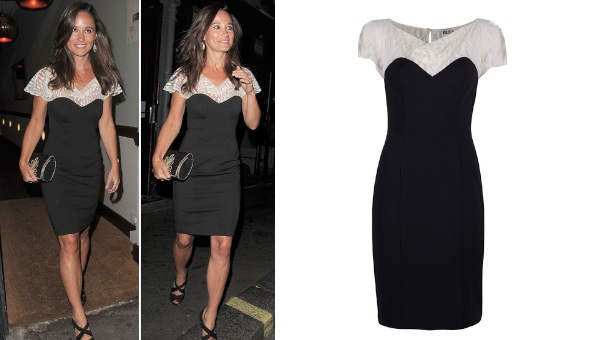 There Is Only 1 Size Left Of Pippa Middleton's Lower-Priced Temperley Dress
Pippa Middleton, much like her sister, can do no wrong when it comes to fashion. And last night, Pippa wore the 'Ruby' sweetheart dress ($253, down from $504) from Alice Temperley's lower-priced line 'Alice by Temperley.' Of course Pippa looked amazing, but the real good news here is that the exact dress is still available online - and it's on sale! But just one size remains, so get to clicking! GET THE EXACT DRESS We're sure designer Alice Temperley is thrilled by Pippa's choice in dress - remember when she said she wanted to dress 'her perfect bum'? For more Pippa-approved trends, check out Peter Pan collars and her Tory Burch satchel. [Lucky]
Pippa Middleton's Tory Burch Wimbledon Bag Was An Ace, Just Like Her Sister's
The DVF clutch her sister Kate wore to Wimbledon is already a bestseller, and now the Tory Burch bag Pippa Middleton took to the same event is also making waves. The Robinson Leather Satchel ($495) may be an investment piece, but it is an ideal city girl bag, able to hold all your necessities without looking bulky or overweight. It's also a great transitional bag from summer to fall/winter, and is structured enough to tote along to work (or posh events like a tennis tourney). Whether you carry it on your arm, a la Pippa, or use the strap for a little cross-body action, this bag will fit seamlessly into your multi-faceted wardrobe. If this satchel is getting the royal treatment in London, then statesiders should take a hint. Get It: Tory Burch Robinson Leather Satchel in tan ($495). It also comes in black, yellow and green. Shop more celebrity finds: Jessica Alba's pink denim, Stacey's Keibler's shorts, and Heidi Klum's striped top.
Get Pippa Middleton's Temperley Animal-Print Scarf (Or A $10 Look-Alike)
Hardly a day goes by without a new paparazzi photo of Pippa Middleton repping the British high street in one of her favorite brands — Reiss, Temperley London, and Whistles, just to name a few. This week, Pippa hit the streets of London in a snow leopard-printed Panthera Scarf by Alice by Temperley. True to her understated style, she reined in the wild print with a demure lavender blazer and basic black underpinnings. You can get her exact look for $75, but we'd go with the commoner-chic Forever 21 option above (yours for just $10.80).
Pippa Middleton Confirms What Alexa Chung Has Known For Years: Peter Pan Collars Are Adorbs
Pippa Middleton (one of Barbara Walter's 10 Most Fascinating People of 2011) just stepped out in London in a very demure dress style that some called her "pilgrim" look. The Peter Pan collar dress is a sweet little style that tastemakers like Alexa Chung and DKNY (above) have already confirmed as a major trend. Wear it with opaque tights or ballet flats for a pretty, (more…)
Knock-Offs? Pish Posh! Pippa Middleton's Exact Alexander McQueen Dress Is Now For Sale
The iconic bridesmaid dress that arguably stole the royal wedding spotlight and spawned a thousand knock-offs is finally available through Net-A-Porter for a cool $3,100. The cowl-neck Alexander McQueen gown is identical to the frock worn by Pippa, save for a zipper in the back instead of buttons. To reserve the dress contact Net-A-Porter. Shop our guides to simple wedding dresses, long bridesmaid dresses, and bridal hair accessories.
Sales Of Padded Underwear Up, Thanks To Pippa Middleton's Bootylicious Backside
If ya ain't got it, fake it. If Kate Middleton could help the world accept sheer pantyhose, then Pippa Middleton can do the same for padded underwear---and according to the Daily Mail, she did just that. Apparently, sales of the UK's "Invisible Shaping Bum Boosters" have been up ever since Pippa's fateful Royal Wedding Day appearance (pictured above), when she "set the standard for how a perfect rear should appear," according to a brand spokesperson. (more…)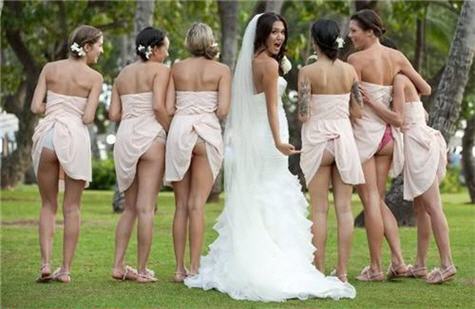 Is This A Bridesmaid Trend Now?! We Blame Pippa Middleton & Her Infamous Behind
Everybody knows that Pippa Middleton's butt inspired a Facebook group (the Pippa Middleton Ass Appreciation Society, in case you've been living under a rock), but who knew her awesome ass would inspire bridesmaids on this side of the pond to flash their own derrèires in wedding portraits? Certainly not I! Call me a traditionalist, but I'd prefer everyone follow Pippa's example and leave it to the imagination. (more…)
How Is Pippa Middleton's Silk Blouse Not Sold Out Yet?
Pippa's a hip sistah. Those Middletons really love their mall stores. (more…)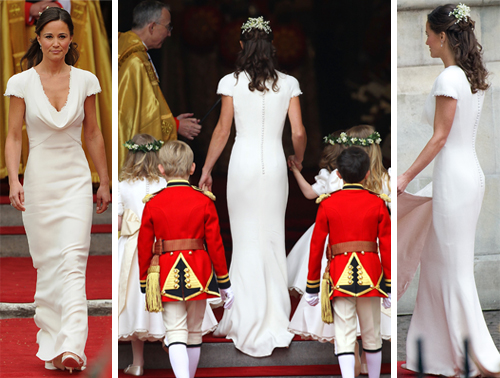 The Pippa Middleton Halloween Costume: Your Official Excuse To Buy Padded Underwear
Group Halloween Costume alert: grab one friend to wear the Kate Middleton costume, another to dress up as Princess Beatrice, and you'll go as the spotlight-stealing Pippa. We've got everything you'll need (included the butt padding) to channel everyone's favorite sister this year in the Pippa Middleton Halloween costume... (more…)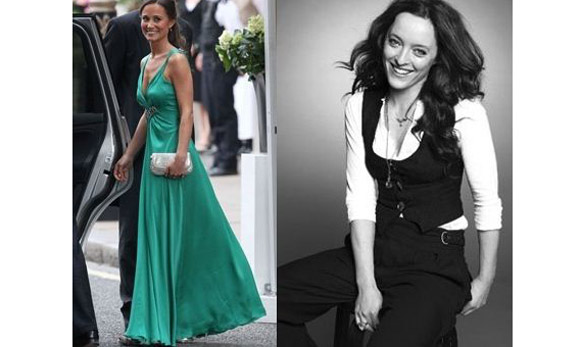 Alice Temperley Wants To Design Pippa Middleton's Wedding Dress Because Of Her 'Perfect Bum'
After outfitting Pippa Middleton in this memorable Temperley London green dress (above) for her sister's reception, the label's namesake, Alice Temperley, is now speaking out about her desire to dress Pippa for her own big day. Alice told the Telegraph, "I'd love to dress Pippa for her wedding when it happens. She's so beautiful – she's perfect and her bum is perfect – it would be such an honour." (more…)
Get Pippa Middleton's Exact Twelfth Street By Cynthia Vincent Maxi Dress Here Now
Pippa Middleton and her $275 Twelfth Street by Cynthia Vincent dress Pippa is at it again. There's something about her style that's more fresh, fun, and urban than her older sister's---which probably due to the fact that Pippa hasn't been stifled by sudden royalty. Right now, we're lusting after her Cynthia Vincent Blush Ruffle Hem Maxi Dress, which we found at Boutique To You for $275. Although that is a lot of dough to drop on a maxi, in this case, it's validated---the dress can be dressed down for a casual day of shopping (à la Pippa), or dressed up for evening with black eyeliner and a chic updo. Wear it into fall with a camel jacket and a pair of closed toe pumps. Also, be sure to check out the rest of our celebrity style news or our buying guides to what's hot in Hollywood these days.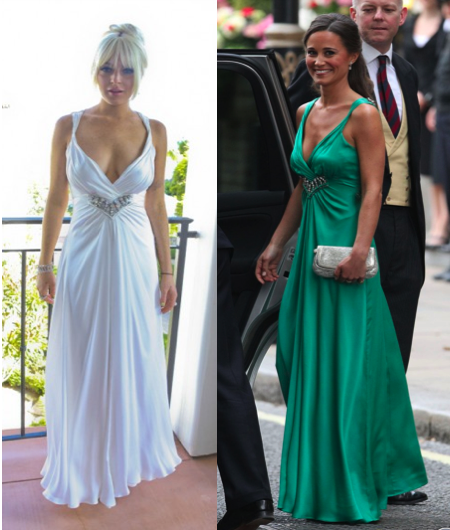 Lindsay Lohan Attempts To Be The Pippa Middleton Of Kim Kardashian's Wedding
Yes, we're afraid this really did happen - Lindsay Lohan wore the same crystal embellished Temperley London dress that Pippa Middleton wore to Kim Kardashian's wedding, only in white. Out of all the dresses Lohan copycat could have chosen, we're pretty sure she picked this one for attention. (more…)
Is Kendall Jenner The New Pippa Middleton? Shop White Mermaid Gowns Just Like Hers
Now that we've seen E!'s sneak peek of Kim Kardashian's wedding, we know that her sisters Khloe, Kourtney, Kendall and Kylie, as well as Kris's sister Kaela, wore dramatic mermaid-style bridesmaid dresses by Vera Wang. Now there is buzz about whether 15-year-old Kendall Jenner, who also happens to be a swimsuit model, is the next Pippa Middleton. The tall, thin teen did look stunning in the fitted mermaid style gown. If you love her look, shop similar styles now: (more…)
The Kardashian Sisters Wore White Vera Wang Bridesmaid Dresses — A La Pippa Middleton
Kim Kardashian went for an ivory Vera Wang wedding gown yesterday, but there were white gowns at the big day: those worn by her sisters, who served as co-maids of honor, and opted for white Vera Wang bridesmaid gowns. Were the sisters channelling Pippa Middleton because of the incredibly popularity she earned after wearing that infamous silky white Alexander McQueen gown to the royal wedding? (more…)
Pippa Middleton's Dress Now Available In Actually-Appropriate B-Maid Colors (Aka, Not White)
Yes, Pippa Middleton's white Alexander McQueen wedding dress was fab - but did anyone else think aloud, "I can't believe she's wearing white"?! Raise your hand if over your cold dead body would you let your bridesmaids wear white. Luckily, A.B.S. made a version of their Pippa dress in black ($390) and plum ($390), which are actually-appropriate (and on-trend!) bridesmaid colors. Pre-order both styles by calling Lord & Taylor, 212-391-3287. Shop our guides to the best strapless wedding dresses, white wedding shoes, and inexpensive wedding dresses.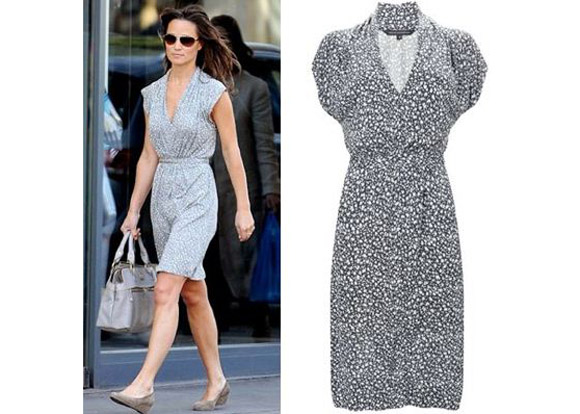 Get Pippa Middleton's $100 French Connection Dress Now Before All Her Loyal Followers Do
Pippa Middleton just stepped out in this Talias Tale Dress ($108), and we have to say this is a Pippa-item worth getting. Her newfound fans are already snatching up her Aspinal of London clutch, Modalu grey handbag, and knock-offs of her cowl necked royal wedding dress, so why not grab one of these affordable, seasonal dresses. You could always resell it on eBay when it inevitably sells out. Shop our guides to the best strapless wedding dresses, white wedding shoes, and inexpensive wedding dresses.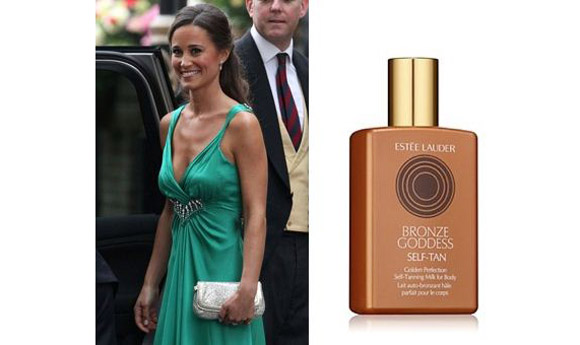 An Overall Glow Like Pippa Middleton's Is 1 Bottle Of Faux Tanner & 3 Easy Steps Away
Kate may be royalty, Pippa has become the hottest Middleton. Knock-offs of her cowl-necked royal wedding dress are everywhere, and everything she wears (like this Modalu grey tote) sells out immediately. Our favorite Pippa accessory? Her bronzed, even glow. If you're craving some overall tan like her's, try this Estée Lauder 'Bronze Goddess Golden Perfection' Self-Tanning Milk for Body ($26.50). The price is right, and this self-tanner goes on so smoothly and evenly, you don't need ladies-in-waiting to apply it. (more…)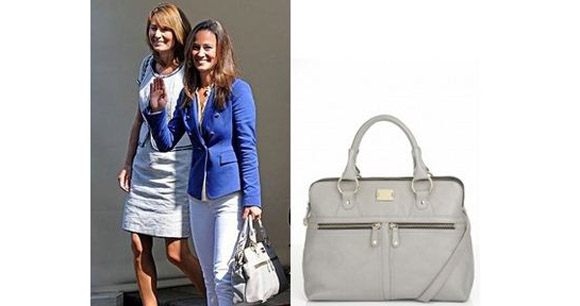 Pre-Order Pippa Middleton's Modalu Handbag Now
Everything Pippa touches turns to gold, apparently. Knock-offs of her Alexander McQueen bridesmaid dress are everywhere, her Aspinal of London Eaton clutch is selling like hot cakes, and now, her previously-sold-out Modalu 'Bristol' handbag ($240) has been re-issued and re-named. The light grey "Pippa" bag is now available for pre-order (it ships in July). Shop our guides to the best long bridesmaid dresses, satin wedding shoes, and inexpensive wedding shoes.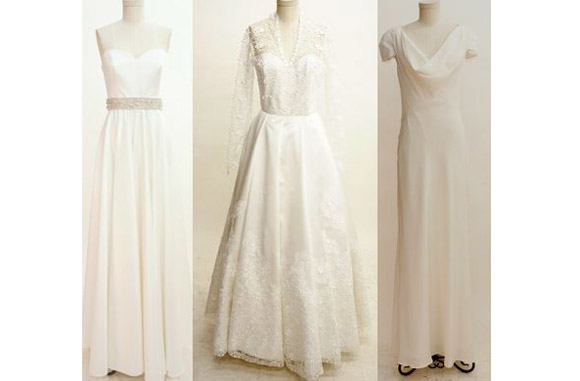 Pre-Order ABS's Royal Wedding Dresses Now (Get Kate's, Pippa's And Even The Reception Dress)
Just hours after the royal wedding, we told you about ABS Allen Schwartz's plans to replicate the royal wedding dress, and even though JS Collections beat them to the punch, we're equally excited to find out that the ABS versions (yes, all 3) are available for pre-order now. You have to call Lord & Taylor ((212) 391-3287) to pre-order the Kate wedding dress ($950), reception dress ($450) and Pippa's bridesmaid dress ($390) now. Shop our guides to the best simple bridesmaid dresses, long bridesmaid dresses, and satin wedding shoes.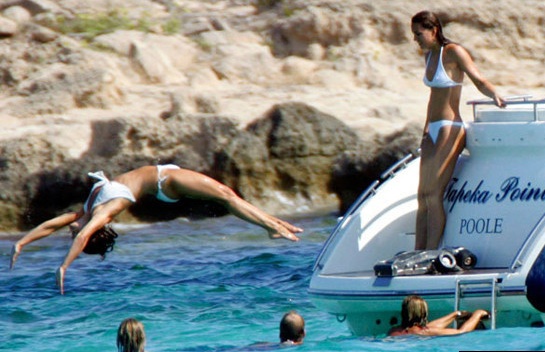 See The Middletons In Bride-Worthy White Bikinis And Shop For Your Honeymoon Now
Everyone is flipping for photos of a scantily clad Pippa Middleton - from sketchy underwear shots to photos of Pippa and Kate in matching white bikinis in Ibiza (circa 2006). If you're obsessed with the Middletons and/or in need of a sexy white bikini for your honeymoon, look no further: (more…)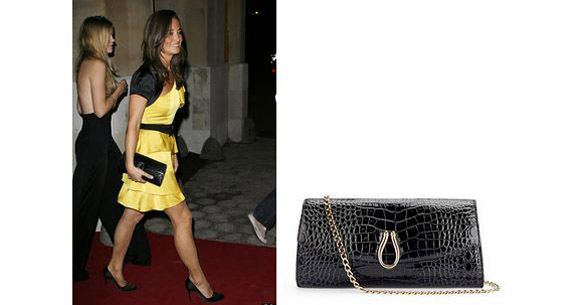 Pippa, The Middleton Everyone Seems To Care About Now, Recycles Kate's 'Eaton' Clutch
We already know that Kate Middleton loves it, and now we know her wildly popular sister Pippa does too. We're talking about the Aspinal of London Patent Croc Clutch ($409) and unlike their custom Alexander McQueen dresses, you can actually buy it now. The sleek croc clutch is perfect for parties, weddings and pretty much anything. Score. (Hey, remember when we gave one away?) Looking for more wedding accessories? Check out our guides on wedding veils, bridal hair accessories, and even more great wedding clutch bags.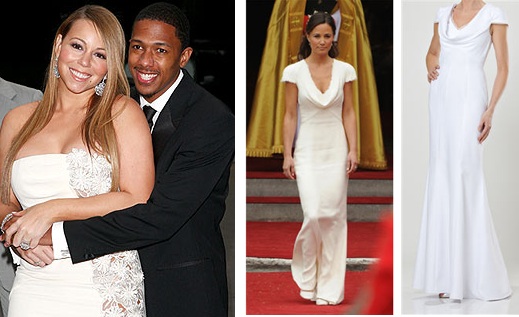 Mid-day Catch Up: Mariah Carey Names Twins Monroe & Morocco, Pippa Middleton's Bridesmaid Dress Replica, More-
From left: Mariah Carey and husband Nick Cannon  & Pippa Middleton and her replica dress Mariah Carey Named Her Twins Monroe And Morocco ...Apparently inspired by Marilyn and the motif in which Carey's apartment is decorated. JS Collections Just Released Their Pippa Middleton Replica Dress It's only $220 and now available for pre-order. Brides everywhere will be channeling the sisters. For more non-baby, non-bridal news, get all the details on Missoni for Target, or shop Pierre Hardy for Gap and the new Silvia Tcherassi for Payless collection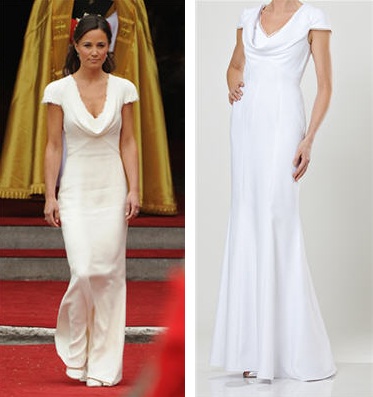 JUST IN: JS Collections' Pippa Dress Is Available For Pre-Order Now
On Friday, Kate's younger sister Pippa Middleton stole the spotlight in a cowl-neck Alexander McQueen dress. JS Collections has already released a replica of Kate's long sleeve lace gown, and now comes word that the brand has tackled Pippa's dress, too. The Royalty Inspired Cowlneck Gown ($220) is available for pre-order now. Shop our guides to the best strapless wedding dresses, white wedding shoes, and inexpensive wedding dresses.
Shop Now: The Royal Wedding Flower Girl Dresses & Floral Wreaths
Pippa Middleton may have stolen the show with her slinky Alexander McQueen maid of honor dress Friday, but flower girls Grace Van Cutsem and Eliza Lopes had a fashion moment seen around the world, too. (more…)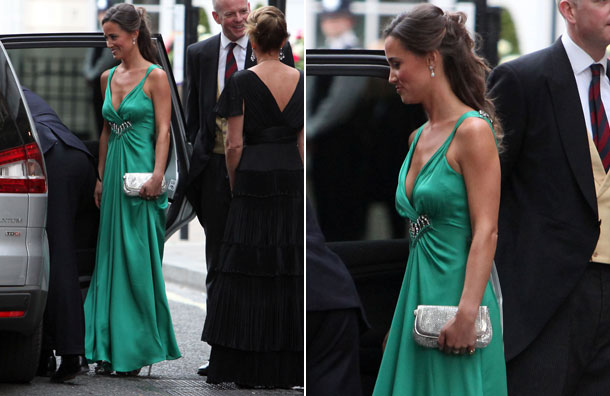 Pippa Changed Into A Reception Dress, Too! Behold, Her Emerald Green Evening Dress With Diamond Details
Kate Middleton's sister, Pippa Middleton is determined to wow us today. As if her first dress by Sarah Burton at Alexander McQueen wasn't enough, Pippa pulled out all the stops with her second dress by Temperley London, a beautiful emerald green confection detailed with a diamante bustline. Lucky girl that her sister let her share the spotlight with a dramatic wardrobe change for the reception. We found a similarly gorgeous Temperley London dress below: Temperley London Long Melicent washed-silk gown, $1,495, Net-a-Porter (more…)
Top Five: Gifts for the Foodies on Your List
Whether your favorite foodie runs a food blog, a restaurant, or a  just a great dinner party, we've got the top five picks for their best gifts--at $60 and under. Considering how expensive kitchen equipment can get, you won't beat this list. Feel free to mix and match or gift them all together--because  let's face it, it's time you paid them back for all of those unforgettable meals--even if you can't pronounce them. 1. Because an ordinary silver whisk just won't do for the aspiring gourmet, treat your foodie friend to a  higher-end version, like Sur La Table's Silicone Rainbow Whisk ($18). The punchy palette will make whisking those French crepes much more fun. 2. Whether mixing up fresh guacamole or grinding spices, any cook will love using--and displaying-- Le Creuset's bright red mortar and pestle set ($38) in their kitchen. 3. Chefs who love communal dining will surely put Rachael Ray's boldly hued fondue set ($60) to good use. 4. What cook isn't obsessed with Padma Lakshmi and Tom Colicchio judget the eccentric Top Chef contestants? Treat your food-loving pal to endless nights of quickfire challenges with the complete fifth season of the hit show ($22). 5. Save your chef a few bucks--and lots of trips to the farmers' market--with this indoor culinary herb garden ($35). They'll love reaching out their windowsill for the freshest herbs available. Still haven't checked off your  holiday list? Click on over to our gift guides with our top five picks for the political junkie, the well-read fashionista, the brand addict, and even the coworkers you hardly know. Plus, read through our top five gifts that give back.
News: Bulgari Gives Back To Charity, Naomi Campbell The Next Tyra Banks, And More
1. Bulgari will host its annual charity auction tonight to benefit Save the Children Rewrite the Future.  18 storied pieces, like the $800,000 choker Gisele wore in a past ad campaign will be in attendance. Not invited? Shop for gifts that give back, and keep an eye on Audrey Hepburn's wardrobe auction today. [WWD] 2. Naomi Campbell will be a judge on a UK version of  America's Next Top Model (bound to srart something with Ms. Tyra Banks). For the leggy supermodel look, our guide to skinny jeans is the place to be. [Vogue UK] 3. Apparently, women who have sore feet are trying collagen fillers injected into the balls of their feet to reduce pain. Or you could just try our guide to the most comfortable high heels. [Daily Mail] 4. The best deals are around the corner as retailers play the waiting game--expect even more promotions to start ten days before Christmas. Find the best gloves for the frigid air from our curated guides. [WWD]
Friday's Sample Sale Scoop: Amrita Singh, Bally, Betsey Johnson, And More
Editor's Pick: Amrita Singh handbags at Billion Dollar Babes Ranjana Khan and Gemma Redux jewelry, Bally shoes, Tocca clothing, and Valentino Roma clothing at Gilt Groupe Daniblack shoes, Betsey Johnson clothing, and Urban Posh Jewelry at Gilt Fuse mixed designer outerwear, Chooka boots, and LSG Designs jewelry at ideeli Private sale on clothing, shoes, and accessories at Tory Burch D & G sunglasses, and Michou jewelry at Editors' Closet Invicta watches and Chinese Laundry handbags at Beyond the Rack Betsey Johnson clothing and Lois Hill jewelry at Rue La La Hale Bob intimates, Bejeweled clothing, En Pointe skincare, and Lucca Couture clothing at Hautelook For more top fall looks and picks, check out our guides to cheap scarves, wrap dresses, and leather jackets.
Thursday's Sample Sale Scoop: Elle Macpherson Intimates, Marc Jacobs, Cynthia Rowley, And More
Editor's Pick: Elle Macpherson intimates at Editors' Closet Marc Jacobs clothing, Cynthia Steffe clothing, Leonello Borghi handbags, Heidi Weisel wraps, and Gerard Yosca jewelry at Gilt Groupe Bellissima by Moschitto Designs jewelry, and Michael Stars clothing at Gilt Fuse Linq sweaters and Modern Vintage shoes at ideeli Bindya scarves, Isabel Lu clothing, SensiClear skincare, and Elini watches at Hautelook Radiance Pearl, Roberto Cavalli sunglasses, and Kitson L.A. clothing at Beyond the Rack Cynthia Rowley clothing and Concord watches at Rue La La Jessica Simpson handbags and Necessary Objects clothing at The Top Secret Get more of the best underwear with flattering lingerie, eco-friendly underwear, and controlling underwear.
Deal Of The Day: Up To 75% Off Handbags From Urban Outfitters
I love a big plain leather tote, but sometimes either the occasion or merely an offbeat sartorial mood call for something a little more eye-catching.  Luckily, Urban Outfitters has got the goods to keep me in supply when those times come around. This Deena & Ozzy purse is very au courant, with its structured form and chain strap detail ($10 from $38). Take a black hobo, add quilting and a little chain detail, and voilà - the bag takes on a whole new design dimension ($30 from $68). This cute, studded little thing from Ecote has a removable chain strap, so it does double duty - it's a shoulder bag or a clutch, depending on what you need ($15 from $38). More Sales and Deals: New York and Co.:  Receive 30% off with code 3067 H20 Skincare:  All skincare products are buy two, get one free Puma:  Save 25% off everything with code BTS0908 If you're searching for more handbags, check out our report on the chain strap bag trend, as well as our guides to big totes and stylish laptop cases.
News: Fran Drescher Offers Up Charity Skincare, Intermix Makes A Do Good Tote, And More
1. Fran Drescher, who survived ovarian cancer in 2002, has created a skincare line, FranBrand. A portion of the proceeds will benefit a charity called Cancer Schmancer. The line debuts on HSN on November 10, so until then, go shopping in a manner that benefits the earth.  [WWD] 2. Speaking of charity, Intermix is partnerning with the artist Marilyn Minter (her video art, Green Pink Caviar, is playing in the background of Madonna's current tour) to create a tote bag who's proceeds will help benefit the nonprofit Bright Pink.  Intermix has been awfully busy lately.  [Fashionista] 3. Over at Givenchy, Ricardo Tisci is launching a secondary capsule collection, Redux, which will be more affordable than its big sister but based off that line's classics, like white shirts and leather jackets.  Personally, we'd suggest getting a hold of one of those jackets and pairing it with a sweet jumpsuit.  [Elle UK] 4. Minnesota passed a law that state colleges and universities have to make an extra effort to sell apparel made in the U.S. in all campus stores.  We also think colleges in general should try hawking logo tees that actually fit. [NPR]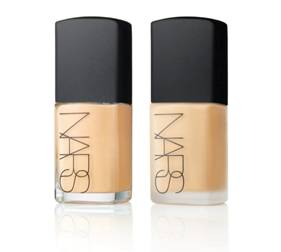 Week In Review: We've Lined Up August For You, Checked Out Pretty Clothes In The Ugly Truth, And More
Must-Reads: Get in gear for August with our calendar highlighting all the best product launches (including the Nars foundation pictured above), movie openings, and even the occasional book debut. Check out the pretty clothing in the otherwise not-so-lovely The Ugly Truth. Start thinking about fall fashion with one of our favorite new trends, leggings that are trying their hardest to be pants. Sales & Deals: Up to 55% off skirts from Old Navy Take 50% off natural beauty products from L'Occitane Up to 70% off knits from Martin + Osa Taste Tests: Which boyfriend jeans will cost you big bucks? Which oxford's price tag will leave you looking smart? Guides to Check Out: Get into some interesting summer outfits with a new pair of harem pants. And if you're looking for something with a slimmer fit, make sure you've got the best denim for your shape. Otherwise, start dreaming of fall's cool weather with some new hosiery.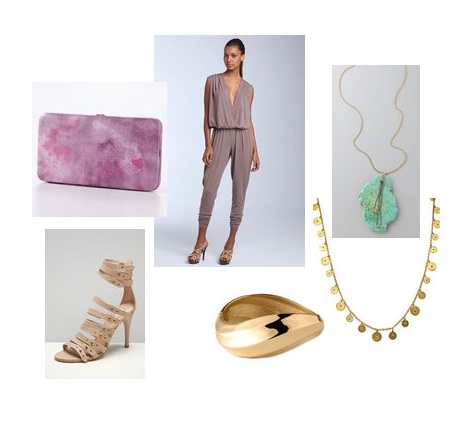 How To Wear: A Jumpsuit (If You Are Not A Painter Or In The Air Force)
Jumpsuits rank up there with harem pants as a trend that frightens yet intrigues at the same time. We see them in shop windows looking fabulous on faceless mannequins, but wonder how in the world one could actually manage to show up at a party without resembling Tom Cruise in Top Gun. Here's how: Pick one that's not entirely full-length, and has a waist. This will break up the silhouette and flatter the body. Accessorize like crazy in order to balance the draped fabric. Layer two necklaces and add a strong cuff to make your ensemble evening-appropriate.  Nude heels are always a wise choice for summer, and a subtly patterned clutch will make the whole outfit come together. Rachel Pally Eastside Jumpsuit ($220) Citrine by the Stones Turquoise Pendant Necklace ($140) Ben-Amun Long Gold Lentils Necklace ($195) Sequin Sculpted Cuff Bracelet ($20 from $32) Pour La Victoire Aaliyah Nude Heels ($330) Apt. 9 Burnout Clutch Wallet ($32) Have other wardrobe issues? Find out how to properly don black in August, or what to wear to the obligatory company picnic.