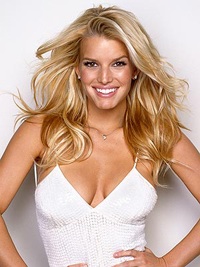 Jessica Simpson Is Looking For A 'Low-Cut' Wedding Dress. Of Course She Is.
People is reporting that Jessica Simpson doesn't have her wedding dress picked out yet, even though we know she plans to help design it, and that what she's looking for is something "low cut." "I like my collar bone," she told People."I have a long neck, so I like to show off my décolletage." Sure. That's what you want to show off - your collar bone. We really believe you. If you, too, are a fan of low-cut or deep-V necklines, here are some sexy options: (more…)
October. Love, SheFinds
October 1: Fusion Beauty launches InFatuation lip gloss, and $1 from every sale will be donated to the Seven Bar Foundation to help end women's poverty. October 2: La Mer launches the Hydrating Facial, so you can mask up at home in the most luxurious way possible. October 4: Get the latest FEED/Read 3 bag from Barnes & Noble today and help Nepal's Room to Read program. October 9: Couples Retreat, with Kristin Davis and Kristen Bell, opens today. October 10: New arrivals from Stella McCartney for Adidas hit stores today. October 11: Carlos Falchi for Target debuts today. October 13: Jenny Gaynor Glass will sell their Hamsa necklace in pink to raise awareness for Breast Cancer Awareness month. October 14: Six Scents launches their second round of fragrance, which are created in collaboration with various designers, including Phillip Lim and Henry Holland.  The fragrances' proceeds help support Pro-Natura sustainability programs. October 15: Isabelle Grace Jewelry launches an inspirational collection today, proceeds of which will partly be donated to women's charities. Also today, Tarte Cosmetics releases their holiday 2009 collection, which includes a trio of their best cheek stains, so get prepped to get rosy this fall. October 19: Get glossy with BeingTRUE's new holiday gift lip set. October 23: Amelia, the biopic on Amelia Earhart starring Hilary Swank, is released today. October 28: Get out your (single) glove. This Is It, the Michael Jackson film, hits theaters for two weeks. October 31: Happy Halloween, everybody.  Find a costume at the last minute if advance planning isn't your thing.
Only One Day Left To Win Comfy Shapewear From Va Bien
A good bra is hard to find, so since we live to lighten your shopping load, we're giving three very lucky contestants the chance to choose two pieces from Va Bien's new ultra-Lift collection. We love Va Bien's sexy shapewear because it's classy, comfy, and slimming - what more could you ask for? And after all, as many of us have discovered the hard way, even a great top doesn't look so great atop an ill-fitting bra. These are all excellent reasons to get moving and click to enter this week's Freebie Friday contest - but hurry, you only have one more day. Shopping for shapewear? Our picks for the best in t-shirt bras, body shapers, and spanx will keep you looking svelte all season.
Taste Test: Which Felt Hat Will Leave You Cash For The Rest Of An Outfit?
Test those fashion skills with our other Taste Tests. And browse fall fashions, such as leather jackets and blazers to wear with that chic hat.