2 Days Only–Use Our Exclusive Promo To Shop Pour La Victoire Sandals For 50% Off!
The best way to spend your Sunday funday? Snagging a new pair of gorgeous sandals for 50% off! And yup, we're here to make it happen. For 48 hours only, our friends at Pourlavictoire.com are giving SHEfinds readers 50% off all full-price sandals with code SANDALS50 at checkout. Yes, you read that correctly--50% off! As in half off, ladies! The deal is only valid through May 9, so start shopping now! Lani ($75, down from $150) Lacey ($87.50, down from $175) Lava ($87.50, down from $175) Lora ($97.50, down from $195) Pica ($97.50, down from $195) Lake ($97.50, down from $195) Amabelle ($137.50, down from $275) SHOP SANDALS AT POUR LA VICTOIRE NOW * Note: Offer valid 5/7/17 through 5/9/17. Be sure to check out cheap Hunter rain boots and 50% off Fitbit trackers. [Photo: Pour La Victoire]
60% Off Pour La Victoire Bridal Shoes — Including Pretty "Something Blue" Pairs
If you haven't yet found your "something blue," consider blue pumps: colorful wedding shoes are a semi-secret way to get a pop of color. Plus -- with a brand new pair, you'll satisfy both your something blue and new. Luckily, 6pm has 60% off Pour La Victoire Bridal, including these blue 'Laeia' peep toe pumps ($61.20, down from $151). (more…)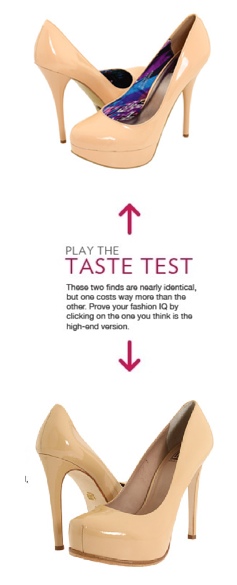 Can You Tell Which Nude Pumps Cost $185 Less Than The Others?
Keep yourself guessing with all of our Taste Tests, and join our e-mail list for exclusive updates.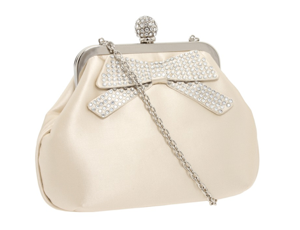 Shop Zappos' Sale Now For Your Dream Clutch (Think Alexander McQueen)
Although a clutch may be the last thing on your wedding check-list, it's still an uber important big day accessory. You don't want to pick something that looks cheap or will clash with your dress, so we've done you a favor and rallied up some amazing designer clutches (on big-time sale) from Zappos: For some gorgeous bling to go with your new clutch, shop our guides to wedding costume jewelry, wedding jewelry sets, and best wedding jewelry now.
30% Off Nude Pour La Victoire Pumps That Are Perfect For Showers, Rehearsal Dinners, More
You may have your wedding shoes covered, but what about the slightly less formal, but equally chic pair you need for all those wedding-related events, like the bridal shower and rehearsal dinner? These Pour La Victoire Irina Hidden Platform Pumps ($175, down from $250) are 30% off today - and we are loooving the sexy platform which is incredibly slimming and elongating for the leg. Score! Shop our guides to the best strapless wedding dresses, white wedding shoes, and inexpensive wedding dresses.
Sorry Squats & Lunges – Stilettos Make Legs Skinny, Too. Science Proved It.
Cancel your gym membership. Put the FitFlops away. Recent scientific findings in something called Rocial Society journal Biology Letters (sounds official) proved what Victoria Beckham has known for years: wearing high heels truly makes your legs more toned. According to the study, "high heels activated their inner and outer calf muscles more evenly than those who wore flatter shoes." Looks like the end of ballet flats is real; the study also found that flats caused "lopsided" development" in legs. Ouch. As if you needed an excuse, now you have one to buy a brand new pair of sky-high, leg-slimming pumps: Check out our guides to party shoes and pumps, and then peruse all of our hand-picked sales and deals and best find of the day favorites. Follow the author of this post on Twitter @bridefinds.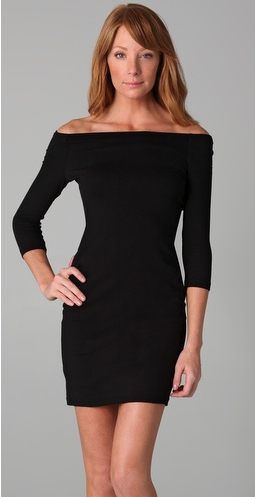 What To Wear If You Think He's Going To Propose (Don't Phone This One In)
'Tis the season for gift-giving, over-eating and... wedding proposals. Engagement season kicks off on Christmas, so if you have a sneaking suspicion that he's about to pop the question, make sure you're ready. Your grandkids will see these photos after all - so you better look damn good. Luckily for you, we have a whole site dedicated to all things bridal:  BRIDEfinds. Here are a few tips editor (and newlywed) Justine had to share for prepping for the big night: The Little Black Dress: This James Perse Off-The-Shoulder Dress ($135) is a classic LBD with a modern twist. You'll want something sophisticated enough so that his mom approves, but hot enough for your man to swoon. Leg-Lengthening Pumps: If your boy is having any doubt about getting hitched, seeing your mile long legs will make him forget all of his fears. Do so with these Pour La Victoire Irina Suede Pumps ($215) in either black or nude. Perfectly Polished Fingers: If you're like me, you'll text everyone in your phone book a photo of the ring that night, so you'll want a well polished finger.  Make sure you're chip-free  and photo-ready with a pretty pale pink like this Essie No Pre Nup ($8) or a fiery red like this Long Stem Roses by Essie ($8). An All-Over Glow: Once again, since you're going to be snapping pics left and right - you and your hands can not be pale. But you don't want a full-blown tan since it's December, and he'll have second thoughts about marrying Snooki. Get healthy glow with this St. Tropez Everyday Gradual Tan Mousse ($30). The Ultimate Marriage Musk: Make sure you mask the nervous sweat smell with a pretty, flirty perfume like Vera Wang Princess ($60). It's never too early to get on board the Vera Wang train. Don't forget to read up on more 'I Do' tips at BRIDEFinds. Shop our guides to the best perfumes for every season and the best black dresses. Join our e-mail list for exclusive SHEFinds updates.
Wear Pour La Victoire's Pretty White Shoes Even If You're Not The Bride
With all the online retailers that want you to get married, it's about time someone designed some affordable and stylish white shoes that all of us can wear--engagement ring or not. Pour La Victoire has come to the rescue with a new 2010 bridal collection sold on Zappos.com, with each pair under $300. Pour La Victoire was nice enough to make them in multiple colors including light blue, grey, red, and electric blue, so they are perfect for any formal event.  Here are our five favorite shoes from the collection. Wedges are nice break for your feet, and these Pour La Victoire Enya ($171) shoes are elegant and comfy enough to wear all night long. The ruffled fabric on these Pour La Victoire Sonya ($166) sandals makes the shoe dreamy and romantic. If you're all about the shine, these Pour La Victoire Freya ($256) pumps will be your new best friend. There's nothing like a classic pump, but these Pour La Victoire Baylie ($159) shoes have a ruffled satin detail that makes them stand out from the pack. It's all about the details with these Pour La Victoire Antoinette shoe s ($202). Rhinestones top each of the bows, and the sole of the shoe is a pretty light blue. Get ready for more special events by checking out our guides to the best black dresses, the best maxi dresses, and the best necklaces.