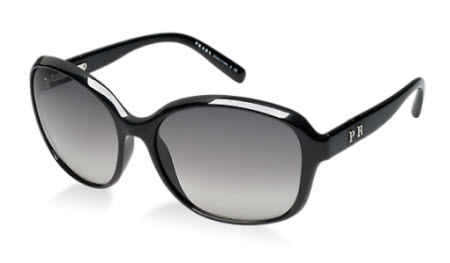 Not Just For 12-Year Olds And Tote Bags: Monogrammed Prada Shades For Your B-Maids
Your girls might be happy with a big fuzzy bath robe or monogrammed luggage tags, but if you really want to blow their wedding-addled minds, gift them these personalized Prada PR15NS sunglasses ($365)! You can customize each pair with their initials, hashtags, dollar signs, or even a tiny skull or two! Shop our guides to the best outdoor wedding dresses, black bridesmaid dresses, and wedding jewelry.
Round-Up: Heard On The Web This Week
SheFinds gets their wardrobe updated for fall with the best skinny jeans. SecondCityStyle is mad for plaid. StyleBakery shows how to easily transition your summer wardrobe into fall. Smarterfashion shows us how to get the hippie chic look in honor of the 40th anniversary of Woodstock. GirlaWhirl is swooning over new jeans at the Gap. FocusOnStyle offers French chic tip #2: wear nice underwear.