Here Are All 'The Hills' And 'Laguna Beach' Stars Expecting This Year
Kim Kardashian Just Took A Pregnancy Test–Is She Expecting Baby #3?
Leave it to Kim Kardashian to document a pregnancy scare on Snapchat. The reality star, who gave birth to her son Saint West in December 2015, thought she might be pregnant again and decided to take a test, on an airplane, and film it all for Snapchat. Of course, she had not one, not two, but THREE different brands at the ready. "I'm legit in the airplane bathroom, going to take a pregnancy test, because I'm having a little bit of a scare. So, no big deal," Kim shared with her followers. She skipped the peeing-on-a-stick part, but returned with a ClearBlue stick that read "not pregnant." Wow, that was super suspenseful. Don't forget to check out: 6 things you never knew about Ulta and how nail trends have changed over the years [Photos: Splash News, Kim Kardashian West Snapchat]
See Kim Kardashian's Growing Baby Bump (And Cleavage!)
Kim Kardashian showed off her growing, um, assets while flying from New York to France yesterday. The reality star and expectant mom (she's officially having a boy!) wore a nude, low-cut bodysuit with high-waist black pants and tan trench coat. Kim's cleavage was on full display as she walked through the airport and we even caught a glimpse of her growing baby bump: I'm excited to see what kinds of fashion choices Kim will make during this pregnancy, considering she got so much unnecessary flak throughout her last one. Don't miss 14 pregnant celebrities who look gorgeous in bikinis and 8 celebrities with normal bodies who have awesome fashion sense! [Photos: Splash News]
14 Pregnant Celebrities Who Look Gorgeous In Bikinis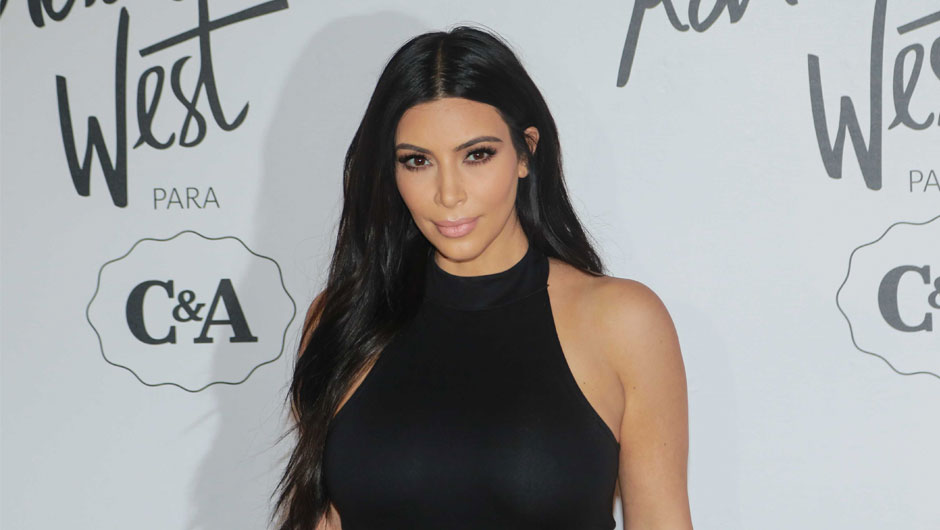 Kim Kardashian Is Pregnant With Baby #2!
It's official, Kim Kardashian is pregnant again! The reality star revealed that she's expecting baby #2 with Kanye West in a clip teasing the second half of this season's Keeping Up With The Kardashians. She spills the news to Khloe saying, "I just got the blood test back and I'm pregnant!" Watch it go down below: It's no secret Kim and Kanye have been trying for a second baby. Season 10 follows Kim through her journey as she visits with a fertility doctor. There was also, ahem, this comment she made about "having sex 500 times a day." Congrats to the West family on this exciting news! Rumor has it baby #2 will arrive in December--we can't wait to meet the new addition. Don't forget to check out: celebs who lie about their age, Kendall + Kylie for Topshop and this size 0 woman got liposuction [Photo: Splash News]
It's Official–Blake Lively & Ryan Reynolds Are Having A Baby!
Early this morning, US Weekly broke the news that baby Reynolds is coming to Hollywood. Yep, Blake Lively and Ryan Reynolds are having a baby! The couple announced Blake's pregnancy on the Preserve, the actress' new website, by posting a picture of Blake's baby bump. I guess she just couldn't hide it anymore. A pregnancy has actually been in the couple's plans for a while now. Back in September of 2012, Blake told Marie Claire, "I gotta get started,"and we've been waiting for a beautiful Reynolds baby ever since. But, it looks like we won't have to wait much longer, because judging by the picture, Blake is already into her second trimester. Keep checking in on our celebrity news section. We'll let you know when baby Reynolds makes his or her debut. UPDATE: Looks like Blake's site is currently down because of everyone wanting to see pics of her pregnant. Click through the slideshow to see Blake's baby bump, plus to shop her outfit from her announcement photo! And don't forget to check out: Kate Spade, Kim Kardashian and pumpkin spice everything.
Is Kate Middleton Pregnant? This Photo Certainly Makes Us Think So
The internet has been going cray all week with rumors that Kate Middleton is pregnant with baby numero two. The timing couldn't be more perfect since little Prince George is turning one year old next Tuesday! Will he have a little brother or sister to play with by this time next year? This photo of the Duchess certainly makes us think so... Hand over a little teeny tiny baby bump?! Now all we need is the palace to confirm... [Photo: Splash News]
So… Lil Kim Is Pregnant
So we haven't heard from Lil Kim in a while. Turns out that's cause she was busy making a baby. Yup, the rapper--who is now 39--debuted an undeniable baby bump last night at the The Blonds' NYFW presentation and well, she looks, just see for yourself: So yeah, there's that. No word on who the father is or when she is due, but she is already gushing that she can't wait to be a mom. Congrats! Be sure to check out Beyonce's amazing plaid jacket, Kris Jenner pole dancing and Taylor Swift's new haircut. [Photo: Splash News]
Get Acquainted With The Dress That Hides All Sins (And Apparently, Babies, Too)
Even after Selma has her baby, she'll be able to use the dress to carry it. Believe it or not, these two pictures were snapped on the exact same day. No, Selma Blair did not have her baby in between. At almost 5-6 months pregnant, Selma is ready to burst, but thanks to her overlay drape dress, we'd never have any idea. So if you're not pregnant, but just indulged in a few too many burgers at that last BBQ, this dress is perfect for you. (more…)