Bloggers Are Obsessed With This Watermelon Print
Next week is National Watermelon Day, so if you're looking for a way to celebrate that isn't just making a watermelon cocktail from Pinterest--you should get this watermelon print that all the bloggers are obsessed with right now: https://www.instagram.com/p/BHvkGq_Dn8b/?hl=en https://www.instagram.com/p/BFLBv0GEoIA/ https://www.instagram.com/p/BFVHt2mwnuv/ https://www.instagram.com/p/BH3WQPmhOJk/ It's from my literal all-time favorite tops brand Cooper & Ella (remember this little gem?). It comes in three versions--a button down, a cami and a dress version. Which will you get? cooper & ella 'Alice' Watermelon Print Crepe Blouse ($160) Cooper & Ella Watermelon Mila Ruffle Cami ($125) Watermelon Jessica Ruffle Dress ($250)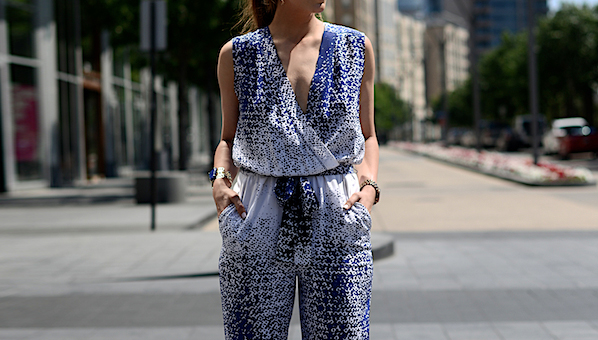 Printed Jumpsuits Are An Insta-Outfit: Throw One On And Walk Out The Door
Though summer may be 3 days away, this week feels like it has already arrived. With the combination of heat and humidity, figuring out what to wear is next to impossible; you don't want a ton on you, but you want to look appropriate at the same time. Well, the item that's making a comeback will be your savior this summer: the printed jumpsuit. From the streets to the red carpet, stars like the Kardashians, Selena Gomez and Cara Delevingne are sporting patterns, which are easy to dress up or down. Oh, and jumpsuits are incredibly flattering, comfortable, and effortless: I mean all you gotta do it put on one garment and bam, you're ready! So check out this slideshow and celebrate National Splurge Day by buying this summer-must-have! And don't forget to check out: what the SHEfinds employees splurged on, Club Monaco's sale, and the Barney's designer sale [Photo: Courtney Kerr]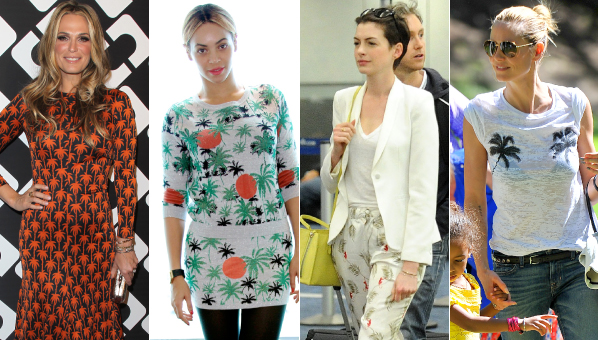 Get Used To The Palm Tree Trend–Celebs Are Going To Be Wearing It 'Til Summer
Nothing screams summer like a perfect row of palm trees. (Don't you always double tap photos of these beauties on Instagram, too?) And while we still have a whole season to get through until our anticipated tropical getaways, you can still celebrate your favorite season by taking a style tip from Molly Sims, Beyonce, Anne Hathaway, and Heidi Klum. Each celebrity has recently been seen in palm tree prints, which seems to be equally as festive as wearing an ugly sweater during Christmas or sporting red, white, and blue on the Fourth of July. And it just so turns out that this print looks just at home on a knitted sweater-and-skirt set (a nod to this season's two-piece matching sets trend) as on a red carpet-worthy gown. From accessories to silky blouses, check out our slideshow of palm tree-printed pieces that you're bound to put on no matter how cold (or warm) it is outside. Don't forget to check out: celebrity spring trends, bar stud earrings, and mesh tops. [Photo: Splash News, Beyonce.com]
We Don't See A Baby Bump Under Beyonce's Printed Pants–Do You?
With Beyonce's world tour going on, it can be hard to keep track of the megastar. Recently, she took a break from her tour to promote her new animated movie, Epic, in London. Beyonce must have been inspired by the movie (she voices the queen of the forest--would you expect anything less?), because she arrived at the press junket wearing a green blazer and chinos featuring a nature-inspired print. And as far as we can tell, there's no baby bump to be found under the green and blue pants. Either the rumors aren't true, or the pants are super flattering. Either way, Beyonce's Barbara Bui Printed Chino Pants ($290, down from $485) are kind of amazing--they are right on trend with this season's photoreal designs. And if Beyonce gives something her seal of approval, you know it's good. Shop Queen Bey's outfit below: Barbara Bui Shawl Collar Blazer ($1,114.23) Barbara Bui Printed Chino Pants ($290, down from $485) For more celebrity looks, be sure to check out Khole K's striped tube dress, Nikki Reed's blazer and Kerry Washington's leather dress.
Spring's Toile Resurgence Will Have Your Closet Looking Just Like Grandma's China
Believe it or not, one of this spring's hottest patterns looks like it came right out of your grandma's china closet--toile! Fortunately, there's nothing ancient about the way designers like Zara, Duro Olowu and Paul & Joe are working it. Sure, the blue and white color combo may resemble Nana's old plates and cups, but when scattered across fitted dresses, peplum tops and structured blazers, the pattern looks surprisingly new and stylish. We recommend pairing it with your most daring, of-the-moment accessories--think chrome heels or a bright crossbody bag. Shop our favorite toile print  in the slideshow. Plus, check out other unexpected prints we love: tie-dye, pineapple print and galaxy print! [Photo: Paul & Joe]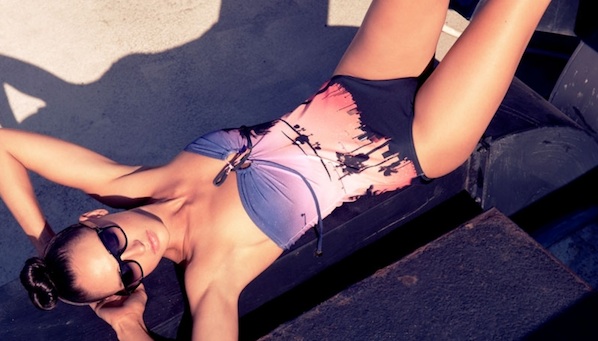 Who Needs A Seaside View When You've Got Spring's Beach Scene Clothing Trend?
While it's not exactly beach weather yet (come on, summer), we don't think we can wait another few months to relax with sun, sand, and palm trees. Our solution? Fake it! While we wait for it to warm up a bit, we're planning on pretending we're oceanside with fun, beach scene clothing and accessories. From sunset-printed bathing suits to wave-adorned jeans, if we can't force 80 degrees and sunny upon us now, we sure as heck are going to pretend. Shop our favorite beach-print finds from French Connection, Juicy Couture, Joie and more in the slideshow. Be sure to check out warm weather trends we can wear right away, from lucite handbags, to floral print shoes, and half frame sunglasses! [Photo: We Are Handome]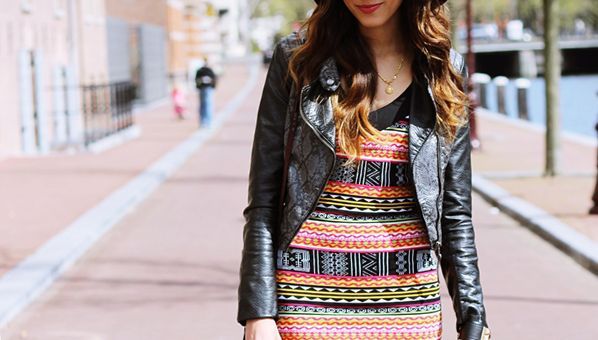 Why Play It Safe In Stripes When You Can Stand Out This Season In Aztec Print?
Tribal prints have been trendy for a while now, but this season it's all about Aztec inspiration. Done in bright, bold colors with a mix of straight stripes and zigzag designs, it's hard to miss. But that's kind of the beauty of it--it's in your face without being offensive. Plus, they're so easy to wear. A bold Aztec print does all the work--you just need to pair it with something solid and plain for a cute outfit in a flash. And if you think about it, all these Aztec-inspired prints are really just stripes with the volume turned way up. So if you love yourself a good nautical stripe, you have to try Aztec stripes this spring. From skirts to handbags, click through the slideshow to shop our faves. [Photo: PreppyFashionist] For more must-wear prints, check out jungle prints, super saturated florals and filigree print.
Love The Look Of Lace, But Hate That It Snags? Filigree Print Is The Next Best Thing
We're obsessed with patterns for spring--along with just about every designer known to man--so we couldn't be more thrilled that there's another popular print to add to our repertoire: filigree. Now upon first glance, it may look like lace, but it's not. And that's the beauty of it. Filigree print has all the beautiful, feminine intricacy of a lacy pattern, but zero threat of snagging on your bracelet or earring and really anything even remotely sharp. Designers like Chloe, Clover Canyon, and Robert Rodriguez have all embraced the trend and it's time you did, too. Browse our favorite filigree print pieces in the slideshow. Be sure to check out more prints we love for spring--honeycombs, stars, and super-saturated florals! [Photo: Extra Petite]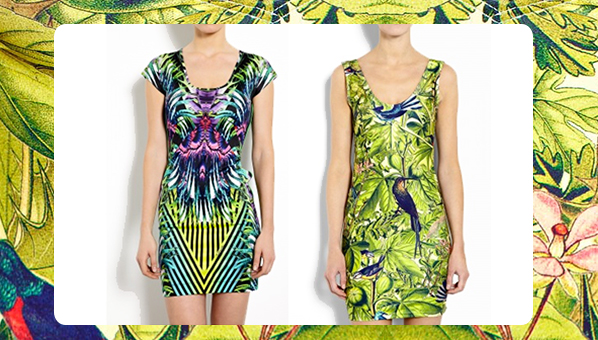 Can't Afford To Go On A Rainforest Safari? Fake It 'Til You Make It In Jungle Print
Travel plans looking bleak this year? Just because you can't afford to go somewhere exotic, doesn't mean you can't pretend. This spring's jungle prints are wild enough to transport you with just one look. Patterns are everywhere this season--from printed pants sets to printed bomber jackets--but jungle prints are arguably the standout. Whether it's a tropical foliage print dress, a pair of pants scattered with bright green leaves and animal print, or fierce jungle accessories, we can't get enough imagining how great this trend will look paired with crisp white on tan skin. Ready to walk on the wild side? Shop the jungle-inspired trend in the slideshow, then check out other trends we're loving: map print, denim vests, and baseball hats.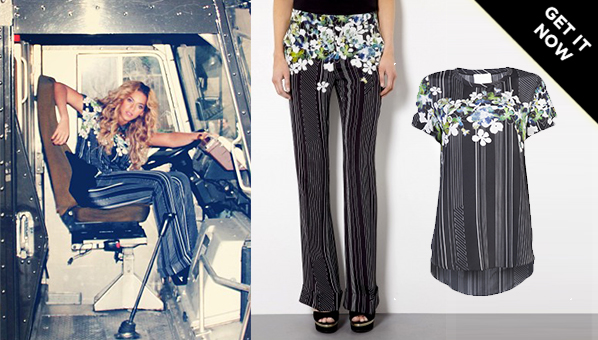 Beyonce Just Blessed Spring's Matchy-Matchy Prints With Her Seal Of Approval
Prints are absolutely everywhere this season. From printed shorts and pants sets to crazy printed denim and printed bomber jackets, you're not ready for spring until you embrace the trend. But don't just take our word for it--we've got Beyonce to back us up. The megastar recently modeled a printed pant set by 3.1 Phillip Lim in a pic she posted on her Instagram and we're obviously obsessed. Bey's rocking the 3.1 Phillip Lim Floral Overlap T-Shirt ($395) along with the matching 3.1 Phillip Lim Floral Stovepipe Trousers ($728). Love it? Us, too! Shop the set below. 3.1 Phillip Lim Floral Overlap T-Shirt ($395) 3.1 Phillip Lim Floral Stovepipe Trousers ($728) [Photo: Instagram] Don't forget to shop more celebrity style inspirations such as Alessandra Ambrosio's black and white outfit, Hayden Panettiere's Isabel Marant outfit, and Jessica Alba's varsity jacket.
Not Ready For This Season's Wild And Crazy Patterns? Play It Safe In A Star Print
To our great delight, prints are everywhere this season. There are printed short suits, printed pant sets, wild printed denim and even cool printed PJ pants. The prints range from subdued animal inspired patterns to bold graphic designs, but one of our faves (and one of the easiest to pull off) is star print. Just look at all the celebs who've rocked it: Kim Kardashian, Miranda Kerr and Reese Witherspoon to name a few. Whether it's a scattering of tiny stars on a dress, or larger stars on a top or pants, the print is an interesting, playful alternative to polka dots. This season we recommend you wear it with solids, or even with another print, because anything goes during the prints craze. Browse our favorite star print pieces in the slideshow. Be sure to check out other fun, futuristic trends we're loving like  galaxy prints, mirrored sunglasses, and laser-cut leather. [Photo: Splash News]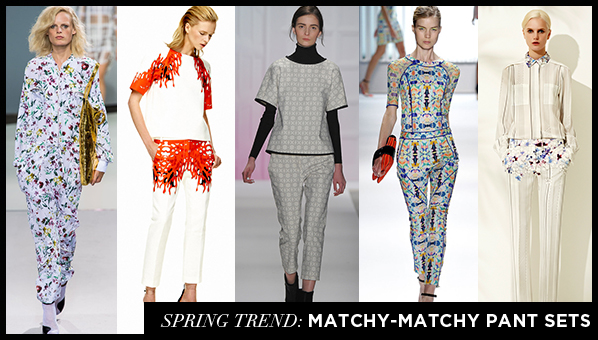 Still A Few Leg Lifts Away From Shorts? Try These Printed Pant Sets Instead
Last week, we gave you your first peek at spring's matchy-matchy trend with printed shorts suits in florals, stripes, animal prints, and more. But let's be real: we're not all supermodels and not everyone can pull off 3 inch graphic daisy dukes. Feeling weary about shorts? Well this week, we're back with a different take on the look--printed pants with matching tops. Designers like Tibi, 3.1 Philip Lim, Clover Canyon and Rachel Zoe are just a few of the designers who introduced these playful suit alternatives in eye-popping prints like brocade, checkerboard and even stars. Click through the slideshow to shop our favorites. Ready for more spring shopping? Check out other spring 2013 trends we're loving like PVC pumps, statement tees, and burglar stripes.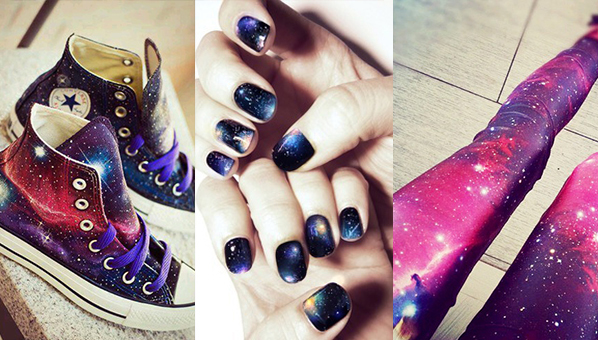 Galaxy Prints: Light Years Ahead, Or Way Too 'Out There'?
Galaxy prints: the "far out," milky way-inspired trend that is seems to be everywhere (if Pinterest) is any indication. Love it or leave it? Galactic patterns are popping up on everything from tops to leggings, Converse sneakers, nail art and quirky Etsy items. The perfect trend for astrology lovers and star-gazers alike, the trend is definitely out of the ordinary. Unsurprisingly, it's being carried by some of our favorite cheapie retailers--ASOS, Nasty Gal, and Urban Outfitters. At these prices, we've got to at least try this fun alternative to winter blacks and greys. Check out our favorite galaxy print digs in the slideshow! Check out some other trends we're loving up: Printed pants, fur trapper hats and PVC pumps!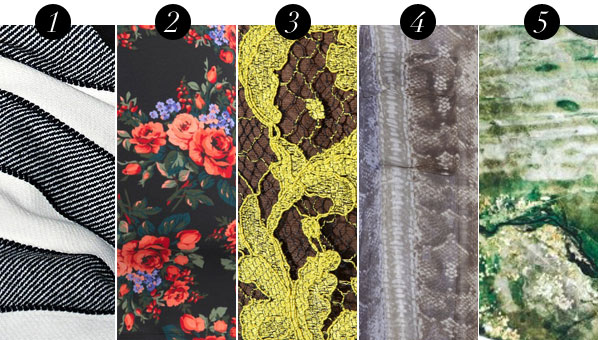 5 Fall Prints You Need To Know (And Own)
Every season, prints come in so many choices that it might be hard to keep track. And for those patterns that occur to be on trend every season (stripes, florals, animal print), it's tough to decipher which is the latest look. Lucky for you, we've come up with five prints for fall that you should be adding to your closet—and a slideshow of our favorite products so you can easily get started. You're welcome! Blanket Stripes: Unlike the usual Breton stripe, this print is found on cozy textures, like sweaters and ponchos, in a variety of colors and sizes. The thicker the stripe, the better. Dark Florals: While florals are always affiliated with spring and summer, this feminine print takes a turn for the dark side in dramatic hues and lush tones. Colorful Lace: Like florals, colored lace, such as a chartreuse yellow, can also electrify a regularly ladylike material into something more eye-catching. Python: Every season, there's also an animal-print-of-the-moment, this fall, stock up on python or snakeskin-style prints, a slithery chic motif. Digital: We mentioned this kaleidoscopic, abstract print before as a staple for fall, and we'll say it again—psychedelic patterns are easy statement pieces to add to your wardrobe. Check out the only 5 handbags every woman should own, 30 things to own before 30, and seven types of shoes you need in your closet.
Keepin' Up With The Kaleidoscope Trend: Shop Our Faves
If not now, when is the time for your craziest, brightest, most eye-catching pattern? We've caught wind of the kaleidoscope trend lately and we just can't get enough of it. Every bit as entrancing as it's namesake, this trend has us mesmerized and we can't stop staring. Whether on dresses, skirts, and pants, or an accessory, like a scarf, this pattern is guaranteed to grab everyone's attention. The best part? It looks great with a tan. SHOP THE KALEIDOSCOPE TREND (DON'T GET DIZZY!) Check out more bold trends: crazy sandals, neon denim, and psychedelic digital prints!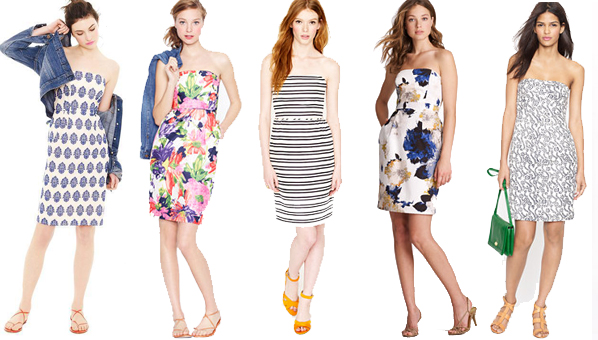 The LSD (Little Strapless Dress) Is The Answer To All Your Summer Events
It's just SO hot and sticky and humid these days that us girls are struggling to keep our cool and look fabulous while doing it. Don't you worry your pretty little heads though, the LSD (coined NOT after something illegal, but abbreviated to our liking) is the perfect way to look feminine, fresh, and just adorable no matter what the weather is doing to your hair. Throw the frizziness (or flatness) into a sock bun, don a fun, colorful bib necklace and voila, you are ready for any event. Whether it's a weekend BBQ, a garden party or something a little grimier (think beach side bars), these little numbers are your one stop shop to looking perfect in any venue. Pair with decorated flat sandals to keep it day time casual or throw on your go to neutral wedges to dress it up without competing with the coloful prints. STRAP(LESS) IT ON Don't forget to shop other summer trends such as printed bikinis, great beach cover ups, and summer sequins. Photo: J.Crew.
Printed Bikinis Create A Diversion From Muffin Tops & Other Body Issues
A black bikini may appear slimming (or rather yet, that's all in your head) but yawn, booooring. This season is all about the prints and luckily, they create the perfect distraction from any trouble areas you might have. If you're close-but-no-cigar to the perfect bikini body, let your bikini do all the hard work (or shall we say, heavy lifting). Designers like Mara Hoffman, who we absolutely cannot get enough of, have made geometric, colorful, and patterned bikinis king this year. We found everything from flirty florals to fruity punches of print, and some seriously marked-down sale styles. SHOP THE BEST PRINTED BIKINIS Pair with one of these fabulous cover ups that can also be worn out at night (double dipping is always in style), a cooling summer beach hat, and some sunglasses to top it all off.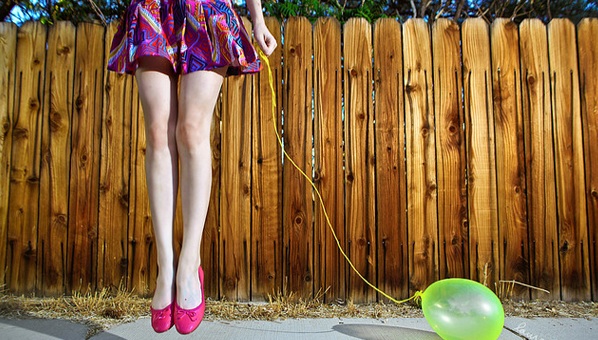 Welcome To The Happy Clothes Guide: 15 Finds To Instantly Boost Your Mood
Whether it's the Wednesday blues (how is it still only Wednesday?!) or the rain outside that's bringing you down, we've found the cure:  The Happy Clothes Guide. Call it Zoloft 2.0 if you like. A guide of all things bright and printed, this happy pill will instantly boost your mood, and help you get through the rest of the week. Caution is advised: these fashion finds could be addictive--you'll want to wear them over and over and over again. 15 FINDS TO INSTANTLY BOOST YOUR MOOD For more of our favorite fashion finds check out 30 Things To Own Before 30 and Items You Should Be Buying Right Now and shop our guides to stylish rain boots, the best trench coats and all of this week's best sales and deals.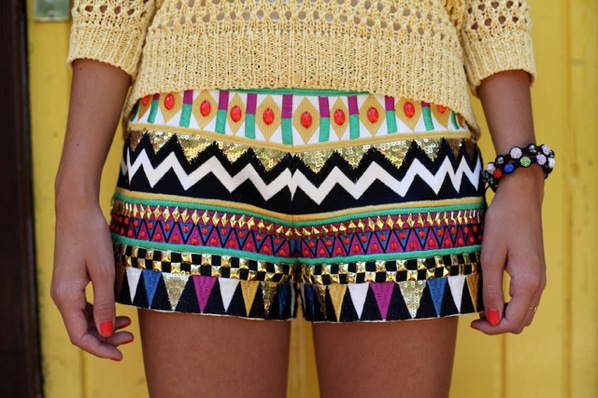 This Season, Shorts Are Bright & Printed (You'll Probably Want A Tan For This)
With the onslaught of prints this spring, we can't get enough of the fun patterns designers are coming up with. Now that you have all invested in some trendy printed pants, take it shorter! Living in your denim cut off shorts all summer is great and all, but yawn, so not in line with the fashion world. Have some fun! Choose a pair that compliments your shape whether it's a silk tie sting print shorts,  longer polka dot ones, or an Aztec inspired print. We have some crazy and cool choice above. Pair with a white flowy shirt and wedge sandals - suddenly you're the talk of the town (correction - beach town). [Photo Credit: Sass & Bide via Honestly WTF] Shop guides to tribal print wedges, iridescent sunglasses, and colorblock dresses.
If You're Wary Of Head-To-Toe Prints, Try One Of These Bold Clutches Instead
Designers are print-happy this spring- with everything from printed pants to entire print crazy outfits, we get in. Prints, patterns, geometric forms - they're all in. But when we saw this gorgeous printed clutch on Song of Style, we had proof positive that printed accessories were totally the way to go. An easy way to brighten up and accessorize any outfit, these printed clutches have us drooling (and saving up!). Who wants to lug around serious lbs in a giant shoulder heavy bag, especially in the sweltering temps spring is sure to bring? Free yourself of clutter and weight - stay fresh and light with these clutches. And don't forget our eye popping post on the candy colored crossbody bags if you're looking for a hands-free approach. Shop our guides to the best overnight bags, designer wallets, and bright bags.