Rachel Bilson Pregnant Is Just As Adorable As You'd Expect
Even though Rachel Bilson is in her thirties, there's just something undeniably adorable about her. Obviously when we heard she was pregnant, we were so giddy just imagining how cute her little one would be that we completely overlooked what pregnancy would do for Rachel. Well, shocker--it looks great on her! Take a look at Rachel's adorable baby bump: And it looks Rachel is already in full mom mode, shopping for her little one at Bel Bambino in Cali. We can't wait to see what cuteness she dresses her baby in. Don't miss Stacy Keibler's impressive maternity style, 30% off dresses at French Connection and Sophia Webster Mini. [Photo: Splash News]
Surprise! Rachel Bilson Is Pregnant With Hayden Christensen's Baby
In surprising celebrity baby news that no one saw coming, Hart of Dixie actress Rachel Bilson announced she's expecting a baby with her on-again, off-again boyfriend/fiancee Hayden Christensen. Now if you'e over the age of 25 or so, this actually isn't all that surprising. Rachel, of OC fame, starting dating Hayden in 2007 and the next year they were engaged. They broke up in 2010, but then a few months later they were dating again. And now, four years later, they're having a baby. Of course, all we really care about is Rachel's maternity style. She's already a style star for making just about everything work on her petite frame, so we can't wait to see what she wears over that baby bump. Congrats to the parents-to-be! Be sure to check out spring outfits you can copy right now, Olivia Palermo's $38 romper and the best beauty dupes.
Rachel Bilson Looks Really Freakin' Cute In This Star Print Isabel Marant Sundress
We've always had a style crush on Rachel Bilson, so it's really no surprise we're obsessed with this Isabel Marant Etoile Stars Printed Silk Crepe Dress ($505) she wore recently. The print is subtle, yet also patriotic making it a perfect choice for a 4th of July celebration. We also love the lightweight one-shoulder styling, which is perfect for hot summer days. To complete her look, Rachel carried the Chloe Elsie Small ($1,495). Sure it's a splurge, but that's the price you pay for a perfect black handbag. Shop Rachel's dress and bag below. Isabel Marant Etoile Stars Printed Silk Crepe Dress ($505) Chloe Elsie Small ($1,495) Check out looks like Kate Hudson's Smythe Blazer, Pippa Middelton's floral dress, and Kate Bosworth's Topshop dress. [Photo: Splash News]
Need Another Reason To Obsess Over Isabel Marant? See Rachel Bilson's Dress
I don't know about you, but I love that Rachel Bilson has reunited with her Jumper costar, Hayden Christensen (did you see Life as a House? Watch it. Now.) They were spotted on a romantic Caribbean vacation looking oh-so-adorable even in the extreme heat and sticky sand. So just how does Ms. Bilson always manage to look adorable, even under sweltering conditions? Easy. A lightweight, printed dress by none other than Isabel Marant. Rachel wore the Daryl Dress ($505) and we can't help but wonder, who does celeb style better than Isabel Marant? Answer: No one. Letting the cute dress speak for itself, Rachel slid her feet into some simple, yet comfy Tkees Foundation Sandals ($48). Score Rachel's complete look below. Isabel Marant Daryl Dress ($505) Tkees Foundation Sandal in Sunkissed ($48) [Photo Credit: Splash News] Shop more celebrity style such as Eva Longoria's Mumu, Nikki Reed's sequin blazer, and Zooey Deschanel's Jessica Simpson dress.
Did Rachel Bilson Sign Her Piperlime Deal Just For The Clothes?
Attention retailers: if you're in need of a spokeswoman, Rachel Bilson is your girl. You'll get more bang for your buck by hiring the former OC actress (she even makes ice cream look stylish) because she's like a walking mannequin for your brand -- and she'll wear you designs enthusiastically. Case in point: the Piperlime guest editor celebrated a company sip-and-shop event by wearing a sweater, pants, jacket, necklace and blazer that can all be found on the etailer (thanks, InStyle, for spotting the look). And this isn't the first time she's worn her own Piperlime picks before. Click through the slideshow above to get her exact look -- which includes classic Kate Spade nude pumps and an Elizabeth & James blazer you'll wear until eternity. No wonder she has her own handbag line with StyleMint! Shop more celebrity style such as celebrity-approved leather legging trend, Jessica Alba's blazer and Current/Elliott trouser pants, and Pink's POP! sweater. [Photo Credit: Splash News]
Rachel Bilson Launches A Line Of Fall Handbags With Shoemint
Fashion has fully embraced technology--so much that we can reach our fave designers on Twitter, find out about exclusive sales via Facebook, and even sync all of our fashion week invites into one list. Shoemint took it to a whole new level, though, by launching a new line of Shoemint handbags with Rachel Bilson and her friend and stylist Nicole Chavez and giving exclusive access to a select number of fashion bloggers, who posted photos of themselves with the bags with the new app you've gotta try, Pose. The bags are completely adorable, and totally easy to integrate into your own wardrobe, with a bonus: they're only $78. GET YOUR SHOEMINT HANDBAG NOW  Check out more: we've got tons of shoes, clutches and jeans we're lusting after for fall.
Rachel Bilson's Latest Outfit Is A Clever Mix Of Prints, Color & Metallics
When Rachel Bilson isn't wearing her favorite picks from her latest promotions, she's mixing and matching dizzying prints and pops of colors that work so well with her petite frame. We love this breezy Rag & Bone Mercer Print Sleeveless Dress ($395), which sports a two-toned print and an asymmetric hem. The subtle metallic detail on her Rebecca Minkoff Women's Bardot Sandal ($220-$275) is eye-catching without stealing all of the spotlight. Add that to Bilson's Chloe Elsie Shoulder Bag, Medium ($1,495), and you've got a surprising combo of style. Rag & Bone Mercer Print Sleeveless Dress ($395) Rebecca Minkoff Women's Bardot Sandal ($220-$275) Chloe Elsie Shoulder Bag, Medium ($1,495) Shop more celebrity style: Emmy Rossum's dress, Coca Rocha's dress, and celebrity graphic t-shirts.
Rachel Bilson Actually Wears Her Piperlime & ShoeMint "Picks"
We're delighted to report that if you ever see something deemed a "Rachel Bilson's Pick," you know it's 100% true. Proof: the petite fashionista was spotted in these Current/Elliott The Girlfriend Shorts ($172), which are labeled as "Pick" of hers on Piperlime. And Bilson paired her peek-a-boo-pocket shorts with a pair of Esther leopard booties ($79.98) from ShoeMint, the shoe subscription site that the starlet is a spokeswoman for. The point of the story? It's comforting to know that Bilson, whose style is so coveted, is actually a fan of the clothing and accessories that she promotes. But then again, we'd totally buy those leopard booties in a nanosecond—Bilson-approved or not. Current/Elliott The Girlfriend Short ($172)  Esther booties ($79.98) Shop more celebrity style: Kristen Stewart's ring, Heidi Klum's top, and Jessica Alba/Eva Longoria's jeans.
Think Khloe Kardashian & Jessica Alba's 'Star' Jeans Will Make Them More Famous?
As if nothing else could be done to a plain old pair of denim jeans (we've seen them with polka dots, tie dyed, and in every color imaginable), another design idea has popped into the heads of major label, Current/Elliot. The Current/Elliott The Star Stiletto Jeans ($218) have been seen on such celebrities as Khloe Kardashian, Jessica Alba (are you surprised?), and Rachel Bilson. If you haven't taken the time to think about what your festive Fourth of July ensemble is going to be, why not start with this shining star of a pair? You'll look way cooler than the girls sporting American-flag-adorned tanktops and shorts. Plus, you can totally wear these after Independence Day without looking too costumey. Current/Elliott The Star Stiletto Jeans ($218) Shop more celebrity style: Nicole Richie & Whitney Port's eco-friend jeans, Janary Jones's green jeans, and Kate Moss & Lindsay Lohan's cut-off denim shorts.
Orange You Glad Rachel Bilson's 3.1 Phillip Lim Dress Isn't Sold Out (Yet)?
Now that Memorial Day weekend is over—and we all are now sporting a hint of a bronzed glow from a day at the beach or out by the pool— it's time to find the perfect sun dresses to flaunt your newly tanned legs and freshly done pedicure. While we already found 10 dresses to try now, we need to add Rachel Bilson's 3.1 Phillip Lim Floral-Print Silk Crepe Dress ($575) to the list as well, whose orange-and-white palette are flattering hues that make sunkissed skin shine. Throw on a festive floral print and this halter dress will brighten the dreariest of days. 3.1 Phillip Lim Floral-Print Silk Crepe Dress ($575) Shop more celebrity style finds: Kate Bosworth's dress, Miley Cyrus's kimono, and January Jones's pants.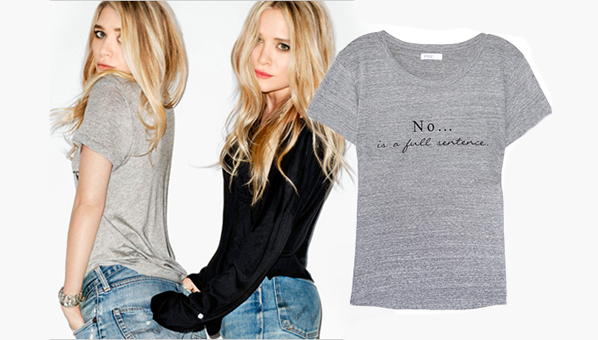 Attention, Busy Girls: Four Online Subscriptions You Need To Sign Up For ASAP
If the phrase "crazy-busy" seems to be your all-time mantra, you're probably too overloaded to spend time shopping for the new work clothes you so desperately need, not to mention updating your handbag or replacing your eyeliner. Let us introduce you to something life-changing: the brave new world of online subscriptions. Just like getting a maid service and ordering Fresh Direct can change your life, being able to pre-order fashion & beauty stuff to arrive at your door at the same time each month is the next best thing.  Forget magazine subscriptions--it's just another thing you don't have time to read. Here are our top 4 online subscription sites you need to know about now: 1. Birchbox For those of us who have been living under a rock, Birchbox is a beauty-subscription services for the every-girl. For $10/month (or $20 if you're a dude), subscribers get a gorgeously packaged box full of select beauty goods, from nail polish, to lotions, to fragrances and make-up. The best part? The boxes are often curated by celebs, and stuffed to the brim with hand-selected products and advice on how to use them. If you find something you love, you can order the full size on the website. 2. Little Black Bag Little Black Bag is a perfect choice for the adventurous. At sign-up time, you take a test to determine your beauty style. Then, you're presented with purses, jewelry and accessories from brands such as BCBG, Kenneth Cole, and Steve Madden. Select one goodie, marked down from prices up to $200, for $49.95. When it arrives in your mailbox, it's been packaged with two other accessories, selected by Little Black Bag stylists. Don't like what you got? No problem--exchange with other Little Black Bag users online. LBB is a super-fun way to spice up your wardrobe with items you may never have chosen yourself. 3. StyleMint We were sold on StyleMint as soon as we learned the collection was designed by none other than Mary Kate and Ashley Olsen, but for those of you who need a little more convincing: Style-Mint curates an e-closet of T-shirts for users based on a personal style quiz. Every month, you get an email with T-shirts selected for you. Think  they're cute? Buy as many as you'd like, for only $29.99 each. Want to pass this month? Just opt to skip the month and you won't get charged a penny. The best part? With every shirt you buy, you get credits, which can be converted to freebies after a few months--and the shirts are soft, stretchy, and absolutely perfect--but we wouldn't expect anything less from MK&A. 4. ShoeMint Essentially StyleMint's clone in a shoe version-- except with ShoeMint,  your personal shopper is Rachel Bilson. Bilson's easygoing and trendy style is reflected in each pair of flats, heels, and booties in this collection, priced at $79.98 per pair--up to 80% off retail value! V. JewelMint Rounding up the Mint trifecta is JewelMint. Designed by Kate Bosworth and her stylist, Cher Coulter, the Jewelmint collection ranges from boho-chic, to classic, to super-edgy pieces. Rings, necklaces, bracelets and earrings are $29.99 each, and you can load up on as many as you'd like monthly. One caveat--these go super fast, so order away, chicas. Prefer to do your e-commerce the old fashioned way? Shop our guides to shoes, jewelry and handbags.
First Photos: Rachel Bilson + Steve Madden For ShoeMint (Plus, An Exclusive Sale Code For Our Readers)
Following the launches of Kate Bosworth's JewelMint and Jessica Simpson's BeautyMint, comes the latest celebrity-endorsed monthly membership club -- Rachel Bilson for ShoeMint. The site, which launches on Friday and will include a selection of $79.98 suede wedges, leopard lace-ups, and more co-designed by Steve Madden and Nicole Chavez, just shared sneak peek photos with us. Even better new: the cool kids at Shoemint are offering 20% discount for SHEfinds readers. Enter code SheFinds20 at checkout. (more…)
Rachel Bilson's $70 Coral Topshop Maxi Is Still Available – Snag It Before It's Gone!
Rachel Bilson's exact coral Topshop maxi skirt is only $70 and it's still available! Normally when celebrities are spotted in trendy Topshop finds, said finds are snatched up immediately and never seen again (except maybe on eBay)...but not this time! Rachel Bilson's exact coral Topshop maxi skirt is still available. Considering that this skirt is extra-cute and extra-affordable (it's just $70!), I'm betting that it'll be sold out in no time. That said, snag it before it's gone - or shop our favorite brightly colored maxi skirts after the jump. (more…)
Rachel Bilson's Red Lace Dress Is On-Trend And On Sale For $150
You can get Rachel Bilson's exact French Connection Dress at Zappos on sale for $150.40, down from $188 We adored Rachel Bilson as Summer on The O.C. (don't even try to pretend you didn't watch it!), and since then we've been obsessed with her style - we even named her one of our Top 10 of 2010 Best Dressed Celebs. Currently we're in love with the red, lace French Connection dress that she wore at a shoot for Sunglass Hut (she's their Style Director, didn't ya know?). Not only is this dress exceptionally sexy, it is also on sale at Zappos for $150.40 (down from $188), and it's delightfully reminiscent of  - and much cheaper than -  the no-longer-available Erdem lace dress that Alexa Chung wore on the cover of Net-A-Porter Magazine's Spring 2011 issue. What do you think? Do you like the colored lace dress trend, or do you prefer a classic white style à la Kate Middleton? Let us know your thoughts in the comments section.
Flat Sandals: Show Off Your Pedicure And Still Walk Comfortably This Summer
If you buy nothing else this season, make sure you get yourself a great pair of sandals you can actually walk in. Band-Aids on the back of your heels are not cute--so make sure they're real leather, and give you some support. Bonus: we chose 5 of the most comfortable, stylish flat sandals to throw on with every single thing in your spring and summer wardrobe. Get yourself a pedicure and get to it! (more…)
Cannes Film Festival Begins Today, Time To Reflect On Last Year's Best Dressed
Granted we are stuck in the United States, but halfway across the world the 2011 Cannes Film Festival begins today, featuring celebrities like Rachel Bilson and Diane Kruger. But don't worry, we'll be Twitter stalking so you always know what's going on. And forget about the films - we can see them in theaters later - we're all about who's attending, who everyone is wearing, and of course, how good they looks. (more…)
Week In Review: Kate Hudson's Jewelry Line, Your Handy Guide To The Royal Wedding, More
Must Reads: Just in case you haven't been awake for the past few months, stay up to date on the Royal Wedding with our handy guide. Feeling a bit heavier than usual? Shop at a lower priced store, their sizes run much bigger. Hello, size 0. If you need help finding a gift for Mother's Day, just consult us - we have everything you need. Or check out Oprah's new obsession with her 20 Years Younger skincare pledge. Go from the pool club to the night club - just put a skirt on over this schnazzy swimsuit. Jewelry Collaboration Alert: Kate Hudson teams up with Chrome Hearts for some boho jewels. Celebrity Style: See how you can copy the looks from Miranda Kerr, Rachel Bilson and more at this year's Tribeca Film Festival. If you're loving Victoria Beckham's Royal Wedding ensemble, get it for yourself here. We uncovered the truth as to why men love Jessica Alba. And how Alessandra Ambrosio stays cool when it's hot out. Selma Blair was seen hiding her (very large) baby bump in this draped dress - we're using it to hide our love handles. Or for those of you toned ladies, try Whitney Port's knotted top. Sales and Deals: Dear French Connection, thanks for 70% off spring dresses sale. Save 35% on your favorite basics from Gap, Old Navy, AND Banana Republic. See what Bloomingdale's is offering with their invite-only sale. (more…)
Forget The Movies, We're Too Busy Watching The Celebrity Style At The Tribeca Film Festival
Although it might not be fashion week, celebrities like Rachel Bilson, Chloe Sevigny, Miranda Kerr and more still step out in style in New York City for the 2011 Tribeca Film Festival. And with the decently warm weather, we're loving these new spring and summer styles. So whether you have a movie premiere or just a casual cocktail hour, you can definitely steal a few fashion ideas from these stars. (more…)
Week In Review: Juicy Couture Sues Over Fonts, Kim Kardashian Designs With House Of Harlow Guru, Target's New Dresses, More
Must Reads: Juicy Couture sues men's jacket company, Jesus Juice Couture, over stolen fonts and names, reported first on SHEFinds. Kim Kardashian borrowed Nicole Richie's jewelry designer in order to create Kim's new jewelry line, Belle Noel. Read up on our guide to Milan's Fashion Week, from the comfort of your home or office. We get a peek at Target's release of 34 dresses from 17 designers under $50 collection. (more…)
I Guess We Know How Rachel Bilson And Olivia Palermo Feel About The Orange Trend
Last week, Milly reminded us that you CAN wear bright colors when it's cold, and everybody knows that orange is a may-jor spring 2011 trend. If you're still on the fence about the citrus hue, let uber-stylish pretty young things Olivia Palermo and Rachel Bilson inspire you to jump on board: (more…)
Top 10 Of 2010: Best Dressed Celebrities
As the year comes to an end, we thought it would be perfect to remember our favorite parts of 2010. We begin with the top 10 best dressed celebrities of the year: 1. Jennifer Aniston: Still Got It Even without Brad, Jen shows us that she's cam and collected just like this classic outfit she rocked at the airport. 2. Zoe Saldana: Best Dressed When Zoe isn't too busy being an Avatar, she's showing off how good she looks...in everything. 3. Alexa Chung: It Girl Between clogs, denim cut offs, and boyfriend shirts, Alexa Chung proved to be one of the trendiest style icons of our time. 4. Jessica Biel: Most Improved As much as we loved Mary from 7th Heaven, we never realized what a fashion faux paux she was. Luckily, she has re-evaluated her closet (and got rid of that gold jumpsuit) and we're digging her new look. 5. Kim & Kourntey Kardashian: Two Out Of Three Ain't Bad (Sorry, Khloe) Since Kardashian seems to be another name for shopping, its not surprising that they're on our Best Dressed List. However, we only think Kim and Kourtney really kept it together this year... 6. Jennifer Hudson: Most Drastic Transformation One thousands awards go to Jennifer Hudson for losing over 50 pounds this year. And she did it the healthy way. We approve. 7. Jessica Alba: Most Shop-able Closet Between the Madewell picks and trendy summer dresses, we can copy Jessica Alba's style without going bankrupt (finally). 8. Michelle Obama: Most Likely To Succeed Michelle Obama not only fulfills her First Lady roles, but does so quite fashionably with her wide arrange of kitten heels and brooches. 9. Kate Hudson: Free Spirit Award Oh, Kate Hudson. Granted we envy every outfit she rocks, but we love how she wears what she wants when she wants, and looks awesome doing so. 10. Rachel Bilson: The Silent Wonder Rachel Bilson is a fashion idol on the rise so keep an eye out for her entrepreneurial ways and her leather shorts, of course. See more our favorite past celebrity styles. Shop our guides to the best black dresses, the best platforms, and the best skinny jeans. Join our e-mail list for exclusive SHEFinds updates.
Shop Kim Kardashian And Nicole Richie's Favorite Winter Accessories Now
Bundled up in grandma-knit hats and intruder-like face masks, otherwise chic gals take winter as an excuse to let personal style and general upkeep go out the window. But if we can learn anything from Kim Kardashian, Rachel Bilson and Nicole Richie, it's that winter accessories can be as chic as their warm-weather counterparts: Kim's Eugenia Kim Honey Wide Brim Hat is $297, but we found the look for much less: this Ribbon Band Wool Hat ($29.99) is a tenth of the cost, and equally chic. Get Rachel's exact scarf, this Love Quotes Scarf in Cashmere ($88) for a warm and still put-together winter look. Pair with aviators and a colorful knit hat to complete her cool look. If you have a bold, 70s-inspired personal style, like Nicole Richie, don't let cold weather throw you off. Stay stylish year round with this Tarnish Asymmetrical Animal Print Felt Fedora ($75). Get Malin Akerman's cool scarf style with this Diane von Furstenberg Leopard Kenley Scarf ($230); it looks great when pair with black sweaters or black leather jackets and skinny jeans. For more chic winter accessories, check our guides to the best gloves, scarves and hats. Then check out the best holiday gifts,  stylish rain boots, boots under $100, and faux fur vests. Join our e-mail list for exclusive fashion updates and newsletters. Follow the author of this post on Twitter @bridefinds.
Fall 2010 Report: How To Pull Off Leopard (All The Cool Kids Are Doing It)
Leopard is huge this fall (trust your animal instincts on this one) from leopard print shoes to leopard jackets. Everyone from celebs Rachel Bilson and Whitney Port, to designers like Rebecca Taylor have embraced the trend, and so should you. But before you go digging up the leopard stoles and boldly-printed bags, take a breather and give the trend some thought. You don't want to look like a cougar, afterall. With these 5, fail-safe 2010 leopard pieces you won't: Leopard scarf: A scarf is the easiest way to incorporate a pattern into your wardrobe. Pair this Gap leopard Scarf ($29.50) with a black top or blazer for an understated way to wear the trend. Leopard ballet flats: A leopard flat is an eternally chic basic. These French Sole Leopard Suede flats ($100) are well-priced; pair them with dark skinny jeans and a crisp white Oxford button down. Thin leopard belt: For another touch of leopard, go with a skinny waist belt like this J.Crew Leopard patent belt ($39.50). Wrap it around your neutral cardigans to instantly make any outfit chic. Leopard shift dress: Not only is this Lauren by Ralph Lauren Leopard Print Sleeveless dress ($107, down from $134) perfect for work, happy hour, first dates and beyond - but its also marked down. Leopard cuff: If you're still hesitant about leopard clothing - get a dose of the hot pattern in jewelry form. This Kenneth Jay Lane Leopard Head Bracelet ($198) is so one of a kind - you will get lots of compliments. Trust us. Follow the author of this post on Twitter @bridefinds.
Week In Review: Lady Gaga Halloween Madness, $700 Leather Boots, More
Must-Reads: Lady Gaga Halloween costumes are hand-made and over-the-top on Etsy. Are these Loeffler Randal boots worth $700? You decide. There's 31 days in October and SHEfinds has a calendar of events to help you get through the month in style. As if we didn't already love the Marc Jacobs handbag prodigy, now Jessica Stam's collaboration with Rachel Roy gives us something else to rejoice about. SHEfinds has brought you the 5 best pant styles for fall that we know you'll love. Is splurging worth one handbag or an entire wardrobe? We let you be the judge. Taste Tests: Can you tell which buckle boots cost $165 more than the other? Can you tell which stretch corduroy pants $140 more than the other? Can you tell which black peep toe pumps are $700 more than the other? Sale Alert: Paige Premium Denim Jeans for $60? Okay! Madewell tanks are 65% off - can you say guilt free spending?! Oprah's favorite J. Crew shoes are 60% off: sensible and oh-so affordable. Celebrity Style: Katherine Heigl knows fall is all about being cool, comfortable, and chic . It's banana's that you can look like Rachel Zoe with this costume idea. Blake Lively is all glitter and sparkles in her LBD at Letterman. Rachel Bilson shows us that leather shorts are a total do. Beauty: Marchesa makes...makeup?! Grab this limited edition collection while you can. Guides to Check Out: You've been wading through the mess of department stores for too long - we've got the best rain boots, fall handbags, fall jackets, and fall tops right here. Don't miss out on the best sales and deals from around the web, plus all of this week's online sample sales. Subscribe to SHEfinds to receive our exclusive email newsletter.
Rachel Bilson Makes Leather Shorts Surprisingly Wearable For All
Rachel Bilson is one of those young celebrities who can do no wrong when it comes to fashion and trying new trends (even clogs), so when she stepped out in leather shorts, a floral top, and slouchy open toe booties we weren't surprised that she she nailed the look. What did surprise us was how much we wanted to try the look ourselves for fall parties and events. Check out the breakdown here: Start with a flowy, cream-colored floral top like this Tucker Floral-print silk-blend blouse ($380). You can also pair it with skinny jeans and flat camel boots all fall. For something even girlier, go with this Aryn K pink floral silk drawstring sleeve blouse ($60, down from $86). The silk buttons and cool ruching detail give this top a vintage feel. If you're bold, try the hot fall trend of leather shorts like Rachel did. These Blank Denim Leather Shorts ($104) are an easy way to try the trend without breaking the bank. For a flattering shorts style, choose one with flares like these Juicy Couture perforated leather shorts ($348). The A-line, flared silhouette makes any thigh look thinner. To get Rachel's exact bootie, grab a pair of these so-hot-right-now Maison Martin Margiela open-toe ankle boots ($845). They are like shoe porn - so sexy. Check out more celebrity approved fall trends, like over the knee boots, boots under $100 and celebrity handbags. Follow the author of this post on Twitter @bridefinds.
Sarah Jessica Parker, Rachel Bilson And Alexa Chung Are Obsessed With Clogs. Can You Blame Them?
Karl Lagerfeld must be having a ball watching celebs follow him onto clog trend bandwagon; he reintroduced the clog in Chanel's Spring 2010 show, and it has since caught on like a wild fire.  We too can't help but love them:  they are super comfortable, come in all shapes and sizes and are the perfect transition piece from summer to fall.  Take some clues from these uber chic celebs and make the clog a part of your look. Whether you prefer Rachel Bilson's buttoned up classic look or Alexa Chung's fashion forward heeled-clog or just want Sarah Jessica Parker's laid back style we have found the clog for you …and for a whole lot less! Get Alexa Chung's fashion-forward look with these Jeffrey Campbell Stampede Open Toe Clogs ($135). Dress a little more casually like Rachel Bilson? Go with a pair of these Enzo Angiolini Shoes Kaloni Clogs ($80.10). Go for comfort (and style) like Sarah Jessica Parker with a pair of UGG Australia Abbie Suede Clogs ($130). Check out more from our guide to clogs, and then check out our guides to skinny jeans and see all of this week's best find of the day picks and sales and deals, plus more celebrity style guides by our celeb market editor, Paula Knight. Follow the editor of this post on Twitter @shefindseileen.
Week in Review: Fashion Week, Jimmy Choo Uggs, Backstage Beauty, More
Must Reads: Leopard, grommets, and fringe  - oh my! Jimmy Choo and Ugg team up to make an interesting collection. Christian Louboutin's Outnet sale - run, don't walk, to snatch these babies up. Backstage beauty at Fashion Week has us dying to try some new trends. SHEfinds on Better.tv - 4 best fall trends under $100. J. Crew has launched an online factory store - but only for the weekend! Taste Tests: Can you tell which faux fur scarf is $35 more than the other? Which wedge boot is Steve Madden and which is Express? Can you tell which denim top is Ralph Lauren and which is Topshop? Sale Alert: We love that the Oprah- approved CJ by Cookie Johnson pants are 50% off. Shoeaficinado.com has just launched – get up to 75% off Steve Maddens! Celebrity Style: We're crazy about Rachel Bilson's pretty prints. 'Twilight'-er Ashley Greene rocks turquoise during Fashion Week. Kelly Osbourne is fast becoming a quirky style icon in this LBD. Guides to check out: Step into fall with our only the best in desert boots, jeggings, and self-tanners, thanks to our guides.
Rachel Bilson Is Runway Ready In DVF At New York Fashion Week
As Fashion Week 2010 continues, more and more celebrities are showing off their best looks. Like Rachel Bilson, for example, shines with her flowy patterned one-shouldered dress, strappy chain sandals (getting that last wear in), a white DVF clutch, and classy red lips. There's no reason why she shouldn't be strutting down the runway in this sassy number. If you're as obsessed as us, get the look yourself. You can thank us later. Go after that printed one-shoulder look with this BCBGMAXAZRIA Printed One Shoulder Dress ($348). The baby blue leopard print goes with every color – giving you endless options. Before the weather gets too cold, strut your stuff in these Not Rated Vixen Platform Sandals ($59.95). Chain and leather together is seriously edgy yet totally sexy. Pack all of your stuff up in this Charlotte Russe Snakeskin Clutch ($14.50). Available in two neutral shades, beige and gray, this perfect sized clutch will be your new go-to evening bag. Swipe on some Clinique High Impact Lipstick in Sassy Spice ($14) and let your lips speak for themselves. Keep the rest of your makeup at a minimum to really let your pout pop. Copy more celebrity styles with all of our get the look posts. Shop our guides to the best party dresses, the best platforms, and the best evening bags. Join our e-mail list for exclusive fashion updates.
Eva Longoria And Gwen Stefani Look Pregnant In Oversize Clothes
When petite stars Gwen Stefani, Eva Longoria and Rachel Bilson were photographed in these baggy, oversize outfits - we had to do a double take. They look more like homely, bag ladies than slim style icons. What they did wrong: If they wanted to try the oversize trend, they should have gone with either a baggy top or bottom - not both. In head-to-toe baggy attire they look like they're hiding something. A baby bump perhaps? Also, horizontal stripes can be unflattering, so if you must wear them (a la the nautical trend) pair them with a fitted jean - not a gaucho pant or cropped wide leg like Bilson. What they should have done: To avoid causing the pregnancy or weight gain rumors, they should have paired the oversize pieces with fitted, tailored ones, like in these three looks: If you want to try the trend at home, go with a v-neck or scoop neck version like this sexy Monrow Oversized Tee ($72). The relaxed fit is flattering - especially in black. Balance the oversize tee with a pair of skinny pants like these celebrity-favorites. The J Brand 'Houlihan' Skinny Stretch Cotton Cargo ($231) are the season's most popular pant, and go great with the baggy black top. If you want to try the loose-fitting trend in a pants version, pair it with a fitting top like this versatile Kain Label Pocket Tank in Many Colors ($80). The gray pocket tee is on-trend and very hip. Wide leg trousers are a great way to wear the oversize trend while still looking incredibly polished. You will love these flattering Alice + Olivia Eric Pants ($254) - the white is a great base for summer outfits, and the trouser style will make you look like a Hamptons-goer (even if you aren't). Large horizontal stripes can be unflattering - but thin stripes are totally cute. If you're craving a striped, oversize tee, go for this Just Female Oversize Stripe Tee ($42.27, down from $84.55). You will love the pocket on this comfy style. Rather than pairing a striped tee with rolled up baggy pants like Bilson, pair it with black treggings for a more polished, yet still comfortable look. You will love these Silence & Noise Black Crinkle Jegging ($54). To stay up-to-date with more summer trends, make sure you read up on our guides to rompers,  skinny jeans, clogs, summer dresses and Spanx swimwear.
What to Wear To Bonnaroo (And Other Outdoor Festivals) Rain or Shine
We get it: you're not a hemp-wearing Grateful Dead fan, but want to look hippie-chic and comfortable at the outdoor concerts and festivals this summer. Have no fear, there is a stylish way to wear hippie-inspired clothing (thanks for the inspiration, Kate Hudson and Kate Moss.)  Get the look here: Start the look with a pretty floral tank like this adorable Mini-Floral Henley Tank ($14.99, down from $49.50). This will be the girly base to an otherwise hippie meets rocker outfit. Get the celebrity cut-off style without the celebrity price tag. These Revolt Cut-Off Jean Short ($19.90) are the perfect way to nail the look; now you can spend the money saved on liquid refreshments. Bring a cardigan - it gets chilly at night, and we know you'll be rocking out until the wee hours. This Sparkle & Fade Short Sleeve Roll-Cuff Open Cardigan ($48) has great roll-up sleeve detail and is super soft. Now you can rock out in comfort. Get your Woodstock on with a cool, fringe bag like this awesome Urban Code Leather Fringe And Stud Clutch ($42.27). You will love the sandy color and stud details - so Almost Famous. Avoid muddy, bruised feet by opting for a cool boot, rather than a sandal. You will love the rock 'n' roll feel of these Steve Madden Texic Grey Leather ($129.95, down from $149.95). Check out more cool summer fashions, from rompers and summer dresses to shorts, and flat sandals.
Rachel Bilson Converts From Actress To Sunglasses Expert
Rachel Bilson might not be everyone's favorite actress, but she can sure pick out a great outfit--and of course, sunglasses. The young starlet has just been announced as Sunglass Hut's new Style Director and she's making sure Ray-Bans are on everybody's face. Look how great they look, even with a ball gown, as Bilson poses for InStyle, above. Today, in her first blog post for Sunglass Hut, she writes, "Think Tom Cruise in Risky Business sliding across the floor in socks, jocks and you guessed it, Wayfarers ($119). They're back and they're totally my staple." We can see why. Bilson is celebrating her new position by pulling her favorite sunglasses, like the Ray-Ban 'Original Aviator' ($139),  into her own Sunglass Hut collection for us to shop. She's also been interviewing popular designers, such as Tory Burch, to find out the newest sunglasses trends and inspirations for the upcoming season. We look forward to see what her favorites are. Maybe she can include some fun aviators like the AJ Morgan Fez Sunglasses ($19.95, down from $28). Check out our guides to the best sunglasses, the best celebrity style sunglasses, and the best swim cover ups.
First Look: Four Genius Style Tips From Ann Taylor's Roaring '20s Party
The crowd at Ann Taylor's fall 2010 collection was surprisingly really cool, and so were the clothes. Once upon a time, Ann Taylor was my mother's go-to store for work wardrobe essentials, but the brand definitely went up a few notches on the cool scale with their twenties-inspired collection for fall. It-girl Rachel Bilson even made an appearance, and while I haven't seen any paparazzi pics of the starlet shopping at Ann Taylor, her outfit alone is proof that you must get thee to your nearest store. The collection won't be in stores until this fall, but check out four styling tips we took away from the presentation that you can use now: 1. Buy some fringe. Rachel Bilson (left) wore the cutest pair of fringed black shorts, and the Nanette Lepore Festive Light Miniskirt below ($149, down from $298) is a great piece to introduce the twenties trend into your wardrobe. 2. Pair an anorak with your work outfit. I loved the idea of pairing a anorak with a pencil skirt for work, and this Kenneth Cole New York 'City' Anorak ($98) (below) is a nice alternative to a trench coat for spring. 3. Add a touch of leopard to your neutral outfits. The presentation was full of splashes of leopard, and it made the outfits look hip. These Calvin Klein Women's Lexa II Ballet Flats ($93.05) will pop with any outfit. 4. Wear your ornate rhinestone jewels for day or night. As soon as I walked into the presentation, I was almost blinded by the amounts of rhinestone accessories, and they looked really cool with the everyday pieces. Wearing this Rachel Leigh Zelda Waltz Layering Necklace ($132) is a nice way to get in on the trend. Get more insider access with our sneak peeks, and then check out our guide to the best chain strap bags, and the best trench coats.
Would You Rather Celeb Edition: Rachel Bilson vs. Rihanna In Current Elliot Jeans
Both Rachel Bilson and Rihanna chose the same pair of Current Elliot Zipper legging jeans, and each wore it completely differently--they're almost beyond recognition. Whose outfit do you like better? First, start with the jeans: Current Elliot Zipper Legging Jeans ($220) clearly can be worn tons of ways, and the zipper makes them stand out from a crowd, even if you're dressed down like Rachel Bilson. If you like the Rachel: Start with a dusty rose Tophop scarf ($32), add these cute All Black quilted flats ($73.49, down from $94.95) and top it off with a beautiful Mango Fringe bag ($109). If you're more of a Rihanna fan, try out these edgy accessories: Sunglasses are key: get these checkered Von Zipper Rockfort sunglasses ($64) to really get the Rihanna vibe. Then slip on a sexy pair of booties like these by Pour la Victoire ($178) and a cool pair of Rachel Leigh pyramid fringe earrings ($66). Check out all of our celebrity style coverage--find out which Gap (!) jeans captivated  Eva Longoria and Sarah Michelle Gellar, and check out our guides to skinny jeans, white jeans and discount jeans to stock up on for spring.
Project Runway: Surf's Up, Or Down, If You're Mitchell
When the show moved to LA for Lifetime, the only real, noticeable difference was the swap of New York's steel backdrop for golden California scenery. So, it was only a matter of time before Project Runway took advantage of the left coast's legendary beach culture. Witness: episode 3's surfwear challenge. Designers had to work in pairs to design a "fun and fashionable surfwear look," with one team member acting as the team leader. Even before Tim threw in the prerequisite Surprise! element--an avant garde outfit in addition to the first look--at least half of the design teams were on the rocks. One of the strongest teams was Johnny and Irina, who put together a beaded racerback tank with a light sweater and flowing skirt that guest judge and former OC star Rachel Bilson said she'd wear in a heartbeat. But it was the unlikely team of Mitchell and Ra'mon who wowed hard-to-impress Nina Garcia with their ocean-inspired dress and lime neoprene avant garde dress. The problem for Mitchell, though, was that he let Ra'mon do all the work. Gotcha! So, he battled it out with Qristyl and Epperson, who fought constantly for control. Q. threw E. under the proverbial bus when it came time to judge their palm-frond dress (above), but Mitchell got the three-strikes penalty from Heidi. Straight from the mouths of surfer girls to designers' ears, California style is inspired by comfort and colors of the beach. Like Johnny and Irina's fave beaded tank, the Madison Marcus "Cascade" Beaded Ivory Top ($238) is delicate and functional at the same time. Even better, the classic racerback shows off sunkissed shoulders. Pair with a soft, fluid topper like this cashmere Velvet Electra Sweater ($297), for chilly fall nights. And if you've never tried anything from Velvet, the sheer softness of the clothes lives up to the name. Did we mention the colors? The most successful thing about Ra'mon's avant garde dress was the shocking green. These pretty Sutra Green Onyx Leaf Cluster Earrings ($200), made with sterling silver, yellow gold vermeil and gree onyx, add a little sand-and-sea sparkle to any outfit--without the neoprene. Whether you need more fancy tanks or cardigans, we've got you covered with evening tops for jeans and our guide to the best cardigans out there.  And in case you need to catch up on Project Runway coverage, don't forget to take a look at what happened last week.