Here's Where To Buy Emmy Rossum's Plaid Midi Skirt
For deli trips, we tend to think sweats, tees, maybe some relaxed jeans. But maxi skirts and heels? Only in Hollywood. Emmy Rossum wore a Rebecca Taylor Shadow Plaid Pleat Skirt ($495) with a simple black tank and strappy black sandals. While I am sure she looked fab at the deli, we may save this piece for a date night or Saturday brunch. Plus, this dark-hued maxi combines a little bit of plaid, a little bit of pleats making it feminine and autumn-esque. Shop it below. Rebecca Taylor Shadow Plaid Pleat Skirt ($495) Need more celebrity style inspiration? Check out Reese Witherspoon's bejeweled cocktail dress and Alessandra Ambrosio's printed leggings. [Photo: Splash News]
Rebecca Taylor Dishes On Her New Outerwear Collection (We're Obsessed!)
We recently sat down with designer Rebecca Taylor to discuss her new outerwear expansion, of which our editors are entirely obsessed (can we talk about the cocoon coat with the blue shearling collar!?!). The designer dished on her bestselling moto jacket, her inspiration for the new styles, and some super-helfpul advice for the SHEfinds reader on choosing her new coat for fall. Thank you, Rebecca! Read it now: SHEfinds: Your leather moto jacket is so cult! Tell us about it.  Rebecca Taylor: Our leather jacket is garment washed, which really offers the customer the softest supple leather, and it's lined with jersey making it extremely comfortable. SF: Is the popularity of the moto one of the reasons you decided to expand your outerwear collection? RT: I've always had outerwear in my collections, but this season I really wanted to expand our outerwear and offer the Rebecca Taylor girl a coat or jacket for every occasion. SF: What is the inspiration for the new styles? RT: The collection was created with a focus on luxury and function. I wanted each piece to marry modern femininity with comfort and offer unique cuts and silhouettes in unexpected colorways. SF: What should a woman look for when choosing a new coat for fall? RT: I would say having a coat that keeps you warm is the most important thing. It's also important to think about the layers you'll be wearing underneath your coat--make sure there's enough room if you plan to wear chunky knits. In a lot of areas, the winter season can feel like a very long time. A coat is a staple piece that carries you through the season--you need something that's going to last. SF: What details are you loving for outerwear this season? RT: I'm really loving unique embroideries, beautiful embellishments, and faux fur details. SF: What style details should a woman look for when shopping for a coat this season? RT: I think it's important for a woman to feel special and confident in whatever she wears. Make sure it's something you'll love to wear again and again. SF: Do you believe in investing in a good coat, opting for trendier lower-prices ones, or a mix of both? RT: I do think it's important to invest in a good quality coat but I think you can also enjoy trendier lower-price pieces as well. It's great to have a mix of both- your good coat is your go-to for every day wear while trendier ones can be worn for special occasions when you want to feel a bit more dressed up. SF: Your faux fur looks and feels amazing! What is the secret?! RT: For our faux furs, I shave off the seam allowance in order to cut out any bulk. This really allows the fur to feel elevated and luxurious. Melton Faux Fur Coat ($795) Icicle Cocoon Coat ($795) Boucle Moto Jacket ($495) Wool Shearling Cocoon Winter Coat ($895) Shearling Vest ($995) Polar Faux Fur Vest ($550) Washed Leather Moto Jacket ($895) Amsterdam Tweed Jacket ( $595) Lace Bonded Jacket ($475) Patch Faux Fur Vest ( $595) Embellished Tweed Jacket ($550) Metallic Leather Moto Jacket ($995) Faux Merino Moto Jacket ($695) Artisan Tweed Fringe Coat ($650)
If This Floral Print Dress Is Good Enough For Sarah Jessica Parker, It's Good Enough For Me
When you hear the word style icon, Sarah Jessica Parker is probably one of the women who immediately comes to mind. Whether in character as Carrie Bradshaw or as her normal stylish self, SJP always kills it. Our most recent proof? When she stepped out of her NYC apartment wearing this stunning Rebecca Taylor number. Not only is it the perfect day dress for work, but it's also perfect for a late-summer/early fall wedding. Like it as much as I do? Shop it below! Rebecca Taylor Static Print Dress ($495) Be sure to check out Kate Hudson's cute chambray shirt, Jessica Alba's cool backpack and celebrity bridesmaids. [Photo: Splash News]
Sneak Peek! Rebecca Taylor Reveals The Inspiration Behind Her Spring 2016 Collection
Do you hear the clock ticking? That's because NYFW is less than one week away! We're gearing up to see all of the designers' spring 2016 collections, but one of the lines we're most excited to see is Rebecca Taylor. Her designs are always so dreamy and gorgeous--we want to wear them as soon as we see them. Luckily, the ladies over at Rebecca Taylor are the nicest and gave us a little sneak peek to whet our appetites before the complete collection lookbook is released. Here's what inspired the upcoming collection: "The Rebecca Taylor Spring 2016 collection was inspired by London's informal association of artists and intellectuals known as the Bloomsbury set. The members of Bloomsbury group called into question the traditions of their day and were among the best known examples of early bohemia fashion which reflected their lifestyle. Tapestry garden print and patched dresses with quilted bodices in elongated shapes give the collection an eclectic feel. Crochet Lace in mosaic patterns are mixed with frayed chambray and floral prints. Citrus brights are juxtaposed with pastels and grounded with navy and ivory. Grommet details fused with lace patterns add to the overall collection balancing fragility with strength." And now for an exclusive sketch from Rebecca Taylor herself! Gorgeous, right? We can't wait to see these designs come to life! Don't miss Jessica Alba's pretty pink sports bra and the flat iron that's actually good for your hair. [Photo: Shutterstock/Rebecca Taylor]
Splurge On Chrissy Teigen's White Blouse Now And We Promise You'll Wear It All Autumn Long
Finding yourself in an outfit slump? Staying on trend stressing you out? Well, Chrissy Teigen arrived at LAX in an always fashionable look: a white blouse tucked into flattering jeans. Her blouse, a Rebecca Taylor Embroidered Silk Chiffon Top ($325), exudes an ultra-feminine, pretty-girl look. Her airport outfit is effortless, timeless, and chic. The white blouse and denim look is always in so you can't go wrong. Snag her beautiful blouse below. Rebecca Taylor Embroidered Silk Chiffon Top ($325) Shop Similar Rebecca Taylor Tops Like This One Here! ($375) Don't miss Sofia Vergara's white tee, Lea Michele's tank and Lena Dunham's printed bikini. [Photo: Splash News]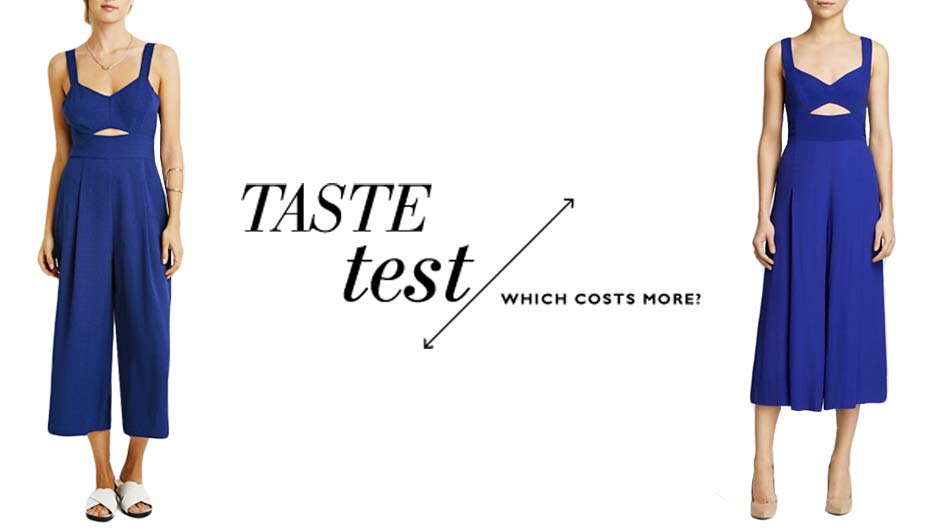 Taste Test: Can You Tell Which Cutout Jumpsuit Costs $193 More Than The Other?
Jumpsuits have come back in a big way. Once a fashion risk, these babies are so commonplace just about everyone owns one now. And given how ubiquitous they've become, designers are pushing the envelope when it comes to new styles and silhouettes. Take, for example, this cool blue culotte version with a cutout in the midsection. We first spotted the Rebecca Taylor Jacquard Jumpsuit which was originally $450, but is now on sale for $221.20, and couldn't help but notice the striking similarities when we came across this Forever 21 Textured Woven Jumpsuit which retails for $27.90. Even with a 50% mark down, the Rebecca Taylor version is still $193.30 more than the Forever 21 style. The question is: can you spot the difference? Click on the pics below to find out which is which. Don't miss gorgeous Chanel bags you can buy online and Kim Kardashian's 30% off maxi dress.
Rebecca Taylor Launched A Limited-Edition Swimwear Collection Wit Giejo And Yes, It's Awesome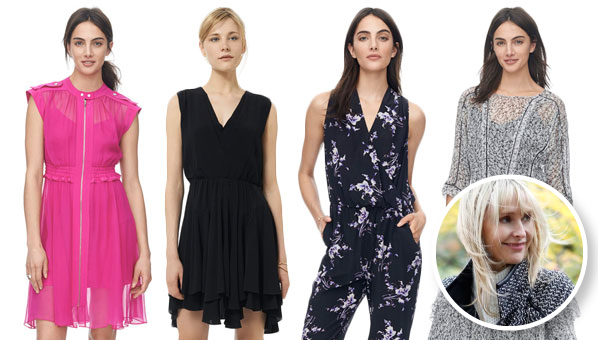 What To Wear On Valentine's Day, According To Dress Guru Rebecca Taylor
When it comes to gorgeous, feminine dresses, we really can't think of many designers who have it down quite like Rebecca Taylor. Her dresses are just magic--they're flirty without being sweet and edgy but not intimidatingly so. If I could only shop one designer, Rebecca Taylor would definitely be in my top three. Given that she knows her way around a good dress, we thought it made perfect sense to consult her on behalf of all you ladies gearing up for Valentine's Day next week. Whether you've got a hot date with your man or you have plans with your girlfriends, here's what Rebecca recommends you wear. SHEfinds: Valentine's Day is right around the corner--do you recommend red or something a little less expected? Rebecca Taylor: I love a red lip. I find this really completes a look. SF: Lots of women spend Valentine's Day with their friends--what's your idea of a perfect girls night outfit? RT: I think a great jumpsuit is perfect for a night out on the town with the girls. It's modern and easy! SF: What do you recommend a woman wear on a first date? RT: I think that the most important thing is comfort. Dresses are a great option because of their versatility. You can pair it with a high heel or throw on a moto jacket depending on your mood. SF: What's your go-to dress? RT: I love a long chiffon dresses at the moment. My go to would have to be the flight feather dress from our Pre-Spring collection. SF: What's the one dress every woman should have in her closet? RT: The LBD is always a classic, but I am really into jumpsuits at the moment. I find they are the modern update to the dress. SF: Any fun V-day plans on your calendar? RT: Yes, a fun night out with my family at Franny's in Brooklyn. Click through the slideshow to shop our favorite V-day options from Rebecca Taylor. Be sure to check out the 5 tops every woman should own, plus pretty pajama sets.
Save 25% On Everything At Rebecca Taylor This Weekend
Didn't get your shopping fix at all the great sales that happened earlier this week? Don't fret--the sales aren't stopping. This weekend, we highly suggest you carve out some time to hit up the Rebecca Taylor friends and family sale. Everything on the site is 25% off with code RTFRIENDS14 at checkout. Rebecca Taylor is probably most well-known for her gorgeous dresses, but being that winter is just a few weeks away you shouldn't miss her coats and jackets this season. They are so good. The sale ends 10/20/14, so get there ASAP. SHOP THE REBECCA TAYLOR FRIENDS & FAMILY SALE NOW Don't miss 30% off at Kate Spade, 40% off at Coach and 30% off at 7 For All Mankind.
Tick, Tock! The Rebecca Taylor Friends & Family Sale Ends In 10 Hours
How many times did you hit the snooze button this morning? 4? I think I averaged 5, so it's clear that we all need a little Monday afternoon pick-me-up today. And what better way to perk things up then with a sale?  Today is the last day to shop the Rebecca Taylor friends & family sale and considering you'll get 25% off everything on the site, it's totally worth checking out. Just don't wait--you only have until 11:59pm EST to get your discount with code RTFALLFF13 at checkout. Click through the slideshow below to see our picks. SHOP REBECCA TAYLOR FRIENDS & FAMILY SALE NOW Don't forget to check out the new napkin skort, how to rep your city, and spooky Halloween decorations.
J.Lo Says 'Goodbye' To American Idol, And 'Hello' To On-Sale Rebecca Taylor Tops
Celebrities love the New Zealand-born, New York-based designer Rebecca Taylor, including Kristen Bell, Ashley Tisdale, and even Kate Middleton. The next superstar to add to the list of R-Tay-lovers? Jennifer Lopez, who was recently seen hand-in-hand with her new beau Casper Smart in a Rebecca Taylor Cotton Stripe Crew ($220.99, on sale from $245). This knit is slouchy enough to let slip off your shoulder (a la J.Lo), as well as lightweight enough to layer over a tank and shorts for those cool summer nights. Even better when you can sport this through the fall too. Rebecca Taylor Cotton Stripe Crew ($220.99, on sale from $245) Shop more celebrity style finds: Miranda Kerr's dress and sunglasses, Jessica Alba's bikini, and Katie Holmes's top.
What I'll Be Wearing This Weekend: Everything From This Ashley Tisdale Outfit
So far, we've been offering you outfit ideas for almost every summer weekend getaway you can think of and even helping you pack your beach bag. But what about those days when you want to sit on a couch watching Laguna Beach episodes all day or walk around with an iced coffee in your hand? What's the dress code for that? Ashley Tisdale knows what we're talking about! We recently spotted her milling about in a super comfy ensemble: slouchy t-shirt, black jacket, and a pair of Rebecca Taylor Studded Leopard Shorts ($250). Top it off with a Vanessa Mooney Longhorn Necklace ($32) and Sam Edelman Gigi Sandals ($65) and we've found your next weekend stay-in outfit. Vanessa Mooney Longhorn Necklace ($32) Rebecca Taylor Studded Leopard Shorts ($250) Sam Edelman Gigi Sandals ($65) Shop more celebrity style finds: Kim Kardashian's chain necklaces, Katie Holmes's $50 top, and Miranda Kerr's star-printed blouse.
Kristen Bell Loves This Rebecca Taylor Top Almost As Much As She Hearts Sloths
If you haven't seen the video of Kristen Bell professing her love for sloths, watch it now. Then we invite you to shop this printed blouse which she also can't get enough of: during her rehearsals for the 2012 CMT Music Awards (which she hosted with Toby Keith) the actress stayed comfy yet on-trend in a Rebecca Taylor Indian Print Silk Blouse ($295), which she paired with denim jeans and ankle-length booties. While we wished she would've opted for a full-on pajama-prints ensemble, we still think she looks adorable. Rebecca Taylor Indian Print Silk Blouse ($295) Shop more celebrity style finds: January Jones's colored jeans, Stacy Keibler's beach scarf, and Ashlee Simpson's printed blazer.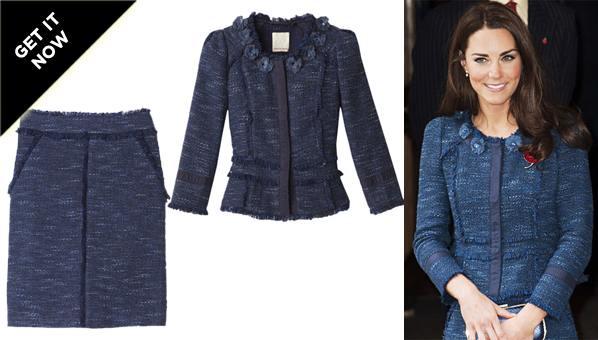 Kate Middleton's Rebecca Taylor Skirt Suit Is Reissued: Pre-Order It Before It's Gone
Just last Friday we were obsessing over the sold out Rebecca Taylor skirt suit that Kate Middleton wore at the Scott-Amundsen Centenary Race to the South Pole in London. Imagine our delight when we just found out that the tweed jacket and skirt have been reissued!  There's a catch, though: While the tweed skirt ($265) is available for purchase now, the tweed jacket ($450) is only available for pre-order over the phone. We know you probably haven't ordered something over the phone since 1997, but we hear quantities are limited so call 888-485-6738 before it's sold out again. And if you are too impatient to wait for the jacket (we don't have the exact date when it will become available yet) and want to channel the Duchess of Cambridge right now (who doesn't?), there has also been a tweed shift ($425) version of the skirt suit made available for purchase right now. Read more coverage on Kate Middleton and check out the slideshows of our favorite tweed jackets under $250.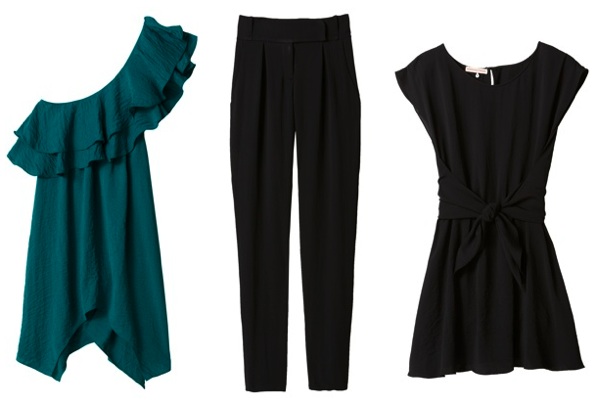 Celebrate 'Earth Month' In A Rebecca Taylor Dress Made Of Recycled Bottles
If you sometimes forget to recycle or occasionally indulge in a 20 minute hot shower, April is the month to redeem yourself of your eco sins. "Earth Month," as it is lovingly known, is a time to adopt more earth-friendly habits -- even if that just means buying 1 re-usable grocery tote (there are so many chic ones!) or some other piece of sustainable fashion. Rebecca Taylor is the latest designer to "go green," with a collection of dresses made from recycled fibers, like PET bottles, that hits this month. The limited edition 5-piece capsule collection is not just eco-friendly. Rebecca Taylor said in a statement: We wanted to create ethereal yet bold designs that are easy to wear with a conscience The pieces, which range from an asymmetric dress to skinny pants, are priced $135-$250 and will hit RT boutiques and select department stores in April. SEE THE COMPLETE COLLECTION NOW And for the eco-junkie, here's how it work: The recycling process turns PET bottles into quality fibers with 89% reduction in water and 67% reduction in oxygen. This also significantly reduces the amount of chemicals used, and produces a low percentage of CO2 emitted, according to the release.  For more earth-friendly finds, shop our guides to the best vegan bags, paraben-free beauty and eco-friendly shoes.
Rebecca Taylor For Shopbop Is Here! Shop The Designer's First Forray In To Bridal Now
We have a not-so-secret obsession with Shopbop's Wedding Boutique, so we were delighted to learn that one of our favorite contemporary dress designers, Rebecca Taylor, would be launching her first ever wedding dress exclusively for the site. Get this Rebecca Taylor Textured Rose Strapless Dress ($695) before the designer's devotees buy them all. Shop our guides to the best simple bridesmaid dresses, long bridesmaid dresses, and satin wedding shoes.
50% Off Rehearsal Dinner Dresses: Alice + Olivia, Rebecca Taylor, Shoshanna, More
If you're wedding is looming (!) or you're just an advanced planner, you'll need a gorgeous little dress for your rehearsal dinner. We'd recommend something designer and on-sale. Yes, it does exist: get up to 70% off designer dresses at Shopbop now. Editors' pick: Alice + Olivia Carmen One Shoulder Dress ($256.90, down from $367). (more…)
Alessandra Ambrosio's Rebecca Taylor Dress: AKA How Not To Look Like A Hot Mess This Summer
Since we couldn't make it to Coachella (we're bummed too), we decided just to creep and find out who was the best dressed. And obviously, Alessandra Ambrosio ranked on our list. In her Rebecca Taylor Sunflower Cami Dress ($325), she battled the warm weather without looking like a hot mess - not that she ever does. So whether you're going to an outdoor music festival or maybe just a picnic, be sure to invest in one of these must-have sundresses. (more…)
Grab These On-Sale Designer Tops In Anticipation Of No-Coat Weather
In a few short weeks, you'll be shedding that bulky overcoat and donning cropped jackets, vests and tops instead. Is your wardrobe ready for the great unveiling? These designer sale tops on Saks should get you started: This feminine, silky Rebecca Taylor Pintucked Meadow Blouse ($191.99, down from $275) will look great with a fur or cropped vest and bell bottom jeans. Viva Rachel Zoe! If you're looking for a more neutral blouse, I am loving this clean and classic Theory Stretch Silk Blouse ($101.99, down from $255). Raglan is still a huge t-shirt trend for Spring; stock up on this majorly discounted Alice + Olivia Inside-Out Raglan Tee ($94.99, down from $137). For even warmer weather, this striped Joie Striped Linen Top ($95.99, down from $138) is money in the bank. More sales: 30% off DANNIJO Under-$100 Urban Outfitters dresses 30% off Kara Ross, Kenneth Jay Lane, More 50% off Foley + Corinna 50% off tons of great stuff at Apart Style 65% off at Piperlime 30% off designer dresses at Shopbop 30% off Hanky Panky underwear Check out more of this week's best sales and deals, and today's online sample sales. Follow the author of this post on Twitter @bridefinds.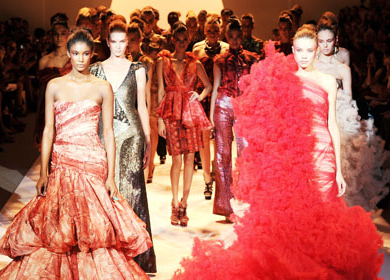 Fashion Week Livestreams And More: Don't Miss Out Just Because You Don't Have A Ticket
For those of you who can't see the runway first hand or shop the collections the second they're released (like pregnant Rachel Zoe), this season's Fashion Week is the week for you. With live streams of runway shows and eBay selling runway collections - you can participate whether you're from Nebraska or New York. Check out this list of ways to celebrate fashion week next week: Watch live streams of runway shows like BCBGMAXAZRIA, Rebecca Taylor, Michael Kors, Marc Jacobs and more. (See the list at the bottom of this post.) Get a sneak peek of the collections and behind the scenes from past New York Fashion Weeks. Place your vote on which Derek Lam dress you loved on eBay right after they appear on the runway, then shop the winning dresses. Or visit ModaOperandi.com, a shopping site allowing you to pre-order runway outfits on a budget. Be sure to follow our favorite Twitters like Bergdorf Gooman and DKNY for exclusive pictures and minute-by-minute updates. Shop designer sample sales online all day everyday with our Sample Sale Calendar. Some sites, like ideeli, are official sponsors of Fashion Week, giving you exclusive access to on-sale runway couture. (more…)
Going Going Gone: Only One Rebecca Taylor Faux Fur Vest Left (And It's Half Off)
We picked this Rebecca Taylor Fab Faux Fur Vest ($197.50, down from $395) for our SHEfinds Holiday Sold Out List - and it turns out we were dead on: the vest has been so popular, it's about to sell out forever on Shopbop. Blame the cozy sweater detail, textured black and white fur, or just general awesomeness of it. The only size left is a large - but don't fret: I own one of these puppies and they run a tad bit small. The large will work for those of you who are usually mediums. For more holiday must-haves, check our Sold Out list, more Going Going Gone posts, and then head over to our guides of the best cocktail rings, party dresses, earrings, party shoes. Follow the author of this post on Twitter @bridefinds.
SHEfinds Sold-Out List Pick: Rebecca Taylor's Faux Fur Vest Is Now On Sale
It should come as no surprise that faux fur vests are going to be a hot gift item this holiday season, what with celebs like Kim Kardashian and Rachel Zoe having shown us how to look glam in them all season long. And when it comes to the trend, this Rebecca Taylor Fab Faux Fur Vest ($276.99, from $395) is sure to top the Soldout List sooner than later. It's not only a new spin on last year's best-selling faux fur fox version, but the popular vest is now on sale, too. But it won't be forever - act fast. Check our more of our favorite holiday gifts on our Holiday Soldout List. Check out more great faux fur vests here. Subscribe to our online mailing list for more fashion updates.
30% Off A Rebecca Taylor Silk Top To Brighten Your Drab Winter Wardrobe
Winter means a lot of grey, black and browns in your wardrobe - which are great neutrals, but get drab real fast.  Give your winter wardrobe a much needed punch of color with this gorgeous silk floral blouse from Rebecca Taylor - which also happens to be 30% off. Use it as the base for a Rachel Zoe-approved outfit: Get more fall and winter must-haves, like flat boots, under $100 boots, military jackets, and peacoats.
Fall 2010 Report: How To Pull Off Leopard (All The Cool Kids Are Doing It)
Leopard is huge this fall (trust your animal instincts on this one) from leopard print shoes to leopard jackets. Everyone from celebs Rachel Bilson and Whitney Port, to designers like Rebecca Taylor have embraced the trend, and so should you. But before you go digging up the leopard stoles and boldly-printed bags, take a breather and give the trend some thought. You don't want to look like a cougar, afterall. With these 5, fail-safe 2010 leopard pieces you won't: Leopard scarf: A scarf is the easiest way to incorporate a pattern into your wardrobe. Pair this Gap leopard Scarf ($29.50) with a black top or blazer for an understated way to wear the trend. Leopard ballet flats: A leopard flat is an eternally chic basic. These French Sole Leopard Suede flats ($100) are well-priced; pair them with dark skinny jeans and a crisp white Oxford button down. Thin leopard belt: For another touch of leopard, go with a skinny waist belt like this J.Crew Leopard patent belt ($39.50). Wrap it around your neutral cardigans to instantly make any outfit chic. Leopard shift dress: Not only is this Lauren by Ralph Lauren Leopard Print Sleeveless dress ($107, down from $134) perfect for work, happy hour, first dates and beyond - but its also marked down. Leopard cuff: If you're still hesitant about leopard clothing - get a dose of the hot pattern in jewelry form. This Kenneth Jay Lane Leopard Head Bracelet ($198) is so one of a kind - you will get lots of compliments. Trust us. Follow the author of this post on Twitter @bridefinds.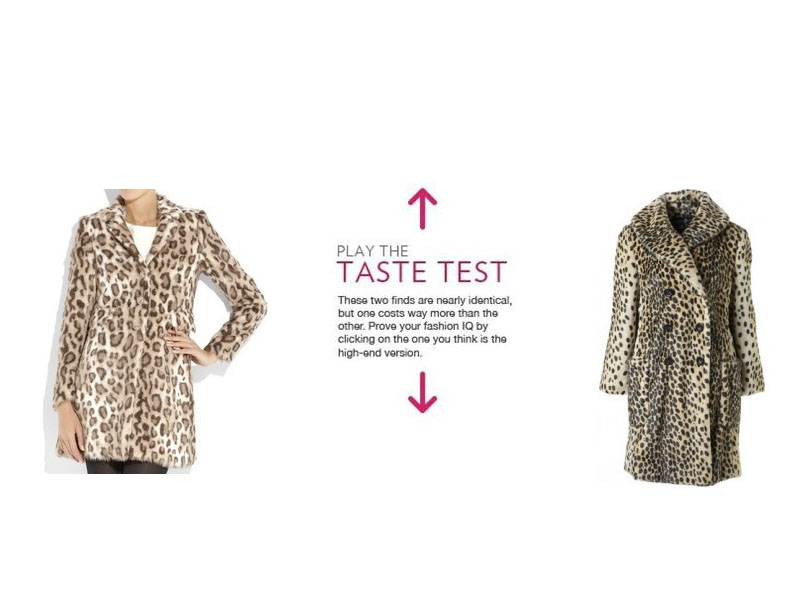 Can You Tell Which Leopard Print Coat Is Topshop And Which Is Rebecca Taylor?
Test your fashion IQ with all of our Taste Tests. Shop our guides to the best military jackets, trench coats and leather jackets. Subscribe now for exclusive SHEFinds e-mails.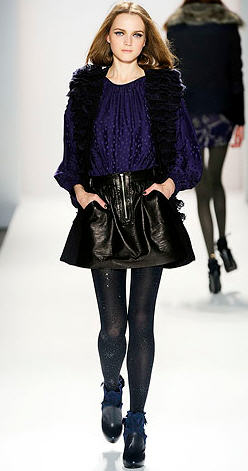 $250 Sparkly Tights From Rebecca Taylor? We'll Try DIY Instead.
This seems so 2008: designer Rebecca Taylor will buck the recession and sell $250 sparkly tights from her fall 2010 runway show, according to WWD. The tights, which will come in lilac, midnight, and olive, have each been applied with more than 2,800 Crystallized-Swarovski elements, so we will admit that they're special, but $250 for a pair of tights that are liable to snag at the slightest move is a bit absurd. Anna Sui will also sell a line of patterned tights, but Sui considered our wallets by pricing them between $20 and $40. We suggest you check out Emily Schuman of Cupcakes and Cashmere's great DIY version (above) with directions on how to make them on Luckymag.com. Emily spent less than $10 to make the tights. See why Wolford tights are worth the investment, and then check out our guide to the best pleated skirts and summer dresses you can wear now sans tights.