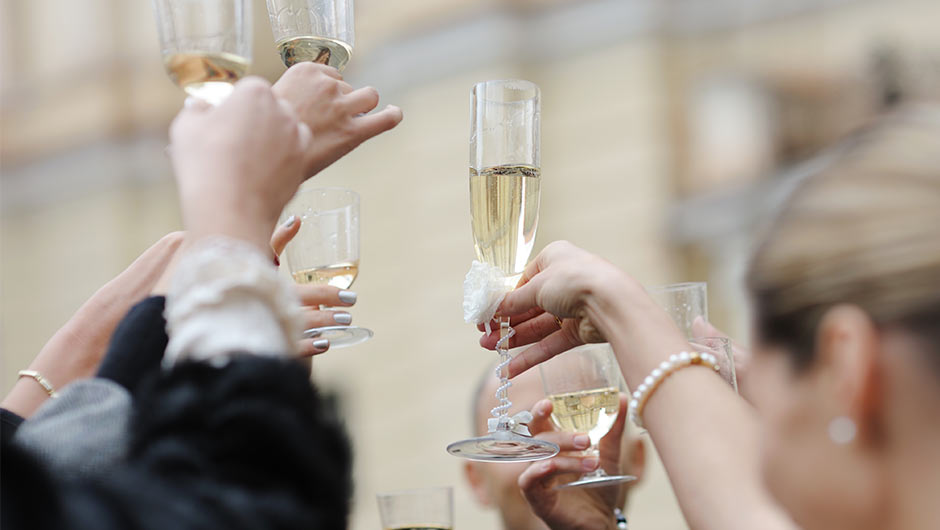 6 Mistakes Couples Make When Stocking The Reception Bar
25 Escort Board Ideas: Regular Seating Charts Are A Thing Of The Ancient, Distant Past
If you haven't discovered this yet - creating a seating chart can be hellish. After vexing over seating arrangements for several hours (and possibly shedding a few tears), you'll definitely want to display your finished product with some finesse. We've scoured Pinterest and all of our favorite wedding blogs for inspired escort board ideas, and we've rounded them up for you right here! (more…)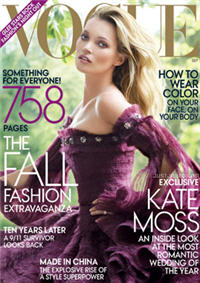 5 Reception Ideas I Got From Kate Moss' Wedding
The September Vogue cover story this year is "the most romantic wedding of the year," which, if you have any doubts, belongs to Kate Moss. The issue features a 15-page spread on her English countryside wedding to The Kills rocker Jamie Hince. I had already fawned over early media photos of whimsical bridal party, and this deeper look into her wedding day has provided other inspirations, as well. (more…)
Best Find Of The Day: A Chunky Lucky Brand Sandal To Wear With Socks For Fashion Daredevils
Throughout Fashion Week, we saw a ton of socks with sandals. At first we were doubtful--it reminded us of being a little kid, wearing white lacy socks with saddle shoes. But when even the New York Times got behind the trend, we have to admit, done well--with grey knit tights or thin wool socks  (i.e. not with white tube socks), it looks kind of cool, and admittedly fashion forward. If you're not ready to experiment, feel free to sit this trend out, but we've found this cute pair of rustic looking leather sandals below that remind us of the Alexa Chung for Madewell collection coming out this fall. Since we're sick of winter, we think we're going to try it. These chunky leather Lucky Brand Kisa sandals ($98) are a good way to get a head start on the trend without spending a ton. We suggest trying these with Banana Republic grey knit tights ($15) , and if you're really feeling gutsy, try a thin pair trouser socks pushed down ever so slightly. By fall, we're willing to bet there will be even more converts--and you'll have been the first gutsy one in your circle to try the trend. (more…)
Good News Bad News: J.Crew Expands, The September Issue Characters In The Flesh, More
It's Monday, we could all use some good news: Andre Leon Talley and Grace Coddington will celebrate the Tuesday release of The September Issue DVD  among fashion mortals at New York City's Barnes and Noble in Union Square. On Thursday, these Vogue staffers will answer questions from attendees about the film, and their relationship with famed icy editirix Anna Wintour. See how you can get the high-end designers clothes in the pages of Vogue for less in our guide to online sample sales.  [The Thread] J.Crew's going global. Come May, the brand we love will be sold on Net-A-Porter, which ships to 140 countries. Talk about a power couple. [WWD] (more…)
Taste Test: Which Robe's Price Won't Keep You Wide Awake At Night?
If you didn't get it right, try again: our Taste Test archives have more chances to prove your fashion prowess. Get more ideas for what to wear to bed, plus the best cheap bras, cheap underwear and flattering lingerie.
Tattoo Tights That Are Less Painful And More Stylish Than The Real Thing
Embellished Tights February can feel like a rut month fashion wise; it's too cold to dig out your favorite spring clothes, but your winter ensembles are starting to feel stale.  One way to freshen up your wardrobe is with embellished tights a trend picked up by luxe designers and stylish celebs.  Marchesa magically made a full leg tattoo look elegant, while Leighton Meester in Louis Vuitton and Custo Barcelona added trippy textured prints to draw attentions to the legs.  Here are four less expensive, but no less unique options for embellished tights. For a sultry nighttime look, try faux tattoo tights by Christina Audigier ($44).  Let the surprise back flower detailing be the focus of the outfit and pair the tights with a simple one tone dress. (more…)
Beauty Roadtest: Olay Total Effects Body Wash Lets You Hit The Snooze Button On Moisturizing
Lotion really does a body good--it makes skin feel softer and more supple instantly. But on days when  maybe you've hit the snooze button a few extra times, lathering up your body with lotion after a shower isn't exactly feasible. Which is why I'm loving Olay's Total Effects body wash. (more…)
How To Wear Leather Gloves (And Not Look Like You're About To Rob A Bank)
Leather has certainly been everywhere as of late, and we like it. From jackets to vests and even pants, fashionable ladies are turning to this aggressive but elegant style for all of their tough-chic needs. Although we can appreciate the leather-clad biker thing, when it comes to cowhide, we think it looks best when warming up your hands. So, in light of the sudden cold weather, here's how to don chic leather gloves in a non-criminal way. Since black leather gloves can sometimes make you look like a creepy cab driver, we recommend that you choose a delicate looking pair in a lighter shade for a feminine feel. Next, slip on some flattering, skinny jeans in a seasonally dark wash and a comfy but sophisticated cowlneck sweater for a refined, winter look. To pull together the ensemble, we suggest a fitted velvet blazer and some gorgeous black booties to tuck your skinny pants into. J.Crew Leather Gloves, $49.50 J Brand Pencil Leg Stretch Jean, $159 Gap Cowlneck Sweater, $49.50 Theory Anorie Velvet Blazer, $375 Loeffler Randall Wendy Knit Slouch Bootie, $650 For more top picks, don't forget to check out our guides for the best in gloves, leather jackets, and faux fur.
News: Moschino Wants To Adorn Your Shoulder, Marie Claire Adds Regular Plus Size Column, And More
1. Moschino Jeans, rebranded as Moschino Love, is launching an accessories line this spring.  In case you just can't wait, keep up with fall handbag trends now.  [WWD] 2. Marie Claire added a regular column to its roster, "Big Girl In A Skinny World," written by a plus size fashion writer and stylist.  We're glad this is happening in the wake of all the fashion industry weight discussions that have been taking place.  [Jezebel] 3. Nanette Lepore, Betsey Johnson, and other designers are rallying tomorrow to save New York's garment district.  If you live in New York, grab your best designer handbag and join them.  [NYDN] 4. Speaking of New York, is its Mayor Bloomberg gunning to become the next Tim Gunn?  He's staging a competition to pick 12 up and coming designers to be part of a fashion "incubator" program, which we certainly hope produces some interesting new concepts.  [NYP]