Kate Spade x Malia Mills = A Matching Bikini Made In Heaven
Kate Spade just keeps getting better and better, this week launching a Kate Spade x Malia Mills swimsuit collaboration. If you needed a little push to get thee to the gym, this is it: a three pretty retro bikinis in chocolate brown and coral--the most flattering cuts and colors of the season.  It's a no-brainer, really. Oh, and book that flight, stat! These are too cute to not be seen. Check out the best sales and deals, online sample sales and more of the best bikinis and monokinis of the season, including the best flat sandals, too.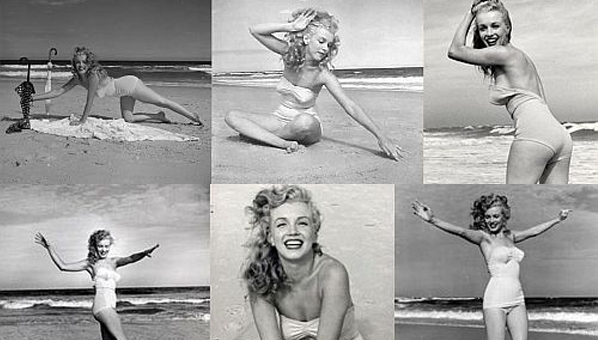 Anthropologie's Retro Swimsuits Look Like Something Marilyn Herself Would've Rocked
They look good on EVERYONE. Retro bikinis and retro swimsuits are a no-fail choice os swimwear. A little more modestly cut, than, say, string bikinis or monokinis, they make every body look hot. Born during the advent of voluptuous bodies like Marilyn Monroe and Bettie Page, they're made for real girls with curves. That's your cue: whether you're headed on spring break or you're just thinking ahead, we recommend you take a second and secure one for yourself before they're all gone. SHOP ALL OF ANTHROPOLOGIE'S GORGEOUS RETRO SWIMWEAR Check out the best sales and deals, online sample sales, best find of the day picks and even more summer stuff, like flat sandals, summer hats, and swim coverups.
Going, Going Gone: A Strapless Retro Swimsuit That Makes You Look Like A '50s Bombshell
Can you believe this retro swimsuit is under $100? Think of this Zimmerman retro one piece swimsuit as the ballgown of swimsuits--not only is it super chic, with a fitted bodice, but it 's also designed so meticulously. Look closely and you'll see a twisted front (aka perfect for a belly you don't exactly want to show off). Even better: it's on sale for just $85.75 from $245 - so jump on it before it sells out - it's only available in a few more sizes! Check out more of the sales at The Outnet, this week's sales and deals, plus our favorite Spanx swimwear (in case your size is sold out). Don't forget a new pair of flat sandals!