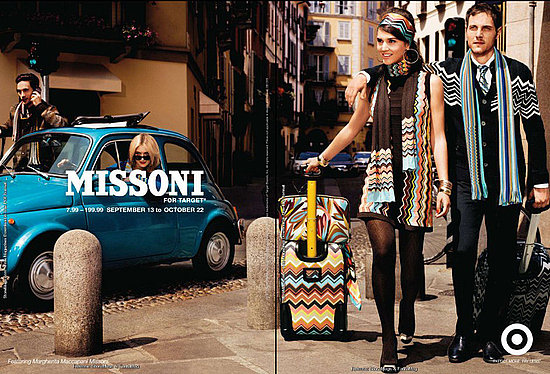 A Secret Way To Get Missoni For Target Five Days Early?! We've Got The Scoop.
The iconic Missoni for Target ad campaign Although September 13th is only three weeks away, we were elated to hear that we'd have the opportunity to get our hands on the Missoni for Target line as early as September 8th. (more…)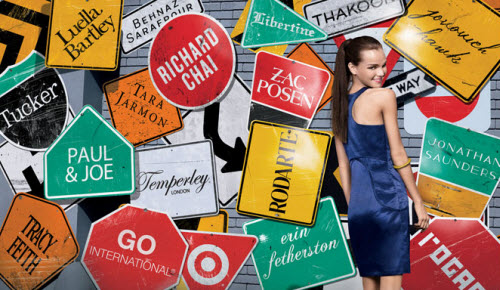 Target's Go International Designer Collective: You've Got Another Chance To Snag A Collaboration Dress
 Well, don't just sit there. This is the mother of all Target collaborations! If you were living under a rock when Rodarte for Target hit stores, or didn't have time to grab an Alice Temperley for Target dress, this collaboration is for you. Target just unveiled its Go International Designer Collective, filled with 34 dresses handpicked from all of the past designer collaborations in the last 5 years. (more…)
Sneak Peek: Target's 34 Dresses From 17 Designers Under $50
No fashion regrets here: Target's GO International Designer Collective, a collection of 34 dresses (just in time for Spring) from all 17 of its past international designer collaborations including Rodarte for Target, Zac Posen for Target, Tucker for Target, Proenza Schouler for Target and more. And what's even better is that it will be here March 13 - mark your calendars now. (more…)
Good News & Bad News: Natalie Portman In Rodarte For Target, Gilt Groupe Rumors, And More
We'll start with the bad news: Rumors have been circulating as Gilt Groupe has been accused of selling a fake Cole Haan bag on its sample sale website. Gilt executives responded today, saying they only sell authentic goods.[NBC New York] A toxic metal called cadmium has been found in some popular children's jewelry. [Huffington Post] The tough economy has made it difficult to for designers to get licensing for lines like lingerie. [WWD] Now, for the good news: We were thrilled when we saw Natalie Portman was wearing our favorite Rodarte for Target dress (that cost $39.99) at a New York Times Event.  [Stylelist] Mayor Bloomberg will brainstorm with 75 fashion industry leaders tonight, kicking off Fashion NYC 2020, an effort save New York's garment district. [WWD] Grace Coddington was on Martha Stewart today. We can't get enough of the star of the September Issue, and Anna Wintour's right hand--even if she was talking about cats, and not fashion. [The Cut] See all of this week's online sample sales, and our favorite celebrity fashion.
Top 9 of 2009: Best Fashion Collaborations
As we begin our countdown to 2010, this year we were incredibly lucky to see some amazing (and affordable) designer-retailer collaborations. We're anxiously anticipating the new partnerships that will blossom in 2010 (namely, Eugenia Kim for Target and Jodi Arnold for The Limited), but here's a look back at a few of our faves from '09 in the meantime. Jimmy Choo for H&M: We loved that the shoes and bags in the Jimmy Choo for H&M collection looked so much like the real thing. The trendy, edgy party shoes, handbags, and belts were also a welcome addition to the Choo we're used to seeing. Rachel Roy for Macy's: This was definitely one of our favorite collaborations because we initially had our doubts, but the collection turned out to be unbelievably diverse and stylish. From dresses and tops to shoes and jewelry, there's so much we're still coveting from Rachel Rachel Roy. Bonus: these items are still available to purchase at Macys.com. Jil Sander for Uniqlo: Jil Sander brought us back to basics with her +J line for Uniqlo. Structured tops and pants ruled the first collection, while the second time around, due this spring, she's incorporated some color. Christian Siriano for Payless: Fierce. That's really the only way to describe Christian Siriano's shoes for Payless. Sonia Rykiel for H&M: It's really impossible not to smile when you see Sonia Rykiel's cheeky lingerie collection for H&M. What women wouldn't feel flirty and sexy in these alluringly feminine bras and underwear? For more, see our guides to the best bras and cheap shapewear. Rodarte for Target: This most recent Target collaboration is on sale now, but selling out quickly. The two cute dresses that are still available above, though, so get yours before they're gone for good (unless you want to bid for others on Ebay). Matthew Williamson for H&M: The summer of 2009 was a little brighter thanks to Matthew Williamson's psychedelic collection of swimwear and summer dresses for H&M. His signature eye-popping prints in this capsule collection did not disappoint. Lisa for LOFT: Lulu Frost designer Lisa Salzer partnered with Ann Taylor LOFT on some gorgeous limited edition jewelry, like the ribbon bracelet above that's been worn by Taylor Swift and Emmanuelle Chriqui. Vena Cava for Gap: Gap khakis are classic, but we couldn't help but swoon for Vena Cava's graphic dresses; a cool takes on the otherwise ordinary fabric. Looking for more designer must-haves? Check out out guides to designer handbags and designer jeans.
Rodarte For Target Selling Out Fast–(And On Ebay For 5X The Price)
On Sunday, Target finally put its entire Rodarte for Target collection on sale in stores and online--and as we reported earlier, four of the coveted items were sold a week early at pop-up shops in three cities. As expected, the collection is selling out quickly. If you can't find it in your store, never fear: there are a slew of Rodarte for Target items on sale on Ebay--for up to five times the price. People Stylewatch reported earlier that on Sunday night, the sold-out ribcage dress (originally $50) was sellling for $250, which seems to be the most popular item (we were partial to the pale pink chiffon and tulle dress ourselves). Today, there are even more listings popping up. Were you one of the many who rushed to buy a piece from the collection? Tell us what you got--and what the scene was like at your store. For more info on sold out holiday items, check out our Sold Out Gift Guide--we'll show you where the most in-demand gifts are still available. If you need a gift--and fast--check out our Procrastinator's Guide to Really Last Minute (Printable) Gifts, where you can print out e-cards and wrap them up pretty in no time. Get a party dress, or check out our guide to festive attire to figure out what to wear to all of your soirees coming up.
News: Get A Piece of Elton John's Closet, The Sartorialist On TV, More
1. Sir Elton John will hold his fifth "Out of the Closet" sale on Saturday. John will puts his flamboyant clothing--including designer stage pieces--with Versace, Prada, and many other heavy hitters expected to be sold. Proceeds will go to the Elton John AIDS Foundation. Plus, Lily Cole, Lily Allen & Rouland Mouret have designed a cocktail bar for the after party benefit. The holiday party season is starting--get some festive attire. [Vogue UK] 2. Mark, the beauty company and little sister to Avon, is breaking new ground for the brand--they ditched glossy catalogs to sell their cosmetics on Facebook and iPhone applications and are seeing results. See the best mascara to dress up your lashes. [WWD] 3. Scott Schuman, the photographer behind The Sartorialis, is rumored to be in talks about getting his own TV show and clothing line. Who isn't, though, these days? If you love street style, invest in a great coat for winter--first impressions are everything. [WWD] 4. The Target pop-up shops open today in three major cities, carrying lots of gifts, and three dresses from the Rodarte for Target collection. Since there are no dressing rooms, we got our hands on the Rodarte for Target nude slipdress--and tell you how it fits before you go.
Roadtest: How A Rodarte For Target Dress Fits (We Tried It On)
If you're planning to go one of the three Target pop-up shops Friday through Sunday to get your hands on the first Rodarte for Target pieces, we've got the scoop. The pop-up "shop" is more like a window shop--you can look, but you can't touch, and the shop is outdoors. As we previously reported, this blush pink dress, shown above, and a black lace halter (at left), were offered, , along with a black sequin ribcage dress, and two bow headbands. So taken with the blush pink lace, chiffon and tulle dress in its vintage style ($39.99), I bought one. But it's hard to figure out what size you can't even touch the item. I usually wear a size 4, sometimes size 6. I went for the small, but when I saw someone else take a medium out of their bag,  I re-thought it. I got the medium, and turns out, they do run a little small. It's made for someone with a small chest,  as the slip on it is very tailored at the top. I would have tried the large, probably. And it's prone to major static cling--you've been warned. A tip: don't forget to check your bag to make sure you got the right item (everything is already "wrapped" in  red and white candy cane striped bags, but can get mixed up easily)--and of course, dress warm--preferably in UGGs or a very heavy scarf.
A Sneaky Way to Get Rodarte For Target Early–Without Paying Extra On Ebay
Christmas (at Target) comes early this year: WWD reports the retailer will sell a preview of limited Rodarte for Target items at three pop-up shops in major cities, which include this sequin ribcage dress black halter dress, pink slipdress, and bow belts. (For those of you who won't be trekking to these cities, you can get the colorful looks above, along with the rest of the Rodarte for Target line on December 20th, in store and online.) The great paradox of Target's democratic fashion collaborations has been that some major cities don't have actually have Target stores. The shops will be set up from December 10-13 in high traffic areas  in San Francisco, Washington D.C., and New York from 10am-8pm. (Expect the line to start way earlier than that, though.) The concept is perfect for holiday shopping: the  store will offer the hottest gifts in beauty, electronics, fashion and more and in a stroke of genius, they're already wrapped--so customers can order by number and get out quickly. Locations: San Francisco - Mint Plaza at 5th St. btwn Market and Mission; New York - High Line at Gansevort and Washington; Washington, D.C.: Georgetown at M Street and Wisconsin Ave. The entire collection tops out at $79.50, and will be available until January 31.  Check out our earlier coverage on Rodarte for Target, and shop our similar looks in the meantime. And we suggest bundling up in cashmere and Ugg boots to gear up for the inevitably long line.
Take A Sneak Peek At Rodarte For Target (Hint: There Are Exoskeletons)
The Cut has a sneak peek of one of the dresses in Rodarte's upcoming line for Target, which debuts on December 20.  We certainly wish this item was available now.  I mean, just look at that skeleton print - it's perfect for a low-key October 31st. Here are some images of the future collab, courtesy of Rodarte for Target. We're certainly excited for the potential pairing of a human ribcage dress with a denim bomber jacket If you just can't wait to wear your mammalian looks, we'd recommend a leopard print dress from Michael by Michael Kors.  A ribcage number might be hard to come by, but you can definitely cop Rodarte's striped look with this T by Alexander Wang striped baggy tank dress. Get more easy-going style like this with the best wrap dresses, and then finish off the look with some of the best fall shoe trends and hosiery.
Week In Review: Rodarte Heads To Target, British Union Hates Heels, And More
Must-Reads: Rodarte will be teaming up with Target's GO International line.  We can't wait. Britain's Trade Union Congress proposed a ridiculous ban on high heels in the work place, and boy do we have some things to say about that. We show you what to wear with summer booties.  Perforation and peep-toes can look hard to pull off, but they don't have to be. Sales & Deals: Up to 70% off maxi dresses from Shopbop Up to 85% off designer accessories at theOutnet Up to 75% off short-sleeved cardigans from Lord & Taylor Taste Tests: Which tote will leave you with cash to carry in it? Which jacket's price will leave you feeling cool? Guides to check out: This week, we've brought you some cutting-edge harem pants, celebrity dresses we can actually buy, and some hosiery to get you in the mood for fall.