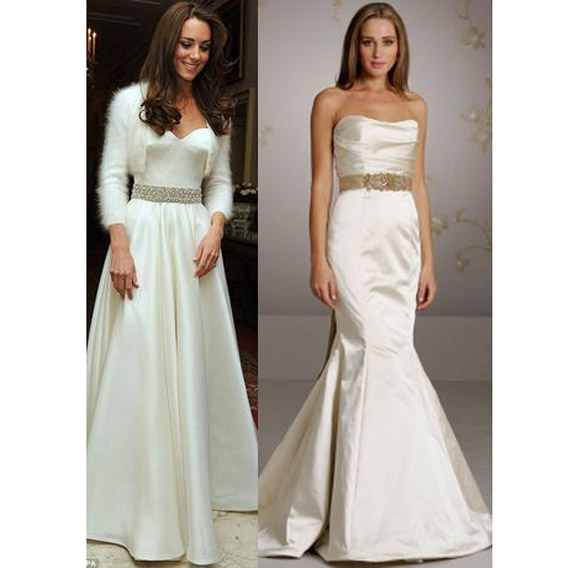 Kate Middleton Steps Out In Her Reception Dress, Also Alexander McQueen: Copy It Now
Kate Middleton sure does love her Alexander McQueen -- for the second time today she's shown why the designer's gowns were royal wedding material. Loving this strapless, belted look? The Lazaro wedding dress to Kate's right is $265 at Dress Times right now. Match with this cropped faux-fur open jacket ($58.50) in white, and you'll have Kate's full reception look, without the scary price tags. Head to our guides for other great inexpensive wedding dresses and strapless wedding dresses. Not settling for anything but the real thing? Check out our post on Alexander McQueen bridal.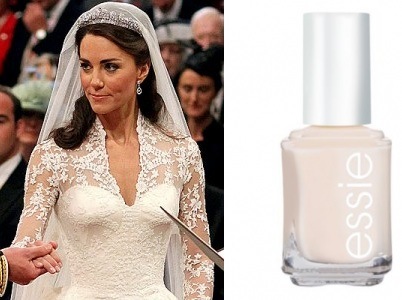 Kate Middleton Wears $8 Essie 'Allure' Nail Polish On Her Big Day: Here's Where To Get It
Essie Allure Nail Polish, $8 What nail polish did Kate Middleton select to go with her Alexander McQueen wedding gown? To our surprise, not O.P.I.'s "Bare it All in Trafalgar Square, as we predicted (though it is just steps away from Buckingham Palace).  Rather, the princess wore Essie's Allure nail polish, a brand which originated in Queens (...New York).  While we may not be able to afford her dress,  we'll be springing for her subtle pink nail polish. Find out where to get look alikes of Kate Middleton's wedding jewelry, Kate Middleton's tiara and veil, and get your own long sleeve lace wedding dress.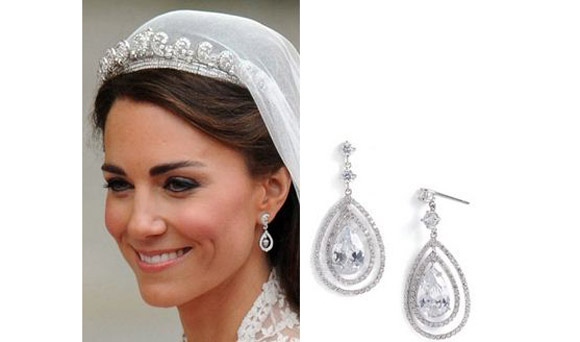 Get Kate Middleton's Diamond Drop Earrings For Much, Much Less Than The Princess Paid
If you were too distracted by Kate's Cartier Tiara to notice her earrings, we suggest you take a look now. Customized by Robinson Pelham and given to Kate as a wedding gift from mum, the diamond set was inspired by the new Middleton family crest. These CZ by Kenneth Jay Lane Pear Pavé Drop Earrings ($98) are strikingly similar to Kate's with their pear shape and pave diamonds encrusted around the edges. We can't all have a royal family crest, so we'll settle for these now! Looking for more big day accessories? Shop our guides to the best wedding jewelry, best hair accessories, and wedding veils now.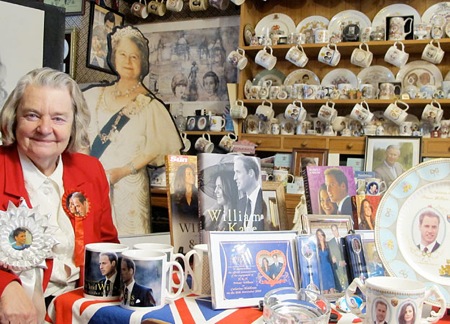 TLC Commemorates The Royal Wedding With A Royal Memorabilia Hoarders Special, More
The royal wedding is 5 days a way; are you as excited as Margaret Tyler of TLC's Extreme Royal Collections? Make sure your DVR is working this week: television coverage of the royal wedding starts today. Some highlights from the TV schedule: royal reporting from Countess LuAnn de Lesseps on Bravo, and a Hoaders-like special on TLC called Extreme Royal Collections, about people who collect stupid royal memorabilia (and probably cats). More royal wedding news: The official guest list is out, and Joss Stone and David Beckham are among the confirmed celebrity guests. See who else made the list. (more…)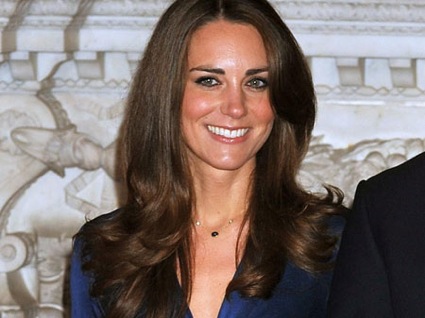 Kate Middleton's Dress: Everyone Seems To Agree That It's A Sophie Cranston — Plus New Details
Sophie Cranston of the Libelula label has been ousted as Kate Middleton's wedding dress designer, and with the designer staying mum, almost everyone in the media agrees that Cranston did design at least one of Kate's 3 wedding day looks. More details emerge on the dress itself: that it will be made of ivory lace, and have a 10-foot train, pearl buttons and a nod to Princess Diana's wedding dress. Coincidentally, we were stalking the Libelulu website and found a sneak peek at Sophie Cranston's Bespoke Wedding Gown Collection - and we're royally obsessed: (more…)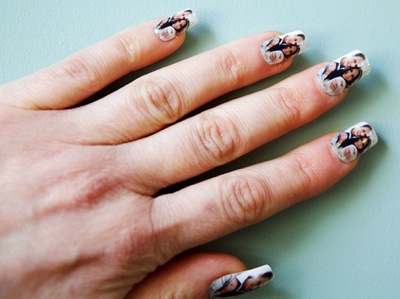 Kate Middleton Minx, An $800 Jelly Bean, And More Bizarre Royal Wedding News
We've found some pretty bizarre news in the past, but this week's round-up might top it all.  From a Papa John's pizza portrait, to some really creepy minx nails, the world has officially come down with Royal fever! How cheesy can it get? Pretty cheesy according to Papa John's, who created a special Royal pizza with a Kate & Will portrait made out of toppings. Royal Wedding Nail Decals have been spotted in Britain at local Westminister Souvinier shops. Exactly how much can one get for a jelly bean that resembles Kate's face? A lot - apparently it will be auctioned on eBay starting at $817. (more…)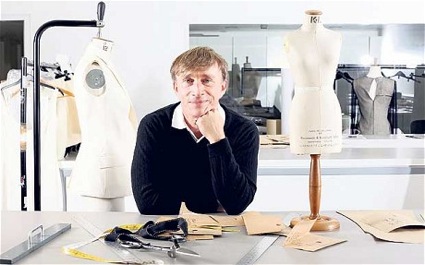 Kate Middleton Is (Probably) Having 3 Wedding Dresses — And One By Jasper Conran
Who is Jasper Conran, you ask? Right now he's our latest royal obsession, as he has allegedly designed one of  the top secret Kate Middleton wedding dresses that we're dying to see. Jasper is a British designer with over 20 years as a designer up his sleeve, including ready-to-wear collections, ballet garments, and opera gowns. We don't know what the royal wedding dress will look like, but we did pull some of Jasper's past bridal looks to get an idea: (more…)

Kate & William Split, Exclusive Royal Donuts, PEZ Dispensers, More
With all the media madness over the royal wedding, I think we're past the point of covering every minute detail. Instead, how about a digestible round-up of news. Get your royal re-cap in chunks here: Celebrate Kate and Prince William during April 24-29 with an exclusive Royal Wedding Donut from Dunkin' Donuts, for 89 cents only. Kate Middleton and Prince William Split?! Don't get too excited - it's a double Royal Wedding Stamp with preforation down the middle. Project Runway goes Royal Wedding crazy by inviting its eight seasons of contestants back to design a fake wedding dress for Kate Middleton. Bid on Ebay during April 7-17 for a chance to own one-of-a-kind Prince William and Kate Middleton PEZ dispensers. Can't make it to the Royal Wedding? Good thing there's a Royal Wedding Guestbook so you can virtually wish them a happy life together. Ready to plan your own Royal Wedding? Start shopping our guides to  simple bridesmaid dresses, long bridesmaid dresses and satin wedding shoes now.
Shiny Summer Hair: How To Get It, How To Keep It
I started fretting about my dull, dry hair a while ago, and this week I more or less fixed the problem with a fancy glaze from Sharon Dorram Color, on Manhattan's Upper East Side.  A glaze is a quicker and less extreme treatment than a dye job; it boosts your natural hair color and lays down a layer of shine (which can be clear or lightly colored) on top of the hair shaft.  And in theory, the glossy look should last until my hair grows out, but just like with dyed hair, it needs to be treated right.  So in the interest of protecting my newly shiny locks with the best-stocked arsenal of products, I got a few recommendations from the salon. 1. To begin, get clean with a color-protecting shampoo. I like Nexxus Dualiste Color Protection Intense Hydration Shampoo ($15) because, in addition to saving the glaze, it helps keep my super-dry hair moisturized. 2. To keep the glaze intact and give the hair itself plenty of nutrients, skip normal conditioner for a full-on masque.  Kérastase's Masque Chroma Riche ($50) contains UV filters and vitamin E, which will guard your color treatment from the sun. 3. Once you head out, give your hair the equivalent of a layer of sunscreen with Pureology Antifade Complex Styling Lotion ($18) which contains a full range of UVA/UVB protectors, so even a full day at the beach won't do damage. 4. Lastly, if a New York salon visit just isn't in your schedule, you can intensify your natural hair color and get shiny by taking a gander at an at-home glaze.  We'd recommend Frederic Fekkai Salon Glaze Clear Shine Rinse ($28) which does a good job of boosting color and adding some gloss to your strands. Even if you don't need to protect treated hair from the sun, make sure you're up on all the best that summer beauty has to offer.
What To Wear To: The Company Picnic You Are Totally Looking Forward To
Ah, the company picnic. An obligatory event that eats up your Saturday and forces you to see quirky (creepy) co-workers outside their normal habitat most likely donning inappropriate or outright dorky attire. But since you have to go, arrive looking casual, conservative, and of course, stylish. A pair of solid bermudas are a safe option as your boss may force you to participate in a wiffle ball game or a three-legged race, and that sundress you considered would prove too risky. Wear with a lightweight, loose-fitting blouse that you can tuck in. Add a belt to look more pulled together, and slip on some colorful wedges instead of too-casual flip-flops. Store your camera (joking - as if you'd want to remember the day) in a structured, classy straw tote and don't forget your shades to hide those rolling eyes. Have fun! Mid-Rise Canvas Bermudas ($15 from $24.50) Gauzy Accordian Pleated Blouse ($59.50) Centerbar Contour Belt ($36) Steve Madden QUALITI Wedge ($100) Felix Rey for Target Large Straw Tote ($50) Elle Aviator Sunglasses ($18 from $30)
Thursday's Sample Sale Scoop: Camilla Skovgaard Shoes, Gucci Sunglasses, Korres Beauty, And More
Editor's Pick:  Camilla Skovgaard shoes at Gilt Groupe Adrienne Vittadini handbags at Editors' Closet Fendi clothing and accessories, Ralph Lauren sunglasses, and Temple St. Clair jewelry at Gilt Groupe Gucci sunglasses at The Top Secret Bruuns Bazaar clothing and Gucci Sunglasses at Beyond the Rack Robert Rodriguez clothing, Rafe handbags at Rue La La Cardigan clothing, Korres beauty, and Tova jewelry at Hautelook Hobo International handbags and Free People clothing at ideeli
Ease Your Summer Shoe Search With Our Best Sandals Guide
The sophisticated sandal is still a perfect fit for any summer occasion. With an overwhelming amount of styles available, choosing the ideal candidate can be a stressful endeavor. No need to sweat in your shoes. We've selected a summer sandal for every situation. Whether you're looking to be the strappiest on an evening out, or you're on the hunt for soles that will suit weekend walks in the park, our summer sandal guide will have a shoe for you. Don't forget to sign up for our newsletter and get the latest sales and deals delivered directly to your inbox. Peruse our other shoe guides for more options to keep your feet fashionable year-round.
News: LiLo Accused Of Stealing Her Secret Tanner Sauce, Retailers Capitalize On MJ, And More
1. Lindsay Lohan has been accused of stealing the formula for her self-tanning spray.  Stay out of the fight with other options for getting your (faux) tan on. [NYDN] 2. Stores like Kitson and Hot Topic have been heavily pushing Michael Jackson-related merchandise, particularly t-shirts, jackets, and gloves since the singer's death. We're still having a hard time with the family's sartorial choices for his memorial service. [WWD] 3. Everyone's painfully aware of Kanye's love for fashion, but interning at the Gap is something no one saw coming.  We wonder how involved he is with the high fashion side of things.  [Stylelist] 4. More and more starlets are eschewing stylists in order to pick out their own clothing, with mixed results.  Hit a reasonable middle ground, between stylists' orders and winging it with a helpful guide.  [NYO]
The Latest From MomFinds
Baby Feet Get Cuter in Me-In-Mind Socks There's nothing more adorable than chunky baby feet, but chunky baby feet in a pair of Me-In-Mind socks comes a close second. Deal of the Day: Ralph Lauren Baby Gifts for Under $30 Need a baby shower gift?  RalphLauren.com is having their summer sale and have classic tees, polos, dresses, shoes and more for up to 70% off. Win it Wednesday: Win a $100 Shopping Spree at GiftHero.com Have back-to-back birthday parties coming up and no time to shop?  GIFT HERO to the rescue.  Founded by two busy moms, the site makes it easier for parents to buy fun gifts for kids ages 3-10.
News: Fashion Folks Longing For September, Bloggers Are Now Designers, And More
1. No matter who you are, an advance viewing of the Anna Wintour documentary, The September Issue, is tough to come by.  Hope you don't mind sticking with The Proposal for now... [NYmag] 2. Teenage Sea of Shoes blogger Jane Aldridge has designed six pairs of shoes for Urban Outfitters, which will debut this summer. We hope she'll include a pedestrian-friendly wedge in her collection.  [fashionologie] 3. Rumor has it that Patricia Field may quit as the costume designer for the upcoming Sex and the City sequel. This could mean no more buzz-worthy ensembles like we were treated to last time. [Insider] 4. Jennifer Lopez will shutter her Sweetface clothing line, though JLo by Jennifer Lopez will stay in production.  How about just sticking with buying the clothes celebrities wear instead of clothes celebrities make? [WWD]
Cheap Bras Can Look (And Feel) Just As Good As Overpriced Ones
The idea of wearing incredibly glamorous, expensive lingerie that could nearly pass for high art may seem exciting, but is it practical?  Well, no.  And not just because of the lofty price tag.  There are just so many affordable, well-fitting, and good-looking bras out there to choose from at prices within your budget. We sorted through the multitude of options and rounded up the best ones  into our Cheap Bras Guide, so you'll look good underneath without losing funds for the layers on top. Don't forget to sign up for our newsletter and get the latest sales and deals delivered directly to your inbox.