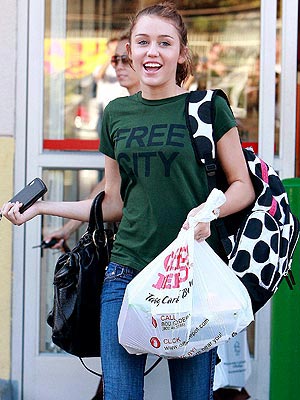 Celeb Fashion: She's Just Being Miley
I confess, I know all the words to the Miley Cyrus hit, "See You Again," and I really want the jeans she was wearing as she shops for school supplies. They're a great medium wash, a flattering low rise and slimming narrow boot cut leg. Her pair of Frankie B's jeans ($173) are dyed just right, fit just right, and would pretty much make anyone want to see me again! Or at least that's what I tell myself, ignoring the fact that I'm at least four inches taller, 20 pounds heavier and a decade older. So here are my picks for similar jeans… that are probably a little easier to wear (and afford!) for us non-celebs.These Roxy Night Owl jeans ($84) are affordable and on-trend for this fall. The legs are a balance between skinny and cigarette, and the rise is a little higher than the whale-tail-low of season's past. The little bit of spandex keeps them fitted without being too tight, which means you can eat!If you thought $84 was good for jeans... you'll love these GByGuess Naomi boot cuts ($49.50) The 33.5" inseam ensures these are ready to be paired with heels, and the narrow boot cut is flattering on everyone, not just Hollywood size 2's.
On Better TV: Geek Chic Accessories For Your Professional Self
Recently on Better.tv, SheFinds showed you some stellar tech-y finds for staying stylishly organized and connected – even if you're not a technology fiend. Data and computing accessories are nearly endless. These are four of our favorites, and we swear they're not that complicated. The DataTraveler Mini Slim ($11-19) is a really, really small USB flash drive that comes with a 2-year warranty and tech support, just in case you need some USB hand-holding. Carry your flash drive around in this Peanut USB Holder ($7) From Built NY, which makes all sorts of other useful things – like laptop cases and wine totes – out of the same cushy, colorful neoprene. The Dane-Elec Digital ZPen ($90) allows you to take notes on nothing, and stores the info you scribble down into the pen, so you can upload it onto your computer later. Way lighter than a laptop when you're traveling to meetings. One definite hurdle to being uber-connected: staying that way on the go. The Tonic Universal USB AC Wall Charger ($30) is only about the size of a box of tic tacs, and can charge BlackBerrys and any other device that uses USB power. When you're all charged up, hook a Jawbone ($130) on your ear to talk hands-free. And if you're working from your laptop off-site, the Q-Link Nimbus ($170), which plugs into your computer, claims to increase energy, stamina and concentration by reducing electromagnetic fields. Of course, staying stylish and sane amidst all the gadgets is always on our mind. Coby Electronics's Digital Photo Frame ($51) lets you gaze at whomever or whatever you want without constantly switching your pictures by hand. If you're a card-carrying corporate American, show some style by using cute BooJee beads ($10-$20) to hold your ID card. And keep all your gadgets clean and sparkly with Weiman E-tronic Wipes ($6), which are quick-drying, streak-free and safe to use on electronics.
Fashion Top Five: Shooties
This shoe-bootie hybrid was really just the next logical step after the ever-shrinking boot shaft hit below the ankle. Shooties work well with skinny jeans or pants and can add a hit of toughness to a sheath dress. But if you're feeling too tame to show off your shooties, slip them under a pair of trousers and no one will be the wiser. This top five wouldn't be complete without at least one peep-toe shootie: I do find the peep-toe bootie/shootie odd, but this STEVEN by Steve Madden pair ($150) might be cool enough to sway me. A big elasticized panel is surprisingly sleek on these Miu Miu patent shoe-boots ($530). These faux-snakeskin shooties ($66) look rich – and even office-appropriate – in dark brown. A graduated heel and streamline styling give this Kenneth Cole pair ($225) retro appeal. These Botique 9 shooties ($150) are entirely season-appropriate in dark grey suede.
The His Is Hers Shirt Makes More Sense Than Taking His
What: Clairidge + King His Is Hers Shirt, $89 Why: Is there anything sexier (for a man, anyway) than a woman wearing his collared dress shirt, padding around the apartment barefoot, too-long sleeves casually rolled up and too-long shirttail just barely covering her bum? Claridge + King thinks not. In fact, they've built an entire business on that supposition. Their foundational product, a made-for-her dress shirt, looks like his, but is modified for her: a softened collar, an additional mid-sleeve button to keep rolled-up cuffs in place, and an extra-long cut to flatter the female form.Get Yours: clairidgeandking.com And check out our suggestions on what to pair with another menswear fave: the boyfriend cardigan.
Where Can I Find A Monogrammed Tote?
SheFinds Reader Question: I am looking into maid of honor gifts, and I am interested in finding a monogrammed tote. The only ones I've seen and liked are what is featured at Lands End, but I want something a little more stylish than what is offered there (more glamorous than preppy). Do you happen to have any recommendations? Lillian Vernon monograms their totes ($25) for no extra cost, and these leather bags--particularly the black version--are quite sophisticated. If you're looking for something a little more fun, Pottery Barn will personalize their leopard or zebra-striped tote bags ($49) for no additional cost. But here's another idea: pick a stylish tote you love, like this Stella McCartney LeSportsac Everyday tote ($350), and get it monogrammed. It really doesn't matter whether the design includes a special spot for monogrammed initials. You can be creative! Embroidery companies across the country specialize in monogrammed initials onto everything from sheets to bags. I'm sure there's one near your hometown, but just in case, here are a few services to get you started: The Monogram Shop (East Hampton, NY), Amazing Monogramming (Wheatland, WY), A Little Bit of This (Chicago, IL), and Michelle's Monogramming (Cypress, TX).
Keep Your Head Warm And French-Looking In A Beret
Now that cold weather has officially arrived, it's time to start thinking about fall accessories. And what wardrobe addition could be better than a beret? They are an easy and fun way to dress up your look, and depending on the style, they can convey very different moods. What's your beret style? ClassicBlack is the easiest thing to pair with everything. This classy beret ($188) will dress up any look - and keep you warm in the process. SexyThis beret is pretty simple; a touch slouchier and less structured than a classic style, but made of 100 percent cashmere in an eye-popping candy apple red ($75). Casual ChicThis chunky, multi-colored beret ($38) is laid back, but cool. Pair it with your favorite flat boots and jeans for the ideal weekend ensemble. Not your style? Here are many more styles to suit your fancy.
What To Wear With: A Sweater Dress
We recently showcased our top five favorite sweater dresses and since then have been asked by many readers just how exactly to wear one. Other than with a solid pair of Spanx (or those ingenious Tight-End tights - or both), there are some simple ways to complement this cozy frock that will bring you easily from the office to after 5 cocktails. Since a sweater dress is classic, you can play around with shoes and accessories - but don't go overboard if you plan to wear to the office. A pair of two-tone Mary Janes and one strong colorful cuff will up the ante on a neutral colored dress. You can add a delicate silver necklace for some sparkle at the neckline. Before heading out for drinks, throw on a winter white mid-length jacket to brighten the look, and toss your evening essentials into a daring compact clutch. Donna Karan Cream Jacket, $1397.50 (Find a more budget-friendly option at Banana Republic) J.Crew Mary Janes, $160 Jade Oval Cabochon Bracelet, $375 Zebra Clutch, $7.50 Dior Oui Necklace, $1125You can also view this set right on Polyvore.com where we welcome all of our readers to join the SheFinds Group and create your own sets, letting us know how you'd wear a cozy sweater dress for fall.
Rain Boots That Don't Look Like Rain Boots
It's that time of year… the air is chilly, the leaves are turning and while snow is (hopefully!) still a few months away, the rain will arrive very soon. And if you're like me, crossing the street on a drizzly day poses a major hazard to my cute fall shooties. For better or worse, funky rain boots have reappeared this season: metallics, stripes, and bright colors galore. But for those of us who don't want to look like we stole our kid sister's galoshes as we ran out the the door, there are plenty of waterproof pairs that are disguised as stylish go-to boots. Here are a few of my favorites: London Fog Wales ($130) have a sleek, sliver wedge heel, a snuggly microfur lining, and completely waterproof construction, which means you don't have to sacrifice fashion for function. This pair of Sperry Top Sider Low Boots ($65) hits on the sock bootie trend we told you about earlier this week. Also totally waterproof and lined with fleece, they're much cuter than other casual rain boot alternatives. And the low anke boot style means they can be worn with most anything. And my favorite, the Avery by Aquatalia by Marvin K ($425). Stylish and funky, they'd look perfect with tight jeans as I dash through the puddles. Gotta love the faux fur and side toggles that make these some grown-up rain boots! Which ones would you get? Tell us in the comment section below… because I think you already know which ones I'll be ordering!
News Updates: Mary J Blige Gets A Scent, JC Penney Brings In Charlotte Ronson, And More…
1. Mary J. Blige will premiere a new fragrance in collaboration with Carol's Daughter. The name and launch date is yet to be revealed. Check out our reviews of Carol's Daughter's great products. [WWD]2. JC Penney will debut a line by Charlotte Ronson that falls within the $20 to $65 range. That's a steal compared to what her collection frocks usually sell for. [NYMag] 3. Some are raising concern over 'manorexia' in the fashion world, especially in London, where they recently deemed health certificates unnecessary for models. [GuardianUK] 4. Pick up Ojon's Pink Ribbon Revitalizing Mist and 20% of sales will go to The Breast Cancer Research Foundation. [Nordstrom]
Latest Blog Posts From MomFinds
Celebrity Find: Matilda Ledger Scoots with Mini Micro Scooter Michelle Williams' daughter, Matilda, has been cruising the streets of NYC with her pink Mini Micro Scooter. Made for ages three to five, with three wheels total, it does for the scooter what tricycles did for bikes: makes them a whole lot easier to ride.Get into the Halloween Spirit with BabyCenter Store's Halloween SaleTake one look around my neighborhood, and you'll know that Halloween is creeping up on us. Get into the holiday spirit and replace your tot's old PJs by picking up some festive Carter's marked down 50 percent at BabyCenter Store. Win it Wednesday: Win a Halloween Costume from Aeromax Toys Halloween is just around the corner. If you're still searching for a cute Halloween costume for your child, fear not. This week one lucky reader will win a Get Real Gear Halloween Costume from Aeromax Toys.
Deal Of The Day: Flats For $10 At Old Navy
These flats are incredibly inexpensive but not cheap-looking, and they're each available in a rainbow of colors. I just bought these bauble ballet flats ($10, were $24.50) in blue; they're so comfy and perfect with jeans that I'm thinking about a pair in this plum color as well. With a block of contrasting color on the toe, these croc-print flats ($10, were $24.50) are a bit more interesting than classic ballet flats. These suede moccasins ($16.50, were $24.50) are the perfect relaxed-preppy pair – definitely still a bargain at $16.50. More sales and deals on the web:As seen in the SheFinds forum: 20% off all fall bags at Tucker Paisley for SheFinds readers. Use code Fall08. 30% off select women's shoes at Steve Madden. Up to 50% off women's active wear at Activa Sports's sale.
Nice Work, Payless – Your Fall Shoes Are Quite Stylish
I always feel compelled to hop into Payless every now and again. Despite some unwearable styles--either due to style or fit--there are plenty of gems to be had, and at the amazingly low prices we have come to love. Here are some of the best of their fall lines that actually fit great and look fabulous.Lela Rose Sanborn Bow Flat ($34): These are just adorable in person; very chic and stylish with a nice quality satin finish. The grey is my favorite, but black is also available. Koko Gilley Pump ($20): Purple suede? Oh yeah! These are four inches tall and pack a whole lot of character. For the price, what's not to love about these? American Eagle Latte Mary Jane ($25): These are surprisingly comfortable and very secure feeling. The chunky heel is so in, and the casual olive green and brown combo makes these look more expensive than they are.
Rachel Zoe Comes Undone, Eye Makeup Remains Intact
It's Wednesday and you know what that means: another review of Bravo's new reality show, The Rachel Zoe Project. This week, we see what stress awards season can place on a top stylist and her crew as Rachel "comes undone" trying to style multiple events. Throw in the loss of a relative and an attempt to plan a cozy anniversary party for her husband and a couple hundred of her closest friends and we get to see a full-on meltdown.Here's what I still don't understand: you see her cry in this episode. A little bough of hope springs forth when she starts to remove her makeup, but she removes everything BUT her eye makeup. Who does that? At this point, I assume there is something under all that liner and mascara that she REALLY doesn't want us to see. I give up. I think watching this show is starting to wear off on me, because I think I want to try a fur vest for fall (faux for me), especially this Gryphon The Pretender Vest ($830). It looks like real fur but I can rock it without enduring judgmental looks from my cat. For a little more Zoe magic, I'll throw on these Accessories and Beyond Sparkle Elastic Bracelets ($88), and this Juicy Couture The Beau Watch ($250).Stay tuned for next week, when we get a behind the scenes look at the Oscars and her assistants flip out yet again.
Fashion News: Where's the Vince?
It just got easier to find your Vince fix. The line of "luxe staples" has just launched an e-commerce site, where its men's and women's collections are available. But just in case you like to touch your cashmere before you buy it, Vince will be opening a store in New York this winter, adding to the two stores it recently launched in Los Angeles. Of course, Bergdorf's and Barney's will still be carrying the line as well. I'm in love with the grey colorblock shift dress ($320). It would be the perfect corporate casual outfit for those days when I want to push the dress code just a little bit and still be comfy. And don't forget the admiral coat ($345) paired with ski pants ($235). It puts me in the mood for a stylish winter get away!
Sponsored Post: Score Stellar Designer Deals At Lucky Shops – The Ultimate Shopping Event
Up to 70% off our favorite brands: Foley + Corinna, JBrand, JillStuart, Kate Spade, Rebecca Taylor, See by Chloe, Tracy Reese, Vera WangLavender, and many more! Enjoy cocktails, giveaways, and more. November 7 & 8Metropolitan Pavilion125 West 18th Street, between 6th and 7th Avenues, NYC Tickets on Sale Now!LuckyShops.com
Sock Bootie: Strangely Beautiful Or Just Plain Strange?
Thre are times when trends pop up and I just can't decide which side of the fence I stand on. Case in point: the Stella McCartney Sock Boot... et al. This is just one of several that I've seen popping up in stores.There are two versions of the Stella sock boot shown below. They're half bootie/shootie, half grungy ankle warmer. On the left, the Leatherette Ankle Boots ($895), and on the right, the Sock Ankle Bootie ($1195). While I love the bootie portion of the shoes, the sock is somewhat off-putting because I'm not sure what to do with it. At the same time, I think it might look cute if the sock were rolled down over the ankle and you wore them with a pair of fun tights and a sexy dress. What do you think? Would you wear these hybrids? Would you buy your own leg warmers and inexpensive booties to copy the look? Or is this just Stella gone a little kooky for fall? Voice your opinions in the comments section!
News Updates: Lifetime's Project Runway For Makeup, The Met Opens Its eDoors, And More…
1. Lifetime's new reality competition series features makeup artists competing for a cash prize and contract with Max Factor. Las Vegas' Vanessa Marcil hosts the show, called Blush, which premieres in November. We wonder if this season's dark lips will be a prominent trend on the show. [TheFashionBomb]2. The Met's Costume Institute has put their entire inventory online for lovers of vintage fashion to peruse whenever they wish. We bet Rachel Zoe will just die when she hears the news. [Shophound]3. There's still time to vote for SheFinds on Divine Caroline and help us win this year's Love This Site! Award for Style. [DivineCaroline] 4. Throughout October, purchase Surgeon's Skin Secret Beeswax Moisturizer Stick, and $1 from every product will go to breastcancer.org. [jamarklabs.com]
Only 1 Day Left To Win A $500 Shopping Spree From Smashing Darling
Time is running out to enter our Smashing Darling giveaway, where one lucky reader will get $500 to spend on anything at all from the expansive indie fashion site. They stock clothes, jewelry, bags, shoes and more for you, plus oodles of other collections for men and children – though with all of these fabulous options, we're not sure we'd want to share. To enter, just go to SmashingDarling.com, then come back to our original Freebie Friday post and tell us what items you'd most want to buy. But make sure you do it by 11:59 AM tomorrow, because after that we'll be moving on to another fabulous sweepstakes.
News Updates: Sofia And LV Together Again, Levi's Recruits Troll To Sell Their Jeans, And More…
1. Sofia Coppola will be designing a line of handbags and shoes for Louis Vuitton which will launch in Japan first before going global. Sofia and dad Francis Ford were last seen in ads for LV's Core Values campaign. [Shophound]2. A new Levi's 501 e-card campaign is downright scary, featuring an orange-haired troll that jumps out of a pair of 501s. The creepiness of the campaign is causing many to wonder if it's an online hoax. Regardless, you can pick up a pair of classic Levis without the frightening little creature on their website. [Stylelist]3. Kate Winslet is rumored to be starring in a movie about the life of fashion designer Vivienne Westwood. We hope Kate won't turn her sleek 'do neon orange for the part. [MarieClaireUK] 4. Purchase Sabon NYC's Pink Bath Basket ($90) this October and 30% of the proceeds will go to The Breast Cancer Research Foundation. Plus, you get free shipping! [SabonNYC]
October. Love, SheFinds.
We hope you had a lovely September, and are gearing up for full-fledged fall – we know we are. (Booties! Jackets! I can finally stop using my A/C!) Take note of the goings-on below to see what's going on in our world this October – and so you don't forget to catch the Project Runway finale (October 15).Love, SheFindsOctober 1Starting today, you can pre-order designs from Project Runway alum Rami Kashou's latest collection. The clothes are for sale exclusively at Maneater Threads.October 5Clinique launches its latest version of Superfit Makeup foundation today, with a new formula to increase air circulation to the skin and step up its oil-absorbing power. October 6Stop by Urban Apothecary and check out their new Mineral Photo Touch Foundation today – it controls oil and minimizes the appearance of pores.October 13SPA Week starts today in spas across the East Coast, Midwest and Canada: get full-service spa treatments for just $50. Sign up at spaweek.org to find participating spas.October 15Project Runway finale! Since JLo cancelled last minute during fashion week, Tim Gunn will guest judge. October 16A new site where you can score inexpensive bags – we're talking $30 to $80 – just launched yesterday. Check it out at handbagplanet.com .October 20Saks has a whole bunch of new Chantecaille available today, including wet/dry Lasting Eye Shadow, Contour Fill smoothing lip pencil, and iridescent Luminous Eye Liner. October 21Shop Rapunzels just got in the super versatile Fole + Corinna City Clutch in fall's must-have color: eggplant.October 30Activewear retailer Doce Vida launches its tennis collection today – a perfect excuse to get moving before the holidays.October 31It's Halloween. How many Sarah Palins have you spotted?
Deal Of The Day: Up To 44% Off Sophisticated Mary Janes At Piperlime
With high heels and neutral colors, this classic style grows up into an office-appropriate alternative to the pump.Nine West's Ladron shoes ($60, were $89) are a sleek (not to mention elasticized and pinch-free) version of the classic strap-and-buckle style. We featured these Via Spiga Mary Janes ($120, were $215) in our Shoes You Need For Fall guide because they're simultaneously cute and refined. These DRU New York Amelie Mary Janes ($90, were $140) have a heel that's substantial enough to walk around in all day. More sales and deals to check out:Save up to 70% at Bluefly's semi-annual Bluesale. Take an extra 20% off orders at Swimsuitsforall with coupon code SAVE20. Save 20% on ICE.com's best-selling jewelry.
News Updates: Another Hills Designer At Kitson, Project Runway Saga Continues, And More…
1. The Hills' own Whitney Port has launched a clothing line now available on Kitson's website. Let's hope Whitney can hold ground at the LA retailer longer than Lauren Conrad did. [NYMag]2. The Project Runway drama continues as the Weinsten Co. filed an appeal against the court's decision to stop the show from wandering over to Lifetime next season. [WWD] 3. Sole-less shoes appeared on the runway recently at London Fashion Week. And the Brits thought stilettos were uncomfortable. [Stylelist]4. October is National Breast Cancer Awareness Month, so shop for a good cause. This elegant AK Anne Klein bracelet promotes awareness with a stylish pink heart charm. [Dillard's]
Week of Personal Style: Corporate Chic
I was in a state of serious denial when I realized my style was corporate-ish American classic - ask anyone who knew me at 13 and I would have rather died my hair black and worn satanic crosses under my uniform at my all-girls Catholic school than have someone tell me I'd be dressing office-appropriately. But after taking a look at recent shopping spree receipts and glancing at the pile of clothes growing on my ironing board, I realized something -- I've gone office chic -- and I'm ok with that. My name is Christine and I work in corporate America. Whew! Glad to get that off my chest.So how do I manage to play up the fact that I have style under strict dress code? I wear a simple black sheath dress with a wide funky croc belt, opaque black tights, and super high oxford peep-toe pumps. Technically I'm dressed just the same as the CEO's secretary only my tights aren't sheer, my belt is 3 inches wider, and my shoes are 3 inches taller. It's like new-age office chic. Take my word for it - get this black knee-length sheath dress ($89). It's the most well-fitting plain black work dress I've bought in years. And buy small if you run between sizes. The belt is detachable and has become my new favorite to wear over grandpa cardigans. No girl can live without a pair of ultra-opaque wool Wolford tights ($52). Kill two fashion trends with one stone (oxfords and peep-toe) and grab these chic 5" oxford peep toe pumps in patent leather ($190). Now, a lesson in looking chic in a cardigan ($70): bright colors are key, and this season, it's purple. Grab a huge oversized beaded necklace in matching hue ($50) and a pair of wide-legged super long houndstooth pants with cute button details ($265).
Designs For Count Me In: TheBrassHussy
What: Vintage Style Brass Earrings Why: These earrings each have a lime green fresh water cultured pearl, bright blue czech glass beads, brass filigree flower bud, and stamped brass tag that says 'believe'. The leverback earwires are 100% brass and not plated. The total length of the earring is just under 2 inches. About the Designer: My inspiration for creating jewelry is often from the gemstones themselves. Their beauty inspires me to create around their shapes and colors so that I accentuate their beauty. - Debbie Brown, founderProceeds to be Donated: 50%Get Yours: $25 @ etsy.com Count Me In promotes the growth of women owned businesses and is the leading national not for profit provider of online business loans, resources, and community for women entrepreneurs. Beginning in September and continuing through Jan 1st, SheFinds will feature original accessories by independent designers. A portion of each sale will go to Count Me In. With each purchase, you are contributing to the development of women in business.
Taste Test: Which Striped Sweater Will Deplete Your Savings?
Both of these sunny striped sweaters are versatile enough to wear with all the current denim trends – roughed-up boyfriend jeans will look just as lovely paired with these tops as a sharp, dark skinny pair. But which one can you afford even on a tight budget? Click on the images to see what they really cost. Test your fashion IQ with our other Taste Tests.
Designs For Count Me In: Clothes On The Line
What: Bordado Gray Purse Why: This handcrafted bag is made within the indiginous native villages in Central America. Material is 100% all natural wool. Wool is still in the raw state. Fully lined with 100%cotton. Button closure on top. Three embroidered flowers run along the front side. The 45" shoulder strap may be adjustable for your preference. Inner zipper pouch for personals. Due to natural wool material, color may vary. Bag size measures 11"x14". Products purchased help contribute to the community that hand weave the fabric for these bags.About the Designer: Julie Acevedo, founder of Clothes on the Line, had traveled to small towns in Central America and could not help but notice the native women still weaving cotton and wool by hand. The tradition still exists today and great products are produced by hand, pesticide and chemical free.Proceeds to be Donated: 15%Get Yours: $54.99 @ clothesontheline.com Count Me In promotes the growth of women owned businesses and is the leading national not for profit provider of online business loans, resources, and community for women entrepreneurs. Beginning in September and continuing through Jan 1st, SheFinds will feature original accessories by independent designers. A portion of each sale will go to Count Me In. With each purchase, you are contributing to the development of women in business.
Gossip Girl On The Catwalk: The Bubble's Back
This week's Gossip Girl was an extra special treat for us fashion followers -- a fashion show at Bryant Park, our favorite bad girl turned good girl and back to bad again Serena on the catwalk, and cameos from fashion designer Michael Kors and fashionista/socialite Tinsley Mortimer. NYC hasn't seen anything this exciting since the real Fashion Week. But before I continue to ramble on and give you a full recap (which you don't need because you know you watched it) -- how fabulous was the dress Serena wore as 'Eleanor's' finale piece on the runway?We're left to wonder -- can GG bring the bubble back? Did it ever go away? Apparently not. Want Serena's style (a little less runway-ish) for your next cocktail party? You've got it... The olive green strapless taffeta bubble hem dress is on sale for $147 by Laundry by Design. The middle black Marc by Marc Jacobs dress is a slightly voluminous skirt detailed with a half bow extending from one side and finished with a softly bubbled hem for $238. The graphic burnout organza strapless dress with sashed empire waist and a flared A-line shape is $218.Want the whole look? Get a pair of pointy toe gold pumps like Serena wears on the runway:
Week Of Personal Style: I Guess I'll Go With Vintage Modern?
Defining my own style is no walk in the park for me. But since the SheFinds staff is reflecting upon our personal styles this week, I figured what better time than to face it head on and figure out what the heck I look like everyday. Various friends and colleagues have defined me as everything from classic to eclectic - which doesn't help much. So, after scouring my closet, I came up with Vintage Modern. An oxymoron? For sure. But definitely me. For the office, I like to pair billowy separates like this vintage-style Secretary Blouse ($110) and Crawford Wide-Leg Pant ($285) with chunky modern accessories. This Marni Bracelet ($320) adds some color to the black and white. My LBD comes out for evening, and always looks great with a one-of-a-kind statement piece. A vintage bib necklace (there are plenty on eBay) looks stunning against this sleek DVF Jacinta Dress ($345). And my shoe of choice come fall is most definitely the bootie. These Bonnie Booties ($130) go with pretty much anything.
Week Of Personal Style: New England + NYC = Urban Preppy
I honed my becoming-an-adult style in a place where half the men wear pastel popped-collar polos, and the other half wear two pastel popped-collar polos to parody the first half. The preppy influence was hard to avoid.These days, my style retains significant nods to country-club chic, with a dose of "no really, I'm laughing at me too." (See headband below.) And now there's more black than back in college.Last Saturday night's outfit was a particularly urban-preppy case-in-point. I started with a Theory dress ($375) – fitted bodices with fuller skirts are a favorite – and added a somewhat ridiculous headband; faux jewels or big fabric flowers like the ones on this headband from J. Crew ($20) should achieve the joking-but-not-joking look nicely. With such a loud accessory at eye level, I'd just add a silver bracelet watch ($395) and keep other jewelry quiet. Dusty pink shoes ($67) that aren't too sweet complete the ensemble. My most valued accessory to wear with this look? An attitude that says "Yes, I enjoy stomping on peanut shells in my fabulous shoes and no, I'm not too dressed up for this dive bar."