If Kate Middleton & Jessica Simpson Can Design Their Own Wedding Dresses, So Can You
Sarah Burton just told WWD that she and Kate Middleton split designing duties of the infamous Alexander McQueen royal wedding dress "50-50," and we already know that Style Icon of the Year Jessica Simpson is playing a significant role in designing her own dress, too. (We know this because she's told anyone who will listen.) Anyway, I'm just saying, if Kate and Jessica can design their dream wedding dresses, with little to no design experience, you absolutely can too. In fact, it's very en mode to do so. We found 4 websites that will let you do it now: Olivia Luca: Enter your skin tone and body measurements, and then pick your dream bodice, skirt length and shape, fabric, color on this designer's website. It has a sizing chart in case you don't have the time to have your measurements done professionally - although it is recommended. (more…)
Shop Alexander McQueen Bridal Before All Of The Queen's Subjects Do
Now that the world knows that Sarah Burton of Alexander McQueen was tapped to design Kate Middleton's dress, we're assuming the demand for the McQueen bridal collection is going to spike. The designer just released a statement about the job: "It has been the experience of a lifetime to work with Catherine Middleton to create her wedding dress, and I have enjoyed every moment of it," Burton said. "It was such an incredible honour to be asked, and I am so proud of what the Alexander Mcqueen team has done." We have a feeling things are about to change in a major way for the team. Even if you're not married, grab one and sell it on eBay (can you tell we're opportunists?): (more…)
Kate Middleton's Dress Designer Is….
It's official!! Kate Middleton's dress designer is Sarah Burton of Alexander McQueen. From the official royal statement: "The lace appliqué for the bodice and skirt was hand-made by the Royal School of Needlework, based at Hampton Court Palace. The lace design was hand-engineered (appliquéd) using the Carrickmacross lace-making technique, which originated in Ireland in the 1820s. Individual flowers have been hand-cut from lace and hand-engineered onto ivory silk tulle to create a unique and organic design, which incorporates the rose, thistle, daffodil and shamrock. (more…)
Sarah Burton, Or Someone Who Looks Exactly Like Her, Just Entered Kate Middleton's Hotel
Thanks to some sleuth reporting, the Telegraph UK just identified a person seen entering Kate Middleton's hotel by their belt. Yes, that's right, Sarah Burton of Alexander McQueen was spotted entering the Goring Hotel and although her face was obscured by a fur hood, you can tell it's Sarah by her distinct studded belt. We are are besides ourselves with excitement over the prospect of an Alexander McQueen royal wedding dress. Just the phrase alone gives us heart palpatations. Stay tuned...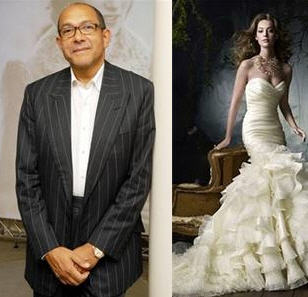 Bruce Oldfield Is OUT; See Who's Left On The Short List For Kate Middleton's Dress Designer
UPDATE: This morning, Bruce Oldfield released a statement to the press that he is NOT the royal wedding dress designer after much speculation. We've crossed him off our list -- see whose names are left: (more…)
The Fashion Show Recap: Robots, Cowboys, And Pleats Take Over Cipriani
The final four designers put it all out on the runway at Cipriani Wall Street for part one of the finale of Bravo's The Fashion Show. The twist was that only three of the four would make it to the final viewer's choice vote, which by the time you read this, will be closed. Next week, the winner is crowned during a reunion show. Daniella's "soft robot" collection was a combination of leather, epaulets, and femininity that judges described as fashionable. The medieval androgyny she was aiming for would have worked if the construction was better - her only real criticism from the panel. James Paul's collection was equally abstract, with his inspiration coming from western wear. None on the pieces were really reminiscent of cowboy couture, but in usual JP fashion, his muted color palette and textures won raves from Isaac and co. The circle skirt jacket from Reco was just one of the bright, glam pieces in his Aztec goddess-inspired collection. He did everything from separates to a wedding gown, but the absence of detailed designs pushed him out of the final four. Anna, however, was the crowd favorite. While knocked as being the least cohesive, her collection was bright and wearable, incorporating her successful pleating as well as a floral palette that won raves in previous episodes. Although Kelly Rowland rarely delivers any sage fashion advice, she did point out that knee-length dresses are a staple of any burgeoning wardrobe. J. Crew's strapless floral Lorelei dress ($250) is an ode to Anna's bright, floral prints. And for a more office-appropriate look, this Donna Morgan Jersey Dress ($79 from $118) can be jazzed up with a statement belt.