Sarah Jessica Parker Just Made The Most Heartbreaking 'Sex And The City 3' Announcement Ever & We're Devastated!
Sarah Jessica Parker Just Chopped All Of Her Hair, And We Don't Know How To Feel About It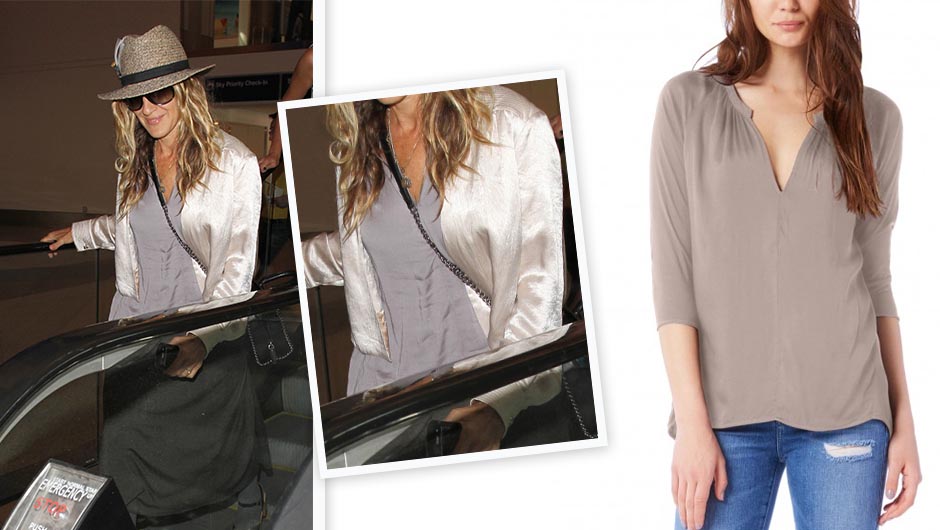 This Is The Easy Top Sarah Jessica Parker Wears To Travel
Sarah Jessica Parker was spotted at LAX yesterday looking comfy AF in a maxi skirt, silk jacket, fedora and a super soft gray top that we just found out is this the Michael Stars Romy Rayon Hi Low Crossback Top ($118). We love Michael Stars tops--they are so soft and last forever, and they easily become your new favorite top when you buy them. And considering the fact that Sarah Jessica Parker wore hers for a 10-hour flight (she flew from New York to LA for an appearance on Jimmy Kimmel!), I think it's save to say they are easy to wear. Get one now: Michael Stars Romy Rayon Hi Low Crossback Top in Chi ($118)
Sarah Jessica Parker Found The Perfect Fall Cardigan & Sweatshirt #GameOver
Sarah Jessica Parker was spotted on the streets of New York City wearing what looks like the coziest cardigan ever. We love the whole baggy, oversized sweater look and she's giving us serious outfit inspo for our next fall afternoon stroll. Want to snag her look? Here's the exact cardigan SJP wore: Michael Stars Cashmere Blend Cardigan ($258) If you want to be extra cozy, make sure to grab her Nation LTD sweatshirt too: Hayley Sweatshirt ($32.40, down from $108) For more celebrity style, check out Jamie-Lynn Sigler's Headband and Taylor Swift's Initial Ring. [Photo: Splash News]
If This Floral Print Dress Is Good Enough For Sarah Jessica Parker, It's Good Enough For Me
When you hear the word style icon, Sarah Jessica Parker is probably one of the women who immediately comes to mind. Whether in character as Carrie Bradshaw or as her normal stylish self, SJP always kills it. Our most recent proof? When she stepped out of her NYC apartment wearing this stunning Rebecca Taylor number. Not only is it the perfect day dress for work, but it's also perfect for a late-summer/early fall wedding. Like it as much as I do? Shop it below! Rebecca Taylor Static Print Dress ($495) Be sure to check out Kate Hudson's cute chambray shirt, Jessica Alba's cool backpack and celebrity bridesmaids. [Photo: Splash News]
SJP Collection Now Includes Bridal Shoes!
Sarah Jessica Parker knows a thing or two about shoes. She was Carrie Bradshaw, after all. Carrie had just about the best collection of Manolo's a girl could ever dream of, but SJP's love for shoes started way before Sex and the City. She recalls making special trips twice a year with her siblings just to buy shoes. So it's no surprise that the actress is expanding her SJP Collection even more with a line of bridal shoes! For all you soon-to-be brides out there, take note. Sarah designed beautiful and statement-making pumps that are ideal for your wedding day. These aren't your traditional wedding shoes, either. The brand new line includes satin pumps ranging in colors from mint green and striking blue to plum. There are even some pairs that feature a pale blue grosgrain ribbon along the back, so you don't have to worry about finding "something blue." SO pretty, right?? https://instagram.com/p/3PCdAcOlCX/ What kind of shoes did SJP wear to her own wedding? "At my wedding, my shoes were teal velvet Robert Clergerie," she revealed. Shop the SJP bridal collection at Nordstrom and Zappos Couture. Don't miss 7 June collaborations you need to know about and Amal Clooney looking stylish in Valentino espadrilles! [Photo: Splash News]
Is Sex And The City 3 Happening? This Photo Certainly Makes Us Think So
Two days ago, Sarah Jessica Parker posted a photo to Instagram with the caption, "Well. I guess the cat's out of the (little brown) bag. As usual, we will keep you posted on every detail as we are able. I'm under strict gag order until then." Could it be Sex and the City 3?? Rumors have been flying for a while that the ladies may or may not reunite for another film, plus doesn't SJP look very Carrie-esque in this photo? https://instagram.com/p/2jepUkiYD-/ Turns out, she is just playing games with our hearts. "The Instagram post is not in relation to the Sex and the City property," Warner Bros. tells PEOPLE. The post actually refers to her shoe line, SJP Collection,  launching at Bloomingdale's. Look out for her shoes to hit stores and online in mid-June! But until then, you can shop all the fabulous styles here. Don't forget to check out: 6 times the bride is always right, 8 things every girl who does her nails at home should own and super flattering one-pieces [Photo: Splash News]
How Does SJP Stay Happy While Running Errands? In These Smiling Sweatpants
Sarah Jessica Parker was spotted grocery shopping in Soho looking both Sunday-morning-comfortable and Thursday-evening-chic. Did we mention she left the house in sweatpants? That's right. However, Carrie would totally approve because these sweatpants are anything but gross--they are smiling. She paired her Lauren Moshi Nora Mini Lightning Bolt Leg Track Pants ($136) with a graphic tee, a blazer, and the new Whitney Museum cross body bag. Shop her funky sweat pants below and copy her look for you next day of errands. Lauren Moshi Nora Mini Lightning Bolt Leg Track Pants ($136)  Don't forget to shop Reese Witherspoon's skinny denim, Kelly Rowland's dress and Jessica Alba's sandals. [Photo: Splash News]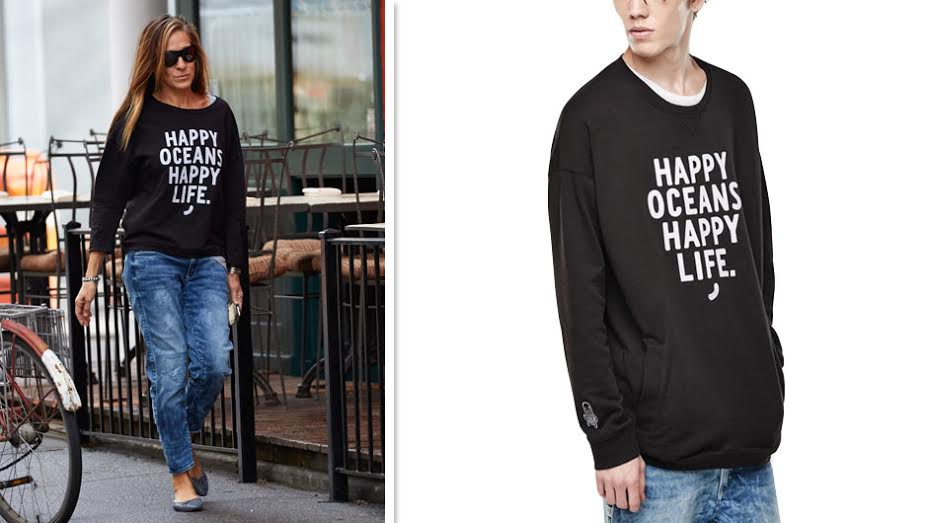 Here's The Scoop On Sarah Jessica Parker's Happy Oceans, Happy Life Sweatshirt
Earlier this week Sarah Jessica Parker was snapped wearing this Happy Oceans, Happy Life sweatshirt and we immediately had to hunt it down. I mean, who doesn't love a good graphic sweatshirt with an earth-friendly message? We did some digging and it turns out the sweatshirt isn't even out yet. It's part of G-Star's Raw for the Oceans collection, which is being rolled out over the next few weeks. On the bright side, you can sign up to be notified when the sweatshirt is in stock so if you want it, I would get on that list ASAP. Click below to sign up. G-Star RAW Raw For The Oceans Sweatshirt ($180) For more celebrity style, check out Beyoncé's black and white skirt, Kate Hudson's handbag and Jessica Alba's sandals. [Photo: Splash News]
Thanks, Sarah Jessica Parker, For Reminding Us It's Time To Bust Out The Jean Jackets
The raw hem just made its way to the jean jacket and our style guru, Sarah Jessica Parker, debuted the look . Her Mother Pony Boy Denim Jacket ($275) looked pretty fab as she sauntered down the rainy streets of NYC with her two adorable twin daughters. Having the perfect jean jacket during all these in-between weather moments is fool-proof. Throw over everything. Shop it below! Mother Pony Boy Denim Jacket ($275) Shop Olivia Palermo's peacoat, Jessica Alba's sandals and  Jessica Biel's moto jacket [Photo: Splash News]
If Sarah Jessica Parker Approves Of Stylish Sweats, Who Are We To Argue?
Sick and tired of your leggings and Lulu Lemon yoga pants? Just because the yoga pant look is totally acceptable in most settings nowadays, it is worth mixing up your comfy look just a tad. Sarah Jessica Parker  just found your new favorite  sweats and yes, you can wear them outside of your living room. The West Village mom toted her adorable tots while wearing Michael Lauren Diezel Varsity Vintage Sweatpant ($88). You know who else loves these? Alessandra Ambrosio. Don't get lost in the sea of leggings - snag these retro sweats! Michael Lauren Diezel Varsity Vintage Sweatpant ($88) Check out Heidi Klum's sparkly sweater, Gabrielle Union's floral print dress and Kylie Jenner's cute crossbody bag. [Photo: Splash News]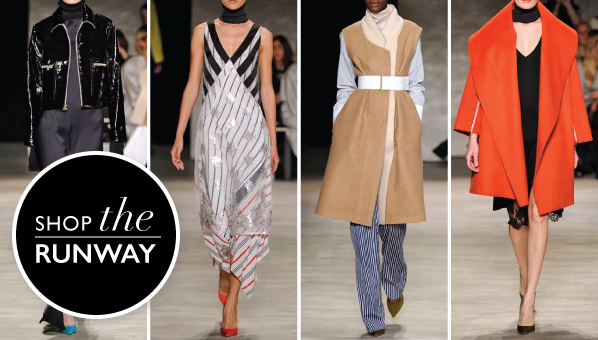 Sarah Jessica Parker Designed Shoes For NYFW, And Now You Can Shop Them
What does Sarah Jessica Parker do after launching a shoe collection? Bring her designs to fashion week, obvs. The actress/designer teamed up with NYC-based brand Tome to craft shoes for their Fall/Winter 2015 show--and now you can shop all four styles seen on the runway. The single-sole pumps come in Turquoise, Twilight (a navy/black), Olivine (a khaki/olive) and Poppy (an orange/red). Each pair has a contrasting SJP signature stripe on the back. Carrie Bradshaw would for sure want a piece of NYFW before everyone else. Feel the same way? Get SJP x Tome heels below. SHOP SJP x TOME SHOES NOW For more Fashion Week stories, check out: the NYFW livestream schedule and shop the Tommy Hilfiger 30th anniversary collection
What Does Sarah Jessica Parker Wear To Brave A Snowstorm? Boyfriend Jeans.
This morning's commute was not only freezing cold here in NYC, but also friggin' slippery thanks to the snow. But Sarah Jessica Parker handled the weather like a pro by pairing her boots with comfy, yet stylish 7 For All Mankind Josefina Feminine Boyfriend Jeans ($210). Now of course these babies are good for more than just snow. Pair them with heels and a blazer for a dressier look or with cool sneakers for brunch with your friends. Get your pair below. 7 For All Mankind Josefina Feminine Boyfriend in Absolute Heritage 3 ($210) For more must-shop celebrity style, check out Fergie's graphic sweatshirt, Hilary Duff's sweater and Reese Witherspoon's sneakers. [Photo: Splash News]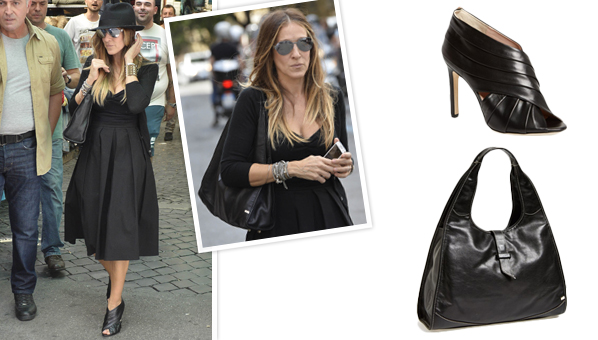 Carrie Bradshaw Would Definitely Approve Of Sarah Jessica Parker's Accessories
We can't help it--we love Sarah Jessica Parker's designs and the fact that she actually wears them. While shopping at a flea market in Rome, she wore these SJP Alyssa Peep Toe Booties ($242, down from $485) and carried this SJP New Yorker Leather Hobo ($375), all in black to match her A-line dress and cardigan. Carrie would have totally approved not only of this look but of these price tags. Bags and shoes under $500? No more Vogues for dinner! Snag these chic items below for yourself and yes, you can wear peep-toes in the winter. SJP Alyssa Peep Toe Booties ($242, down from $485) SJP New Yorker Leather Hobo ($375) Don't miss Taylor Swift's knee-high leather boots, Jennifer Aniston's plaid dress and Jennifer Lawrence's shearling jacket. [Photo: Splash News]
We Kind Of Forgot About SJP Shoes… But They're Pretty Great.
We weren't too surprised when we decided to check back on Sarah Jessica Parker's exclusive SJP shoe collection for Nordstrom to find that we would wear nearly every pair in the line. After all, this collection is from a woman whose fame and fandom skyrocketed over the preference of her TV show character's footwear. And there's more to this selection than just Manolo-style pumps, we love the ankle booties and lace-up peeptoes that are little edgier than what Carrie would wear. From metallic pumps to knee-high leather boots, check out our slideshow of SJP's stylish shoe offerings for this season. Check out more trends: loafers, EF Collection rings, and belt bags.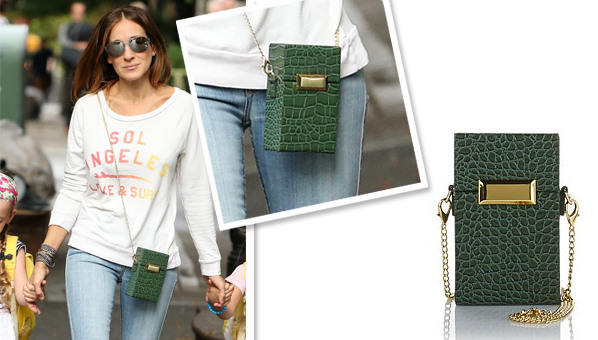 Sarah Jessica Parker Just Gave The Bag Snob Handbags Her Stamp Of Approval
Remember back in May when we told you how freakin' good the Bag Snob debut handbag collection is? Well, fashion royalty Sarah Jessica Parker just gave it her stamp of approval. It doesn't get any better than that. Oh, except for the fact that not only can designer Tina Craig call SJP a fan, but also a friend. K we're jealous. The actress was spotted taking her daughters to school wearing the Snob Essentials Croco-Embossed Jewel Box Handbag ($68) in green. Get it below: Snob Essentials Croco-Embossed Jewel Box Handbag ($68) For more celebrity style, check out: Emma Stone's $68 ring, Jessica Alba's tweed blazer and Emmy Rossum's coat/scarf combo [Photo: Splash News]
The Only Thing I Want In Life Is A Monogrammed Burberry Poncho Like SJP's
I hate to be dramatic, but can we all agree Sarah Jessica Parker's colorblock Burberry poncho is absolutely everything? And with the monogram?! I've seriously never had such fashion envy. She can keep her Louboutin heels and Chanel bags--I just want a monogramed cape! Now you're probably thinking, "Well, why the hell don't you just order the cape?" Ah, if only it were that simple. First, despite the fact that the Color Block Blanket Poncho is from Burberry's Fall 2014 collection, it's already freaking sold out on burberry.com. As luck would have it, I did find the poncho available at matchesfashion.com--for $1,383. Why???? If you do happen to have a G to drop on a cape, (1) I'm very jealous and (2) you should definitely use that cash to snatch one up ASAP. Not sure if MATCHESFASHION will monogram, but the cape is pretty amazing on its own. Burberry Color Block Blanket Poncho ($1,383)  For more must-have celeb style, shop Julianne Hough's black handbag, Lea Michele's tank and Jessica Alba's leather track pants. [Photo: Splash News]
Can't Afford A Celine? Sarah Jessica Parker's Suede Hobo Is The Next Best Thing
Need a new fall handbag, but don't want to break the bank? Sarah Jessica Parker has your back. The starlet turned designer moved quickly from her capsule shoe collection to a line of handbags. And the best part? She actually wears her items because they are functional and timeless. She recently ran errands in the big apple carrying her SJP 'New Yorker' Suede Hobo ($375), which is large enough to carry all your junk and priced for a budget conscious gal. The suede bag comes in lavender and navy and we're pretty sure  Carrie would approve. Snag the bag below! SJP 'New Yorker' Suede Hobo ($375) Don't miss out on Kristin Cavallari's dress, Rihanna's hot pink dress and Beyonce's best under-$100 clothes. [Photo: Splash News]
Smythe Somehow Made Blazers Cool Again–Just Ask Kate Middleton, Kate Hudson & SJP
I went to a boarding school that had a pretty intense dress code, so blazers admittedly have a not-so-good connotation in my mind. Stuffy? Stodgy? Old ladyish? Yeah, all not things I want to look like when getting dressed in the morning. I've basically boycotted blazers since my high school graduation--sans the occasional job interview--but then I came across Smythe. It wasn't long until I realized that tons of celebs--and umm, princesses!--were giving their blazers and jackets their seal of approval, so I decided to lift the blazer ban and check them out. And I have to say, as a girl who pretty much unequivocally hates blazers, these are pretty amazing. They have classic navy blue styles that just feel a little more special with the addition of a gold button here or there, plus they also do slimmer versions with more fashion-forward touches like a metallic wash or sharp shoulders. So whether you're not really into blazers like me or swear by them for you day-to-day look, you have to check out Smythe. You're gonna fall in love. Click through the slideshow to shop celeb-approved Smythe styles. Don't miss Jennifer Lopez's maxi dress, Kate Middleton's LK Bennett dress and Selena Gomez's flip flops. [Photo: Splash News]
Of Course–Sarah Jessica Parker Makes A Dress Over Jeans Look Totally Normal
Ordinarily, you wear a dress or jeans--one or the other, not at the same time. But if you're the one and only Sarah Jessica Parker, you can apparently wear both simultaneously and still look flawless. Case in point: SJP recently rocked this tbagslosangeles Drop Waist Dress ($163) over a pair of cropped jeans while out and about in N.Y.C. And oddly, she looks totally normal and dare we say, cute. Like her dress? Score the exact same one below--to rock with or without the jeans. tbagslosangeles Drop Waist Dress ($163) For more must-have celebrity style, check out Kourtney Kardashian's striped jeans, Lea Michele's floral blazer and Jessica Alba's jumpsuit. [Photo: Splash News]
Sarah Jessica Parker's Dress May Look Couture, But It's Actually Only $159
How do we love thee, Sarah Jessica Parker, let us count the ways. The starlet wore this Tracy Reese Rhododendron Printed Strapless Fit and Flare Dress ($159.20, down from $398) which, at first glance, you assume it is high-end couture from one her many designer friends. But lucky you, not only is it a great design by Tracy Reese, but it is also on sale. SJP paired the dress with shoes from her namesake collection--the Alyssa Peep Toe Bootie ($485). Tracy Reese Rhododendron Printed Strapless Fit and Flare Dress ($159.20, down from $398) Can't find the dress in your size at Tracy Reese? It's available in all sizes at amazon.com. Don't miss Olivia Palermo's $38 romper, Jamie Chung in Banana Republic x Marimekko,  Heidi Klum's leather sleeve blazer and Uma Thurman's NYDJ outfit. [Photo: Splash News]
Sarah Jessica Parker's #MetGala Dress Is Signed By Oscar De La Renta
Since she is co-chair of this year's Met Gala, we knew one of our favorite NYC girls, Sarah Jessica Parker, would be wearing something special. But what we didn't know is that her dress would be not only be designed by Oscar de la Renta, but also signed by the designer himself. To compliment the stunning black and white dress, she also wore white gloves and a floral hairpiece. [Photo: Splash News, Twitter]
This Is It, Sarah Jessica Parker's SJP Collection Is FINALLY Here!
Ladies, try to contain yourselves (but not your wallets). The SJP Collection by Sarah Jessica Parker is available to shop right.this.second. We told you back in June that Sarah Jessica Parker was getting her own shoe line with an assist from Manolo Blahnik CEO George Malkemus. THEN we found out that the collection wouldn't be just shoes, but also includes handbags and a trench coats. So obvi it made out list of the 14 things we can't wait for in 2014. Well, you've seen the shoes, and now you can shop everything from Parker's collection. Shoe prices range from $150-$495, handbags go for $245-$375 and the trench coat retails for $495. We won't hold you back any longer. Go ahead and click the slideshow to shop every single piece from the SJP Collection. Happy Friday! SHOP THE SJP COLLECTION NOW And don't forget to check out: the types of guys you see on Tinder, Madewell x Superga and get Olivia Palermo's coat on sale [Photos: Instagram, Instagram, Instagram]
PHOTOS: See Every Shoe In Sarah Jessica Parker's Debut Collection!
Stop what you are doing. Sarah Jessica Parker just revealed images of every shoe in her debut SJP collection. That's right, every.single.shoe. As if news of her working with Manolo Blahnik CEO George Malkemus and the fact that her line also includes handbags and trench coats wasn't exciting enough. Now we can check out all 47 shoe styles one month before the collection hits! There's shoes for every season and every type of girl: from metallic flat sandals and espadrille wedges, to classic pointed toe black leather pumps. We knew Ms. Carrie Bradshaw wouldn't let us down! Click the slideshow to see every SJP shoe and start planning which pair (or two, or three) you're going to get come February 28th! We're seriously counting down the days. The SJP Collection launches exclusively at Nordstrom on February 28th, prices start at $195. And don't forget to check out: chain rings, we literally found the fountain of youth and 9 things you need to know about Lupita Nyong'o [Photos: Vogue U.K.]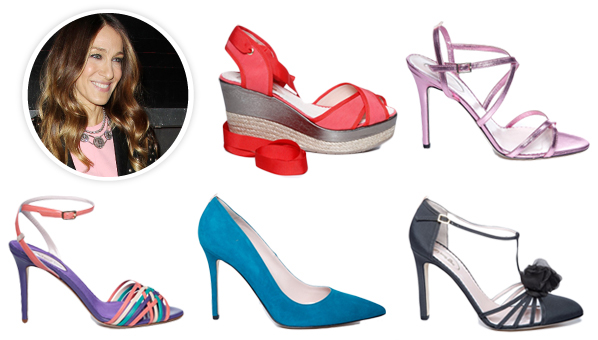 Did Sarah Jessica Parker Have Manolos In Mind When Designing Her First Shoe Line?
When we heard last year that Sarah Jessica Parker was going to launch her own shoe line, we couldn't help but think that Sex and the City was coming to life. After all, the fabulous shoes were half the appeal of watching the show! Ok, maybe the hunky men got us hooked too. But now our dreams have actually hit real life because photos have FINALLY been released from SJP's collection. WWD has rounded up some of the styles featured in February editions of Glamour, Lucky and Harper's Bazaar, and word on the street is that one's named "The Carrie." Bet's on which Manolo SJP used as inspo? Parker did enlist George Malkemus, CEO at Manolo Blahnik, to help with the collection, so it's no surprise that there is a bit of a resemblance. We all know that Carrie practically drooled over a pair of Manolos, and was even willing to see her almost husband to retrieve a $525 pair. Don't worry, we'd sprint back to our penthouse apartment too. Parker explained that she wanted solid craftsmanship with this line, but she wanted them to be somewhat attainable in price. She found a factory in Italy that could give her both. The collection launches at Nordstrom on February 28th, and we're already planning out which pairs we want. Who are we kidding, we want them all! What do you think about the shoe collection? Do they look like Manolo Blahniks? Let us know in the comment section below! Don't forget to check out the new "it" bag, the most famous butt ever, and 2014 beauty trends
Sarah Jessica Parker's Leather Jacket Has What Every Other One Is Missing–A Hood!
Sarah Jessica Parker couldn't quite convince us to jump on the handlet bandwagon, but this Doma Hooded Biker Jacket ($695)? We can totally get behind that! Because it is the season of layering, a go-to leather jacket is an absolute essential. We love that you can wear this one solo on mild fall days or layered over a chunky sweater with a scarf when it's cooler. Even better, the olive green color is the perfect neutral alternative to black plus there's a detachable jersey hood that will come in handy on windy days or when rain catches you unprepared. Don't have a leather jacket in your closet? Treat yourself to SJP's exact pick below. Doma Hooded Biker Jacket ($695) Don't miss out on more great celeb style such as Lauren Conrad's boots, Kim Kardashian's denim top, Taylor Swift's trench coat and Reese Witherspoon's jacket. [Photo: Splash News]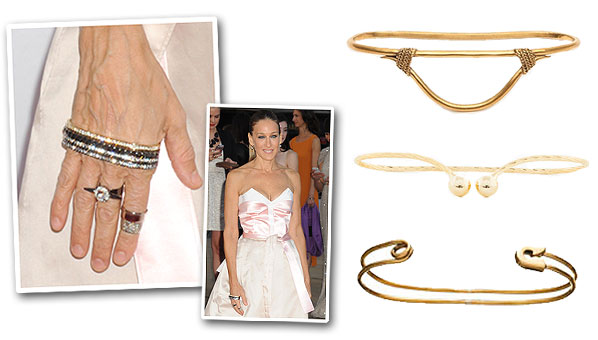 It's A Ring! It's A Bracelet! No, It's A Handlet–The Accessory Made Famous By SJP
Just when you were getting used to the midi-ring (you know, the fashionable term for the finger-knuckle ring), a brand new, legitimately non-existent before now accessory hits the market, and Sarah Jessica Parker buys one. Now, per usual, no fashion trend takes off just because one celebrity wears it that one time (when she was hanging out with Prabal Gurung no less), but SJP isn't your run of the mill celebrity. In fact, it was by her fashion eye alone that 90s couture made the lust lists of the middle class and made Jimmy Choo the must-own shoe. Needless to say, when SJP likes something, it is only a matter of time before the rest of us like it, too, but that isn't to say that some of her choices aren't a bit bizarre (tutus and cropped tops and bows, oh my!). This time, it's her hand bling that has caught our eye. It's a ring! It's a bracelet! No -- it's a handlet, a bracelet for your hand, if you will. It is akin to the midi-ring, being worn right below the knuckles and right above where we are traditionally used to wearing jewelry in that area. For the most part though, it is just known as a hand cuff, but not the dirty kind. Browse through and check out six of our favorite pieces, most of them at a steal of a price -- that is, until the rest of the shopping world picks up on the trend. [Celebrity Image: Splash News]
Be The First To Shop Sarah Jessica Parker's Insanely Gorgeous Coach Borough Bag
One of the perks of being a mega celebrity (aside from the huge paychecks, of course)? Getting access to the most amazing handbags before everyone else. Case in point: Sarah Jessica Parker has been carrying the Coach Borough Bag ($778) for a week. It was nowhere to be found online, until today that is. Coach just released the amazing bag to the masses and it is the epitome of luxury. Spacious, soft, yet durable leather and a lined interior--basically everything a woman on-the-go could want or need in a bag. Love at first sight? Get your hands on it first below. Coach Borough Bag ($778) For more items celebs love, shop  Julianne Hough's cheap sweater, Selena Gomez's camo jacket and Kourtney Kardashian's boots. [Photo: Splash News]
Thank You Sarah Jessica Parker For Solving The Fall Coat Conundrum
Trying to figure out what to wear on chilly mornings that turn into warm afternoons? Just ask Super Mom! Which in our minds is Sarah Jessica Parker (she can do it all).  She wore the Current/Elliott The Infantry Washed Twill Jacket ($288) while strolling with her two adorable twin daughters and the lightweight jacket will easily take you from early fall into the first signs of winter. The key is strategic layering. Wear it over a tee when it's still mild, then add sweaters and vests once the temps drop. Shop SJP's perfect topper below. Current/Elliott The Infantry Washed Twill Jacket ($288) Looking for more celebrity style inspiration? Check out Katy Perry's plaid, Jessica Alba's camo capris, Naomi Watts' jacket, Karlie Kloss's bag, Sarah Jessica Parker's striped sweater, Jessica Alba's high-rise jeans and Taylor Swift's trench coat. [Photo: Splash News]
If You Could Wear Fall, It'd Look Like Sarah Jessica Parker's Striped Splendid Sweater
While Sarah Jessica Parker no longer amazes us in Carrie Bradshaw's wardrobe, her city mom look is still pretty darn enviable. She was recently spotted wearing a Splendid Bleeker Stripe Tunic ($188) with rolled up jeans and khaki ankle boots and we instantly started hunting down that perfect fall top. The loose-knit tunic sweater is great for fall transition and easing your too hot/too cold and jacket/no jacket anxieties. Score the exact same sweater below. Splendid Bleeker Stripe Tunic ($188) No need to hire a stylist! Shop celebrity looks such as Cameron Diaz's yellow wedges, Gwyneth Paltrow's embellished $845 sweatshirt, Jessica Alba's high-rise jeans, and Taylor Swift's trench coat. [Photo: Splash News]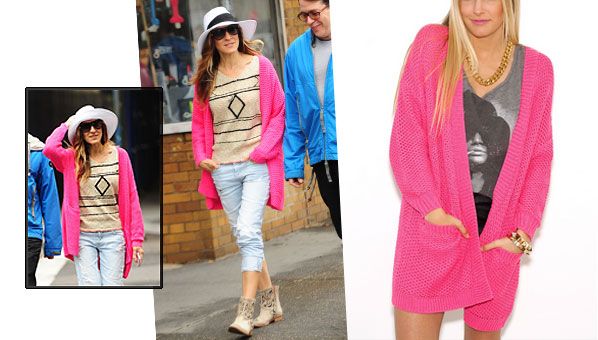 Would Sarah Jessica Parker Steer You Wrong? Score Her Neon Cardigan Now
Sarah Jessica Parker has been keeping a pretty low profile as of late walking her adorable girls to school and around the city, but don't let that fool you. The movie star/shoe designer/fashion designer is anything but subtle and her fashion sense hasn't waned one bit. For a recent city stroll, SJP layered Style Stalker's Moon Base Cardi in Vivid Pink ($189) over her printed tee and light-wash skinnies. Red carpet ready? Not quite. The perfect casual look to brighten up your weekend. Absolutely! Score SJP's neon cardi below. Style Stalker Moon Base Cardi in Vivid Pink ($189) Score more celebrity summer looks such as Amy Poehler's floral dress, Miranda Kerr's neon tote, Gwyneth Paltrow's Summer Suit, Katie Holmes' Isabel Marant tunic, or Adriana Lima's lace dress. [Photo: Splash News]
Because We Still Haven't Heard The Words 'Shoes' And 'Sarah Jessica Parker' Enough
Last week, the world was shocked by the news of Sarah Jessica Parker shoes. Not. Who else would you expect to collaborate with George Malkemus, longtime Manolo Blahnik CEO, then Ms. Carrie Bradshaw? With all the buzz surrounding this exciting project, Sarah Jessica Parker has released some new details about her upcoming collection. Brace yourselves, it won't just be shoes. Parker's line will also include trench coats and bags. SJP told WWD about her inspiration: We thought [about the metropolitan New York woman]. A beautiful coat, bag and pair of shoes — they all kind of go together. It seemed tight. It didn't seem like we were trying to sell a bunch of junk to people. Between growing up with a fashion obsessed mom and spending hours on the Sex and the City set in designer heels, Sarah Jessica Parker knows good shoes. She hints that grosgrain (think nylon ribbon) and suede will be two signature materials for the line. Sarah Jessica Parker shoes will hit Nordstroms exclusively next January. For more SJP check out her wedge sneakers, crazy mohawk headpiece  and affordable sequin dress
"I'm So Surprised Sarah Jessica Parker Is Getting A Shoe Line!" Said No One Ever.
When you think of Sarah Jessica Parker, you immediately think of Carrie Bradshaw. And what do you think of when you think of Carrie Bradshaw? Shoes, of course. So it makes sense that Parker would have her own shoe line--we are just surprised it took her this long to get one. And who is she collaborating with for the line? None other than George Malkemus, the longtime CEO at Manolo Blahnik. Seriously, the collection should just be called the Carrie Bradshaw Collection. SJP told Vogue: In a silly way, I think it's what people have expected of me most because of Carrie Bradshaw...Because I got to play that role, I wore a lot of shoes and by default I learned an enormous amount. It's hard to walk away from that. Does anyone remember Parker's failed clothing line, Bitten, with the now-extinct retailer Steve & Barry's? Yeah, this shoe collection is what she should have done instead of that. The SJP Collection will be sold at Nordstrom early next year. Her shoes will retail around $200 to $300, and the bags will likely be priced under $700. The news of the collection always comes during the 15th anniversary of Sex In The City. We kind of think all the Sex and the City hype has passed, but we are sure line will still be a hit. Are you over Sex and the City or are you still nostalgic for the show? Love SJP? Check out her wedge sneakers, the sequin dress she wore on the red carpet and the metallic green blazer she wore in NYC.
Our Obsession With Sarah Jessica Parker Rages On Thanks To These Sneakers
Ever since she wore that amazing headpiece to the Met Gala, we've been obsessed with Sarah Jessica Parker. I mean, how could you not love a woman who wears mohawk one day and then leggings and sneakers the next? Speaking of her sneakers, we're totally digging the Koolaburra Preston Sneakers ($219) SJP wore for a NYC stroll with her twins. They're an affordable alternative to Isabel Marants, plus we like the cool Western-inspired design details. Like SJP's kicks in grey? Score the exact same pair below. Koolaburra Preston Sneakers ($219) And lucky for you, the Koolaburra Preston sneakers are available in a bunch more colors and on sale. Score them in black here or in brown here. Shop Jennifer Garner's sweater, Victoria Beckham's jeans and Alessandra Ambrosio's dress. [Photo: Splash News]
Sarah Jessica Parker's Affordable Red Carpet Dress Works For Real Life, Too
No, we're not talking about that amazing mohawk headdress she wore to last night's Met Gala. Instead, we're referring to the L'Agence Shimmer Tweed Cap-Sleeve Dress ($395) that Sarah Jessica Parker recently wore to the AOL 2013 Digital Content soiree. Yes, you read that correctly--high fashion, red carpet ready look that doesn't break the bank does exist! We're guessing you probably don't have many red carpets to walk, but that's the beauty of SJP's dress. This little tweed number is ideal for spring cocktail parties, bridal showers and even a nice work event. Shop Sarah Jessica Parker's perfect-for-spring dress below. L'Agence Shimmer Tweed Cap-Sleeve Dress ($395) Looking for more A-list style? Right this way, ladies! See looks like Carey Mulligan's Sunglasses, Khloe's $15 Forever 21 tank top, Miranda Kerr's army jacket and Rachel McAdams' Lanvin dress. [Photo: Splash News]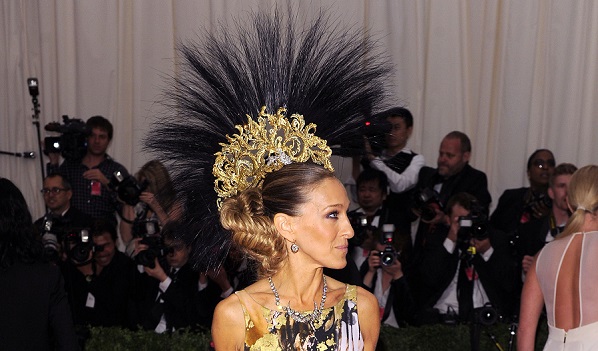 We Freakin' Love Sarah Jessica Parker For This Insane Mohawk Headpiece #MetGala
Can we please talk about how beyond amazing this mohawk headpiece is that Sarah Jessica Parker is wearing to the 2013 Met Gala. We've yet to see all the looks, but right now she takes home most amazing accessory of the evening. Madd props, SJP! [Photo: Splash News]
Leave It To Sarah Jessica Parker To Make This Metallic Green Blazer Look Damn Good
On its own, this metallic green Faith Connexion Blazer ($1,141) blazer is a little intimidating. Not only is it lambskin, but it also vaguely resembles some sort of Christmas decoration. But in true SJP fashion, Sarah Jessica Parker pulled the statement piece off--during the day, no less!  Sarah dressed down the over-the-top blazer with a casual pair of Paige Denim Lydia Distressed Skinny Jeans ($209) and these seasonless Plomo Vir Suede Open Booties ($365). Perfect for running errands or an informal lunch date, Sarah Jessica Parker just earned herself some more major style points. Shop SJP's complete look below! Faith Connexion Blazer ($1,141) Paige Denim Lydia Distressed Skinny Jeans ($209) Plomo Vir Suede Open Booties ($365) [Photo Credit: Splash News] Shop more A-list style, worthy of the runway, right this way! Check out looks like January Jones' skirt and leather blazer, Selena Gomez's trench coat outfit, Vanessa Hudgen's boho outfit, and Nikki Reed's sequin blazer.
Sarah Jessica Parker's Current/Elliott Camo Jeans Are #Cray — In A Good Way
When we brought you 7 denim trends you should try to for fall, we thought we had all our bases covered. But then when we saw Sarah Jessica Parker in a pair of Current/Elliott The Multi Zip Stiletto Jeans ($218), we immediately said, "Why didn't we think of that!" And so, here we are, stating our case that you need, in fact, 8 denim types for fall, including this fatigue print pair. This is a cool alternative to those camo print parkas that you're starting to see pop up. Plus, the zipper details add a sense of luxe to a neutral hued look. Dress this up with pointy heels and metallic jewelry, or down with a comfy raglan or sweatshirt. Current/Elliott The Multi Zip Stiletto Jeans ($218) Shop more celebrity style: Pippa Middleton's purse, Eva Longoria's red dress and shoes, and Rachel Bilson's outfit. [Photo: Splash News]
Sarah Jessica Parker Wears Her Velvet Blazer Like It's Going Out Of Style — But It's Not
Sarah Jessica Parker sure loves a velvet blazer. We say this because the two photos above are taken almost three years apart. The lush material adds a sense of regality and sharpness to any look. It makes us gals want to wear an ascot and sit by a warm fire while reading a leather-bound book with a monocle. Okay, we took that one too far. But to look as put together as SJP, throw this L'Agence Velvet Tuxedo Jacket ($675) on. Thankfully, ascot, leather-bound book, and monocle are not included. Shop our guides to puffy winter coats, dresses for Valentine's Day, and chunky knit sweaters.
These Christian Louboutin Pumps Bring New Meaning To The Word "Catwalk"
Sarah Jessica Parker, Blake Lively in Christian Louboutin' "Alex" Pumps Forget bear-arm jackets: looks like lion-claw stilettos are the latest animalistic fashion trend to be embraced by the celebrity circuit. Both Sarah Jessica Parker and Blake Lively were recently spotted sporting the Christian Louboutin "Alex" pumps, which feature a lion claw-shaped toe, embellished crystal heel, and Louboutin's signature red sole. (more…)
Twitter Stalking The Met Ball: McQueen Fantasies, Prabal's Limo Shot, Jay-Z's Chivalry & More
Since our invitations to the Met Ball must've gotten lost in the mail, we've made due by Twitter Stalking our favorite celebs: it's just like being there! Not only does tonight mark the beginning of the much-awaited Alexander McQueen exhibit--word on the street is that Anna Wintour had Kate Middleton's wedding dress flown in especially for tonight. Get schooled on last year's Met Ball fashion, see  more celebrity style, all of this week's best sales and deals and best find of the day picks.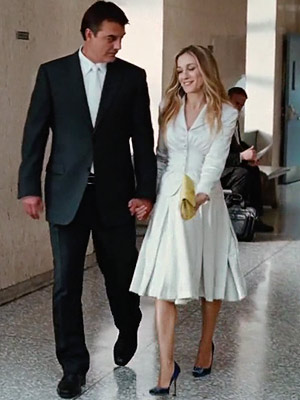 The Tailored Wedding Suit: Carrie Bradshaw Did It, And So Can You
Remember when Carrie Bradshaw turned down Vivienne Westwood for a gorgeous white suit and happily ever after? The same thing can happen to you -- choose a gorgeous white suit fit for City Hall or any destination wedding. (more…)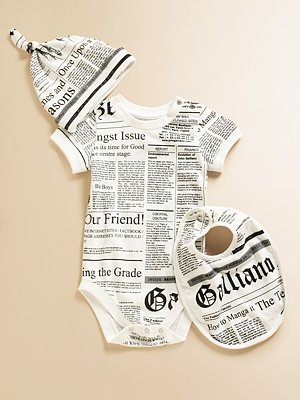 Latest From MOMfinds & BRIDEfinds: John Galliano Kids, Safari Honeymoons, More
John Galliano's Newspaper Print Onesie Perfect for the Carrie Bradshaw-wannabe mom. What To Pack For Your Safari Honeymoon Yes, you can look like Keira Knightley in Vogue. Nicole Ritchie Styles Her Son To Perfection This hat is just the latest look we love. 50% Off Engagement Party Dresses For guests and brides. Catch up on your non-baby, non-bridal news: DVF launches vintage collection, find out who Juicy just sued, and 5 London Fashion Week collaborations.
Week In Review: Live-Streaming Fashion Week, V-Day Gifts For Lazy People, More
Must Reads: Watch runway shows (or Net-A-Porter's new TV station) live right now like Vena Cava, Peter Som and BCBGMAXAZRIA. Check out other ways to get involved in Fashion Week without being in NYC. Strapped for a Valentine's Day gift? Grab an e-gift card at any of these luxe retailers. Don't waste your money on these ugly shoes. Introducing Designers On Crack: The Shoe Edition. Be sure to check out Kelly Wearstler's very first clothes & accessories line. 6 tips on avoiding online return issues. Marc by Marc Jacobs finally announces the date for his "greatest hits" collection. Celebrity Style: For once, these Victoria's Secret Angels are completely covered and completely bundled up in scarves. We're also loving Sarah Jessica Parker's NYC winter outfit as well (hello, job interviews). Lindsay Lohan's white dress sells out everywhere, but we found it in black. Taylor Swift & Selena Gomez have more in common than just hit albums - they both love their American Eagle Jeggings. Taste Tests: Can you find which pink bow clutch costs $295 less than the other? Which military jacket costs $324 more than the other? Can you tell which metallic strapless dress costs $136 less than the other? Sales & Deals: Get 20% off your first delivery of a flower subscription - an ideal Valentine's Day gift. Sale on leather jackets while it's still cold out? Count us in. Shop now for spring and summer clothes while they're still on sale (and out of season). 50% off leather and suede boots sounds like one of the best bargains around. Beauty: NARS opens their very first store - we picked out which products that are worth the wait. Guides To Check Out: Get ready for spring and summer with our guides to the best Spanx swimwear, the best swim cover-ups and the best flat sandals. Don't forget to sign up for our e-mail list.
Sarah Jessica Parker's Character Looks Job Interview Ready (We'd Hire Her!)
Carrie who?  Sarah Jessica Parker's newest character in the upcoming movie adapted from the book 'I Don't Know How She Does It', she helps us find the perfect job interview outfit: a pencil skirt, a tucked in blouse, tights, a long coat, and of course pretty pumps.  Not to give any spoilers away, but if the outfit's any indication, she's gonna get that job. Here's how to get her look--and maybe a new job--now: Check out more of our favorite celebrity styles. Shop our guides to the best peacoats and the best tights. Join our e-mail list for exclusive SHEFinds updates.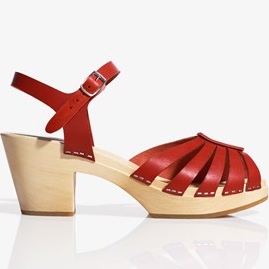 Still Clog-Obsessed? H&M's Shoe Collaboration With Swedish Hasbeens Launches April 20
If news of Calypso for Target, and our list of the top 10 collaborations of 2010 left you wanting for more, H&M announced that it will be satisfying your capsule collection fix this Spring. A collaboration with Swedish Hasbeens, a favorite of Sarah Jessica Parker and Maggie Gyllenhaal, hits stores April 20th. The line is filled with red, white and tan leather clog sandals, with the wedges and wooden heels that the line is known for. Check it out for yourself: Shop more of our favorite collaborations, like Mulberry for Target, Lanvin for H&M, Temple St. Claire for Target, then head over to our guides for the best black dresses, sheath dresses and cocktail dresses. Follow the author of this post on Twitter @bridefinds.
Gwyneth Paltrow And Sarah Jessica Parker Make Bundling Up Chic In Fur Trim Coats
For the celebs who live in New York, sleek winter coats that don't make you look like the Michelin man are the key to good paparazzi photos. Bundling up, while still looking like a pro, is actually quite difficult. That's why it takes 2 fashion pro's - Gwyneth Paltrow and Sarah Jessica Parker to show how to do it in style. And the secret is: long black coats with fur trim. Genius. Follow the author of this post on Twitter @bridefinds. Shop all of the best sales and deals, online sample sales and then head over to our guides of the best peacoats, puffy coats, black dresses, faux fur vests, pumps and blazers.
Kate Walsh Has A New Perfume. Who's Next, Melissa Joan Heart?
Kate Walsh aka Dr. Addison Montgomery, has hopped onto the celebrity fragrance bandwagon and created a signature fragrance she's dubbed Boyfriend. Is Kate really big enough to be hawking perfume? Now every C-list T.V. actress in Hollywood will be clamoring for a scent of their very own. But, this isn't a fully endorsed A-list celebrity perfume, Kate has whipped it up from scratch and is backing it herself.  Find out if Boyfriend will catapult Kate Walsh to super stardom when her scent launches November 11, on Home Shopping Network. In the meantime, shop some tried and true celeb fragrance favorites. Jessica Simpson's Fancy Love ($30.99 for 3.4 oz.), is a deliscious floral/oriential blend. Kim Kardashian's fragrance ($50-$65) is a crisp mix of vanilla orchid, orange blossom and something called "sensual spice" make the scent sultry and ladylike at the same time. Sarah Jessica Parker's fragrance Lovely ($68) is  sensual musky floral, light enough to wear every day. For more of the best beauty, shop our guides to the best mascara, skincare and fragrances for every season.
Smelling Like a Celeb Is Cheaper Than Dressing Like One: A-List Fragrances We Love
Who can afford to dress like a celeb? Now that so many of our favorite stars - from Lady Gaga to Gwen Stefani are lending their names to perfumes, you don't have to. Get their style for less by opting for the scent instead. If you're anything like us, you're super psyched about the - count them - five new fragrances from Gwen Stefani's  Wicked Style collection. But since they won't be available on  Sephora until November, we needed something to tide us: We're pretty sure you'll agree that Sarah Jessica Parker's SJP NYC ($35 for 1 oz.) is a true original, like Carrie - er, Sarah Jessica - herself. With fruity, floral high notes and musky, rich undertones, this fragrance is perfect for fall and winter. We also are seriously excited about Outspoken ($28 for 1.7 oz.), Fergie's new fragrance with Avon that blends starfruit, saffron, black leather and jasmine for an intoxicatingly complex fragrance that will have people following you. Not in a creepy way, we hope. Hips don't lie, and neither do noses. S by Shakira ($34.99 for 1.7 oz) features notes of jasmine and sandalwood, and totally evokes the sexiness and intrigue of the hipshaker herself. No gyrating required. If you can't get enough celeb fragrance,  try my personal favorite oldie-but-goodie (old as in January): Jessica Simpson's Fancy Love ($30.99 for 3.4 oz.), an amazingly delicious floral/oriential blend. Check out even more celeb fragrance chat here and here. For more of the best beauty, shop our guides to fragrance, skincare and celebrity beauty. Also, use our shortcuts to the best faux fur vests, leggings and clogs.
Sarah Jessica Parker, Rachel Bilson And Alexa Chung Are Obsessed With Clogs. Can You Blame Them?
Karl Lagerfeld must be having a ball watching celebs follow him onto clog trend bandwagon; he reintroduced the clog in Chanel's Spring 2010 show, and it has since caught on like a wild fire.  We too can't help but love them:  they are super comfortable, come in all shapes and sizes and are the perfect transition piece from summer to fall.  Take some clues from these uber chic celebs and make the clog a part of your look. Whether you prefer Rachel Bilson's buttoned up classic look or Alexa Chung's fashion forward heeled-clog or just want Sarah Jessica Parker's laid back style we have found the clog for you …and for a whole lot less! Get Alexa Chung's fashion-forward look with these Jeffrey Campbell Stampede Open Toe Clogs ($135). Dress a little more casually like Rachel Bilson? Go with a pair of these Enzo Angiolini Shoes Kaloni Clogs ($80.10). Go for comfort (and style) like Sarah Jessica Parker with a pair of UGG Australia Abbie Suede Clogs ($130). Check out more from our guide to clogs, and then check out our guides to skinny jeans and see all of this week's best find of the day picks and sales and deals, plus more celebrity style guides by our celeb market editor, Paula Knight. Follow the editor of this post on Twitter @shefindseileen.