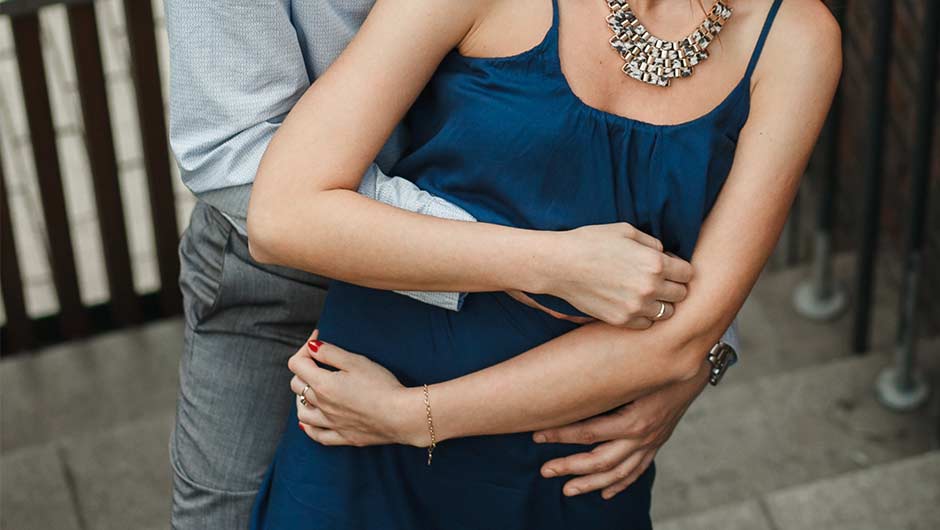 7 Mistakes Brides Make On Save The Dates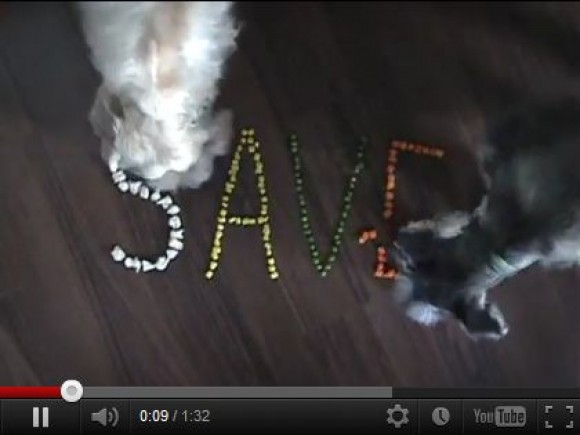 WATCH: The Top 5 Cutest Save-The-Date Videos (They Even Have Kitties!)
If you're looking for a memorable way to alert your loved ones about your impending nuptials that saves paper and green, consider these ADORABLE video save-the-dates. With a little creativity, cuteness, and a splash of DIY ingenuity, you could have a video save-the-date just like these! We can even help you get started with our handy, video save-the-date tutorial! (more…)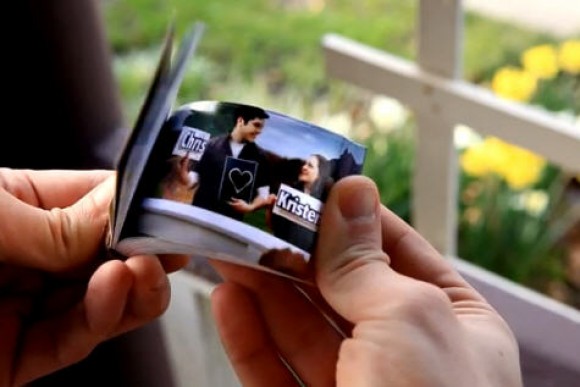 Remember Those Flipbooks You Loved As A Kid? They're Making A Comeback As Wedding Invites
Recently, some chick turned us on to this super fun flipbook wedding stationery trend. Ok, it was Martha Stewart. But the lady knows her stuff! After a little digging, we also found this awesome video on Flipbook Save The Dates. Now, our creative juices were really flowing. Flipbooks were the coolest when we were kids -- so how did we not think of using them as wedding stationery sooner? (more…)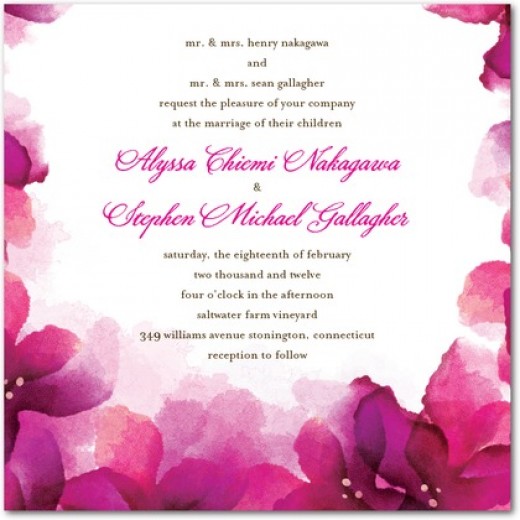 30% Off Gorgeous Invitations & Save-The-Dates At Wedding Paper Divas' Sitewide Sale
Wedding Paper Divas is celebrating six years in the stationery biz with a very special promotion - they're offering everyone a whopping 30% off on any order! We recently declared Wedding Paper Divas one of the Best Places To Buy Wedding Stationery Online, and sales like this are the very reason WDP made our list. If you've already been pining over their adorable photo save-the-dates and luxe letterpress invites, now is the time to pull the trigger and add to cart! (more…)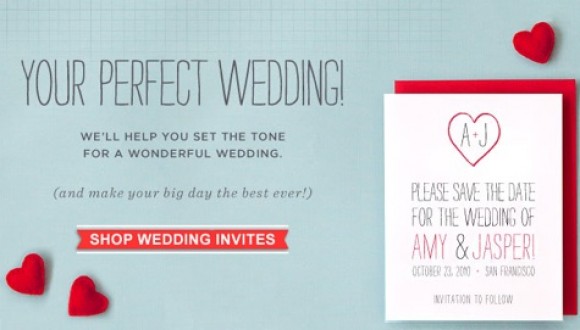 The Best Places To Buy Wedding Invitations Online: From Printable Kits To Letterpress
They say your wedding invitation sets the tone for your entire event, but really, every piece of stationery you slap a stamp on should be emblematic of your wedding vision. If you've just begun your search for cute/elegant/modern/quirky wedding invitations, we're here to assist. We're giving you the shortlist of our favorite stationery destinations.So whether you need engagement announcements, wedding invites, save-the-dates, or thank you cards - check out these bride-approved (and BRIDEfinds approved) online stationery retailers. (more…)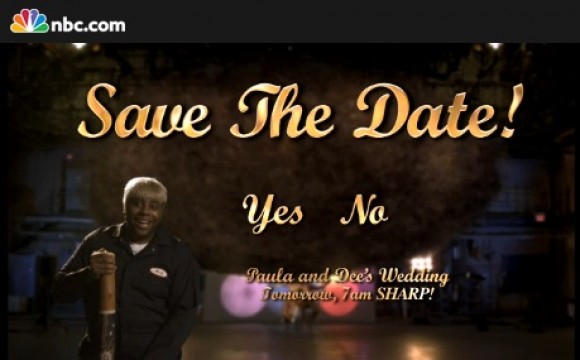 VIDEO: SNL's Hair-Raising 'Save The Date' Featuring Kristen Wiig And Andy Samberg
Last night on Saturday Night Live, one of the show's skits was this hilarious digital short, which starts off as a close-up of Andy Samberg and Kristen Wigg in 70's fringe jumpsuits and matching 'fros, and eventually turns in to something else: a hilarious save-the-date for their wedding: (more…)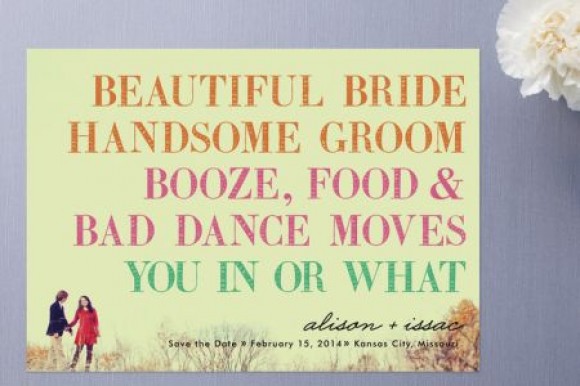 10% Off All Wedding Stationery (Including This Awesome Save-The-Date) At Minted!
We are having a stationery-induced SWOON-fest over here. Minted has a fresh new batch of thoroughly modern new wedding invite designs which we heart big time. PLUS they're giving brides-to-be an extra 10% off of ALL wedding stationery! Between save-the-dates, wedding invitations, RSVP cards, thank you notes, and other goodies like reception cards, place cards, and menu cards - the savings add up fast! (more…)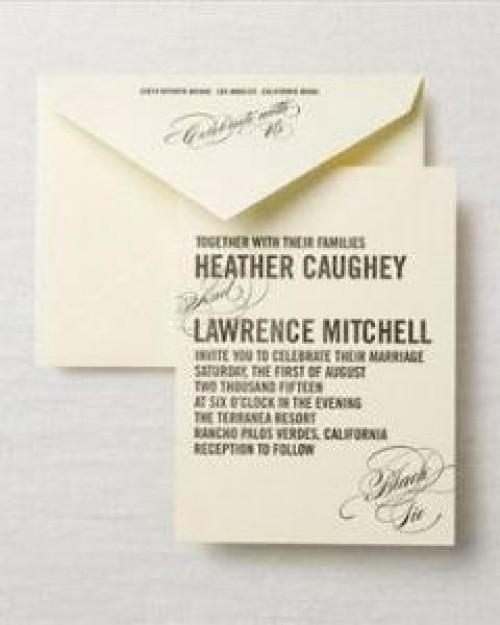 Get A Third Of Your Wedding Invitations For Free On Crane & Co. Today (Yes, Even Letterpress)
Crane & Co just rolled out a ridiculously cute new line of letterpress invites, and to celebrate, they're offering brides a sweet deal on wedding invitations and save-the-dates! For a limited time only, you can get an additional 25 sets of stationery whenever you order 75 or more! To those starry-eyed, newly engaged gals who've just meandered over to our humble web abode for the first time - welcome, and congrats! We suggest you throw yourself an engagement party tout suite! (more…)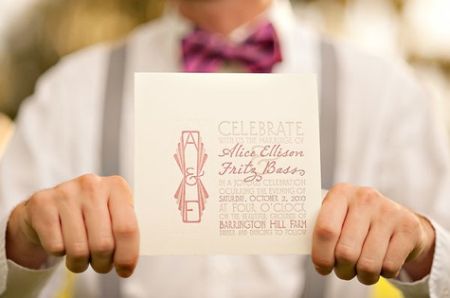 Transport Your Guests To Another Era With These Art Deco Invitations From Etsy & Beyond
Everything old is new again! Have you noticed? Our latest vintage obession: all things Art Deco. The typefaces, the architecture, the dapper gents and swooning dames,  the Hollywood glamour... And like all truly fabulous trends, Art Deco is creeping into every aspect of decor -- particularly stationery. There's a plethora of beautiful Deco-inspired  invitations and save-the-dates available on Etsy and some of our favorite wedding stationery sites - so many in fact, that we knew we just had to share. (more…)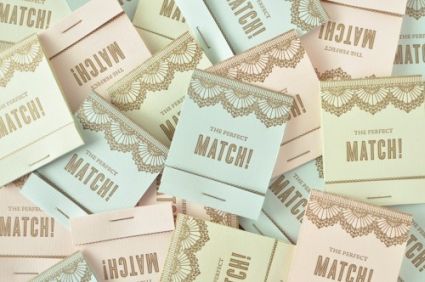 Forget Magnets, We're More Attracted To These 8 Memorable Save-The-Dates
We'll admit it - in terms of memorability, magnets are hard to beat. They're bound to adorn your loved ones' refrigerators for all of eternity. But we've found a bevy of totally unique save-the-date ideas that'll get your friends and fam especially excited. From "Minibooks" to matchbooks, from postcards to pop-ups...your wedding guests won't just be thinking of you before and after they reach for a snack - they'll be raving about your ingenuity for weeks! (more…)
Not Your Grandma's Homemade Stationery: 5 Ways To Make A Mark With Wedding Invitations
A plain and simple wedding announcement? We're over it. Save the dates are meant to be memorable -- you've got to grab your guests' attention so they'll mark their calendar and prepare to dance 'til dawn. This Jet Set Save the Date from FineStationery.com ($180 for 50) is customizable in 28 type styles, 21 ink colors and your choice of monogram. These Lanvin bridal greeting cards by designer Alber Ebaz ($55 for six) on Net-A-Porter are the perfect cards for the label-obsessed bride, and feature a romantic Parisian proposal scene. Include a personal message or print a save-the-date greeting on the inside. This Monte Carlo Save the Date from FineStationery.com ($138 for 50) lets you play a winning card. Perfect if the bride or groom who loves poker, but isn't getting married in Vegas. You aren't too proud to beg -- and this Heartfelt Words save-the-date (50 cards for $79.50) from WeddingPaperDivas.com lets your guests know just how important they are to you. The bold, colorful palette is customizable in three color styles. The Restored Calendar magnet ($119.50 for 50 magnets) from WeddingPaperDivas.com has a stylish vintage feel. If you prefer the paper form, that's available too ($64.50 for 50 cards). Looking for more great deals on cheap gowns and accessories? Check our guides to the best cheap wedding invitations, best wedding invitations and wedding decor.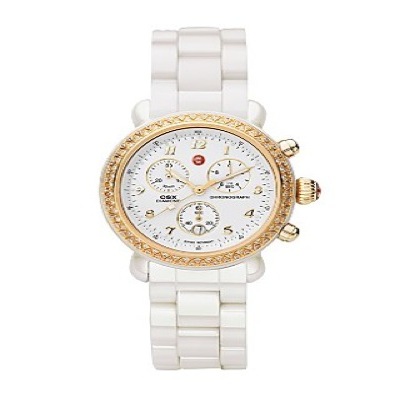 Taste Test: Which Chunky Watch Doesn't Have A Fat Price?
Show us your fashion expertise by taking more taste tests, and head over to our guide to women's watches to find a watch to fit your every mood.
Deal Of The Day: Save Up To 50% On Leather Boots At Bloomingdale's
If you are in the market for some new boots, Bloomingdale's has you covered. With all of our favorite designer brands (and some more affordable brands,on sale, too, it's hard to not pick up a few pairs to spruce up your boot collection. In soft, brown suede with a thin stiletto heel, these Joan & David "Honoria" High Heel Boots (originally $260, now $182) are a great addition to style to your boot collection. Ultra comfortable and made for walking (no matter how slippery the ground might be), these Calvin Klein "Mayson" Suede Over-the-Knee Boots (originally $222, now $132) feature a convertible cuff and stylish snap detail. For a twist on the monochrome boot, try these two-tone Max Studio "United" Tall High Heel Boots (originally $325, now $227) with a combination of chocolate and mocha leather and suede, plus a slight platform for extra height. More Deals ULTA Beauty: Buy 1, get 1 50% off Pacific Sunwear: Up to 85% off accessories Linea Pelle: Take $15 off any order of more than $125 with code CJLP15 You might also like our guide to the best boots, booties, and over-the-knee styles. Don't forget to visit our sales and deals page, too.

Sponsored Post: YourShape Is Like A Personal Trainer In Your Living Room
Hope For Haiti Now: Celebs Get Together Tonight For Earthquake Relief
At 8 pm ET tonight, A-list celebrities will come together for a multi-network telethon called Hope For Haiti Now. In the wake of the recent disaster  superstars are coming together raise money and awareness for earthquake relief.  The two-hour event will be hosted by George Clooney in Los Angeles, Anderson Cooper in Haiti, and native Haitian musician Wyclef Jean in New York.  It will air on nearly 30 different networks, including ABC, NBC, CBS, and Fox, and will also be live-streaming on Youtube. The musically charged night will include performances from Justin Timberlake, Christina Aguilera, Alicia Keys, Taylor Swift, and a group performance by Keith Urban, Kid Rock, and Sheryl Crow all from Los Angeles.  Across the pond in London, Bono, Coldplay, Jay-Z, and Rihanna are part of the night's lineup.  Finally, in the Big Apple, Sting, Bruce Springsteen, Mary J. Blige, Jennifer Hudson, and Shakira will also all perform.  Along with these spectacular musical performances, more than 100 stars will participate this evening's event. See how you can do your part in helping Haiti through fashion and beauty, and or more information or to donate at any time, call toll-free 1-877-99-HAITI or log onto the Hope For Haiti Now website.
The BB Dakota Jacket That Caused A Frenzy With Twilight Fans (And Got Its Own Spinoff)
This jacket is the stuff legends are made of: according to WWD, back in 2008, during filming for a little movie called Twilight, a stylist needed something cool for Kristen Stewart to wear in a scene with her vampire boyfriend in a mossy grove. What happened next was unexpected: not only did Twilight become a worldwide phenomenon, but this little BB Dakota  jacket got more than it's fifteen minutes of fame: it got really famous--and was even named the Twilight jacket. Not only is it still on-trend, it's also just $55. If your size isn't available, but you still want to get a piece of Twilight, you're in luck. It seems BB Dakota's been inspired to create an entire line out of the phenomenon. Come fall, expect an entire line of clothes we could see Bella wearing, including shoes, dresses, hip plaid shirts, skinny corduroy jeans and hoodies, which,  according to WWD, "all revolving around the still-in-demand jacket." See photo below for a preview. We love clothes with stories behind them, and this one is definitely one for the fashion history books. And of course, we look forward to fall, when we can get our hands on some of this stuff. Get your own plaid shirt now, then take a look through the very best skinny jeans, and our even our vampire-inspired looks for good measure.
Innovative Beauty Products (That Actually Work)
If you're in the market to upgrade your cosmetics bag this month, may I humbly suggest you read the following. These five products will make the dreary winter weeks ahead that much more bearable--and beautiful. Longer lashes, especially when they are natural, are priceless. For those who haven't hopped on the Latisse bandwagon yet, there's Tarte's new MultiplEYE Lash Enhancing Mascara ($32). A multi-tasking spin-off from the original MultiplEYE Lash Enhancer ($65), this number helps lashes grow with amino acid proteins, while strengthening them and giving you a faux boost in the meantime. Dry air, a winter trademark whether you are outdoors or in, can wreak havoc on your skin and magnify the appearance of fine lines and wrinkles. Treat your skin while you sleep and see the results resonate throughout the day with Clinique's Youth Surge Night Age Decelerating Moisture for Dry Combination Skin ($48.50). Cult favorite, NARS Orgasm Blush, can only be matched by NARS' new hit, the Orgasm Illuminator ($35). Forgo bronzer and use a dab of this in your foundation to get a perfect finish that hides drab winter skin. If the packaging alone doesn't get your attention with its mini mirror and futuristic styling, listen up: the Rouge G de Guerlain Le Brillant Jewel Lipstick Compact ($53) is made with shimmering ruby and mother-of-pearl powder all while being creamy and moisturizing. Don't forget your coif. With humidity down hair can look flat and limp. Maximize your cut (whether you have a bob, long layers, pixie, or blunt cut) and minimize the time spent styling with HerCut, a product meant to work with your hair's style to make strands behave exactly as they should. Get more advice on beauty products to help you beat the winter, including our guide to the best lip balms, heavy moisturizers, and even self-tanners to start prepping for your spring break escape.
Today's Good News & Bad News: Yamamoto Shutters, Red Carpet Predictions and More
First, let's get the bad news out of the way: A sad day for an amazing Japanese label--Yohji Yamamoto has closed both of its New York City stores, leaving us to hope at least the company will continue to survive. [Vogue UK] And on to the good news: Excited for red carpet season? Style.com picks the gowns it hopes the actresses will wear--see if your favorite styles made the cut. [Style.com] David Beckham, Jeremy Scott and Kazuki Kuraishi are re-interpreting classic Adidas pieces for Adidas Originals by Originals. Sportswear just got that much more exciting. [Elle] Barbie's reinvented her self millions of times--but now she's going high art. The modern beauty we all love gets styled into iconic pieces of art for a fascinating series. We never imagined Barbie could give Coco Chanel and Helmut Newton quite the extra edge. [Refinery 29] Get a red carpet worthy party dress, or go refined in a little black dress Chanel would approve of.
Freebie Friday: Win One Of 3 Copies Of Shoptimism, The New Book About Shopping In America
What: Shoptimism, Lee Eisenberg's investigation into why and how Americans shop. Why: A genuinely informative read, this book is packed with insights and research into why we shop the way we do: why "women shop and men buy," why we're so into our credit cards, and why, basically, we love to shop. We promise, it doesn't tell you to stop shopping - Eisenberg just arms readers with information. And ultimately, he agrees with us: There are some legitimately good reasons to go shopping. How: To enter, sign up for our newsletter, then comment below about what kind of shopper you are (get some ideas from our shopping poll). Three readers will win a copy of Shoptimism. 1. Post a comment below about what kind of shopper you are. 2. You must supply us with a valid email address and sign up for the SheFinds newsletter. 3. The contest starts now and entries must be date stamped by our server no later than Friday, January 15th at 11:59 AM Eastern Time to be eligible. 4. Three winners will be selected during a random drawing. The winners will be contacted and must reply via email as instructed in the newsletter to claim the prize. 5. No prize substitutions. 6. You must be 18 years old or older to enter and a resident of the USA. Residents of the state of Florida are not eligible to enter; entries from the state of Florida are void. 7. No purchase necessary. 8. Void where prohibited. 9. Click click here for the full rules.
Best Find of The Day: Mittens That Won't Leave Your Fingers in a Bunch
We've all been there; it's freezing, you're afraid to remove your gloves for fear that hypothermia might cause your fingers to fall off, but you just must send this an important text. With most ordinary gloves you would be hard pressed to spell half the message correctly, but not so with these Juicy Couture 'Iconic' Pop Top Mittens ($40.90). Cute-as-a-button and practical, too, these fingerless gloves and quasi-mittens made of luxurious rabbit hair and cashmere let you function like a normal, 10-fingered human being, without having to suffer from the cold. To boot, they are long enough to keep your wrists shielded from the wind. For more cozy finds for the cold months check out our buying guides to Winter Fashion.
Would You Give The Cold Shoulder (Jewelry) Trend A Whirl?
We love weird trends, so we couldn't help but look twice when we saw this  jewelry to adorn our bare shoulders, which gives the phrase "cold shoulder" a whole new meaning. Would you wear it?  We couldn't help but wonder what will be next: elbow earrings, or knee bracelets, perhaps? Strangely enough, the shoulder jewelry line, Babette Epaulette, was inspired by a certain pop star the designer once worked with. Post your guesses who inspired the cold shoulder trend in the comments, and tell us if you'd wear it. [Photos courtesy Babette Epaulette] Tell us in the comments if you'd wear it, and which pop star you think inspired this look, plus check out our guide to the best one-shoulder dresses, shoes, and jewelry.
SheFinds Poll: Tucking Your Mukluks: Ugg! or Ugh!
OK, I get it: Uggs aren't going anywhere. And while you won't find me plunking down $120 for the sheepskin-lined wonders from Down Under anytime soon, I can handle the mass popularity. (We're split down the middle here on Shefinds.) But I deal- until I see the boots with bunchy jeans scrunched around their furry tops. Many Ugg styles hit mid-calf. The denim bunch draws unfortunate attention to that area. Instead of elongating your legs with a smooth line, it give a squatty apearance. Unless you're blessed with Cameron Diaz's lengthy, willow-thin gams, don't go there. Your legs will look like tree trunks if you attempt the mukluk tuck. I know that most don't buy furry footwear for the all-weather versatility. It's a comfort thing and thanks to the A-list, a style status thing. Where's the line between form, function, and fashion? I draw the line at jeans over the boots, please. Editor's Note: Your vote counts, this could be a turning point in a major trend. On a recent crosstown stroll from the Upper West Side to the East Side I kept a (super)official count and no less than 17 women walked past with bunchy denim atop suede boots. I was Woman #18. It begs the question, am I a passé faux pas or just one of many sheep in rolled over sheepskin? The outcome in this very important opinion poll could decide the fate of well-styled women everywhere. Not to mention the fact that the futures of our children's children's children are at stake.
Beauty Find: Kiehl?s Amino Acid Shampoo
What: Kiehl's Amino Acid Shampoo Why: Winter's hanging on and you can't stop daydreaming about the Caribbean. Sure, using Kiehl's Amino Acid Shampoo won't transport you to the tropics, but the gentle formula will get your hair clean, and the light coconut fragrance will remind you of sunny places. Soft, manageable hair doesn't quite compare to a day at the beach, but at least you won't end up with sand in your swimsuit. Price: Three sizes for $11.50, $17.50, $27.50 Find it: Kiehls.com
Beauty Find: Eye Opening Extentions
You don't need Botox to look bright-eyed, just need lush lashes. I absolutely love the look of false lashes, but I've always reserved falsies for fancy occasions. It's a process--and it has to be perfect or you risk looking like a drag queen. But the effect is undeniable. Eyes look bigger, brighter, sexier. I caught the eyelash extension fever and had my skimpy lashes plumped up by the fabulous Christine Kolenda at NYC's ever-chic Glow Skin Spa. Christine explained the delicate, arduous process--each whisper-thin individual lash is bonded to one of your own lashes, by her expert hands, one at a time, with specially formulated glue. For the next two-and-a-half HOURS, the unbelievable patient Saint Christine applied 20-30 lashes to each eye. When she was finally finished, it was more natural and less heavy than the do-it-yourself kind. The unexpected bonus was the black colored glue which darkens the lash line kicking up the fabulousness factor. My lashes lasted throughout my beach vacation, through my daily contact lense routine--and I looked pretty good when I woke up in the morning. If you've got the discipline to not tug or rub your eyes, you must give this trend a try. Glow Skin Spa's eyelash extensions usually cost $250, but Glow is grand enough to give New Yorkers 15% off their first visit. If you can't make it to professional, achieve comparable results at home thanks to an increase of quantity and quality of over-the-counter fakes. I really like Make Up For Ever Eyelashes found at Sephora.com.
A Find: Classic Timekeeper from Kenneth Cole
What: Band Together watch by Kenneth Cole Why: Kenneth Cole's new line of watches are sleek and stylish. And the Band Together watch, which features a dark brown croco-embossed leather strap and a rose gold crown, is eye-catching. The watch is a light, versatile accessory. Classy enough to be worn year round, everyday in the office or at play. Time flies when you have the perfect watch. Price: $250 Find It: KennethCole.com has the whole Swiss Movement Collection.
A Find: Add some zing to that boring black laptop
Yeah, yeah, black goes with everything. But with the oversaturation of boring black and gray laptops out there, it's perfectly natural to crave a little variation when expressing your portable-computer personality. That's where Skyn Mobile comes in. The company is marketed as "the new leader of the mobile fashion industry," which makes me think there's a tech-savvy gadget girl revolution brewing (it's about time!). Skyn's stick-on laptop covers ($35-$40) add an instant pop of color to your usually-drab hardware, ensuring that you'll be the focus — and envy — of your next boardroom get-together. Choose from four solid candy colors (lilac, pink, lime, and teal), a funky floral "Eva" pattern, or a Swarovski crystal monogrammed version of the reusable, glossy-finished covers. The covers fit most standard 14-, 15- or 15.4-inch portable computers, but check the online measurements against your computer's dimensions before you place your order. While you new press-on prettifier won't do much in the way of protecting your laptop from damage, it will turn it into an instant accessory. After all, why should your iPod and cell get all the fashion glory?
Saturday is Denim Day
Check out the latest in denim, solutions to your jeans problems, and where to find the good stuff.
A Find: The Bold and The Beautiful