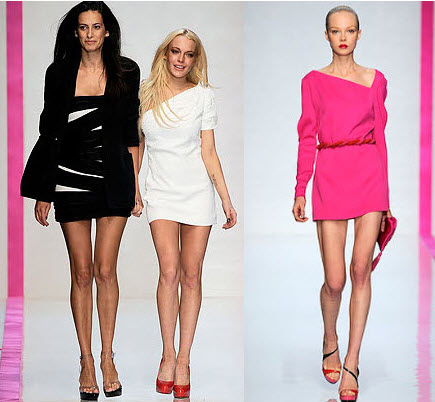 Lindsay Lohan's Never-Been-Sold Emanuel Ungaro Dresses Have Resurfaced On eBay
Well, this proves our theory that everything ends up on eBay sooner or later... Four dresses from Emanuel Ungaro's famously-failed spring 2010 collection, designed by Lindsay Lohan, and, according to ELLE, weren't sold in stores,  have popped up on eBay, and thanks to Imaginary Socialite's eagle eye, she caught them before they were scooped up. The pieces are being sold by an online vintage retailer, Style Bug. Get it now, then sell it on eBay again in a few years when it's novel again. And don't miss the best sales and deals, plus tons of best find of the day options to choose from.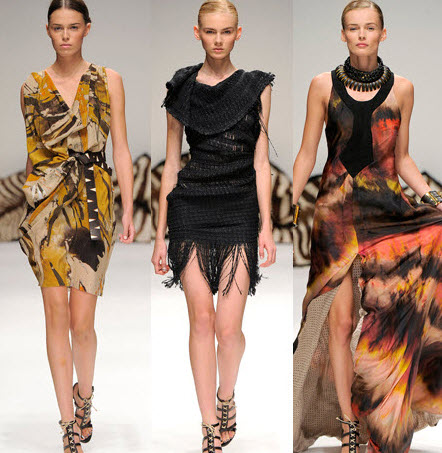 Kinder Aggugini For Macy's: Get It Now!
Just in time for London Fashion week, Macy's has launched its its first collaboration with London-based designer Kinder Aggugini. Shop it now! Read up on more collaborations, find out what's happening with Fashion Week, and see our fashion news, and then see our guides to leather jackets, skinny jeans, booties and pumps.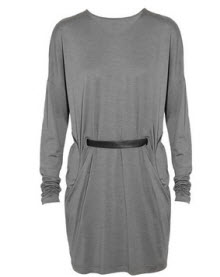 Enough With The Cardigans: 70% Off Long Sleeve Designer Dresses
Before you start protesting, hear me out. I love cardigans. I wear them every day. But now that we're in the depths of winter, I really would rather have some great long sleeve dresses so I can stop the crazy layering. (Yesterday I wore 14 pieces on my body--I counted. How is that even possible?) Check out my finds from the 70% off sale at The Outnet and tell me what you think of them. Follow the author of this post on Twitter @shefindseileen. Don't forget to shop all of our sales and deals, best find of the day picks and browse our complete calendar of online sample sales.
Get Serious About Your Fall Work Wardrobe: Start With One Of Our 9 Chic Sheath Dresses
The sheath dress is the ultimate all-weather work staple. Wear it with boots in the fall or over tights in the winter. When it gets warmer, pair it with flats or flat sandals. Anyway you wear a sheath dress, the possibilities are endless. Grab this easy to wear, under-$100 T Tahari "Ellen" dress ($99.50) and make peace with getting ready for work. Find more awesome work clothes with our guides to the best cheap pants, the best flats, and the best blazers. Sign up for SHEFinds and receive exclusive fashion e-mails.
Julia Roberts' Eat Pray Love Sheath Dress Is Much More Attainable Than A Flight To Bali
While Eat Pray Love predictably made me want to stuff my face with pizza while dreaming of Javier Bardem and a flight to Bali, I didn't expect to lust after this beautiful structured gray tweed sheath dress Julia Roberts wears to a cocktail party (above). Wasn't I supposed to be craving caftans and yoga pants? Not this New Yorker.  I couldn't stop thinking about it even days later, so I tracked down some similar versions for fall, since it's more attainable than that flight to Bali (and, arguably, Bardem). This gray sheath dress, by Michael Kors is just as lustworthy, especially for 70% off ($453.75, from $1,815). This dress proves tweed can actually be sexy, with its darted details and elegant v-neck.  Not in your size? Try this Banana Republic v-neck sheath dress ($150) but get 25% off of that tonight after 5pm and get the same look for less. Check out more Eat Pray Love styles, and then see more best find of the day posts, chic little black dress options, plus our best fitting jeans and all of the best thigh high boots and clogs for fall.
9 Seriously Put-Together Sheath Dresses: We Dare You To Pick Just One.
SHEfinds scoured the web for the the 9 best sheath dresses for work so you can snag the corner office. Gerard Butler is the newest face of L'Oreal. Allie is Wired has the scoop. Alexander McQueen Faithful / Proenza Schuler PS1 / Mulberry Alexa! BagBliss is coveting the Satchel Bag Trend Coquette is ready for the beach with these stylish swimsuit cover ups. Fashion Pulse Daily picks its favorite pieces from the Be&D Cruise 2010 collections. The Jet Set Girls pick the sexiest, must-have Christian Louboutin Booties for the upcoming fall season! Second City Style is mad for Desert Boots and can't wait for the cooler weather of the season to begin! Shopping and Info predicts Victoria Beckham will be wearing these black Prada boots for Fall 2010. The Beauty Stop dissects Heidi Klum's Project Runway premiere look. The Shoe Goddess says animal prints are a must-have for fall, and this YSL Leopard Print Tribtoo Pump is a great choice! Stiletto Jungle picks the must-haves from the bargain-chic Dolce Vita for Target shoe line, now available online. Check out the best sales and deals from around the web, plus the best online sample sales and more sheath dresses.