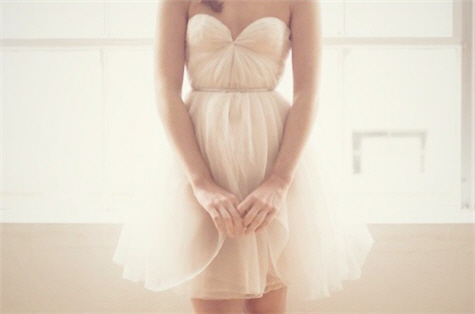 You Can't Go Wrong With A Strapless LWD (Little White Dress) For Your Reception
You cannot go wrong with a strapless or sweetheart neckline LWD (little white dress) for your reception. Case in point: this pretty Powdered Sugar Dress ($455) from indie bridal designer Sarah Seven, which is getting crazy traction on the Pinterest. Strapless is anything but boring; Sarah's dress is ethereal and whimsical, while J.Crew makes a sophisticated lace one, and Jill Stuart a structural dress that's perfect for the modern bride. The possibilities are endless... (more…)
Can You Tell Which Ostrich-Feathered Wedding Dress Costs $872 Less?
Ready to get your shop on? Check out our guides to the best wedding jewelry, designer wedding shoes, and outdoor wedding dresses now.
Lightweight Eyelet Reception Dresses That Say Easy, Breezy Summer Bride
Chances are if you're big on dresses for summer, you already own an eyelet version you love. Super breathable, sophisticated and sweet, this style also makes a lovely summer wedding reception dress -- and at a far more affordable price than a heavy gown. (more…)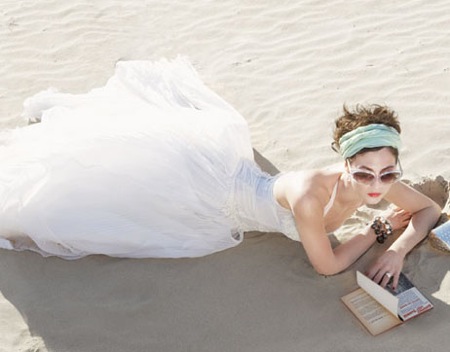 Beat The Heat With White House Black Market's Under $100 Summer Wedding Dress Sale
Summer is just around the corner, and what better way to celebrate than with an under $100 summer wedding dress sale at White House Black Market? You can't beat the prices, and plus, who wants to get married in a long dress in the sweltering heat? See some of our favorite picks below: (more…)
Turns Heads At Your Reception And After-Party In A Sexy, White Cut-Out Dress
We love the idea of going a little sexy for your reception - the guests have already seen you in your gorgeous gown, and now its time to shake it up and dance. I'm going for the cut-out look, and just purchased this Rachel Pally Long Cutout Dress ($238). Cut-out is a great way to go - it's on trend, and just a peak-a-boo of flesh - not full-on (more…)
Miranda Lambert Kept It Short And Sweet In A Tea Length Wedding Dress: Get The Look
Last week, Miranda Lambert wore a tea-length strapless silk shantung Priscilla of Boston dress to her wedding reception, sparking interest in these bel0w-the-knee styles. We've seen the silhouette on runways, like Melissa Sweet (above), and now that it has a celebrity stamp of approval, we're going to guess it's here for good. (more…)
You Just Got Engaged – Now What? Start With The Dress.
Over the next year or two, you're going to have a lot of big and little decisions to make - fondant vs. butter cream, band vs. DJ, elope or big wedding. Whether you're ready to make those calls or not, there is always one decision that is stress-free and highly gratifying: picking the dress. We know you've poured over wedding mags, but now's the time to pull the trigger: Best Goddess-Style Gown: If you love silky, Grecian-inspired dresses, this J.Crew Silk tricotine goddess gown ($475) is divine - and the perfect price. Best Cocktail Length: This short Lanvin Tiered silk-gazar dress ($4,960) is the perfect dress for a destination wedding - or as a reception dress. Best Sweetheart Neckline: The sweetheart neckline looks good on everybody - and this ABS Strapless Rosette Gown ($510) has an intricate skirt detail that takes it over the top. Best One-Shoulder: Asymmetrical dresses are a huge trend, so why not be en vogue on your wedding day? This Carmen Marc Valvo Beaded Lace Appliqué One Shoulder Dress ($1025) is elegant, yet on-trend. Best Designer Dress: Lela Rose gowns are highly coveted, and this Strapless embroidered silk-organza gown ($5,495) Check out our guides to the best strapless wedding dresses, outdoor wedding dresses, short wedding dresses, and inexpensive wedding dresses.
Front Row Fashion Week Style To Copy Now
It's the last day of New York Fashion week, and we've showed you how to fit in, what sunglasses to wear, and even what uniform Rachel Zoe approves of. Our final New York homage to the crazy week is how to look pulled together--whether you're at fashion week or not. Case in point: AnnaLynne McCord (of the new Beverly Hills 90210) looking stylish. The beauty of this look is that it's so easy to wear in daily life. Follow these steps: Start with a strong shouldered top, like this Silence & Noise Strong Shoulder Blouse ($58) by Urban Outfitters. You can easily mix and match this top in a number of other looks (here's how). (more…)
Sneak Peek: Blair Waldorf Would Swoon Over Milly's Fall 2010 Runway Show
Milly by Michelle Smith's Fall 2010 runway show was all about French school girl. We couldn't help but wonder if Blair Waldorf of Gossip Girl was her muse: the collection included a pink tweed skirt suits, bow headbands, and strapless cocktail dresses with ruffles.  Milly's collaboration with Hue debuted right there on the catwalk--in red, hot pink, and white tights. Though the collection won't hit stores 'til fall, many accessories needed to achieve this look are within a click's reach. Check out our four favorite looks and the accessories you can wear now and into next season. Double-strapped patent leather mary janes dominated the show and these Patent Mary Jane Platform Costume Heels ($41.99) will liven up any ensemble. This wool beret ($9.90) will top off the look with classic Parisian flair. (more…)
Count Me In: Candy Purse by Candace Marquette
What: Multi colored leather clutch Why: This handcrafted bag is made from buttery leather accompanied with hand painted detail. Front of clutch is adorned with a cluster of beautiful coral, glass, and vintage beads. About the Designer: My style has the right mix of offbeat edgy sophistication, that meets up with a punk rocker chic sting, with a no-holds barred flair. I enjoy weaving in dashes of vibrant colors and spiky elements, such as hand painted details, rhinestones, Italian leathers, antique and vintage pieces all rolled up in a couture ball of personality. All of this can be seen on handbags, jeans and all types of fashion and home accessories. Proceeds to be Donated: 15% Get Yours: www.candypurse.com Count Me In promotes the growth of women owned businesses and is the leading national not for profit provider of online business loans, resources, and community for women entrepreneurs. Beginning in September and continuing through Jan 1st, SheFinds will feature original pieces by independent designers. A portion of each sale will go to Count Me In. With each purchase, you are contributing to the development of women in business.
Tuesday's Sample Sale Scoop: Dior Sunglasses, Rachel Roy, Ted Baker, And More
Editor's Pick: Christian Dior sunglasses at Editors' Closet Calvin Klein shoes, Erno Laszlo skincare, H2 at Hammerman jewelry, Rachel Roy clothing, and a mixed designer blowout sale at Gilt Groupe Cyrus clothing at The Top Secret Vicente Agor jewelry and Katherine Barclay clothing at Beyond the Rack Eva Franco clothing and Lacoste watches at ideeli Alessandro Dell'Acqua bags, Cosmedicine skincare, Locman and Corum watches, and a designer sunglasses blowout sale at Hautelook Ted Baker clothing at Rue La La For more top sunglasses, see our guide to celebrity sunglasses, and get in the mood for fall with fall shoe trends and blazers.
News: Kim Kardashian Launching Fragrance, Grace Is "Heroine" Of The September Issue And More
1. Kim Kardashian is launching a new fragrance in spring 2010.  If you just can't wait until then, be sure to peruse our guide to all sorts of fragrances.   [WWD] 2. Everyone loves Vogue's creative director, Grace Coddington, including Vogue's p.r. department, which referred to her as The September Issue's "heroine."  She does steal the show from Anna in The September Issue, that's for certain.  [Gawker] 3. Fidel Castro has given up the army gear he's worn since the '60s for Adidas track suits.  We just thought you'd like to know, and if the brand doesn't seem to be sponsoring your dictatorship, check out more affordable workout gear.  [BlackBook] 4. Paul McCartney's ex, Heather Mills, is launching an eco-friendly recycled clothing line.  We're not really sold on the look of the thing; we'll probably stick with our previous eco-shopping avenues.  [Daily Mail]
A SheFinds Field Trip To The September Issue
The September Issue opened in New York theaters today, and this morning our lucky staff packed up and left the office to check out the documentary. We saw the necklace Anna Wintour wore more than once (and we still can't figure out who made it) and got a good look at all her outfits.  Indeed, florals reign supreme in the Vogue household. We really love R.J. Cutler, the documentary's director, for having the nerve to face Anna, Grace Coddington, et al. to make this film.  He even had a sense of humor about it, so more props to him. In case seeing The September Issue just isn't enough Anna for you, be sure to check out her appearance on The Late Show with David Letterman, if you haven't already.  And if you've got tickets to the film but still need to get in the mood for some serious fashion, the trailer will be sure to do the trick:
As Anticipated, Mad Men's Premiere Presents A Story With Style
Much to our delight, Sunday night's Mad Men third season premiere was just as sexy as we'd hoped – Betty Draper made quite a dramatic decision - and in true Mad Men form, her hubby Don promptly flew off to Baltimore…and picked up a young blonde flight attendant along the way. The show's exciting first episode also didn't disappoint fashion-savvy viewers who tuned in for some style inspiration on a hot Sunday evening. We especially loved the dramatic block earrings that Sterling Cooper secretary Joan Holloway was sporting last night. For a similar look, try this pair of studs from M. Haskell ($15) - they've got some retro elegance, and make a statement without tugging on your lobes. For more Mad Men style, take a behind-the-scenes look at the show's costume closet – designer Jamie Bryant talks about season three looks and how many of the vintage fabrics and dresses have been donated by Mad Men's loyal fans. For dresses inspired by the show, take a look at some of our past Mad Men coverage, and for more pulled-together picks, we'd recommend perusing some of the best cardigans and pencil skirts.
SheFinds Solution: Fast Fix Buttons
When Gwyneth Paltrow splits her pants and ties a pashmina around her waist, she sparks a fashion trend. But when a button pops off your shirt before a 9 AM meeting, all you spark is snickers from your coworkers. If you're pressed for time and you haven't whipped out a needle and thread since home ec, try Fast Fix Buttons. Use these button-topped pins to quickly replace a lost button until you have time to repair the damage. Because you don't really want to get that promotion by showing your bra. Find at fastfixbuttons.com. Buttons are available in pearl white, flat white, clear white and basic black.