Did These Celebs Really Not Realize Their Skirts Were Completely See-Thru?!
These Pretty Floral Print Skirts Look Good On Every Woman, With Anything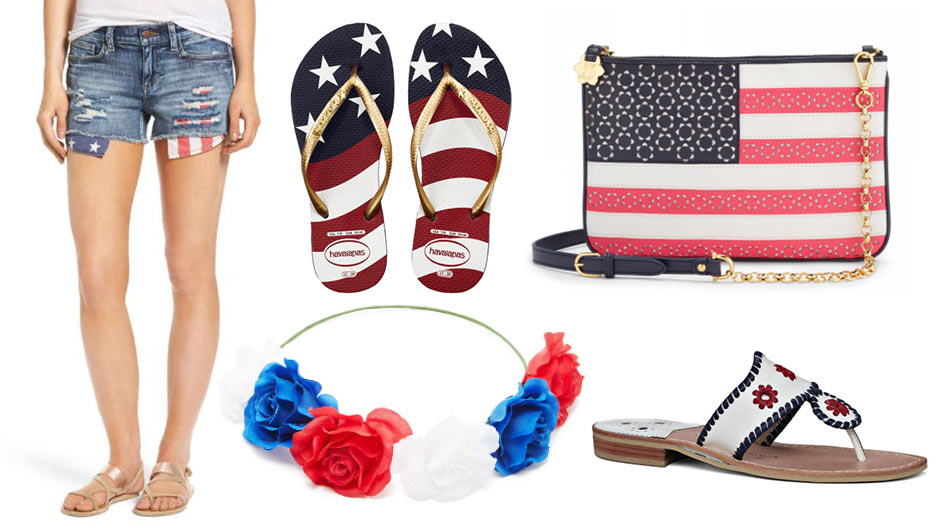 13 Products That Prove There's No Wrong Way To Rep America This Fourth
Nordstrom Shoppers Love This Crazy Comfortable Maxi Skirt
If you don't have maxi skirts in your wardrobe, you're seriously missing out. This piece is the perfect season-less essential when you want to look "dressed up," but still want to feel comfortable. Maxi skirts look great with ankle boots in fall and winter and are a must-have with flat sandals in the spring and summer. Need a good maxi skirt recommendation? This Bobeau Ruched Waist Side Slit Maxi Skirt is currently on sale for less than $30 at Nordstrom where it has over 120 stellar reviews. Shoppers says this skirt is super comfortable, is great for traveling and is super flattering. What more could you want? Snag on in every color while they're on sale! Bobeau Ruched Waist Side Slit Maxi Skirt ($28.90, down from $44) Bobeau Ruched Waist Side Slit Maxi Skirt ($28.90, down from $44) Bobeau Ruched Waist Side Slit Maxi Skirt ($28.90, down from $44) GET A MAXI SKIRT IN EVERY COLOR NOW Be sure to check out the best drugstore beauty products and Michael Kors watches for just $100. [Photo: Nordstrom]
This Is The Best Skirt To Wear When You Have Cellulite
The Best Underwear To Wear With Skirts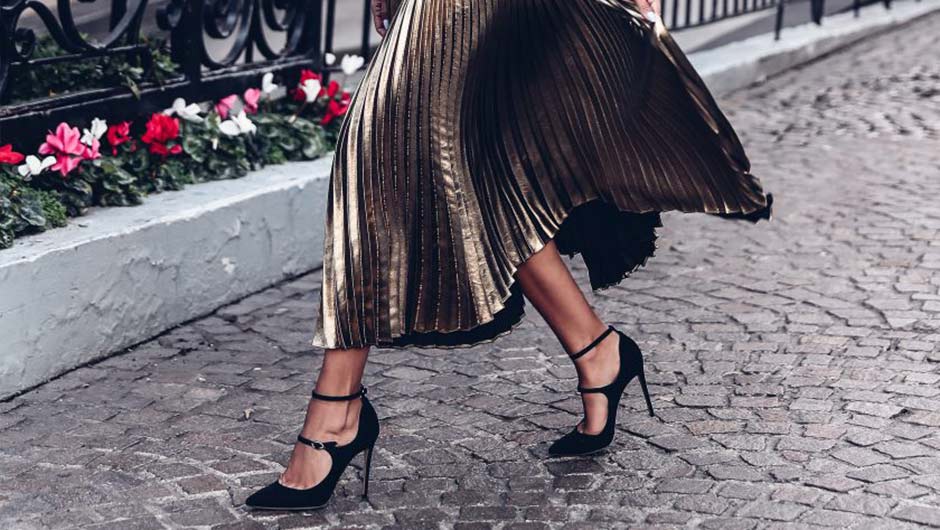 Midi Skirts Are More Popular Than Ever Right Now–Get One For Spring ASAP!
Surprise, Surprise–Denim Skirts Are Still "In" This Spring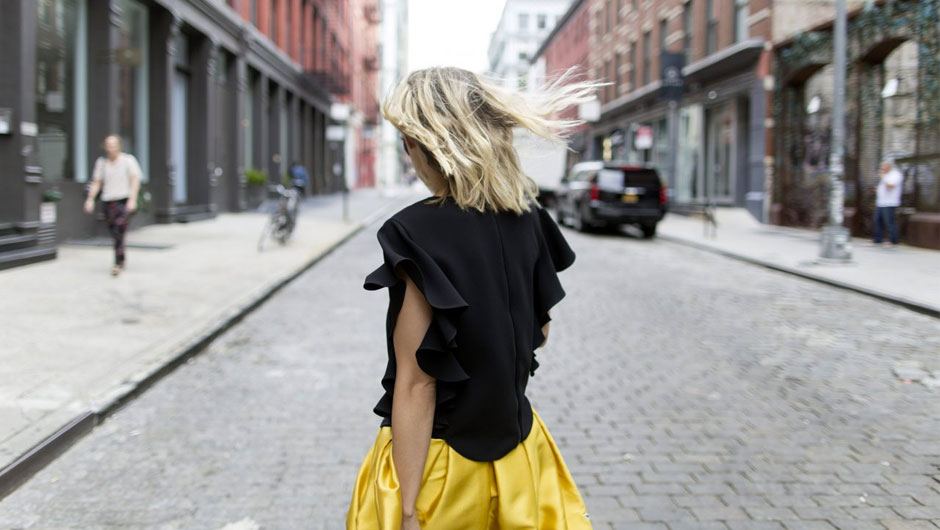 How To Repeat Outfits And Not Get Noticed
Women Are Going Wild For This $9 Maxi Skirt From–Wait For It–Walmart!
Fashion Items That Break The Internet: The $300K Birkin, More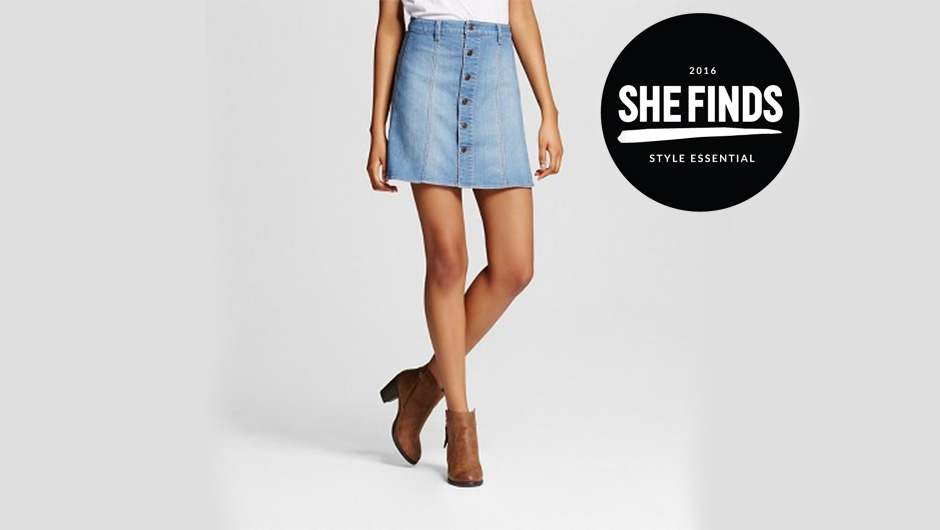 FYI, The Perfect Button Front Denim Skirt For Spring Is Only $20 At Target
If you've been scouring the Internet in search of the perfect denim skirt for spring and summer, look no further. Not only did I find a universally flattering style, but it also happens to be just $19.99! I found it where I tend to find many of the best things in my life: Target! This Mossimo Supply Co. Button Front Skirt ($19.99) is so good that I actually already own two. The shape is perfect whether you're pretty straight like me or if you have some curves. The denim is the perfect weight and it's also a great length--not too long or short. Here's the catch: these skirts are selling fast! There's low stock at a bunch of Target stores in the NYC metro area, so my advice is you'd better gets yours ASAP! Mossimo Supply Co. Button Front Skirt ($19.99) Be sure to check out this genius beauty tool and J. Crew's awesome jewelry sale. [Photo: Target]
Designer Denim Shorts And Skirts Start At Just $29 At Saks Off 5th Today!
SHEfinds receives commissions for purchases made through links in this post. If you're on the East Coast or in the Midwest, it may feel like warm weather will never come, but trust me: spring and summer will be here before you know it. And because you can't wear pants and jeans forever, I suggest you head over to Saks Off 5th ASAP. Why? There are loads of super cute designer shorts and skirts on sale starting at just $34.99. I'm talking J Brand, 7 For All Mankind, Frame, Genetic Denim and more all for less than $40! Want even more good news? All the items we're loving below are an additional 15% off with code EXTRA15 at checkout. Hurry and shop now so you're ready when spring weather arrives later. Genetic Los Angeles Farrah Frayed Denim Shorts ($34.99, down from $138) Paige Indio Zip Denim Shorts ($39.99, down from $169) 7 For All Mankind Washed Twill Cut-Off Shorts ($34.99, down from $148) Genetic Los Angeles Gordon Distressed Denim Skirt ($39.99, down from $163) J Brand Low-Rise Printed Cut-Off Shorts ($39.99, down from $158) FRAME DENIM Le High Denim Mini Skirt ($39.99, down from $169) 7 For All Mankind Distressed High Waist Shorts ($44.99, down from $189) J BRAND 7036 Lela Distressed Denim Skirt ($48.99, down from $228) SHOP MORE DENIM DEALS AT SAKS OFF 5TH NOW Don't miss Nordstrom' $12 accessories sale and the Bloomingdale's friends and family sale.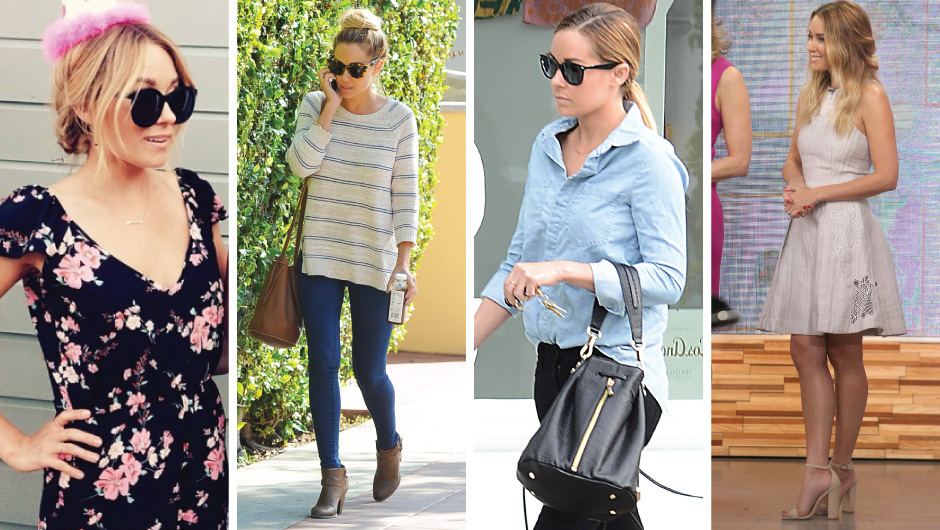 9 Times Lauren Conrad Gave Us #OutfitGoals
14 Suede Skirt Outfit Ideas That Will Inspire You To Invest In One ASAP
Button Front Denim Skirts Are The #1 "It" Item For Spring #MustHave
Everyone Is Going To Be Wearing This Denim Skirt Come Spring
Consider this your warning: denim skirts are going to be huge this spring and the style every cool girl will be wearing is the button front. Whether with sandals, sneakers or ankle boots, this skirt silhouette is most definitely a spring essential, so we're giving you ample warning to add it to your wardrobe ASAP. One of our favorite takes on the trend? Sanctuary's Marianne Skirt, which has a slightly flared cut that's super flattering and is done in the perfect medium wash denim. Trust us on this one, you need this skirt in your closet! Be sure to check out The Outnet's massive clearance sale and Nordstrom's designer handbag sale. [Photo: Joyus]
26 Midi Skirt Outfit Ideas That Will Inspire You To Buy One ASAP
22 Dope Ways To Wear A Denim Skirt Because Yeah, They're Definitely Back
Hurry! Taylor Swift's $30 Plaid Skort Is Only Available In One More Size
For those of you still waiting for a 2015 miracle (or in need of another one), we have the best present for you. Taylor Swift rocked the school girl look in this AQUA Plaid Skort ($30.60, down from $68) while traveling through LAX. Yes, that's right. You can buy Taylor's adorable plaid skort for $30. That's the unbelievable news. The slightly bad news is that Bloomies only has it left in navy... in one size. Is it your lucky day? Shop below and find out. AQUA Plaid Skirt ($30.60, down from $68) Don't miss Gwen Stefani's color block sweater and Alessandra Ambrosio's fringe bag. [Photo: Splash News]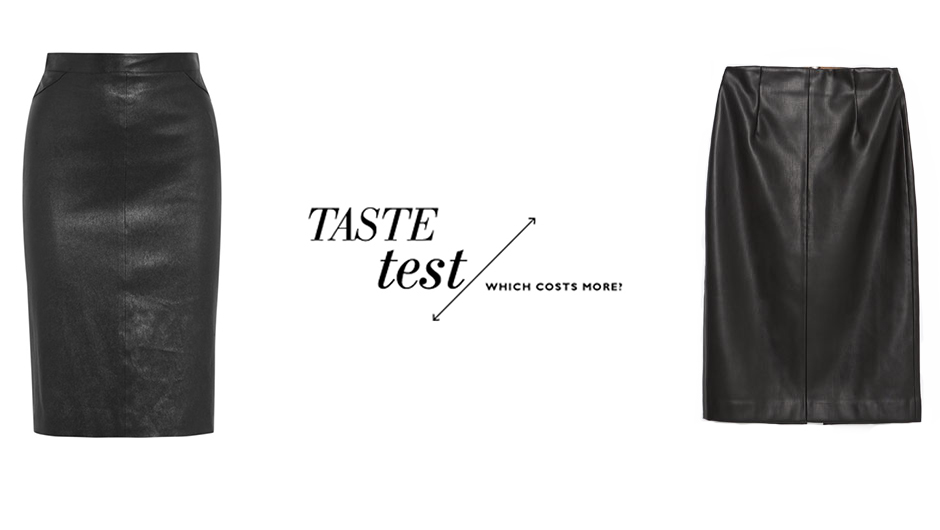 Can You Tell Which Leather Pencil Skirt Costs $1,817 More Than The Other?
This Givenchy pencil skirt is the holy grail of leather clothing. But at $1,857 (40% off!), it's not exactly budget-friendly. Thankfully, the fashion gods were on our side with this one and granted us the gift that is Zara. Instead of depleting your savings account, shop this $39.90 alternative! But first, click below to find out which one costs $1,817 less than the other. Don't forget to check out: You Should Clean Your Nail Clipper More Often Than You Think, These Kiehl's Holiday Gift Sets Are So Pretty, They Don't Even Need To Be Wrapped!, and UGG Slippers Are The Ultimate No-Fail Gift This Holiday Season
What To Wear On Thanksgiving: Elastic-Waist Everything–Pants, Skirts, More
If we could, we'd wear our pajamas to Thanksgiving. What's the point of dressing up for a holiday when all you do is sit around a house and eat all day? Of course we'd like to look presentable for our family and all of those group photos, but housing a solid serving (or two or three) of turkey and mashed potatoes isn't comfy if you're formally dressed. Even a pair of jeans sounds painful. Which is why we decided that Thanksgiving calls for drawstring pants and skirts so our bottom's waistbands expand with our waistlines. (Don't freak out, it's temporary, obvs.) Pair your elastic trousers with a cashmere sweater and oxfords, or team your drawstring skirt with a chambray button-down and ankle boots. You can still look polished without compromising your comfort—or your turkey dinner. Check out our slideshow to see what you'll be wearing this Thanksgiving. [Photo: Cheetah is the New Black]
Here's Where To Buy Emmy Rossum's Plaid Midi Skirt
For deli trips, we tend to think sweats, tees, maybe some relaxed jeans. But maxi skirts and heels? Only in Hollywood. Emmy Rossum wore a Rebecca Taylor Shadow Plaid Pleat Skirt ($495) with a simple black tank and strappy black sandals. While I am sure she looked fab at the deli, we may save this piece for a date night or Saturday brunch. Plus, this dark-hued maxi combines a little bit of plaid, a little bit of pleats making it feminine and autumn-esque. Shop it below. Rebecca Taylor Shadow Plaid Pleat Skirt ($495) Need more celebrity style inspiration? Check out Reese Witherspoon's bejeweled cocktail dress and Alessandra Ambrosio's printed leggings. [Photo: Splash News]
Fall's Fringe Trend Can't Stop, Won't Stop, And Now It's On Skirts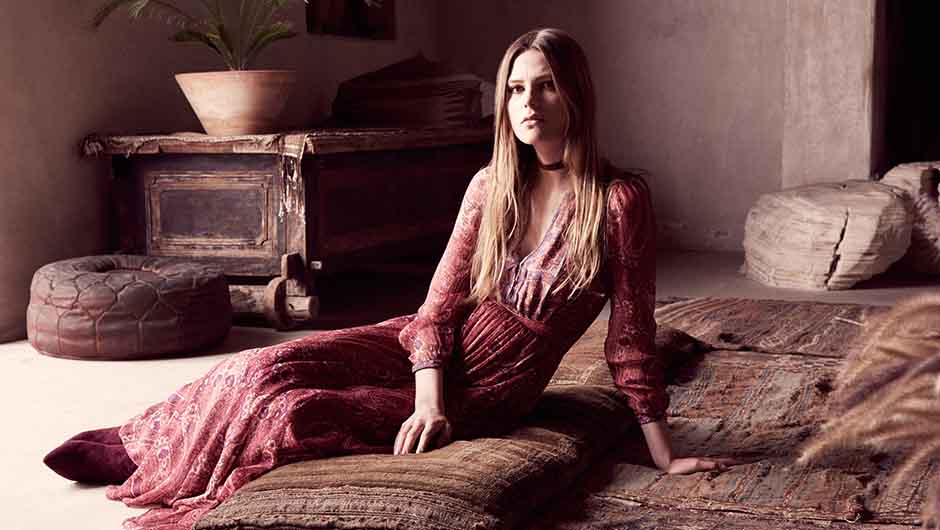 We Want Everything From JOIE's New 70's Inspired Fall Line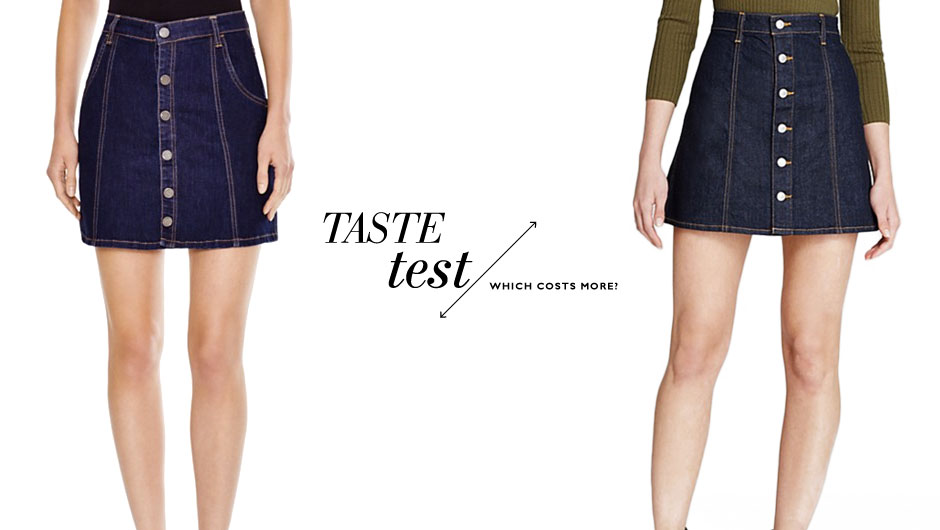 Can You Tell Which Button Front Denim Skirt Costs $90 More Than The Other?
One of our favorite "what's-old-is-new" trends for fall? Denim skirts! Whether with bare legs or tights, we're so happy this wearable, flattering style is back. As an update to the classic, lots of designers are adding eye-catching hardware like these nearly identical button front options from BLANKNYC and Alexa Chung for AG. They're definitely lookalikes in style, but not in price. One skirt is only $88 while the other is a whopping $178. Can you tell which one is more expensive? Click the links below to find out. We also found this one at Urban Outfitters that is so good--and only $59: BDG Denim Button-Front Skirt ($59) Be sure to check out the most efficient way to hang clothes in your closet and the best moisturizers under $10.
The Best Suede Skirts For Fall–Starting At Just $35!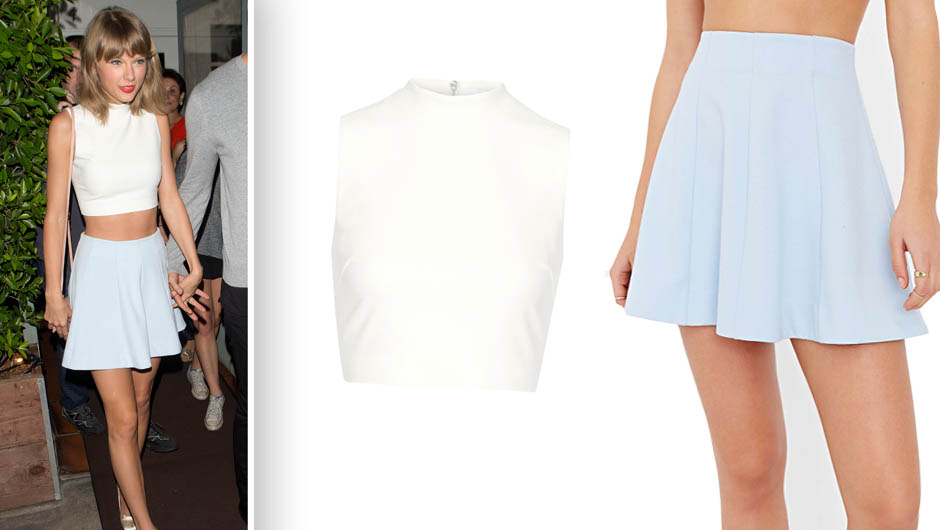 Taylor Swift Really Loves This $49 Urban Outfitters Skirt
You know a celebrity really loves something if they wear it more than once. Which is exactly how we know Taylor Swift is obsessed with this Kimchi Blue Flirt With Me Seamed Skirt ($49). Not only did she recently wear it during a NYC date night with Calvin Harris, but she also wore the exact same skirt in a different color back in June. And at $49, you don't even have to be a millionaire like T Swift to snatch up this closet essential in every color. Get it now before they're all gone! PS: Love Taylor's white crop top, too? It's the Elizabeth & James Aisling Crepe Top ($110, down from $245), but hurry. It's only available in one more size. Kimchi Blue Flirt With Me Skirt ($49) Don't miss Gigi Hadid's cheap Guess heels, Jessica Alba's sunglasses and JLo's Crush It tee. [Photo: Splash News]
Taylor Swift's Burgundy Skater Skirt Is Only $49 #DoneAndDone
Taylor Swift is actually no stranger to shockingly affordable clothes. Not only does she wear Free People and ASOS on the reg, but she loves Urban Outfitters, too. Need proof? This burgundy skater skirt she was snapped wearing last week is Urban's Kimchi Blue Flirt With Me Seamed Skirt ($49) and yes, it really is less than $50. That's cheap enough to get one in every color--there are four, BTW--so follow in Tay's footsteps and snatch this one up ASAP. Kimchi Blue Flirt With Me Seamed Skirt ($49) Don't miss Kate Middleton's Sebago flats, Vanessa Hudgens' ankle wrap sandals and Olivia Palermo's affordable heels. [Photo: Splash News]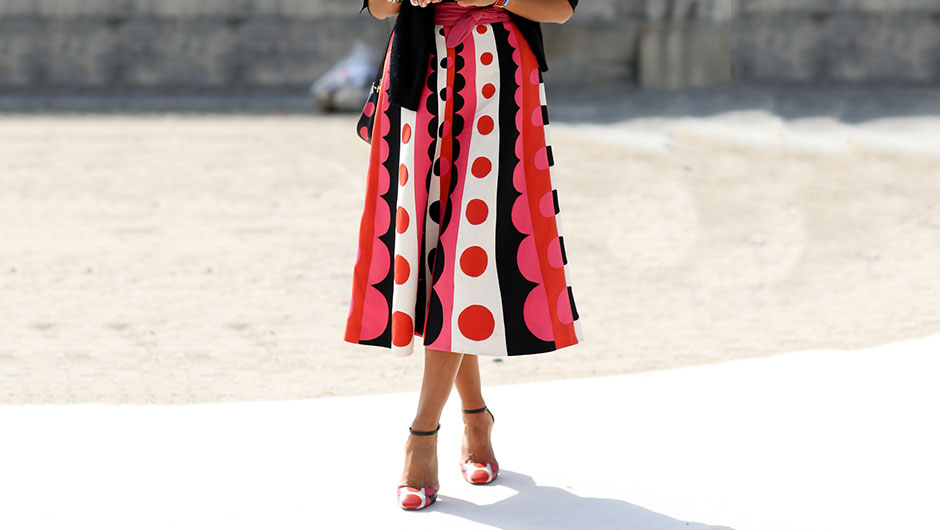 On Days When I Have Nothing To Wear, My Fall-Back Is Always A Printed Midi Skirt
Paperbag Pants & Skirts—AKA The Cool Way To Wear An Elastic Waistband
How To Get Your Own Double-Slit Skirt Like Kendall Jenner's Coachella One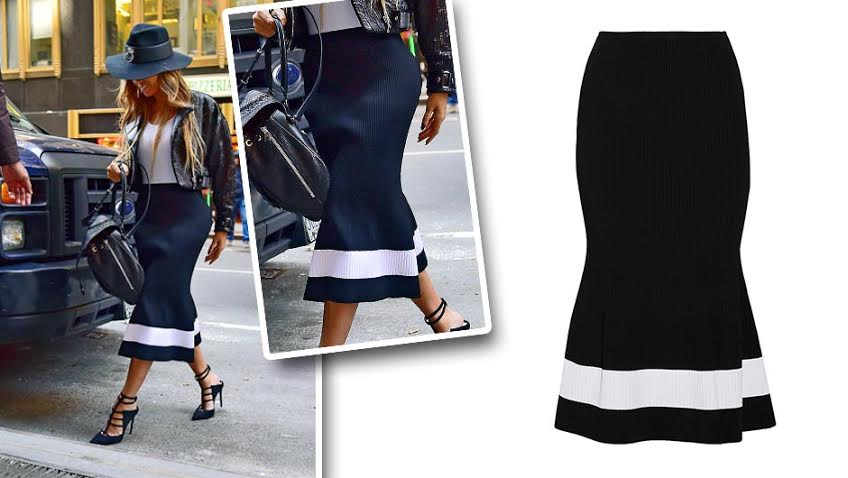 Here's Where To Get Beyonce's Skirt (Hint: It's From Another A-Lister's Line)
Aw, how nice to see A-listers supporting each other. Beyonce just stepped out in NYC wearing this pretty mid-length black skirt with a flared hemline and white trim--which turns out to be from none other than Victoria Beckham's line (she's actually a fan). The classic (and classy) piece isn't a steal, but it sure is purdy: VICTORIA BECKHAM Fluted striped stretch-knit midi skirt ($1950)
The Skirt Trend Taking Spring By Storm? White Midis With A Sheer Overlay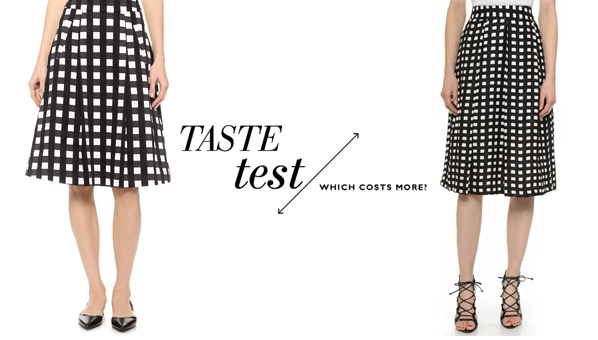 Can You Tell Which Black & White Grid Print Skirt Costs $562 More Than The Other?
When we told you black and white skirts were trending for spring, we were not joking. They're so popular, in fact, that designers are pretty much putting out nearly identical designs. Case in point: these black and white grid print midi skirts. One is the JOA Checkered Midi Skirt ($113) and the other is the Marissa Webb Ella Check Skirt ($675). Can you tell which is which just by looking at the pics? See if you guessed right by clicking the images below. Be sure to check out cute rain jackets, how to do a side braid and cheap workout gear.
I Could Not Be More Thrilled That Denim Skirts Are Back
Last week one of my colleagues told you all about how button-front denim skirts are back for spring, and the truth is that pretty much all denim skirts ares--midi, long, mini, a-line. I cannot tell you how excited I am about this. For the last few years it has been all about denim shorts, which are just not flattering on me. I'm a size 8/10, and for some reason shorts like to ride up my non-gapped thighs when I walk, and finding a pair that fits and is flattering is nearly impossible (if the leg holes fit, then the waist is way too big and the butt is saggy). I just don't feel cute in them, but give me a nice denim mini skirt with a raw hemline and maybe some distressing, and I look bomb.com. Who's with me?? Leave a comment below if you're a denim skirt girl, then click through the slideshow above to shop my favs. I AM buying the Current/Elliott ones from the first slide, please note. [Photo: Creatures of Desire; Skirt: Zara - shop similar here]
Add Button-Front Denim Skirts To The List Of 70s Trends Making A Comeback
The 70's revival for spring is real, you guys. There's wide leg pants, peasant tops and clogs all set to make a comeback, but the trend I am most looking forward to wearing is the button-front denim skirt. Why? Well, as a 90s kid, who loved her denim mini in the early aughts, this is a childhood throwback to me of some sorts. Just, you know, with a slightly more grown-up/vintage-y vibe then my dELiA*s skirt. Click the slideshow to shop styles from 7 For All Mankind, Stella McCartney and yes, that Alexa Chung x AG skirt (we found one that's not sold out AND still available in most sizes!). For more spring trends, check out: black and white skirts, ear crawlers and platform espadrilles [Photo: Trini-G]
Pass On The Pastels And Rock Spring's Black And White Skirt Trend Instead
Every year around this time stores start displaying tons of mint green, baby blue, pale pink and lavender. It's spring, so I get it--Easter eggs, pastels, yadda yadda. But if those sweet colors just aren't your thing, here's some good news: black and white is also trending big time for the upcoming season. Namely, black and white skirts. Whether mini or midi, printed or striped, the options are pretty much endless. Even better? They'll look good with your black tights on those lingering cold days, but you can rock them bare-legged as well. Shop the best of the bunch on the slideshow. For more spring shopping, check out the best trench coats, chunky clogs and Shopbop's big sale. [Photo: Lee Oliveira]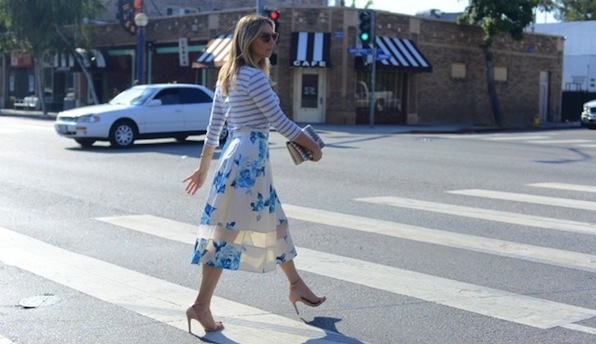 If You Buy One New Skirt For Spring, Make It A Full Midi
If I learned one thing from attending NYFW, it's that people still wear ridiculous things to shows even when it's freezing outside. If I learned two things, it was that one that I just mentioned and that full midi skirts are a huge trend for spring. There are those out there who say that these kinds of skirts only work on runway models, but I say different. With the right top (always go for something form-fitting) and the perfect shoes (any kind of wedge or heel is best), all women can pull off this trend. Click through our slideshow to see some of our favorite picks from ASOS, Kate Spade and more. For more trends, check out: shirt dresses, peasant tops, and 43 ways to dress like a ballerina for Spring [Photo: Cupcakes and Cashmere]
43 Ways To Dress Like A Ballerina This Spring: Tulle Skirts, Wrap Tops, More
Good news for anyone that's been feeling nostalgic about their childhood dance classes—spring is giving you an excuse to dress like a ballerina. That means you can wear pale pinks and grey tones, ballet flats, gauzy tulle, parachute silks and even leotards again. Back in September, designer Tomas Maier of Bottega Veneta sent models down the runway in tap shorts, cropped knit wrap tops, and one very incredible pale pink cashmere wrap coat—but it doesn't end there. Stella McCartney's spring collection is chock full of parachute silks and fluid ruffles, and the designers at Tome used a ton of blushy taffeta and pink sateen. The bottom line here is that it's now completely acceptable to leave the house looking like your headed to a ballet barre class even though you're really just going to Trader Joe's. In fact, it's encouraged. So take advantage while it lasts, and enjoy wearing slouchy grey cardigans with pale silk camis, or flowy tulle skirts with bodysuits—there's no better time to do it. For more trends, check out: open toe & heel booties, fur hats and wide leg pants [Photos: Imaxtree]
Let Your Legs Come Out And Play In These Winter-To-Spring Work Skirts
If you live in the Northeast or Midwest, I don't have to tell you how cold it's been. The frigid temps have made getting dressed a bit of a bore, but we say it's time to have some fun again by trading in your black, grey and navy work pants for skirts. Obviously, fleece-lined tights are an absolute must, but take my word for it--you'll feel so liberated ditching the slacks. Treat yourself to a few of our favorite work skirts in the slideshow. Be sure to check out Urban Outfitters' sweater sale, cute work dresses and Gigi Hadid's Ann Taylor sweater. [Photo: The Glamourai]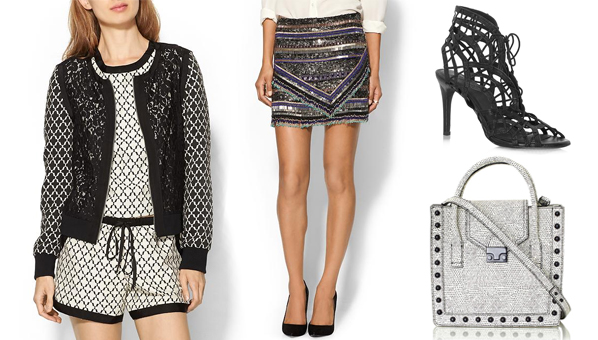 Everything At Piperlime Is 25% Off For The Next Few Hours
To spread a little early V-Day love (because who else is going to?!), Piperlime is running a 25% off sitewide sale right now that ends at the end of the day. Shop tops, dresses, skirts, handbags, shoes and more from the likes of Loeffler Randall, Parker, Joie and more. Use code XOXOPL at checkout. SHOP PIPERLIME'S SITEWIDE SALE NOW Editor's Picks: KLUB NICO Mona, LOEFFLER RANDALL Jr Work Tote in blue and black, JOIE Leah, PIPERLIME COLLECTION Mixed Media Bomber Jacket, PARKER Corsica Skirt.
Can You Tell Which Denim Skirt Costs $106 More Than The Other?
Alexa Chung's collection for AG Jeans hit last month and has been selling like crazy. Standouts from the collab include the sold-out Pixie dress, white skinny jeans (as seen on Alexa herself) and the Kety Skirt. Oh, you thought denim mini skirts died along with the Juicy tracksuit? Well we have news for you: they didn't. Tons of styles are coming out now for spring, so it's no surprise that there are some similar ones. In this case, both denim skirts come in a dark wash, have a flared shape and button closure. But one was designed by Alexa Chung and the other wasn't. Can you tell which one is Alexa Chung for AG and which is Esprit? Click the images below to find out. Test your fashion savvy some more with: sneakers, bucket bags and leather dresses
Khloe Kardashian's Gold Tipped Shoes Have New Year's Eve Written All Over Them
Khloe Kardashian looked every bit the power woman at The Hollywood Reporter's Annual Power 100 Women in Entertainment event in her neutral outfit. So she doesn't run a company (or act, sing, dance...) but hey, who are we to judge? Well, we can judge one thing--what she wore. Her A.L.C. Side Slit Fitted Midi Skirt ($654) and Gianvito Rossi Metallic Cap-Toe PVC Pump ($725) are everything a power woman would want and need. Plus, the first step in succeeding is looking the part (said someone). Snag her holiday party-approved items below. A.L.C. Side Slit Fitted Midi Skirt ($654) Gianvito Rossi Metallic Cap-Toe PVC Pump ($725) Don't forget to check out Kendall Jenner's plaid shirt, Olivia Palermo's jacket, Taylor Swift's boots, Nina Dobrev's animal ear hat and Kaley Cuoco's jacket. [Photo: Splash News]
Need A Break From Wooly Knits & Leather This Fall? The Lace Hem Trend Is For You
If you already need a break from fall's chunky knits, wool and corduroy, here's a trend you're sure to find refreshing--lace hems. I'm a sucker for lace, so I'm super excited to invest in a skirt and a dress or two with a delicate lace hemline. It's this season's romantic take on the mixed media trend that's been big for a while now, and I have to say I'm glad designers are finally playing with something other than leather. Click through the slideshow to shop our favorite lace-finished skirts and dresses from designers like Roberto Cavalli, Stella McCartney and alice + olivia. Be sure to check out 47 perfect pairs of Chelsea boots, coats that never go out of style and Reese Witherspoon's rag & bone hat. [Photo: collagevintage.com]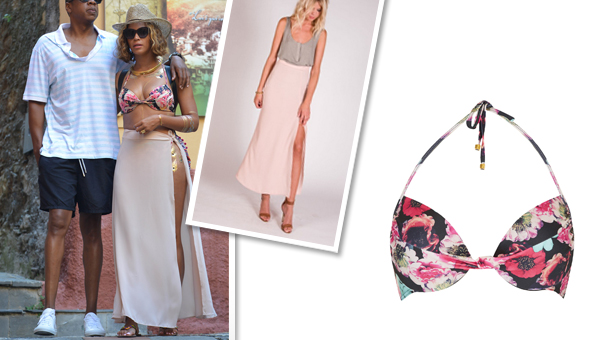 Is It Any Surprise Beyonce's Maxi Skirt Is Almost Sold Out? It's Only $58!
Beyonce strolled with her main man, Jay-Z, while wearing this knockout vacation outfit. She paired a Topshop Floral Mix Plunge Bikini Top ($32) with a d.RA Cara Skirt ($58, down from $90). We love Bey for many reasons, but strutting around in affordable clothing may be our top one. So what if summer is over? Bikini tops and maxi skirts are always a must on your resort wear list. Bachelorette party in Miami? Spring breaking in Cabo? Surfing in Costa Rico? The options are endless - the quantities are not. So hurry your still-tan booty over to shop these items before they are gone! Topshop Floral Mix Plunge Bikini Top ($32) d.RA Cara Skirt ($58, down from $90) Don't miss out on Nicole Richie's ID necklace, Taylor Swift's H&M set and Olivia Palermo's statement necklace. [Photo: Splash News]
We Can't Decide What's Better–Beyonce's Helmut Lang Skirt Or Her $16 Crop Top
Now that Beyonce's Instgram feed is like a modern day runway (albeit actually affordable), we are taking notes on her featured items. Most recently, she showed off her rock solid abs in a crop top and this Helmut Lang Kinetic Jersey Asymmetrical Wrap Skirt ($195). A simple skirt with a serious slit, you better be ready to show some leg. It's not making our best of Beyonce under $100 list, but we can handle the designer price tag because this little number will take you from day to night, crop tops to tees. Snag the skirt below before the masses do! Helmut Lang Kinetic Jersey Asymmetrical Wrap Skirt ($195) Psst, her crop top is $16 from topshop! Don't forget to shop more great A-list finds such as Kristin Cavallari's Bodycon Dress, Jessica Alba's leather track pants, and Rihanna's hot pink dress. [Photo: Splash News]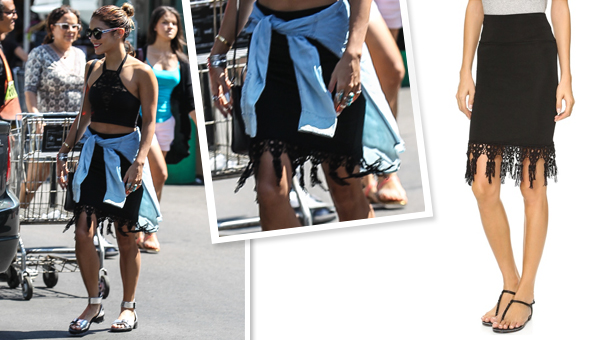 Pair Vanessa Hudgens' Fringe Skirt With Booties And Boom, You're Ready For Fall
Vanessa Hudgens is flaunting her abs big time in a crop top and this For Love & Lemons Bandit Pencil Skirt ($68.40, down from $114). We love Vanessa's boho skirt, but could it really work for fall? Just add booties, of course. And if you needed another reason to buy it, it's on sale baby! Snag it below. For Love & Lemons Bandit Pencil Skirt ($68.40, down from $114) For more celeb style, check out: Kerry Washington's white dress, Beyonce's $38 top and Reese Witherspoon's dress for 50% off. [Photo: Splash News]
Beyonce May Look Good In A Denim Pencil Skirt, But Are You Brave Enough To Try It?
Everything just appears cooler on Instagram, even denim skirts. Even denim pencil skirts. Especially when modeled by Queen B herself, Beyonce. The bootylicious popstar wore a Frame Denim Le High Pencil Skirt ($228) while posing a sulty hip snap in the jungle. She paired her form fitting denim with a denim jacket, a white tee, some Chanel accssories and nude heels. Simple, put together, and sexy. We are convinced denim skirts are making a comeback, so snag Beyonce's exact skirt below! Frame Denim Le High Pencil Skirt ($228) Don't miss out on Liv Tyler's dress, Selena Gomez's sandals and Jennifer Lopez's maxi dress. [Photo: Splash News]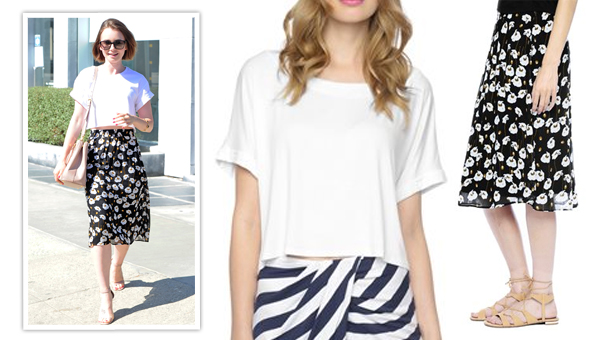 Lily Collins' Crop Top And Skirt Are Both Ella Moss
Lily Collins, daughter of Phil, is one of my favorite Hollywood millenials. She just has a great look (those eyebrows!) and also seems like the last girl to be caught in a naked pics scandal. She just seems sweet. And how sweet is this outfit she just stepped out in while running errands in LA? Her crop top and midi skirt pair so nicely together. Oh, wait, it's because they are both Ella Moss. Get them here:  Ella Moss Sydney Crop Top ($88) Ella Moss Poppy Fields Midi Skirt ($148)