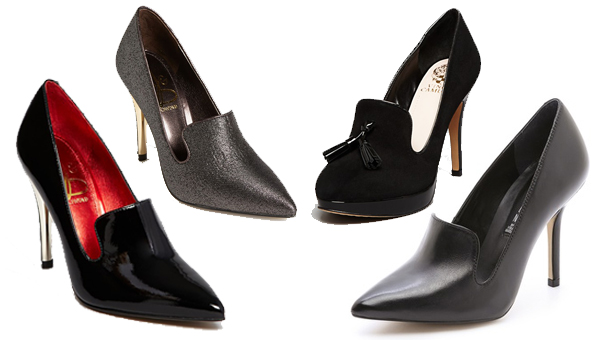 Shoes We Never Thought Would Have Heels: Smoking Slippers
Our favorite flat, the smoking slipper, gets the ultimate upgrade in height so you can wear this style from day to night. It's also the type of new pump style that will convince the biggest anti-heels gal into owning a pair. Thanks to extra coverage along the top of your foot, it's a heel that doesn't scream "I'm a high heel!" It's polished enough to wear to an interview or important meeting at work. And it can instantly dress up the most casual ensemble in your wardrobe. Want to add some femininity to your boyfriend jeans and oversized sweater? A smoking slipper pump is all you need. Check out our slideshow of our favorite pairs now. For more fashion and beauty trends and news, check out: beauty calendars for Advent, draped cardigans, and this year's best cashmere products.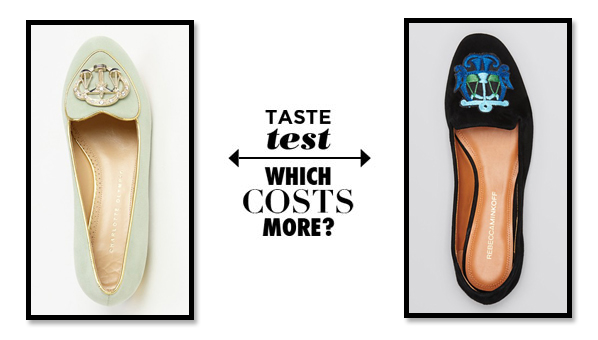 Can You Tell Which Zodiac Smoking Flat Costs $470 More Than The Other?
When it comes to flats, the smoking slipper is one of the newer styles we've fallen in love with. Not quite a ballet flat, not quite an oxford, this particular shoe is a great in-between for your collection. What we also love about smoking flats is its versatility. We've seen solid velvet types, patterned and printed pairs, and studded flats. But there's nothing like a piece of clothing or an accessory to show off a little bit about yourself, whether it's your witty charm or, in this case, your astrological sign. Sure, there's plenty of ways to play with this idea but we noticed that a few designers have applied their creative chops to this personal touch. Can you tell which zodiac smoking flat costs hundreds of dollars more than the other? Answer: The shoe on the left is the Charlotte Olympia 'Libra' Flat ($695) and the shoe on the right is the Rebecca Minkoff Zodiac Smoking Flat ($225). The Italian-made Charlotte Olympia pair, which was introduced as part of the designer's Cosmic Collection earlier this spring, features handpainted hardware as the astrological sign, a suede upper, and leather lining. The Rebecca Minkoff pair displays its signs with an embroidered patch, along with a leather upper and lining. Minkoff's designs are a newer release this season. Plus, she recently promoted the flats on her Instagram account. So it's pretty clear who came up with the design first. Did you guess correctly? Do the stars align this month for you to buy a pair? Check out more Taste Tests: Givenchy vs. To Be Announced vs. KG Kurt Geiger, Mother vs. 3.1 Phillip Lim, Balenciaga vs. Flomiss.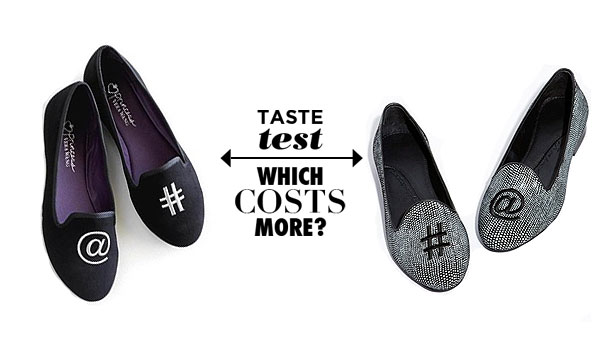 Can You Tell Which Hash Tag Flats Cost 10x As Much As The Others?
It's no surprise that such an iconic phenomenon of our time could inspire a number of fashion items. After all, the most recognizable cultural symbols from social media sites are a hashtag and @-sign, which have been topics for extensive articles by The New York Times and the like. So shoppers don't flinch when they spot necklaces adorned with handles rather than first names, or clothing and accessories bedecked with Tweet-ready graphics—and within a vast price range. From high end to high street, can you tell which social media-inspired shoe costs more than the other? Answer: The shoe on the left is Princess Vera Wang's Smoking Flats ($21.97, was $54.99) and the shoe on the right is Chatelles' 'Albert Custom' Loafer ($275). French brand Chatelles created their custom loafer with polka-dot black suede and black embroidery, which is handmade in Portugal. Princess Vera Wang is designer Vera Wang's lower range collection exclusively for major retailer Kohl's, as well as the name of her rose-and-jasmine scented perfume. Her smoking flats are made of microsuede with white embroidery. Did you guess correctly? Which pair do you prefer? Want take more Taste Tests? Try Forever 21 vs. Zara, Sandro vs. Steve Madden, and faux leather vs. real leather.
These Roll-Up Smoking Slippers Should Be In Your Handbag This Fall
So last week we told you that one of the 6 shoes you need for fall is the calf-hair smoking slipper. They come in all different colors and patterns and are probably the easiest shoes ever to slip-on. But Yosi Samra just made us want these shoes even more. Just like the ballet slippers before it, these smoking slippers with an elastic top line are perfect to roll-up and store in your bag for those times you need comfy walking shoes. They might not all be calf-hair, but these smoking slippers are a welcome change from the plain jane ballet flats that everyone else wears. The shoes come in three styles: mixed-metal studs, leopard-print and snake-print, so they're way more stylish than the roll-up ballet flats. People probably won't even notice that the slippers have an elastic band on the back. These might just be the comfiest fall shoes for the laziest person ever. Sign us up. SHOP YOSI SAMRA SMOKING SLIPPERS NOW For more fall must-haves, check out: what the SHEfinds staff is buying for fall, shop 3.1 Phillip Lim for Target and the best knock-offs of the most wanted jewelry pieces for fall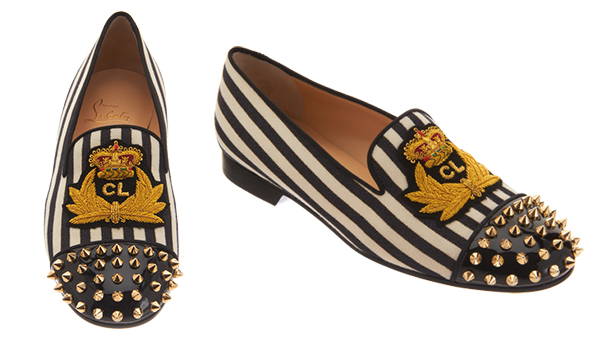 Sorry Interns, But You Probably Can't Afford Christian Louboutin's $895 'Intern' Flats
As a SHEfinds intern - and a fashion lover - I'm always scouring the net for cool new products, and yesterday I stumbled upon something remarkable: the Christian Louboutin Intern Flat ($895). I don't know what you pay your interns Mr. Louboutin, but $895?! That's close to what most of us fashion interns make in a semester (if we're paid at all). So it begs the question: if interns can't buy it, then who will? My best guess is trust fund babies who just happen to also be interns...now that would be a good name for a shoe! For more WTF news read about how Tibi is trying to make Dickies happen, the dress that changes color based on mood, and #cray Valentine's Day gifts.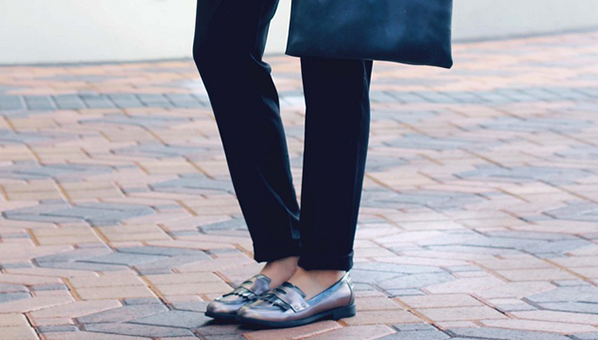 2013's Smoking Slipper Is Metallic & Reflective: Welcome To The Future
Last year, the smoking slipper quickly rose in the ranks of weekend footwear, rapidly becoming our favorite casual shoe. And while in 2012, the season's hottest smoking slipper was the leopard print one, 2013's version is following in the futuristic trend and emerging in all shades of metallic. From standard gold and silver, to a metallic hot pink that would make Barbie envious, designers such as Rochas, Nicholas Kirkwood, Joie, Elizabeth & James, Coach, and more, are re-releasing this classic shoe in metallic shades. We can't wait to dress up our white tee and jeans with these polished (pun intended) kicks. Other trends we're loving now? Laser cut leather, checkerboard print, and ombre everything.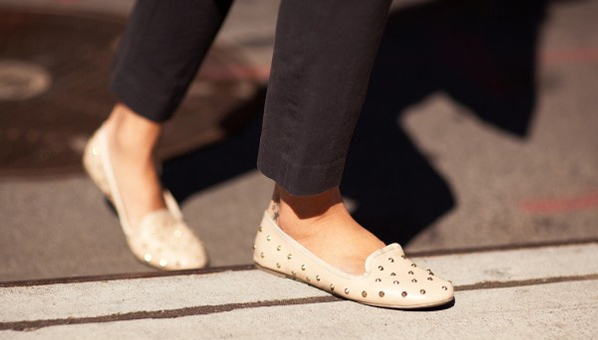 More Smoking Slippers… Because You Can't Have Too Much Of A Good Thing
Smoking slippers are clearly fall's Cinderella shoe. Not only are they comfortable, but there's something extremely classy and luxurious about them too - which is probably why we can't stop writing about them! A few weeks ago we brought you a roundup of what we thought were our favorite smoking slippers for fall, but as it turns out, we jumped the gun. Designers have responded to demand and have rolled out a whole new crop of slippers in every possible variety. Check out the slideshow for our favorites, but be warned: if you see a pair you like in your size, jump on it! These styles are bound to sell out quickly. For more on fall trends, read our fall accessories report, find out about fall's jumpsuit trend and how to wear the metallic trend.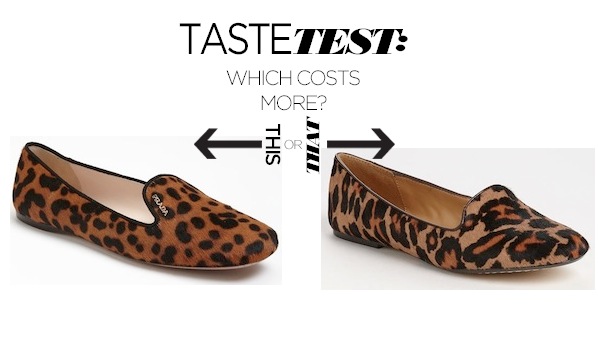 Can You Tell Which Calf Hair Smoking Slippers Cost $621 More?
Here at the SHEfinds office, we can't get enough of smoking slippers. So when we spotted these two nearly identical pairs of calf hair slippers - save for the huge price difference, of course - we had to tell you about it. One pair is by Prada and costs an insane $690, the other is by Nine Wests and costs just $69. Can you spot (no pun intended) the difference? These Nine West Panto Loafers ($69)... cost $621 less than these.... Prada Calf Hair Slippers ($690) Test your eye for pricing with more taste tests, and take a look at our shopping guides for leopard print shoes and ballet flats.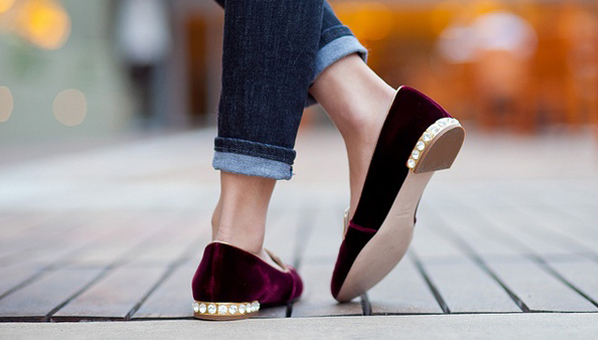 Smoking Slippers Come In Every Flavor For Fall: Spiked, Sparkly, Simple & More
We've been keeping an eye on the smoking slippers trend all summer long (remember this awesome Cole Haan pair?) But right now, we can't wait to slip our feet in to what designers have rolled out for fall. We're obsessed with the regal Miu Miu 'Crest' Moccasin ($650, pictured above). But smoking slippers aren't just for the fancy set - there are all kinds! From tribal prints to jewel tones to spiky studs - any pair of smoking slippers can take your outfit from so-so to, well, smokin'. These slippers are versatile, but we especially like ours paired with skinny trousers or skirts. FIND YOUR FAVORITE PAIR Smoking slippers are so very street style, see some of our favorite looks from bloggers like Song of Style, Atlantic-Pacific, and even Man Repeller's smoking slipper collab. [Photo Credit: Alterations Needed]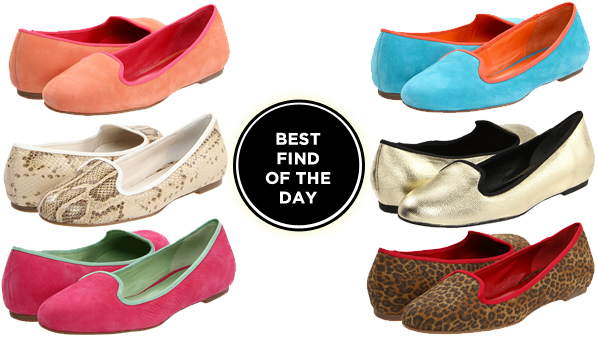 Cole Haan's Summer Smoking Slippers: Make Hugh Hefner Jealous
Smoking slippers are the kind of shoes you wear by a roaring fire a la Hugh Hefner--and considering they're the new ballet flats, we wore them all winter long. Now that the sun is out, though, the velvet versions have been relegated to the back of my closet, and it's kind of sad. What do I wear on days my pedicure isn't quite up to snuff, or when open-toe shoes aren't appropriate? Cole Haan is to the rescue with a pair of summer smoking slippers pumped up with Nike Air technology. The Cole Haan Morgan slippers $168, shown above are not only available in 6 colors, but they're fun, cute and comfortable, too. Get on the smoking slipper train before it leaves without you. GET YOUR OWN PAIR OF COLE HAAN MORGAN SLIPPERS HERE Check out more of our favorite trends, from how to wear peplum every day and summer's best rompers, to extreme cat eye sunglasses and fruit-printed dresses.
Meet The New Shoe Of The Season: The Leopard Print Smoking Slipper Is Here
Remember when I told you a few weeks ago that smoking slippers are the new ballet flats? We're starting to see them everywhere--further proof this is totally a trend you should consider. Let's count the reasons this style has longevity: (more…)
Smoking Slippers Are The New Ballet Flats. Just Ask Kate Moss.
These are only $56 at Topshop. Kate Moss started the ballet flat trend back in 2003...and it was only a matter of time before she pulled the rug out from under outdated feet. The newest flat shoes trend comes from kind of an unexpected place, though.Though these kind of look more like something that Hugh Hefner would wear, they're actually the biggest shoe trend of 2011. So you might want to get yourself a pair. (more…)