This Is The Most-Searched Fashion Trend Of 2017 (It's Not What You Think!)
If you use search engines to style talk, then it's likely that you typed THIS key phrase into your search bar at least once last year: sneakers! Whether it was Nike Cortez or Fenty x PUMA is a matter of personal taste, but one thing we can guarantee is that every fashion girl was fixated on them in 2017. Know how we know? Sneakers are now the most-searched fashion item, according to a report from fashion search platform Lyst. And for the first year ever, they exceeded "handbag" searches. Whoa! https://www.instagram.com/p/BXniHHoDSAG/?hl=en&taken-by=kendalljenner According to over three million searches last year, "Sneakers are officially the new handbags." Lyst cites the fascination for kicks like Rihanna's Fenty x PUMA bow sneakers--which was searched every seven seconds in March of last year--as being big drivers of the trend. Wowza! This is significant because handbags have been #1 fashion status symbol for year (decades?). To have them take a back seat to the ever-popular casual footwear style means that the personal style and trends really have taken a sharp turn in recent years. You can definitely credit the unstoppable athleisure trend for why style bloggers this year were more likely to be seen swagging out in Stan Smiths than Louboutins. And that goes for super models, It girls, and celebrities, too. https://www.instagram.com/p/Ba4bgwaHgoq/?hl=en&taken-by=bellahadid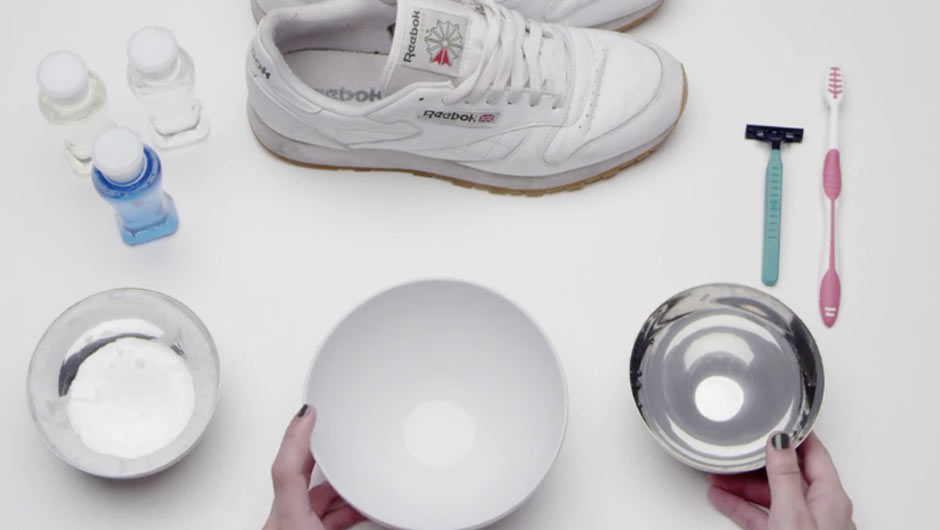 How To Clean White Reebok Classics So They Look Brand New
Thanks to street style and the emergence of the athleisure trend, white sneakers have become super trendy in the fashion world. There's a bunch of white sneakers that we love, including hi-top Vans, Adidas Stan Smiths, and Nike Air Force 1s, but there is nothing quite like a pair of brand new, crisp pair of white Reebok Classics. When you can't pick just one pair... #thisISclassic 👟: Classic Leather | Cop these kicks and all your favorite Classics on Reebok.com! | 📸: @jro._ | #ClassicLeather #KOTD | A post shared by Reebok Classic (@reebokclassics) on Nov 24, 2017 at 7:42am PST White sneakers, like Reebok Classics, should be an essential in everyone's wardrobe. Not only because they are timeless, but because they pair nicely with almost anything and give high fashion vibes to casual outfits--and they are super comfy! Not to mention that they are also affordable, unisex and will last for many seasons to come. There is just one little problem: They can get really dirty, really quick! Here's how to keep your Reebok Classics looking fresh, clean, and brand spanking new! #RoadTrip Rule: Best room goes to the one with the freshest kicks. Whose got dibs? ✋ #ClassicLeather #thisISclassic 👟: Classic Leather | Available on Reebok.com! A post shared by Reebok Classic (@reebokclassics) on Sep 7, 2017 at 9:58am PDT What You'll Need: 1 medium size bowl 1 soft toothbrush 1 cup of water 5 tablespoons of baking soda 1-2 tablespoons of dish soap 1-2 tablespoons of hydrogen peroxide Clear nail polish remover Cotton balls Step 1: Untie and remove the laces and wash them in the washing machine. If it is laundry day and you already have your whites separated, just throw the laces in with it. Use hot water, bleach, and laundry detergent as you would with any regular load of whites. Step 2: Add 1 cup of water, 5 tablespoons of baking soda, 1-2 tablespoons of dish soap, and 1-2 tablespoons of hydrogen peroxide to a medium size bowl and mix. You can add less or more of the following ingredients depending on how dirty your Reebok Classics are. Step 3: Dip a toothbrush (not the one you brush your teeth with!!) into the mixture, apply it to the shoes, and begin scrubbing. Remember: Reebok Classics are made with premium, soft garment leather, so you'll want to scrub gently. Once you begin to see dirt lift from the shoe, wipe them down with a damp cloth or a wet paper towel. Step 4: Moisten a cotton ball with clear nail polish remover (do not use a colored nail polish remover as it may stain the shoe) and swipe it all over the shoe. The nail polish remover should help remover any additional scuffs and marks on the shoes. Just be careful not to rub off any polish on your nails! Continue until the shoes are squeaky clean! Step 5: Re-lace your sneakers and marvel at your squeaky clean white sneakers! If you are more of a visual learner, watch how to clean your Reebok Classics here! Need more sneaker inspiration? Check out the new rose gold Vans that everyone is obsessing over at SheFinds.com! [Photos: Reebok; @ReebokClassics]
These Colorful Sneakers Under $100 Are #WorkoutGoals
Every Sneaker Lover Deserves A Pair Of Custom New Balance Court Kicks This Holiday Season
If you or someone you know is a sucker for anything personalized, get ready for some exciting news. New Balance has a customization feature on their site and I can tell you from firsthand experience, it's amazing. You can personalize classic styles like the 574 and the 998, but they just added their iconic Court sneakers to the mix and it's a game-changer. Unlike the other styles available for personalization that look and feel a bit more sporty, the Court Sneaker is slim, sleek and perfect for pairing with skirts, dresses and skinny jeans alike. Even better, there are so many good personalization options. Not only can you choose custom colors for everything from the base collar to the N logo, but you can also have them embroidered! Yes, you can totally get your new favorite sneakers emblazoned with your name, initials or even something funny. Best of all? Customizing your own pair of New Balance kicks isn't crazy expensive. Just $150 and you'll get a pair of one-a-kind sneakers... with your name on them! Obviously, this is an awesome treat yourself moment, but since it is the season of giving, it's worth pointing out that this would totally make for an extra special gift for anyone that loves monograms or personalization. Plus, this is one of those gifts that will definitely impress because your gift recipient will know you put lots of thought into it. Just saying... Be forewarned, the customization process can be a bit daunting at first. With so many colors to choose from, it took me a while to finally start experimenting. I actually Googled images of New Balance sneakers to get some inspo, then went to the customizer to create my own sneaker masterpiece. Once I got into it, I was having so much fun that I am seriously considering always making custom sneakers. Why not, right?! One important note: if you want your personalized sneakers to arrive by Christmas, place your order by December 8. You've been warned! SHOP CUSTOMIZABLE NEW BALANCE SNEAKERS NOW Be sure to check out this cute $20 choker dress. [Photo: New Balance]
These Bejeweled Vans Are So Glam That You're Going To Want Them ASAP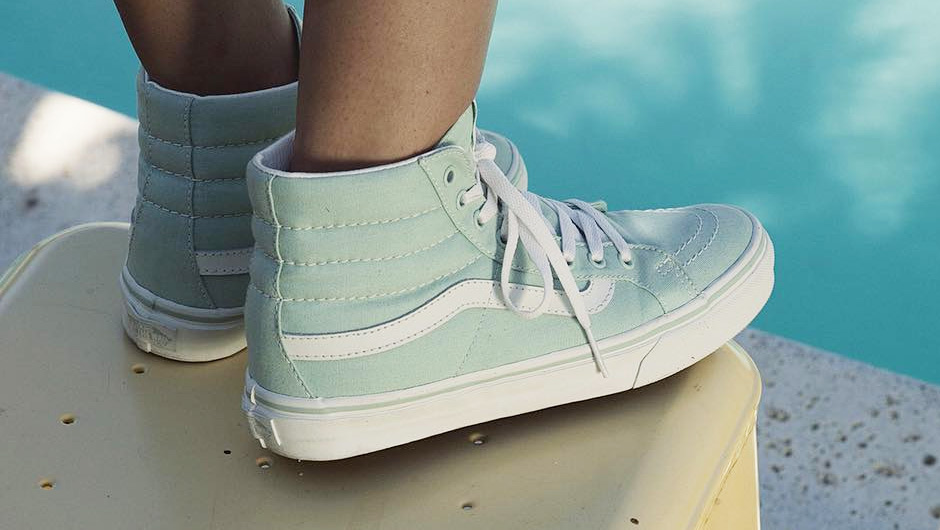 HACK: Here's How To Bar Lace Your Sneakers (Vans, Stan Smiths, And More)
Fashion girls everywhere have traded in their high heels for street style sneakers thanks to brands like Vans and Adidas, and we're honestly living for it. Trendy sneakers that don't sacrifice style for comfort are our favorite. You can even add a different flair to your sneakers by modifying your laces once you choose what pair of shoes you want to wear to complete any of your looks. And while you already know that you can wear sneakers either dressed up or dressed down, you can also tie your laces in a different way than you normally do to make your sneakers easier to put on and much more comfortable. So, what's the solution to do that, you ask? You can simply choose to bar lace your sneakers. Bar laced sneakers rather than your traditional criss-crossed laces make it so much easier to slip on your shoes, plus you don't have to worry about your laces coming undone throughout the day. Don't worry if you don't know how to bar lace your sneakers-- we've got you covered. Let's dive into how you can straight bar lace your shoes before heading out the door thanks to just a few simple and easy steps.... 1. Insert your laces into the first sneaker eyelets on both the left and right sides of your sneaker with the laces pointing down. This is how you'll create your first bar lace. You will want to make sure that the laces are pulled through evenly so you can easily bar lace your sneakers from there. You definitely don't want to end up with uneven laces because you'll have to start over when you realize you can't continue to the last eyelets. 2. Take the lace that came out from under the first eyelet on one side of your shoe and push it up through that same side's second sneaker eyelet. Then, cross that lace over to the opposite side to push it down into the second sneaker eyelet on that side of the sneaker. Voila, this creates your second bar lace. Simply follow these steps until you get to the last eyelets. You can also follow a closer look for this step-by-step process on how to straight bar lace your sneakers on our SheFinds YouTube channel here: [embed]https://www.youtube.com/watch?v=6sG8K_ce0PI[/embed] And remember, adjusting your sneaker laces is always a good time to clean finally clean those laces too. Sure, cleaning your sneakers and swapping out your laces for ones that look like new probably slips your mind. Odds are, it's not until the moment when you're getting a close view of your sneakers that you realize just how dirty they've become. Luckily, we've got tips on how you can best clean your sneakers before you bar lace them, no matter the type of material they're made of. For more sneaker tips, make sure to check out these articles: How To Clean Your Stan Smiths To Make Them Look Brand New Here's How You Can Clean Those Nike Sneakers 5 Easy Ways To Clean Your Converse To Make Them Look Brand New [Photo: instagram.com/vansgirls]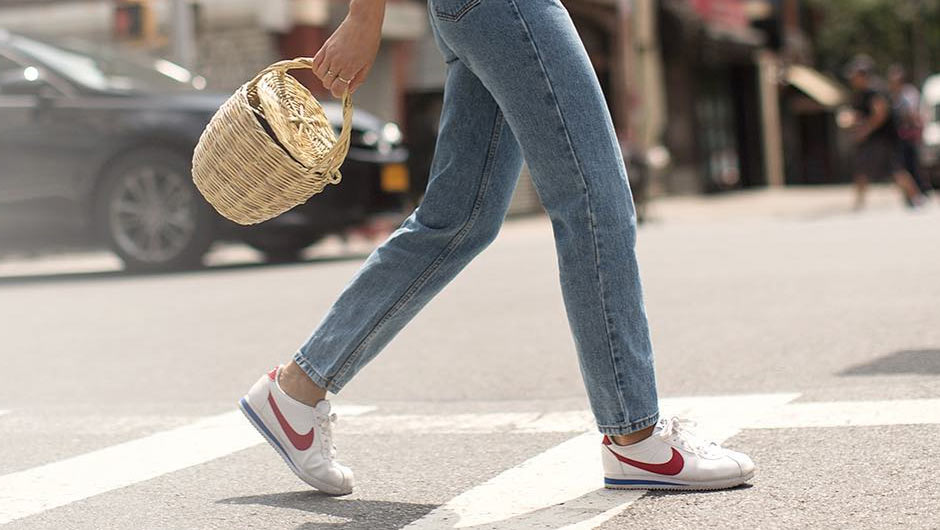 3 Nike Cortez Dupes That Are Just As Amazing As The Originals
Whether you're a huge fan of retro '70s footwear or simply appreciate a light running shoe that doubles as street footwear (feel free to eliminate the running part), the Nike Cortez is an amazing and popular style to consider. The Cortez was actually the very first track shoe created by Nike and its 1972 release coincided with the Summer Olympics, where it was seen by millions and quickly garnered a cult following. The sneaker is deceptively simple in its design: older styles were made with leather before Nike switched to lighter weight nylon and suede and the sneaker has foam in all the right places to absorb shock and provide a comfortable experience. As for the outside design, it's classic and clean, consisting of little more than Nike's trademark swoosh symbol on the side. After breaking sales records as a top-notch running shoe, the Nike Cortez enjoyed a long, steady ride on the pop culture train — and it continues to be an uber popular sneaker. Hip hop artists were often seen in videos in the '80s and '90s wearing Nike Cortez and even Tom Hanks' character in Forest Gump rocks a pair of red, white, and blue Cortez gifted to him by his childhood sweetheart. There's no doubt: the Nike Cortez is a great sneaker — but there's a catch, of course. A pair can set you back more than $100 with few models selling for less than $60. And that's why you need to know about these Nike Cortez dupes. Puma Turin Sneakers This unisex style, which is only available in men's sizes, has more in common with soccer sneakers than jogging shoes, but the leather upper and Puma formstrip remind us of the Nike Cortez. It has a rubber outsole for grip and an EVA midsole for cushioning and comes in colors like white and gray, navy, and classic blue and white. New Balance 574 Retro Sport Talk about the ultimate street style sneaker: the New Balance 574 Retro Sport was created in 1988 as a mash-up of two popular New Balance styles and with one goal in mind: to be compatible with as many different outfits as possible. It's the mesh and suede sneaker you can wear with skirts, dresses — everything. It comes in three colors — sea salt and red, sea salt and electric blue, and sea salt and powder — and was designed with midsole technology that provides the ultimate comfort and stability. Onitsuka Tiger Serrano The Onitsuka Tiger Serrano sneakers come from the same 1970s fitness roots as the Nike Cortez. This lightweight running shoe has a lightweight upper and spiked rubber outsole and dual-overlay suede on the toe cap. A padded tongue and collar provide extra comfort and support. The brand's signature stripes will remind you of Nike, but its shade options are even more dynamic. There are crisp, clean color combinations like red, white and blue —  as well as unique hues like mauve and white, India ink and pink, and black with blue and white polka dots.
Adidas Just Released Puke And Beer Repellent Shoes And We're Obsessed
These Are The Sneakers Every Editor Wants This Year
Lululemon Sneakers Are Here & You're Going To Want Them All
How To Clean White Adidas Stan Smith Sneakers So They Look Brand New
I recently got my hands on a brand new pair of Adidas Stan Smith sneakers. When I took them out of the box, I immediately noticed that the leather was different from my other white sneakers. It was perfectly white and smooth. I was almost afraid to wear them in fear of getting them scuffed. Part of the reason I love Adidas sneakers is how clean and white they look. Dirty white sneakers just don't have the same aesthetic. But was the point of having a pair of coveted Stan Smiths if I never got to show them off? In order to keep my kicks in perfect condition, the first thing I did was pretreat the leather with a stain and water repellent spray.  Make sure the shoes are clean and dry before spray them. Then hold the can 6 to 8 inches away from the show and spray evenly, covering the entire area of the shoe. Use a cloth to dab and soak up any excess product. Allow the shoes to completely dry for at least 24 hours. I recommend using Jason Markk Premium Stain and Water Repellent ($17). This spray is basically a force field for shoes. After pretreating my sneakers, I started using the following method to clean them on a regular basis. This method is relatively easy and will keep your Adidas sneaks looking brand new. 1. First, I fill a bowl with warm water. 2. Then, add a few drops of laundry detergent to the warm water and mix it together. Let it sit for a few minutes. You can also use a few drops of dish washing soap. 3. Dip a clean wash cloth into the soapy water. Make sure the cloth is damp not soaking wet. 4. Use the damp cloth to spot clean the sneakers. You can also scrub the area with a clean toothbrush. 5. With a dry towel, wipe the sneakers clean. Let the sneakers dry in a warm place. Be sure to let the sneakers dry completely before wearing or storing them. Don't ever wear your sneakers when they are wet. Dirt is more likely to stick to wet sneakers. Plus, moisture can cause weaken the fibers in shoes causing them to become weaker and lose their shape (wikiHow). Another easy way to spot clean leather sneakers is to use a shoe cleaning wipe. I usually keep a few of the Jason Markk Quick Wipes ($3) in my bag. It might seem like overkill, but these wipes are a great way to clean your sneakers immediately after they get scuffed. Whatever you do, don't put your white leather sneakers in the washing machine to clean them. After all, would you put you leather handbag in the washing machine? Absolutely not. The washing machine can be extremely rough on sneakers, causing unnecessary wear and tear. Worst of all, the washing machine can also turn white rubber yellow. Nobody wants white leather sneakers with yellow rubber soles. Don't forget to wash your laces. Unlike sneakers, you can throw shoelaces in the wash. Just put them in a garment bag and put them in the wash on cold. Clean laces with help your sneakers look nice and new (a detail people often forget). For more tips, check out how to keep black clothing from fading and how to prevent the dye from your jeans from rubbing off on everything.
The New TOMS Sneakers Look So Different–You're Gonna Freak Out
From Converse To Keds, Nordstrom Has So Many Good Sneakers On Sale Right Now
If you need a new pair of sneakers, now is the time to get them! While everyone else is busy shopping for jeans, dresses and clothes at Nordstrom's big sale, you should check out the shoe department. There are so many amazing sneakers on sale right now! From adidas and Converse to Keds and Superga, all the best brands are marked down. The catch? You have to shop fast because sizes are selling crazy fast. Get your pair on the cheap ASAP! Converse Knit Low Top Sneaker ($39.90, down from $59.95) Keds Triple Deck Platform Sneaker ($39.99, down from $54.95) adidas Gazelle Sneakers ($59.96, down from $79.95) adidas Stan Smith Sneakers ($60, down from $74.95) Shoreline Twill Sneaker ($35.90, down from $54.95) Keds Vintage Crochet Sneaker ($41.90, down from $59) Superga Lace Sneaker ($47.95, down from $98.95) Vans Moc Sneaker ($47.96, down from $79.95) Tretorn Net Sneaker ($45.99, down from $64.95) Converse Shoreline Sneaker ($35.96, down from $59.95) TOMS Lenox Sneaker ($44.47, down from $88.95) Vans Low Top Sneaker ($39.99, down from $54.95) SHOP NORDSTROM SALE SNEAKERS NOW Be sure to check out Old Navy's $12 leggings and the $15 Topshop camisole every woman should own. [Photo: Nordstrom]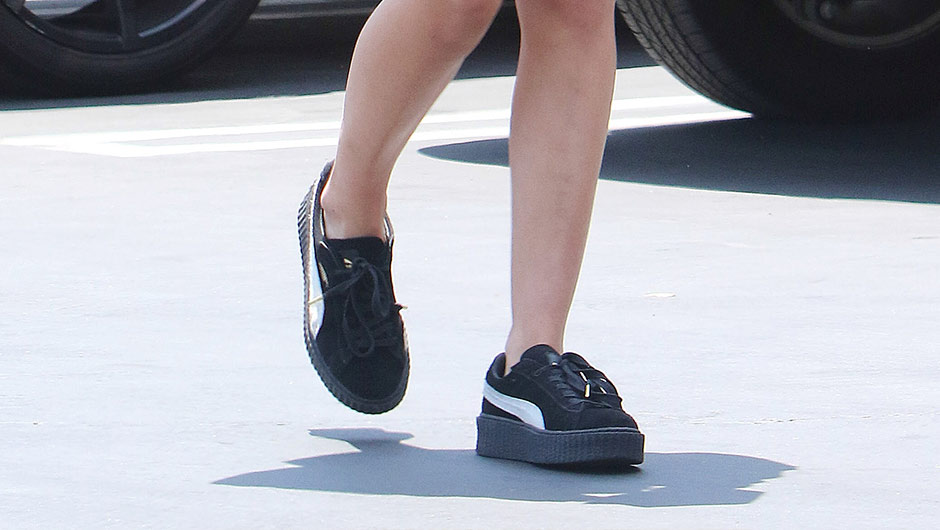 These Are The Best Sneakers To Wear With Shorts
We Found The Best Sneakers For Under $50 At Nordstrom's Half Yearly Sale
How To Wear Leggings With Sneakers Like A Fashion Girl
Keds Are Pretty Much The Perfect Summer Sneaker–Get A Pair For Super Cheap At Nordstrom Now!
Don't want to get on the adidas bandwagon this summer? Here's another great option: Keds! They may not be the sneaker that every style blogger is wearing, but they're classic which means you never have to worry about them going in and out of style. Even better, Nordstrom has a bunch of cute styles on sale for cheap right now. There's a super pretty rose gold pair marked down to just $33! If you've never owned a pair of Keds, let me tell you they are so comfortable and the perfect sneaker for pairing with skirts and dresses during the warm weather months. Comfort plus style at an unbeatable price? How can you resist?! Snag a pair now before they sell out! Keds Champion Sneaker ($33.75, down from $44.95) Keds 'Double Decker' Slip-On Sneaker ($39.99, down from $59.95) Keds 'Triple Core' Sneaker ($40.99, down from $54.95) PS: Here's a cute Insta of the Keds 'Triple Core' Sneaker in case you need some styling inspo! A post shared by Keds (@keds) on May 10, 2017 at 8:40am PDT SHOP KEDS ON SALE AT NORDSTROM NOW Be sure to check out crazy cheap Kate Spade bags and pastel dresses under $50. [Photo: Nordstrom]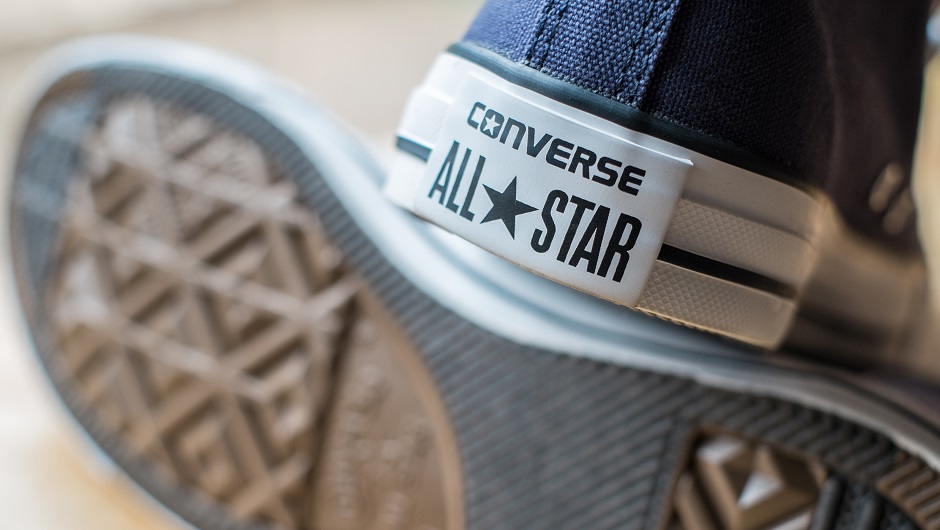 Nordstrom Has Converse Sneakers On Sale Starting At Just $29!
Need a new pair of everyday sneakers for spring and summer? Get over to Nordstrom right now! They have tons of cute Converse sneakers on sale in pretty colors that are perfect for the warm weather. And no, I'm not just talk a paltry 10% off. Prices start at just $29 on these cute sneaks. Act fast because sizes are selling our fast! Converse Chuck Taylor® All Star® 'Dainty' Low Top Sneaker ($29.98, down from $54.95) Converse Chuck Taylor® All Star® Seasonal Ox Low Top Sneaker ($32.98, down from $54.95) Converse Chuck Taylor® All Star® Seasonal Ox Low Top Sneaker ($32.98, down from $54.95) Converse Chuck Taylor® All Star® Woven Ox Sneaker ($44.95, down from $59.95) SHOP CONVERSE ON SALE AT NORDSTROM NOW Be sure to check out the best drugstore beauty products and our favorite printed mules for spring.
Good Luck Buying Just One Pair Of These Cool Sneakers For Summer
These Are The Best Sneakers To Wear With Leggings, So You Can Stop Looking
The Only 4 Shoes You Need, According To Gigi Hadid Who Wears Them On Repeat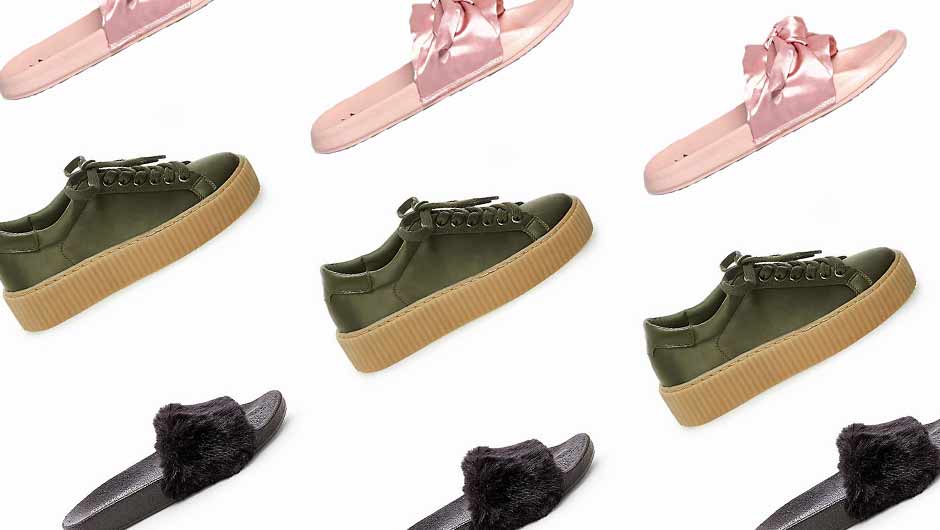 9 Fenty x Puma Dupes You'll Love Just As Much As The Originals
Nordstrom Sneakers With Incredible Reviews and Reputations
This Is #Major! We're Giving Away 20 Pairs Of Adidas Superstar Sneakers From VILLA
If there's one sneaker every woman should own this summer, it's the adidas Superstar. They're so popular right now, your shoe collection really isn't up to par without a pair. Not only do they look great with everything from dresses to jean shorts, but they're so comfortable! Because we truly believe this is the must-have shoe of the season, we teamed up with VILLA to make sneaker dreams come true for 20 SHEfinds readers. That's right: we've got 20 pairs of adidas Superstar sneakers up for grabs! What more do we have to say?! It's not every day that you can snag a pair of the hottest shoes in fashion without spending a dime, so don't let this opportunity pass you by. You only have seven days to enter to win, so we suggest you enter your deets below ASAP. Good luck! (function(){ function loadScript(url, scriptId, callback) { if(document.getElementById(scriptId) != null) { return; } var script = document.createElement('script'); script.type = 'text/javascript'; if (script.readyState) { script.onreadystatechange = function() { if (script.readyState === 'loaded' || script.readyState === 'complete') { script.onreadystatechange = null; callback(); } }; } else { script.onload = function() { callback(); }; } var scriptIdAttr = document.createAttribute('id'); scriptIdAttr.value = scriptId; script.setAttributeNode(scriptIdAttr); script.src = url; document.getElementsByTagName('head')[0].appendChild(script); } function loadEmbed(){ var iframes = document.getElementsByClassName('campaign_embed'); for(var i = 0; i < iframes.length; i++) { iFrameResize({ enablePublicMethods: true }, iframes[i]); } } loadScript( '//d2xcq4qphg1ge9.cloudfront.net/javascript/responsive_embed/20150624/iframeResizer.min.js', 'campaignEmbedder', loadEmbed ); })();
These Sneakers Are The Next Stan Smiths
6 Shoes Every Woman Should Own This Spring
5 Places To Buy Converse Sneakers For Really Cheap Online
Here Are All The Places You Can Get A Cool Pair Of adidas Sneakers On Sale For Super Cheap Right Now
Hate to break it to you, but adidas sneakers aren't going anywhere this season. They've been crazy popular for the last two seasons now and they're going to be even more must-have this summer. If you've been holding out on buying a pair, the time has come. You need a pair for the warm weather to wear with skirts, dresses and denim cutoff shorts. Don't want to pay full price? I feel you! That's why I found all the places you can score a pair of adidas Superstar sneakers or adidas Stan Smith sneakers on sale right now. You're welcome. Nordstrom has the classic green and white Stan Smiths on sale for just $60 (down from $74.95). Foot Locker has tons of adidas Superstar sneakers on sale starting at just $59.99 (down from $90) in a bunch of different colors including gold/white, blue/white and red/white. Foot Locker also has a few Stan Smiths on sale starting at $ in various colors like orange/white, rose gold and black/white. Zappos has the adidas Superstars in all white on sale for $72.99, down from $80. Zappos also has the classic green and white Stan Smiths on sale for $67.99, down from $74.95. 6pm has the fancy adidas by Raf Simons Stans Smiths in tons of colors starting at $219.99, down from $455. Finish Line has a cool mint green pair of the Superstars on sale for just $64.98, down from $89.99. Finish Line also has the Stan Smiths on sale in three colors--green, black and orange--starting at $44.98, down from $89.99. Macy's has the adidas Stan Smiths in blue on sale for $64.98, down from $84.99. Don't miss Nordstrom's summer dress sale and 25% off sale items at Anthropologie. [Photo: Instagram/Nordstrom]
Converse Sneakers Are Super Cheap At Nordstrom Right Now–Hurry!
Need a fresh new pair of kicks for spring and summer? Get over to Nordstrom ASAP because they just marked down tons of cute Converse All Star sneakers. We're talking 40% off, people! Whether you want a neutral pair that will work with any outfit or a bright pair that matches the season, snag a pair ASAP before they're gone! Chuck Taylor® All Star® Seasonal Ox Low Top Sneaker Chuck Taylor® All Star® Seasonal Hi Sneaker Chuck Taylor® All Star® Seasonal Ox Low Top Sneaker Chuck Taylor® All Star® Seasonal Hi Sneaker Chuck Taylor® All Star® Seasonal Hi Sneaker SHOP MORE SHOES ON SALE AT NORDSTROM Be sure to check out the best drugstore beauty products and pretty Tumblr pink finds for spring. [Photo: Gal Meets Glam]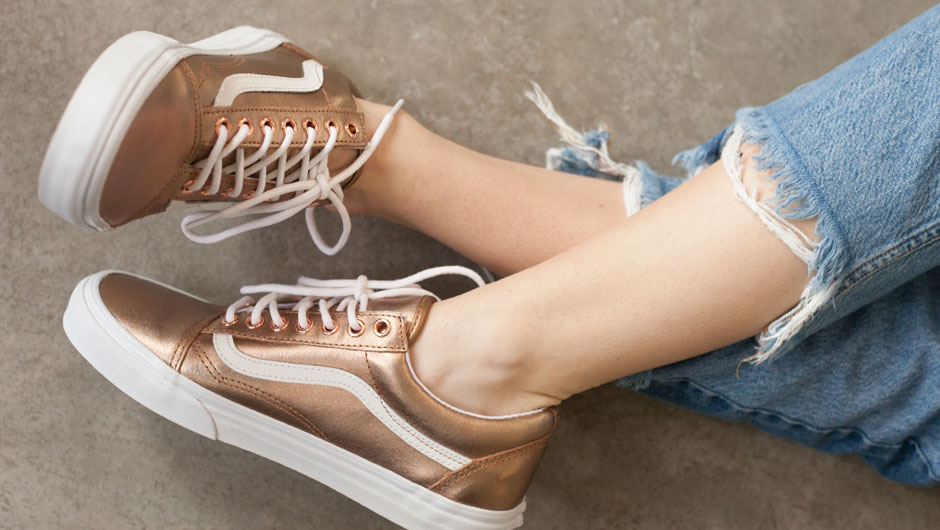 These Are The Sneakers Every Fashion Girl Is Wearing Right Now
Khloe Kardashian Is Kind Of Obsessed With This Sneaker Brand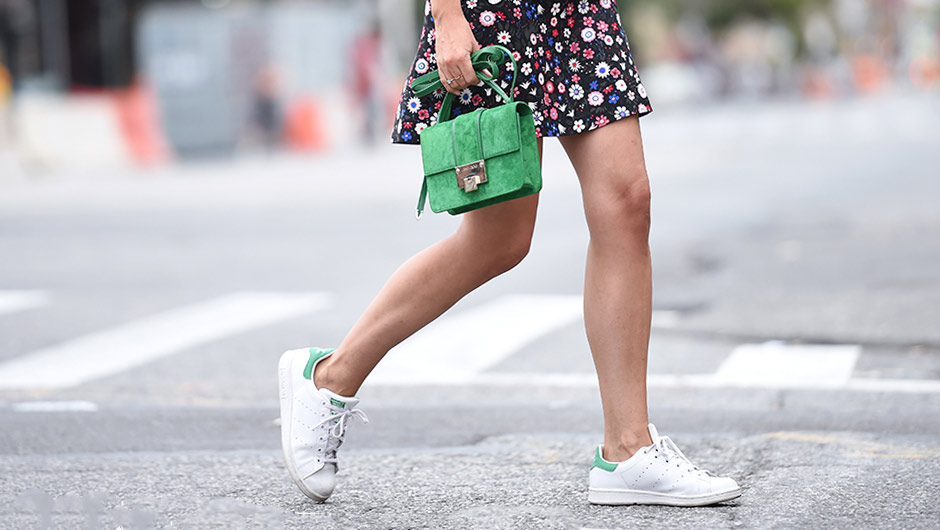 Drop Everything! Nordstrom Has The Cult adidas Stan Smith Sneakers On Sale Right Now
If you've been waiting to buy a pair of 'cool girl' sneakers, the time has come! Nordstrom just dropped the price on the cult adidas Stan Smith sneakers and it's only a matter of time before sizes start selling out. In case you haven't seen a celebrity or style blog in the last six months, we'll get you up to speed: these sneakers are nothing short of cult! Whether with cropped jeans or with skirt and dresses, these Stan Smith sneakers are an absolute wardrobe essential. Plus, the more worn in they get, the better they look. Our advice? Stop whatever you're doing and order a pair while the price is right. Go! adidas 'Stan Smith' Sneaker ($59.97, down from $74.95) While you're at Nordstrom, you'd be wise to check out the sale section where there are loads of Bow & Drape 'In Pizza We Crust' Sweatshirt ($38.98, down from $65) 4SI3NNA Zip Detail Leggings ($32.98, down from $55) Urban Decay Full Spectrum Eyeshadow Palette ($35, down from $55) Shop the SHEfinds beauty essentials and our favorite mock neck dresses. [Photo: The Fashion Guitar]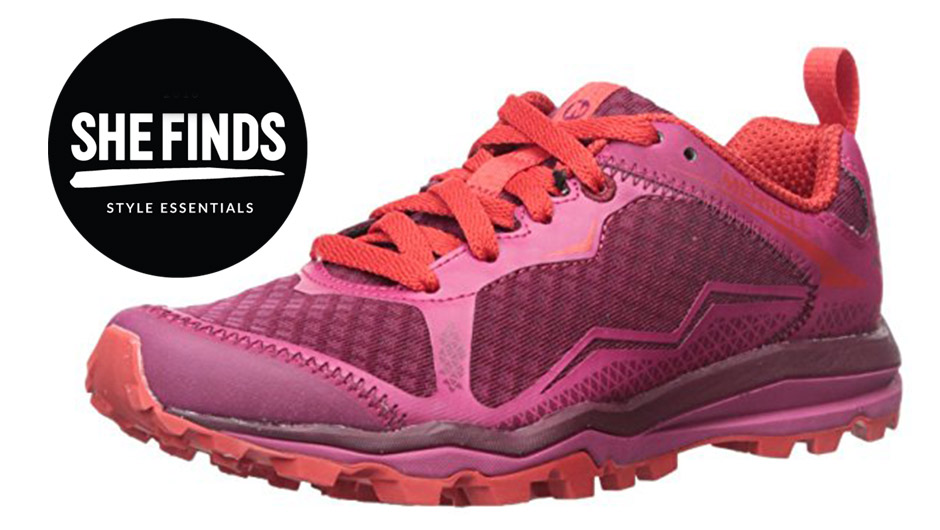 These Are The Amazing Running Sneakers That Finally Helped Me Exercise Without Pain
Full disclosure: these Merrell All Out Crush sneakers are marketed as trail running sneakers. As a NYC resident, however, I don't do much trail running. That being said, I do run on a treadmill almost every day and there's no way I could maintain my workout regimen without these sneakers. They totally saved my fitness #goals. About two years ago, I started exercising regularly aka running two to four miles on the treadmill every morning. I was fine for about three months before I started to experience the worst pain in my shins and calves. I slowed my paced, tried running every other day, even tried walking and nothing helped. Until I switched to these sneakers, that is. I'm no doctor, but I'm pretty sure it has something to do with how insanely lightweight these sneakers are combined with the amazing traction the soles offer. I've honestly never worn a sneaker so light; it almost feels as if I'm not wearing anything. Except, of course, I am because the sole offers such great support and grip. I honestly can't stop telling people how amazing these sneakers; they're so good. If you're not feeling the pink, no worries. These sneakers come in five colors, including a can't-go-wrong black pair. Try them ASAP--I promise you won't regret it! SHOP MERRELL ALL OUT CRUSH SNEAKERS NOW Don't miss our favorite floral print dresses for spring and flattering leggings. [Photo: Amazon]
The Cute Sneakers Every Celeb Loves Are Finally On Sale For Super Cheap
If there was an award for most popular shoe of the year, the adidas Superstar would definitely have win. From style bloggers to celebs, everyone loves these sneakers. Yes, they're a throwback to the '80s--Run DMC wore them!--but as with many things, what's old is new again. And rather than pairing them with tracksuits, trendsetters these days are wearing them with everything from skirts and dresses to leggings and skinny jeans. Need us to name a few fans of this crazy popular sneaker? Gigi Hadid, Gwen Stefani, Rita Ora, Olivia Palermo... heck, even Naomi Campbell wears them! Here's the exciting news: Nordstrom has the cult adidas Superstar sneakers on sale for just $53 right now--really! If you've been dying to own a pair, here's your chance. Just hurry--at this price, they'll definitely sell out... and fast. adidas 'Superstar' Sneaker ($53.57, down from $79.95) Nordstrom actually has loads more cute sneakers on sale for crazy cheap, so stock up now! Here are some of our faves: Nike 'Roshe Run' Print Sneaker ($63.65, down from $95) Steve Madden Rayner Sneaker ($48.30, down from $69.95) PUMA 'Remaster' Sneaker ($49.99, down from $69.95) Vans 'Sk8-Hi Slim' Sneaker ($44.96, down from $59.95) Keds® 'Champion' Canvas Sneaker ($29.95, down from $39.95) Be sure to check out Levi's jeans on sale and the best drugstore beauty products. [Photo: Splash News]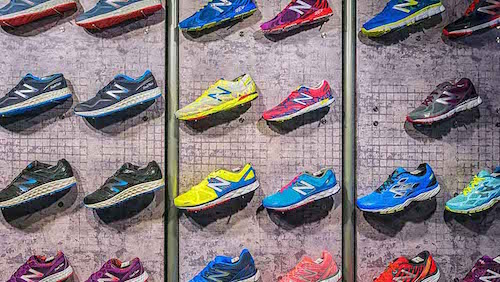 5 Facts You Didn't Know About New Balance
Gifts For The Guy Who Loves Sneakers (AKA, All Of Them)
Every Girl In Our Office Is Wearing This Sneaker Trend
Celebrities Who LOVE Steve Madden Shoes
Shop Olivia Palermo's Incredible Closet Now!
Reese Witherspoon's Go-To Workout Sneakers Are On Sale #Score
When she's not filming or hanging with her kids, Reese Witherspoon is working out. Well, at least that's how it looks from all her recent paparazzi shots. She's never not wearing leggings, a graphic tank and her favorite ASICS GEL-Kayano 22 ($119.99, down from $159.95) in silver grey/coral. And, great news, we found her exact sneakers on sale for 25% off! Get them below and check out how Reese styles 'em for the gym: ASICS GEL-Kayano 22 ($119.99, down from $159.95) Don't forget to check out: things every girl with fine hair should do and how to cut calories in your Starbucks drink [Photos: Splash News]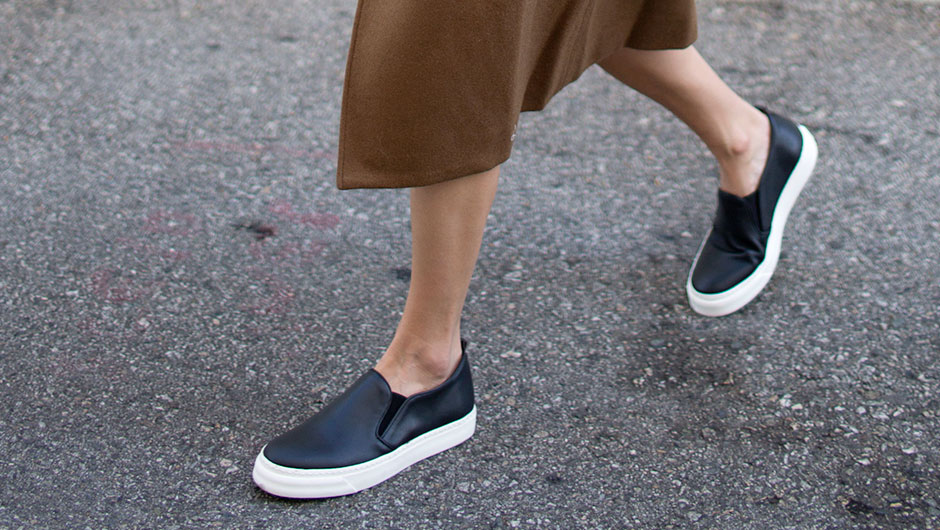 This Is What To Wear With Slip-On Sneakers (Don't Go Sockless!)
I have a legit fear of my shoes smelling and other people catching a whiff. So whenever I want to wear any type of low sneakers, like my slip-ons, going sockless is just not an option. But, when I do wear socks with my slip-ons, something doesn't look quite right--there's always extra fabric sticking out on the sides or the heel. Then when I try no-show socks, they always slip right off inside my shoe (at the worst times, obvs). So what's a girl to do?? That's where cotton liners come in. They're even lighter than no-show socks and have a slightly sticky pad inside the sole to keep them from slipping off. These sound ideal to wear with slip-on sneakers and I will definitely be getting a pair (or four) for fall. Will you?? HUE Women's 3-Pack Hidden Cotton Liner ($16) Don't forget to check out: Chrissy Teigen's new haircut and why now is the best time to buy L.L. Bean Bean Boots [Photo: Always Judging]
EXCLUSIVE: How @kicksbysammy Is Killin' It On Instagram With Her Custom Sneakers Business
There's something blowing up on Instagram right now, and it's caught all of our attention... custom apparel. It seems like everyone and their mother has the creative and artistic talent to be making custom sneakers, hats, bags, jewelry, clothing - the list is endless - and they're all using Instagram as the place to show off and sell their creations. Lucky for us, we know one of the all-star designers and got an exclusive look into her world of custom apparel. Introducing... @kicksbysammy SF: How did you get started with your custom apparel business? KBS: The summer of 2013, before my freshman year of college, I was bored at home and found an old pair of shoes in my closet and wanted to try it out. I drew a design on them and posted them, and then all of my friends wanted a pair! Since then, I've been making kicks all the time. SF: How has Instagram help you reach customers? KBS: Instagram has definitely helped me reach a larger audience and spread my business. My followers see my designs, and then tag friends, who then can continue to tag other people. It's also a great platform that is easily accessible since basically everyone has an Instagram now. I also like using Instagram because it is a good way to compare and see what else is out there in the custom apparel market. SF: How long does it take you to make a pair of sneakers? KBS: A pair of shoes takes me about 8 hours, and the hats can take me a bit longer. SF: Who are your biggest clients? KBS: My audience is around 6-18-year-olds. The younger kids love having their favorite characters on a pair of custom shoes, and the older crowd likes to order kicks for camp, or when they start college! SF: What is your most favorite design? KBS: I started with just designing custom college shoes, but since then expanded to design shoes for camps, sports teams, young children's shoes, and any custom shoes. I love making a customized pair when someone will tell me their interests and hobbies, and then I can create a design based off of that. It's really fun to be creative that way! Here are some of Sammy's coolest kicks and designs. Check out @kicksbysammy on Instagram or kicksbysammy.com for your own pair! https://www.instagram.com/p/BFMCtr-r4Yk/?taken-by=kicksbysammy https://www.instagram.com/p/qNgYrPL4es/?taken-by=kicksbysammy https://www.instagram.com/p/BH-GocnD5jX/?taken-by=kicksbysammy https://www.instagram.com/p/1qdCFaL4Rc/?taken-by=kicksbysammy https://www.instagram.com/p/5CgkRHL4Q8/?taken-by=kicksbysammy Be sure to check out This $10 Mirror Nail Polish That The Internet Is Freaking Out Over and 7 Food Instagram Accounts You Need To Follow If You're In NYC [Photo: [email protected]]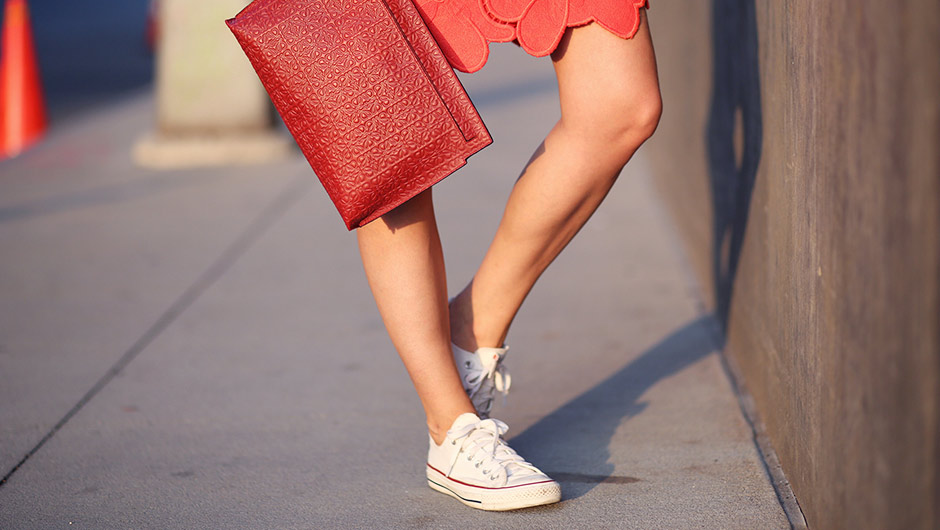 This Is What The New Converse All Stars Look Like
Last year, Converse debuted a new version of their bestselling Chuck Taylors, the Chuck Taylor IIs, and this year they've turned another popular pair--the All Star--on its head. The iconic sneaker brand just debuted their all-new All Star... and, drumroll please, THIS is what it looks like: As you can see, the new All Star Modern has several new black details: a black toecap, a black round ankle patch, black eyelets for the black laces, and black studs. The shoe comes in a high-tech knit material in 5 colorways: red, green, blue, white, or black. It retails for $140 for the high top and $130 for the low top. READ MORE: This Is What To Wear With Converse (Don't Go Sockless!) So, what are the differences you CAN'T see? "While the original All Star had an entirely flat footbed, this new version has molded, cushioned arch support," Fast Company reports. READ MORE: The Converse High Tops Every It Girl Is Wearing Converse also released a second version--the HTM All Star Modern--designed by their special HTM creative team--which comes in white and black: The limited-edition HTM All Star Modern ($180). So--what do you think?? READ MORE: 11 Facts You Never Knew About Converse [Photo: Charlotte Groeneveld / Thefashionguitar.com]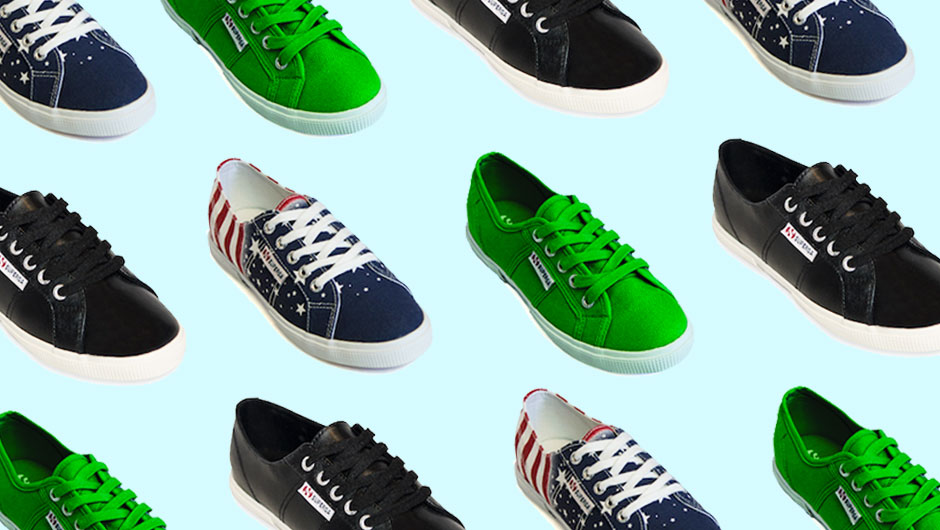 Target x Superga Is Here! Shop Now Before It's All Sold Out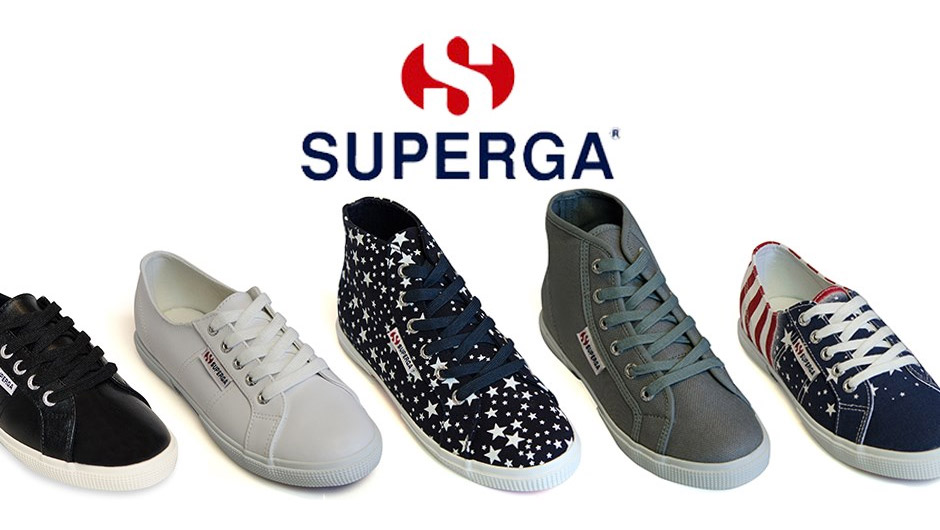 Best News Ever: Target Is Teaming Up With Superga!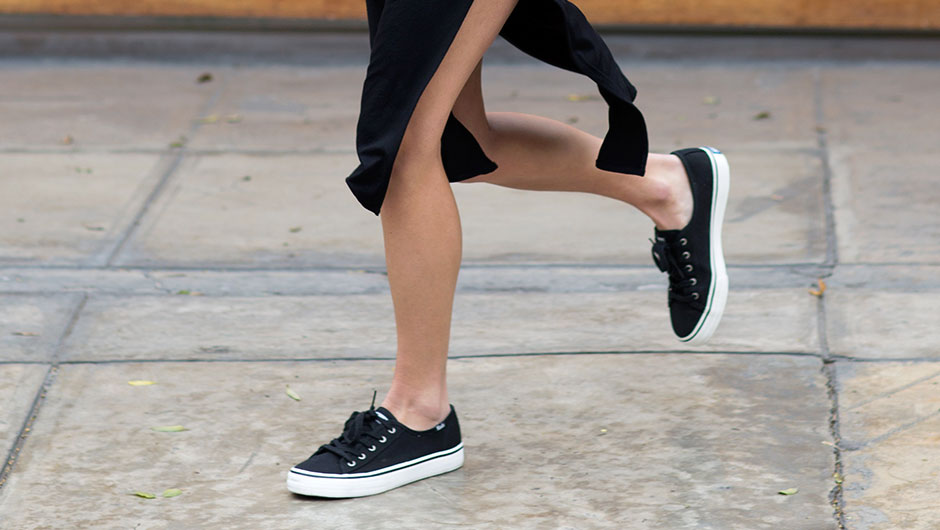 This Is Exactly How To Wear Sneakers To Work
How To Wear Sneakers To Work We have a debate in our office between the young millennials, the older millennials and the Gen Y'ers. Is it appropriate to wear sneakers to the office? Sure, sneakers like Stan Smiths and Converse Chucks and even Vans are incredibly in-demand and in-style these days--polished celebs from Victoria Beckham to Jessica Alba, Kendall Jenner and Reese Witherspoon agree--but does that mean that those of us with *office jobs* can wear them to work? The answer is maybe. Sure, editors love them and it's appropriate in our field--but some jobs--like those in banking or ones that are client-facing--are just not appropriate for wearing sneakers to. Period. Here is a short list to give you a better sense of whether. 1. Wear new or clean sneakers only. If you're wearing sneakers to the office--they better be fresh. No ratty, dirty, scuffed or stained pairs. There shouldn't be dirt or mud visible on the soles or uppers of the shoes. Ask a friend or loved one to tell you, honestly, if your sneakers are too dirty before leaving the house (I'm serious! I always ask my husband for the truth on my outfits--sometimes it's hard to see these things in the mirror). If your sneakers do get dirty, here are the best tricks for keeping them clean: use a magic eraser to clean the soles (or Windex or toothpaste), wash canvas sneakers like Chucks in the washing machine, and use nail polish remover to spot clean them. https://www.instagram.com/p/BGG6bLXJDER/?taken-by=styledumonde&hl=en [Photo: Always Judging] 2. Wear black pants, skirts or dresses to dress them up. This seems obvious enough--but you'd be surprised how tempting it will be to wear blue jeans with the sneakers when you're getting dressed in the morning. Resist the urge! This will turn in to a weekend look REAL QUICK. Try to over-compensate from the ankles up--wear a blazer, wear a blouse or button-down shirt, wear black wool or silk pants instead of black jeans. Wear "serious" shades like black, white, gray. Opt for materials like silks and cashmere and suede. Wear high end brands or investment pieces, if possible. https://www.instagram.com/p/BGTj4WashV3/?taken-by=liketoknow.it 3. Wear your best bag. Put your best accessory forward--wear your nicest handbag or your flashiest statement necklace. Make it look like you really put some effort in and like the look is *carefully styled* and not just lazy. Draw the eye up from the sneakers to a more sophisticated or quality piece. Make your boss feel like you are trying to impress and look nice. Let their be no mistake that you planned this look around sneakers--and not that you just didn't feel like wearing heels that day. https://www.instagram.com/p/BGpbSLlIQT3/?tagged=streetstyle 4. Pick the "coolest" pair The styles that are most in right now are: Adidas Stan Smiths, Vans, Puma Lo Basics, Converse All Stars (aka Chucks) and Adidas Superstars (Victoria Beckham's fav!). 5. Have fun with it and show your personality.  Again, you want to put together a look that feels well styled and not just lazy. Wear a bright dress or bright lipstick. Make a statement with your outfit and exaggerate or play up your personal style. Make the sneakers feel like part of a bold statement. https://www.instagram.com/p/BGPRPOtMhXM/?taken-by=liketoknow.it 6. Try white, black--or even nude. White sneakers are obviously cool--so are black ones (like slip-ons), and most recently gold or nude kicks have become stylish, too. Avoid bright colors like pink, red or blues as they will call attention to the fact that you are wearing sneakers. 2016's nude sneaker trend.
Nike Sneakers Under $50 + More Cheap Finds From Net-A-Porter's Sale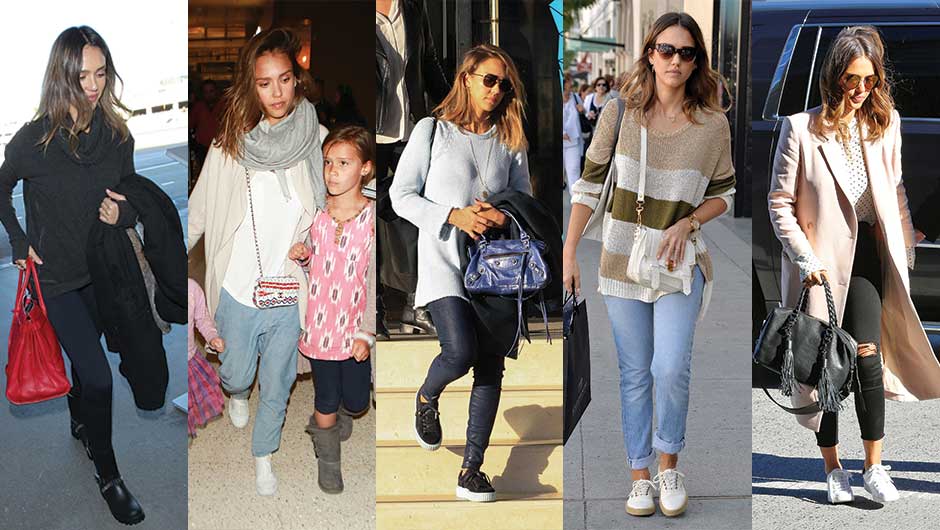 Shop (Pretty Much) Everything Jessica Alba Has Ever Worn #OutfitGoals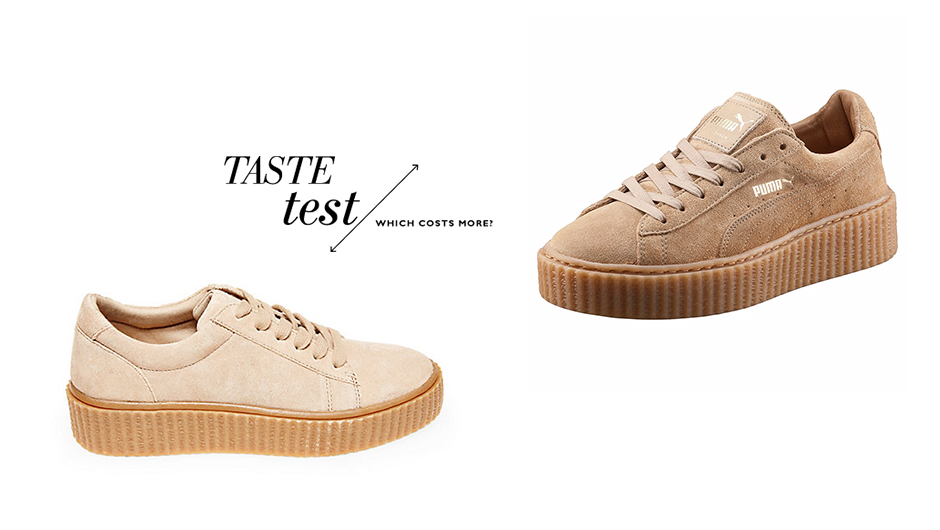 Did Steve Madden Really Just Knock Off Rihanna's Puma Creepers?
SHEfinds receives commissions for purchases made through the links in this post. Rihanna's Puma creepers were impossible to keep in stock. Those of you who didn't snag a pair probably live your lives as the crying face emoji (No? Just me?). Anyways, I was shocked when I came across the HOLLLLY ($89.95) sneakers by Steve Madden because I legit thought they were the Rihanna creepers. Sadly, they are not. But the two sneakers look pretty damn similar minus the Puma stripe, because, well, duh. If you are an unlucky soul who doesn't own RiRi's cult shoes, here's your next best option: Which shoes do you like better? Let us know in the comments below! Test your fashion savvy some more with star sneakers and rainbow crossbody bags
Damn–Now A-Listers Are Getting On The Vans Trend! Shop Charlize Theron's Fav Pair
SHEfinds receives commissions for purchases made through the links in this post. Damn, Daniel! He turned Vans into a worldwide phenomenon. First Gigi Hadid then Jessica Alba--now Charlize Theron! You know it's a legit trend when literal A-listers are getting on board. And we're not complaining, since all the shoes are under $100. Get Charlize's $50 pair here: Vans Canvas Old Skool ($50) And what do we mean by "Damn Daniel"? In case you're been living under a rock, here's what: [youtube]https://www.youtube.com/watch?v=a16Kgh7j8zk[/youtube]