Hotflops' Flip Flops Remind Us It's Five O-Clock Somewhere (No, Snooki Didn't Design These)
From left: martini flip flops and margarita flip flops Just last week we were introduced to Snooki's pickle-printed flip flops, but this week we found some similarly gastronomical footwear that's a little more, um, three-dimensional.  Although I'd probably rather spend my money on a round of actual margaritas, these kitschy Hot Flops are sort of a hilarious antidote to Fit Flops---instead of a workout, they encourage happy hour (which is already my default after work ultimatum). Part of their "partyflops" line, the collection includes martini and margarita flip flops (both pictured), as well as a red and white wine variety and a strawberry daiquiri pair. But what's my favorite thing about these flip flops? My mom owns them. Follow the author of this post on Twitter @shefindschar. For more news on designers on crack, be sure to sign up for our email list.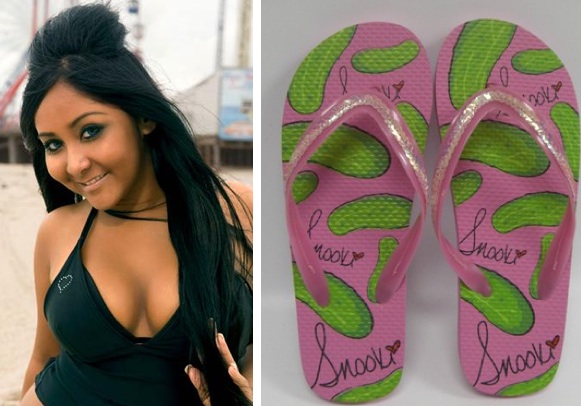 Snooki Expands Footwear Line To Include Pickle-Patterned Flip Flops. Still No Word On Who's Buying 'Em
Nicole "Snooki" Polizzi and a pair of shoes from her new line And we thought Snooki's slipper line was bad---at least those were meant for indoor wear. The pint-sized star of MTV's Jersey Shore is teaming up with MeyeWorld LLC to design a line of flip flops and wedge sandals, set to release for Holiday '11 (Christmas gift for mom?!). The line features pieces adorned with sequins, pickles, and Snooki's signature (like the pair above), and will be priced from $15-$50, according to WWD. Hey, fruit prints are in right now---who knows what sort of trend Snooki's pickle print could spark. With that said, we're terrified. Follow the author of this post on Twitter @shefindschar. For summer clothes you actually feel like purchasing, check out our shopping guides to flat sandals, espadrilles, and summer dresses.