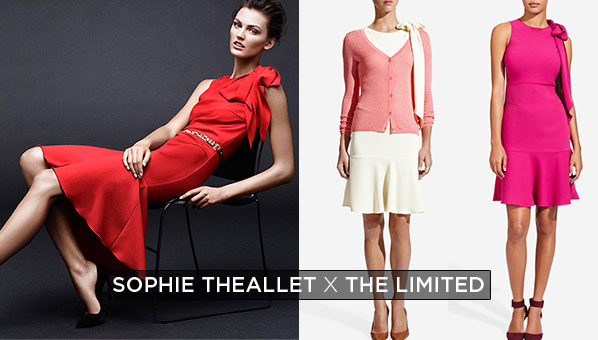 Sophie Theallet's Collaboration With The Limited Is Here–And Already On Sale
Sophie Theallet is no stranger to collaborations, the 2009 CFDA winner has previously lent her feminine design savvy to Nine West and Gap, and now she has partnered with The Limited to create a collection that runs the gamut from bow-adorned dresses to croc-embossed clutches. The line itself is inherently affordable, with prices ranging from $25 - $108, but right now all of the collection's handbags, jewelry, and sweaters are 40% off - so hop to it! SHOP THE COLLAB In other collaboration news, you can shop the Theory x Uniqlo puffer collection a day early, the Rodarte x Starbucks collab is here, and Bauble Bar x Essie gift sets are a perfect gift for your BFF.
NEWS: Drew Barrymore Got Married, Sophie Theallet x The Limited & More
The Lady will be pleased. Sophie Theallet, a favorite of Michelle Obama, will collaborate with The Limited on a collection set to launch in November. [WWD] Wedding bells are ringing. See photos of Drew Barrymore's wedding. [BRIDEfinds] Style watch. See behind the scenes of the CFDA Journal shoot with Karlie Kloss, Tommy Hilfiger and Marc Jacobs. [The Cut] In the swim of things. Abaeté's Laura-Poretzky-Garcia launches a new swimwear line Été Swim. [Fashionista] Be a makeup pro. Learn how to contour your face like a celebrity. [Birchbox Blog] Check out more breaking news, this week's sales and deals and best find of the day picks.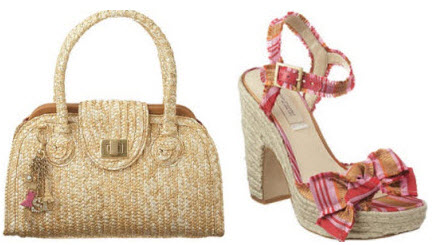 Sophie Theallet Collaborates With Nine West (She Even Designed Her Own Stripes)
This is the most fun time of year, fashion-wise -- there's collaboration news left and right, Fashion Week is around the corner, and everything winter is on sale. Nine West has announced its spring collaboration with CFDA winner Sophie Theallet on three items to hit stores May 1: a raffia wedge, double platform sandal, ballet flats and a straw bag (see above for two sneak peek photos via Fashionologie). I love their fun, beachy feel--and the fact that Theallet designed the stripe herself. The kicker? Nothing will be more than $109. Giles Deacon's fall Nine West collection has not been unveiled yet...we can't wait to see. Have you heard about Trina Turk's 2 upcoming collaborations yet? We've got the first photos. If you're shoe happy now, go to Nine West and shop their 50% off sale. Follow the author of this post on Twitter @shefindseileen.
Gap's Collaboration With CFDA Winners Monique Péan And Sophie Theallet
We always look forward to the Gap CFDA collaborations--a genius team-up that brings CFDA winners' aesthetic to the mass market--and this year's collections did not disappoint. We have a sneak peek and the inside scoop from eco-friendly jewelry designer Monique Péan (above left), and French designer Sophie Theallet (above right) whose gorgeous pieces for the brand that are unfortunately sold exclusively  at Gap's Fifth Avenue concept store: Theallet's fans include Michelle Obama and Jessica Alba for good reason--her signature dresses are bright and move with a woman's body. "I wanted to make dresses for all kinds of women, and I wanted to make them colorful and very comfortable," saysTheallet, who ensured that the quality remained for her Gap collection.  Her line is a little pricey for Gap, ranging from $148 to $248, but the dresses from her real line cost in the thousands and we felt the fabric on the dresses above--they are worth the splurge. Monique Péan's sustainable jewelry pieces are so popular, and it's easy to see why. The former Goldman Sachs employee works with local artisans to create eco-friendly pieces that also give back. Every piece you buy from Péan, gives to charity, providing clean drinking water for one person over the course of 20 years. Her pieces for Gap run from $38 to $198, while her pieces at Barneys retail up to $10,000. Check out the Pierre Hardy shoes for Gap, and then see our guides to best eco-friendly products, the best necklaces, the best black dresses, and the best sunglasses.